Steve Stevens: Vital to Idol
Photo by Wayne Posner.
Billy Idol's riff master talks about recording Kings & Queens of the Underground, developing a signature vibrato, and getting spit on at early Idol gigs.
Guitarists of a certain age will probably always think of Steve Stevens as the dude with big hair and makeup in 1980s magazine ads for Hamer—and, of course, as the hook master behind Billy Idol's neo-punk hits like "Dancing with Myself," "White Wedding, Pt.1," "Rebel Yell," and "Flesh for Fantasy." Three decades later, Stevens' appearance is largely intact, as is his relationship with Idol, with whom he recently tracked Kings & Queens of the Underground—their first recorded outing together in nine years. But Stevens has always been more than just the hard-rock riffer on Idol cuts. He was a prog-rock fanatic when he met Idol—something that stuck in his spiky-haired boss' craw—and over the years he's evolved beyond that to become a top-shelf sideman and songwriter.
Stevens, 55, was born Steven Bruce Schneider. He grew up in Queens, New York, and by his early 20s was well known in Manhattan for his guitar skills. Through a fortuitous introduction, he became guitarist and writing partner for Billy Idol's most successful albums and tours. And the high-profile gig—not to mention Stevens' uncanny ability to write guitar parts that help define a tune without taking it over—has led to calls for heavyweight sessions with everyone from Michael Jackson ("Dirty Diana," 1987) to Joni Mitchell ("Chalk Mark in a Rain Storm, 1988), Pink ("Try This," 2003), and Sebastian Bach (Give 'Em Hell, 2014).
Beyond Idol, one of Stevens' most widely heard moments is the soaring lead break he wrote for the theme to Top Gun, for which he won a Grammy for Best Pop Instrumental Performance in 1987. His mastery of the solidbody is further showcased on the albums he recorded with Terry Bozzio and Tony Levin (1997's Black Light Syndrome and 2000's Situation Dangerous). And Flamenco a Go-Go (also from 2000) showcased a virtuosic return to Stevens' nylon-string roots.
[Billy and I] started playing shows at the tail end of the punk era. It was all pretty raw, with audiences sometimes
gobbing—spitting—on us.

More recently, Stevens' propensity for jamming is apparent in appearances he's made with all-star projects like Kings of Chaos, featuring Slash and vocalist Corey Taylor (Stone Sour and Slipknot) among others, as well as the cover band Camp Freddy (now known as Royal Machines), which includes Sugar Ray vocalist Mark McGrath and Jane's Addiction's Dave Navarro and Chris Chaney.
Having last connected with Stevens for a Rig Rundown in the summer of 2013, we caught up with Stevens to talk about the making of Kings & Queens of the Underground, his signature gear, and the evolution of his playing over the years.
A lot of people know about the highlights of your career, but can you start off talking about growing up in Queens, New York, and how you got into music?
Where I grew up, Far Rockaway, was unique because the guy who was kind of a local hero was Phil Ochs, the great protest singer. When I would talk about him 10 years ago, people didn't know who he was, but there was a PBS documentary a few years ago on him [There but for Fortune, 2010], and now people are more familiar with his work. In any case, my dad brought home a crappy guitar when I was about seven and a half years old, and my parents managed to get Phil's sister, Sonny, to give me lessons.
Steve Steven's Gear
Guitars
Gibson Les Paul goldtop
Knaggs SS1
Knaggs SS2
Music Man Armada
Pedro de Miguel flamenco guitar
Suhr Modern
Amps
Suhr OD-100
Friedman Steve Stevens Signature head and 4x12 cab
Effects
DigiTech Synth Wah Envelope Filter
DigiTech Whammy
Dunlop ZW45 Zakk Wylde Signature Crybaby wah
Strings and Picks
Ernie Ball .010–.052 string sets
Clayton Ultem 1 mm picks
As far as music was concerned, growing up in Rockaway was really great. So many people played guitar, and summers were filled with everyone taking theirs down to the beach to play for hours. Walking through the neighborhood was sometimes like going to a rock festival, with everyone playing in garage bands.
The area's become quite the hangout for artsy types. Have you been back recently?
I keep vowing to rent a car, drive out, and spend an afternoon there when I'm in New York for work stuff, but I never get around to it and haven't been to Rockaway in years.
How'd you go from playing on the beach and in garages to working with Billy Idol?
By the early 1980s, I was living in New York City and playing in a band called the Fine Malibus. Bill Aucoin, who was also Kiss' manager, managed us. But things weren't really happening for us. So at one point I got a call to go to a meeting with Billy Idol, who was ready to put something together in the United States. At that time I hadn't met any
real rock stars, and it was exciting to be around this musician who was so driven and charismatic. Knowing practically every musician in New York, I was enlisted to help him put a band together.
Billy was a punk rocker, which meant a whole different thing in New York than in England, where he's from. His movement exploded in 1977 with bands like Generation X [Idol's group] and the Clash playing in a relatively more sophisticated way than the bands we had, such as the Ramones, who were louder and used fewer chords. Billy was pretty militant against the progressive rock bands that I had liked as a kid, but we found common ground in our affinity for Lou Reed and glam stuff. We started playing shows at the tail end of the punk era. It was all pretty raw, with audiences sometimes gobbing—spitting—on us. It was really cool to be in a band with a frontman who was as commanding as Billy.
How did you and Billy start working on more dynamic and mellow songs like "Eyes Without a Face"?
That song was a pivotal moment. Before "Eyes Without a Face," we would've been hesitant to do a ballad, as it would have seemed very out of character for Billy Idol. But the time was right to stretch out and try out new ideas. The label stuck us in Electric Lady Studios for 10 months, and we were so inspired to be there that songs really started developing out of the ether. We didn't know we had a great song. "Eyes Without a Face" just appeared as we started recording.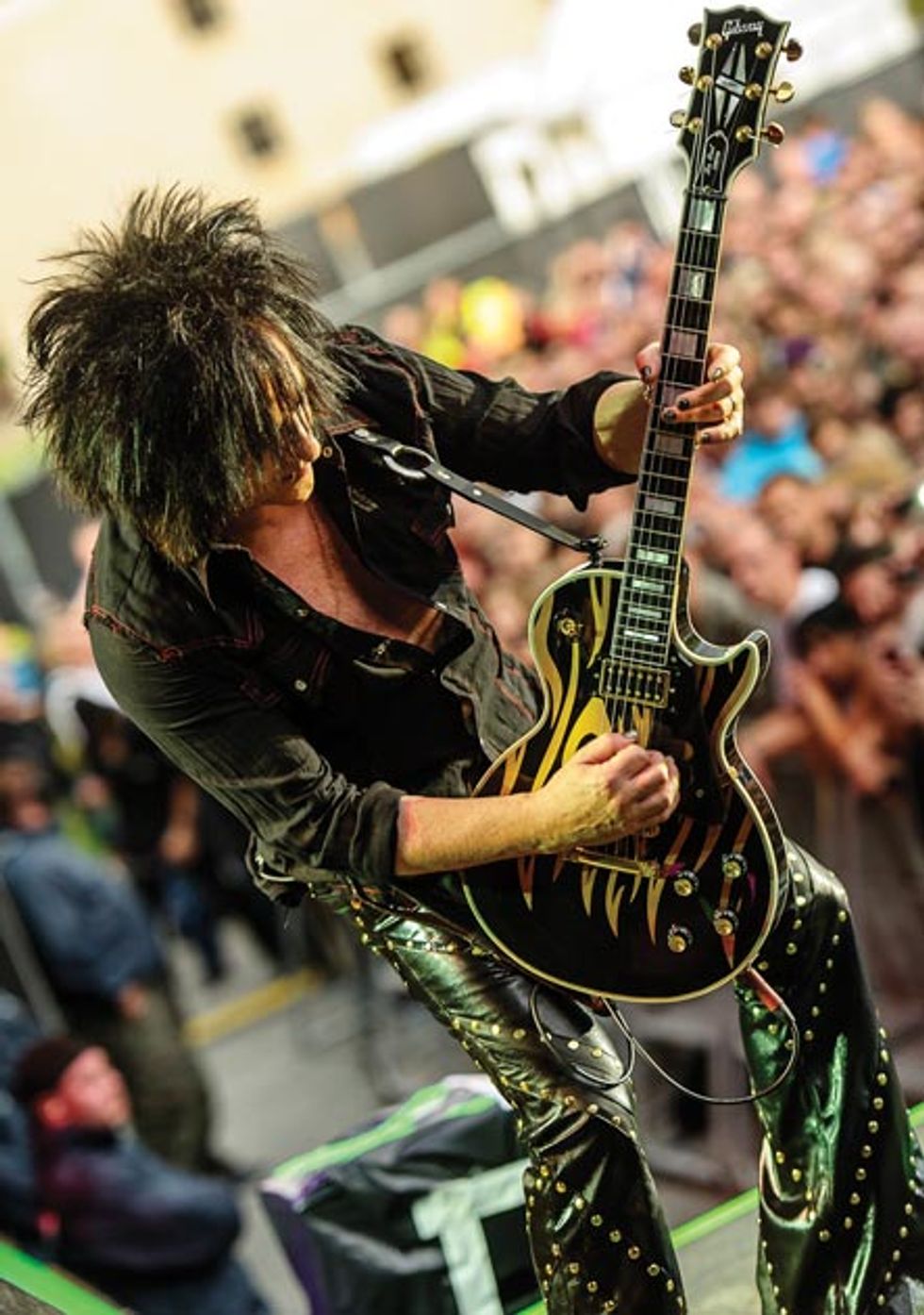 "I've been playing Les Pauls since I was a kid and I really like the feel of a substantial guitar with a thicker body," says Stevens. Photo by Charles Jischke.
What's the process like these days?
For his part, Billy usually works like a film director. He usually comes in with a vague lyrical idea and we sit down with a couple of guitars, come up with chords, and he then goes away to write. But this record coincided with his new autobiography [Dancing with Myself], so the songs had to be pretty much autobiographical. The concepts came first—the touchstones in his life that he wanted to elaborate on and set to music. As a writing partner, more than ever, I found myself caring much less about the expression of the guitar than the song.
Given that the album is autobiographical, did you bring any songs to the table, or did you just work with Idol's ideas?
"Ghosts in My Guitar" is one cut I brought to the record. It was interesting to write the lyrics to a Billy Idol song that was essentially biographical. I've known Billy Idol for 32 years, so I obviously know the subject matter very well. It was exciting to bring it to life with Billy Morrison, another cowriter [and backup live guitarist] on our little team who grew up in the same town as Billy Idol.
Was your recording process with Idol considerably different in the beginning, given how recording technology has evolved during the last three decades?
Actually, it's pretty similar on many levels. Our producer, Keith [Forsey], was a dance producer, and in our work together in the early '80s he was already cutting to a click track and moving bits around. This presented an interesting problem for us: It took forever to pick a drummer for Rebel Yell—to find someone who could keep time very precisely while having a sense of swing. Luckily we found Thommy Price. We heard him through the door while working at Electric Lady.
Obviously, the biggest change is that—working in digital—we have some flexibility with the arrangements. We can easily swap a chorus with a bridge or change the order of the verses or whatnot. But I'm adamant about not taking the same exact riff or part and just pasting it throughout the song for when it's repeated. A song really needs to travel—even in the smallest details—to tell a story.
One other thing is that I've now got a pretty extensive demo studio at home, equipped to record everything but drums. So I recorded some of the lead parts there, in a more relaxed environment where I could capture music whenever the inspiration struck.
YouTube It
Curious how Steve Stevens uses his collection of Gibson, Knaggs, Suhr, and Friedman gear on the road? Check out our Rig Rundown with him on the last Billy Idol tour.
What guitars did you use for recording Kings & Queens of the Underground?
I went over to England to record the album and didn't take that much—just several guitars. I play a fair amount of nylon-string on the record, and I brought a beautiful one made by Pedro de Miguel, knowing it might not be easy to find a good flamenco guitar while in England. I also brought my Knaggs signature guitar—the only one I had at the time—as well as a really good Les Paul goldtop reissue with a wraparound bridge, a Music Man Armada that has a chunk that sounds so great for rhythm, and a John Suhr Strat. It was so liberating to work with those few, select pieces, but for a little variety [producer] Trevor [Horn] had a bunch of amps and guitars for me to play—really nice acoustics and an old Barney Kessel, the same one used on [Yes'] 90125.
Tell us more about how things developed with Knaggs.
I shied away from having a signature guitar for many years after doing it with Hamer in the '80s. Then one day Peter Wolf, who I knew from the Hamer days, called and told me that I should really check out Knaggs, a new company from the former head luthier at PRS [Joe Knaggs]. They sent me a guitar, and I was really impressed with its workmanship, so I agreed to do a signature model.
Basically, I had the whole company at my disposal in making the guitar. They sent me another one of their models as a launching point, and I told them I wanted mine to be thicker and heavier. I sent them the dimensions of the neck from one of my favorite Les Pauls, and specified the Bare Knuckle pickups that I wanted. We went back and forth through about four designs before we arrived at the SS1 and agreed to make 99 of them. One of the conditions for the signature model was that part of the proceeds go to MusiCares, which helps musicians get assistance for drug and alcohol problems. So I was happy to help a very good cause, and at the same time support an American guitar company.
So many guitarists prefer lighter instruments these days. Why did you want yours heavier?
For one, I've been playing Les Pauls since I was a kid and I really like the feel of a substantial guitar with a thicker body. That said, I do have an 11-pound Les Paul that just isn't possible for me to play on the stage. By contrast, the Knaggs is actually light—around 8.1 pounds. Also, once you get into chambering—which is how many companies make a lighter solidbody guitar—a bit of hollowbody creeps into the sound, and there's nothing you can do when you start feeding back at higher volumes. It's not like you can just put foam in the f-holes to stop it.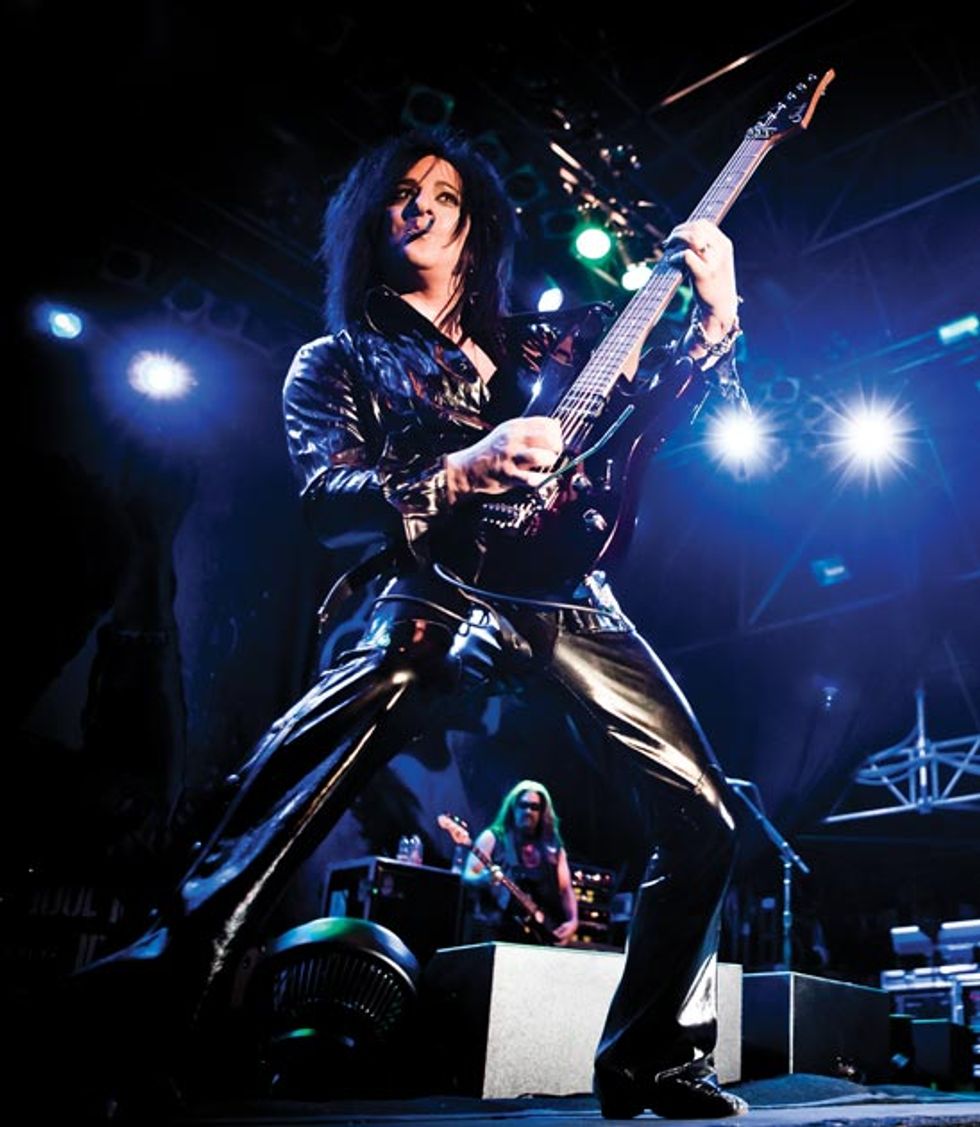 "I no longer really care how fast I play," admits Stevens. "I just want to play the right things—to play as expressively as I can." Photo by Charles Jischke.
How will the Knaggs SS2 compare to its predecessor?
I did two world tours with the SS1, and we came up with some subtle design changes based on my playing experiences. Some of what we did helped shift the balance. The body is ever so slightly bigger, so the neck stays at just the right angle when I play the guitar standing. The headstock has a steeper break angle, which gives the guitar a different feel in terms of string tension. And I wanted this one to be more classic rock 'n' roll, so it's got a white finish with tortoise binding, as opposed to the first, which had a black finish with pink binding. The SS1 was a lot more glam.
Getting back to the album, on some of the fills in "Bitter Pill" and elsewhere, it sounds like you're using a DigiTech Whammy pedal.
I did use the Whammy a fair amount. For some reason it reminds me of the Emerson, Lake & Palmer synth sounds I loved as a kid.
What else did you use on the record, in terms of effects?
I honestly can't recall all of them.I have two Sears Craftsman tool cases loaded with pedals, and so I just took a bunch out and went with what worked best. I do remember using some cool, weird green DigiTech synth pedal a bit, and a Dunlop Zakk Wylde wah. Dunlop made me a cool one covered with rhinestones to use onstage.
Throughout the record, both the distorted and clean sounds are massive. What amps did you play through?
For amps, just my signature Friedman head and 4x12 cabinet, which is built incredibly well and sounds amazing. The cabinet has Celestion Vintage 30s and Greenbacks, two of each. I like it so much that I had a prototype shipped to England for the record.
When you're touring with Billy, how do you recreate sounds that span so many years? By bringing a ton of gear [laughs]. Seriously, my stage manager keeps asking me to pare things down. One of the things that's helped is having a touring rhythm guitarist, Billy [Morrison], who's also in the all-star band Camp Freddy [recently rechristened Royal Machines] with guys from Jane's Addiction. We brought him down to a rehearsal and just had him plug in and play rhythm to hear how it would sound. This definitely liberated me, because when there's a solo now, I don't have to switch rapidly between lead and rhythm roles and different guitar tones. And it gives me a fresh perspective on the music. I get a chance to play the secondary parts that I hadn't ever gotten the chance to play live.
Another thing that's helped is that my friend Dave Friedman [Friedman Amplification] is familiar with the whole Billy Idol catalog, and he built me a switching system that makes it easy to switch between my Suhr OD-100 and Friedman amps—the whole gamut of clean to dirty. What I especially like about the system is that when an effect is not being used, it's switched entirely out of the signal path. My drummer told me, "You've got so much gear, but your guitar actually sounds like a real guitar, not a processed one."
I'm adamant about not taking the same exact riff or part and just pasting it throughout the song for when it's repeated. A song really needs to travel—even in the smallest details—to tell a story.

How would you say your playing has evolved since you started working with Billy?
Sometimes people send me old clips, and I have to say that my vibrato was terrible back then. As I matured as player, I started getting into the idea that a guitar player's vibrato is really like his signature. So I started to really develop that aspect of my playing. Maybe it's also about age. I no longer really care how fast I play. I just want to play the right things—to play as expressively as I can.
How did you go about working on your vibrato?
I've been fortunate to work with so many incredible singers overs years, and I began trying to emulate them—homing in on the way that they use vibrato. Like, how fast or how slow, and how much the pitch varies. I also keyed in to how these singers breathe and use space as much as notes. I'm a songwriter as well, and these ideas have really taught me to play for the benefit of the song.
Let's switch directions for a second. You're an accomplished nylon-string player, too. Did you have formal classical training?
I did as a kid. The reason I love flamenco is that I got my first serious guitar, a nylon-string, when I was 8. I didn't get an electric until I was 13. At 9, I went away to a summer camp and there was this amazing guitar teacher. He and his brother had escaped the Nazis in World War II by climbing a mountain, and he brought nothing with him but his guitar. At the time I didn't really know what style he was playing, but now I realize it was not classical but flamenco. I really fell in love with the nylon-string that summer.
In junior high school, I had a really good classical teacher who got me accepted into the "Fame" school [Fiorello H. LaGuardia High School of Music & Art and Performing Arts], where I was reading music and playing Bach etudes and Rodrigo pieces. At the same time, I got into progressive players like Steve Howe and Robert Fripp, who were certainly incorporating classical guitar in their work. I learned every Steve Howe solo piece, if you can believe it! I still just love classical guitar, love the sound of it. It's definitely in my blood.
How do you think your nylon-string background has affected your electric playing?
At one point, I toured with Vince Neil in support of Van Halen. We were playing so loud and everything featured these long, extended electric solos. Needless to say there was a fair amount of debauchery involved. So I came off the road and needed to cleanse, needed an exorcism. I didn't play any electric guitar for the better part of a year and recorded my flamenco album [2000's Flamenco A Go-Go]. It was one of the most enjoyable things I ever did. Certain aspects of that period stick with me: When I play electric guitar, I think about the tone production that comes from the fingers and about little nuances in articulation. With Billy Idol, I do a 10-minute nylon-string solo live, and I try to get a nylon-string on as many of his songs as possible, as it's my first love!
How have the audiences at Billy Idol concerts changed over the years?

They bring their kids now! [
Laughs
.] That's the thing about Billy Idol—he really is my generation's Elvis Presley. Billy's got this timeless aspect to him. Older fans always want to hear the new material. Many classic bands struggle with people not wanting to hear their new music, which sadly makes them only want to tour and play the same old hits. But we're always writing and doing new music, while keeping the audience pretty intact. The cross-generational appeal is so cool: Miley Cyrus has covered "Rebel Yell"—and so has her father, Billy Ray!