Warren Haynes: Down from the Mountain
Photo by Danny Clinch
The jam-band maestro returns to his folk roots on the largely acoustic Ashes and Dust.
One of the great Gibson players, Warren Haynes uses a fleet of Les Pauls, Firebirds, SGs, and ES-335s—even the occasional ES-175—to create the massive, singing blues-rock lines that are his bread and butter. But on Haynes's recent album, Ashes and Dust, made in collaboration with the New Jersey-based roots band Railroad Earth, his trusty Les Paul and 335 share equal billing with a D'Angelico New Yorker, his signature-model Washburn acoustic, and a handful of other steel-strings.
Now 55, Haynes has played in various incarnations of two legendary jam bands: the Grateful Dead and the Allman Brothers. He's also a founding member of Gov't Mule, still going strong 20 years after launching as an Allman Brothers side project. In addition to recording and touring with those outfits, Haynes is a songwriter and producer with several critically acclaimed solo albums to his credit.
While he's known for playing thunderous riffs and burning slide, Haynes is also a folkie at heart. Though his solo acoustic sets have always hinted at this, it's never been more apparent than on Ashes and Dust, the follow-up to 2011's soul-and-blues-oriented Man in Motion.
"I'd been wanting to make this kind of record for a long, long time. The album is really a collection of life memories."

Supported on Ashes and Dust by fiddle, banjo, mandolin, and upright bass, Haynes plays Americana-tinged songs he's been incubating for decades, along with newer numbers and covers. "These songs have all been important to me for so many years," he says. "They're like snapshots of where I was at certain time points in my life, captured in music. The album is really a collection of life memories."
We asked Haynes to explain how he brought these memories to life with the help of Railroad Earth, and what challenges he faced stepping outside his comfort zone to work with this predominantly acoustic ensemble.
Does Ashes and Dust represent a homecoming for you?
I grew up in the mountains of North Carolina. Celtic and Appalachian tunes—what we call mountain music—were very prevalent, as well as folk and bluegrass. I've been surrounded by that music since I was a small child. My dad was a very good singer, and he loved musicians like Bill Monroe and Ralph Stanley. I rebelled against that influence until I was about 14 years old, when I realized it was really amazing music.
I began sneaking into folk clubs to soak in as much information as possible. At the same time I started learning blues, rock 'n' roll, and a little jazz. But what was most important to me was being mentored by singer-songwriters, and I didn't even realize that until recently when I made the new record.
Haynes has owned this D'Angelico New Yorker for some 15 years, and it's featured on Ashes and Dust. "I strung it with flatwounds and dialed in a clean, jazz-like sound. This forced me to play differently than I normally do."
Photo by Danny Clinch.
To answer your question, I do think it was a homecoming. Not only is the instrumentation folky, I was able to pay tribute to the singer-songwriters I learned from early on. The song "Coal Tattoo," for instance, is by Billy Edd Wheeler, a local legend who wrote songs for Johnny Cash—"Jackson" was his—and for Jefferson Airplane, Judy Collins, Richie Havens, and many others. I tried to capture as much of the original spirit as I could, mostly from recollections of when I first learned the music. It was nice to go back there with the guys from Railroad Earth, who are so good at what they do. It felt so natural—nothing was forced.
What was it like to revisit the songs you wrote 20 or 30 years ago?
I'd been wanting to make this kind of record for a long, long time—I even started planning six or seven years ago. Some of the songs are brand-new, but many are old. These songs are really close to my heart. I've always kept them in the forefront of my mind and always wanted to record them for the right reason, at the right time. They wouldn't have fit on my last solo album very well. I never thought of them as Allman Brothers or Gov't Mule songs—obviously, they could've been interpreted in a new setting in either group, but I wanted to present them as a collection in a certain light, similar to the way I originally wrote them.
Have the old tunes evolved at all?
They're essentially the same, but they got longer as I sat in a room and played them by myself on an acoustic guitar before making the record. Then I went into the studio, where all this other instrumentation—fiddle, banjo, mandolin, upright bass, and so on—stretched the pieces out in a textural way, while bringing in some cool improv elements as well.
How did it feel to focus on an album of songs, as opposed to more jam-oriented structures?
Even when I'm working in a more jam-based context, the songwriting side is always important to me. In Gov't Mule it's always important to strike a balance between the songs and the jamming. It's important to consider the big picture, as too much of one aspect would be detrimental to the other. Of course, the new record is a little more centered around songs—none were written as vehicles for jamming, per se—but there was improvisation within the arrangements.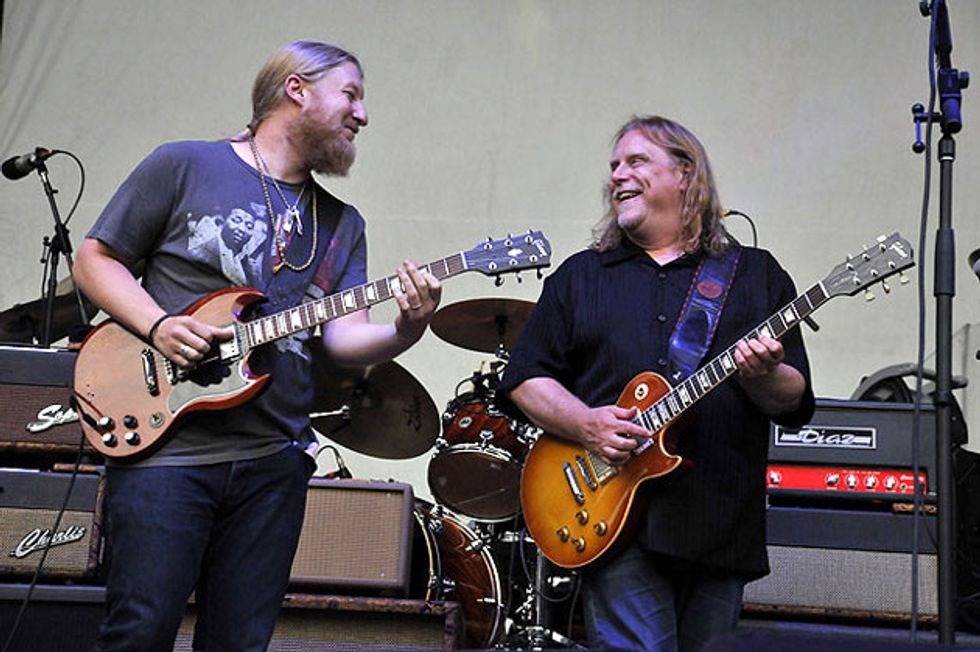 Haynes and Derek Trucks share the love onstage with the Allman Brothers in 2014. "The music means so much to all of us," says Haynes. Photo by Frank White.
The record is an obvious departure for you, but in what ways is it an extension of your work with Gov't Mule and other rock-oriented projects?
Each Gov't Mule record has one or two songs that are similar to these, and my solo performances on acoustic guitar have hinted at this kind of thing all along. Whatever the situation, the majority of songs I write start on the acoustic guitar. The lyrical inspiration comes first, then the rhythms and melodies begin to follow. That might be backwards from how others write. I've recently been making myself write the music first, to shake things up and not remain stuck in patterns.
How did you come to work with Railroad Earth?
We met a few years ago when they opened for the Allman Brothers at Red Rocks in Colorado. Later they joined me for a few songs at a festival in Maryland where I played a solo acoustic set, and they did the same for another solo set at the renovated Capitol Theater in Port Chester [in Westchester County, New York, where Haynes lives]. I always thought we had a great chemistry together, so I invited them—with a little more rehearsal and preparation this time—to record the album with me. They were perfect for it.
How did you present the music to the band?
For these recordings, we'd sit in the control room and I'd show them a song on acoustic guitar and sing it. I'd talk to them about what sort of instrumentation I thought would be nice, and then they'd play the song and write their own parts. I often had preconceived notions of the way I thought the songs would go, but things would change based on Railroad Earth's input, and also based on the way songs wanted to go after we'd recorded a few takes.
"Every record I've ever made, from the Allman Brothers to Gov't Mule, has been all about capturing a live vibe."

So you didn't share the songs with the group in advance?
I didn't. The songs were brand-new in the studio, and that was intentional. I wanted to capture the fresh energy that comes with hearing something and playing it for the first time.
Did you find yourself playing differently with an acoustic string band than in an electric group?
Yes. As I responded to what was going on around me, I found myself playing differently—and singing differently. I needed to come up with sounds that blended well with acoustic instruments, and I needed to respond in the moment to what Railroad Earth does naturally—often a sort of congregational call and response. I needed to adjust my playing to fit within the tapestry of their music.
What guitars did you use?
I used my 1961 ES-335, my Les Paul, and my D'Angelico New Yorker, one of the earliest reissues, which I've had for about 15 years. I strung it with flatwounds and dialed in a clean, jazz-like sound. This forced me to play differently than I normally do—no string bending, for instance. I've played that D'Angelico a lot throughout the years. I even used it on my last solo album, though that's more blues-meets-soul. As for acoustics, I played my Washburn signature, as well as three different Rockbridge guitars, a 1970s Guild, and an old Epiphone [a 1962 Triumph] that I borrowed from my tech.
Warren Haynes' Gear
Guitars
D'Angelico New Yorker reissue with stock mini-humbucker
Gibson 1961 ES-335TDC
Gibson Custom 1961 Warren Haynes ES-335 signature model
Assorted Rockbridge flattops
Washburn Warren Haynes WSD5249 signature model
Amps
Carr Mercury
1965 Fender Super Reverb
1963 Gibson Falcon
Homestead WH50
Effects
None
Strings and Picks
Assorted GHS sets
Dunlop Tortex .88 mm picks
D'Andrea 347 Delrin teardrop picks
Handpainted Dunlop 210 slide
Gibson Memphis recently made a beautiful signature model, a detailed replica of your '61 ES-335.
Yes. The good folks at Gibson copied my dot-neck—one of my favorite guitars ever—and they did a fabulous job. It looks just like my original guitar, with that deep cherry stain. The neck feels just the same, and the guitar sounds as close as you can get to one that's more than 50 years old.
Why is that ES-335 one of your favorites?
A lot of players think that the early '60s ES-335s aren't as good as the ones made in the late '50s, when they had beefier necks. But I think '61 is a great year for those guitars. I love the way the neck feels—it's flat but not too small. The old PAF pickups sound amazing, and so does that old wood—I love that on a vintage guitar. Even on a laminated hollowbody, you can sense the warmth it's earned from being broken in over the years.
You play a lot of slide and acoustic guitar on this record.
It was really fun playing as much slide as I did and refocusing on it. I played plenty of slide in the Allman Brothers, but not as much with Gov't Mule. I also enjoyed playing as much acoustic as I did on this record. It was a challenge for me to be a part of this sonic world, working with musicians who are used to playing acoustic all the time. I'm generally much more adept at recording electric guitars, and it was fun to do something completely different from what I normally do in the studio—all that acoustic work, not to mention the jazzy sounds of the 335 and D'Angelico through small amps.
Describe how you tracked your guitars.
For the electric parts, I had three close-miked amps set up side-by-side: a 1965 Fender Super Reverb, an early-'60s brown Gibson Falcon—that's where all the tremolo sounds come from—and a Carr Mercury that happened to be in the studio. The Carr had a nice, fat, warm sound. Later in the sessions I swapped it out for my Homestead. I always had three amps going at the same time, but could mute whichever ones I wanted to at any point.
For recording the acoustics I had an old Sony mic and a Neumann KM 184—the Sony on the body and the Neumann on the neck—and we pretty much used the same recipe the entire time.

"One of my favorite guitars ever," says Haynes of his 1961 ES-335. Photo by Scott Friedlander.
What challenges did you encounter in the sessions?
The biggest challenge was that we tried to record everything as live as possible, with minimal overdubbing. If a finished track felt like it needed a little something extra, we might have added it, but we generally tried to avoid that. Every record I've ever made, from the Allman Brothers to Gov't Mule, has been all about capturing a live vibe. Ninety-five percent of the solos you hear on the record were what I played on the live tracks. I always tell myself I'll start doing more with overdubbing, where it's so much easier to achieve perfection, but I just can't get away from this approach. It feels more natural.
Did you all play in the same room?
The fiddle, upright bass, and drums were isolated, but all in rooms where we could easily see the players. The rest of us were behind gobos, but again, we could all see each other.
How long were you in the studio?
Probably about 14 days, but we recorded a lot more material than the 13 songs on the album—close to 30.
"I enjoyed playing as much acoustic as I did on this record. It was a challenge for me to be a part of this sonic world, working with musicians who are used to playing acoustic all the time."

How did you decide which ones to include on the album?
I tried to pick the songs that fit together to make the most cohesive statement—songs that balance off each other nicely and flow together well, but are different enough from each other. Overall, I like a record to have a conceptual feeling, a personality of its own.
On "Stranded in Self Pity," you play some beautiful jazzy lines. What's the extent of your jazz training?
I've been listening to jazz since I was about 14 and have continued to listen to it as much or more than any other type of music. When I was younger, I played in bands that did music similar to the Mahavishnu Orchestra. But I would never consider myself a jazz musician and never pursued the long path to becoming one. Lots of other things occupy my music—I love so many different types and try to take a little bit from everything.
YouTube It
Haynes and his cohorts put a folky spin on the Rolling Stones' "Wild Horses."
How did you get the creamy slide sound on "Coal Tattoo?"
Mainly by boosting the mids—I played my Les Paul through the Homestead with its midrange boost selected—and manipulating the guitar's volume control.
Tell us about leaving the Allman Brothers Band.
The last year was a very emotional year for all of us. Three or four years ago we agreed that we made the right decision to stop touring as a band after our 45th anniversary. But that got kind of convoluted, because at least one member of the band got cold feet and wanted to revisit the decision. [Co-guitarist] Derek [Trucks] and I had already made plans accordingly that we could not change.It was emotional because the music means so much to all of us. I spent 25 years with the band and it was an amazing honor to be a part of the institution that's so important to American music.
Railroad Earth's Andy Goessling on Making Ashes and Dust
Working with Warren Haynes was great. He's used to adapting to new groups of musicians, so he allowed everyone a lot of leeway to let their natural voice out. We didn't get many direct instructions once he had a feel for how our musical instincts would take the tunes in a positive direction.
Because the studio was down the street from my house, I didn't skimp on guitars! Once I had a feel for what timbre the song needed and what range Warren was playing in, I used a variety of acoustics. I fingerpicked a 1936 Martin 0-17 on "Glory Road" and a 1980 Martin M-38 on "Is It Me or You." For "Coal Tattoo" I played a 1968 Guild D-44, which has a great full strumming sound, but is really transparent. On "Company Man" I played a 1942 Gibson SJ. Warren's tech Eric had his dad's guitar there, a '62 Epiphone Triumph, and I ended up using it for rhythm on "Stranded in Self Pity." I also used my regular stage guitar, a Crafters of Tennessee dreadnought, on a few tunes. Where you hear resonator guitar, it's a 1930 National Triolian, and there's also a '70s Ibanez Artist banjo and a Fluger Weissenborn-style lap slide.
When it was time to record, we'd start with Warren teaching us the song on an acoustic right in the booth. We would chart it, arrange it a little, and everyone would choose an instrument, and we'd just go for it right away. Maybe after a take or two someone might have a new instrument or arrangement suggestion, and we'd decide whether to overdub it or change direction right then and there. Usually the song let us know what was a good idea or not, and we'd just keep going, doing maybe five or six takes at most until we decided the song was there. We were working quickly, and luckily that didn't leave time to over-think ideas.
It felt natural to blend our acoustic instruments with Warren's electric parts, but it does take the right acoustic timbres to set off an electric. I've always been a big Faces and Stones fan, so I use their music as a guide for how to fit things like National steels and acoustic guitars around an electric. I'm definitely looking forward to seeing how things blend when we play the songs live.