This downsized version of Marshall's first amp still spans a sweet range of British and American tones and packs a punch—even in its 5-watt mode.
A well-designed, ruggedly built, and downsized update of the classic JTM45 platform. Suited for contemporary club and studio needs. Five-watt mode sounds excellent. Spans classic Brit and American tones.
Expensive for a 20-watt PCB-based combo.
4.5
4.5
5
4
Marshall ventured ably into smaller and quieter realms with 2018's Studio Series, which reduced the plexi, JCM, and Jubilee platforms down to a much more manageable 20 watts. The JTM45 is the latest Marshall legend to undergo the shrink treatment—yielding the Studio JTM ST20C, a 20-watt, 1x12 combo that harnesses big-bottle, 5881 output tube power in an amp suited for modestly sized clubs and studios.
Built from Tweed for Extra Speed
Though rightly recognized as one of the most significant amps of the 1960s, the JTM45 can confound casual Marshall enthusiasts with modern, high-gain leanings. It effectively mirrored the Fender 5F6A tweed Bassman circuit. But small differences between the amps (as well as bigger ones, like the Marshall's Celestion speakers) added up to a unique and powerful voice perfectly suited for the emerging British blues-rock language.
To reduce the 30 to 40 watts produced by a JTM45 (depending on spec and era) to 20 watts while using the same 5881 power tubes the JTM45 was born with, Marshall uses a cathode-biased output stage and hits the tubes with lower voltages than big Marshalls run on. The circuit also enables the ST20C, and its sibling the ST20H head, to run even quieter via a 5-watt mode. It comes with contemporary niceties like an effects loop with bypass switch, a DI output, and speaker outs for 4-ohm, 8-ohm, and 16-ohm loads. But the ST20C is still a very old-school, all-tube creation at heart, using three ECC83 (Brit-speak for 12AX7) preamp and phase-inverter tubes, just like its predecessors.
Coffin It Up
Like the Bassman-inspired JTM45, the ST20C is what Marshall calls a two-voice amp, with shared EQ and two inputs per voice. Marshall's numbering scheme for the inputs can be a little confusing to the uninitiated (they read "2" and "1" from left to right), but the top two inputs are for the high-output voice, the two below are for the low power voice. In each voice, input 2, aka the normal input, is the warmer and rounder-sounding of the two. Input 1, or the high treble input, brighter and snarlier. Each has its own loudness control, but they share treble, middle, and bass controls, as well as a presence knob that further tweaks high-end response at the output stage. The two voices can also be jumpered to access blends of input 2's warmth and input 1's brightness.
"Newbies might be surprised to hear how much the ST20C deviates from a modern definition of the Marshall sound."
In addition to the vintage-evocative control panel, Marshall went all-out on the early JTM-era cosmetics for the ST20C, and I think it looks fantastic. The black levant covering is complemented by gold string and piping, fawn fret cloth for the grille, and an art deco "coffin" logo with red enamel "Marshall" text. Construction of the 19.7" x 18.1" x 10.4" birch-ply cabinet feels robust, and with the 16-ohm Celestion G12M Creamback speaker, it still weighs just around 39 pounds.
The Studio Series amps aren't among Marshall's handwired offerings, so the circuit inside is PCB. Nevertheless, it looks sturdy and well-built. The use of relatively low voltages in the output stage means the 5881 tubes should last longer than they would in a higher-wattage, higher-voltage amp. But if you do need to replace them, the cathode-biased configuration means you just pop in a new pair of 5881s and go—there's no bias adjustment necessary.
Breaking in, Breaking Through
I checked out the ST20C with a 1959 Les Paul Reissue to see how it handled the classic Bluesbreaker formula, as well as a 1966 Fender Telecaster. With each guitar, it delivered a wide and expressive range of tones that are very much in keeping with the original's performance. Newbies might be surprised to hear how much the ST20C deviates from a modern definition of the Marshall sound. But it is surprisingly versatile for that reason. And you can make the case that the ST20C tone palette works for a greater range of playing styles and genres than the average blaring stack.
The core tone is characterized by a thick, round midrange; silky, clear highs that aren't piercing; and low-end tones that are full, round, and a little loose when you push it. The amp also works beautifully with overdrive pedals. A Tube Screamer sounded great, and a Marshall-style Friedman Small Box overdrive effectively brought out the ST20C's plexi side. The effects loop works perfectly for time-based and modulation effects. Meanwhile, the 5-watt power setting rips without any significant tone loss.
Many players more familiar with the plexi and JCM800 Marshalls will be surprised by, well, how Fender-y the ST20C can sound. Obviously, the tweed Bassman-derived blueprint accounts for some of that. But if you've ever turned up an early-'60s, brown-panel Fender Deluxe and thought, "wow, that sounds like a mini Marshall!" … you'll recognize that hybrid sound in many of the ST20C's sweet spots, too. Crank it up and it's raw, throaty, and singing like an early Marshall should be. Play it at the edge of breakup and it evokes more American-style tones. The ST20C's ability to span these sounds and assert its own personality makes it a fun, flexible and inspirational piece of gear.

The Verdict
The JTM ST20C is an awesome addition to Marshall's popular Studio Series and it's cool to hear the tonalities of the company's first amplifier rendered in such compact, practical form. Some buyers might find the near-$2K price tag high for a PCB-based, 20-watt amp. But when you consider the wide range of genres and styles this compact U.K.-built combo covers, and how assertive and primed to conquer it can sound and feel, it starts to sound like money well spent.
Marshall Studio JTM ST20C Demo | First Look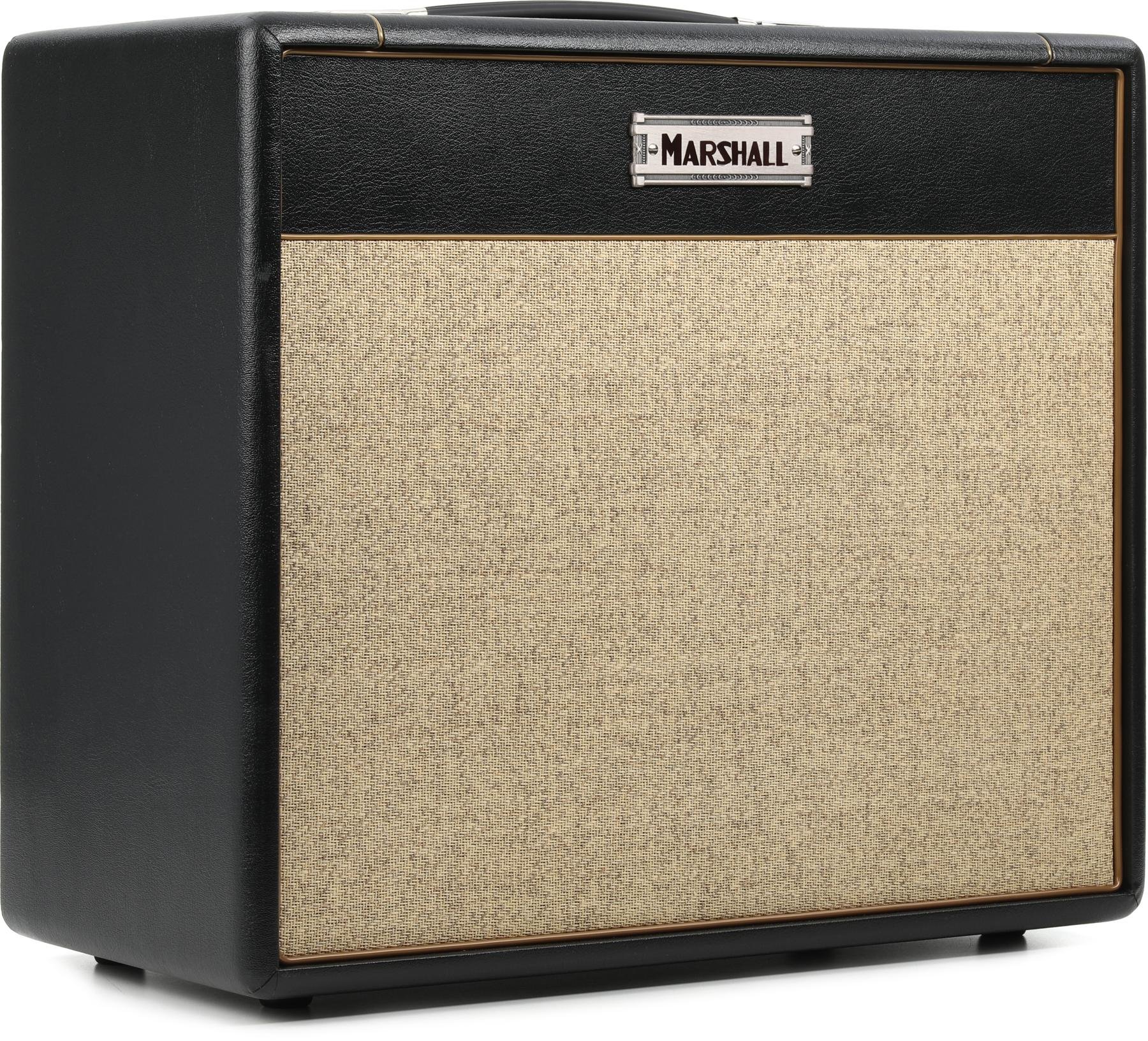 Marshall
Photos courtesy of Reverb/DK Factory
When it comes to rosewood, there's a wide variety out there—which makes identifying it a bit of a challenge. On this K. Yairi guitar, the type of tonewood remains a mystery.
The jacaranda trees that line Australian sidewalks with bright violet blooms are a famous variety, but around the world, the name "jacaranda" can refer to many different plants. In Brazil, the word encompasses an incredible variety of shrubs and trees, including some species of rosewood.
There, "jacarandá-da-Bahia" is a common name for Brazilian rosewood. These so-called jacaranda trees of the Bahia region are, scientifically speaking, Dalbergia nigra, and when the full phrase is used, you can be sure that's what you're getting. But this phrase, too, can be shortened to "jacaranda" alone.
Now, why am I treating you to a lesson in the naming conventions of flora? Because to vintage guitar fans, true Brazilian rosewood—rather than just some rosewood from Brazil, like cocobolo—is what we might call "the good stuff."
Martin used it religiously until 1970. Fender's famous slab fretboards were made from it. The stuff is so good, in fact, that its international trade has been protected for many decades, most formally through the Convention on International Trade in Endangered Species of Wild Fauna and Flora (CITES).
This '70s K. Yairi guitar's slotted headstock is one of the features that indicate that it was inspired by Nashville's Grammer acoustics from that era.
Photos courtesy of Reverb/DK Factory
So if a guitar trader tells you, "This is built with jacaranda," that could mean it's honest-to-goodness Brazilian rosewood. It could also mean it's cocobolo or even Honduran rosewood, which picked up the nickname "new jacaranda," confusingly enough, when it started being used as a substitute for Dalbergia nigra.
Which brings us to the matter at hand: the 1974 YW-800G built by K. Yairi, featured in this edition of Vintage Vault. Up for sale on Reverb now through the Tokyo-based seller DK Factory, the YW-800G has an all-rosewood body that makes a striking impression. But what kind of rosewood is it? Do I need a CITES permit if I'm going to buy it?
"For a moment, I thought, is this majestic-looking instrument far more common than I knew?"
Many guitarists know Kazuo Yairi's name through his long association with Alvarez, starting in the late '60s. With a small team and time-honored craftsmanship, Yairi earned a reputation as a master luthier, whether his guitars were tagged Alvarez-Yairi, Alvarez (with his signature on the label), or another brand, like his own K. Yairi. In the '70s, many K. Yairi guitars were Martin copies, and great ones at that. Some resemble the spartan D-18; others are as decked out as a D-45.
So, what should we make of this YW-800G? It has enough abalone in its inlays and binding to go toe to toe with any top-tier Martin. Its ebony fretboard, hand-carved mahogany neck, and Grover tuners fit in with that hallowed lineage. Underneath, Yairi's unique approach to scalloped X-bracing is still Martin-esque in character. But the outrageous curves of its slotted headstock and bridge, that almost batwing pickguard…. These features aren't from Nazareth—they're straight out of Nashville, taken from that city's own Grammer acoustics, which were then popular with country artists.
I'll confess, when one of these YW-800Gs recently landed on Reverb, I didn't think I'd ever seen such a guitar. A few days later, a second one appeared, leading to a quick double take. For a moment, I thought, is this majestic-looking instrument far more common than I knew?
These Grover tuners are one design element that match Martin guitars, which many K. Yairi models mimicked in the '70s.
Photos courtesy of Reverb/DK Factory
Thoroughly curious, I went back through old Reverb listings and confirmed—this is a rare breed indeed. Only a handful of similar K. Yairis have popped up for sale in Reverb's decade-long history, ranging in price from about $1,500 to this $2,500 version. (Interestingly, the YW-800G has crossed decades of construction, made as early as 1973, and as recently as 2014.) But back to the question of the hour: What exact wood did Yairi use to make this wonderful rosewood body? The answer is, unfortunately, not fully forthcoming.
There's a 1980 K. Yairi catalog that shows the model. There, we can tell that it sold for 80,000 yen at the time, or about $400 (roughly $1,500 in today's dollars). But the specs and features are in Japanese, naturally, which doesn't help us here. Alvarez-Yairi catalogs from the era written in English provide more clues. They use "jacaranda" and "rosewood" as distinct words, referring to different types of wood. For example: "Three piece back has two panels of jacaranda; center panel is select grain rosewood."
Given this, and given the budget-friendly price point, I think it's safe to assume that K. Yairi's jacaranda is not, in fact, proper Brazilian rosewood (Dalbergia nigra), though you'd be hard-pressed to spot the difference. With such good looks and a beautiful sound, it might not even matter that it's just some rosewood from Brazil instead—especially if that means it gets through customs unscathed.
Sources:
Reverb listings and Price Guide data, K. Yairi's 1980
Hand Crafted Folk Guitar
catalog, Alvarez Guitars' catalog for the 1976 United States bicentennial,
America Sings: Commemorating 200 Years.
The rockabilly icon struts onstage with a trio of Gretsch 6120s, a pair of early '60s Fender Bassmans, and a silky Roland 301 Chorus-Echo.
Two-time Grammy Award-winning rockabilly hero Brian Setzer recently played a sold-out show at Nashville's Ryman Auditorium in support of his new solo album, The Devil Always Collects. Tyler Sweet, who has teched for Setzer for 17 years, took PG's John Bohlinger through the rig that rocked this town, and just about every other town in the world over Setzer's 40 years of twanging and sanging.
Brought to you by D'Addario XSRR Strings.
With his recognizable arsenal of plucky semi-hollows, Setzer has probably done more for the Gretsch brand than any other player in the last half-century. On this tour, Setzer brought out some old friends, like this 1959 Gretsch G6120 with gold hardware, rebuilt and restored by TV Jones. Jones treated it to a total overhaul, including a neck reset, a refret with a new radius, new inlays in the upper register, fresh binding side dots on the bass side and lacquer on the neck, a new bridge, reversed toggle switches, and an upgraded Wilkinson Delrin nut—plus, he removed the zero and fret-fill behind the nut. Like all of Setzer's guitars, this supercharged swing machine stays strung with D'Addario EXL 110s (.010-.046), which Setzer strikes with medium celluloid picks.
In a 2014 interview with Setzer, PG featured had a sidebar with guitar guru TV Jones who detailed what he did to Brian's guitars and how he created his signature pickup: "TV Jones mastermind Tom Jones—who's been rehabilitating old pickups and winding new ones for Brian Setzer for 20+ years—explains the process behind the Stray Cat's new signature pickups.
"It's my job to ensure that all of Brian's guitars play and sound the absolute best they can possibly be," says Jones, who debuted the pickups at the March 2014 Musikmesse gear show in Frankfurt, Germany. "A few years back, I found that a few of Brian's new Hot Rod signature guitars—which were sent to me by Gretsch to set up for his upcoming tours—sounded slightly brighter acoustically. So I decided to design a new pickup to bring out the best in these guitars—higher fidelity on top, with a slight punch in the bottom end—by using sonically unmatched coils and custom steel-alloy pole screws. The results were beyond my expectations."
Jones also reworked this 1960 Gretsch G6120, which bears nickel hardware. He scraped a new shape in the neck, then refinished the lacquered neck and face cap. Like his work on the '59, Jones also removed the zero fret and filled behind the nut (another Wilkoloid Delrin), manipulated the pickups, replaced the fretboard binding and inlays with side dots, fit a new bridge, turned around the toggle switches, and gave it a refret and new conical fretboard radius.
For a more modern accent, Setzer plays his 2004 Gretsch G6120T-HR Brian Setzer Signature Hot Rod in magenta sparkle. This guitar is all stock.
Setzer tours with two blonde Bassmans—one from 1962 and the other from '63, but both with a 6G6-B circuit. They run into matching Bassman 2x12 cabs, which run 12" Oxford speakers. Setzer usually uses one amp and has the other as a backup, but has been known to run both when it makes sense for the venue.
Setzer has a Boss TR-2 Tremolo in his line for the occasional tremolo, and brings as many as six of the stompboxes on the road with him, just in case. Ditto his Roland 301 Chorus-Echos, which range between 1983 and 1986. The units are old and fragile, so in case one taps out, there's another to take its place. Setzer wires his set up with Mogami cables, with Amphenol silent ends.
Shop Brian Setzer's Rig

1959 Gretsch G6120
D'Addario EXL 110s (.010-.046)
Boss TR-2 Tremolo