Blackheart's New Amps and Cabs
Blackheart announces the compact Killer Ant and Cab and the Handsome Devil head and combo
Anaheim, CA
(January 15, 2008) - Just in time for NAMM, Blackheart has announced two new amps, the "Killer Ant" and the "Handsome Devil," and two corresponding cabs.
The Killer Ant & Cab
The tiny-yet-menacing follow-up to Blackheart Engineering's Little Giant 5, the BH1H "Killer Ant" is the first truly attainable, boutique-quality, fractional tube amp. Boasting Class A, single-ended circuitry, it delivers the tasty, touch-responsive tube tone of a classic monster, but growls at volumes more suitable for apartment dwellers and home studio recording.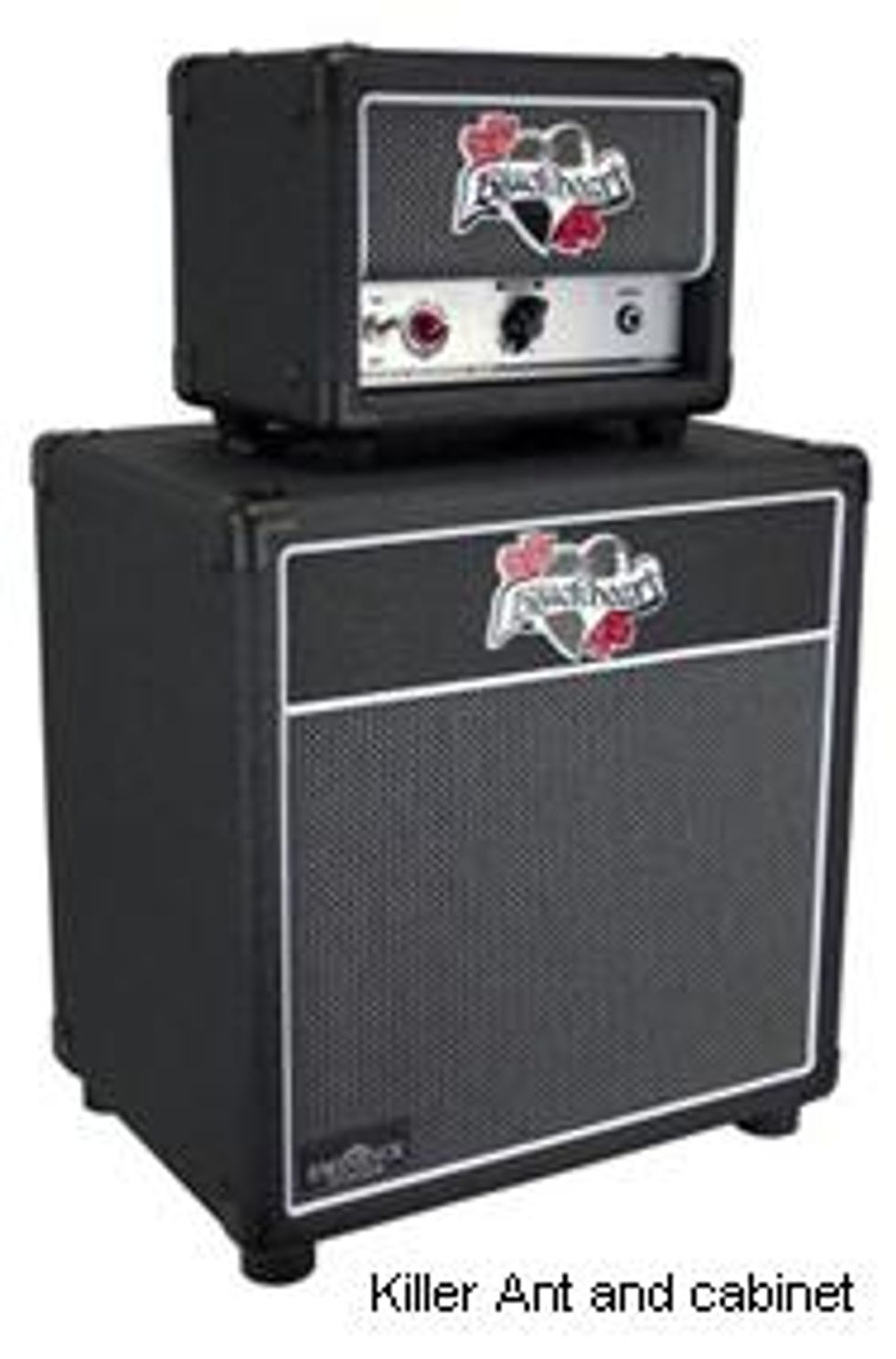 Designed on a beer-stained cocktail napkin, prototyped, then "brought to life and mercilessly experimented on" in a one-car garage down in the Lone Star State, the Killer Ant is engineered to the same exacting standards as the Little Giant 5. And like its big bro, this new tone-drone features completely overbuilt component specs, from one-watt resistors in the signal path to a double-sided PCB with two-ounce traces.
The Killer Ant embraces an all-tube circuit, but instead of a high power tube output section, it sports a clever all-tube power block pumping out a fraction of one watt. The result is a Bic-flickin' arena rock tone at bedroom level, so you can keep your neighbors happy, wives and girlfriends quiet, and sleeping babies asleep.
As a companion to the Killer Ant, Blackheart's new BH110 "Killer Cab" features a single 10-inch Eminence driver co-designed by Pyotr Belov that is perfectly paired to pull huge body out of the amplifier. Four-, eight- and 16-ohm extension speaker jacks further allow guitarists to hook the Ant into virtually any cab they like, including a 4X12.
Although the cabinet is small, it's sturdily built with 15-ply (18mm), void-free wood covered in durable black tolex. Final touches include distinctive white piping accents and salt and pepper cloth-covered front baffle.
"We originally tried to design something so small you'd lose it and have to buy another one," jokes Blackheart marketing director Kevin Van Pamel. "In the process, we realized this thing sounds fantastic. Go figure."
The Handsome Devil
The Handsome Devil is available in two versions – the BH15H head and the BH15H-112 single 12-inch combo. The Handsome Devil is a meticulous take on 15-watt, Class A amplifier designs from tube amplification's golden era.
Designed and prototyped in the same one-car garage in Austin, Texas, by Russian-born amp whiz Pyotr Belov, the Handsome Devil evokes classic tube tones that are highly reminiscent of the great American and British plug-and-play workhorses that laid the foundation for rock and roll guitar tones starting in the sixties. Just like its predecessor and little brother, the Little Giant 5, Blackheart's Handsome Devil is built to last with features and components you'd expect to only find on a hand-built, much more expensive piece of gear.
That might explain the simple elegance and robust component specs that mark Blackheart Engineering's designs. From one-watt, carbon-film resistors in the signal path to a beefy, double-sided PCB with two-ounce traces, 16-gauge, precision-folded and welded chassis, and mutli-ply, classically joined cabinetry, Blackheart is as serious about quality as it is about tone.
Delivering 15 watts of RMS output power in Pentode Mode and 7 watts in Triode Mode, the Handsome Devil is equipped with a pair of 12AX7 tubes in the preamp section, a pair of EL84s in the power amp section, and a solid-state rectifier with internal 6V – 2A rectifier tab that permits future mods with 6X4 or 5AR4 type tubes. Front panel controls include rotary "chicken head" knobs for Drive, Level (Master Volume), Treble, Middle, Bass and Presence, flip switches for On/Off and 15W/7W operation, and a brilliant red jewel Power indicator. Rear panel speaker outputs can accommodate 1x16-ohm, 2x8-ohm and 2x4-ohm setups. The combo features the specially designed Eminence speaker range developed by Blackheart Engineering and Eminence Speakers.
The Killer Ant, Killer Cab and Handsome Devil are set for release in April and will be on display at NAMM in booth #5776 (Hall B).
Estimated Street Prices:
Killer Ant - $139.99
Killer Cab - $139.99
Handsome Devil Head - $299.99
Handsome Devil Combo - $399.99
For more information:
http://www.blackhearteng.com/