Photo by Richie Sambora
For Rock Candy, Orianthi set out to write and record a song a day. Leaning into spontaneity to spark creativity, the result is as stylistically diverse as her impressive résumé, which includes performing with Steve Vai, Carlos Santana, Alice Cooper, Michael Jackson, and Prince.
As both a solo artist of the highest order and a session ace who has worked with the music world's elite, Orianthi has succeeded not only because of her immense talent, but also because she knows how to get things done. When Orianthi (Penny Panagaris) was offered a guitarist role on the Alice Cooper tour, she learned 25 of his songs (many quite difficult) in a week—all during a time when she was in the middle of recording her own album.
After a performance at the 2009 Grammy awards with Carrie Underwood, she was scouted by Michael Jackson's musical director, Michael Bearden, who contacted her on Myspace to audition for Jackson's This Is It tour (which sadly never materialized due to Jackson's untimely death). Orianthi got the call while she was in the studio with legendary songwriter Diane Warren, finishing up one last song for her album, Believe. By the next day, she arrived at the audition ready to play Jackson's hits, like "Wanna Be Startin' Somethin'," "Dirty Diana," and "Beat It." The latter song featured the late Eddie Van Halen's virtuosic solo, which she had to play onstage with the King of Pop at the audition. Talk about high pressure! That solo is hard enough to scuffle through in the comfort of your bedroom … imagine doing it while standing next to the greatest entertainer of all time, in a room full of scrutinizing eyes atop folded arms? And she got the gig!
"From a young age, I've been thrown into what people would say is like going from zero to 100 situations," says Orianthi, who opened up for Steve Vai at only 15 (and later wrote and recorded "Highly Strung" with him). "And you go, 'Okay, I've got to do this,' and you just think positively and just have that enthusiasm. There's no time or space for fear or doubt. I think that's the best place to be."
Orianthi - "Light It Up" - Official Music Video
While most artists are crippled by a double dose of writer's block and the constant second-guessing of ideas, Orianthi's latest release, Rock Candy, was written and recorded at warp speed (some songs were written in about 10 minutes). Producer Jacob Bunton joined Orianthi in the studio. "Wegot together and decided to make Rock Candy in 14 or 15 days. It was this project that we put upon ourselves to do it that way and we worked well under pressure," Orianthi says. "It was pretty much a song a day, recorded each day, and then after I left, he would stay up late adding things and taking away things. We were both like workabees for that amount of time. We wrote the song, I laid down my vocals, put down my guitar and all that kind of stuff, on that day. He would build the basic tracks. After we did all of that, we got the band to play on it, like live drums and whatnot."
"You go, 'Okay, I've got to do this,' and you just think positively and just have that enthusiasm. There's no time or space for fear or doubt."

This isn't to say that Orianthi always just breezes through everything. In the past, she's gotten caught up in that vicious cycle of obsessively laboring over material that, by all accounts, was already fine. "Sometimes when you force things, it doesn't happen. Sometimes when you overthink, it destroys things," she reveals, "because of your surroundings, too, you're surrounded by people that are second guessing or adding to your paranoia. Sometimes it's great when it's constructive criticism and they make it better. Other times people don't have the same idea, or the same energy feel, and that interferes. Sometimes it's better to keep less cooks in the kitchen. Otherwise, it can turn into a five- or six-year project, or a two-year project, or a never-ending project. Or it will never get done, never get released. I've only had that happen a few times, but at the end of the day, the best records that I've made and had fun with were the ones I did really fast. When you make music for the moment and for yourself, you can experiment a lot."

Orianthi fingerpicks her signature PRS Private Stock Custom 24 at the Coach House in San Juan Capistrano, California, on January 26, 2023.
Photo by Brad Elligood
Recorded at the iconic Sunset Sound studio in Hollywood, Rock Candy is Orianthi's most stylistically diverse effort to date. While there are many moments of heavy guitar, particularly on tracks like "Light It Up," with its infectious boogie riff, and "Getting to Me," "Fire Together," and the album closer, "Illuminate, Pt. II," where Orianthi's guitar solos sizzle, the album offers more than just fretboard pyrotechnics. "That's why it's called Rock Candy," says Orianthi. "Everyone thought I covered the Sammy Hagar song, which I love, mind you—it's a great song. But it really sums up the whole record. There's a little bit of rock, a little bit of pop, it's kind of sugar-coated, then there's like really heavy and weird and edgy. It's a vibe that we went for. We wanted something that was in the moment and not overthought. Keeping that childlike outlook really helped sometimes."
Orianthi was raised in a household where music was a religion. Her dad, a gigging guitarist, reveled in a mix of rock and blues with Hendrix, Clapton, and Santana in heavy rotation, while her mom put on the Top 40 every Sunday morning. Orianthi is often classified as a rock guitarist, but she's also worked with a lot of pop artists from Jason Derulo to Anastacia, and that pop influence seeped heavily into this new album. Songs like "Where Did Your Heart Go" have a distinct commercial feel with Orianthi's vocals belting out honest, heart-on-sleeve lyrical content inspired from diary entries, which were written during some trying times in her personal life. "I'm a fan of a great pop song. I started as a songwriter listening [to everyone from] Elvis Presley to Roy Orbison to the Beatles. The Beatles are incredible songwriters, but they wrote pop songs, too, you know? That's where my love of just writing came from. I was like 6 years old, listening to that and my mom's pop collection," she says.
​Orianthi's Gear
For Orianthi's signature Gibson SJ-200 acoustic, she requested the neck profile from an ES-345 and designed the custom pickup with LR Baggs.
Photo by Richie Sambora
Guitars

PRS Private Stock Custom 24 Blooming Lotus Glow Signature Model
Gibson SJ-200 Signature Model
1963 Fender Stratocaster
Amps
Effects

Boss Delay
Nexi Octaver Signature Model
Strings and Picks
Ernie Ball .010–.056
Dunlop 1.0 mm
Which begs the question: If the powers that be elected to transform and market Orianthi as a pop star, say, in the Billie Eilish mold, would she forsake the guitar? "No, no [laughs]. I can't leave my guitar alone. Guitar is always going to be part of the deal. That's for sure. For myself right now, where I'm moving into, it's a different sort of journey and who knows what could happen in the future. My heart's open, my mind's open all the time, you know? Having that single, 'According to You,' that was a multi-platinum pop hit for me in 2010 that reached around the world. That was awesome to have that success with a pop song. And then I go, 'Okay, that was cool and I've done that, but moving forward….'"
Always looking for new inspiration, Orianthi has recently been exploring the sounds of jazz artists. "I've been listening to Coltrane and stuff like that that's out of the box, because if you try to play those melodies on guitar, it's weird and it's cool," she says. "You listen to any Hendrix live performance. It's not perfect, it's never completely perfect, but it is perfect because it takes you on this colorful journey. I find it to be like light energy, where you're not completely grounded and thinking of stuff you've done before. It's just like moving forward. For me, as a guitar player, I want every performance to be better in the sense of the choice of notes and the melodies I'm coming up with. More out-of-the-box stuff, that's important to me."
"My dad took me to a Santana show and I was like, 'That's it! I'm giving up classical, I'm done with it.' He played 'Europa' and those opening notes just hit me like lightning."
Tracks like "Living is Like Dying Without You" feature a recent addition to Orianthi's gear arsenal—her new signature Gibson SJ-200 acoustic. She was drawn to the J-200 because of its connection to Elvis and Johnny Cash. "I love the sound of a J-200 because it's like a grand piano, it fills the room. I had a choice of other guitars when I went to Montana to create my model. Like, 'Why would you choose a J-200? It's massive.' But why wouldn't I? It sounds so good," says Orianthi, who loved the guitar but had some reservations about its boat-sized neck. Later, at the Gibson showroom in Hollywood, she picked up a guitar that turned out to be the ES-345 that Bradley Cooper used in A Star is Born. After trying out this easy-to-play instrument, she requested an unexpected modification from Gibson for her signature axe.
"I was like, 'Could we put an electric guitar neck on it?'," she recalls. "They were like, 'Yeah, we can do that. This is probably the first hybrid acoustic-electric we've done at Gibson.' I'm like, 'Why not, let's do something different.'" Gibson mated the neck from an ES-345 to the SJ-200, and the result is a rich-sounding acoustic with the playability of an electric.
A lot of back-and-forth also took place in designing the custom pickup for her signature SJ-200. "I wanted to have a guitar where if you had a DI, the soundman could be passed out, high, or drunk and you would still sound good," says Orianthi. "I modified that with LR Baggs, so there's more midrange and compression. We actually adjusted the sound of the pickup by going back and forth with an LR Baggs acoustic pedal, over FaceTime and Zoom saying, 'Modify this or modify that.' That's how the whole pickup system was created."
For electric guitars, Orianthi's signature PRS is her main instrument. The meticulously crafted instrument carries a steep price tag, retailing around $11,700. But a more accessible version may be on the horizon soon. "We're in talks right now. Probably an SE model coming of that one," reveals Orianthi. "Because a lot of people wanted to buy it and they couldn't afford it. It's very expensive, but it's very well made. That is a dream guitar that was brought to life by the PRS team. Paul has really dialed it in. He picks the right woods, and everything is quality. They're like Porsches [laughs], you know what I mean?"
When it comes to electric guitars, Orianthi sticks to her "dream guitar," her PRS Private Stock Custom 24 Blooming Lotus Glow signature model. "They're like Porsches [laughs]," she says.
Photo by Richie Sambora
For both her acoustic and electric playing, an interesting aspect of Orianthi's style is that she often eschews picks, opting instead to use her right-hand fingers to articulate single-note lines. This technique has its origins in Orianthi's formative years.
"I started classical at TAFE University when I was 10 and that was really boring, but my dad was like, 'You should probably do this, and learn theory.' I learned theory and got past two or three, I think, and passed really well, but I got major headaches from that stuff. My teacher was weird, and it was just boring. I didn't like it very much at all. Then my dad took me to a Santana show and I was like, 'That's it! I'm giving up classical, I'm done with it.' He played 'Europa' and those opening notes just hit me like lightning and I went, 'There's something there.' I learned probably every Santana song. I watched Carlos play a lot; he doesn't always use a pick. Especially sometimes when you want the note to sound a little sweeter and have less attack. But then to be honest with you, I lose my picks so much that I learned to play without a pick because there's like this vortex of socks and guitar picks somewhere, all of mine that go missing. I get bowls of guitar picks and they just go. I don't know if my cat eats them [laughs]."
Orianthi's New Album "Rock Candy" is out now!!!
In a pared-down duo situation, Orianthi gets sweet sounds using her pick-hand fingers to articulate melodies on a PRS hollowbody.
The modern Southern rockers recently played Nashville's Ryman Auditorium, and guitarists Charlie Starr and Paul Jackson displayed a bevy of gear every bit as hardworking as these road dogs.
Right now, they're in Europe, but Atlanta-based rockers with a distinctly Southern musical accent, Blackberry Smoke, smoked Nashville's Ryman Auditorium for two nights in February before jumping the pond.
Their latest album, You Hear Georgia, was produced by Dave Cobb in Nashville, and hit the top of the Billboard Americana/Folk chart when it was released in mid-2021. PG's John Bohlinger caught up with guitarists Charlie Starr and Paul Jackson before their sold-out show at the Ryman to run down their ever-expanding universe of gear.
Brought to you by D'Addario XS Strings.
Battered, Not Fried
This 1956 Gibson Les Paul Junior was professionally refinished in the '70s, but Charlie Starr has put some serious miles on this one-pickup wonder. The battered badass with a dog ear P-90 and all his electrics are strung with D'Addario XL Nickel Wound strings, .010–.046. He uses InTuneGP Heavy picks and a ceramic Charlie Starr Signature Osanippa Creek Slide.
Like Ernest Tubb and other guitarists from the classic annals of entertainment, Starr has a greeting on the back of his '56 Junior for the fans.
Barnburner
For some semi-hollow tone and feel, Starr goes with his stock 1964 Gibson ES-335 in Cherry Red with a Bigsby. The guitar belonged to a friend's grandfather, and when Starr acquired it, he says, "It had gouges at the C, G, and D," positioning his hand over the open chord shapes. He had it re-fretted by Stan Williams in Georgia, who told Starr, "This guitar looks like it's been sitting outside in a barn since 1964. And I don't know how the dude was able to get a bird to shit inside that f-hole."
Physical Advantage
Starr maintains that this 1965 Fender Esquire in factory black, like his other single pickup guitars, sounds larger than most as there are less magnets interfering with the string vibration. He adds, "I'm told that it's a physics thing. And I'm a physicist, so I subscribe to that theory."
The Rest of the Best
Here are the Starr's other main stage rides (clockwise from the top left): a 1956 Gibson Les Paul Jr., a 1963 Fender Esquire, a Fender American Nashville B-Bender Telecaster, and a 1964 Gibson SG Jr..
Tone Trifecta
"This is on all the time," Starr says of his Echopark Vibramatic 23, which he pairs with a tall cab. "It's basically a tweed Deluxe, and it adds that 6V6 creamy sweetness all the time." The maker of Blackberry Smoke's 50-watt Germino heads, Greg Germino, personally recommended this Germino Lead 55LV (left) to Starr, and is paired with a 4x12 cab. And the other Germino is a Master Model 50.
Charlie Starr's Pedalboard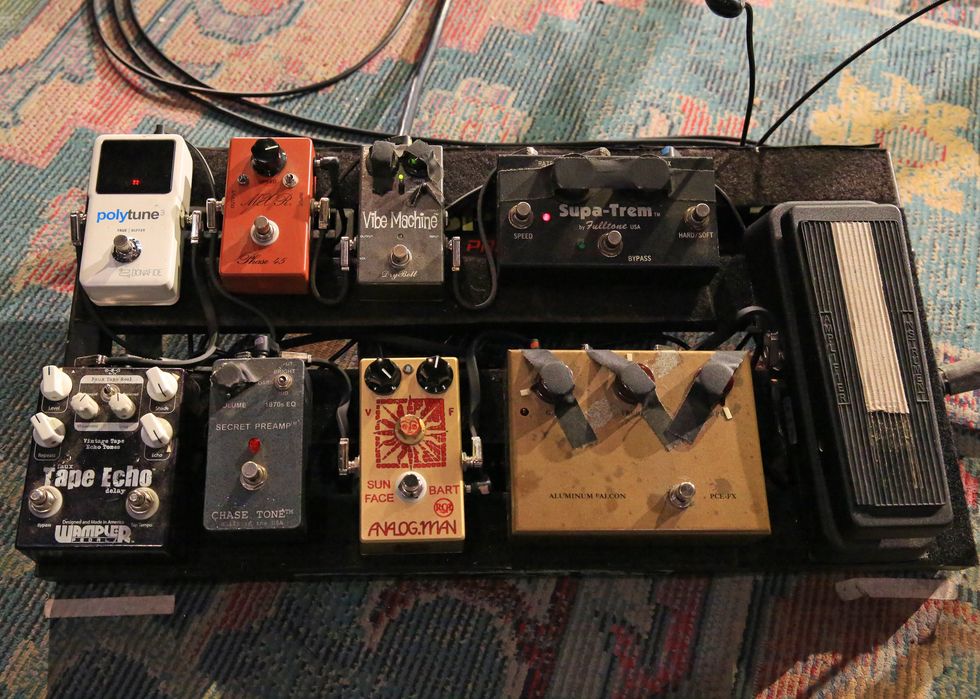 Starr's pedalboard features a Cry Baby Wah, a PCE-FX Aluminum Falcon Klon clone, an Analog Man Sun Face, Chase Tone Secret Preamp—"a preamp that accidentally made everyone's signal a little sweeter,"—Wampler Faux Tape Echo, Fulltone Supa-Trem, DryBell Vibe Machine, Analog Man-modded MXR Phase 45, and a Polytune 3. XTS XAct Tone Solutions supplies the juice. Starr tapes a few of the pedals' knobs to make sure his settings don't go missing in action.
Paul Jackson's Ol' Reliable
Paul Jackson's number one is his 1979 Les Paul, which has been modded with a Seymour Duncan '59 neck pickup and a Pearly Gates bridge pickup. He says he got it at a Guitar Center in Atlanta about 18 years ago—it also sports Dickey Betts' autograph. Jackson strings this and all his electrics with D'Addario .010-.046s.
Black Magic
This black Gibson SG Standard—one of Jackson's pair of SGs—was a gift from Frank Hannon of the band Tesla, who signed the back of it.
Keep It Together
Jackson's Martin D-28 currently has gaffer tape holding down its binding.
Gibsons Galore
The other three touring staples for Jackson include a 1978 ES-335, a 40th Anniversary Les Paul Ebony 1991, and a 1998 Gibson SG Les Paul Custom Shop Historic.
De-Modded For Classic Tones
One of the two amps Jackson tours with is a pre-'85 Marshall JCM800 50-watt with a stock 4x12 cab. You'll see it has a sticker that says "Paul Jackson Mod"—he had it modded at one point, but later took it to Andrews Amp Lab in Atlanta to have them "turn it back into a Marshall." Along with the Marshall, Jackson's Vox AC30 is on "all the time."
Paul Jackson's Pedalboard
Jackson and Starr's pedalboards have more than a few things in common—Jackson's also equips his with a Cry Baby Wah, Wampler Faux Tape Echo, and a PCE-FX Aluminum Falcon Klon clone—although Jackson's is an Aluminum Falcon III. Other pedals on his board include a Radial Twin-City ABY Amp Switcher, JHS 3 Series Reverb, MXR EVH Phase 90, Way Huge Overrated Special Overdrive, and an Ibanez Mini Tube Screamer. Power comes from a Truetone power supply. Of the EVH Phaser, Jackson says, "If you don't know what you're doing, hit the phase pedal. nobody will ever know."
Photo by Ken Settle
The great multi-instrumentalist, world music pioneer, and larger-than-life personality is warmly remembered by his friend, veteran music journalist and musician Dan Forte.
People often ask me, "Who was the best musician you ever met?" or, "Who was your favorite interviewee?" I always say David Lindley and David Lindley. Across 47 years and some 1,000-plus interviews, with such fascinating subjects as Frank Zappa and George Harrison and master musicians the caliber of Stéphane Grappelli and James Jamerson, Lindley takes the cake.
Have you ever been too depressed to cry? That's been my condition since hearing that Lindley died on the morning of March 3 due to complications with long Covid. I did nine articles on David and interviewed him several times more. In the grand scheme of things, it's very rare for a writer and artist to become friends and have a relationship beyond the interview. But there was a connection from our first meeting, and I was lucky enough to spend quality, "off the clock" time with David.
I've been asked to share a few stories about Lindley … not to make it all about Me, but to illustrate what kind of person, as well as musician, he was.
In 1967, I saw the man in Kaleidoscope, arguably the first "world music" rock band, decades before the term was coined. They played an "Electric Band Session" as part of the Berkeley Folk Music Festival. I was not quite 14. Practically every member of the group was a multi-instrumentalist, and David even brought his huge Gibson harp guitar (an early-20th Century Style U) on the road. At one point they'd gotten themselves situated with their chosen instruments when, just before the downbeat, some fan hollered, "Louisiana Man!" They paused, looked at each, and then started exchanging instruments while the crowd laughed. They proceeded to peel off a terrific rendition of Doug Kershaw's Cajun classic.
Decades later, I interviewed Ben Harper, who was a neighbor of the Lindleys growing up in Claremont, California. He's about 15 years younger than I am, and when I told him I'd seen the band, we got into a "No way!" "Way!" exchange à la Wayne's World.
I first interviewed Lindley in 1977, after a United Farm Workers benefit with Jackson Browne and Warren Zevon. Riding to the hotel with Lindley and Zevon, their back-and-forth had me laughing all the way, including a battle of the Long John Silvers: Robert Newton versus Wallace Beery.
Completing the interview a month later at his home, David allowed me into the "inner sanctum," where instruments took nearly all floor and wall space—guitars, steels, banjos, mandolins, fiddles, viola de gamba, saz, tar, cümbüş, the Gibson harp guitar, and more. Regarding his approach to disparate instruments, he said, "You know how an ant can taste and hear and smell with one organ—this all-encompassing feeler? That's more what it's like … being an ant."
Blurring lines between traditional and iconoclastic, he studied, investigated, incorporated, and became a prominent voice in styles spanning the globe, on more instruments than even he knew. He said, "I played all kinds of things which were 'not played' on guitar." This included bowing an electric guitar. He laughed, "And it wasn't Jimmy Page."
David Lindley lays into a vintage Silvertone. Dan Forte recalls, "He was the first guy I saw in a major act playing Silvertone amp-in-case models or a Dan Armstrong London with two sliding pickups—extracting killer tones—leading me down a rabbit-hole hunt for Goyas and Zim-Gars."
Photo by Ebet Roberts
In the process, he expanded the parameters of popular music, stylistically and instrumentally, to a degree that precious few can claim.
His inspiration for taking up lap steel was the late bluesman Freddie Roulette. But of influences on the instrument, he said, "I'm basically a sax player"— naming King Curtis, Junior Walker, and David Sanborn.
Obituaries lump him in with soft rock, which was true of much of his '70s work. But the highlights of countless Jackson Browne concerts were Lindley's incandescent lap-steel solos on "Doctor My Eyes" and "Running on Empty." And his performances were also an indelible part of hits by Linda Ronstadt, Rod Stewart, Zevon, Dolly Parton, and many more.
When it finally came time for a solo album, 1981's El Rayo-X defied and exceeded all expectations. It was mature, fully realized, and original; eclectic but cohesive. Rather than present a Whitman's sampler of various styles, he said, "I wanted to have a coherent theme to the whole thing.
"You know how an ant can taste and hear and smell with one organ—this all-encompassing feeler? That's more what it's like … being an ant."—David Lindley
His associates were eager to sing his praises, and I was able to interview several. Booker T. Jones said, "He's the one who makes the band go," while Ry Cooder declared, "He has the sensitivity that allows him to grasp what the hell is going on."
Graham Nash described a session with Lindley on fiddle: "I said, 'I'd like you to stand on the street corner and play like an old bum.' And he said, 'Boy, that's real easy for me.'"
Ronstadt offered, "He just instinctively gravitates towards something that is extremely high-quality and has integrity in whatever art form he's contemplating—which is a lovely thing to have."
Although Lindley supports Jackson Browne on round-neck guitar here, the highlights of countless Browne concerts were Lindley's incandescent lap-steel solos on "Doctor My Eyes" and "Running on Empty."
Photo by Ebet Roberts
And Browne stated, "I can't even call it 'my music' when I think about David, because he's such an integral part of it."
The band David put together, also named El Rayo-X, was without question one of the top five live bands I ever saw. And I saw Jimi Hendrix twice! Mr. Dave had me open for them in 1981, when my surf combo Cowabunga had only done three gigs. But I got to actually play with David in '98, as part of the Festival d'été de Québec City's "guitar summit," featuring Martin Simpson, Bob Brozman, percussionist Wally Ingram, and Lindley on acoustic Hawaiian Weissenborn slide. During a mini-rehearsal, I'm guessing he could sense that I was nervous. (Wouldn't you be?) But he put me at ease, and wanted to give me a chunk of the spotlight. I asked him if he still did "Brother John," the Wild Tchoupitoulas song. I had a second line take on "Limbo Rock," so we stitched them together. Somewhere during my solo, I quoted War's "Low Rider," and Lindley was on it in a millisecond.
Things That Lindley Fans Might Not Know About Him
• Correlating his musical aptitude and high school track career, he said, "I could run hurdles the first time—I knew what I was doing. So, they put me in the 120 low hurdles."
• Also, during high school, he played flamenco in a guitar duo.
• The bane of Lindley's existence was that loud knock from housekeeping—despite threatening signs he affixed to hotel doors. As good as he was with voices, his impersonation of a mad dog just inside the door was so convincing, the next sound was that of the maid running for dear life.
• He was a great cartoonist, illustrating his solo CDs with comical self-portraits.
• David once mentioned that Peter Lewis of Moby Grape was his cousin. I said, "Isn't he Loretta Young's son?" "Yep." "So, Loretta Young is your aunt?" It's true: Lindley was part of the same gene pool as the epitome of Hollywood glamor.
• At a time when female producers were extremely rare, he asked Ronstadt to helm his fourth solo album, Very Greasy.
• He was an expert marksman and archer.
• He and guitarist/producer Henry Kaiser traveled to Madagascar to record the acclaimed A World Out of Time albums with indigenous musicians, resulting in considerable income for the Malagasy players and citizens.
The Zone
I've always been fascinated with the so-called "zone" musicians sometimes achieve, like a basketball player with a hot hand, when you play something you didn't know you could. It doesn't require virtuosity, but the chances for someone with Lindley's talent surely improves the odds. He described the sort of out-of-body experience. "I fail a lot. When that happens, that's when you have to fall back on all the mechanical stuff and technique," he told me in 2006. But being in the zone, he said, was like watching himself from three feet away.
"The bane of Lindley's existence was that loud knock from housekeeping. His impersonation of a mad dog just inside the door was so convincing, the next sound was that of the maid running for dear life."
I've thought about what influence, if any, David had on me. Not as a guitarist, really, because I can't play like him; no one can. But he was the first guy I saw in a major act playing Silvertone amp-in-case models or a Dan Armstrong London with two sliding pickups— extracting killer tones—leading me down a rabbit-hole hunt for Goyas and Zim-Gars. He even gave me my pen- and stage-name, Teisco Del Rey. Then there was his clothes. Need I say more?
He was a serious musician not taking himself too seriously. He didn't hide his wacky sense of humor in order to make music of the highest order. That's the dichotomy. He wrote songs like "Sport Utility Suck," "Cat Food Sandwiches," and "When a Guy Gets Boobs," and told hilarious stories onstage. He led audiences in singalongs to Frizz Fuller's "Tiki Torches at Twilight." So, you'd see this leprechaun in garish polyester, talking about Krispy Kreme donuts, and then he'd play something beautiful like his "Quarter of a Man" or something biting like "Revenge Will Come" [for every child kept down].
He gave me permission to display all sides of my personality, and you have that permission too. We have him to thank for that and so much more.