The newest gem in the Grand Pacific line opens up the tone possibilities of a round shouldered dreadnought.
The 417e-R Is a Grand Pacific acoustic-electric crated with solid Indian rosewood back and sides, a solid Sitka spruce top and V-Class bracing. The round-shoulder dreadnought design pairs beautifully with the classic rosewood/spruce tonewood configuration, yielding a vintage-inspired, blended sound with clear low-end power and notes that overlap into a seamless whole. A warm bass range and crisp trebles resonate around a slightly scooped midrange, while the innovative bracing design coaxes out more power, longer sustain and near-perfect harmony across the fretboard. Like its siblings, the 417e-R is detailed white binding, black and white top purfling, a single-ring agoya shell rosette, Finial fretboard inlays in Italian acrylic, a gloss-finish body with a Tobacco Sunburst top, nickel tuners and a faux tortoiseshell pickguard. It includes ES2 electronics for warm and dynamic amplified sound and a deluxe hardshell case for storage and protection.
You could win a Fable Granular Soundscape Generator from Walrus Audio!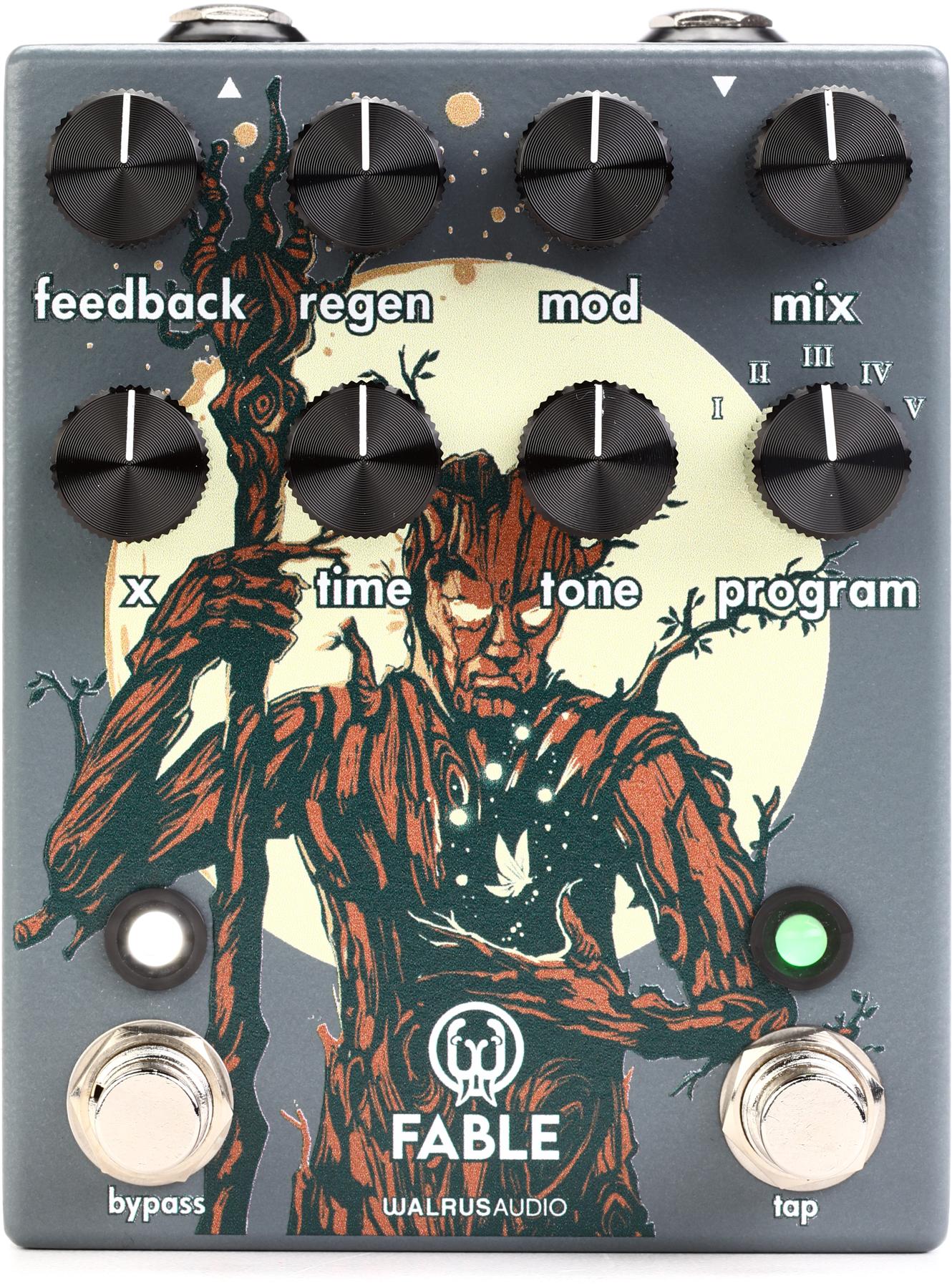 Let your storybook adventure grow with the Fable Granular Soundscape Generator. The Fable creates new sonic adventures with five granular delay programs centered around sample and chop algorithms that create bizarrely beautiful networks of sampled and resampled sounds.
Walrus Audio
The Seabee is a multi-chorus pedal designed to deliver the finest analog bucket brigade chorus tones.
By digitally controlling the chorus delay time, the Bees have created Harmochorus - a never-before-heard pitch-shifting modulation that can certainly inspire new genres. Three Chorus modes provide the classic, lush chorus and vibey sounds we all love, with each mode offering the ability to control the effect in different ways. Vary between two different speeds and/or depths, go from zero to full depth intensity, or even increase the chorus delay time for a whole new spectrum of sounds.

Three Harmochorus modes give you a unique and inspiring new approach to the effect. The easiest way to explain it is that, when clean, it sounds like angel bees are accompanying you, and when paired with some buzz, it sounds like a swarm of killer bees producing the most dangerous pitch-shifting modulation are after you! You can choose between two different pitches and speeds, a combination of twelve chords and twelve different arpeggio patterns, or simply choose between thousands of random patterns. No matter which mode you choose, the Seabee will navigate you to inspiring and creative places.
Its simple layout with only three knobs hides a multitude of possibilities with alternate controls, three ramp shapes, tap tempo, a 4-way tone filter, feedback control, and a rate that ranges from very slow to ultra-fast waves, even reaching ring modulator ranges. Did we mention there are two stereo output options, 16 onboard presets, full MIDI control, expression in, external tap, and 4 input level options so you can process guitar, bass, all kinds of active pickups or synthesizers and still keep the bucket brigade in its sweetest spot?
Features
Analog sound path with the finest bucket brigade chorus tones.
3 Chorus modes / 3 Harmochorus modes
Never-before-heard pitch-shifting chorus with arpeggios and random patterns.
Truly expressive ramping gives you musical control.• 16 Onboard presets, Tap Tempo, MIDI, Expression, and more
Selectable input level (supports guitar, bass, active pickups, synthesizers, and more)
Hand-assembled in Los Angeles, CA.
Beetronics - Seabee Harmochorus
The Beetronics Seabee carries a street price of $349.
For more information, please visit beetronicsfx.com.