Lilly Hiatt joins us in discussing a couple of our treasured musical couplings. Plus, musical obsessions!
December 2022: Who is your favorite musical duo?
Q: Who is your favorite musical duo
Lilly Hiatt — Guest Picker
Photo by Gregg Roth
A: My fave musical duo is the White Stripes because their sound blows me away. I got to see them at Bonnaroo and was floored by how loud it was, and the crowd being completely mesmerized by the whole experience. Love Meg's drumming, love Jack's guitar and voice.
The White Stripes - Seven Nation Army (Live at Bonnaroo 2007)
Current obsession: Recording at home. My husband and I have made a lot of music in our house. Fun to do so because we can be impulsive and free with what gets put down, as well as crank it up anytime we want to!
Rubén Iván Antonio — Reader of the Month
A: Rodrigo y Gabriela because they are guitar virtuosos and play metal songs in their own acoustic style. A huevo a huevo!!!
Rodrigo y Gabriela - Full Performance (Live on KEXP)
Current obsession: I play rhythm guitar in a metal band with friends I've known for 25 years (and counting). We've played under different names, with different bandmates, and even different genres of metal until we stuck with the name Against the Ropes and started to gain attention. Now, our band is considered the best metal band in town (Reynosa, Mexico), and that gives me so much hope that soon my best friends and I will be playing alongside our favorite bands in festivals and tours.
Against The Ropes - Glass
Tessa Jeffers — Managing Editor
A: I've loved the Swedish duo First Aid Kit since I heard them reference Frank O'Hara in "To a Poet," but the sisters have blossomed into a full-on creative force that can do it all. Their ability to move Emmylou Harris to tears in a tribute performance is testament to their power. Also, a few months ago, I saw Robert Plant and Alison Krauss in concert and felt lucky to witness such magical harmonizing in person. A vocal marriage like peanut butter and jelly: sweet, satiating, timeless.
First Aid Kit - Angel (Glastonbury 2022)
Current obsession: Yeah Yeah Yeahs' Cool It Down and Meg Baird's new single, "Will You Follow Me Home?" I listen to the latter on my chilly late-autumn hikes and feel free.
Meg Baird "Will You Follow Me Home?" (Official Music Video)
John Bohlinger - Nashville Correspondent
A: Black Sabbath, Iron Maiden, and Molly Hatchet all had sex and are proud to announce the birth of their two-headed baby, Tenacious D. Caution: The surgeon general of rock warns that viewing this band is equal to 29 orgasms. The D is undeniably the hardest rocking duo to ever crawl out of hell and ascend to heavenly heights by combining brilliant musicianship with purely poetic lyrics and sublime vocal bliss.
"You Never Give Me Your Money / The End"
Current obsession: There's a lot of talk about "the hand of God" ... but let me be the first to talk about "the thumb of God"—that divine digit lived on Wes Montgomery's right hand.
Wes Montgomery-Four On Six (1965)-Guitarra de Jazz.
A pop idol's signature edition shines a light on an underrated and intriguing Martin body style.
Easy playability. Great harmonic balance between high and low strings. High-quality build. Crafted from sustainable woods.
Electronics don't entirely capture guitar's balance.
4
5
4.5
4
There's not a lot of reason for Martin to mess with new body styles. Just about every standard shape in their line—from the 0, 00, 000, up through their dreadnoughts—are inarguably stone-cold classics and foundational works from which much of the rest of the acoustic-guitar industry takes their inspiration and cues.
The release of the $799, Mexico-made 000JR-10E Shawn Mendes, however, turns a spotlight on a Martin body style that, to date, could qualify as underappreciated. It also finds the company toying with construction based completely on Forest Stewardship Council (FSC)-rated sustainable tonewoods and, in turn, addressing the reality of shrinking and endangered traditional tonewood supplies that faces the whole guitar industry. The results of this effort are a comfortable, affordable, high-quality, and inviting flattop that says a lot about where the industry can still go in terms of design and materials.
A Body in Between
If you don't play a lot of different acoustic guitars, you could conceivably pick up the Mendes (which is based on the existing standard 000JR-10) and notice little more than the fact that it's smaller than a dreadnought and bigger than a parlor guitar. If you've got a little more experience with the breadth of acoustic body shapes and neck sizes out there, though, you'll notice that the Mendes is indeed a unique and unusual amalgam of design elements.
"Junior" designation aside, Martin's decision to call the Mendes and its 000JR-10 and 000JR-10E stablemates "000s" is a curious one. The Mendes is actually closest in dimensions to a 00, though the body is shorter and the profile is a bit more pinched at the waist than on that venerable Martin shape. The neck, too, may feel unusual to a seasoned acoustic player. It's built around a short 24" scale, where most Martins are a 24.9" or 25.4" scale. The short scale feels even more unique for the presence of the 000JR-10E's most 000-like element, a 1 3/4" nut width.
Combined with the relatively substantial neck profile, the wider nut width makes the Mendes feel very easy to play.
Together, the Mendes' most vital dimensions and design elements add up to an interesting whole. It's small enough to feel a little like an instrument from the larger "travel" guitar category populated by guitars like Taylor's GS Mini. But few guitars in that loose categorization feature a neck as expansive feeling as that on the Mendes, which benefits immensely from the wider nut width. Combined with the relatively substantial neck profile, the wider nut width makes the Mendes feel very easy to play. The wider spacing facilitates alternate thumb picking, while the shorter scale makes extended chords easier. For players used to classic formulas, the mix could feel strange. For less biased players and many novice players who aren't attuned to such nuances, the blend could be ideal.
Construction quality, by the way, is excellent. The woods used here are all FSC certified, right down to the bracing—which means they are sourced from responsibly managed forests. But they will be familiar tonewoods to Martin enthusiasts and acoustic players in general. The back and sides are layered sapele, while the top is Sitka spruce. The grain on the latter is rather plain, but the top is no less lovely for it, and an informal tap test reveals it to be a very resonant, lively section of lumber. The 2-piece neck is made from sipo, an African hardwood quite like mahogany. The fretboard, meanwhile, is surprisingly made from ebony. Responsible sourcing of the ebony on the fretboard means that the wood used here isn't the uniform, ultra-dark type you see on top-shelf acoustics. But the grain variation is lovely and works well with the Mendes-specific design touches like the signature at the third fret and diamond-pattern, mother-of-pearl inlay. Inside and out, fit and finish are perfect. And we can't say that about every $800 flattop we see.
 Easy Equilibrium
Like most small-body guitars, the Mendes won't bowl you over with low end. But the projection from the 000JR body is still impressive. You hear very, very little of the messy, compressed, blur you typically hear from guitars of this size when you strum vigorously. In fact, the guitar feels very punchy and exceptionally balanced across the whole frequency spectrum when you hit it hard.
That balance is just as evident in fingerstyle situations. The first and second strings ring with a particularly sweet and crystalline clarity that chimes beautifully against the round, concise resonance of the third and fourth strings. And again, while the low end won't dislodge any pictures from the wall, the output from lower strings creates a very cohesive and rich, if compact, harmonic whole.
The Verdict
While there aren't a ton of structural details to differentiate the Shawn Mendes signature edition from its less expensive 000JR-10 and 000JR-10E stablemates, the little differences add up to an interesting guitar. The honey-hued finish on the top and the inlay both add an upmarket aura to the instrument. And construction from 100 percent FSC tonewoods is no small or inconsequential distinction. We love to see guitar companies follow this path and execute the instruments made with these woods with such care. Materials and ethics aside, however, it's cool to see this signature release shine a light on a Martin model family that, to this point, may have received less than its due respect. Like the 000JR-10 and 000JR-10E, it's an exceptionally comfortable and sweetly ringing instrument that fits many styles.
Martin 000JR-10E Shawn Mendes Demo | First Look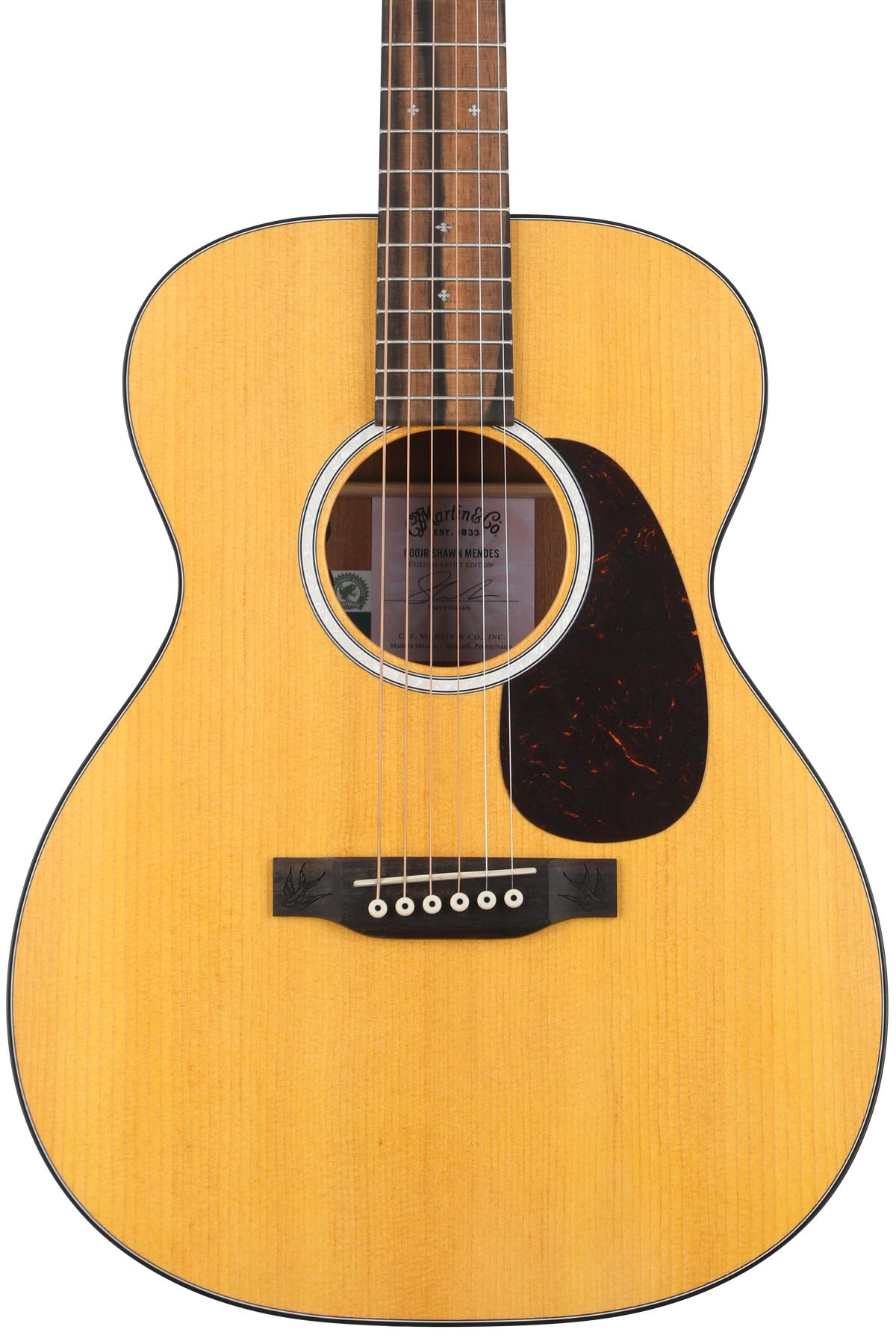 Shawn Mendes signature embellished with swallow design that recalls his hand tattoo symbolizing home as a place filled with family, friends, and loved ones
Spruce top and sapele back and sides offer strong, bright fundamentals with balanced tone
Scaled-down Auditorium body shape sits easily in the hands of any player
Martin
Fender honors the indie-legend with signature pickups and accessories.
Fender announces the J Mascis Signature Jazzmaster Pickups, an ode to one of alternative music's most prolific shredders. Throughout Dinosaur Jr's twelve album discography and his rich solo career, Mascis has established himself as one of guitar playing's most tone-savvy and ferocious players.
At the heart of his genre-defining, nearly four decades-long legacy is the Fender Jazzmaster. Not only does the bold and angular design of the Jazzmaster lend itself to a player as subversive as Mascis, but there is no instrument that sounds quite like it. That is, until now.
Compared to the tones on the Fender J Mascis Signature Telecaster and the Squier J Mascis Jazzmaster, Mascis notes,"The new pickups have a sweeter more vintage sound," and as his hopes for what people might feel when they test out the new pickups, J Mascis adds, "I hope they feel like playing their guitar, ideally they could make a song that could be my new favorite record!"
Key Features Include:
Neck Pickup: 7.27K and Bridge Pickup: 7.31K DC Resistance
Neck Pickup: 3.6 Henries, Bridge Pickup: 3.7 Henries Inductance
Enamel-coated magnet wire delivers warm vintage-style tones
Alnico 2 rod magnets for warm, sweet output
Flush-mount pole pieces produce even string response
Installation hardware include
Exploring the J Mascis Signature Jazzmaster Pickup Set | Artist Signature Series | Fender
The pickups are being released as part of a larger collection of signature J Mascis Accessories which include J Mascis Magenta Flower Strap, J Mascis Yellow Burst Strap, J Mascis Coiled Instrument Cable and J Mascis Dinosaur Jr. Pick Tin.
For more information, please visit fender.com.