Steel Panther's Satchel tells Dweezil Zappa about how his pursuit of Eddie's mods turned his own early axes to cordwood.
The 30-episode podcast will be available exclusively through dweezilzappa.com and packages will include listening parties, Q&A sessions, "Brown Sound" bonus episodes, custom Axe-FX, Helix, and Kemper presets, a 1-year subscription to Premier Guitar, and much more.
A portion of the proceeds will go to benefit Mr. Holland's Opus Foundation and Feeding America.
Presented by Walrus Audio
The legendary distortion is revived after being shelved for 30 years with a buffered circuit, noise-floor reduction, and expanding the maximum level by 3 dB.
BOSS announces the HM-2W Heavy Metal, the latest in the growing lineup of Waza Craft pedals that recreate classic BOSS designs with detailed craftsmanship, premium components, and extended features. Based on the HM-2 Heavy Metal pedal from the 1980s, the HM-2W delivers the true analog sound of the original in all its glory, coupled with numerous modern refinements for enhanced performance.
Produced from 1983 to 1991, the BOSS HM-2 Heavy Metal is a legend in the history of distortion pedals. Its signature "chainsaw tone" with all knobs maxed is the defining voice of Swedish death metal music, and the slightly milder sides of its personality can be heard on tracks from mainstream to shoegaze. Over time, the pedal's uniquely aggressive sound and focused midrange have become highly sought after by players around the world. After years of requests from hardcore HM-2 fans, BOSS is pleased to reintroduce the iconic stomp three decades later in a special Waza Craft edition.
Like all Waza Craft models, the HM-2W features selectable modes for different sounds. BOSS engineers have also added audio performance improvements without affecting the original tone, including reducing the noise floor and expanding the maximum level by 3 dB. The HM-2W features a premium Waza Craft buffer as well, providing improved sound when the pedal is bypassed.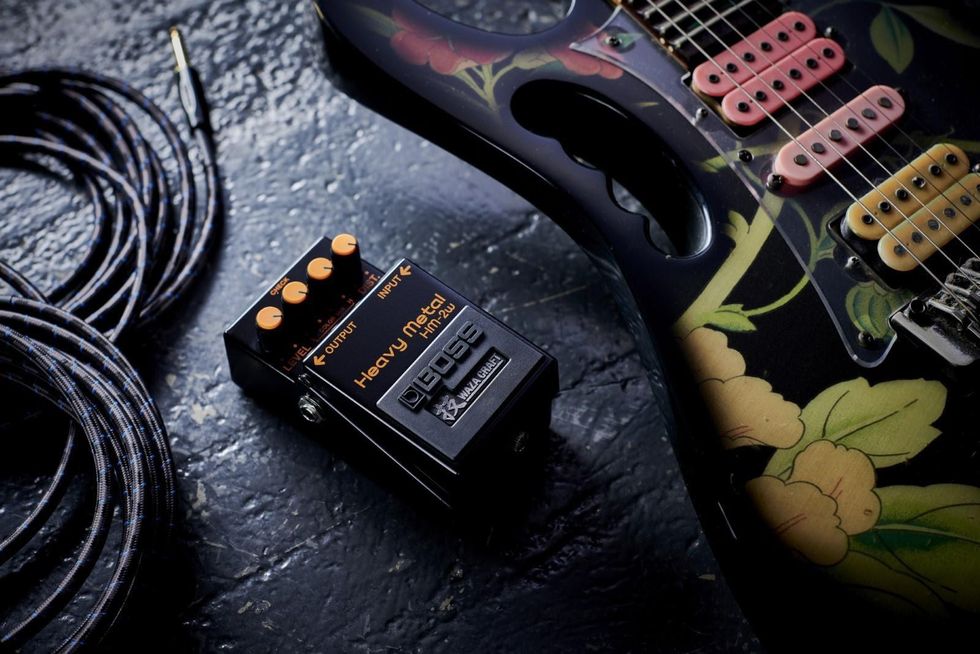 When the HM-2W is in Standard mode, the tone and response of the original HM-2 pedal are reproduced with 100-percent authenticity. Cranking every knob all the way up delivers the genuine sound of Swedish death metal, and users can conjure a wide range of tones for other styles with the sensitive distortion and color controls.
The HM-2W's Custom mode offers a similar sound character to Standard mode, but with just a little more of everything. The drive stage has more gain and includes more of the fundamental guitar sound for extra attack and sharpness. In addition, the low and high-mid characteristics have been tweaked for increased fullness and definition.
Along with the vintage HM-2 sound, BOSS has captured the original pedal's distinctive orange and black appearance, right down to the size and position of lettering on the panel. And while the mode switch on most Waza Craft pedals is positioned on the face, it's been moved to the top on the HM-2W to preserve the control layout from the HM-2.
BOSS HM 2W Heavy Metal - INTRO
A Metal Legend ReturnsProduced from 1983 to 1991, the BOSS HM-2 Heavy Metal is a true legend in the history of distortion pedals. Its signature "chainsaw ton...

The BOSS HM-2W Heavy Metal will be available in the U.S. in August 2021 for $179.99.* To learn more about the HM-2W Heavy Metal and other pedals in the Waza Craft series, visit www.boss.info.
Fiery Hiwatts (literally), an aluminum bari, and a common drive forge the tonal backbone for the Norwegian Grammy-winning metal mystic brewing sounds somewhere between Melvins' metallic chug, Neurosis' pulsing grind, and Swans' celestial moods.
In this episode, founding Norwegian metal visionary Kjetil Nernes details why he switched to a tuned-up, Electrical Guitar Company baritone, why he runs more Hiwatts than Pete at Leeds (and how they've caught fire … multiple times), and explains how a big-box-store drive sharpens his massive tone.
[Brought to you by D'Addario XL Strings: http://ddar.io/XL.RR]
Custom Electrical Guitar Company Baritone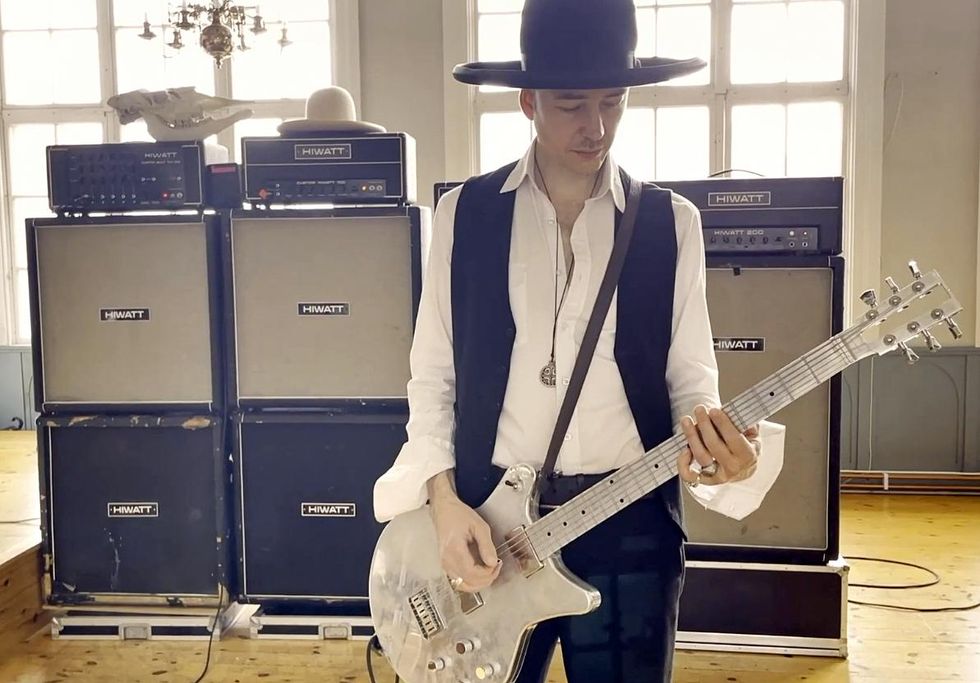 Årabrot artistic leader Kjetil Nernes owns several custom Electrical Guitar Company instruments, but the one he's been using the most currently is EGC's baritone model. He tunes it to drop C and says the bari mixes well with bandmate Karin Park's Moog bass analog synth. He employs a custom set of Black Harbor strings (.012–.060).
Kjetil Nernes' Pedalboard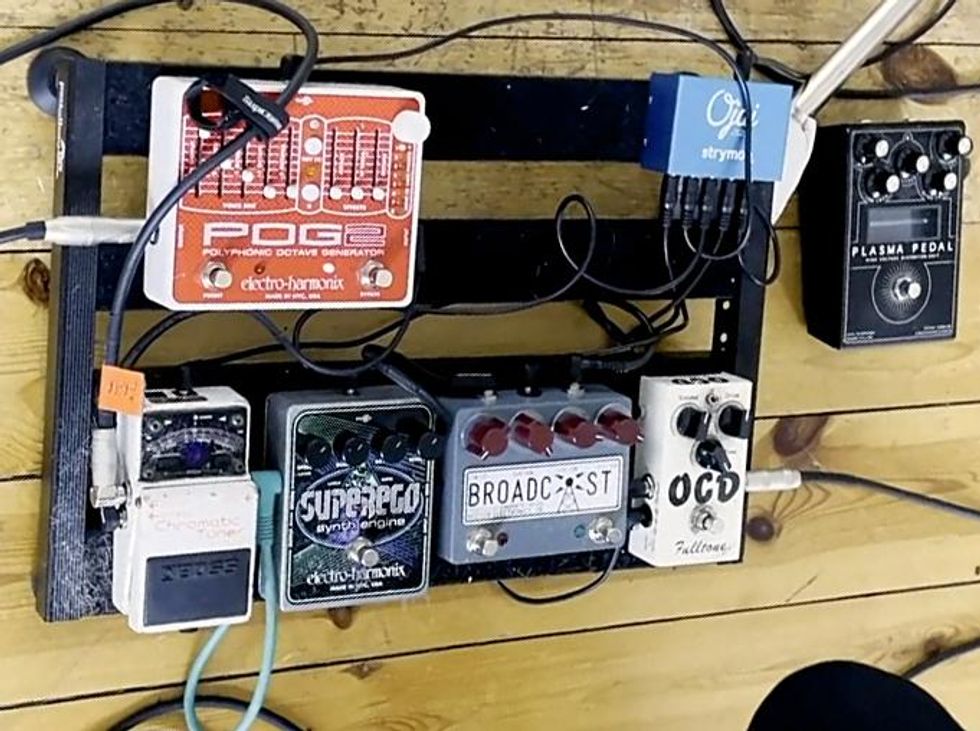 "I actually have a pedalboard these days, which is remarkable for a guitar player like me," says Nernes. "For years, I was only using the Fulltone OCD and it's became the backbone of Årabrot's sound."
He still prefers the OCD for its "sharpening" touch to his metallic EGC tones. The Electro-Harmonix POG2 hits his Hiwatt (Custom 200 DR201 bass amps) for an added signal boost. (As you can see, he's dialed out most of the octave effect.) His second Electro-Harmonix stomp is the Superego, but it's used simply as a glorified synth-y reverb to cover material on 2021's Norwegian Gothic. Heavier, chunkier, repulsive gain happens when the Hudson Electronics Broadcast runs into the Fulltone OCD. And while it wasn't plugged in for the Rundown, Nernes enjoys getting filthy with the Gamechanger Audio Plasma Pedal. Everything is powered by the Strymon Ojai.
Hiwatts Galore!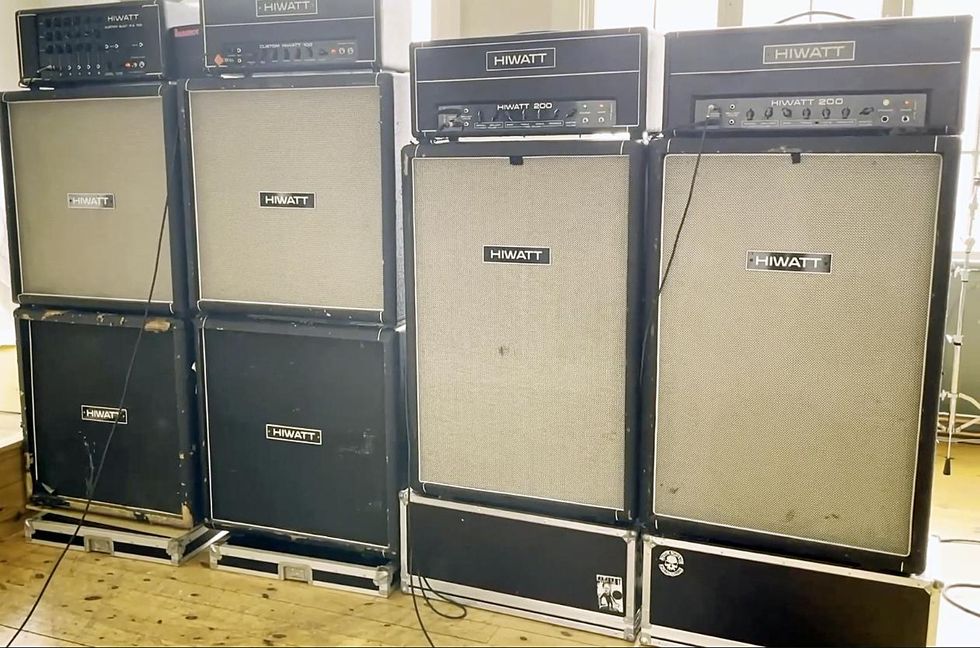 Using more Hiwatts than Pete at Leeds, Nernes blends vintage guitar heads with modern bass pillars. The guitar stacks on the left are comprised of two 1970s Hiwatt models—a DR112 Custom Built PA 100 head (left) and a venerable Custom 100 DR103. Both heads run through their own pair of Hiwatt 4x12 cabinets: one is loaded with Celestions and the other with Fanes. Nernes likes the blend of speakers with the guitar heads because he feels the Celestions add a current complement to his monstrous roar. The right half of the British-voiced battalion features Hiwatt Custom 200 DR201 (KT88) heads matched with Hiwatt SE115410F cabinets loaded with four 10" and one 15" Fane Sovereign speakers.
You could win a Powerstage 200 and Vapor Trail Deluxe in this PG Perks Exclusive Giveaway! Enter below.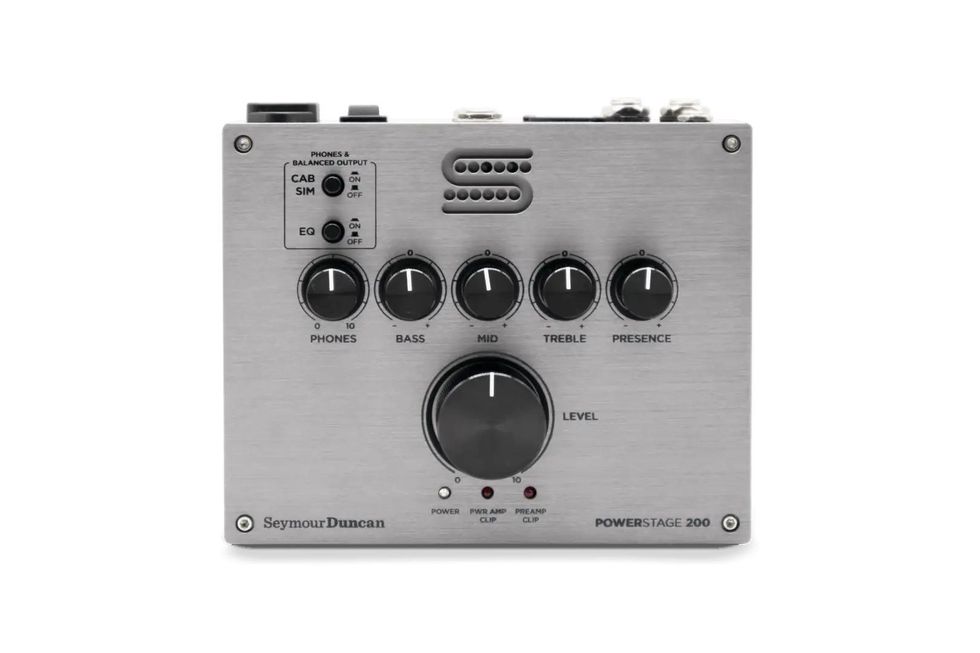 PowerStage 200 is a compact 200-watt "pedal-sized" guitar amp designed for players looking for a powerful grab-and-go pedal amp for any gig, rehearsal, or studio session. The PS200 was created specifically for players who get their tone from modeling devices, stompboxes, or a combination of the two. It has all the features you need—reliability, clean power, switchable EQ, speaker simulation, Aux In, and headphone connectivity.
Like the PowerStage 170 and 700, the PowerStage 200 retains the hallmark characteristics of the PowerStage family—providing a platform that brings out the best qualities of your tone. Compact, clean, organic, and reliable power sits at the core of PowerStage family—once again, the PS200 delivers on that promise. Loud enough to match your drummer and fill a venue of just about any size, the PowerStage 200 provides clean, reliable amplification, and tons of headroom to let your pedals or modeler shine.
Seymour Duncan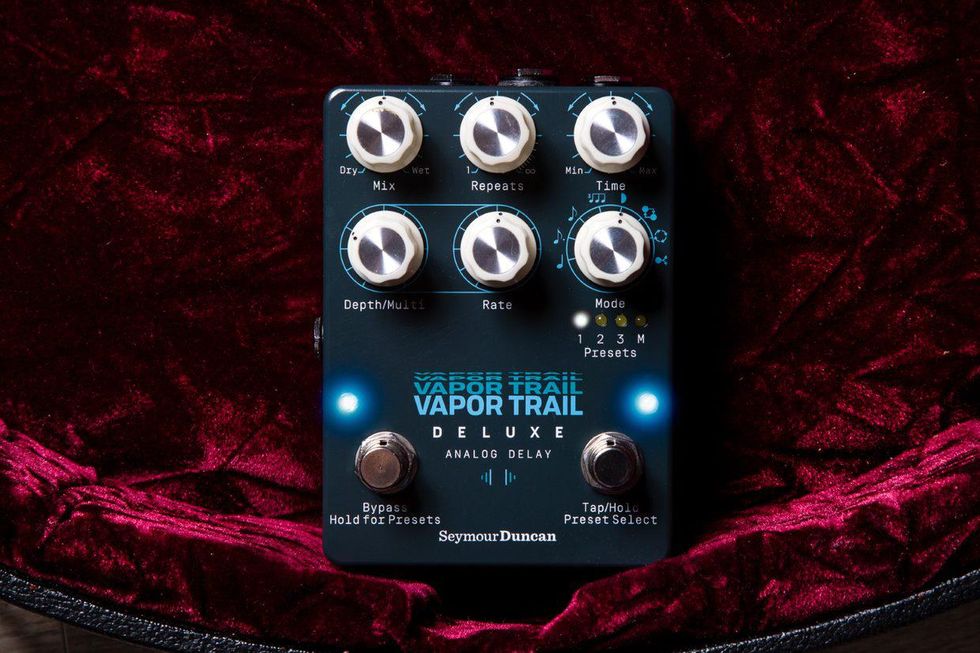 The Vapor Trail Deluxe builds on the proud legacy of our original Vapor Trail analog delay pedal. Its warm, Bucket Brigade repeats, and 3-dimensional modulation continue to inspire guitarists around the world. But its expanded control, new sonic modes, and storable preset locations make the Vapor Trail Deluxe analog delay one of a kind.
Seymour Duncan
The handmade, cathode-biased, two-channel head rocks at 20W thanks to a pair of 5881 power tubes.
Adding to the company's well-established line of boutique guitar products, UglyAmps has unveiled the new Lil' Ugly head, a 20-watt cathode-bias, 5881-powered amp.
The Lil' Ugly sports two footswitchable channels: a killer clean channel and a great drive channel based on UglyAmps' highly regarded cobra amp for serious gain. It also features a footswitchable effects loop and packs all this flexibility in a lightweight 13-pound package, making it a great grab and go amp. Like all UglyAmps, the Lil' Ugly is handmade in the USA.
Ugly Amps "LiL Ugly demo by Dave Lewis of Lewis Instruments
​Lil Ugly highlights Include:
Ugly Channel with Bass, Mid, Treble, Mid shift, and mod boost sw.
20W output in a very loud, gigable amp
13-pound head – extremely portable
Two footswitchable channels: Clean and Ugly
All-tube electronics: 2 x 5881, 4 x 12AX7
Master Volume on both channels
Footswitchable effects loop
Presence, send and return levels on rear panel
All Ugly Amps are designed and built in the company's Pennsylvania home. Street price is $1250.
uglyamps.com
You could WIN an Alvarez MD70EBG Masterworks Dreadnought during our latest giveaway!
Alvarez MD70EBG Masterworks Dreadnought
The Alvarez MD70EBG takes power and clarity to a new level, withinstant response and clear, robust notes. The rosewood helps deliversonorous bass frequencies, complemented by shimmering trebles.When strumming, the FS6 bracing system and AAA Sitka top helpdeliver clarity and separation, and balance is clearly audible across allsix strings. These beautifully dressed guitars pay tribute to traditionalBluegrass instruments with open gear nickel tuners, classic inlays,premium tortoiseshell style pickguard and a flawless gloss finish. TheMD70EBG is fitted with the fantastic LR Baggs Element-VTC pickupwith soundhole console.
Alvarez