Early Fender Custom Shop Stratocaster
An Fender Custom Shop 1962 Stratocaster replica with a gold-sparkle finish
Boasting an eye-catching, gold-sparkle finish, this 1962 Stratocaster replica is an early example of the quality craftsmanship coming out of the Fender Custom Shop.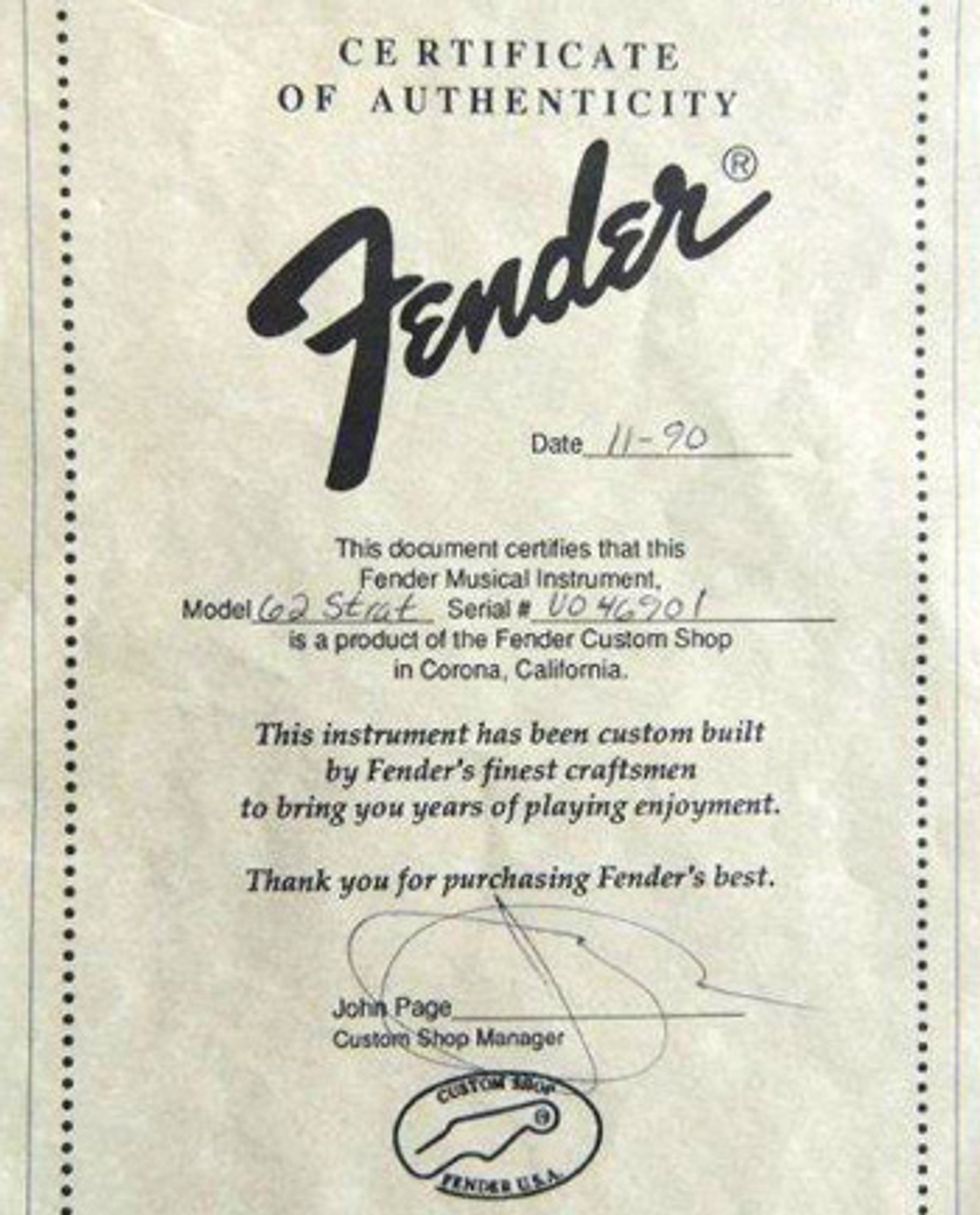 Signed by then Custom Shop manager John Page, the certificate of authenticity is an important component in determining the value of this Strat.
Hector Montes, whose name is stamped on the neck next to the date stamp, was most likely responsible for sanding the body to shape its contour.
Hi Zach,
I have an early Fender Custom Shop 1962 Stratocaster replica with a gold-sparkle finish. And after disassembling the guitar, I've found some interesting information about who was involved in building it. I also have the original case, a certificate of authenticity signed by John Page, and all the case candy. Is this trash or treasure?
Thanks,
Richard Grant in Guelph, Ontario
Hi Richard,
Do you really need to ask if it is trash or treasure? Maybe a more appropriate question would be to ask how much of a treasure it is! The Fender Custom Shop is one of the finest custom-guitar facilities in the U.S. and they've certainly produced some amazing (and valuable) instruments over the years. Let's begin with a little bit of Fender Custom Shop history.
Back in 1985, Fender nearly went bankrupt under the ownership of the Columbia Broadcasting System before an investment group led by Bill Schultz purchased the fledgling company from CBS. Schultz and his crew then began revamping Fender to return the company to its roots. The Fender Custom Shop got its start in 1987 with luthiers John Page and Michael Stevens at the helm. Known for producing outstanding luthiers, both of these craftsmen would later go on to start their own successful guitar businesses after their tenure with the Custom Shop.
Part of the motivation behind the start of the Custom Shop was that Fender's R&D department was fielding a lot of requests for custom guitars by artists, and the company wanted to shed the dark image of CBS. Under their ownership, customization of guitars was not often an option. So Page and Stevens were summoned to head up this boutique lutherie shop where the plan was to produce five or six guitars a month. But work orders for custom guitars reached nearly 600 in the first month, and the operation expanded to keep up with demand.
Your Fender Stratocaster has a serial number of VO469XX, but what is more important is the neck-stamp date of October 29, 1990. The name Hector Montes is also stamped on the neck right next to the date. According to John Page, he believes Montes was probably responsible for sanding the body to shape its contour. Art Esparza was doing the final set up on guitars in the early 1990s, and his name is printed in the neck's mortise joint. Page mentioned that J.W. Black probably painted your guitar. And Black was known for painting the sparkle-finished guitars at his home instead of at Fender so to not contaminate the paint booth. Page also thinks that your guitar was one of several early Fender Custom Shop instruments sent out to select guitar dealers to promote the Custom Shop.
Your guitar is based on a 1962 Fender Stratocaster and boasts many unique features including Lace Sensor pickups, a highly figured maple neck, a Brazilian rosewood fretboard with abalone-dot inlays, pearloid pickguard, gold hardware, and the ultra-hip, gold-sparkle finish. The cool thing about your Strat coming from the Custom Shop is that it is more than likely a one-of-a-kind guitar.
An important component that helps determine the value of a custom instrument such as yours—or any guitar for that matter—is how much documentation you have. Whenever possible, get as many details as possible in writing if the guitar has a history. This applies to a famous person previously owning the guitar to the origins of where it was built. It's fantastic that you have the certificate of authenticity documentation from the Custom Shop manager, and all the original equipment that came with the guitar. Without all this, it's nothing but a story that would be reflected in the value.
Evaluating Fender Custom Shop guitars is often a difficult task because each instrument is unique. I typically look at what the guitar is based on (in this case, a 1962 Stratocaster), the value of the additions/improvements (pickups, hardware, finish, etc.), how old the guitar is (20 plus years in this case, which is an early Custom Shop model), and who worked on it. Of course, the overall evaluation factor is also based on the desirability of the guitar. In mint condition, I estimate your guitar is currently valued between $2,500 and $3,000. Keep all that documentation and case candy, and this guitar will be a treasure for years to come!
---
Zachary R. Fjestad
is author of
Blue Book of Acoustic Guitars
,
Blue Book of Electric Guitars
, and
Blue Book of Guitar Amplifiers
. For more information, visit
bluebookinc.com
or email Zach at
guitars@bluebookinc.com
.