Electro-Harmonix Introduces the EHX tortion, Holy Grail Max, and Satisfaction Fuzz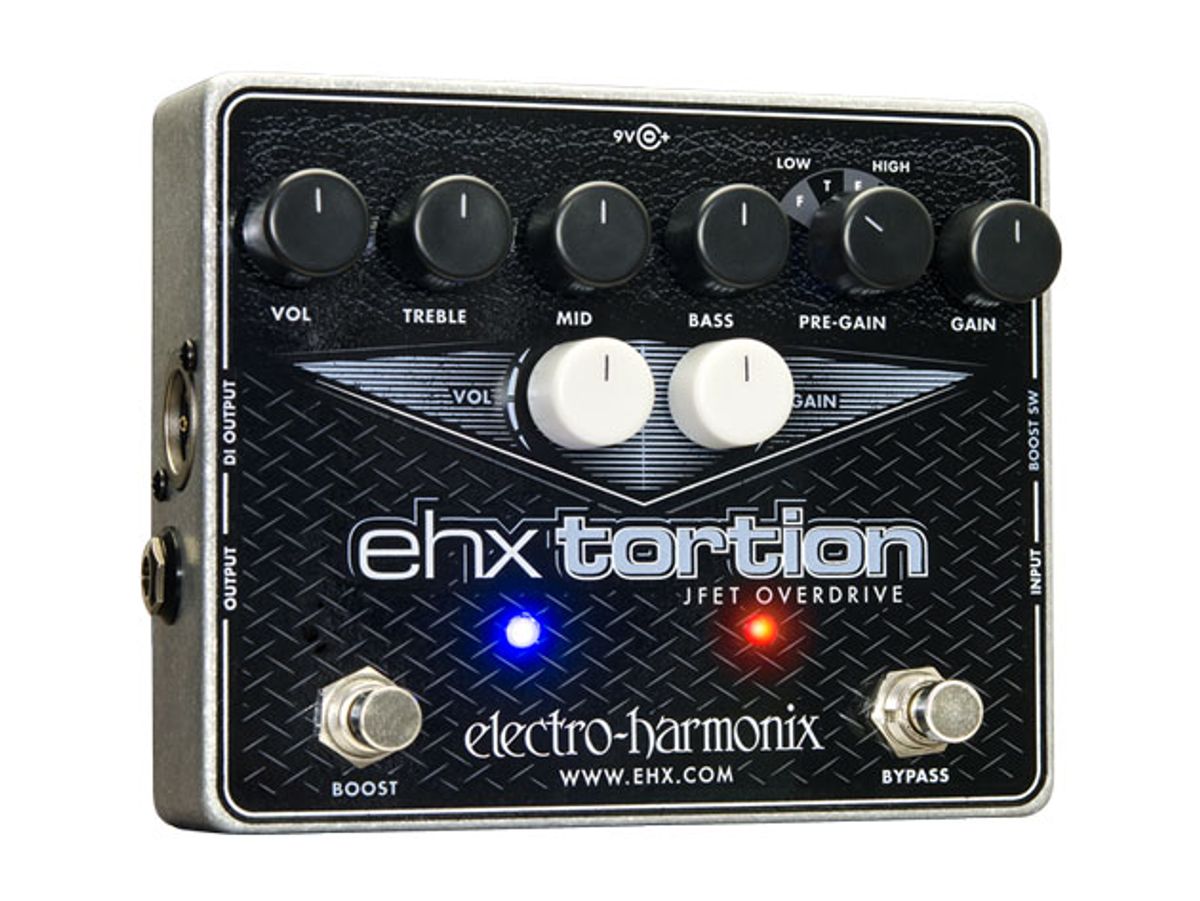 The EHX Tortion is a JFET overdrive with a 4-way pre-gain selector switch.
Long Island City, NY (January 22, 2014) -- Hailed by company founder and president, Mike Matthews, as "our flagship overdrive/distortion," the new EHX TORTION covers tremendous tonal real estate and provides the player with maximum versatility. Described as "a database of great tone," the EHX TORTION's full complement of features and controls make dialing in the right guitar sound intuitive — whatever the era — from vintage to modern.
EHX TORTION features and specifications:
JFET Overdrive for tube-like response and tone
Boost switch with independent Volume and Gain controls for two-channel flexibility
4-way Pre-Gain selector, plus Treble, Middle and Bass for complete sound control
Usable as a preamp — balanced XLR output with cabinet emulation
True Bypass for maximum signal path integrity
9.6DC-200 PSU included
The EHX TORTION pedal features a U.S. list price of $198.67.
With the introduction of the Holy Grail Max, EHX gives fans of reverberation more options in their quest for the perfect space for their instrument or voice. The new pedal shares the Holy Grail's classic Spring and spatial Hall reverbs. A new Plate reverb, with a wonderfully complex, lush tone, and Reverse reverb for the sonically adventurous, were also added.
The Holy Grail Max features a Blend control which lets the player set the wet/dry mix. The Time multi-function control gives the user the ability to set the decay time when in Spring, Hall or Plate mode and the reverse time when in Reverse mode. Finally, a four-position switch provides a choice of reverb styles: Spring, Hall, Plate or Reverse.
True bypass switching for maximum signal path integrity is included as is an EHX 9.6-Volt/DC200mA AC adapter. The Holy Grail Max is housed in a compact, rugged die-cast chassis and features a U.S. List Price of $214.12.
EHX re-creates the classic fuzz tone pedal with the Satisfaction Fuzz, now updated with true bypass circuitry for optimum signal integrity. The Satisfaction Fuzz features an elemental two-knob layout with controls for Volume and Attack (fuzz). True to the genre, this classically-voiced fuzz tone creates a sound that is anything but subtle and goes from an aggressive rasp to full-on fuzzed-out mayhem.
The Satisfaction Fuzz is packaged in Electro-Harmonix's compact, rugged, nano-sized chassis making it an ideal addition to the pedalboard of a player looking for that classic fuzz tone sound and vibe.
The new fuzz tone pedal ships with a 9-Volt battery and can also be powered by an optional EHX 9.6-Volt/DC200mA AC adapter. It features a very affordable U.S. list price of $69.54.
For more information:
Electro-Harmonix