GALLERY: Show Us Your Gear - First Guitars
What guitar did you start out on?
A classic $39 Montgomery Ward purchase marked the beginning of Wallis' journey in 1971. He still has the guitar.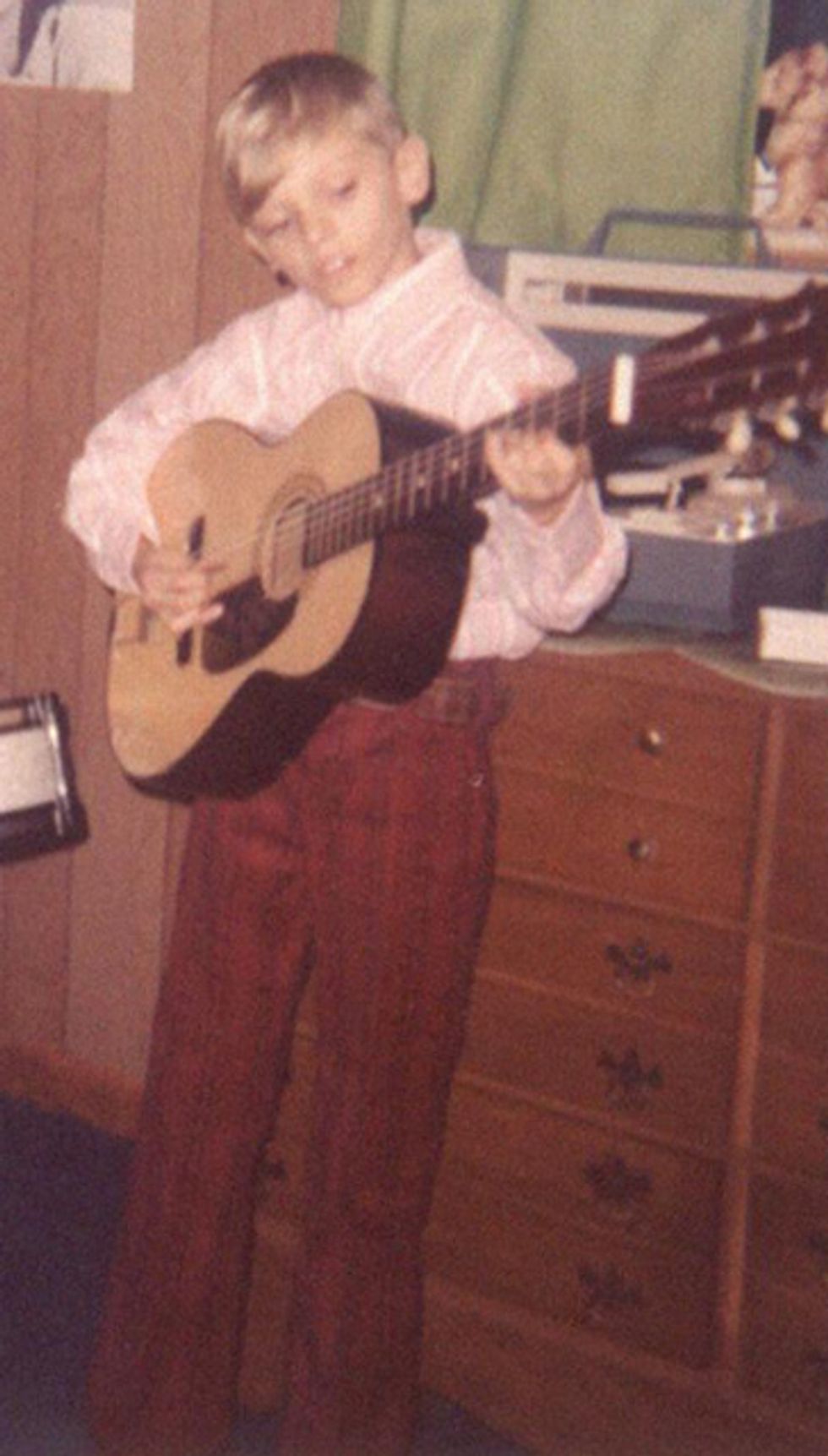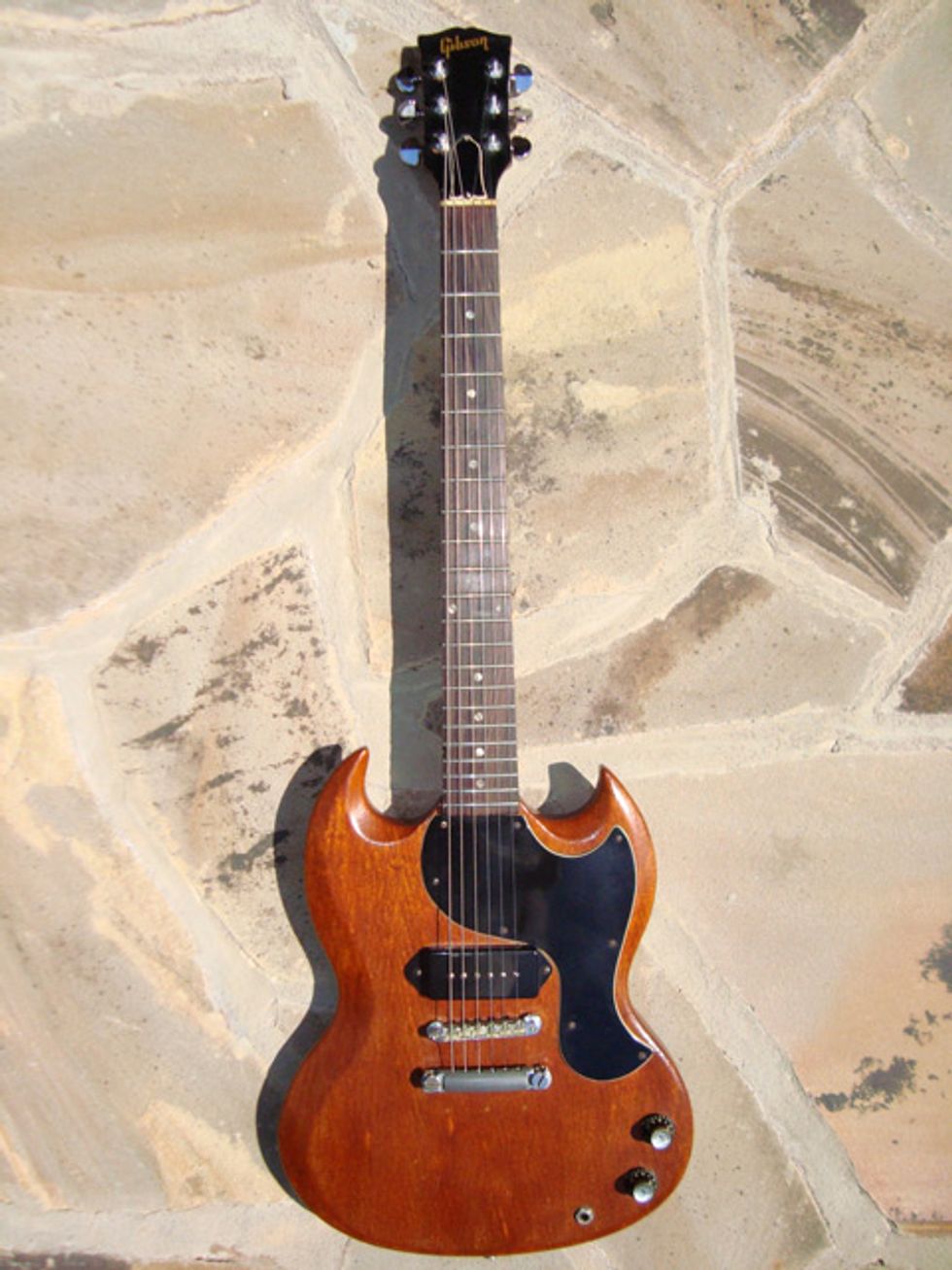 "Among the luckier of our just-starting-out readers, Eiring's first electric was this 1964 SG Junior, purchased in 1972 for $100. He says of the guitar, ""It was Polaris White at the time and, as did many of us in the day, we stripped the paint and added those accoutrements we thought would better serve the instrument. I sent it off to Gibson, which was still in Kalamazoo at the time, in 1973 and had them replace the old bridge with a stop tailpiece and the Tune-o-matic bridge that you see (if you look closely you can see where they plugged the holes). The same year, Sho-Bud Guitars in Nashville replaced the original dog-ear P-90 with a Humbucker, and in recent times I've replaced that Humbucker with a Lindy Fralin P-90 (work done by luthier-extraordinaire Mark Kane at Fat Sound Guitars in Cary, NC). The Grover tuners replaced the white knob Klusons in 1974. I could pine for the original set-up, but Junior is a player who will always be in the family."""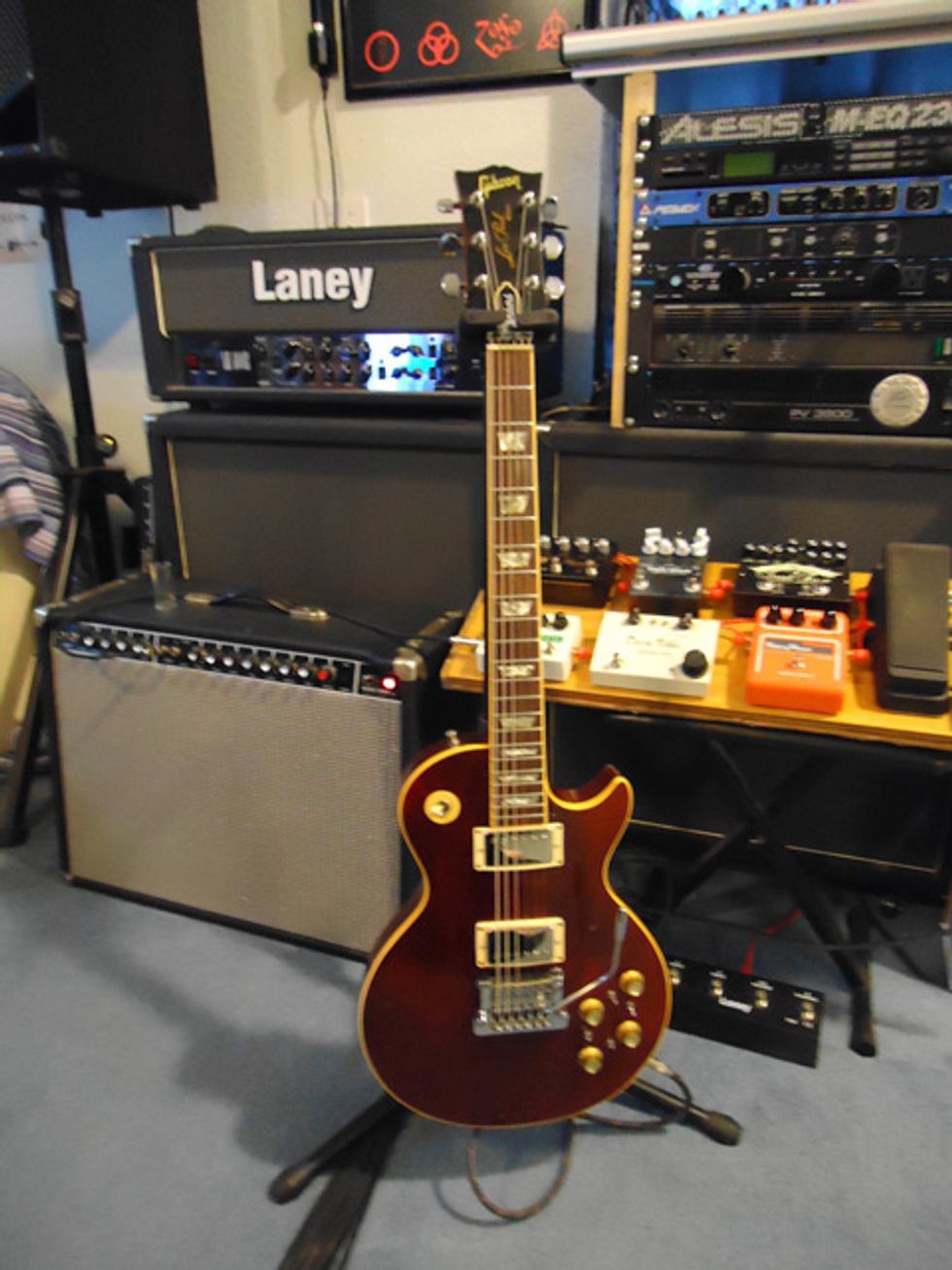 "This Les Paul was Vereschagin's first electric, purchased in April 1976. He says, ""She's my baby and has seen me through thick and thin, good and bad and has literally saved me from myself in the darkest days of dread! I am nothing without her and shall never part with her. She is my soulmate, she is my loverи."""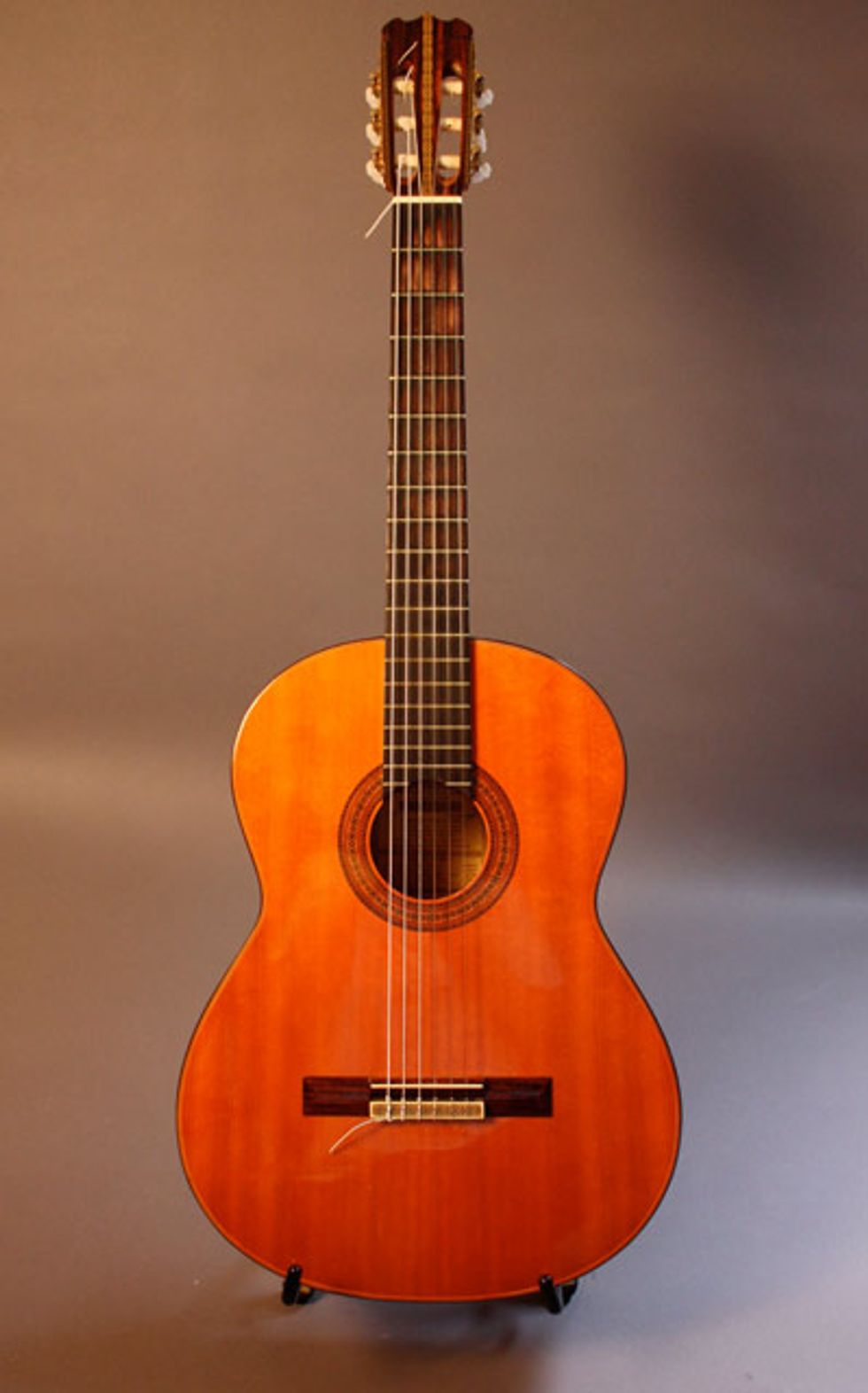 "This Garcia classical was actually Hirschler's second guitar, purchased after selling a painful ""lamo 6-string acoustic."" He's had this Garcia model for 30 or so years. ""It happens to be either a true Garcia worth thousands or a good fake from back in the day worth hundreds, can't seem to figure out which,"" he notes. ""In any case, it still sounds really good."""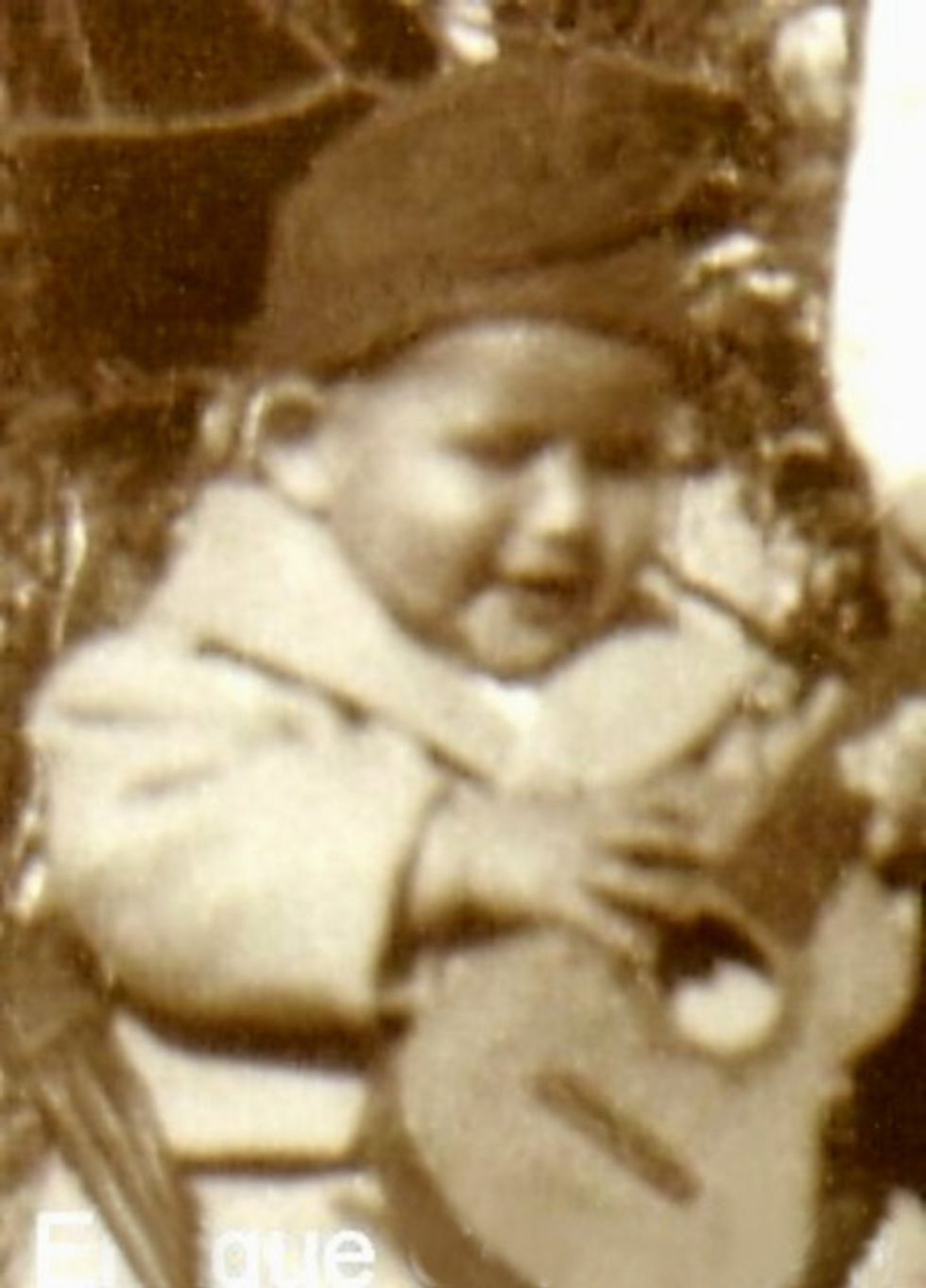 "Coria, guitarist for the David Grisman Quintet, started his guitar passion at seven months old with this miniature toy acoustic in 1946."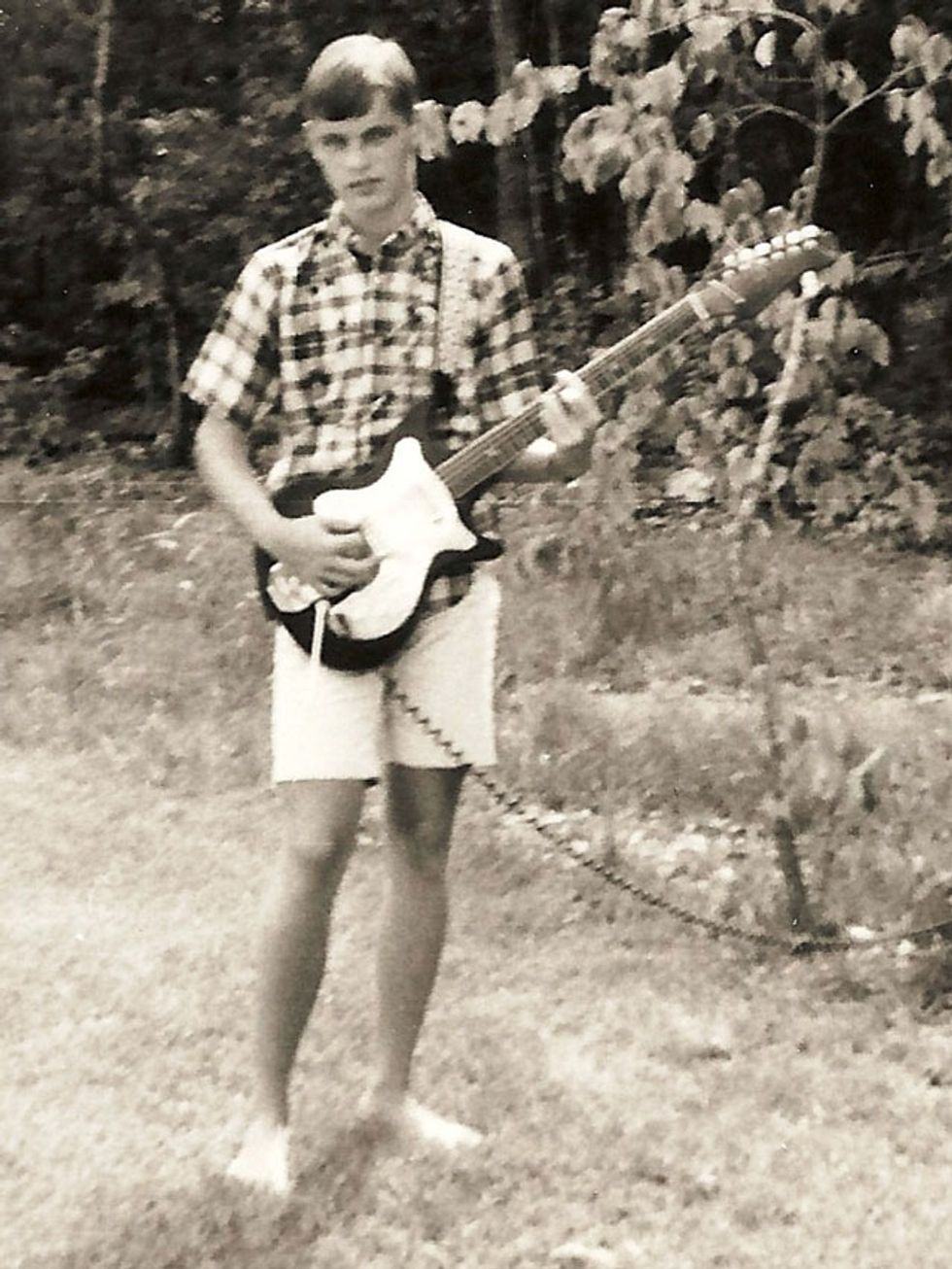 "I must've had it plugged into a (hay) stack in our backyard for this pic, jokes Scarborough of his first guitar, a ""bad axe"" from the Sears catalog. He got his first electric in 1966 or '67."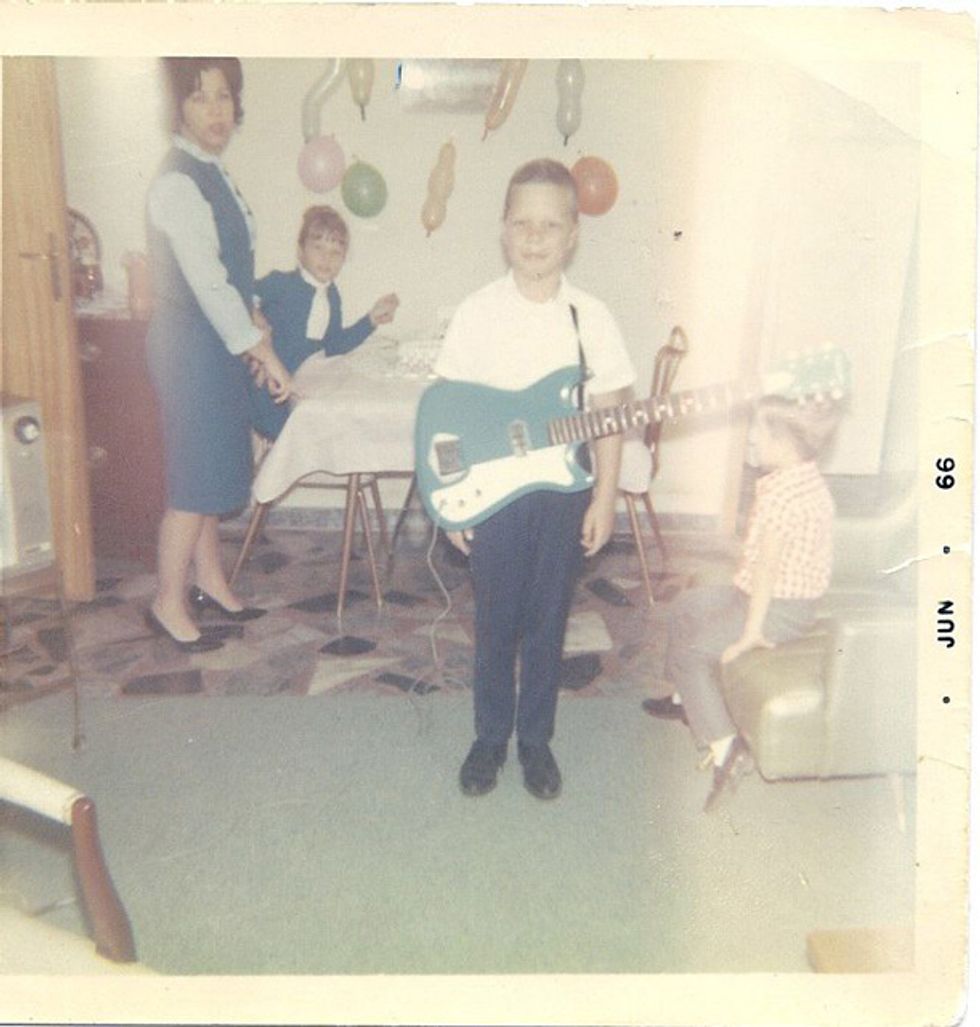 "Smith's first guitar was an acoustic he got at five years old. After the guitar took a tumble off of a balcony in 1965, devastating the young picker, his father ordered him this Silvertone from Sears. As he was living in Ethiopia at the time, the guitar took six weeks to arrive and he recalls, ""It was like losing an arm at the time."" He adds, ""One of my dad's friends brought me a 1963-64 ES-335 to use, but NO, it was too big and too country looking. Wish I had it now!"" His awesome dad spliced the cable into old phonograph needle wires for an amp."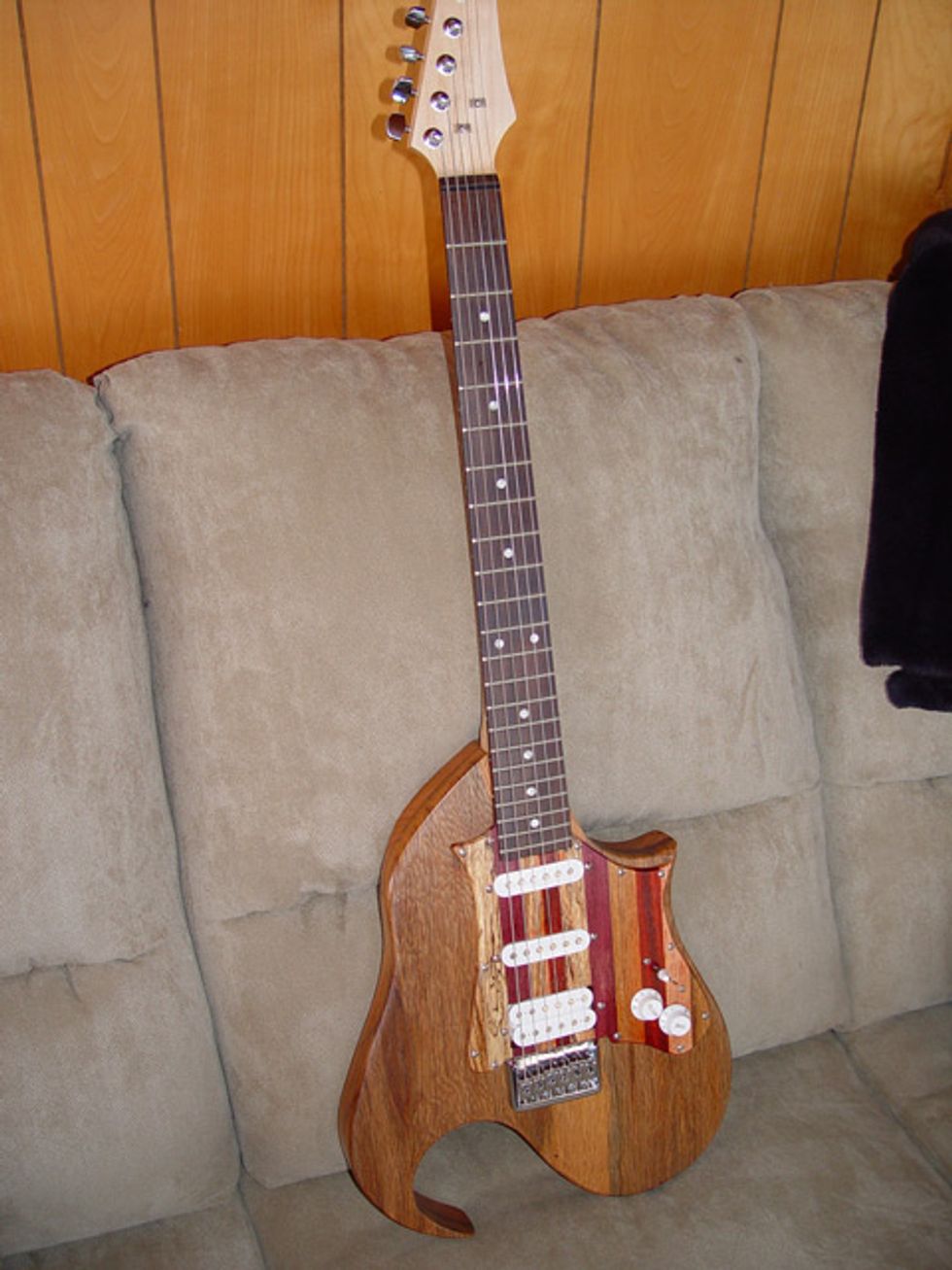 "Another guitarist who picked up the instrument later in life, Brozowski went a different route and built and modified his first guitar. He explains, ""Starting out on guitar at age 58, I knew I would never gain enough chops to warrant buying a fine instrument. But when I coupled my 35 years of woodworking experience and engineering background with low-end guitars I found in pawn shops, I was able to create my first guitars!"" The very first, pictured, started life as an Ibanez Gio. He routs the bodies, adds wooden pickguards with chambers below, and sets up the necks. ""They play better than they did new, are a lot of fun, and people always take a second look because no two are the same!"""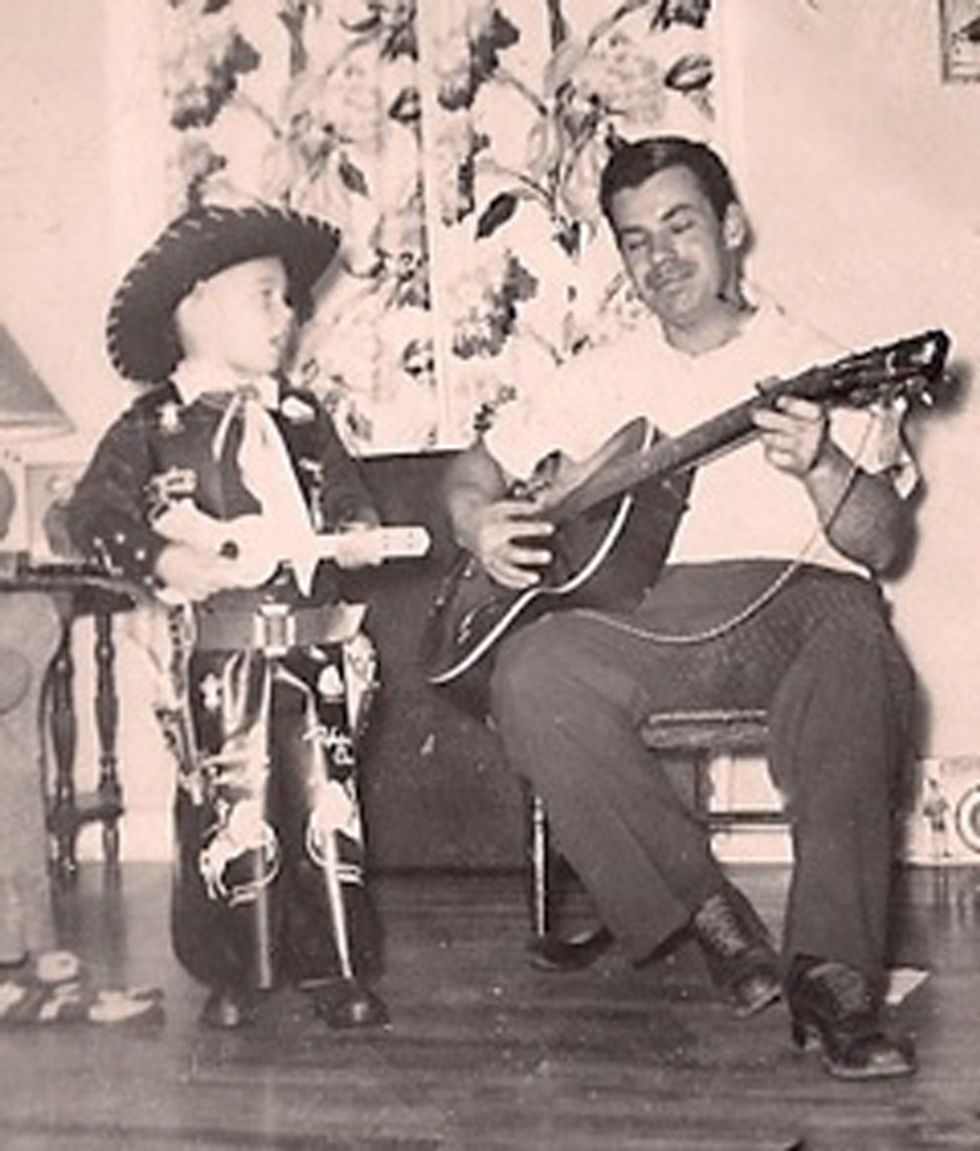 "It's not hard to see where Bevan's love for guitar came from with this 1949 photo of father and son. His first guitar may have been a toy to match his excellent cowboy outfit, but Bevan is now a proud owner of a Taylor Custom GA."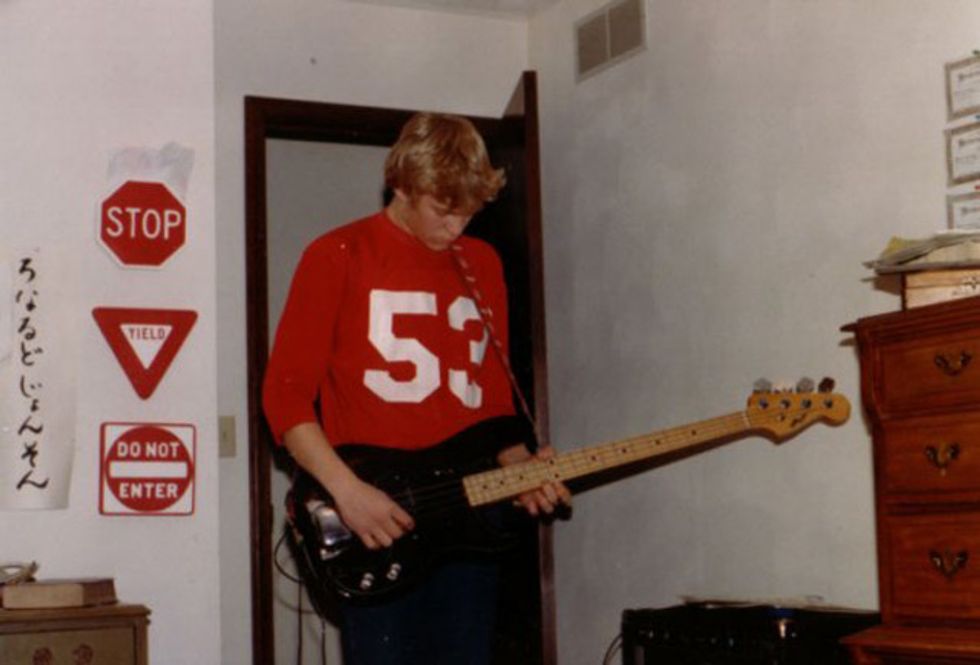 "After his first bass, a Hofner knock-off, died in just a month, Johnson's parents surprised him with this 1979 Memphis P-bass copy. ""Little did they know what they started!"" he says."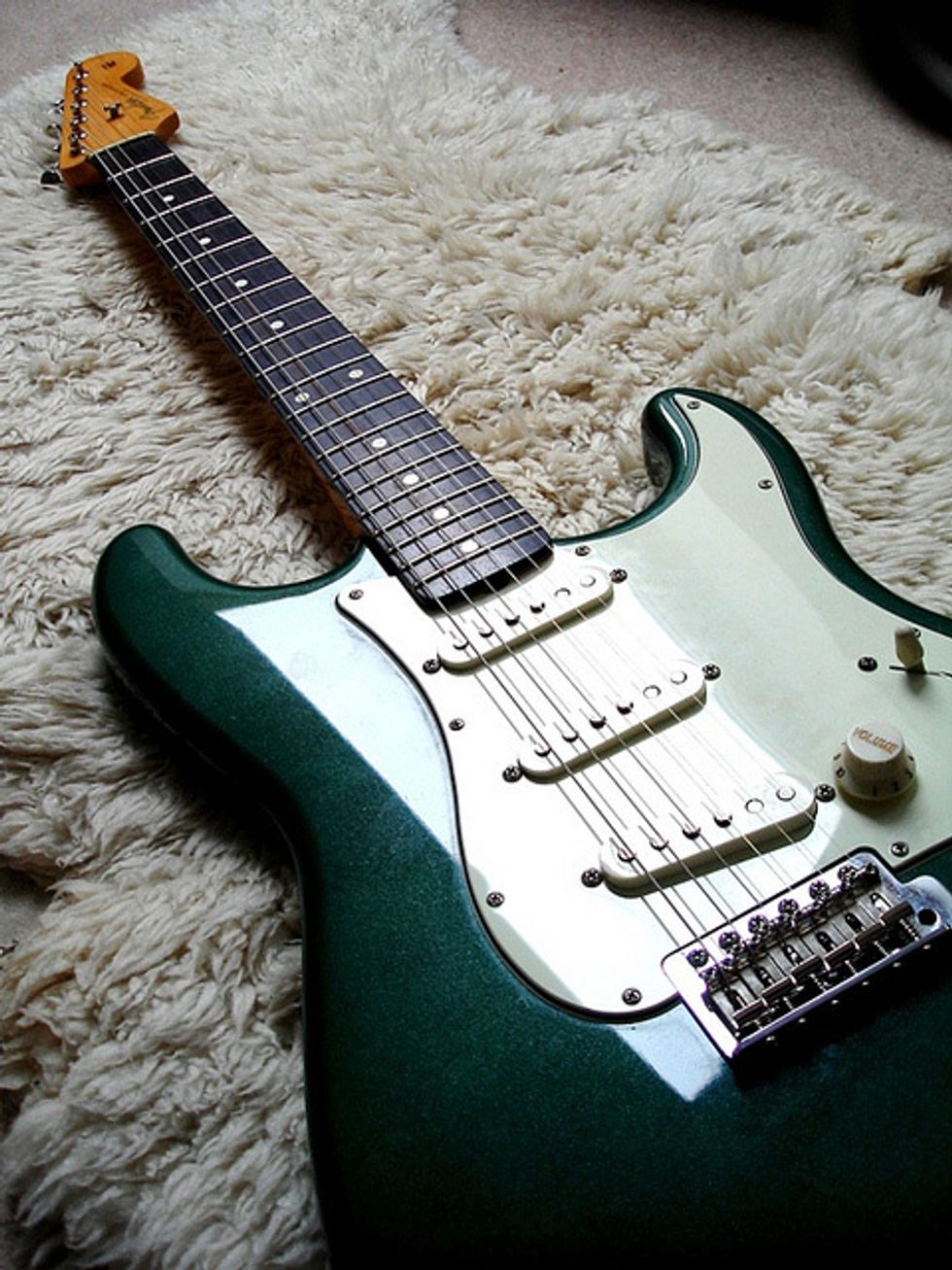 "Like many more recent players, Riddle started on a Squier Strat. This 2000 model in Sherwood Green underwent modifications as he progressed on the instrument, including a neck swap, wiring, pickups, and tremolo. He swapped components a number of times, before hitting the right combination that maintained the guitar's original looks and charm with better tone and playability. ""It's now my go-to guitar, and though it isn't worth a fortune, it's not out of place against its far more expensive brothers and sisters. I wouldn't trade it for anything."""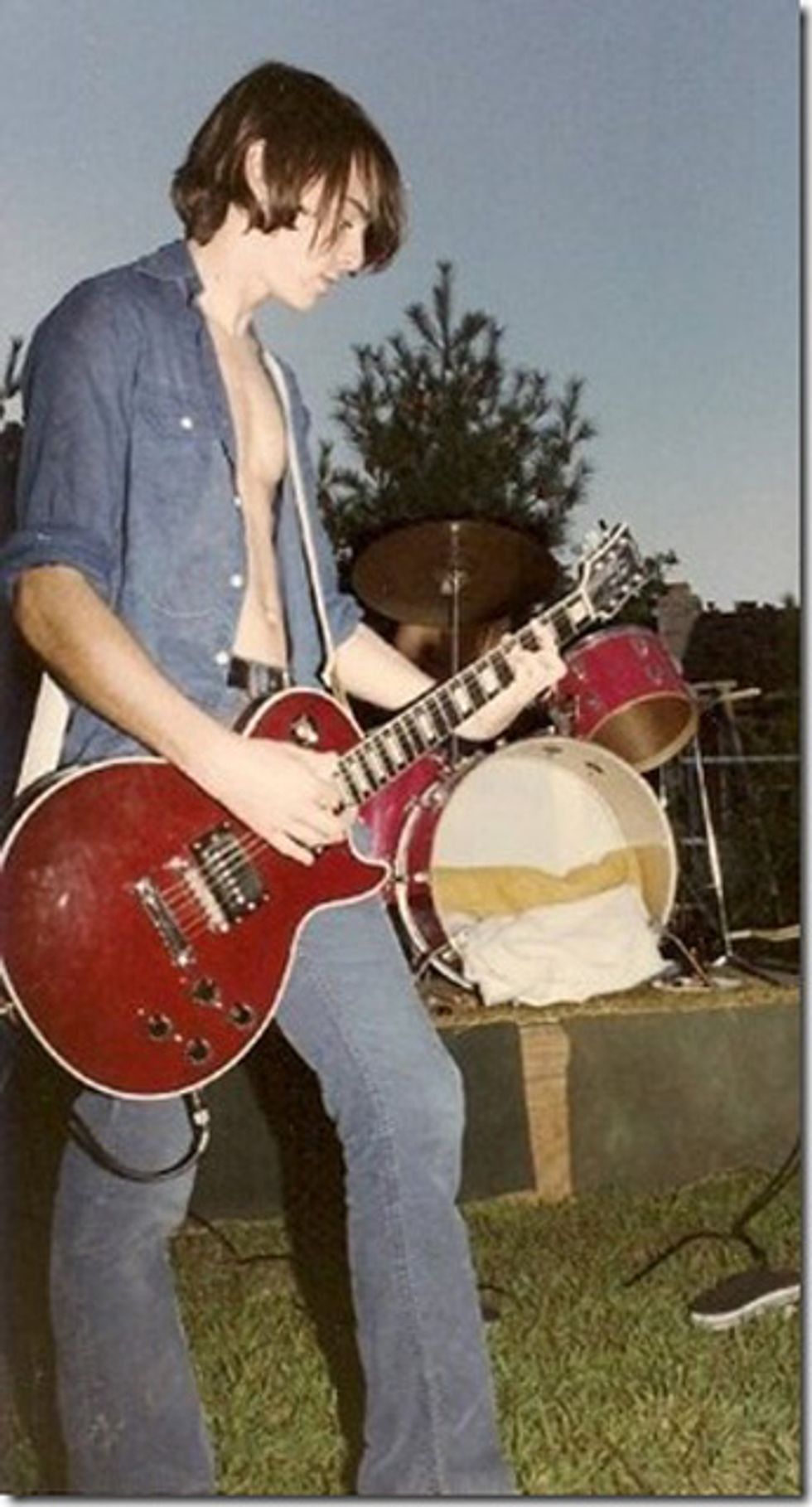 "Ward rocked hard in the back yard with his first guitar in 1981, a music store brand Les Paul knockoff."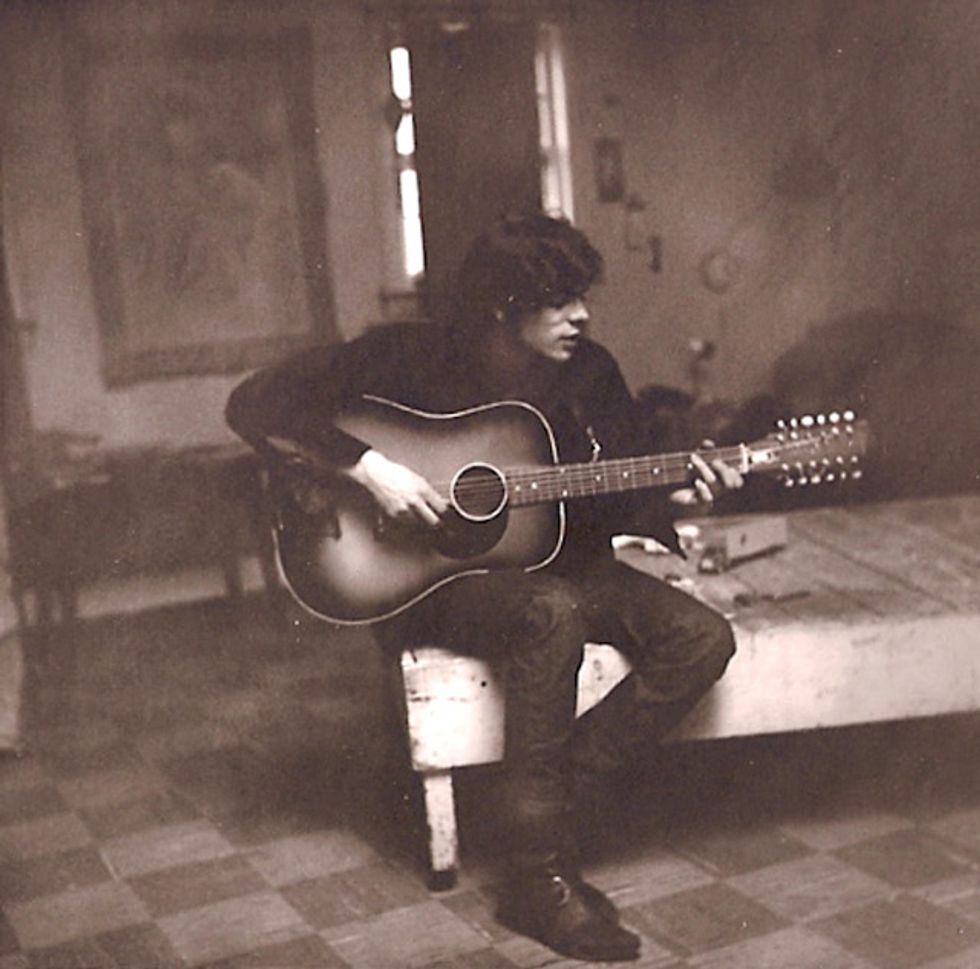 Lee saved up his paper route cash to buy this Egmond 12-string in 1964. The photo was taken in 1966 before he upgraded guitars and very generously gave this one to his best friend.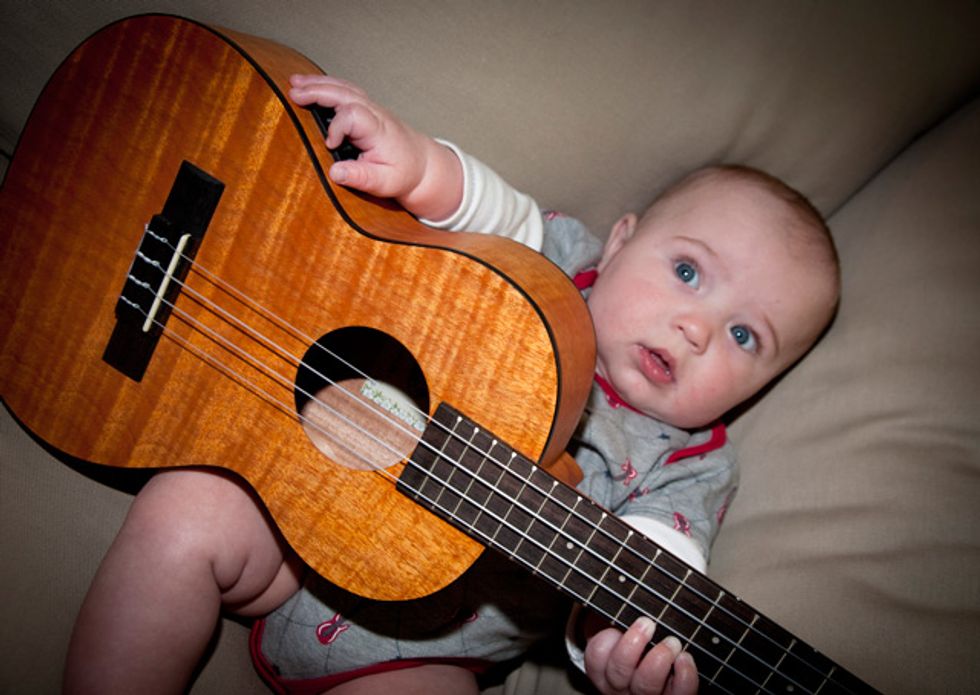 "Reader Brian Craig sent in a photo of his son's ""first instrument,"" this new Kala Ukulele. While he might not know quite what to do with it yet, little Oliver is lucky to be growing up in a golden age of gear, with fewer questionable department store instruments than most of the readers represented in the gallery."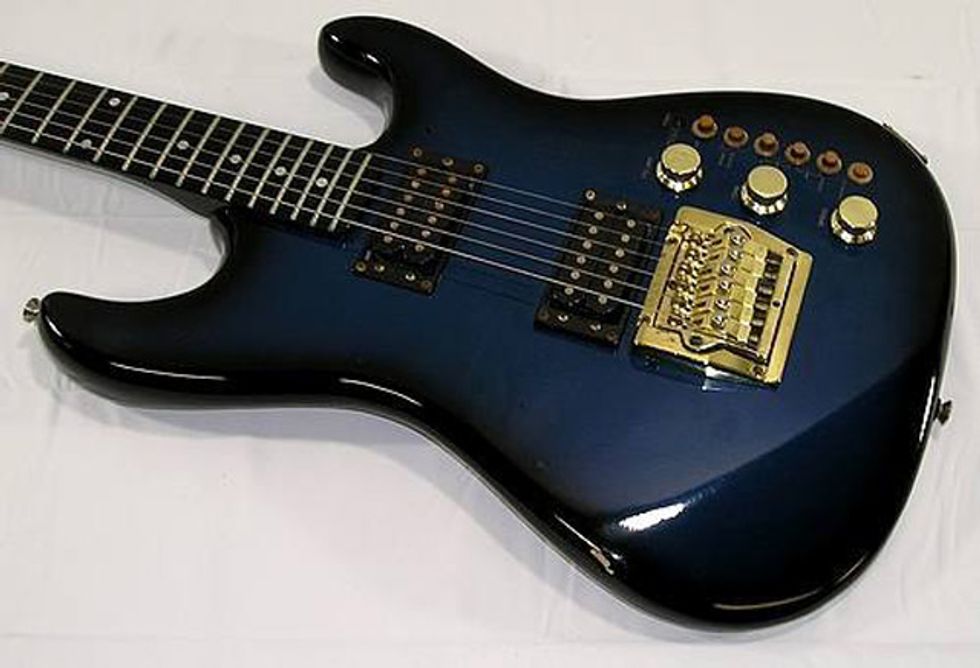 "Absolute junk, says Lhamon of this guitar he bought from Sears, ""but it was the guitar I owned longer than any other."" He played it for at least 10 years, noting, ""the effects were absolutely useless as they all sounded like tremolo, except the distortion which just sounded like crap."" He eventually split the neck and body and built two other guitars."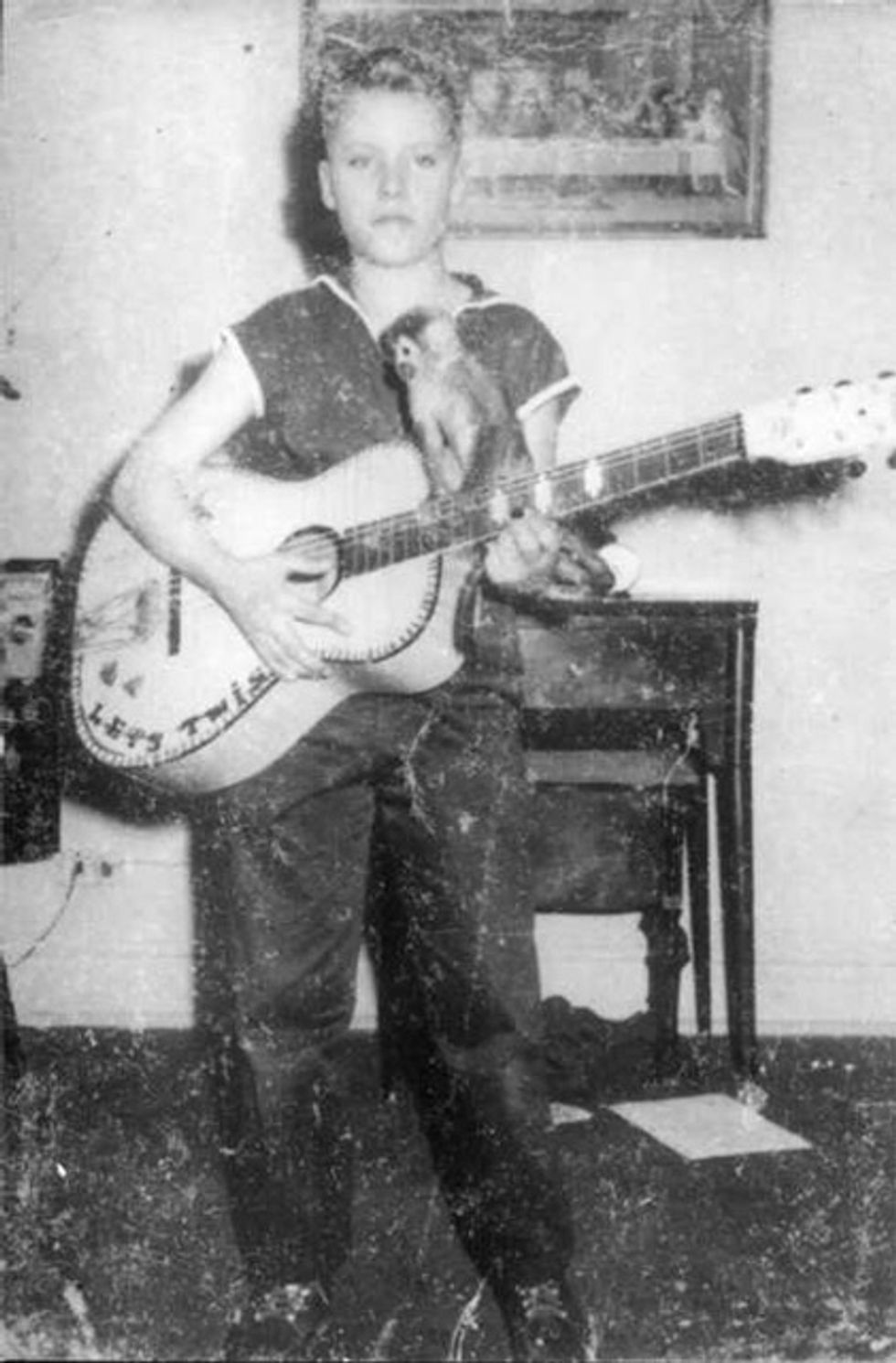 "Pepka, presumably working out the changes to ""Let's Twist Again"" (as is stickered on the guitar body) in 1964 with his first acoustic at age 11. ""Yes, the monkey is real,"" he points out."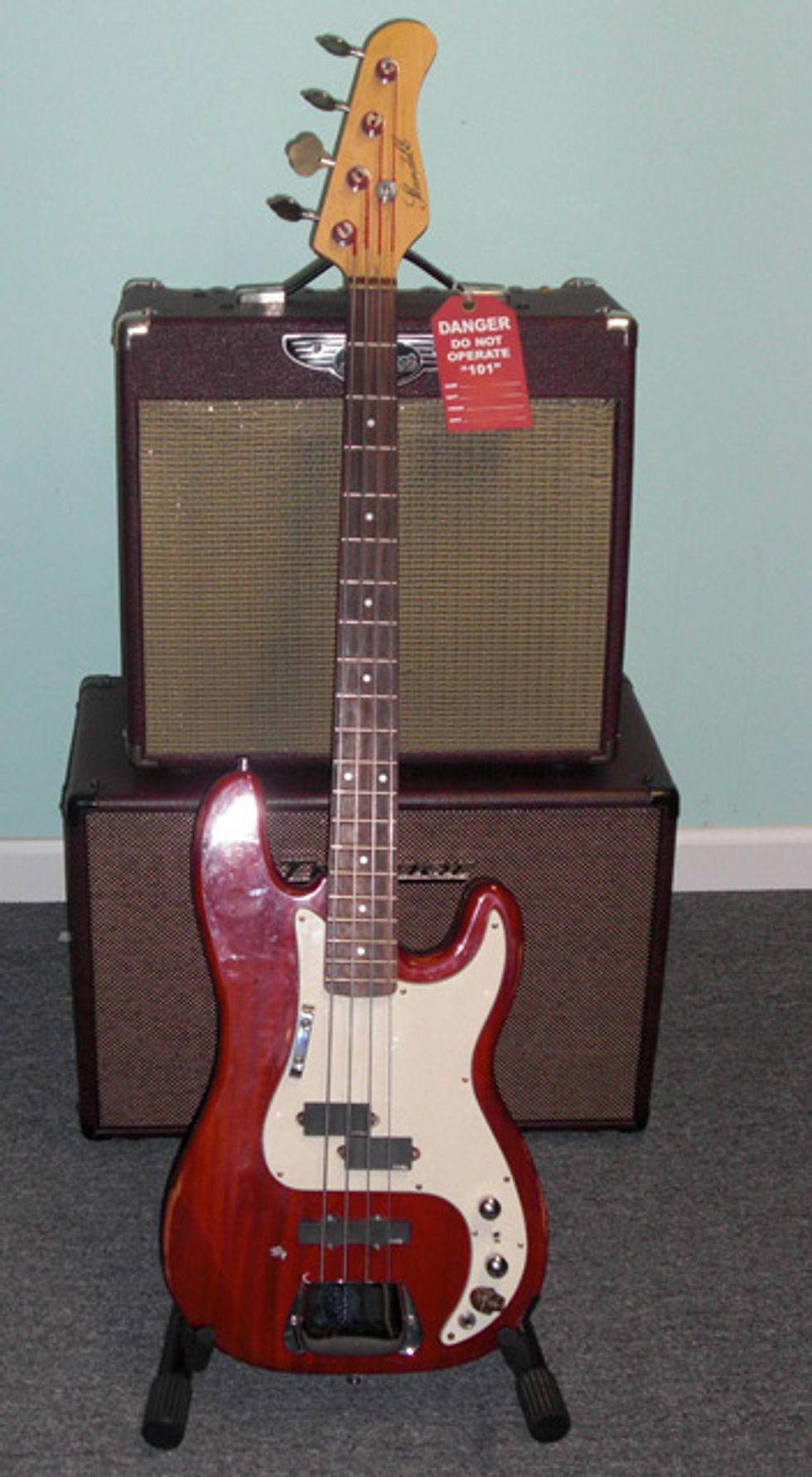 "Mangus cut his bass teeth on this ""$160 eBay Special"" Standell P/J. He says, ""Since then I have upgraded the tuning machines to Hipshots and added a Hipshot D-Tuner, installed a brass nut, thumb rest, Schaller strap locks, EMG pickups and PA2 Straight Booster, Gotoh 201 bridge, and finally the Ash Tray bridge cover. The only original parts are the neck, body, pickguard and the string tree."""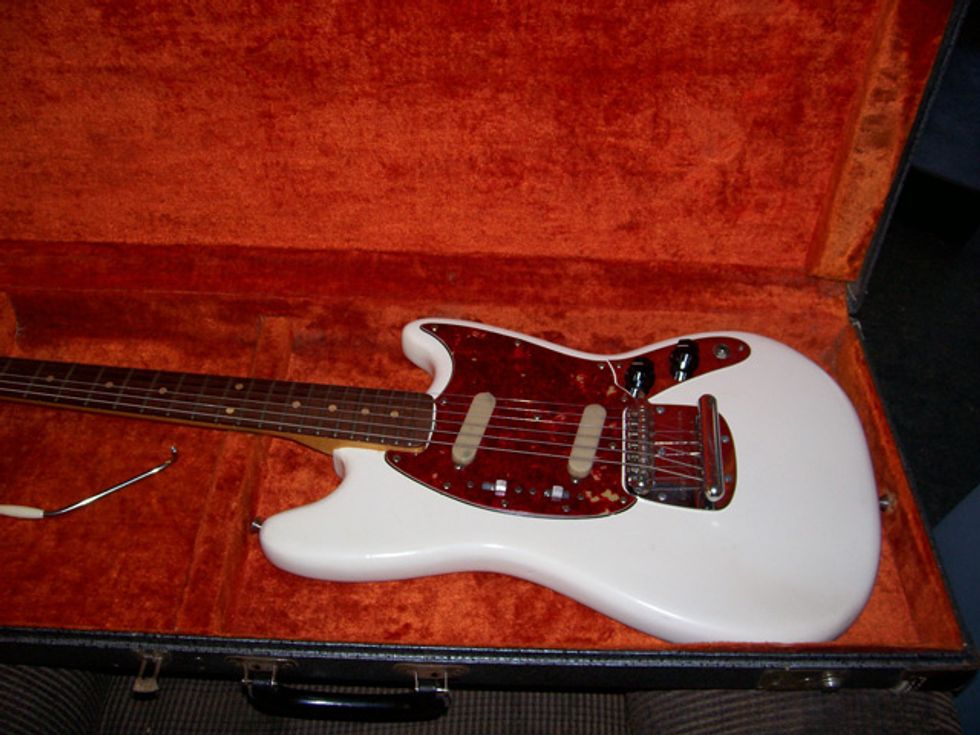 "Another second guitar (the first, an Old Kraftsman from Spiegals that was ""unplayable""), this 1964 1/2 Fender Mustang was purchased by Gilstrap in 1964. He recalls, ""We had a band called the Inmates, and us three guitar players all ordered matching white Mustangs. Because we lived in a small northern California town, we were ignored, and finally after complaining to our local music store, reportedly an order to Devonshire, England was raided and we received our three Mustangs all on the same day. I'm the only one who still owns his."" The guitar was stolen and stripped before being returned to Gilstrap. ""The white finish is refrigerator paint I applied in 1980, the year I got it back,"" he explains, ""It has Peavey Tuners as the originals were not with the guitar when I got it back. It still has the original case, and still plays beautifully."""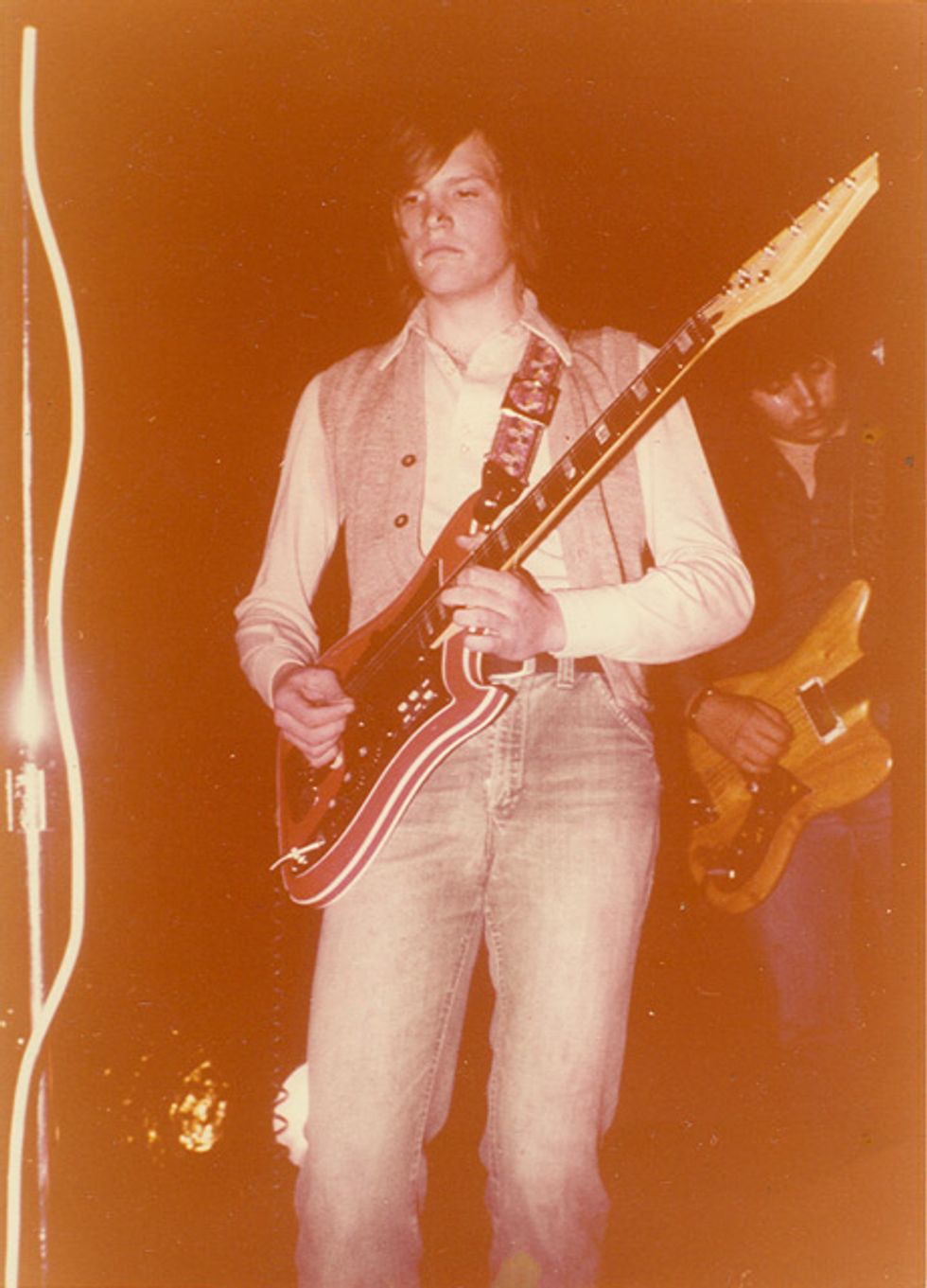 "Young started out on a ""red plastic-covered electric by a company called 'Yakim' from Argentina,"" as pictured in this 1975 gig photo."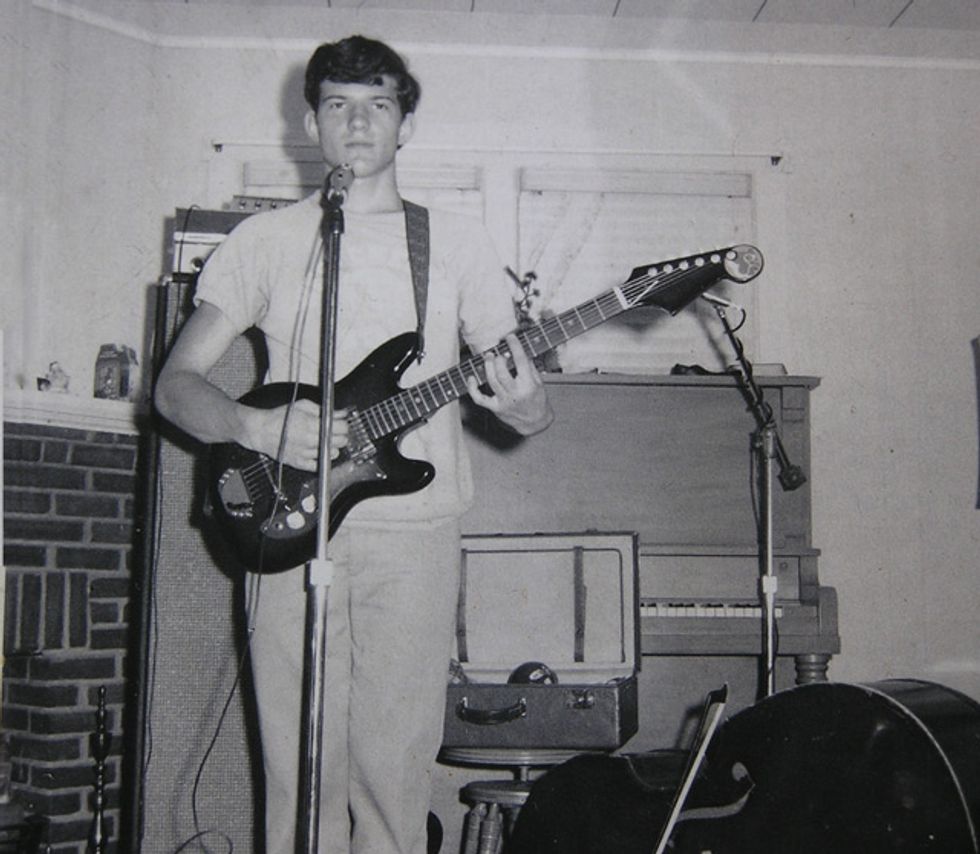 "Sylvester's first electric was a ""no-name Japanese guitar"" from the mid-sixties. He's rocking' out among a pile of musical instruments in this 1969 shot."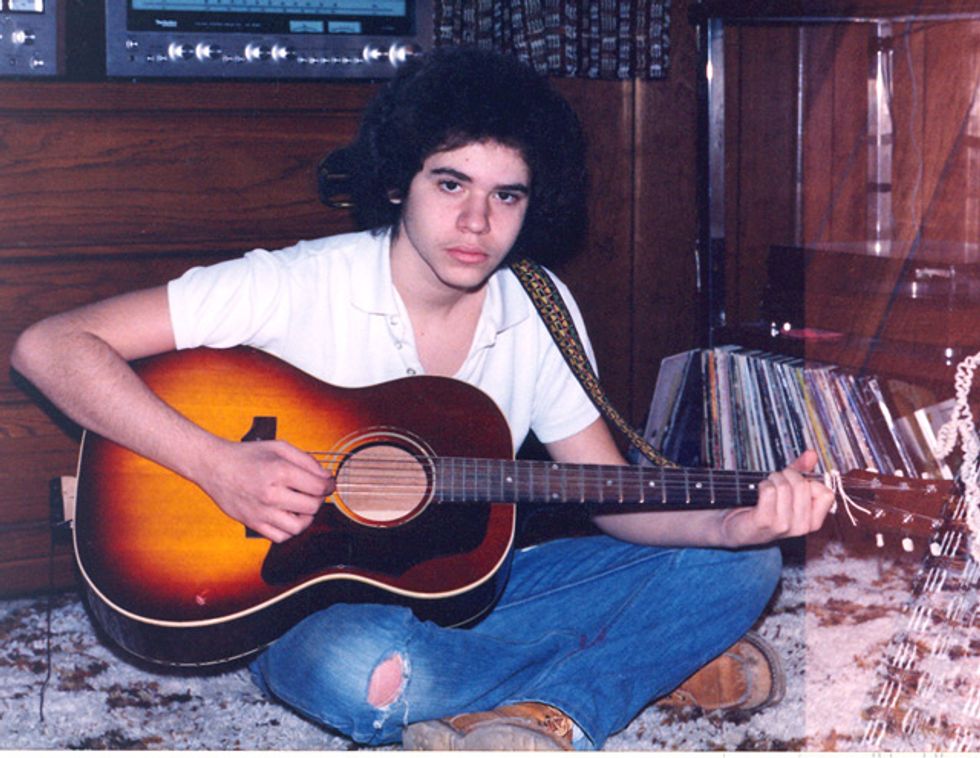 "Mednick's first guitar was a hand-me-down from his brother: the 1968 Gibson acoustic he's strumming in this 1977 shot. The guitar has since disappeared, lost in a move or stolen. ""Wish I still had it,"" David said."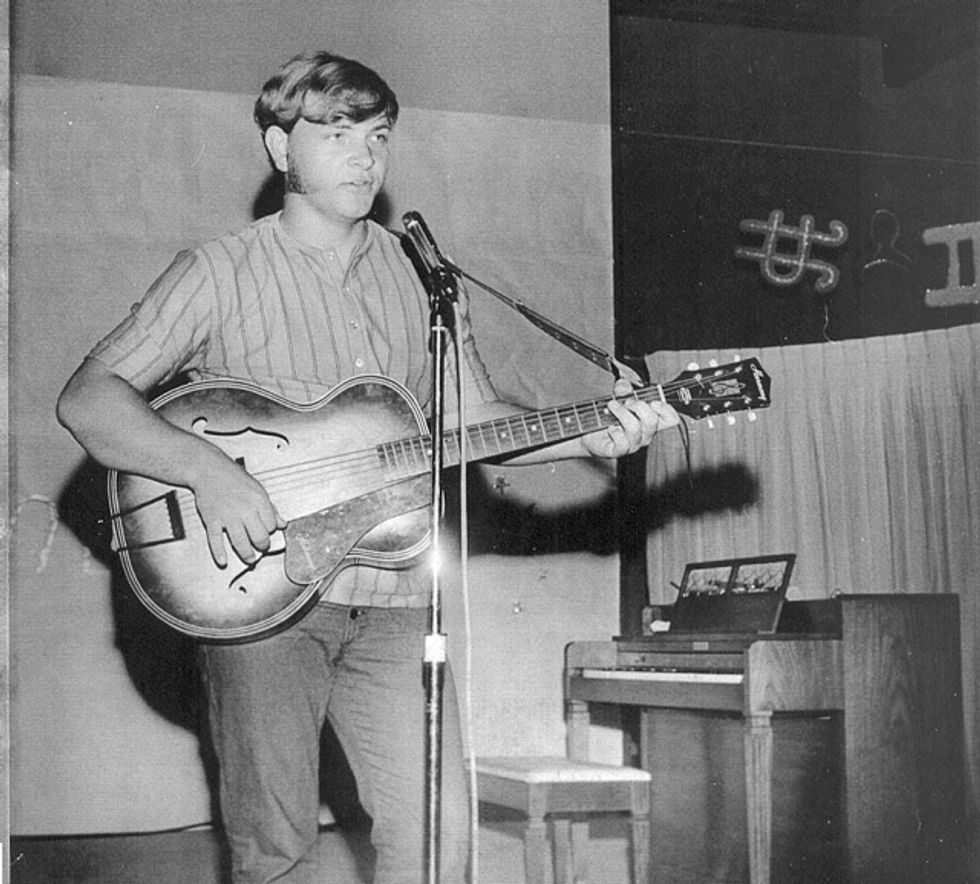 "This Harmony Archtone H1213 was Jennings' first real guitar, a brand-new Christmas present in 1968. In this 1970 photo, Jennings and the guitar are on their way to winning a talent show!"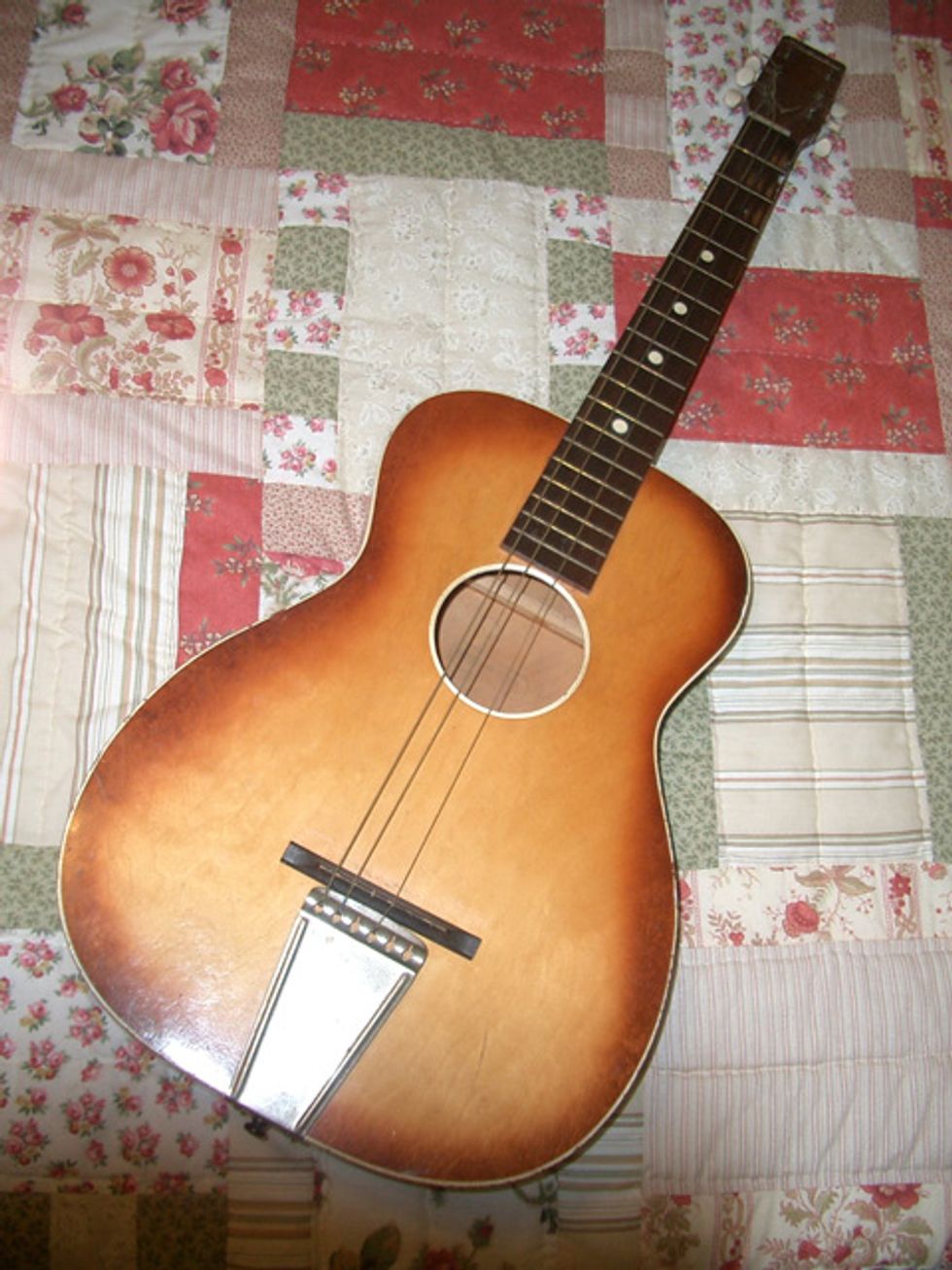 "Rowell spent four years woodshedding on this 1964 plywood Silvertone, thanks to lessons from teacher Mr. Stump and the classic Mel Bay books. ""Now,"" he says, ""I'm part of E. Christina Herr & Wild Frontier. My current sound comes from a 1974 Telecaster Custom through a '65 Blackface Deluxe Noverb. I'm also the original owner of a 1974 Martin D18. (My mother could not understand why someone would spend $450 on a guitar.)"""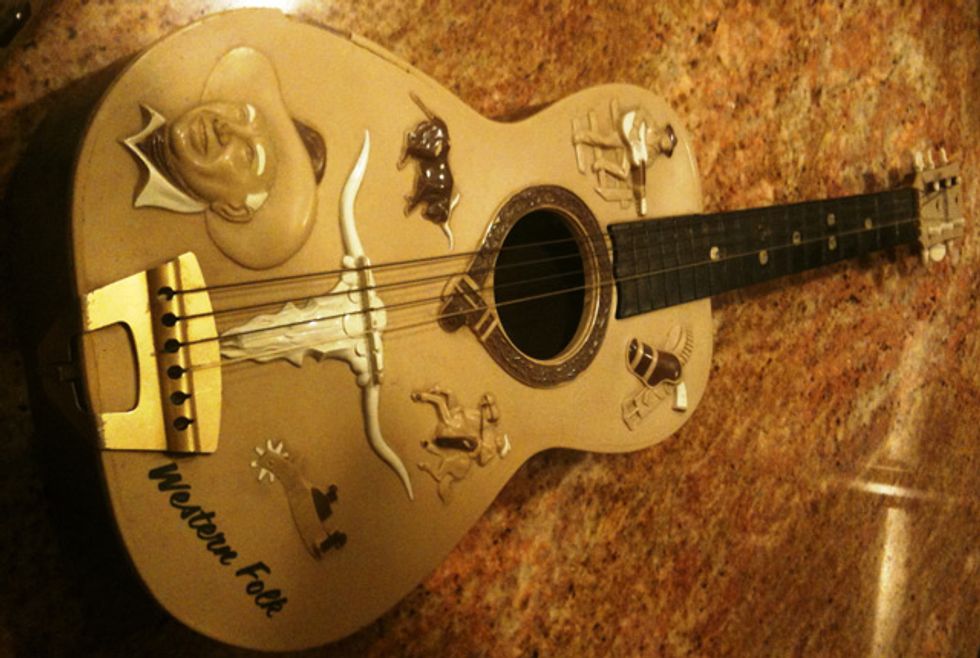 "Fuchs (of Fuchs Audio) started out on this cowboy-themed Eminee guitar. Well, not this exact one. ""I was lucky enough to find one on eBay exactly like mine a few years ago,"" Fuchs explains. He came across his original as a kid in the basement of his dad's music store. ""It had nylon strings, friction machine heads, and cowboys, horses, and western details on it. I played many Beatles tunes, starting by playing bass lines only and eventually learning the rest,"" he recalls."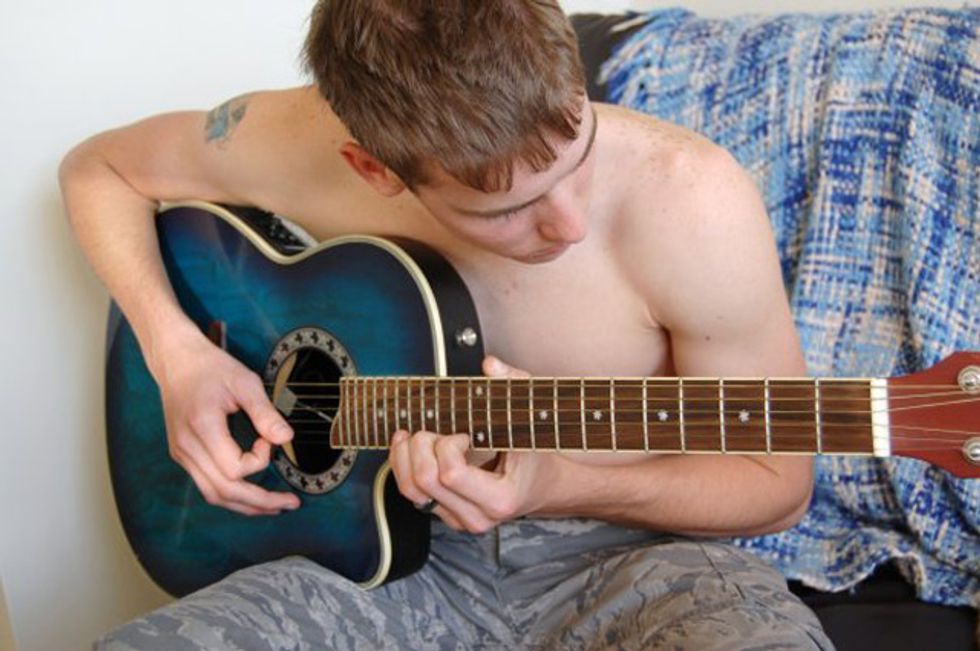 "Belflower picked up this flea market prize, an Indiana brand guitar, in 2006. ""Lots of great songs learned on that one,"" he recalls."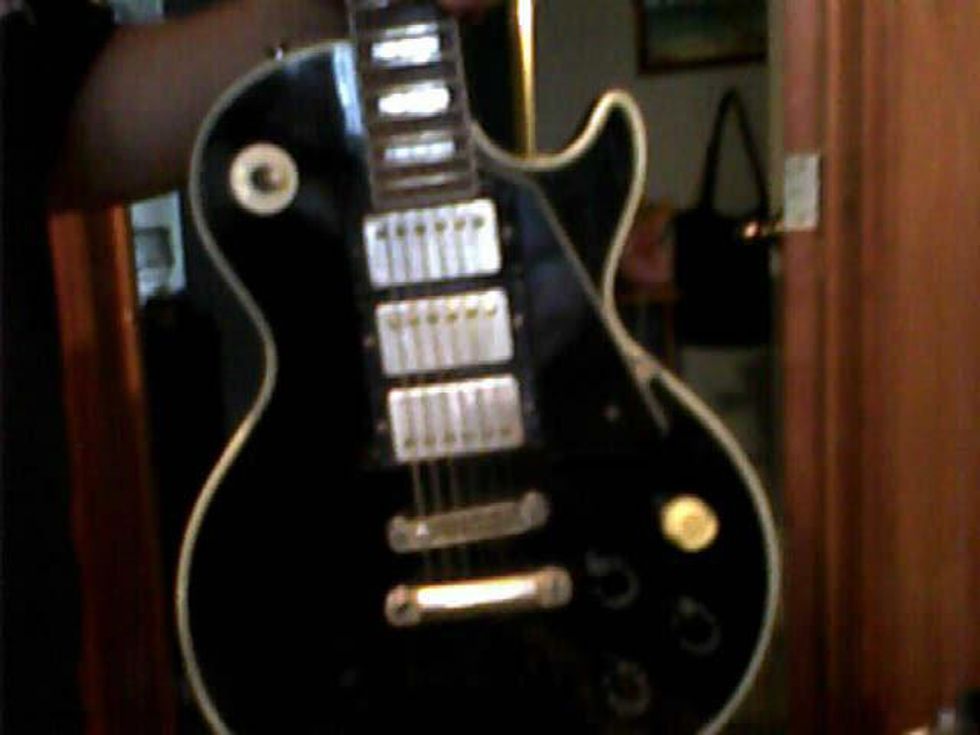 "Amati fought this ""very hard to play"" Japanese-made Ibanez Les Paul. He called it Marilyn, before selling it two years ago for a Strat. He notes, ""I didn't really grow up as a guitarist until I bought the Strat."""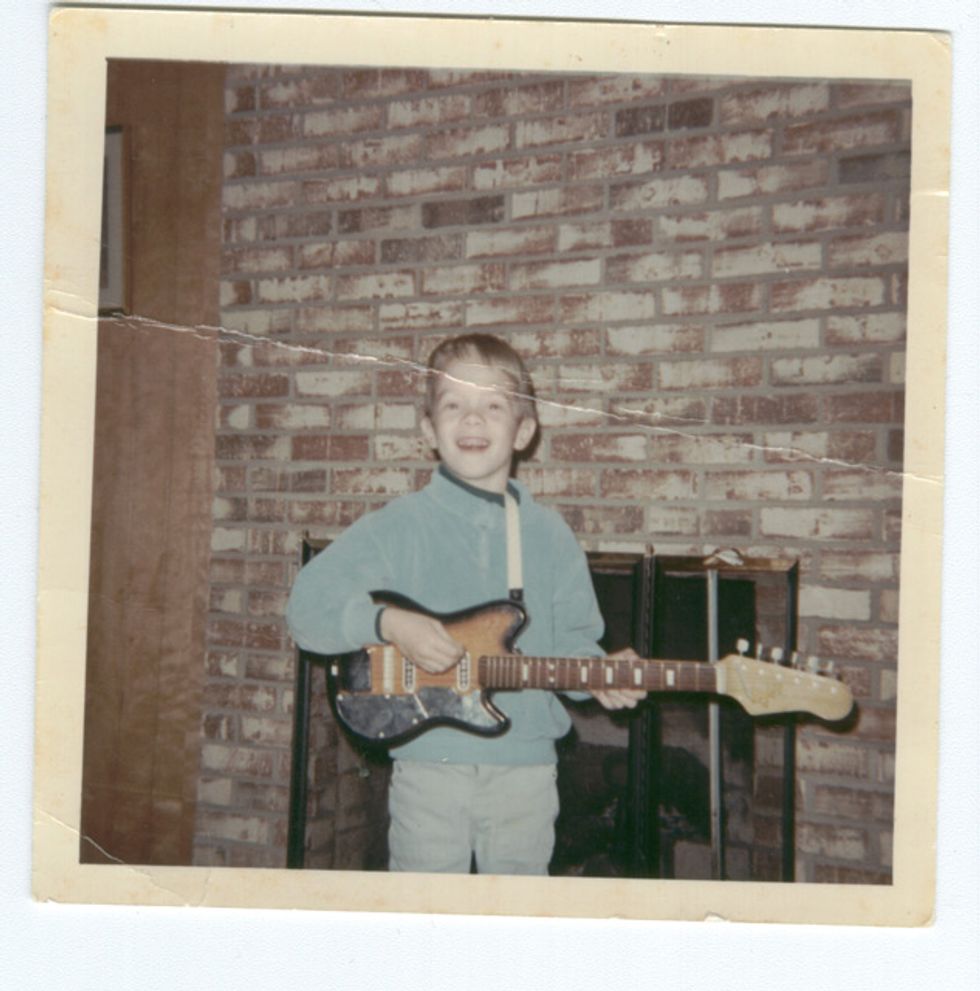 "Fleming wasn't sure what kind of guitar he started on, just that this great vintage picture was taken circa 1969. ""I wish I still had it,"" Mike says, ""But sometime in my teen years it vanished."""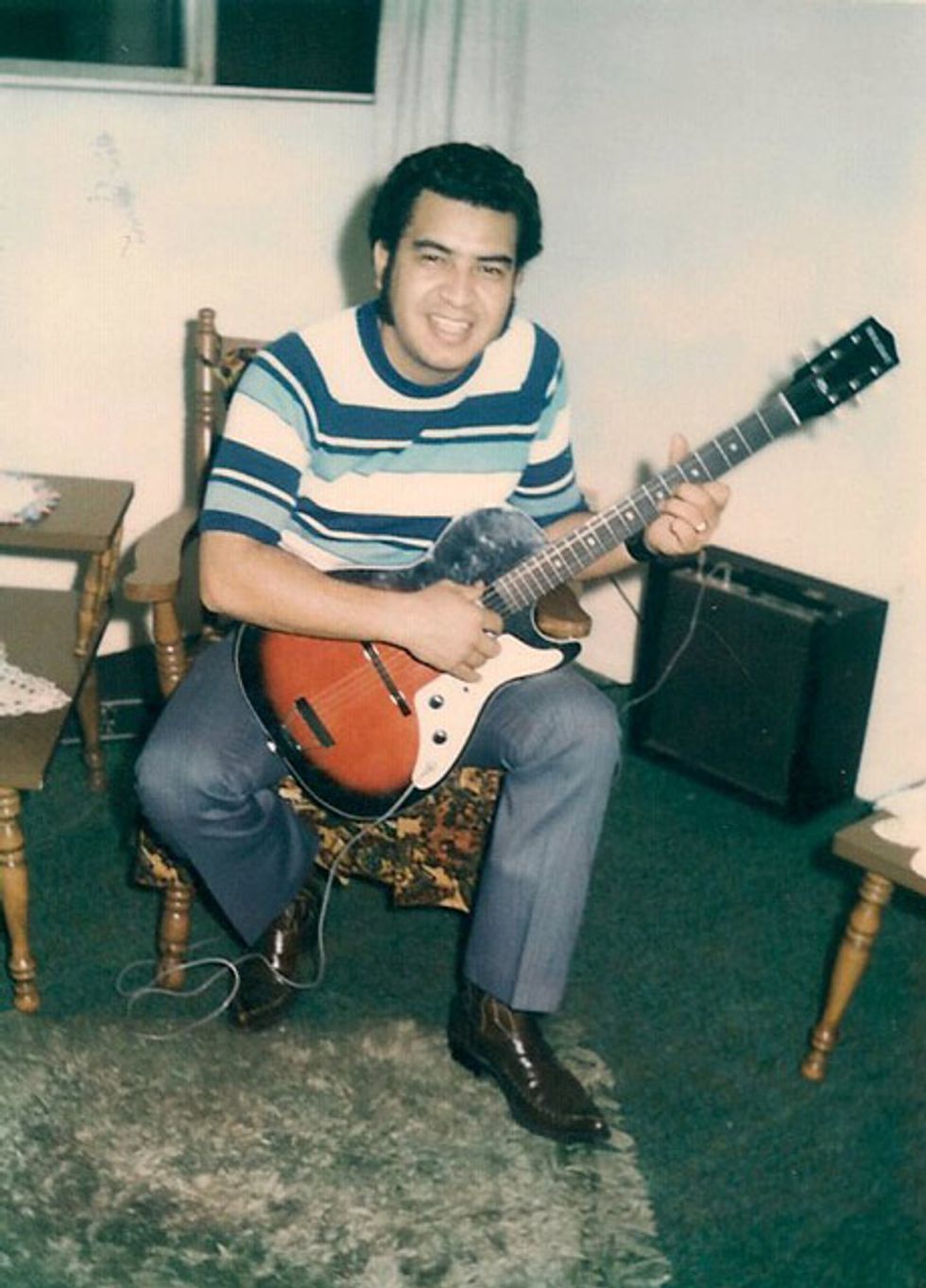 "Manny Armijo Jr. sent in a photo of his father and his first guitar in 1968. He says, ""The guitar is a 1965 Holiday Electric Guitar that my mom bought for him. She ordered it from an Aldens Mail Order Catalog in 1965. He recently passed the guitar down to me. It's still in excellent condition."""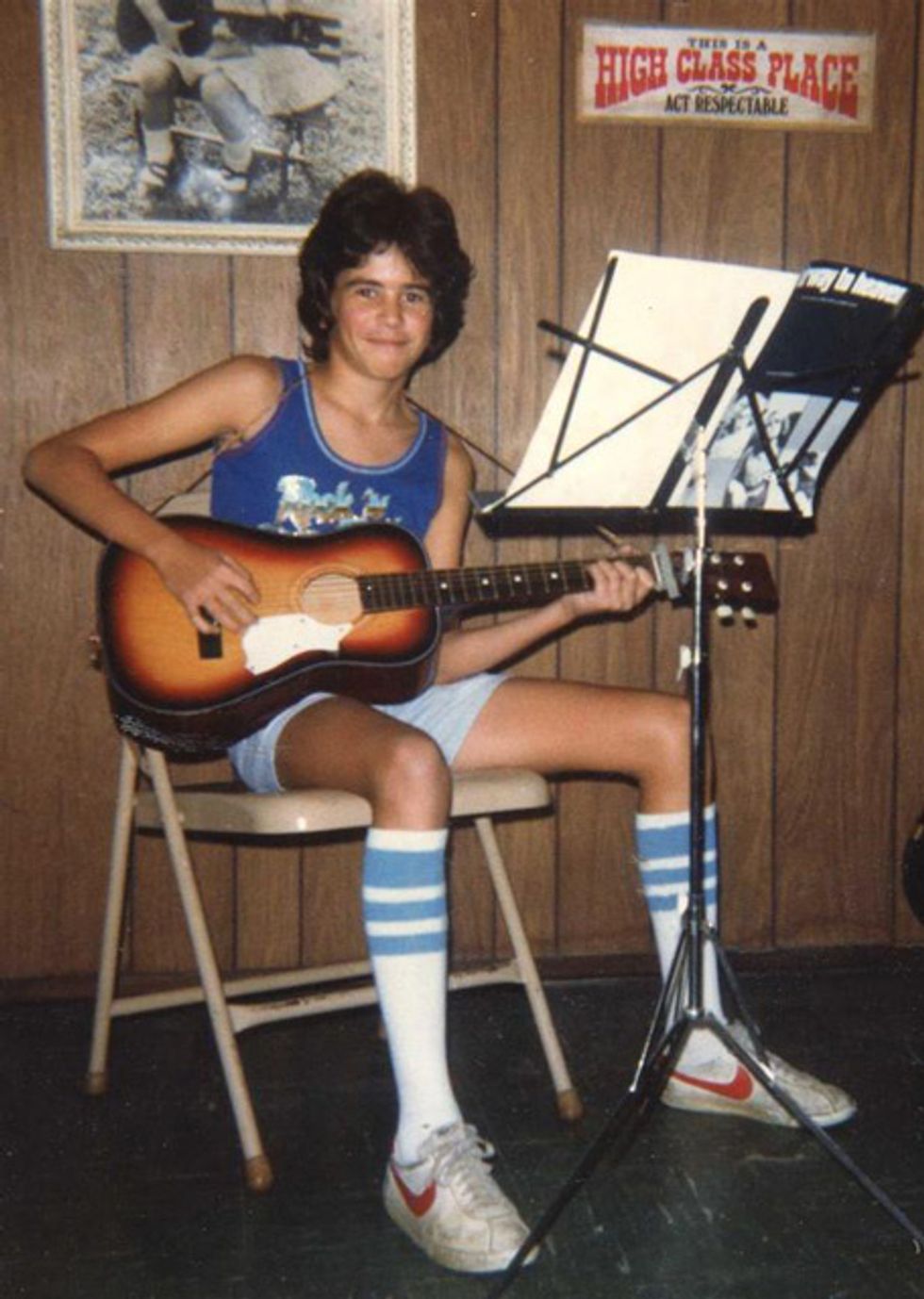 "Rockin' the tube socks hard in 1981, Nemphos learned on a kids-level acoustic he got for Christmas in 1977. Note the ""Stairway to Heaven"" sheet music! He recalls, ""Thankfully, I got a larger acoustic that Christmas that my mom worked hard to buyи but even that was an off-brand purchased at a Harmony Hut record store in the mall!"""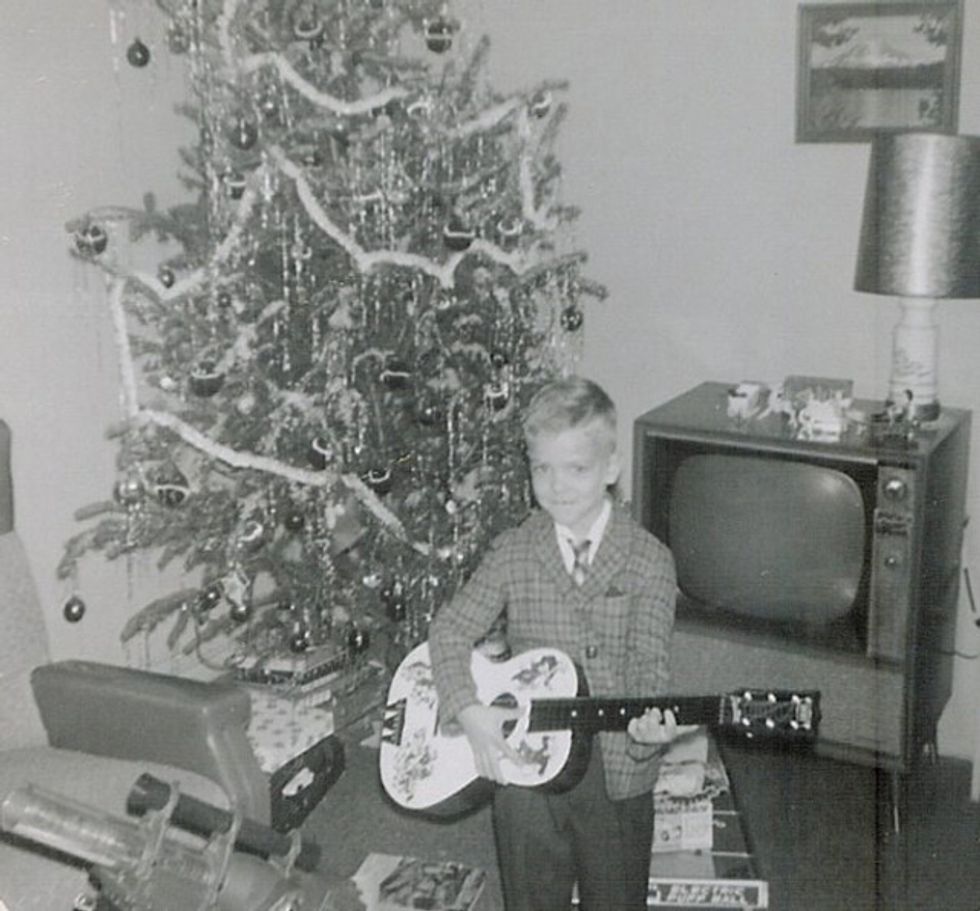 "This Christmas picture was taken in 1963 or '64 when Burdett received his first guitar at around age 8. His family moved from Helena, Montana to Spokane, Washington a few years later, though, he notes, ""Helena would have never been the same had we not moved!"" Burdett still plays professionally 45 years later."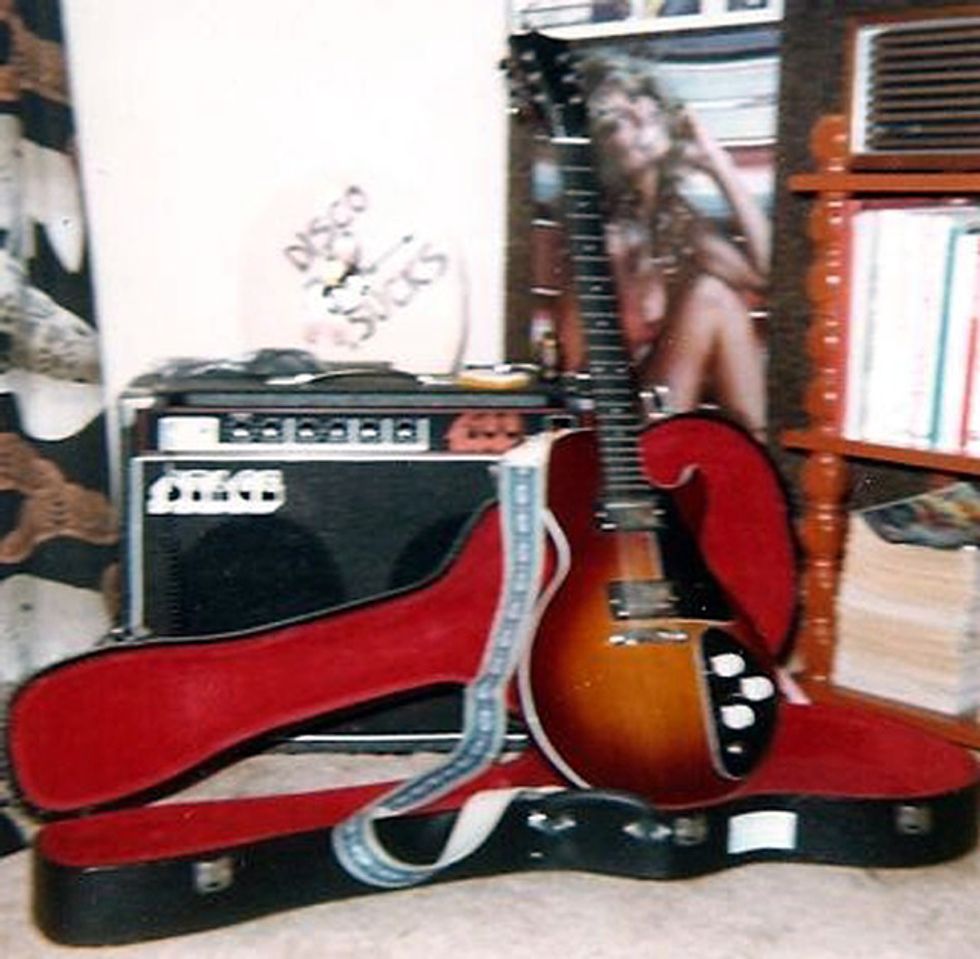 "We imagine Van Sickle serenaded Ms. Fawcett with this Sears-purchased electric from 1979. Extra points awarded for the ""Disco Sucks"" sign!"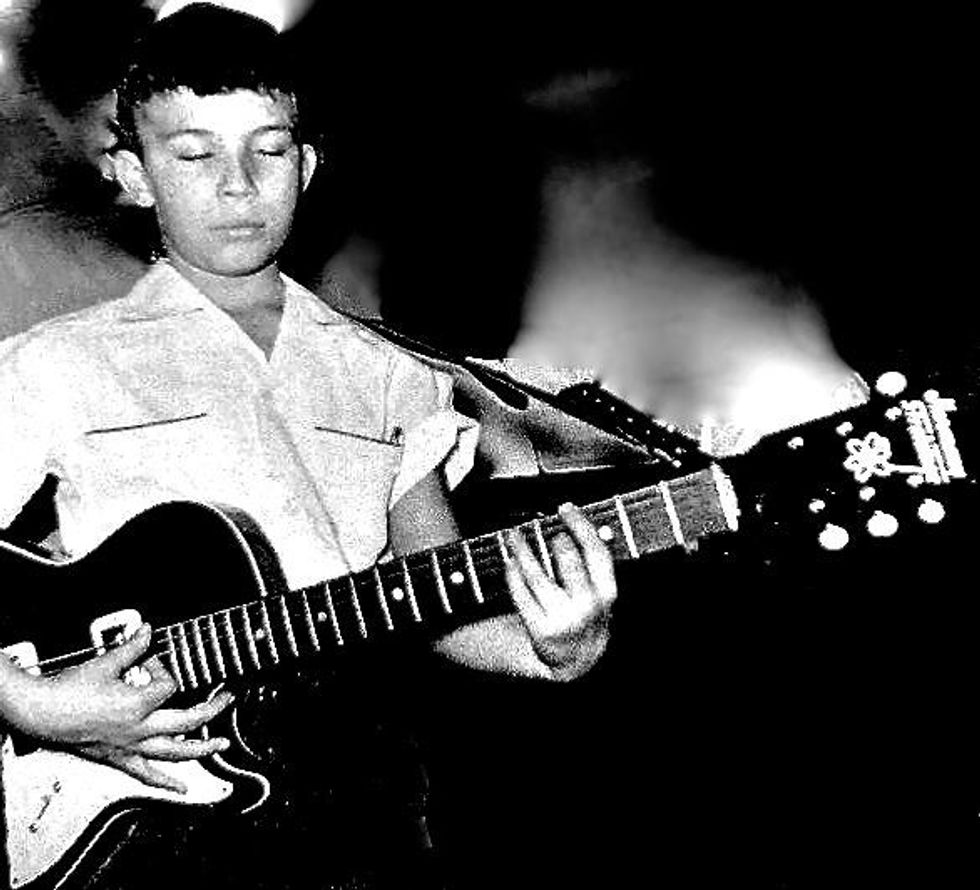 Raymond picked up the instrument in 1959 with this Harmony H46 Statotone.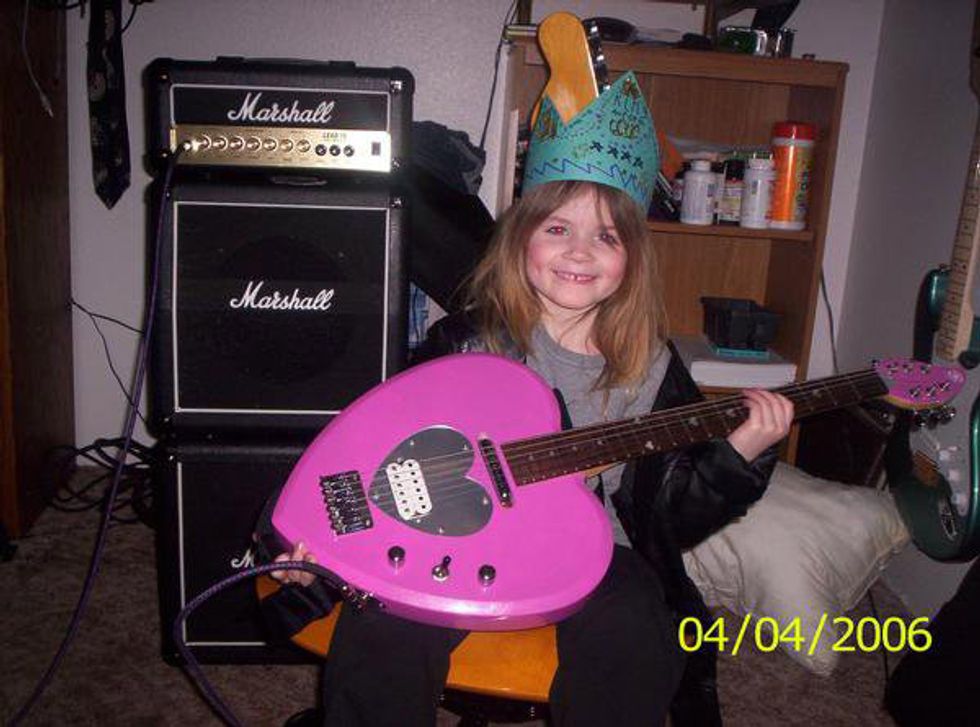 "Stephan Cappello sent in this photo of his rockin' daughter with her first guitar which she plugs into the mini Marshall stack behind her. ""She has a great ear and also plays violin and keyboards, and continually surprises us with her enthusiasm,"" he says."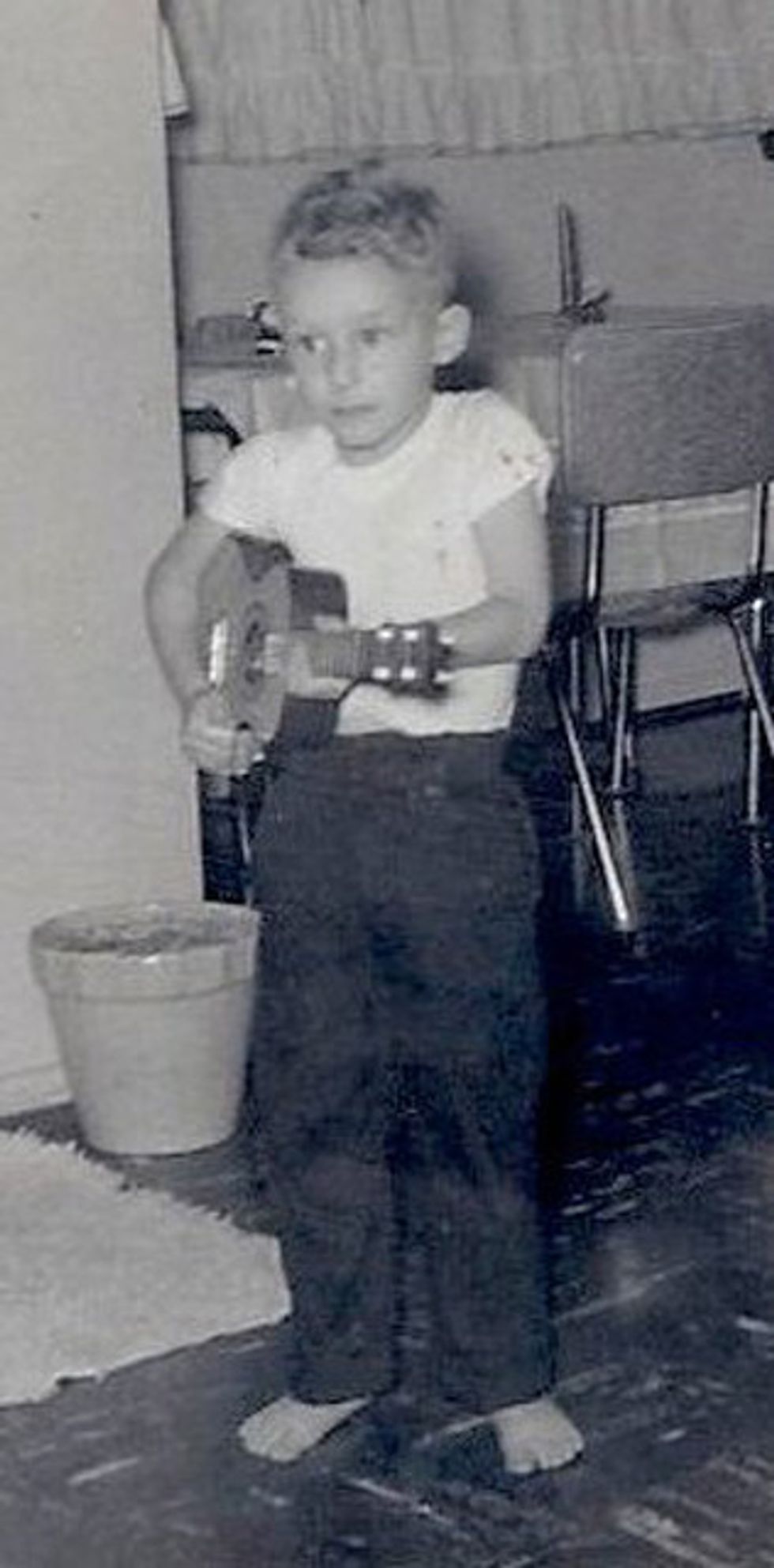 "Greene started out with this Arthur Godfrey ukulele, as pictured from Christmas 1960."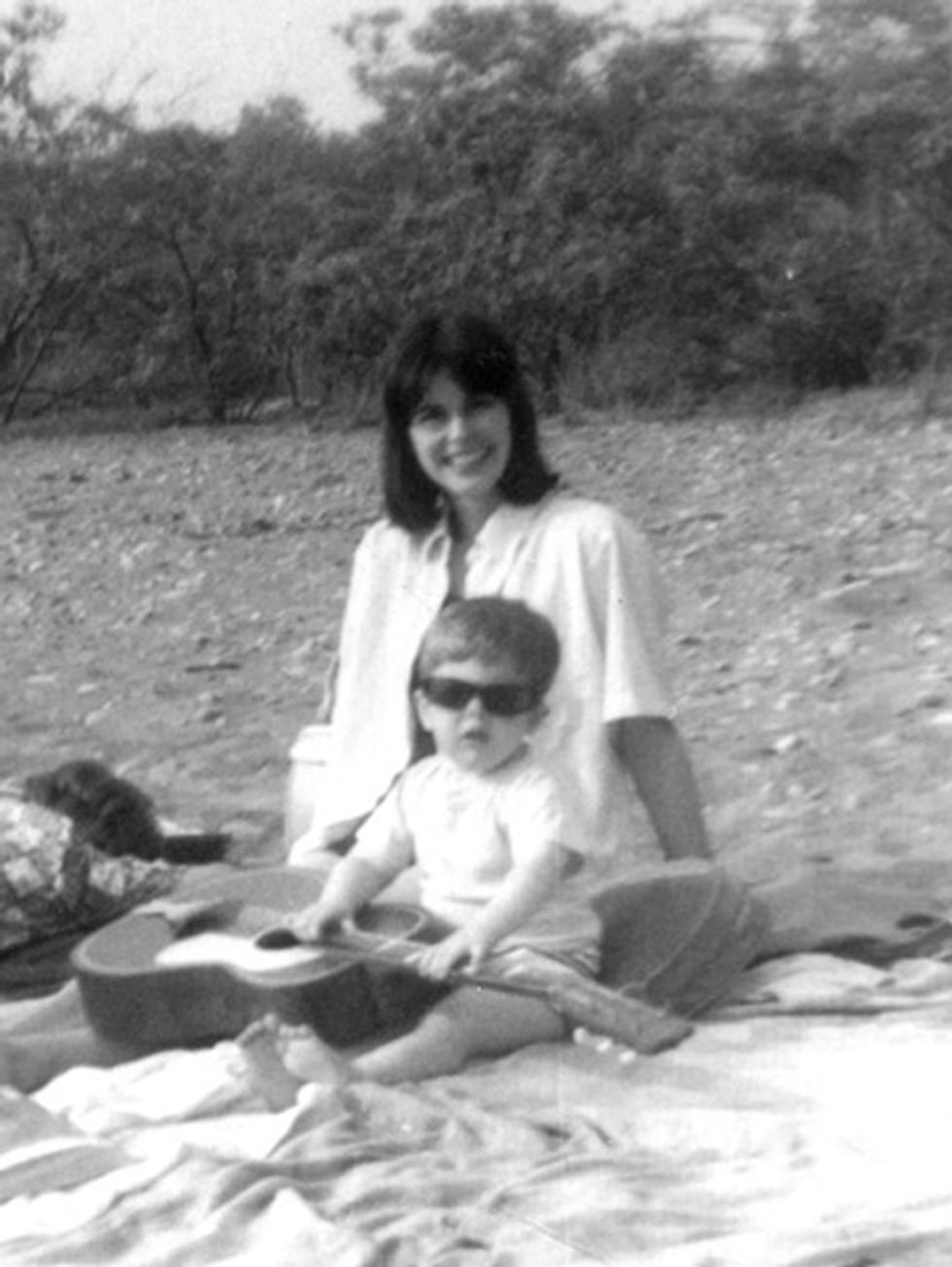 "I was practicing my overhand tapping technique, says Iverson of this 1964 shot of the young guitarist and his mother, Ellen, on the beach. Between the guitar and shades, Iverson was destined for coolness."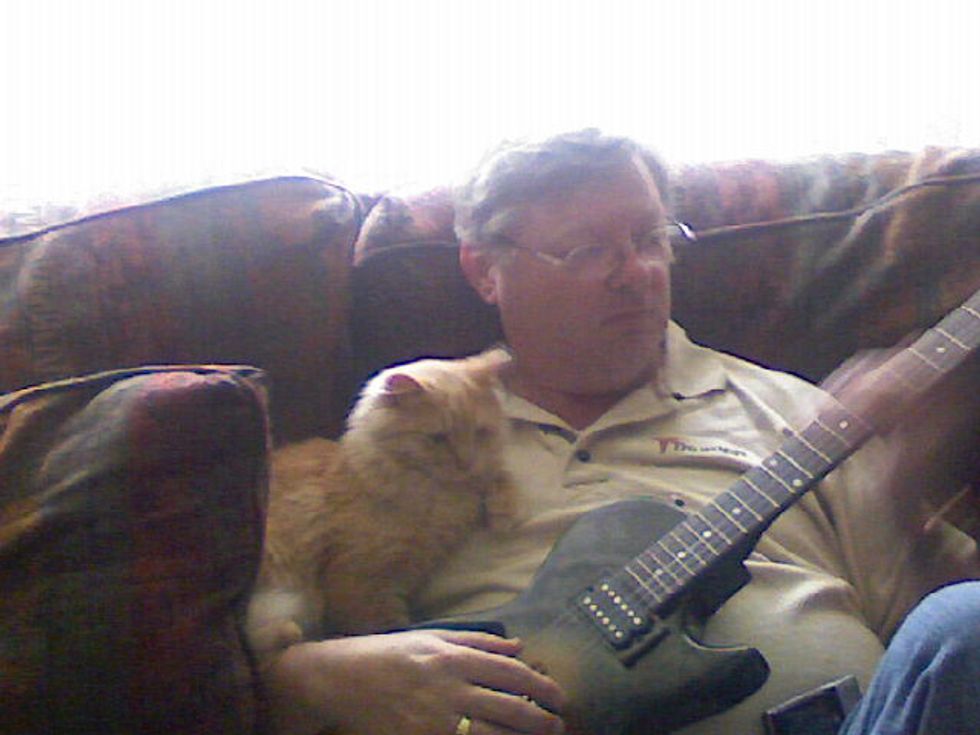 "Streeter started guitar later in life, picking up his first axe in 2007. He says he wanted to play the guitar since he was in high school and finally got this mid-'70s Epiphone Les Paul off of eBay."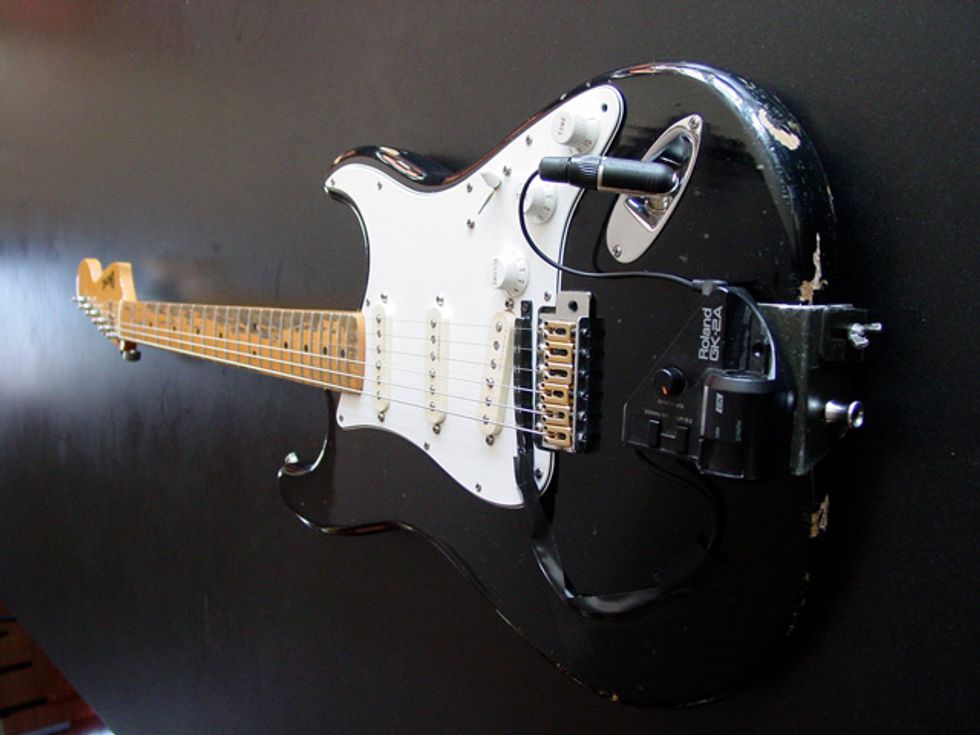 "Williams started his journey on this 1977 Ibanez, which he describes as, ""Very heavy."" He bought the guitar new and has since outfitted it with a Roland pickup."
To submit your first guitar photos for a future gallery, send a photo and caption to rebecca@premierguitar.com.