Gear Finds: Acoustic Edition 2022
Check here for some of the latest and greatest acoustics in 2022!
---
PRS Guitars
The PRS SE P20 is a parlor-sized acoustic with a
big voice. Boasting traditional parlor features
like sweet, midrange tone, historic vibe, and easy
portability, the PRS SE P20 also brings a unique
voice to players. The PRS hybrid "X"/Classical
bracing locks down the back and sides while
allowing the top to freely vibrate, allowing the
PRS SE P20 to project with even, bold tone, while
the all-mahogany construction provides an organic
warmth to the guitar. Its smaller size keeps
playing fun and comfortable for hours, so whether
writing, recording, or performing the P20 is sure
to impress.

Available in three satin finishes with herringbone
rosettes and accents, PRS SE Parlor acoustics look
as good as they sound. Other high-quality features
include a solid mahogany top, ebony fretboard and
bridge, bone nut and saddle, as well as PRS
trademark bird inlays and headstock design.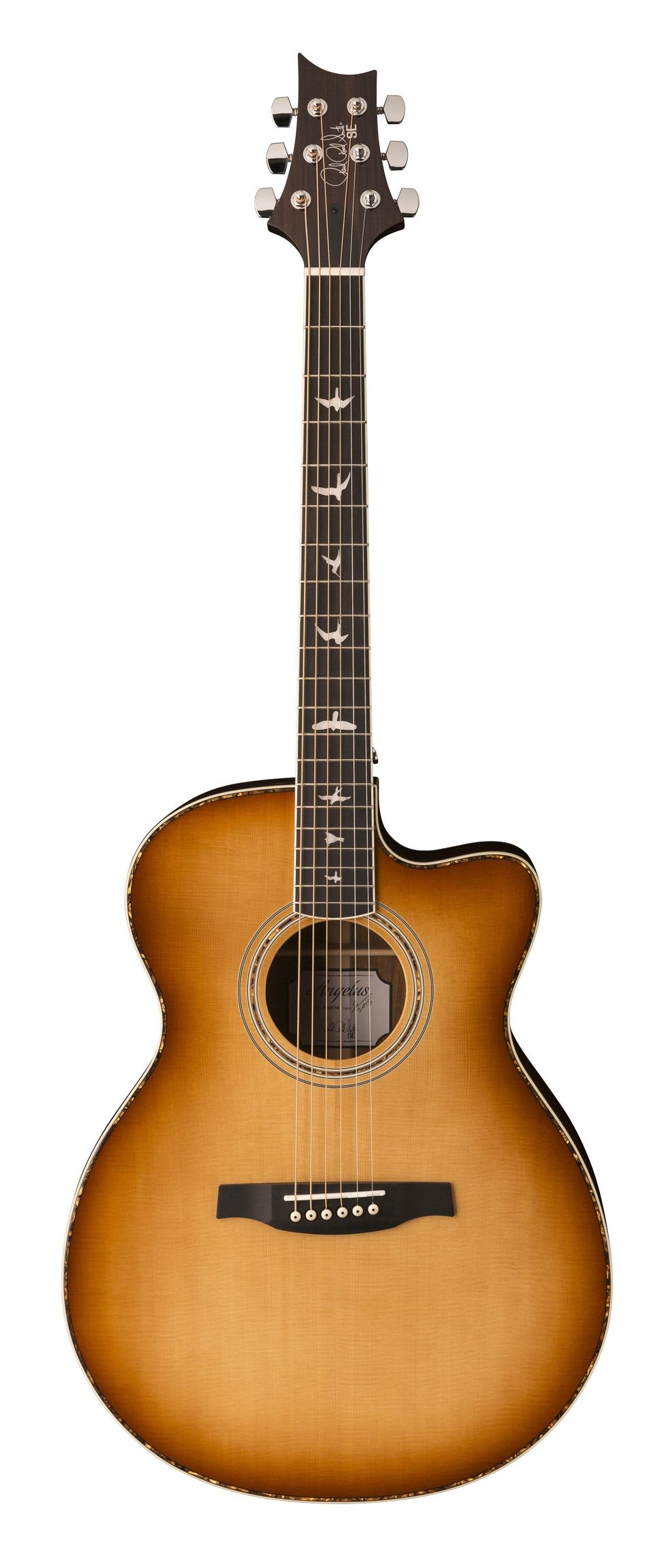 Ibanez
The UKC100 and UKS100 are concert and soprano-sized ukuleles, both featuring a side sound port for accurate, natural acoustic tone. These Ukuleles also feature creative build elements that deliver major improvements in tone and playability. They both feature a neck joint at the 14th fret rather than the 12th, which offers significant benefits in terms of higher fret access. This design modification also allows the bridge to be positioned more towards the center of the instrument, producing improved volume and tone. Taller frets afford a faster and more accurate playing experience, and a reshaped, more rounded neck heel greatly improves playing comfort. The top, back, and sides of the instruments are made of Sapele, while the neck is a single piece of Okoume. The fretboard and bridge are made of Purpleheart, and each has an open-pore finish for better acoustic resonance and projection.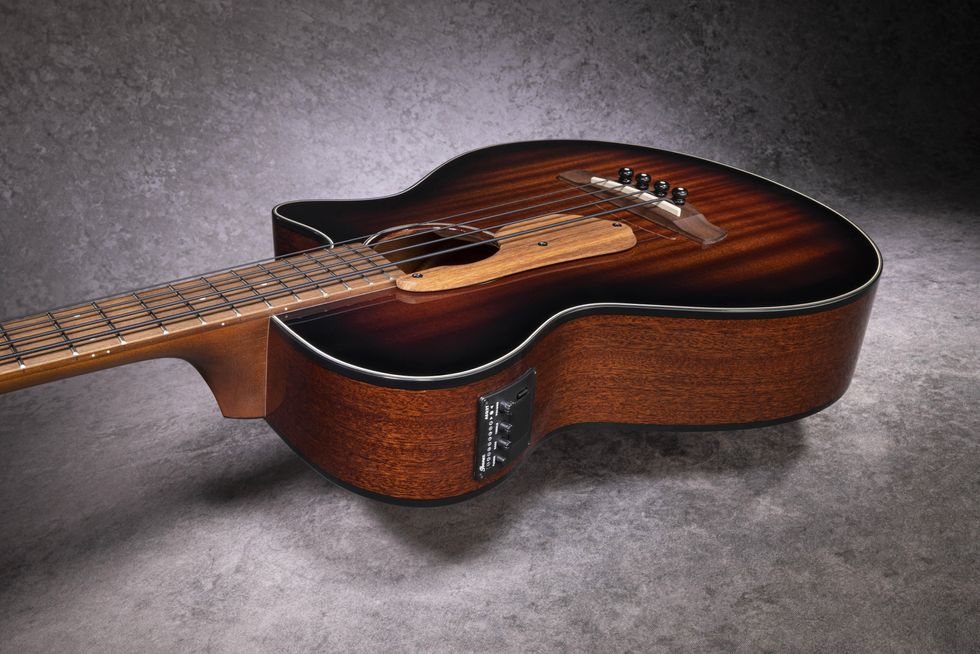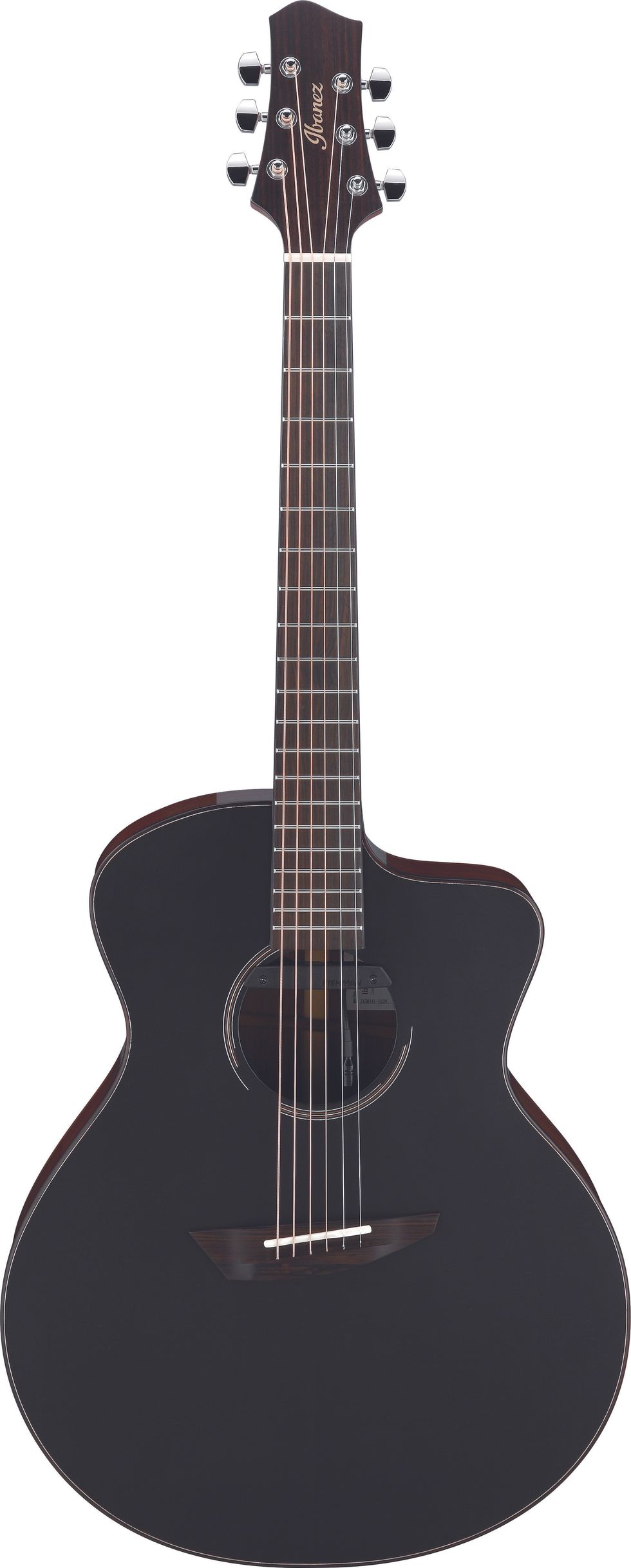 Left-Handed Guitarists: mid-priced acoustic-electric with an Ergonomic Armrest seeking partner to make beautiful music.

"Wow, the armrest really helps keep from cutting off blood circulation when I'm practicing and feels like I'm playing a smaller instrument. Responds nicely both to some intimate playing, and has nice character when you hit it a little hard; it responds with a good full low end and is still crisp and clear." ~ Sean Harkness, NYC

The NATURA G550RCEL is a Left-handed acoustic-electric featuring an Ergonomic Armrest for comfort. The G550RCEL is a solid Spruce top Grand Auditorium Cutaway with weight reducing Low-Mass bracing. It has a voice that is focused and harmonically complex and suitable for left-handed players looking for the volume of a full-sized instrument and the comfort of a smaller body. A Glass-fibre reinforced neck ensures a lifetime of neck stability.

Watch Video Clips
Walden Guitars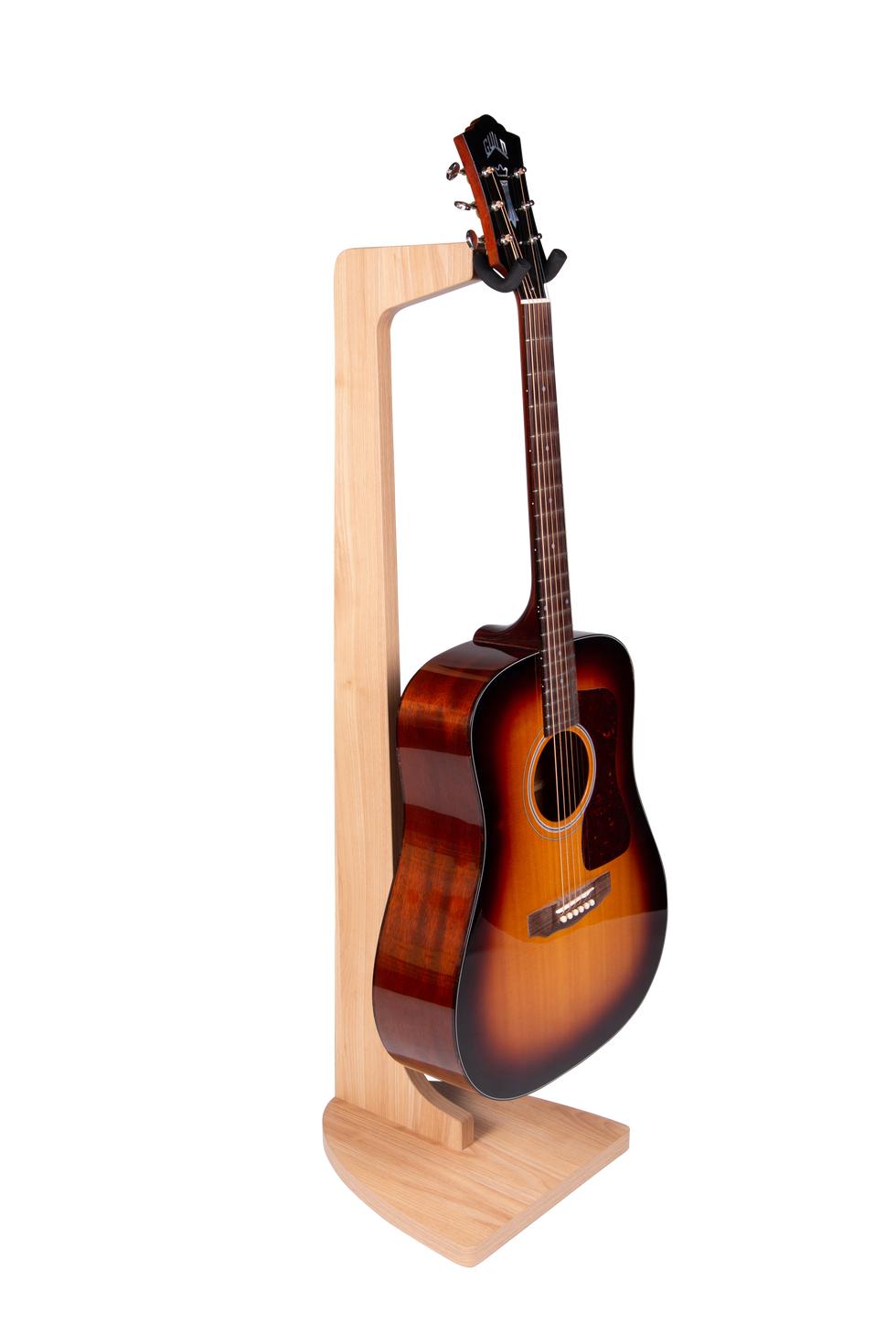 We love metal at Gator – both the head-banging and physical types. While our metal stands are great for the stage and studio, they don't always blend into their environment. Sometimes you need something more elegant and adaptable to the overall vibe of

your living room or studio furniture, which is exactly what the Elite Guitar Hanging Stands by Gator Frameworks provide – simplicity with an aesthetic to match any home or studio décor. These stands satisfy all types of players by providing a comfortable fit for most electric, bass and acoustic guitars. Show off your collection with style!

Watch Video Clips
Follow on Instagram
Gator Frameworks
The Grace Design BiX preamp shares the exact same DNA of its bigger siblings, FELiX2 and ALiX, but with an intelligently streamlined feature set and a price that puts it in reach of any performer, whether on your way to the coffee shop or the Megadome. BiX delivers maximum clarity and detail for any plugged in instrument, with dead simple controls – input gain, high and low shelving EQ, and a 10dB variable boost circuit, with footswitches for mute and boost. I/O includes instrument input, separate send and return insert jacks, an unbalanced line output, and a balanced ISO DI output on XLR. And BiX is pedalboard friendly, with a 9VDC power input and a compact, rugged low-profile chassis. Visit www.gracedesign.com for complete details.

Listen to Audio Clips
Watch Video Clips
Follow on Instagram
Grace Design
Strong signal and colorless connectivity with improved battery life.
Good range, solid connectivity, easy to use, sturdy, no lag.
Pushes the budget for van dogs.
5
4
4
Over 20 years, I've used different brands and models of wireless transmitter and receiver systems, always on the budget side. Some were very prone to dropouts, which are a real issue for those of us who play rooms with metal stairs, brick pillars, and other signal blockers. And all the units I've used added compression and slightly blunted the high end.
The GLXD16+ allowed me to be, and sound like, myself.
But these days, since I'm using Carr amps in stereo, I want nothing coloring my tone. So, connecting with Shure's new pedal-format GLXD16+ system was a pleasure. I had the same full-range sound that organically emerges from my amps. Through four sets at Clarksdale, Mississippi's sizeable Ground Zero Blues Club, I experienced just one drop-out, and, since I was playing outside the building with a thick brick-and-cement wall at my back, more than 200 feet off stage, I was asking for it. Otherwise, the GLXD16+ allowed me to be, and sound like, myself. Chalk that up to the device's improved dual bandwidth, which can operate at 2.4 GHz and 5.8 GHz, and automatically scans for the cleanest available frequencies. Other charms include a rechargeable lithium battery with a 12-hour life. The receiver is rugged metal (as is the transmitter) with raised bumpers to protect the controls, which link the receiver and transmitter. The receiver also includes a mode button to lock in the signal, a link button for linking with other transmitters, and a built-in tuner. There's also a 1/4" input jack, should you want to use the pedal as a tuner alone, and a battery charger is included. I'm hooked.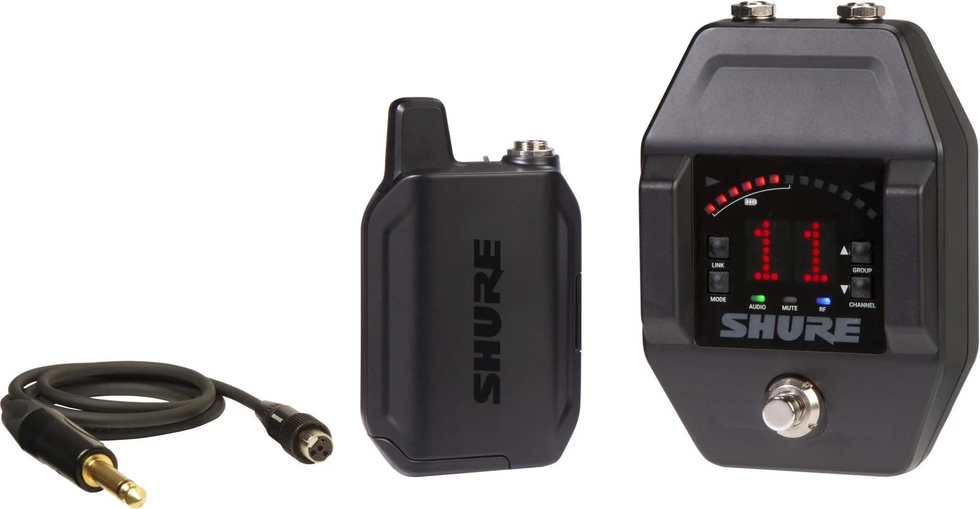 The new GLX-D+ Wireless Guitar Pedal System features the WA305 Premium Guitar Cable, the GLXD1+ Digital Bodypack, and the GLXD6+ Guitar Pedal. Go wireless without compromising your tone or complicating your rig.
Shure Microphones
Photo Credit: Ki Price
Following 2020's Hate For Sale, Chrissie Hynde and company deliver a dozen swaggering, attitude-soaked fresh tracks.
The Pretenders are back with today's premiere of the optimistically charged new single, "Let The Sun Come In," available now via Rhino Records – the band's return to Warner Music Group after more than two decades having first been signed to Sire Records in America by the legendary Seymour Stein.
Marked by the electrifying impulsiveness and attitude that has long defined founder Chrissie Hynde's eternal spirit, "Let The Sun Come In" heralds the eagerly awaited arrival of The Pretenders' new studio album, Relentless, arriving everywhere on Friday, September 1. Pre-orders – including digital download, baby pink vinyl, black vinyl, and CD – are available now.
"I enjoy seeing the various meanings and origins of a word," says Chrissie Hynde of the album's title. "And I liked the definition: 'showing no abatement of intensity.' So when it came to an album title, it seemed fitting. You know…to keep doing it. I think anyone in a band is constantly questioning if they should keep going. It starts as a youthful pursuit and eventually, it makes you wonder, why am I doing this? It's the life of the artist. You never retire. You become relentless."
Pretenders - Let The Sun Come In (Official Audio)
Official audio for Let The Sun Come In, taken from Pretenders' brand new album 'Relentless'.Pre-order the album 'Relentless' here: https://Pretenders.lnk.to/...

Produced by multiple Grammy Award-nominee David Wrench (Courtney Barnett, David Byrne) at the famed Battery Studios in Willesden, North West London, Relentless marks the second consecutive full-length songwriting collaboration by Hynde and Pretenders guitarist James Walbourne following 2020's acclaimed Hate For Sale. The two are joined on the album's twelve tracks by what Hynde has dubbed "The Pretenders Collective," including Kris Sonne (drums), Chris Hill (double bass), Dave Page (bass), and Carwyn Ellis (keyboards and guitars). In addition, Relentless features a landmark collaboration with Academy Award-nominated composer Jonny Greenwood (Radiohead, The Smile), who provides the string arrangement and conducted the 12 Ensemble for the album's stunning closing track, "I Think About You Daily."

"I met Jonny a couple of times and we're obviously big fans of him because he's done some incredible music over the years," Hynde says. "I saw him at the Phantom Thread premiere where the film was running on screen with a live orchestra playing. And we spoke afterward and he expressed an interest in doing something one day. I was thrilled and very surprised. So when we had the idea of getting strings on 'I Think About You Daily,' he was first choice. Legend!"

The Pretenders will introduce Relentless to fans around the world with an equally uncompromising international live schedule, including intimate headline dates, top-billed festival appearances, and a massive EU/UK stadium run supporting Guns N' Roses. Dates begin tomorrow, May 12, with a much-anticipated headline performance at Brighton, England's The Great Escape followed by a sold-out tour of clubs and small venues across the UK and Ireland. Further highlights include a very special festival appearance as direct support to Foo Fighters at the upcoming Ohana Festival, curated by Eddie Vedder and set for October 1 at Doheny State Beach in Dana Point, CA. Additional dates will be announced. For updates, please visit thepretenders.com.

2020's Hate For Sale proved yet another triumph for The Pretenders, with Q Magazine hailing the LP as "up there with the best of the early Pretenders albums." "The New Wave greats haven't sounded this raw and real since the early Eighties," agreed Rolling Stone, while The Guardian praised the album for "tight songs that prance insouciantly from genre to genre, scattering wisdom and swagger in their wake."
Tracklist:
Losing My Sense Of Taste
A Love
Domestic Silence
The Copa
Promise Of Love
Merry Widow
Let The Sun Come In
Look Away
Your House Is On Fire
Just Let It Go
Vainglorious
I Think About You Daily
The Pretenders 2023 Tour Dates
MAY

12 – Brighton, UK – The Great Escape *
13 – Nottingham, UK – Rescue Rooms (SOLD OUT)
14 – Cambridge, UK – MASH (SOLD OUT)
16 – Frome, UK – Cheese & Grain (SOLD OUT)
17 – Stoke, UK – The Sugarmill (SOLD OUT)
19 – Limerick, Ireland – Dolans (SOLD OUT)
20 – Core, Ireland – Cypress Avenue (SOLD OUT)
21 – Dublin, Ireland - Olympia Theatre
23 – Belfast, UK – Limelight (SOLD OUT)
25 – Stornoway, UK – Midnight Sun Weekender *
28 – Derbyshire, UK – Bearded Theory *
30- Antwerp, Belgium – De Roma
31- Antwerp, Belgium – De Roma
JUNE
9 – Madrid, Spain - Estadio Cívitas Metropolitano †
11 – Oxfordshire, UK – KITE Festival *
12 – Vigo, Spain - Estadio Abanca Balaídos †
16 – Vitoria-Gasteiz, Spain – Azkena Festival *
17 – Kent, UK – Black Deer Festival of Americana *
27 – Glasgow, UK – Bellahouston Park †
30 – London, UK – BST Hyde Park †
JULY
3 – Frankfurt, Germany – Deutsche Bank Park †
5 – Bern, Switzerland – BERNEXPO †
8 – Rome, Italy – Circo Massimo †
11 – Weert, Netherlands - Evenemententerrein †
OCTOBER
1 – Dana Point, CA – OHANA Festival *
* Festival Appearance
† w/ Guns N' Roses
With a fixed bridge for increased sustain and tuning stability, the Session HT's are clean, classy, reliable and easy to play.
Godin worked to combine quality hardware with flawless manufacturing right here in Canada and you get the Godin Session HT. It's extremely thin finish offers enhanced tonal deflection, and its HSS pickup configuration gives you a multitude of tones to take on any style of music.

The Godin Session HT gets straight to the point and will take your playing to new levels of creativity and expression!
Specs:

Body : Canadian Laurentian Basswood
Neck : Hard Rock Maple
Fingerboard : Maple
Fingerboard Radius : 12" (304.8 mm)
Scale Length : 25.5" (647.7 mm)
Nut Width : 1.65" (41.91 mm)
Nut Type : Graphtech
Number of Frets : 22
Machine Head Ratio : 18:1
Neck Pickup : Godin GS-1 Single Coil Pickup
Middle Pickup : Godin GS-1 Single Coil Pickup
Bridge Pickup : Godin Custom Humbucker
Bridge : Hard Tail
Controls : 1x Volume, 1x Push-Pull Tone, 5-way Switch
Colours : Arctik Blue or Aztek Red
Finish : Semi Gloss
Case : Gig bag
US MSRP PRICE: $ 1269.00
US MAP PRICE: $ 1049.00
For more information, please visit godinguitars.com.