Acoustic Gear Finds June 2021
Don't miss the latest and greatest gear finds for your acoustic!
---
Cole Clark Guitars
The Cole Clark CCFL2ECRDBL Acoustic-Electric Guitar is designed for the guitarist who demands the highest standards in an instrument. The 2 Series FL Dreadnought guitar is the go-to choice for every player looking to have ultimate control of both the acoustic and plugged-in performance environments, with Cole Clark's signature 3-way pickup system and beautiful, sustainably-sourced, natural Redwood and Blackwood timbers.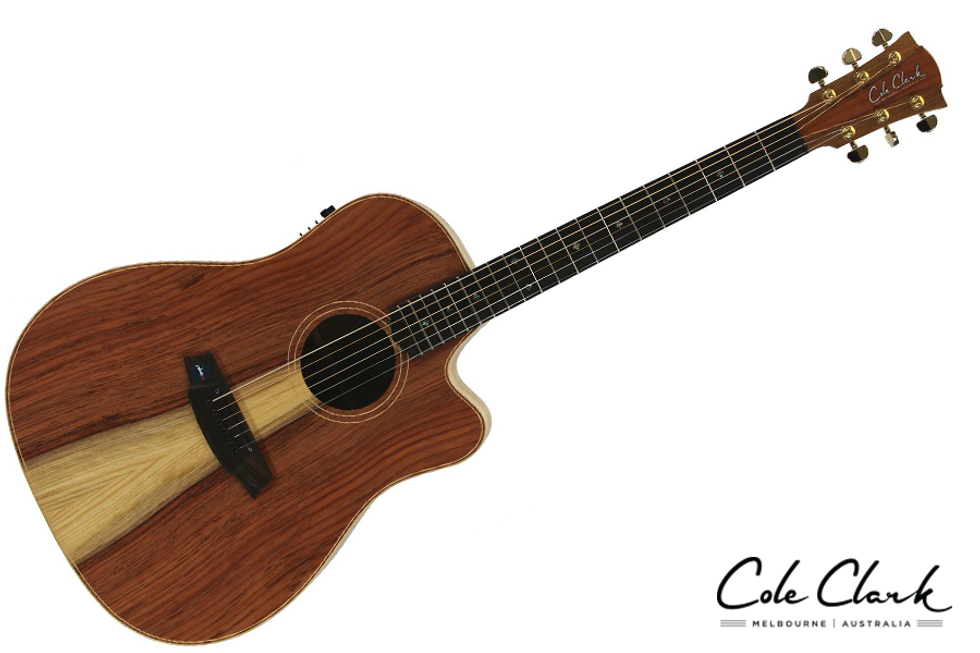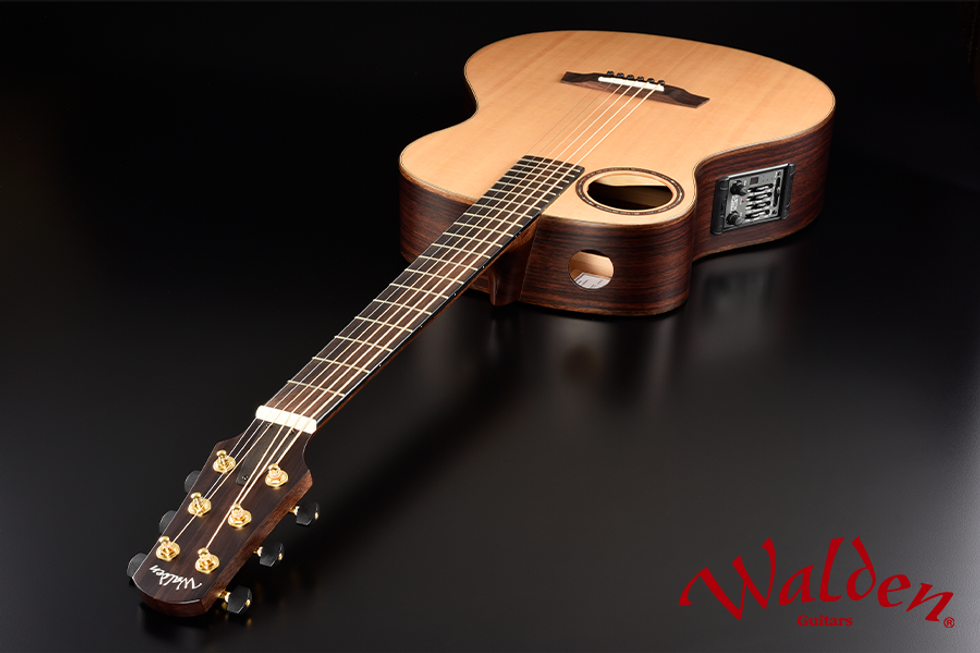 "I love this thing, I can't put it down. It's kind of like having a piano in your lap, you got all the low end for bass lines, and you got chords that you can strum on top, even alternating simple bass lines. There's all kinds of fun you can have with this thing!" ~ Sean Harkness, NYC

Typically tuned to B, the Baritone provides a clear low end response perfect for soloists, singer-songwriters, percussive finger-style players, or guitarists who crave a walking bass line while comping chords.

With its offset soundhole, side-port, and solid Sitka spruce top with innovative low-mass bracing, the Walden B1E sounds sonically excellent while incorporating the more comfortable Grand Auditorium body shape. A graphite reinforced Mahogany neck contribute to stability and its 27″ scale length and 1-13/16″ nut width contribute to the B1E Baritone's transparent playability.

Click here to watch videos
Click here for more information
Click here to follow Walden Guitars on Instagram
Walden Guitars
PRS
The PRS SE P20E is a parlor-sized acoustic with a big voice. Features include all-mahogany construction and PRS hybrid "X"/Classical bracing, which allows the top to freely vibrate, the SE P20E projects with even, bold tone. Its smaller size makes playing for hours fun and comfortable and allows for more convenient transport.
Plug in the Fishman GT1 pickup system, and it delivers dynamic, organic tone. This electronics system features an undersaddle pickup and soundhole mounted preamp with easy-to-access volume and tone controls, which essentially transforms what some may consider a "couch guitar" into a workhorse stage instrument.
Available in three satin finishes with herringbone rosettes and accents. Other high-quality features include a solid mahogany top, ebony fretboard and bridge, and bone nut and saddle. Gig bag included.
Click here to learn more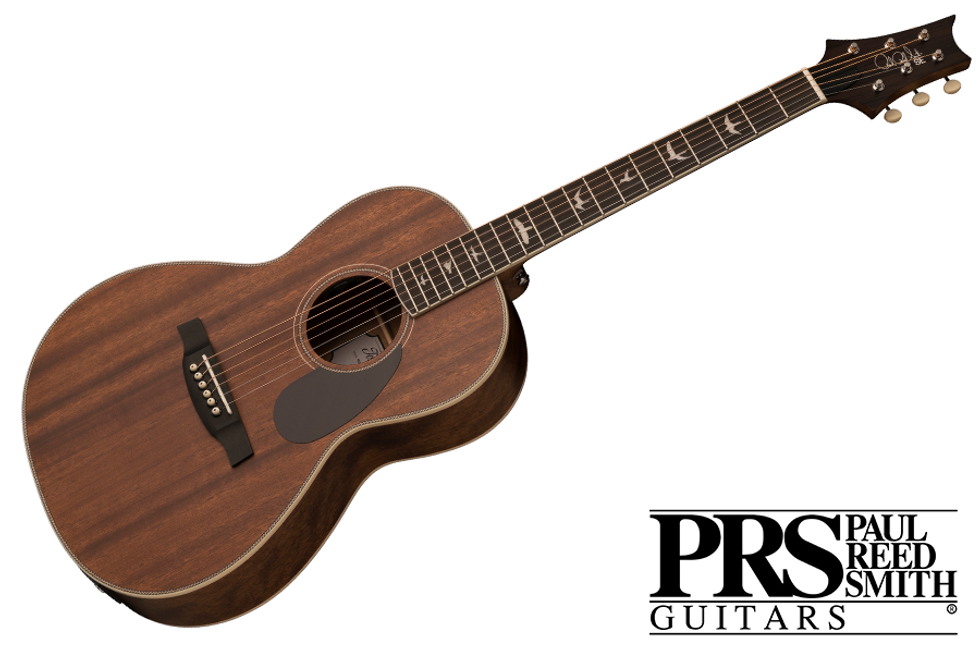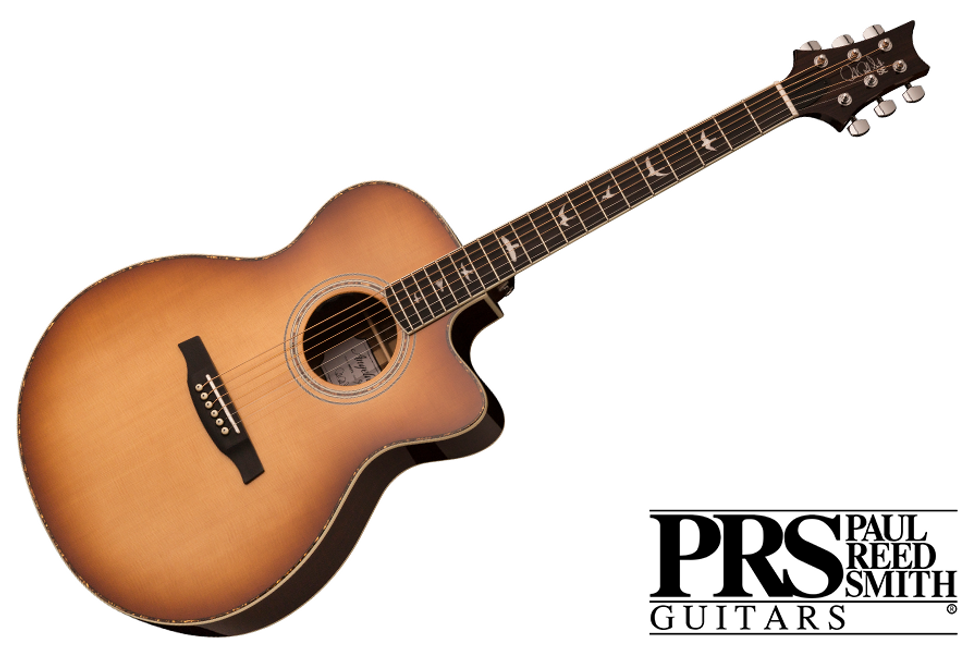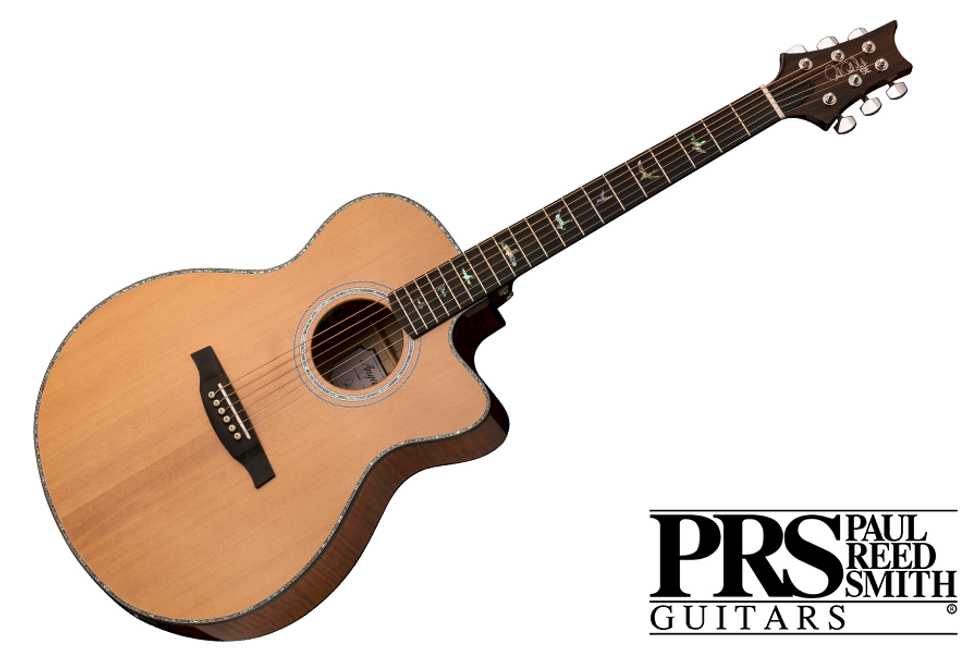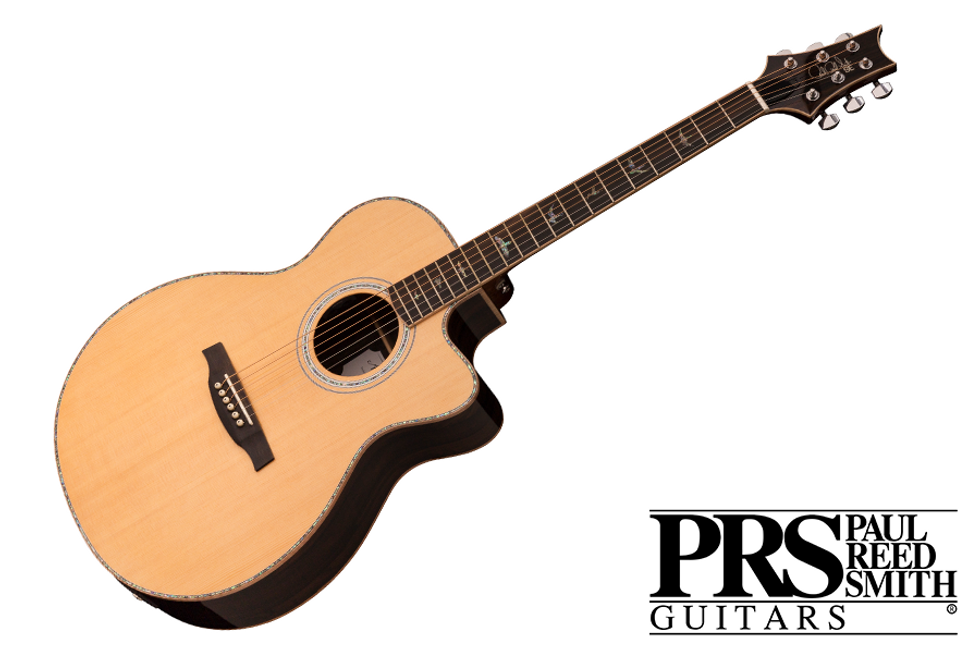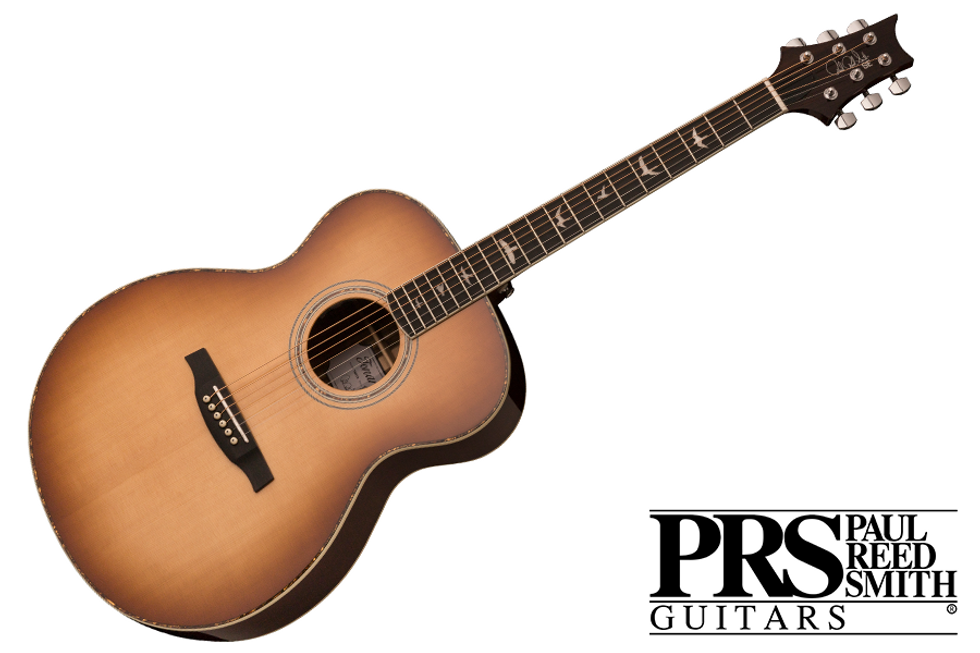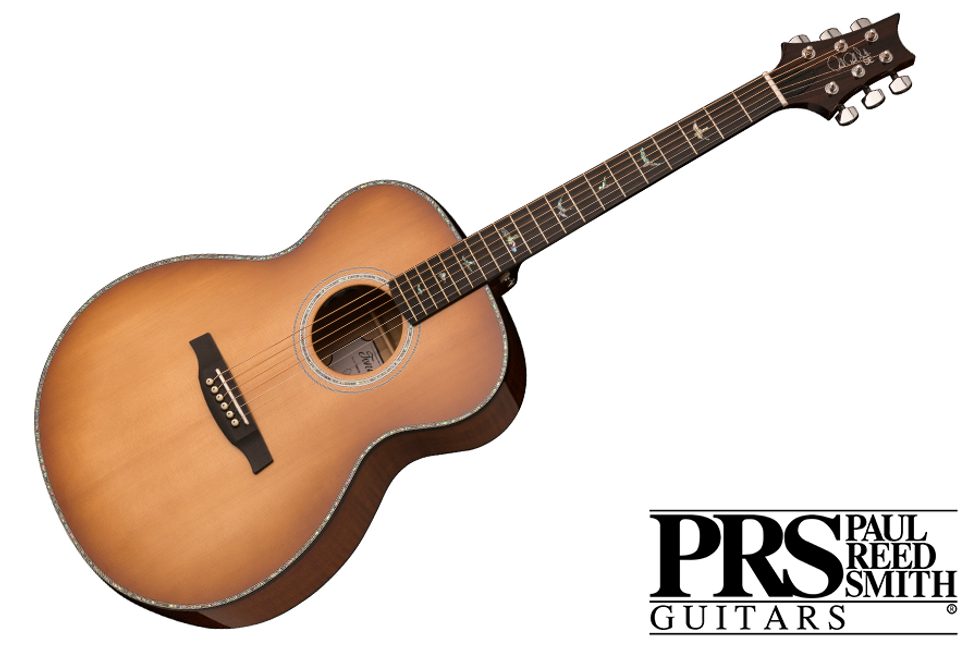 Tanglewood
Inspired by the guitars made in the 1930s, the Tanglewood Blackbird series evoke traditional values, yet offer the benefits a guitar manufactured in the modern era. These guitars feature hand-selected tone woods and a unique bracing pattern. The Blackbird Orchestra electro-acoustic guitar is carefully braced to environments, with Cole Clark's signature 3-way pickup system and beautiful, sustainably-sourced, natural Redwood and Blackwood timbers.
Click here to learn more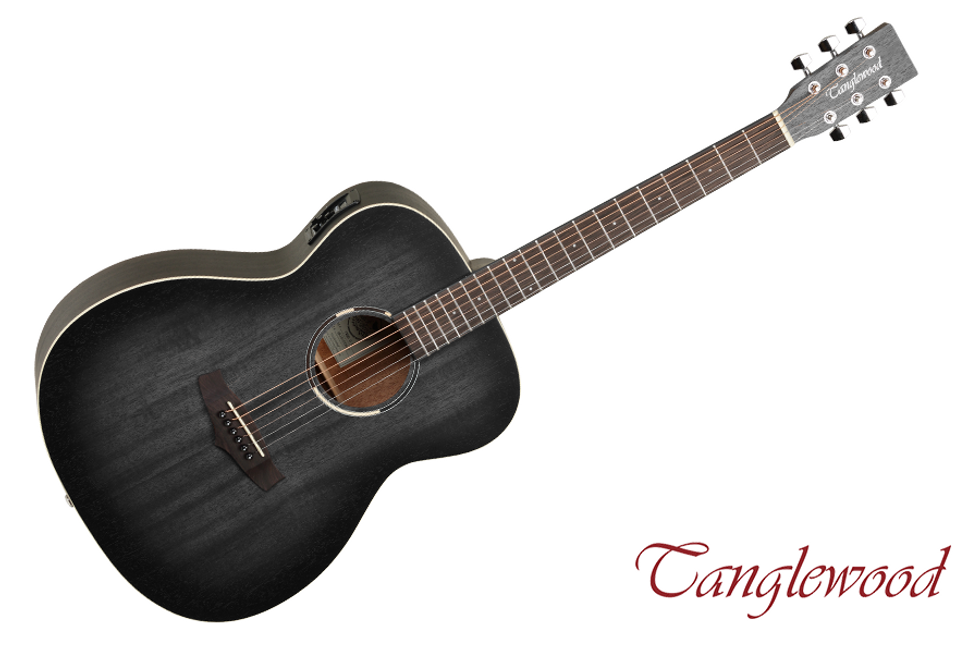 Taylor Guitars
Taylor's popular, compact GS Mini has brought countless hours of guitar-playing joy to musicians of all stripes, and the GS Mini-e Koa Plus takes the fun to a new level with elevated aesthetic details. Back and sides of layered Hawaiian koa pair with a solid koa top for a punchy, bold sound with surprising power and volume for a small-bodied guitar with a scale length of 23-½ inches, while the 1-11/16-inch nut width makes forming chords a breeze. A dusky edgeburst accentuates koa's natural grain and luster around the top, back and sides, while other notable features include nickel tuners, a three-ring rosette, and a genuine West African ebony fretboard. It includes onboard ES2 electronics and Taylor's new AeroCase®, a soft yet sturdy case with all the protection of a hardshell case at one-third the weight.
Click here to learn more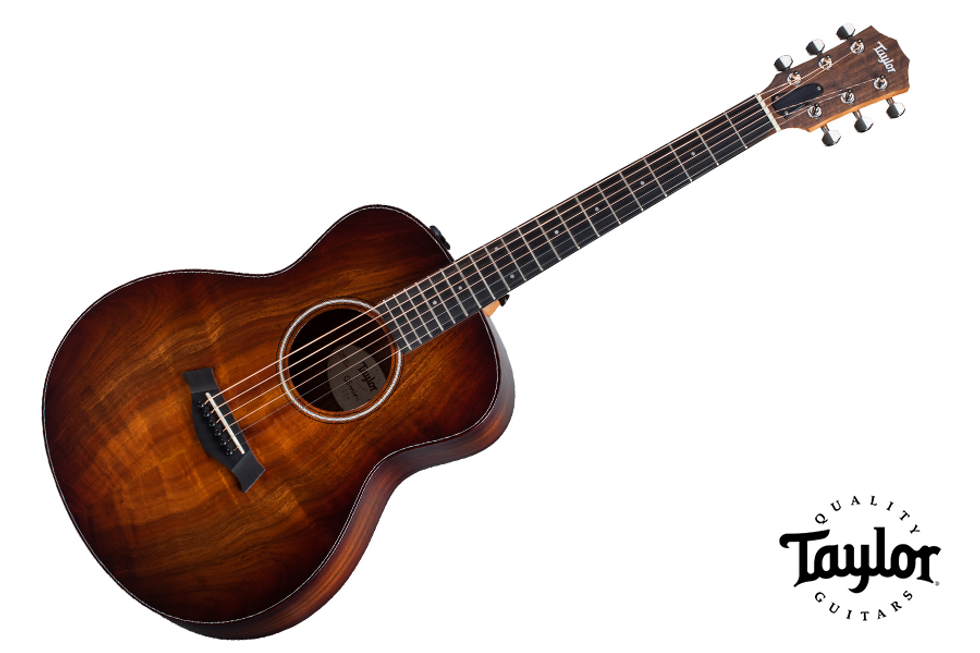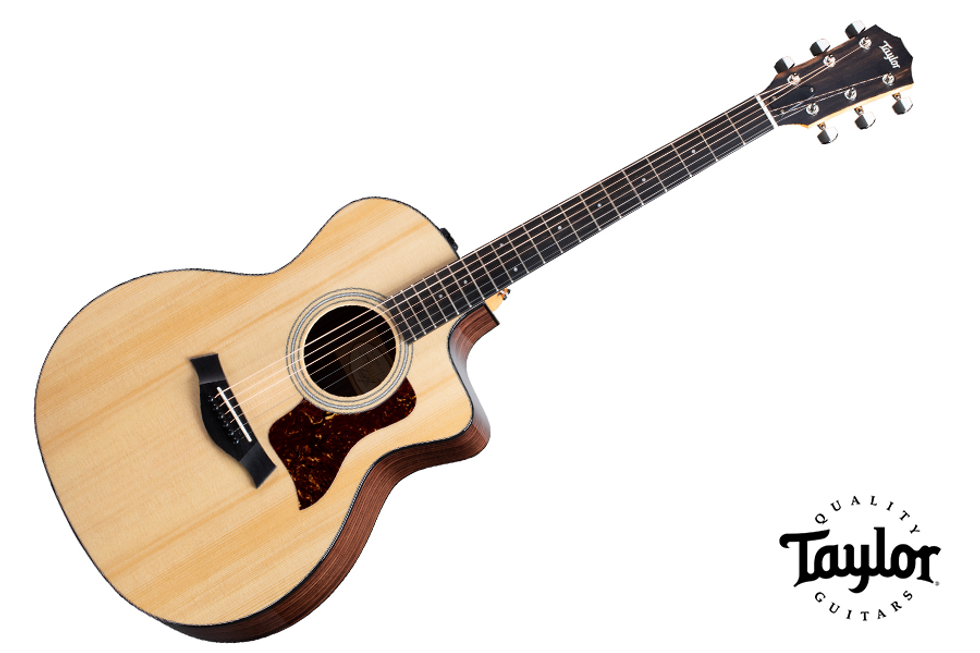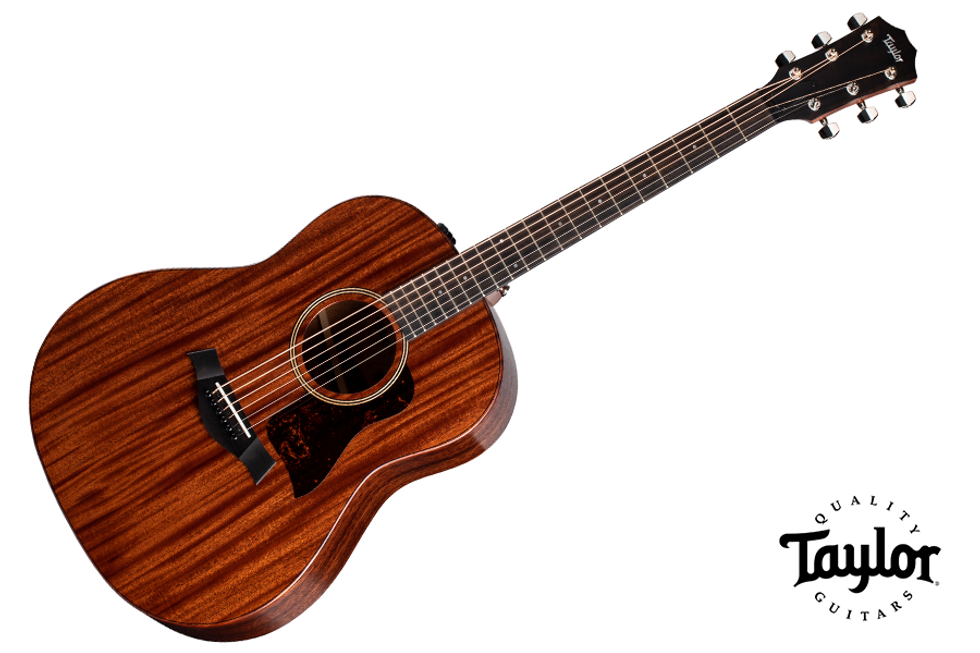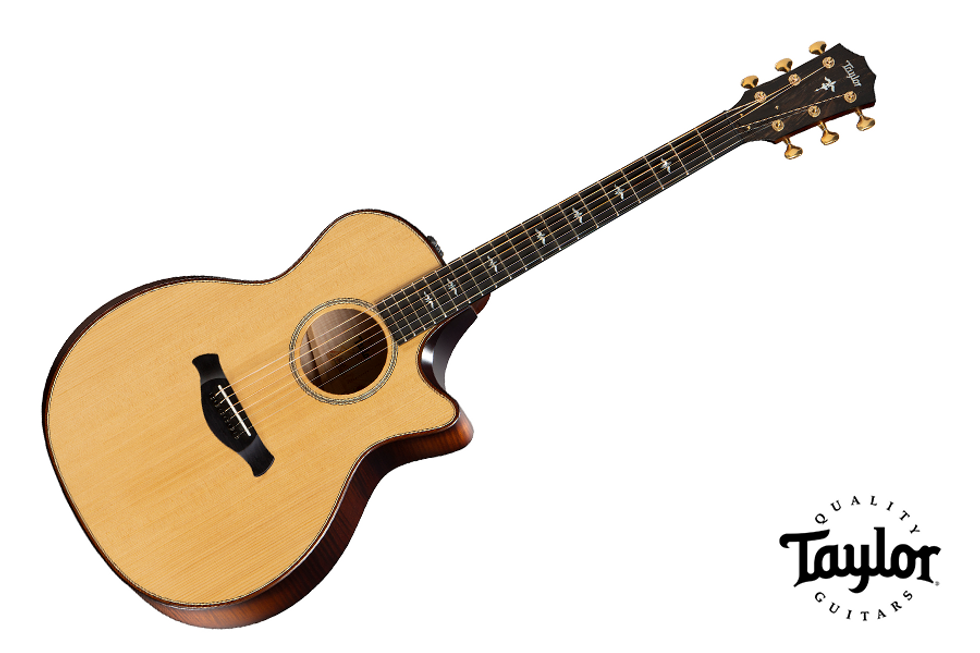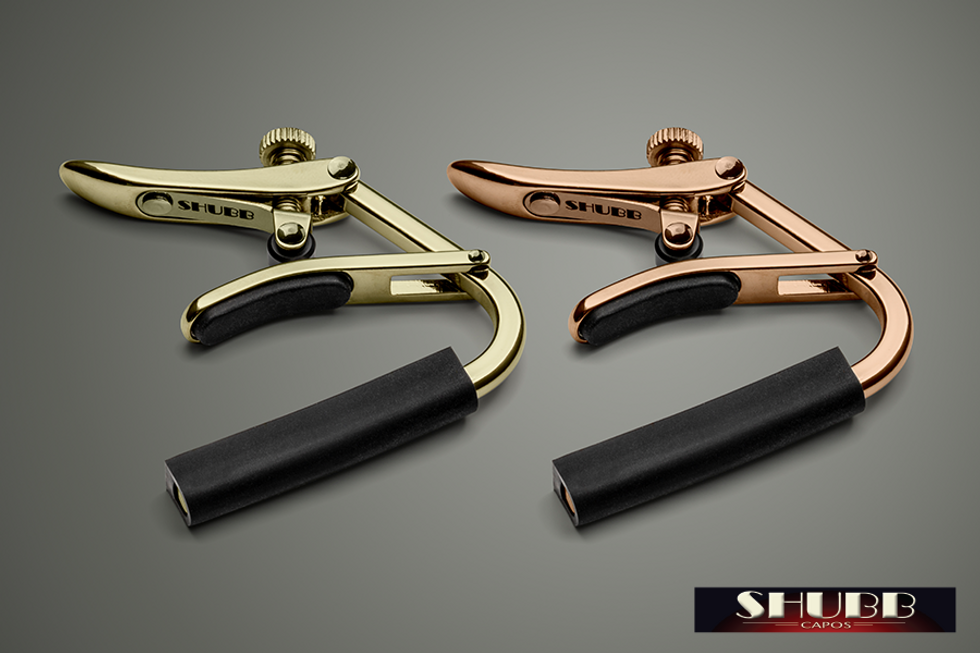 Adding to the company's line of premium capos, Shubb has introduced the new Capo Royale Series, featuring durable gold finishes that deliver long-lasting beauty.

Available in two lustrous finishes – Gold and Rose Gold – the Capo Royale Series brings a distinctive visual flair to Shubb's famed capo design, revered since 1980 for its ability to provide flawlessly clean fretting while keeping the instrument in tune.

For many years Shubb has received requests for a gold plated Shubb Capo. While gold is undeniably beautiful, it is not at all durable; it will wear off far too easily and quickly. It is also famously expensive. Now, Shubb has developed a high-tech technique for creating a gold-toned titanium finish. It possesses all the beauty of real gold, but is as durable as any metal finish in the world.

Click here to watch videos
Click here to learn more
Click here to follow Shubb on Facebook
Shubb Capos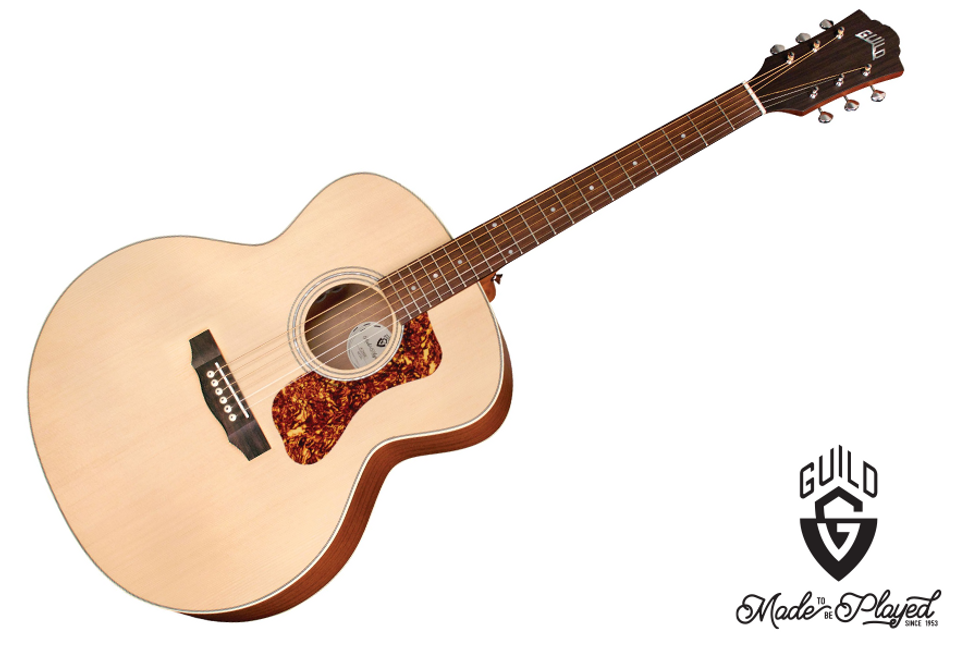 Guild's most affordable jumbo yet! The F-240E is a tone cannon at a player's price. Built with a solid spruce top, mahogany sides, and an arched mahogany back, the full-bodied and powerful voice of this Guild Jumbo provides guitarists with historically-Guild acoustic tone and voicing. Guild's signature arched back design allows for enhanced volume and projection, long sustain, and a lush, full sound. The F-240E features Guild's Fishman-designed AP-1 electronics, a pau ferro fingerboard and bridge, bone nut and saddle, mother-of-pearl rosette, period-correct tortoiseshell pickguard, and a satin polyurethane finish.

Click here to see videos
Click here to learn more
Click here to follow Guild Guitars on Instagram
Guild Guitars
Blackstar Amplification
The Blackstar ACOUSTIC:CORE 30 was designed to give singer/songwriters the ability to get a professional sound without any sound engineering expertise, then share it via live streaming or recording, or live performance. All in a compact easily portable combo with the option of battery power. This take-anywhere acoustic amp is designed for the way you play today: streaming, recording, practice or live.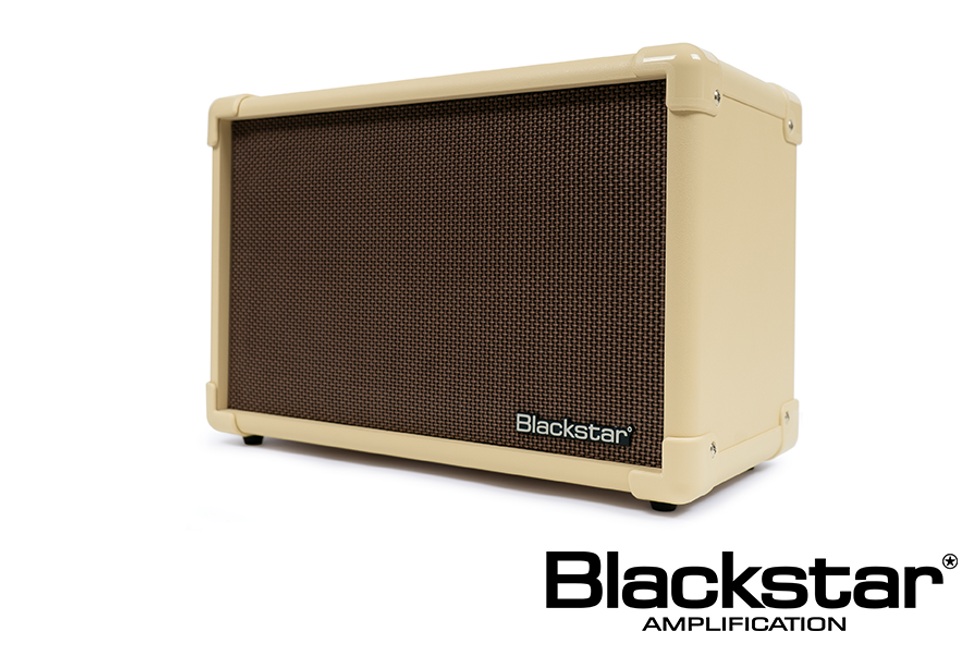 Santa Cruz Guitar Company
Santa Cruz Guitar Company has made it even easier to order the custom acoustic you've always wanted. They invite you to email them directly at scgc@santacruzguitar.com to be walked through the design process, where they will take the time needed to answer all your questions about models, tonewoods, structural options and aesthetics to ensure you will receive the heirloom acoustic that is right for you.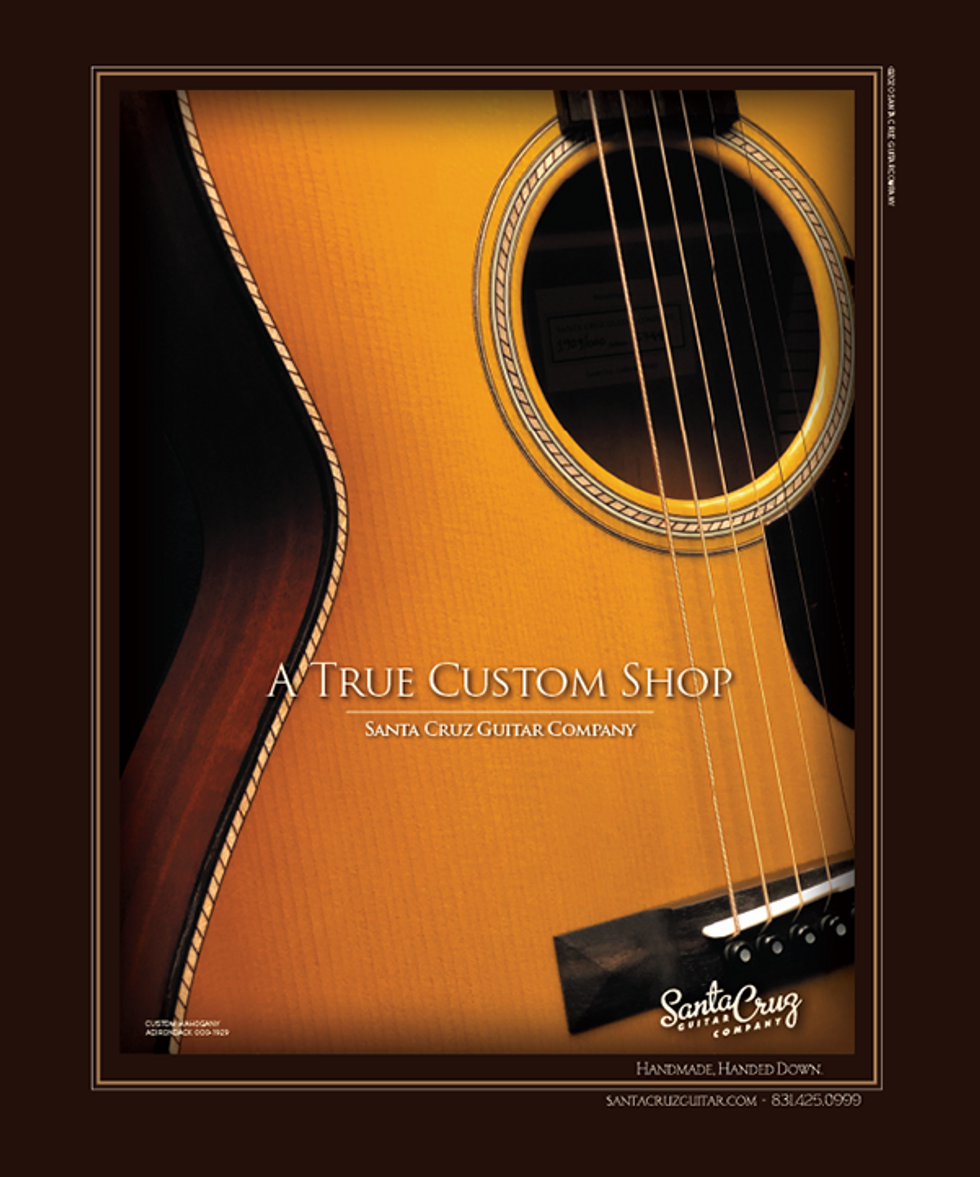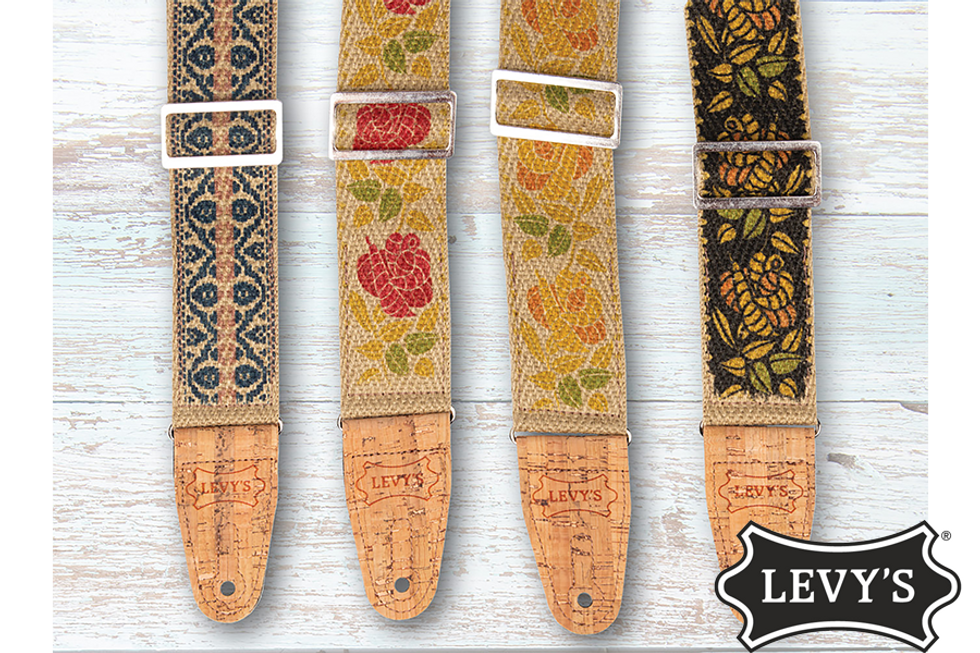 The New MH8P Series Vegan Hemp Series guitar straps by Levy's come in four new beautiful motifs and measure 2"/51mm in width. These organic straps are cruelty-free using sustainable materials and extend from 37"/940mm to 62"/1572mm via silver-colored tri-glide sliding adjustment. Natural hemp webbing and durable 2-ply cork ends safely support your instrument, along with pinhole stitching on both ends to prevent stretching. To address the issue of pick dropping encountered by almost every gigging guitarist, the MH8P Series comes equipped with a convenient 2.5"/64mm inside pocket to provide quick access to extra picks. Hand-crafted in Novia Scotia.

Click here to learn more
Click here to follow Levy's Leathers on Instagram
Levy's Leathers
LR Baggs
The product of nearly 3 years of intensive research and collaboration with a team of PhDs, LR Baggs is thrilled to introduce Voiceprint DI, the next breakthrough chapter in acoustic amplification. Voiceprint DI measures the acoustic response of your guitar by leveraging the processing power of your iPhone® to accurately capture your guitar's one-of-a-kind voice. A Voiceprint is created, transforming your pickup into the most authentic sound we have engineered in our 40+ years.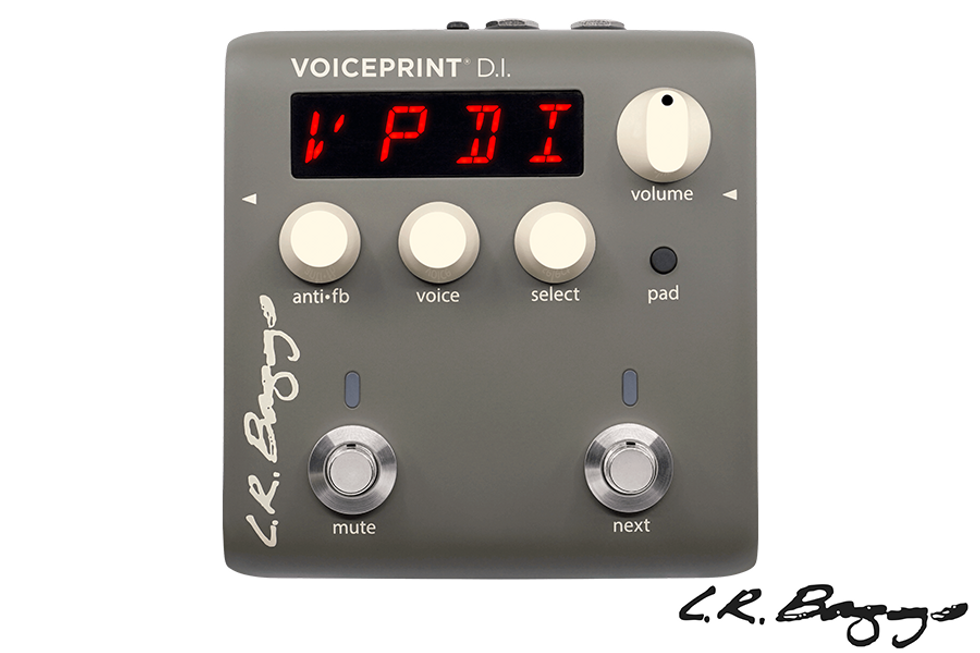 Henriksen Amplifiers
Raise your hand if you only own one guitar… that's what we thought. But do you need a different amplifier for each one? The Bud from Henriksen is no ordinary amplifier; it sounds just as amazing with your acoustic guitars as it does with your electric guitars, regardless of style. The Bud is just 13 lbs and 9"x9"x9" but packs 120 watts of power and a pro-grade feature set that you can truly gig with, record, teach, or just practice.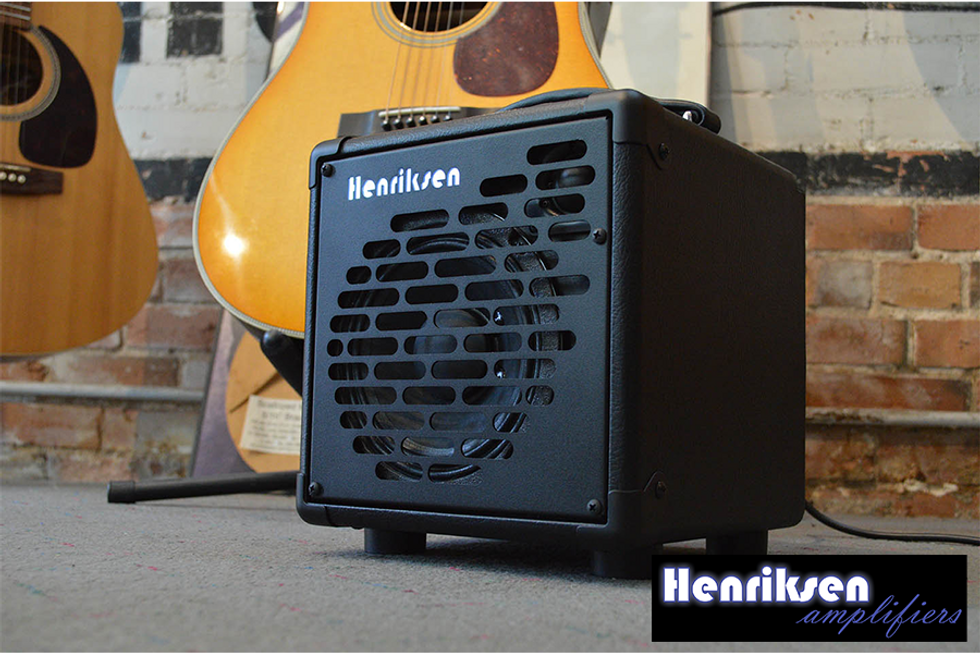 Breedlove Guitars
Powerful and responsive like a dreadnought, tonally the acoustic electric Breedlove Jeff Bridges' Signature Model emphasizes the unique qualities of myrtlewood, with a deep rosewood-like bass, the fundamental clarity of mahogany and the enchanting shimmer of koa. The Breedlove Jeff Bridges signature "All in this Together" project benefits Amazon Conservation Team, which works in partnership with indigenous colleagues to protect rainforests.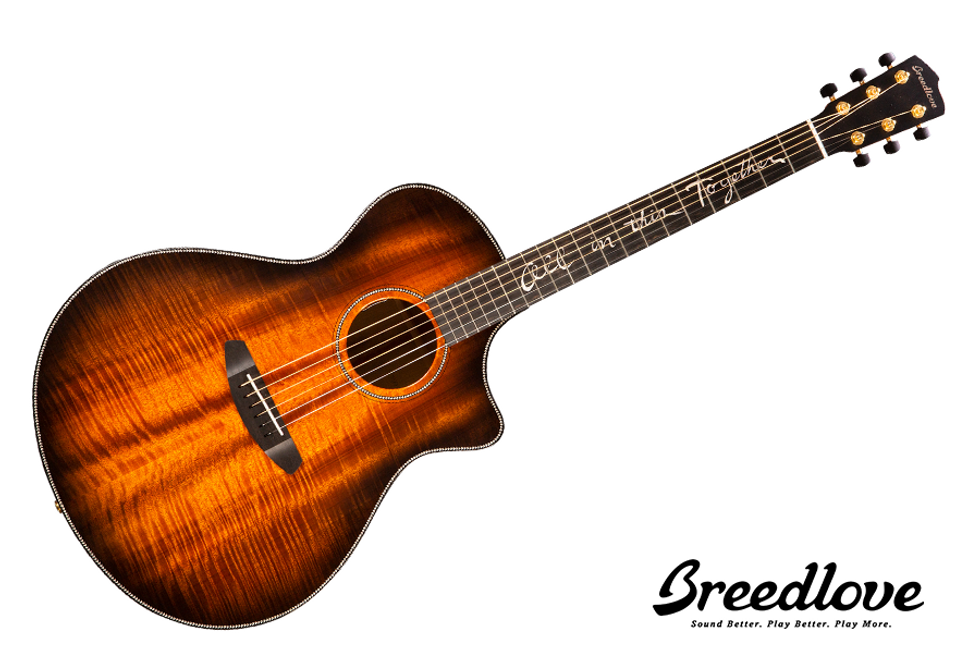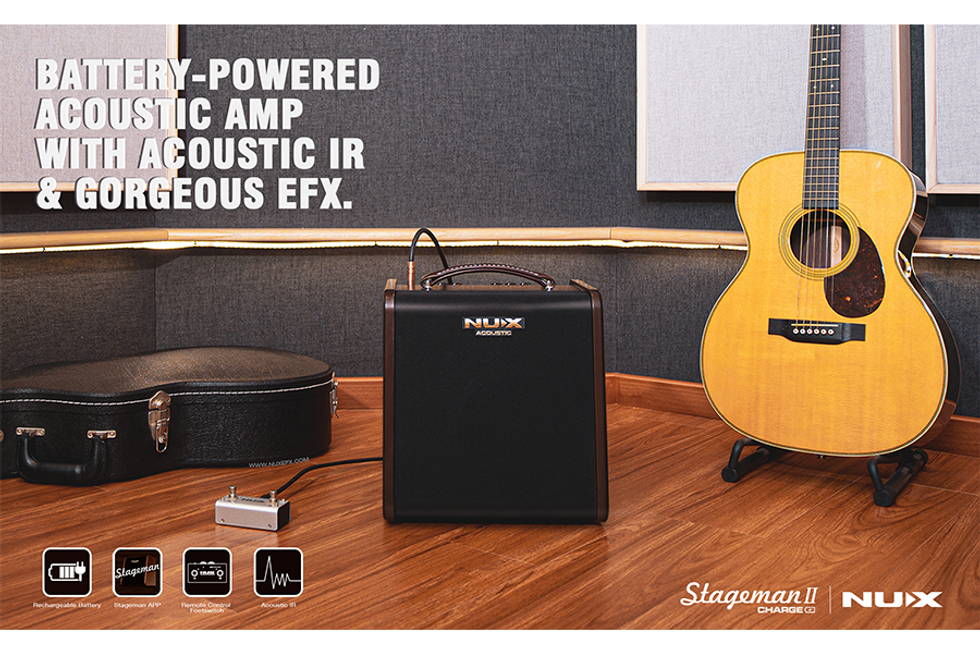 NUX Stageman II Battery-Powered Acoustic Guitar Amplifier features a pure analog preamp with NUX's iconic Core-Image post-effects. It has specific EQ scenes for finger-style as well as strum-style in channel 1, and you can engage built-in Acoustic IRs with a dedicated mobile APP. Acoustic IR is the new trend to make your acoustic sound as natural as micing. Stageman II keeps Drum & Loop, you can control by the original NUX NMP-2 foot-controller. And the built-in rechargeable battery can let you busk on the street for 4 hours.

Highlights:
- 80-watt rich warm sound acoustic amp with 6.5" premium speaker and 1" tweeter
- Rechargeable battery for 4.5 hours outdoor performing
- Built-in Acoustic Impulse Response
- 2 independent channels with routing adjustable post-effects
- Mobile APP for editing and control
- Drum & Loop (60s phrase loop)
- Bluetooth Audio Stream
Click here to learn more
Click here for audio clips
Click here for video
Click here to follow NUX on Instagram
NUX
Photo by Kirt Barnett
On Mommy, the reunited punk-rock outfit picks up where they left off over a decade ago, making infectious, loud, organized noise with fresh, chaotic finesse. Guitarist Jonas Stein tells the story.
In late August 2008, the members of Be Your Own Pet were in London, having just wrapped up the last leg of their final tour. Only two years prior, vocalist Jemina Pearl, guitarist Jonas Stein, bassist Nathan Vasquez, and drummer John Eatherly had been swept into the mainstream punk scene as teenagers, having received critical acclaim for their debut, self-titled album, going from small local stages to sell-out crowds around the world in what felt like minutes. "We were still very green at playing and making music together," reflects Stein. "For whatever reason, it worked." Then, they were waiting for their flights at Heathrow Airport, parting ways for what would become 13 years.
When it did eventually happen, the Nashville-based band's reunion was swift. In late 2021, they met up at an event at Third Man Records (which is owned in part by Pearl's husband, Ben Swank), after having loosely kept in touch over the decade or so prior. They had one rehearsal, Jack White caught wind of it—and they agreed to join him on a couple weeks' worth of dates on his Supply Chain Issues Tour in spring 2022. And just like that, they were back.
Be Your Own Pet's third full-length album, Mommy, was released on Third Man in late 2023. It's their first record in 15 years, following 2008's Get Awkward. The songs are boisterous yet tempered, at times charged, at times playful, and always joyous in their freedom of expression.
Erotomania
"It can be kind of easy to see through something that doesn't feel totally authentic," comments Stein on what makes a great punk band. By those terms, at the very least, Be Your Own Pet is great. On the new record, Pearl's authenticity shines in lyrics that address her experience living with bipolar disorder ("Bad Mood Rising") and sexual assault ("Hand Grenade"). Underpinning those sensitive, personal subjects, Stein's insistent guitar work pushes them further to the forefront with the urgency they deserve.

The explosive, broiling Mommy poises itself like a zealous boxer, delivering one punch after the next in controlled bursts of enthusiasm. While the band picks up where it left off in their way of expertly packaging tumultuous—once teenaged—emotions into zipping, neatly clamoring arrangements, they've also become more articulate in their own musical language, going from pouring out raucous, nervous energy to fusing together beats, screams, and strums that are more confident than they are angsty.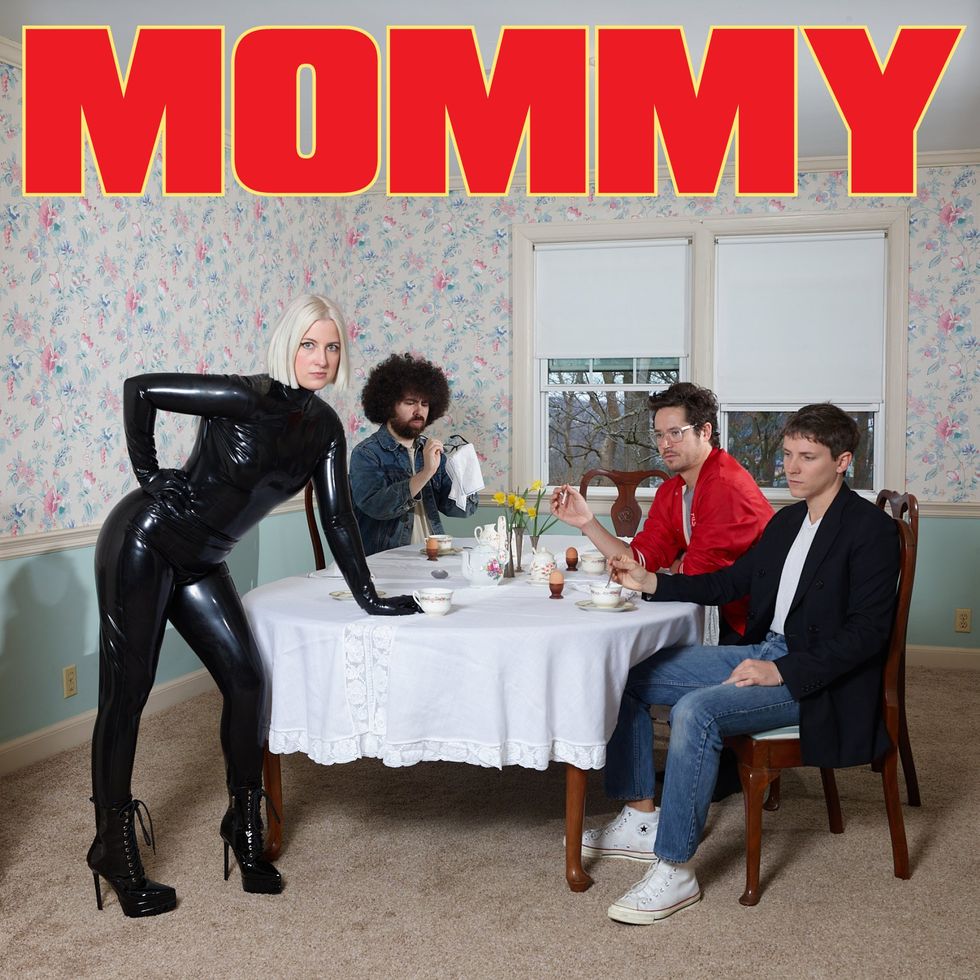 On Mommy, Be Your Own Pet displays a new sense of confidence, channeling an angst that slightly departs from the energy of their teenage years to focus on more mature issues.
But don't worry—they are still angsty. On the opening track, "Worship the Whip," Stein switches between steady, supporting downstrokes to matching the vocal melody with a knifelike lead, as Pearl cries out with insolent commentary on right-wing authority figures. 'Goodtime!" is a lament on becoming an adult with responsibilities, especially as a punk—which Stein fleshes out with sharp, clever riffage. And on "Bad Moon Rising," Stein savvily rides his overdrive back and forth between mild and heavy, paralleling Pearl's shifting, riotous intensity. All the while, Vasquez and Eatherly act as bellows to the blaze, serving the songs with relentlessly energetic and intuitive rhythmic backing.

"In a very funny, positive way, there was always a little bit of hazing on one another, and all that stuff came right back."
The first time Be Your Own Pet played together, Stein was around 15 years old. "I definitely did not have my driver's license yet," he says. "We had to get picked up by our parents to do rehearsals and stuff. Then shortly after, I was the first person to get my license, so we'd all pile into my car and go be rascals around town and play music when we could."
It wasn't long before the band gained traction—they released a demo CD, and soon after played South by Southwest, eventually signing to Thurston Moore's Ecstatic Peace label to release their self-titled debut in 2006. What followed was a somewhat chaotic musical career that, due to the pressures of the industry, ended just a handful of years later. When they reunited, it was their first time seeing each other in person since their disbandment.
"I was always more inspired by the guitar players who can make two or three notes sound really badass."
"Thirteen years sounds like a long time, but it did not feel like it'd been 13 years after we got back in the room together," says Stein. "It just felt like meeting back up with your childhood best friends or your siblings, like 'Oh, we know each other. We don't have to try to figure each other out again.' Aside from the musical chemistry, even the humor and personality traits that we all once carried…. They still carried over. In a very funny, positive way, there was always a little bit of hazing on one another, and all that stuff came right back."
​When Be Your Own Pet rehearsed together in late 2021, it was the first time they'd all seen each other in person in 13 years.
Photo by Angelina Castillio
Despite how quickly they fell back in step, a lot had also changed, but in a good way. The band had grown as musicians from the other projects they'd pursued over the years: Pearl released a solo album that featured Iggy Pop, Eatherly played with a handful of successful acts, and Stein fronted the band Turbo Fruits and built a career in DJing. "Coming back and doing it all again just felt like we were on performance enhancers," says Stein.
During their time apart, Pearl also learned how to play guitar, which now enables her to bring more arrangement ideas to the rest of the band than her past, mostly lyrical contributions. "She's been able to bring some really cool ideas that show up very barebones and rudimentary, which has been really nice because the boys are able to reconstruct and enhance them," says Stein, referring to himself, Vasquez, and Eatherly. Compared to how they worked together when they were teenagers, today, they're more comfortable with giving each other constructive criticism and feedback, and are able to come to agreements more easily. The "greater good" and what works for a song has taken priority over their egos and preferences as individuals.
But since the band was created when its members were in their formative years, there is still a subtle but "goofy pecking order," says Stein. As the two oldest of the group, Stein and Pearl have always borne the "older-sibling responsibilities," and more recently, Pearl has taken on the largest workload, he says. "She's kind of wearing the crown in all this."
Jonas Stein's Gear
​While soloing, guitarist Jonas Stein, who's inspired by bands like MC5 and Buzzcocks, either sticks to pure noise or uses as few notes as possible.
Photo by Jim Summaria
Guitars
Customized Epiphone SG
Customized Gibson SG
Amps
Live: Fender Blues DeVille 212
Studio: Peavey Decade
Effects
Fulltone Full-Drive
Electro-Harmonix Nano POG
Generic wah
Strings & Picks
D'Addario Nickel Wound (.011–.050)
Dunlop Tortex .6 mm
Stein admits that when Be Your Own Pet started playing together again, he hadn't played guitar for about six years, as he'd been spending most of that time focusing on DJing. So, when the band booked their dates with Jack White, he decided to invest in a new axe. He purchased a white Epiphone SG with the intention of hot-rodding it—and brought it to Dave Johnson of Scale Model Guitars in Nashville. He described to Johnson what he wanted the guitar to sound like, and Johnson went ahead with modding. "I just love something that breaks up pretty easily," says Stein. "I don't like my guitars to be too bright. I like them to be sort of easily distorted, really easy to play, and warm-sounding."
Johnson gutted the electronics, adding Seymour Duncan humbuckers and simplifying the knob configuration (from four to two), changed the tuning pegs, replaced the nut, and put a custom Be Your Own Pet graphic over the body. Stein also plays a Gibson SG that Johnson modded years ago, which has an American flag graphic on it to resemble Wayne Kramer of MC5's guitar. The pickups in the Gibson are stock. "I really like it; it's kind of a darker, heavier tone," Stein explains.
Live, Stein likes to play through a Fender Blues DeVille, but in the studio, he goes for "the weirdest, craziest, shittiest, fanciest-sounding amp there is." For Mommy, he ended up recording a lot on a Peavey Decade. He explains how the amp rose to popularity after Josh Homme divulged that they were his "secret weapon" on the Queens of the Stone Age episode of the documentary series Watch the Sound with Mark Ronson. "These tiny little Peavey amps used to be like $40," says Stein, "but now that the word is out there, they're going for like over $1000 apiece."
There are fiery leads and riffs on the album, but not solos in the traditional, elaborately improvised sense. As Stein explains, that's never really been his speed. "I really took to the MC5 when I was a teenager. I liked the messiness and the imperfections of their playing. It made me feel better about myself as a guitar player because they were never perfect.
"I was always more inspired by the guitar players who can make two or three notes sound really badass and less focused on the players that were really well-versed in music theory and could play circles around everybody else. I was more into the energy that I would hear from a two-note Buzzcocks solo."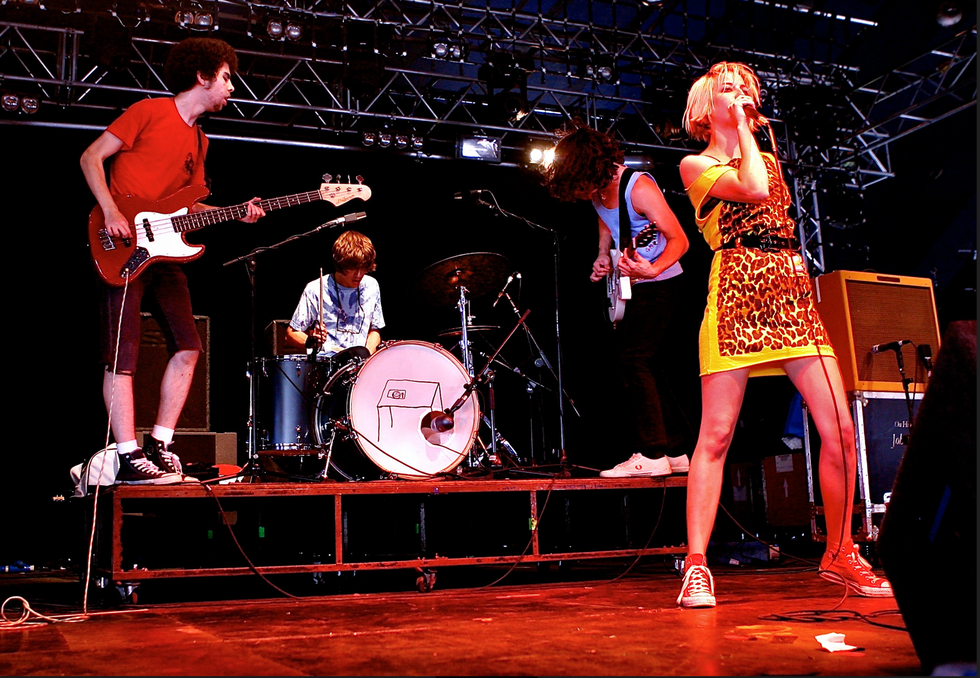 This live performance shot was taken during the first phase of Be Your Own Pet's career, when they were still teenagers.
Throughout the album, Stein captures that energy by bridling it in minimalist, yet galvanized, passages. Sometimes, that means a few measures of pure noise, à la Sonic Youth, heard on "Erotomania" and "Never Again." Alternatively, on "Hand Grenade," he builds a triumphant arc that perfectly suits the song's impassioned, empowering message. And over the "Psycho Killer"-reminiscent groove of "Rubberist," he carefully unravels a series of spacious phrases that climb over the steady bassline and eerie crowd vocals. His approach to that song in particular was influenced by his experience as a DJ, where he's immersed himself in disco, Italo disco, funk, and dance genres.
Stein describes "Rubberist" as featuring "more time and space and less full-on riffage." His disco familiarity comes into the songwriting process in terms of "knowing when to bring the guitar down, to let other things shine a little bit more, let the bass shine, let the vocals shine, let the drums and bass shine together. I think just being around more dynamic music, like some 8-minute deep-cut disco tracks, has shaped the way I would look at writing a song today."
"I started from pretty close to beginner status. But I think that in itself is pretty punk rock."
Citing Giorgio Moroder, Nile Rodgers, and Gino Soccio as influences, Stein shares, "I grew up mostly on punk rock and rock 'n' roll and I was always like, 'Disco sucks,' 'cause that was always the theme. But listening to disco music and classic dance music from the early '70s to early '80s has been really refreshing for my ears. It's so much different from what I was used to playing in all the bands I played in.
"I was on the tail-end of, you had to pick a clan and stick with them," he shares. "In the '80s, you were either a punk rocker, or a metalhead, or you went to discos. You couldn't really cross over. But now, I feel like we've entered an age, probably because of the internet, where everything's so immediately at your disposal that you can like anything you want and everything you want, and it's okay."
Stein was just becoming a musician when the world was in the midst of entering that age. He grew up with a dad who worked in the music industry, and while he was never "force fed" into learning an instrument, the opportunity was always there. When his parents did eventually put him in guitar lessons, he ended up hopping from guitar to drums to bass and back to guitar—which then, of course, led pretty quickly to him performing. "I probably, for certain actually, started playing in bands before I had the skills to play in bands."
When it all began, he says, he strung his guitar with just the bottom four strings. He was mostly playing power chords at the time, and the other strings just got in the way—but as the band started getting more shows, his playing had to catch up to where he was as a performer. "I started from pretty close to beginner status," he says, looking back. "But I think that in itself is pretty punk rock."
Be Your Own Pet @ SXSW - 03/15/2023 - Mohawk, Austin, TX
In a performance at SXSW 2023, Be Your Own Pet rips through two tunes, digging in with unconventional arrangements and raw punk spirit.
Fender introduces six anniversary models.
In celebration of 70 years of musical excellence, Fender is releasing a collection of limited edition models and anniversary color options. The 70th Anniversary Stratocaster guitars pay homage to the legacy of the iconic Stratocaster.
70th Anniversary Player Stratocaster
Maple Modern "C" Neck
Alder Body, Rosewood Fingerboard
Pure Vintage '59 Single-Coil Strat (Bridge, Middle, Neck) Pickups
22 Medium Jumbo Frets
Black Stratocaster-Style Skirt Control Knobs
Deluxe Gig Bag Included
Available in Nebula Noir
70th Anniversary American Professional II Stratocaster
Maple Deep "C" Neck
Flame Maple Top over Alder Body, Rosewood Fingerboard
70th Anniversary V-Mod II Single-Coil Strat (Bridge, Middle, Neck) Pickups
22 Narrow Tall Frets
Aged White Control Knobs
Deluxe Molded Hardshell Gig Bag Included
Available in Comet Burst
Player Stratocaster
Alder body with gloss finish
Three Player Series single-coil Stratocaster pickups
"Modern C"-shaped neck profile
Maple Fingerboard, or Pau Ferro Fingerboard
9.5"-radius fingerboard
2-point tremolo bridge with bent-steel saddles
Now available in a new color option, Anniversary 2-Color Sunburst
American Professional Stratocaster II
Three V-Mod II single-coil Stratocaster pickups
Upgraded 2-Point Tremolo with Cold-Rolled Steel Block
Deep "C"-shaped neck profile with rolled fingerboard edges
Maple Fingerboard, or Rosewood Fingerboard
Bone nut; 22 narrow-tall frets for easy bending
Treble bleed circuit maintains highs when reducing volume
Includes Deluxe Molded hardshell case
Now available in a new color option, Anniversary 2-Color Sunburst

All six models are available now on Fender.com and participating dealer sites.
These pedals all feature stereo I/O, designed to deliver more realistic and clear sound effects with a sense of depth and width in the spatial aspect.
The emerging Singaporean audio brand ALABS Audio releases four guitar effect pedals, including Reverb, Delay, Modulation, and Pitch. After a small-scale market test, it received universally high praise from everyone involved. "Chorus of angels", "Offer a whole new range of tones I have yet to come across…" They rated it as follows.
These pedals all feature stereo I/O, delivering more realistic and clear sound effects with a sense of depth and width in the spatial aspect. Also, each of them features analog dry through to avoid signal loss and latency caused by digital conversion, reducing compression and distortion. They are also equipped with digital control analog gain circuits, allowing parameter control for MIX even in analog dry through mode.
In terms of unique features, the Adam Adventures Series offers and ∞ Mode that is perfect for sparking new inspiration when musicians feel creatively stuck. This mode is essentially an automated expression parameter control that can simultaneously record and save the numerical changes of four parameters within a 5s timeframe. These saved variations can be triggered by holding down the footswitch and activating the stored change curves.
Apart from sound and ∞ mode, the design is also a fantastic highlight. The screen printing on each piece represents one of the astronaut Adam's cosmic adventures, making them as dreamlike as their sound.
Each pedal offers the following features:
Exclusive WAVE (Wizard Audio Virtual Engine) Audio Engine.
True Stereo Operation & Analog Dry Through.
Regular & ∞ Mode, Exploring Surprising Possibilities.
Switchable Relay-based True Bypass & Analog Buffer Bypass.
Immersive fairy tale illustrations.
Excellent craftsmanship & stomp-friendly.
The Adam Adventures Series is now available with prices ranging from $99 to $109.
Adam Adventures Series | ALABS Audio NOVADRIFT MODULATION Licks Demo