Acoustic Gear Finds June 2021
Don't miss the latest and greatest gear finds for your acoustic!
---
Cole Clark Guitars
The Cole Clark CCFL2ECRDBL Acoustic-Electric Guitar is designed for the guitarist who demands the highest standards in an instrument. The 2 Series FL Dreadnought guitar is the go-to choice for every player looking to have ultimate control of both the acoustic and plugged-in performance environments, with Cole Clark's signature 3-way pickup system and beautiful, sustainably-sourced, natural Redwood and Blackwood timbers.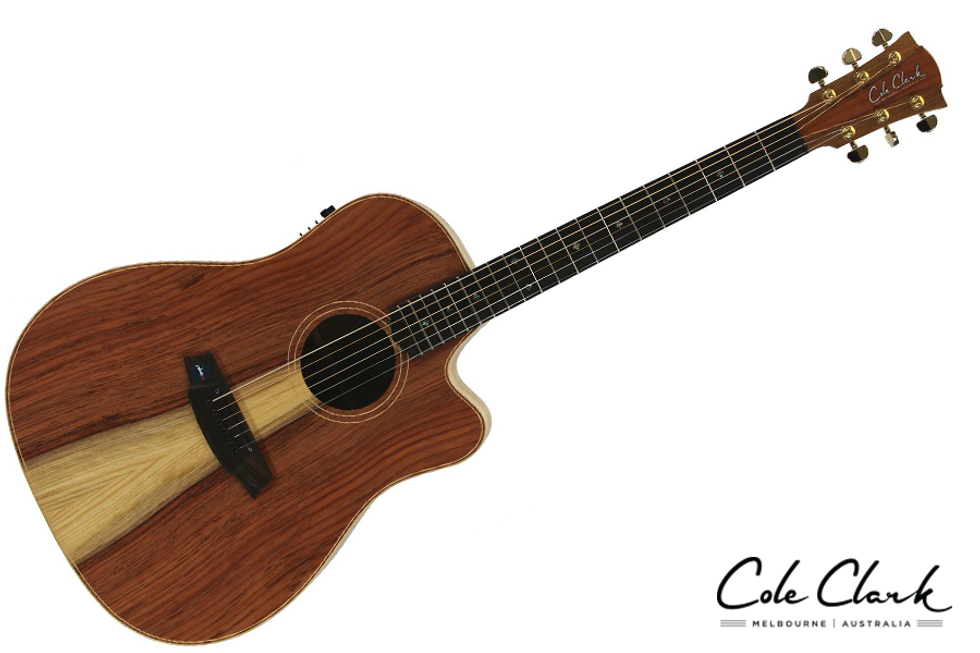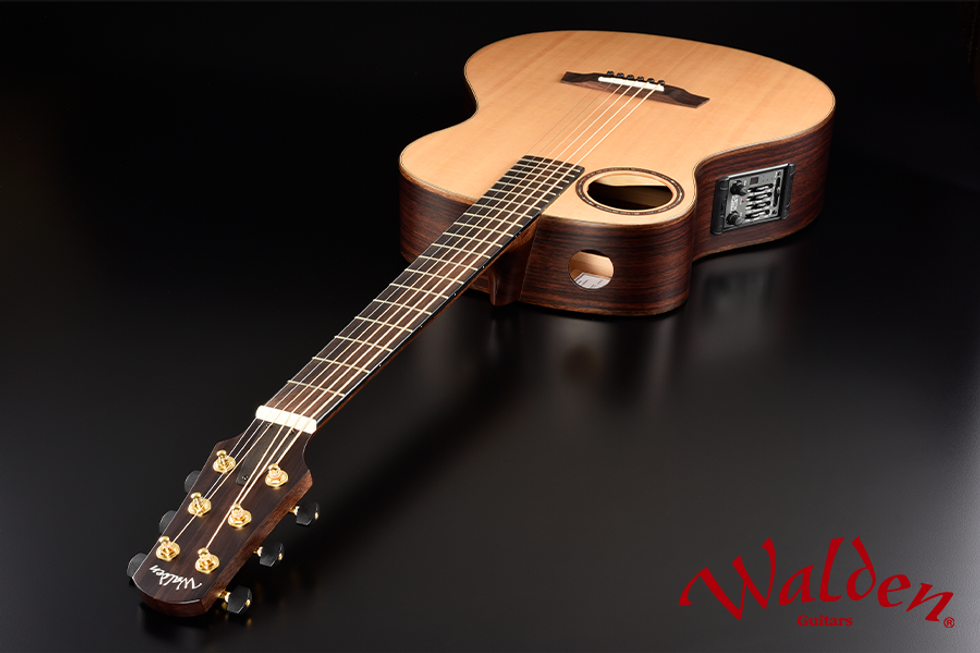 "I love this thing, I can't put it down. It's kind of like having a piano in your lap, you got all the low end for bass lines, and you got chords that you can strum on top, even alternating simple bass lines. There's all kinds of fun you can have with this thing!" ~ Sean Harkness, NYC

Typically tuned to B, the Baritone provides a clear low end response perfect for soloists, singer-songwriters, percussive finger-style players, or guitarists who crave a walking bass line while comping chords.

With its offset soundhole, side-port, and solid Sitka spruce top with innovative low-mass bracing, the Walden B1E sounds sonically excellent while incorporating the more comfortable Grand Auditorium body shape. A graphite reinforced Mahogany neck contribute to stability and its 27″ scale length and 1-13/16″ nut width contribute to the B1E Baritone's transparent playability.

Click here to watch videos
Click here for more information
Click here to follow Walden Guitars on Instagram
Walden Guitars
PRS
The PRS SE P20E is a parlor-sized acoustic with a big voice. Features include all-mahogany construction and PRS hybrid "X"/Classical bracing, which allows the top to freely vibrate, the SE P20E projects with even, bold tone. Its smaller size makes playing for hours fun and comfortable and allows for more convenient transport.
Plug in the Fishman GT1 pickup system, and it delivers dynamic, organic tone. This electronics system features an undersaddle pickup and soundhole mounted preamp with easy-to-access volume and tone controls, which essentially transforms what some may consider a "couch guitar" into a workhorse stage instrument.
Available in three satin finishes with herringbone rosettes and accents. Other high-quality features include a solid mahogany top, ebony fretboard and bridge, and bone nut and saddle. Gig bag included.
Click here to learn more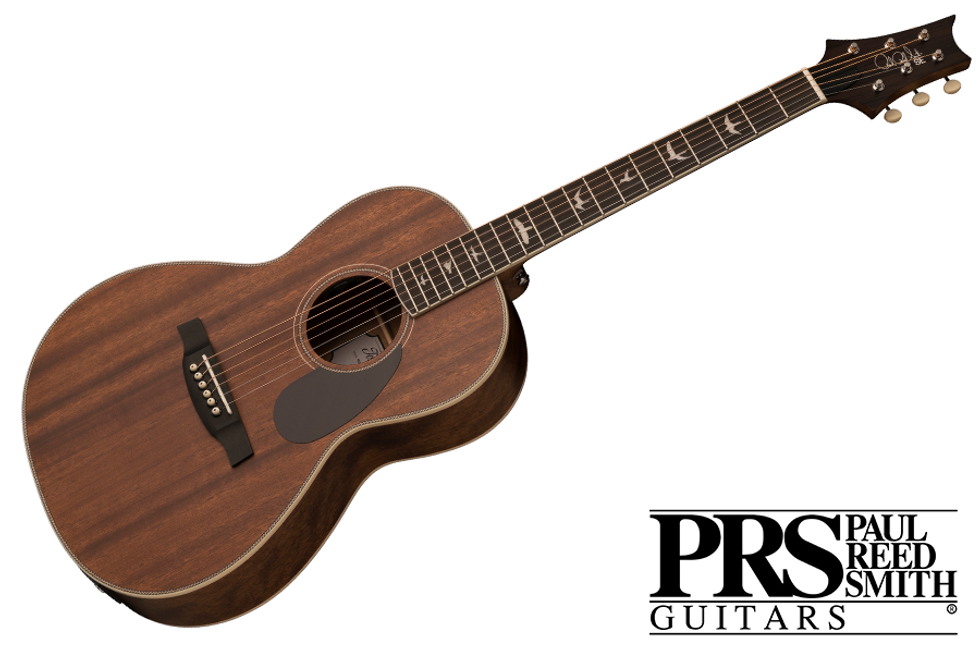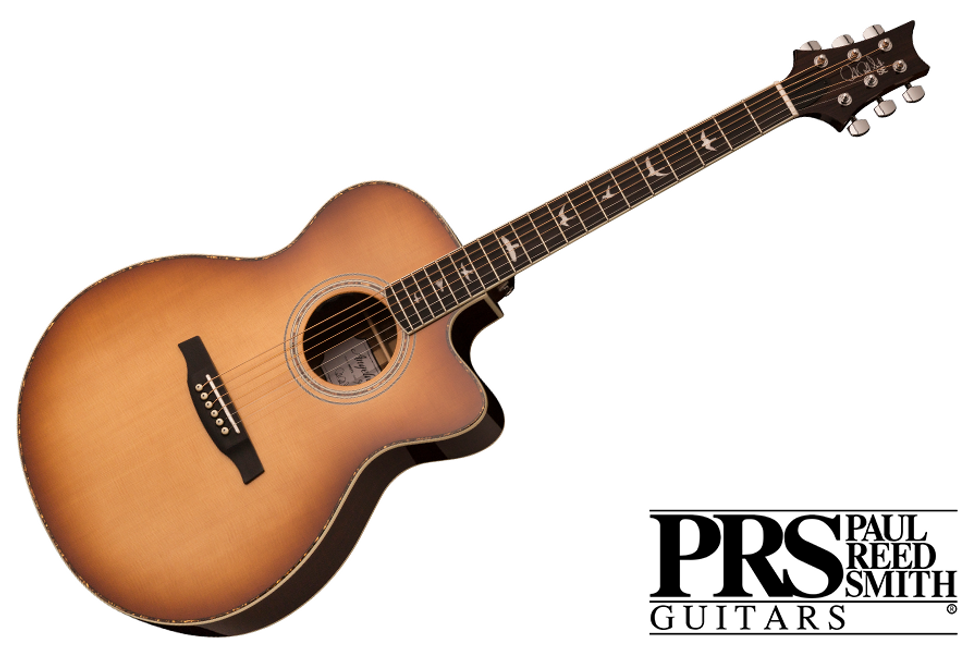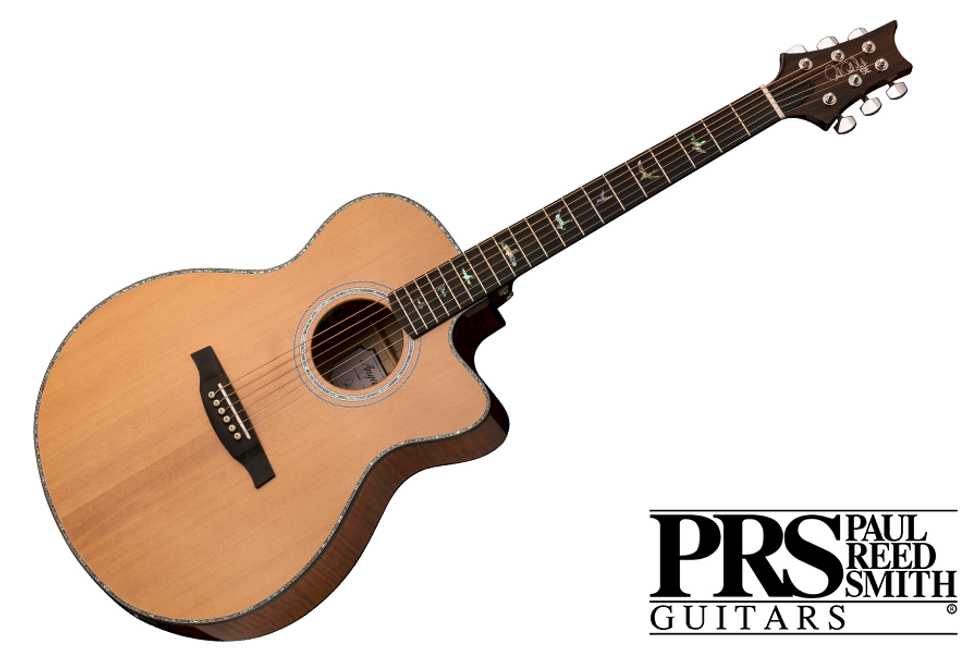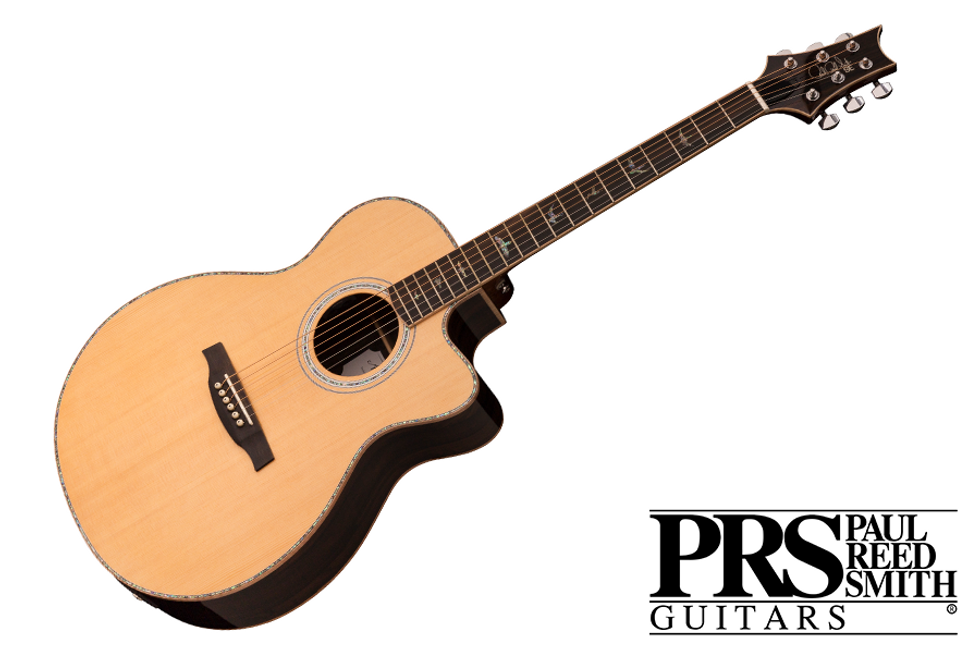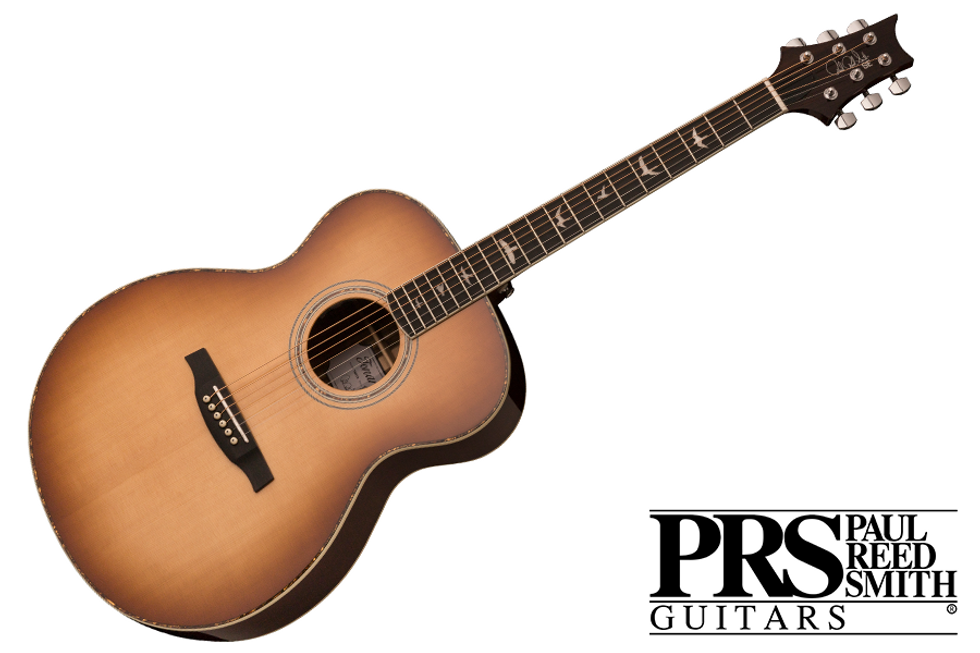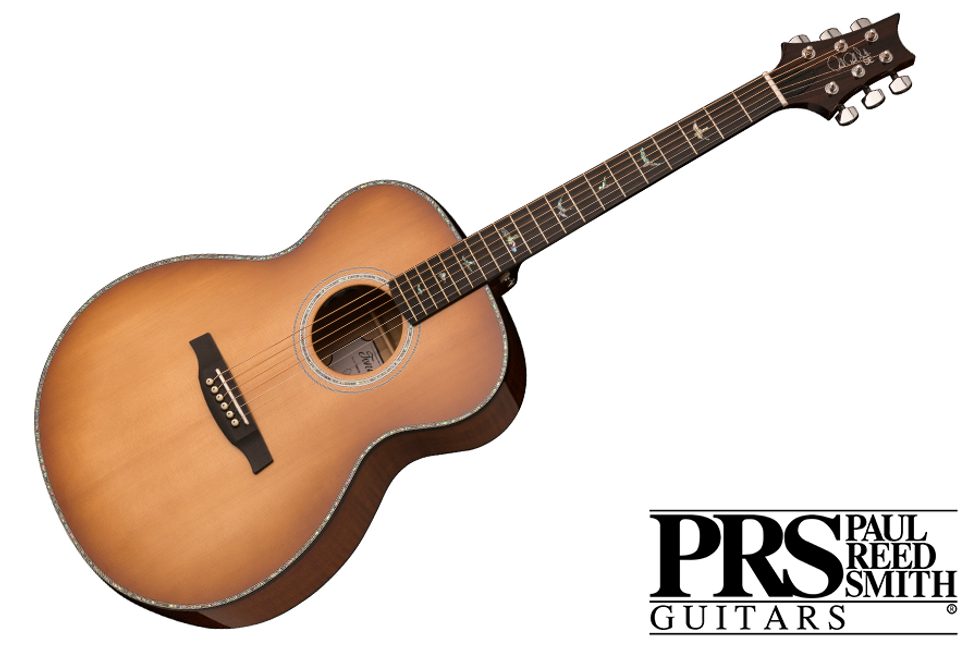 Tanglewood
Inspired by the guitars made in the 1930s, the Tanglewood Blackbird series evoke traditional values, yet offer the benefits a guitar manufactured in the modern era. These guitars feature hand-selected tone woods and a unique bracing pattern. The Blackbird Orchestra electro-acoustic guitar is carefully braced to environments, with Cole Clark's signature 3-way pickup system and beautiful, sustainably-sourced, natural Redwood and Blackwood timbers.
Click here to learn more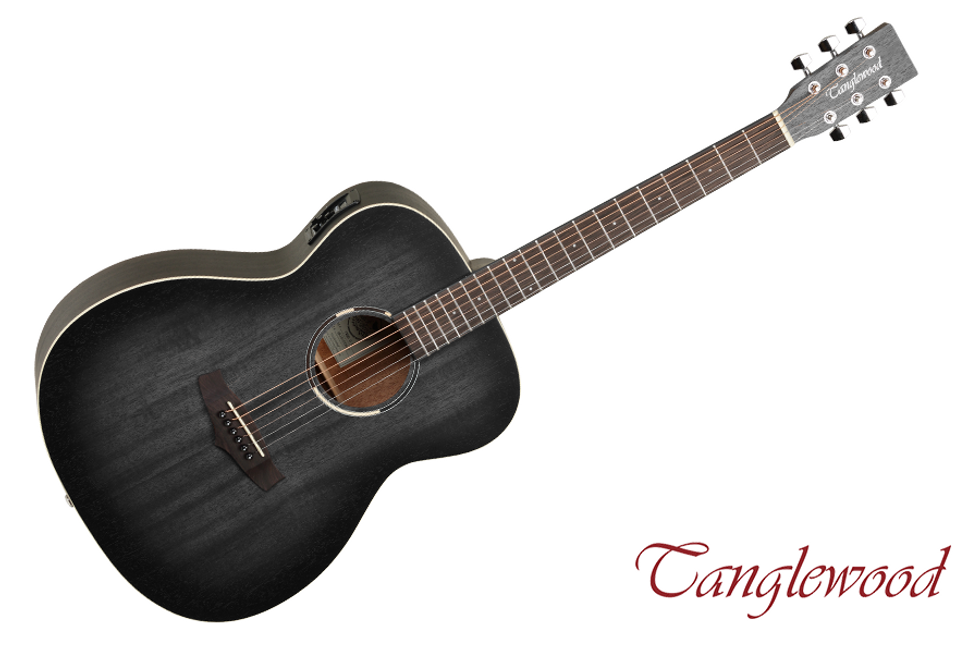 Taylor Guitars
Taylor's popular, compact GS Mini has brought countless hours of guitar-playing joy to musicians of all stripes, and the GS Mini-e Koa Plus takes the fun to a new level with elevated aesthetic details. Back and sides of layered Hawaiian koa pair with a solid koa top for a punchy, bold sound with surprising power and volume for a small-bodied guitar with a scale length of 23-½ inches, while the 1-11/16-inch nut width makes forming chords a breeze. A dusky edgeburst accentuates koa's natural grain and luster around the top, back and sides, while other notable features include nickel tuners, a three-ring rosette, and a genuine West African ebony fretboard. It includes onboard ES2 electronics and Taylor's new AeroCase®, a soft yet sturdy case with all the protection of a hardshell case at one-third the weight.
Click here to learn more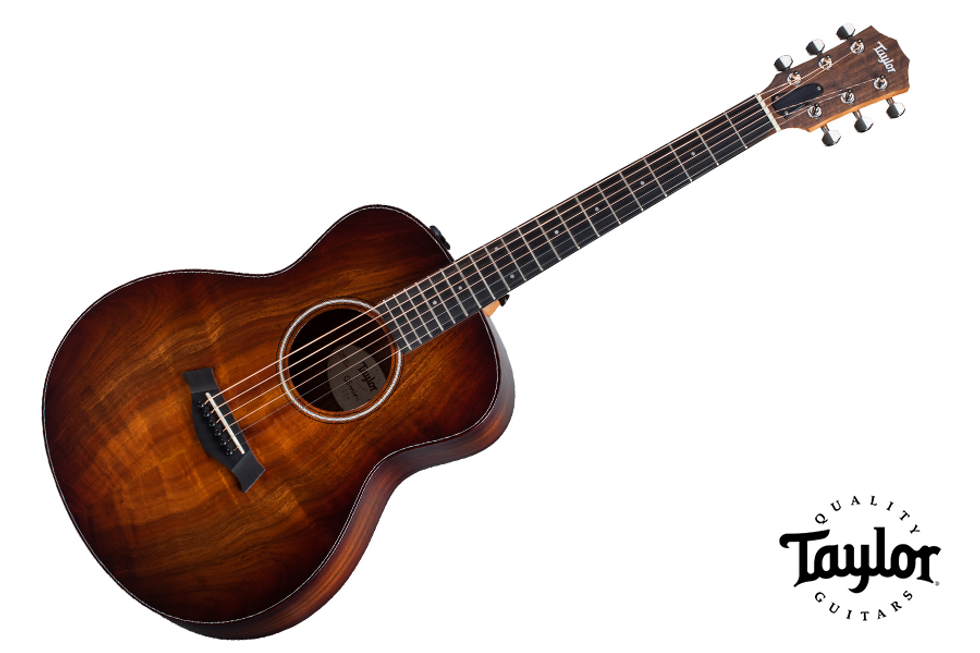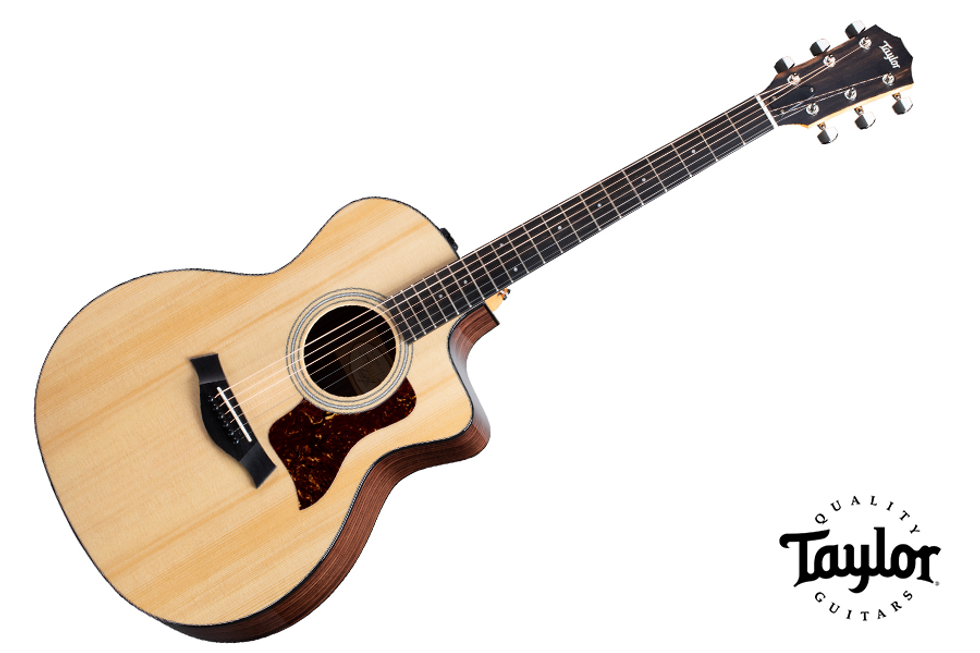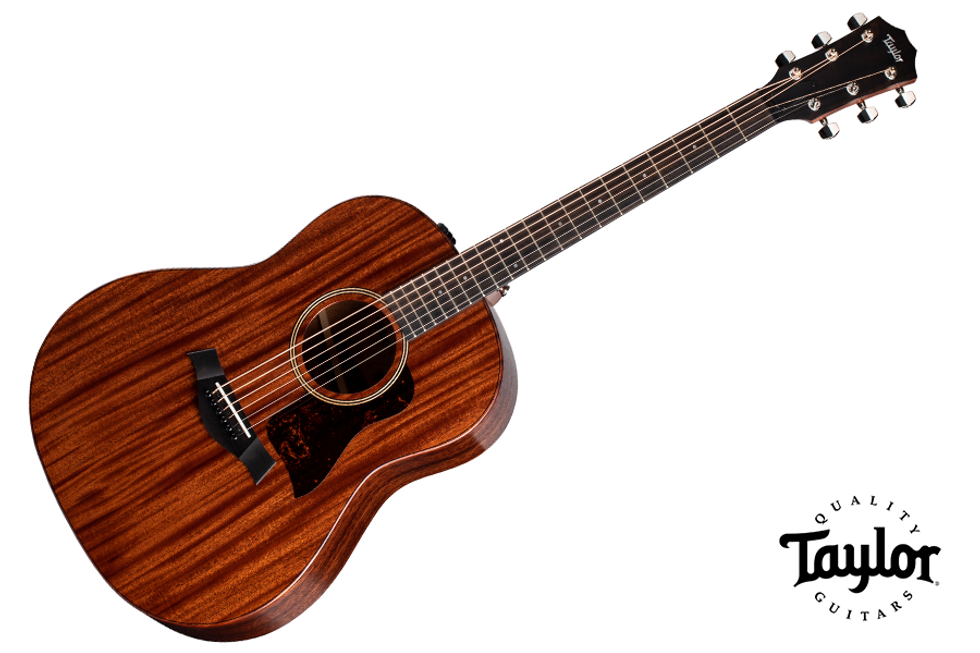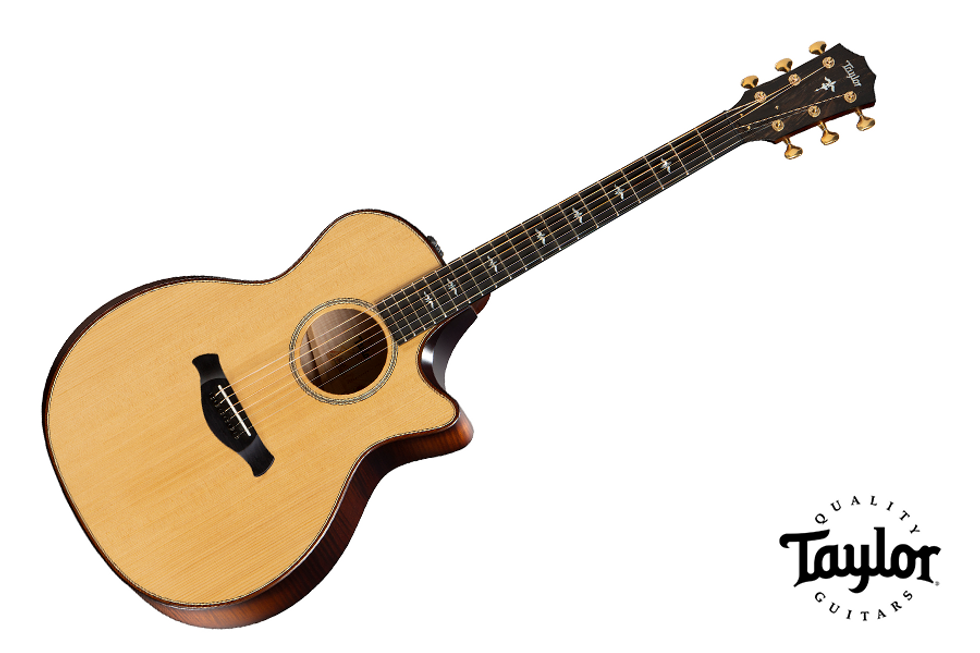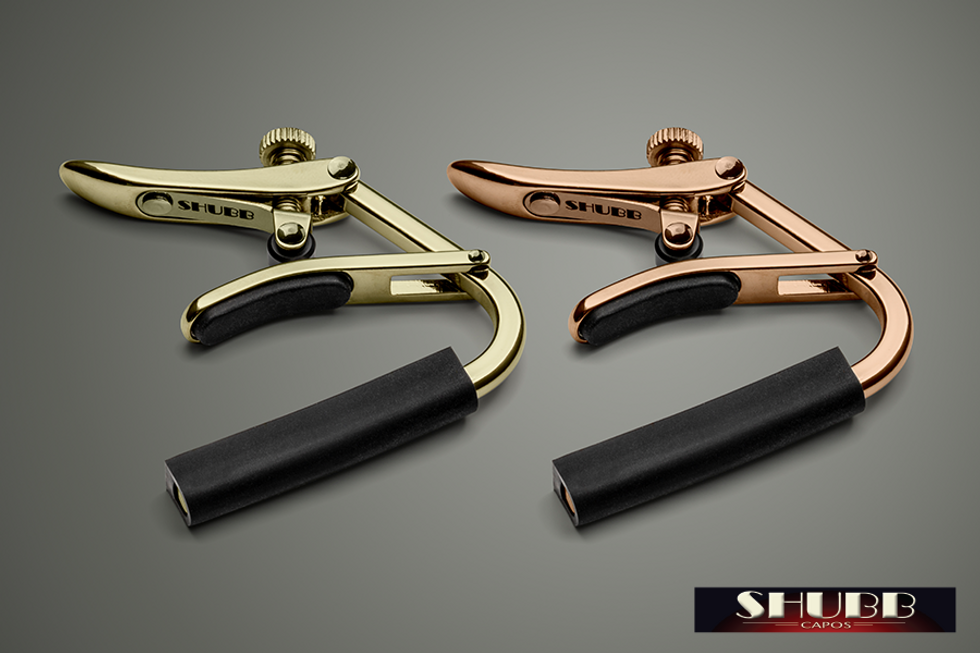 Adding to the company's line of premium capos, Shubb has introduced the new Capo Royale Series, featuring durable gold finishes that deliver long-lasting beauty.

Available in two lustrous finishes – Gold and Rose Gold – the Capo Royale Series brings a distinctive visual flair to Shubb's famed capo design, revered since 1980 for its ability to provide flawlessly clean fretting while keeping the instrument in tune.

For many years Shubb has received requests for a gold plated Shubb Capo. While gold is undeniably beautiful, it is not at all durable; it will wear off far too easily and quickly. It is also famously expensive. Now, Shubb has developed a high-tech technique for creating a gold-toned titanium finish. It possesses all the beauty of real gold, but is as durable as any metal finish in the world.

Click here to watch videos
Click here to learn more
Click here to follow Shubb on Facebook
Shubb Capos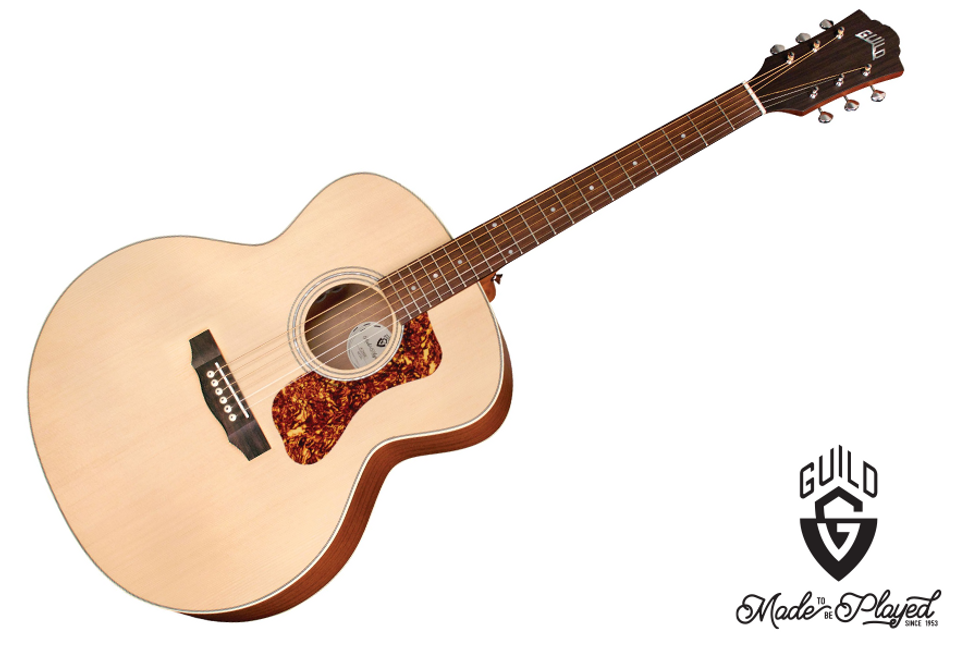 Guild's most affordable jumbo yet! The F-240E is a tone cannon at a player's price. Built with a solid spruce top, mahogany sides, and an arched mahogany back, the full-bodied and powerful voice of this Guild Jumbo provides guitarists with historically-Guild acoustic tone and voicing. Guild's signature arched back design allows for enhanced volume and projection, long sustain, and a lush, full sound. The F-240E features Guild's Fishman-designed AP-1 electronics, a pau ferro fingerboard and bridge, bone nut and saddle, mother-of-pearl rosette, period-correct tortoiseshell pickguard, and a satin polyurethane finish.

Click here to see videos
Click here to learn more
Click here to follow Guild Guitars on Instagram
Guild Guitars
Blackstar Amplification
The Blackstar ACOUSTIC:CORE 30 was designed to give singer/songwriters the ability to get a professional sound without any sound engineering expertise, then share it via live streaming or recording, or live performance. All in a compact easily portable combo with the option of battery power. This take-anywhere acoustic amp is designed for the way you play today: streaming, recording, practice or live.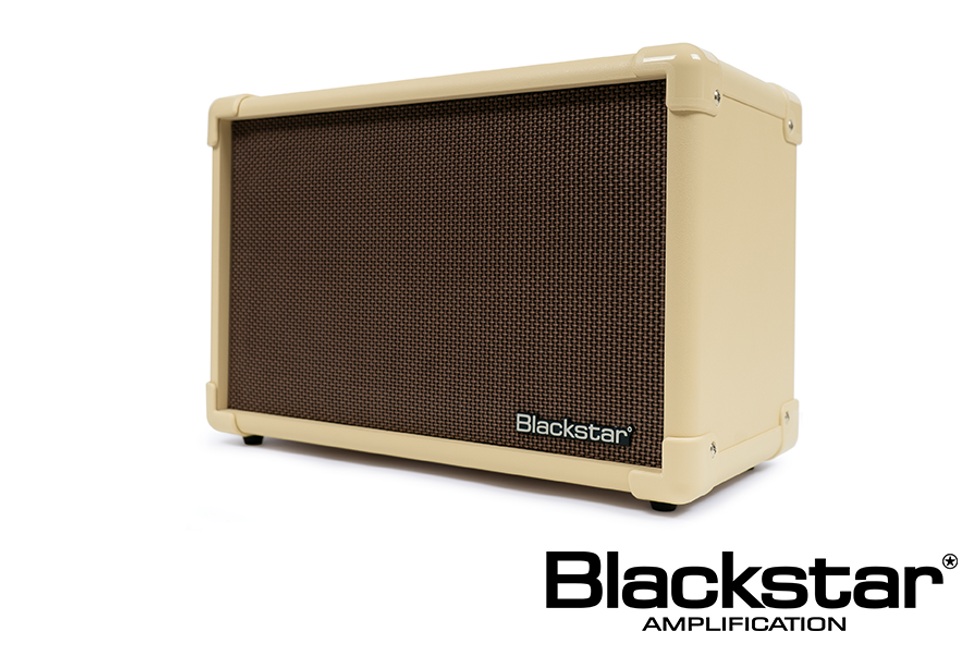 Santa Cruz Guitar Company
Santa Cruz Guitar Company has made it even easier to order the custom acoustic you've always wanted. They invite you to email them directly at scgc@santacruzguitar.com to be walked through the design process, where they will take the time needed to answer all your questions about models, tonewoods, structural options and aesthetics to ensure you will receive the heirloom acoustic that is right for you.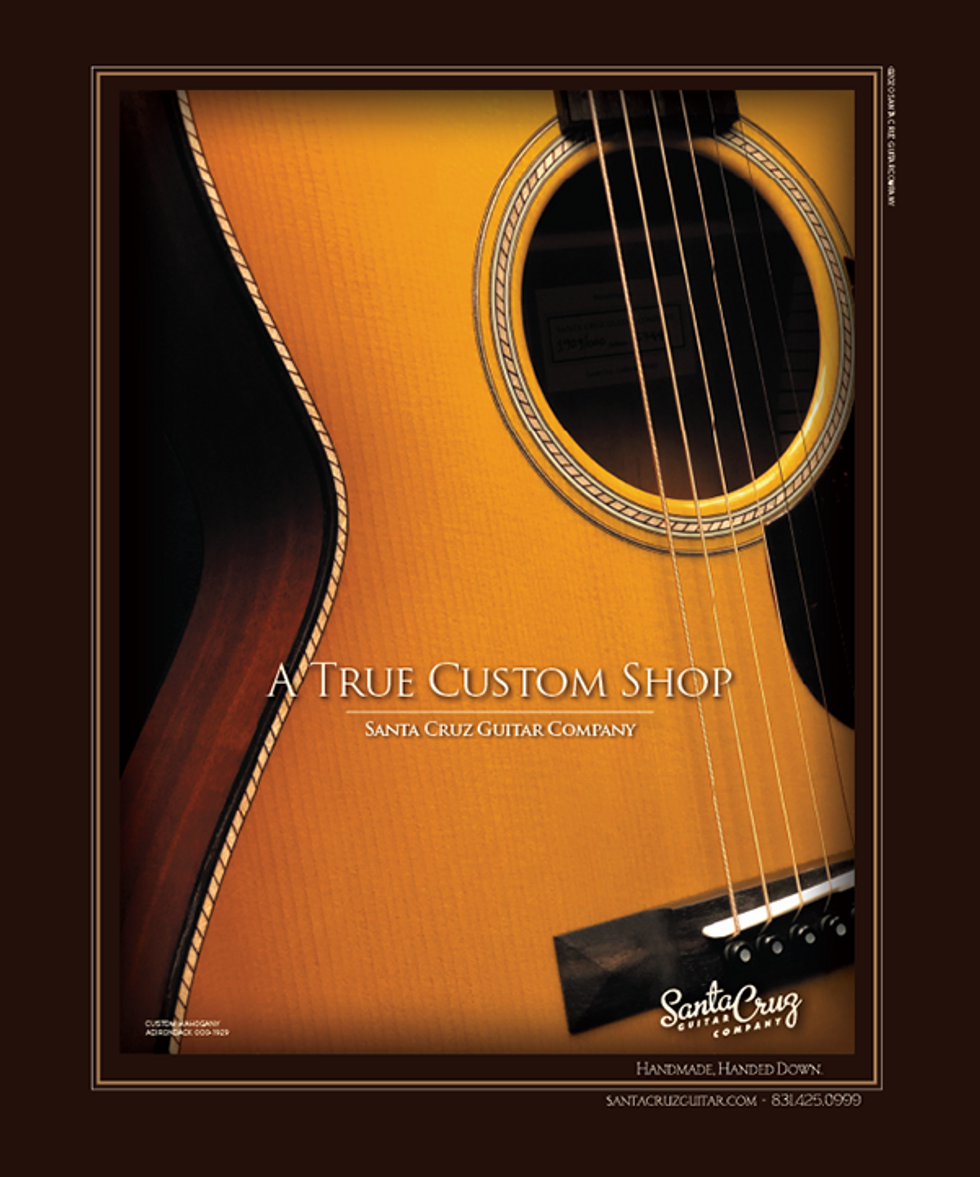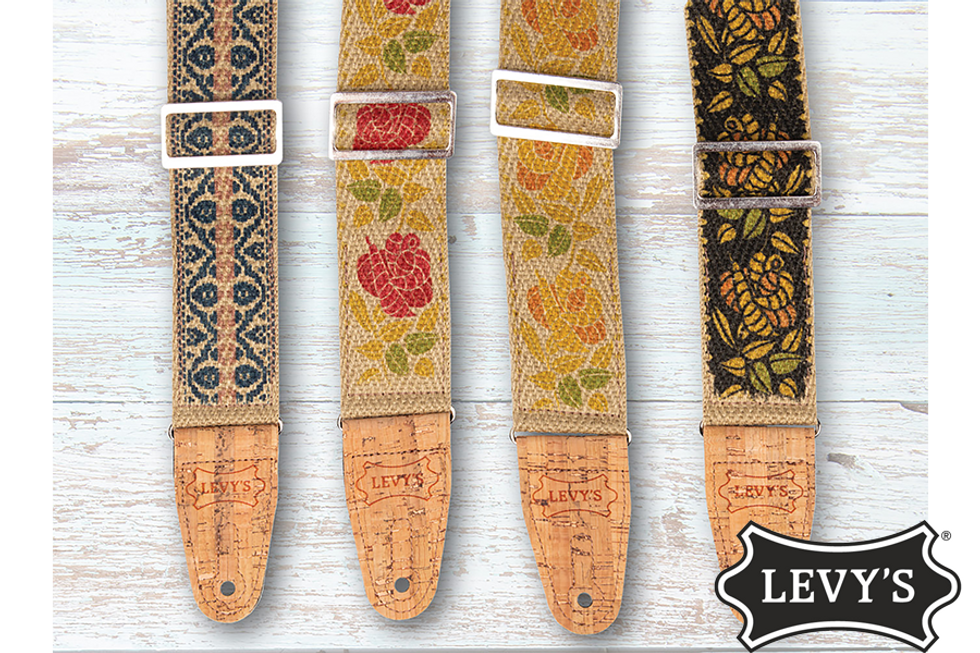 The New MH8P Series Vegan Hemp Series guitar straps by Levy's come in four new beautiful motifs and measure 2"/51mm in width. These organic straps are cruelty-free using sustainable materials and extend from 37"/940mm to 62"/1572mm via silver-colored tri-glide sliding adjustment. Natural hemp webbing and durable 2-ply cork ends safely support your instrument, along with pinhole stitching on both ends to prevent stretching. To address the issue of pick dropping encountered by almost every gigging guitarist, the MH8P Series comes equipped with a convenient 2.5"/64mm inside pocket to provide quick access to extra picks. Hand-crafted in Novia Scotia.

Click here to learn more
Click here to follow Levy's Leathers on Instagram
Levy's Leathers
LR Baggs
The product of nearly 3 years of intensive research and collaboration with a team of PhDs, LR Baggs is thrilled to introduce Voiceprint DI, the next breakthrough chapter in acoustic amplification. Voiceprint DI measures the acoustic response of your guitar by leveraging the processing power of your iPhone® to accurately capture your guitar's one-of-a-kind voice. A Voiceprint is created, transforming your pickup into the most authentic sound we have engineered in our 40+ years.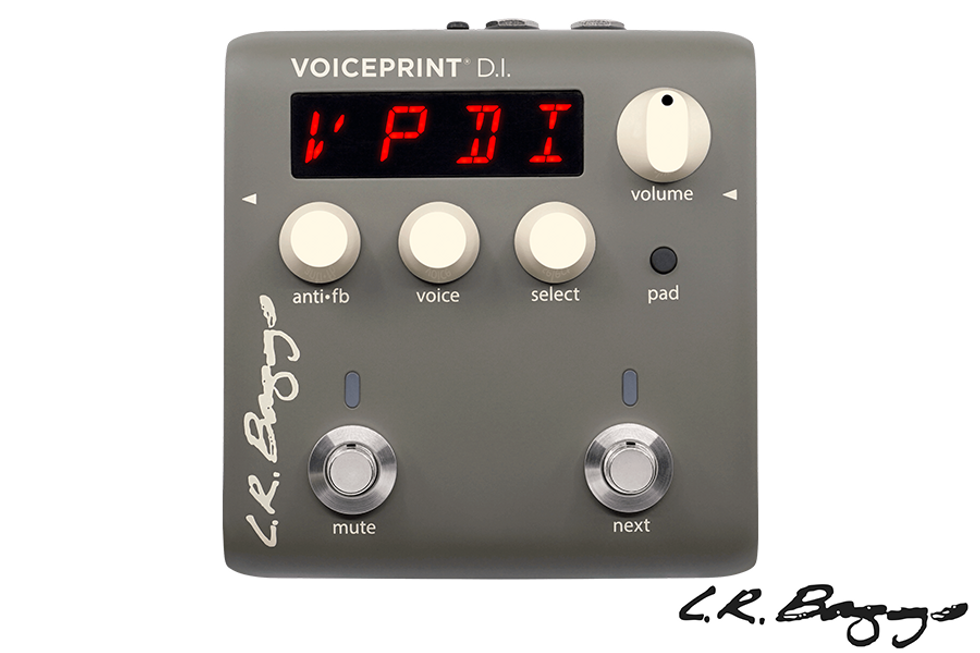 Henriksen Amplifiers
Raise your hand if you only own one guitar… that's what we thought. But do you need a different amplifier for each one? The Bud from Henriksen is no ordinary amplifier; it sounds just as amazing with your acoustic guitars as it does with your electric guitars, regardless of style. The Bud is just 13 lbs and 9"x9"x9" but packs 120 watts of power and a pro-grade feature set that you can truly gig with, record, teach, or just practice.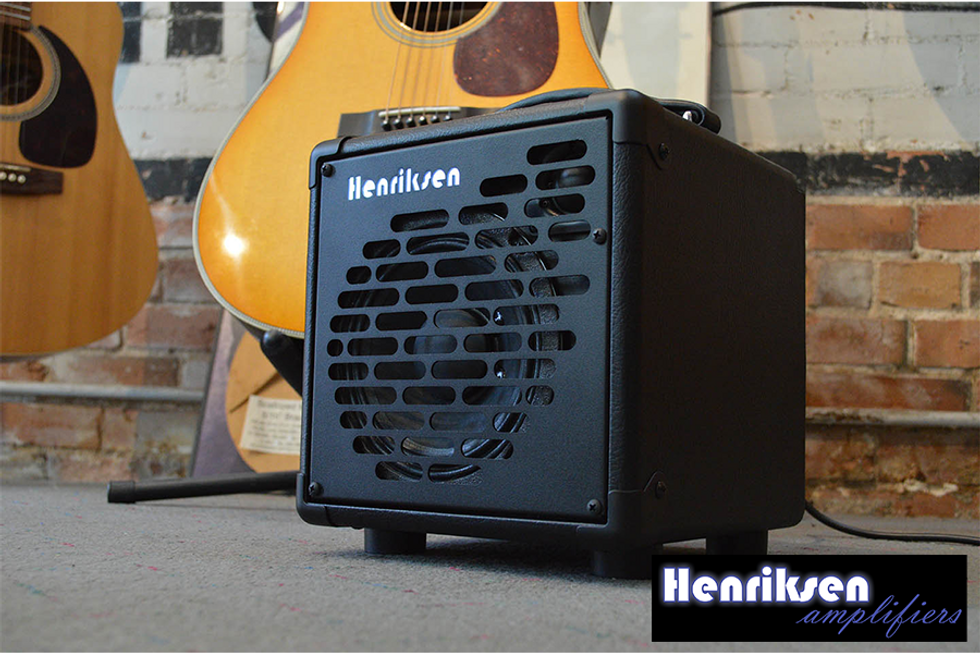 Breedlove Guitars
Powerful and responsive like a dreadnought, tonally the acoustic electric Breedlove Jeff Bridges' Signature Model emphasizes the unique qualities of myrtlewood, with a deep rosewood-like bass, the fundamental clarity of mahogany and the enchanting shimmer of koa. The Breedlove Jeff Bridges signature "All in this Together" project benefits Amazon Conservation Team, which works in partnership with indigenous colleagues to protect rainforests.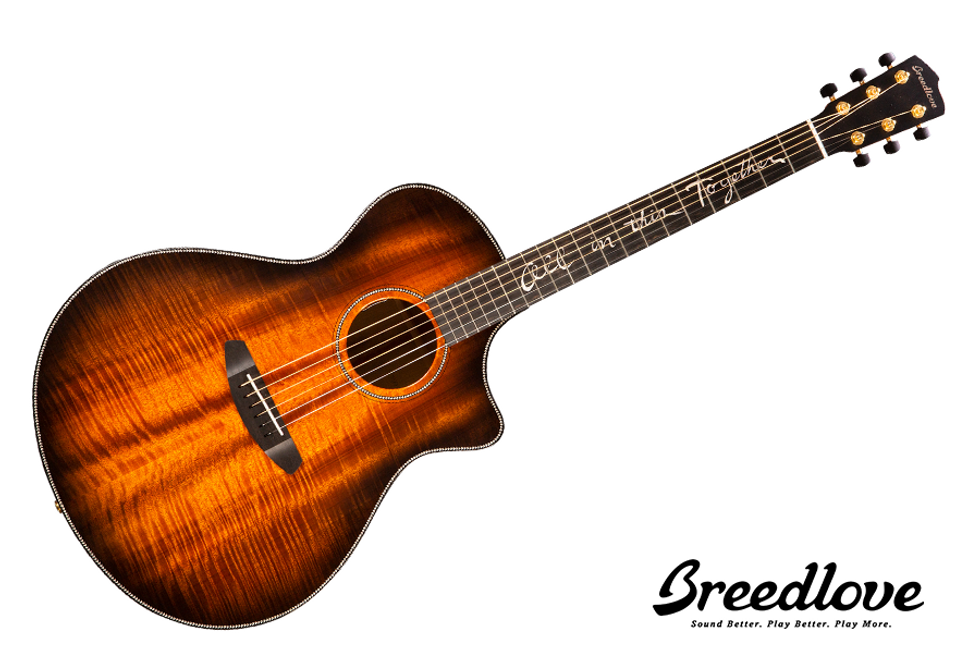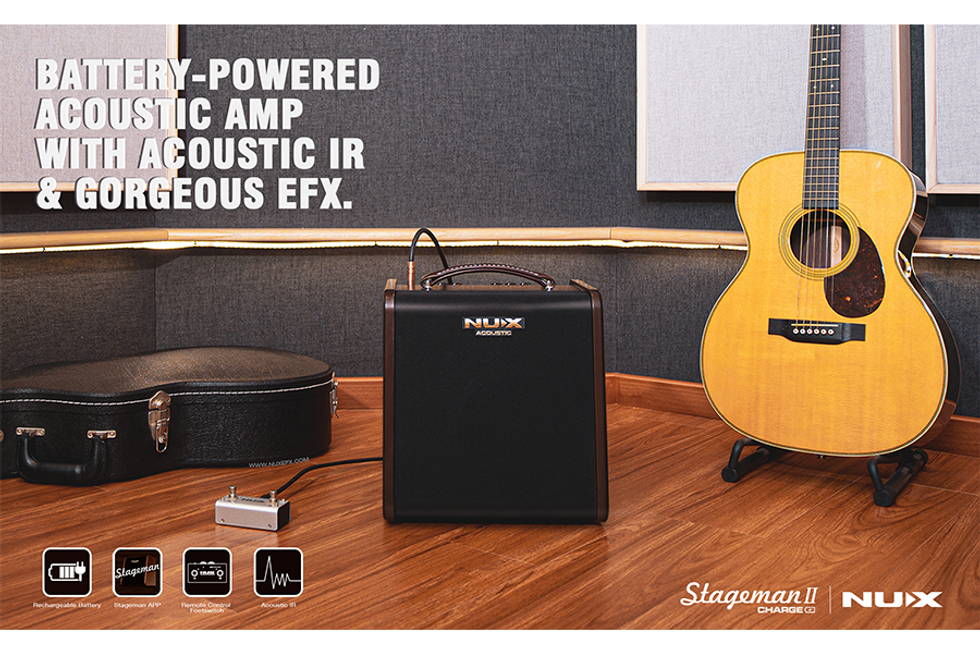 NUX Stageman II Battery-Powered Acoustic Guitar Amplifier features a pure analog preamp with NUX's iconic Core-Image post-effects. It has specific EQ scenes for finger-style as well as strum-style in channel 1, and you can engage built-in Acoustic IRs with a dedicated mobile APP. Acoustic IR is the new trend to make your acoustic sound as natural as micing. Stageman II keeps Drum & Loop, you can control by the original NUX NMP-2 foot-controller. And the built-in rechargeable battery can let you busk on the street for 4 hours.

Highlights:
- 80-watt rich warm sound acoustic amp with 6.5" premium speaker and 1" tweeter
- Rechargeable battery for 4.5 hours outdoor performing
- Built-in Acoustic Impulse Response
- 2 independent channels with routing adjustable post-effects
- Mobile APP for editing and control
- Drum & Loop (60s phrase loop)
- Bluetooth Audio Stream
Click here to learn more
Click here for audio clips
Click here for video
Click here to follow NUX on Instagram
NUX
Simplicity sings in an elegant Electra Distortion-derived overdrive.
Stupidly simple. Dynamic and touch responsive. Beautiful distortion profile that mixes a creamy core with sizzle around the edges.
Bridge-position single coils can sound crispy.
4.5
4.5
5
4.5
If you've ever considered a monkish withdrawal from pedal maximalism, Ananashead's Cream Amp is a fine place to start your journey. It's a low- to mid-gain distortion derived from the legendarily simple Electra Distortion, a gain device built into Electra guitars in the 1970s, which later found favor among DIY pedal builders and modders. In this Barcelona-built take on the circuit, it's easy to hear why this simple circuit maintains such enduring appeal.
The distortion characteristics of the Cream Amp are quite different from a clean boost. It's generally dirtier, and at higher pedal-gain settings, where the Cream Amp is happiest, it has a treble-forward tone profile that makes it a fantastic companion for PAF pickups, which balance and flatter the edgier output. Single-coils sound awesome, too, though I gravitated toward the way the Cream Amp fattens a neck-position pickup rather than bridge-position tones, which can sound comparatively brittle. The Cream Amp also works agreeably with other overdrives and Big Muff-style fuzzes that aren't too peaky in the top end. But I derived the most joy from the Cream Amp when it was the only pedal between my guitar and amplifier—a role that highlights its dynamic and touch-responsive characteristics. If you're similarly interested in uncomplicated, organic routes to dirty tones, the Cream Amp is a reliably satisfying way to get there.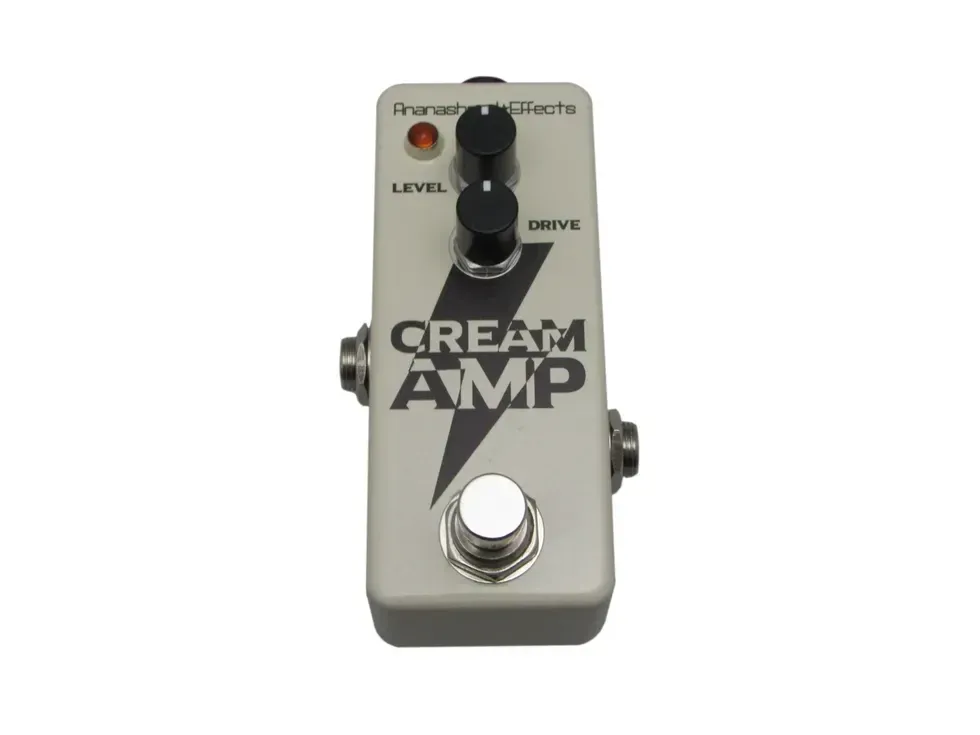 Ananashead
Photo by Dena Gold
Fretless guitar virtuoso Gabriel Marin of instrumental rock trio Consider the Source joins editors and reader Dan Lynch to talk about them changes.
A: Lately, I find myself writing melodies over the 1–b3–b7–B6 [Editor' Note: Am7-Cmaj7-G7-Fmaj7] progression in a minor mode with all diatonic seventh chords. The voice leading within the chords is super smooth and I can write melodies of a few different moods over the same chords.

Current obsession: In the last few years, I've been really into Muğam, the classical music from Azerbaijan. It has so much fire and life in it, and is a very improvisational genre. There are elements of Persian and Turkish music in it, both of which I have played for a long time, but the Azeris certainly give it their own original flavor. The music is very passionate sounding, and the ornamentation and microtones are really exciting to me. It's been really fun translating that music to fretless guitar.
Jason Shadrick Associate Editor
A: I didn't really get harmony until I studied it deeply in college. One of my favorite progressions born out of that season was 1–b7–b6–5, which is a great way to practice descending dominant arpeggios, blues scales, and was copped by Setzer for "Stray Cat Strut."
Stray Cats in their strutting era.
Photo by Masao Nakagami

Current obsession: I'm working on an unannounced project that is really reinforcing my appreciation for being an eternal student. Seeing guitarists at the height of their success get real joy out of learning something new is just as inspiring as hearing a ripping solo.

Ted Drozdowski Editorial Director
Photo by Johnny Hubbard
A: I'm obsessed with D–G–F–D/G–Bb–D/Bb–A–D. I stumbled across it a few years ago when I was writing a song about the ghosts I live with—metaphorically—and it fit the haunting, haunted mood and my moderate-tempo fingerpicking. It comes from my fascination for Pink Floyd. Now, I've used variations for rockers and other tunes, to the extent where I need to roadblock it.
Current obsession: Gigs! I'm currently embroiled in a major creative project that's diverting my attention from booking and playing gigs, which is disappointing because I'm longing for the musical and mental health benefits I get from performing.
Dan Lynch Reader of the Month
A: I enjoy moving chords around in diatonic thirds, and using a passing chord to get there. Thirds can be pretty boring if you go straight there, so using a passing chord creates interest. For example: Cmaj7–B7–Em7–Dm7–Galt–Cmaj7–Cmaj7–E7–Am7–Fmaj7–Fm7–Cmaj7.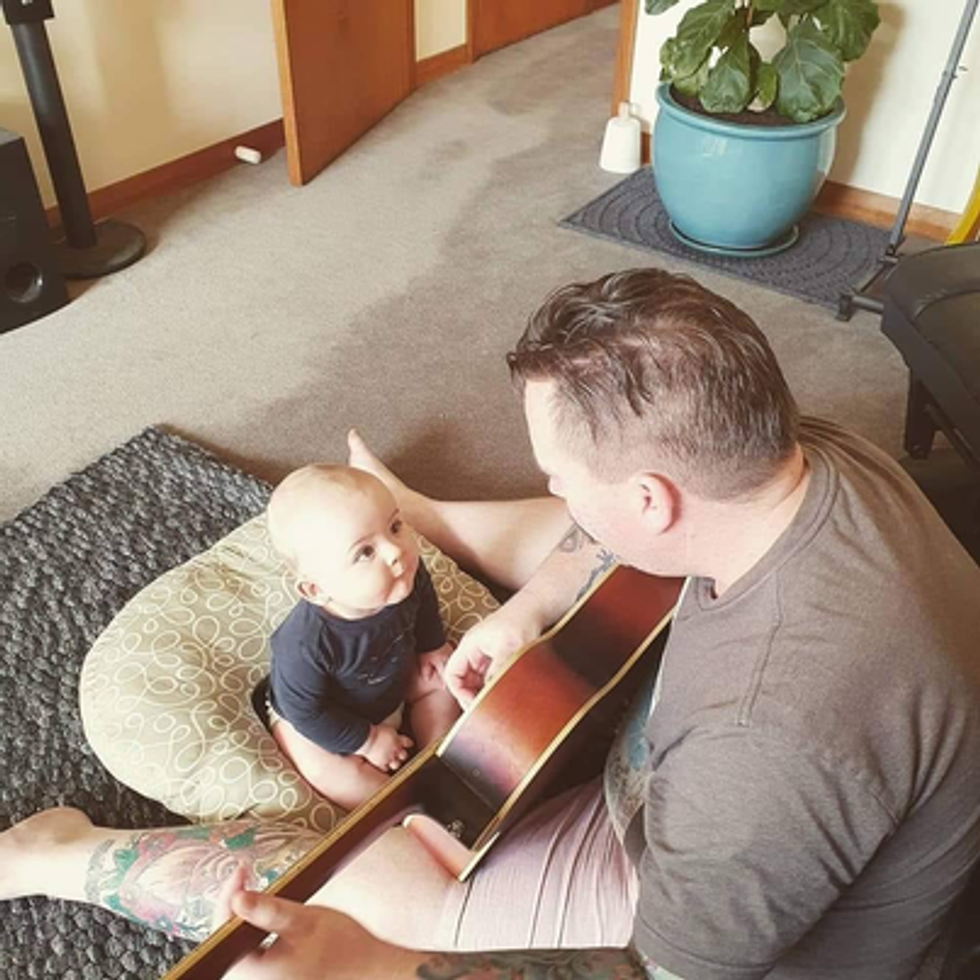 Current obsession: I have always found enjoyment not just in the playing of instruments but also in building and modifying them as well. Recently I have gotten into building my own pedals. It's just another part of the hobby/obsession, where I can relax and do something with my hands.
Photo by Ebru Yildiz
On their new album, In Between Thoughts… A New World, the acoustic duo goes half-electric, plumbs programmed beats, adds slide guitar, and explores nondualism—following a creative path that opened due to the Covid shutdown.
Grammy Award-winning guitar virtuosi Rodrigo y Gabriela started recording what would become their latest album, In Between Thoughts… A New World, in February 2021. At the time, crafting a new album wasn't the catalyst for making new music. They really just wanted to write, jam, and record without an agenda while locked down during the pandemic.
"It was just something to kill time," admits Gabriela Quintero, one half of the Mexican guitar duo. "Just to be in the moment and not to think too much about it, even though here in Zihuatanejo it was more like the tropical version of the apocalypse [laughs]."
The other half of the duo, Rodrigo Sánchez, concurs that the pandemic presented a unique set of circumstances that allowed them to be creative without the added pressure of making a record, going on tour, or meeting a deadline. "Musically speaking, it was a very unusual process for us," he says. "We weren't really thinking about recording a new Rod and Gab record, and we didn't really know what was going to happen. It was a really detailed process we never had done before, because we never had this amount of time to record an album."
Rodrigo y Gabriela - True Nature (Official Audio)
"True Nature" is off Rodrigo y Gabriela's first album in 4 years. The album 'In Between Thoughts...A New World' is available now on limited edition vinyl, CD...

Guided by spiritual practices like Buddhism and nondualism, Rodrigo y Gabriela's presence-of-mind approach to the guitar has led them on a fantastic, fulfilling journey from their humble heavy metal beginnings in Mexico City, to busking on the streets of Ireland, to performing in front of tens of thousands of people on the world's biggest stages, opening for Muse and others.

Formed in 1998 out of the ashes of their heavy metal band, Tierra Ácida, Rodrigo y Gabriela left their hometown of Mexico City to pursue their musical ambitions in Dublin, Ireland, where they first began busking with their acoustic guitars on tourist-heavy Grafton Street, mixing elements of flamenco, rock, and heavy metal. In 2002, they released re-Foc, showcasing their virtuosity on guitar and their unique fusion of musical styles—even incorporating elements of the Irish folk music they had immersed themselves in while living abroad. In 2006, the duo released Rodrigo y Gabriela, a mix of original compositions and covers of classic songs by early influences Led Zeppelin and Metallica. The album was a commercial success, reaching the top of the Irish album charts and earning them a nomination for the Mercury Prize, awarded for the best album released in the United Kingdom by a British or Irish act. In 2008, they released 11:11, which featured 11 original compositions—each dedicated to a different musician who had influenced their music. In January 2020, Mettavolution, their fifth album, won Best Contemporary Instrumental Album at the Grammy Awards, cementing Rodrigo y Gabriela's status as one of the most innovative and exciting guitar duos in the world.
"Gab has seven piezos inside her guitar, and everything is very tight. And I have five piezos."—Rodrigo Sánchez
Gabriela Quintero's Gear
Lead guitar provides the flash, but Gabriela Quintero's right hand is what keeps the party jumping, with a driving, uncommon approach drawn more from traditional Irish music than flamenco.
​Photo by Jim Bennett
Guitars
Yamaha NCX5 Signature Model
Effects
Boss FV-500L Volume Pedal
Boss OC-3 Super Octave
Boss TU-3S Chromatic Tuner
Dunlop Cry Baby Standard Wah
Dunlop DVP4 Volume (X) Mini Pedal
Lehle P-Split III Box
Strings
D'Addario Pro-Arté EJ45 Normal Tension
Self-produced by Rodrigo y Gabriela at their studio in the resort city of Ixtapa, Mexico, In Between Thoughts… A New World reasserts their seemingly innate ability for cultivating a musical repertoire that captures the zeitgeist. And while it may have begun without intention, that doesn't mean In Between Thoughts lacks direction. Like its predecessors, there's a familiar and explosive display of virtuosic guitar craft, including all of the hallmarks one would expect from Rodrigo y Gabriela. The powerful, percussive playing of Quintero and the deft melodicism of Sánchez remain the duo's calling cards. But new, unexpected sonic elements abound as well, including the reverb-drenched slide guitar on "Egoland," the energetic percussion on "Descending to Nowhere," the kinetic electronic beats on "The Ride of the Mind," the passionately chanted vocals of "Broken Rage," and the dreamy mystique of the robotic vocal effects embedded within "Finding Myself Leads Me to You."
In fall 2020, while recovering from Covid, Sánchez stumbled upon an online video on nondualism—the notion that there is a "single, infinite, and indivisible reality, whose nature is pure consciousness, from which all objects and selves derive their apparently independent existence," as defined by author/teacher Rupert Spira. "Advaita Vedanta, or nonduality, is often called the direct path—accepting what is," explains Sánchez. "We're not saying that everything in this structure of the body/mind we live in is right. It is just what is, and we cannot really argue with that."
"The beauty about music is that it's always expanding."—Gabriela Quintero
During the early stages of the pandemic, Rodrigo y Gabriela did what many other artists did: They turned to social media, posting short anecdotal performances from their studio. But when they finally got bored of that, they started to write music based on the concept of nondualism without really thinking it would become their new album. "It was just a project," emphasizes Sánchez. "We were just here in the studio doing things that we would never dofor Rod and Gab. I started to work with electronics, I left my acoustic guitar [at home] and just took my electric guitars [into the studio]. We started writing the music at the same time as we were writing a story based on this philosophy that we were so much attracted to. If we had known that it was going to become the Rod and Gab album, we probably would've limited ourselves in terms of not using electronics, or not using too much electric guitar. But we didn't really think that way. That's how the album came about."
Their new album began as a pandemic songwriting and recording project, and took shape almost by accident as they accumulated tracks and tunes.
As for Quintero, she took a slightly more pragmatic approach to the endeavor, particularly regarding nondualism. "I think me and Rod, we share a lot of things that we like, and we feel attracted to, but we process differently," she explains. "That's where the nondualism becomes dual [laughs]. I discovered these teachings through a book called The Power of Now [byEckhart Tolle]. To me, that book was incredibly insightful and practical, and such a 'no rules' type of thing. I tried to meditate but there was too much discipline with some of the spiritual teachings. I remember when Rod was into Buddhism, and he was meditating a lot of hours a day and learning some mantras that were very strict. And for me, it was too much of a discipline. When I discovered The Power of Now, it was like, 'Oh great, you don't have to basically do anything [laughs].' And then, when the pandemic came in and Rod discovered these videos about nondualism, the way he presented them to me sounded super confusing and too much like nihilism. So, we were constantly having friendly debates here in the studio. And I was going, 'This is too crazy.' It felt to me that it was denying this existence. But then we discovered these are the same teachings as The Power of Now, but in different words, in a different way. Then we stopped the debates."
Quintero, very late into their writing and recording process, asked Sánchez if they were, in fact, writing their next record. "And then she asked, 'When are we going to record it?'" says Sánchez. "We'd been recording [what we were writing] from day one with quality, and so I went back to the studio that afternoon and I checked all the recordings and all the levels, and we had produced the album already. We had the record."
"We love flamenco. My best friend in that scene, Vicente Amigo, is one of the best. But no, we never play flamenco."—Rodrigo Sánchez
As for how they record, Sánchez says it happens all sorts of ways—sometimes tracking together, sometimes individually. Sánchez says the acoustic guitars get picked up by German-made Schoeps MK 4 mics, recommended to him by his close friend, Spanish guitar maestro Vicente Amigo. They also adopted some of what he calls his "old-school metal techniques" for recording. "Knowing that we were going to have orchestra and electronics and all that, I used room mics for Gabs—and instead of just copying her track, I have her record two guitars exactly the same," he explains, noting he did not use the copy/paste shortcut many musicians use nowadays. "She would do one guitar rhythm and then she would double that to make it sound bigger. Overdubbing the same rhythms and the same parts actually give her much more presence on top of the electronics. And she's so good at it."
Due in large part to Quintero's right-hand technique, which Sánchez recorded so well on In Between Thoughts, "heavy metal flamenco" is a label often applied to the duo. "Ah, the 'F' word," laughs Sánchez. "We love flamenco. My best friend in that scene, Vicente Amigo, is one of the best. But no, we never play flamenco. I understand some people are confused because of Gab's rasgueado[gesture to invoke her right-hand technique], but actually she's not doing the flamenco technique at all. She learned most of these techniques from an Irish bodhrán player, Robbie Harris."
Rodrigo Sánchez's Gear
Rodrigo Sánchez wears his musical roots on his chest,
in a t-shirt proclaiming his fan status for the Bay Area metal band Testament.
Photo by Dan Locke/Frank White Photo Agency
Guitars
Yamaha NTX5 Signature Model
Fender Jaguar
Amps
Fractal Audio Axe-Fx II XL+
Marshall JCM900 4100 Hi Gain Dual Reverb
Effects
Boss DD-3 Digital Delay
Boss FV-500L Volume Pedal
Boss OC-3 Super Octave
Ibanez WH10 V3 Wah Pedal
Lehle P-Split III DI Box
MXR M133 Micro Amp
MXR M234 Analog Chorus
One Control Minimal Series AB Box
TC Electronic Ditto X2 Looper
Truetone 1 Spot Pro CS7 Power Supply
TWA WR-03 Wah Rocker
Strings & Picks
D'Addario EXL115 (.011–.049
D'Addario Pro-Arté EJ46 Hard Tension
Jim Dunlop Jazz III Black Stiffo
The bodhrán is a frame drum used in traditional Irish music that Quintero learned about when they moved to Ireland. "At the time, I was trying to imagine how flamenco players played their rhythms," she explains. "I couldn't figure it out, because back then there was not YouTube—there was nothing. Nowadays, you can go and say, 'How to play rasgueado flamenco, how to play rhumba,' and you'll find something, but not back then. And I always got it wrong. And then I discovered the bodhrán."
In the old days, the bodhrán was played with hands, not with a stick, as is often seen presently, and she says the Irish kept telling her she actually exhibited the movements of a bodhrán player, but on guitar. "They encouraged me to do certain rhythms. So, just watching them, it was easy to emulate a lot of the movements—it just came organically. The beauty about music is that it's always expanding."
"If I came back to a solo bit or something, there was not that beat—people were not jumping anymore, and it was like, 'Ah, we're losing the audience,' so I tried to become more the drummer of the band."—Gabriela Quintero
After weaning his guitar craft on West Coast thrash metal bands Testament, Megadeth, and Slayer, and New Yorkers Anthrax, Sánchez's nylon-string style was originally grounded in a lot of the palm-muting he carried over from that style of electric playing. "First of all, I had to translate my palm muting [from electric to nylon string]," he explains. "Then, I used a little bit more of Al Di Meola's technique, but he was playing steel-strings, right? So, I was like, 'Okay, how can I translate this into nylon?' And then I started to listen to Strunz & Farah, and they are incredible. I listened to the way they played, especially Jorge Strunz, who is so clean and so fast. And I started to learn some of his licks here and there, so I was in that zone already."
They want a whole lotta folk! Rodrigo y Gabriela get down on the Newport Folk Festival's Harbor Stage in 2014.
Photo by Tim Bugbee/Tinnitus Photography
It's worth noting that the nylon-string guitars Rodrigo y Gabriela play live are the result of years of practical research and application in collaboration with Yamaha and are not models or designs your average nylon-string player would use, nor are they commercially available. "It's not like any nylon-string guitar can just go and play in the middle of a festival of 40,000 people," explains Sánchez. Originally, they were using guitars made by Irish luthier Frank Tate, which they still use at home and in the studio. But the guitars they now use live were specially designed over a 14-year period by Yamaha's Japan-based Custom Shop for arena-concert environments. "These guitars have a very special system for us to sound the way they sound live," he says. "Gab has seven piezos inside her guitar, and everything is very tight. And I have five piezos, which is really important for those kinds of shows."
Within the duo, both players are very melodic and very rhythmical, but Quintero did gravitate to doing more of the beats, simply out of necessity, once they started playing bigger shows. "At the beginning when we used to play together, we swapped all the time—solos, arpeggios, and all of this," she explains. "Eventually, when we started playing rock festivals, because I was the one who played the chords and the beat, if I came back to a solo bit or something, there was not that beat—people were not jumping anymore, and it was like, 'Ah, we're losing the audience,' so I tried to become more the drummer of the band."
Jumping from a metal band in Mexico City to an acoustic guitar duo busking the streets of Ireland seems quite serendipitous and grounded in the kind of ideology they eventually discovered via nondualism. Circling back to Quintero's The Power of Now-influenced, pragmatic approach, she jokes that the decision was really quite simple. "Eventually, we were so internationally non-famous and miserable, we decided we're going to quit the band," she chuckles. "But we're not going to quit music. We wanted to travel the world. So, our new goal was to travel and play guitar."
YouTube It
While this live performance doesn't capture the duo's current blend of acoustic and electric sounds, it does afford a close-up look at their playing technique. In particular, check out Gabriela's right-hand approach, which is based on the traditional Irish instrument called the bodhrán.