Stompbox Gear Finds Fall 2022
Check out the ALL-NEW PRS Pedals and more in this edition of our Stompbox Gear Finds!
---
PRS Guitars
The PRS Horsemeat transparent overdrive pedal is designed to enhance your sound without coloring your tone. Horsemeat adds harmonic midrange richness and overdrives without cutting out your high notes – all while giving you more available headroom. It features a robust EQ section so you can dial in your tone and has a wide range of gain on tap. Depending on the setting, Horsemeat can be used as a clean boost, straight overdrive, or even enhance your amplifier's distortion by slightly pushing the front end of the amplifier's preamp section.PRS pedals were created to be high-end pieces of audio gear. Designed by PRS Guitars in Stevensville, MD, USA. Made in the USA.
Maestro Pedals
Maestro created the world's first fuzz pedal – the Maestro Fuzz-Tone FZ-1. Introduced in 1962, the Fuzz-Tone became the sound of rock and roll and a must-have accessory for guitarists everywhere after the success of 1965's (I Can't Get No) Satisfaction by the Rolling Stones, which prominently featured its cutting edge sound. Now Maestro is bringing the fun and sonic fury of those early Fuzz-Tones back with the new Maestro Fuzz-Tone FZ-M. This all-analog pedal boasts a Mode toggle switch that provides two pedals in one functionality for increased sonic versatility with both an FZ-1 inspired fuzz sound and a thicker, more modern fuzz tone. Its 3-knob control layout gives you intuitive control. The Attack knob controls the amount of fuzz. The Tone control lets you adjust the timbre from bright and raspy to warm and wooly and anywhere in between.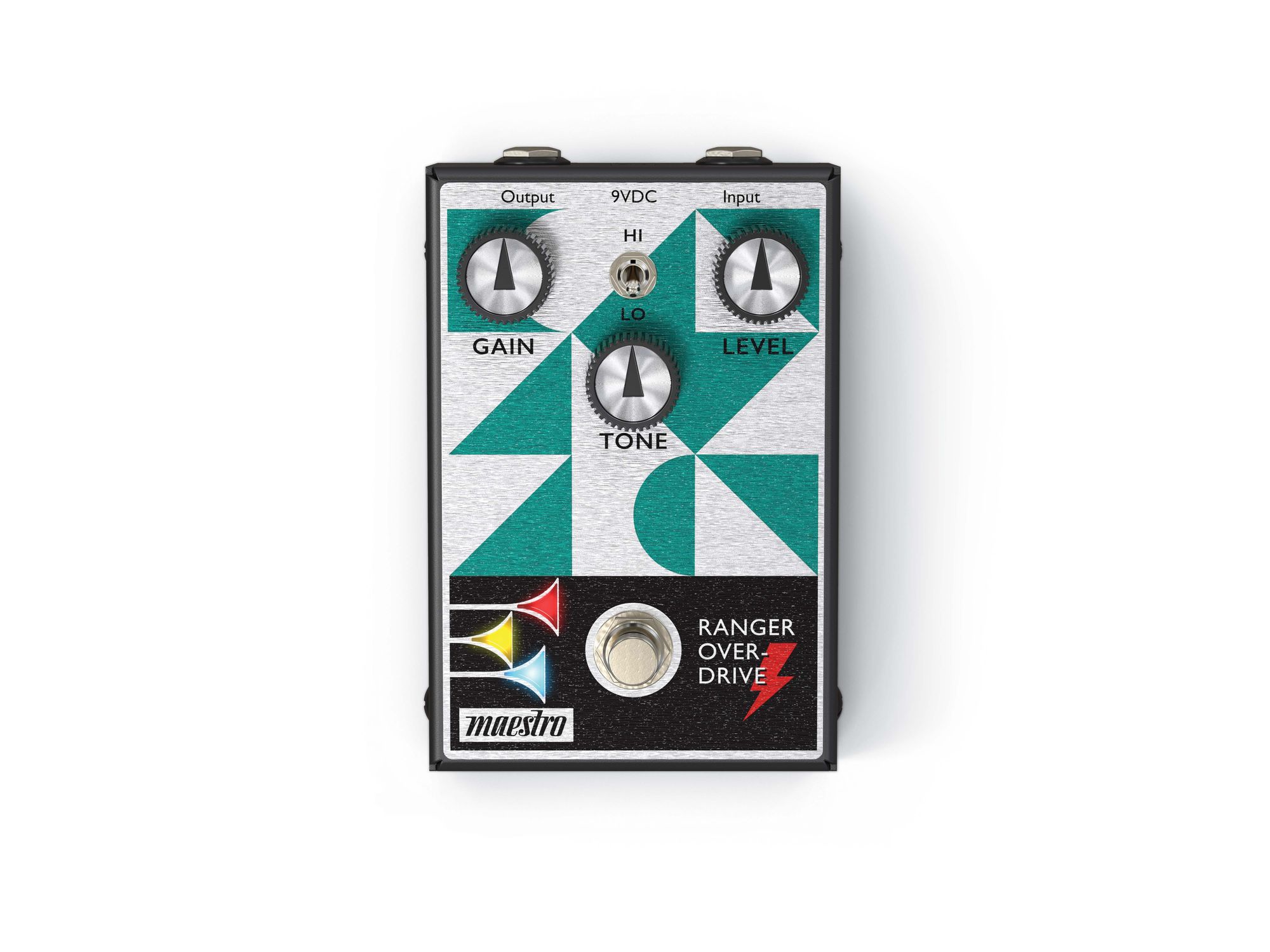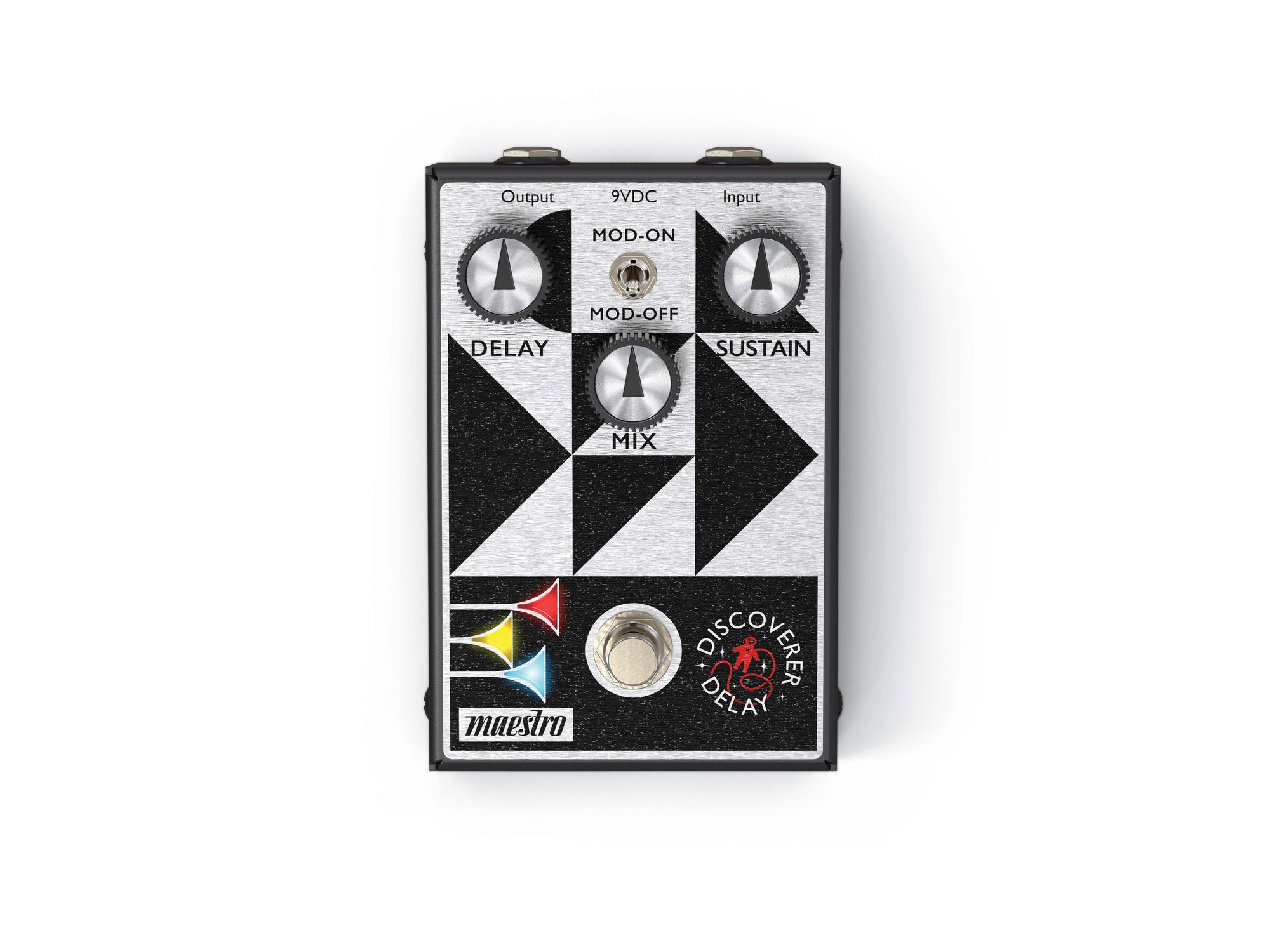 Tech 21
The SansAmp Character Plus Series celebrates the unique chemistry between specific historic amplifiers and specific historic pedals, and cleverly unites them together in single packages:

Screaming Blonde = Fender-style + Tube Screamer-style
English Muffy = HiWatt-style + Big Muff-style
Fuzzy Brit = Marshall-style + Fuzz Face-style
Mop Top Liverpool = Vox-style + Rangemaster Booster-style
Each of the individually-voiced Character controls sweep through an entire spectrum of eras within their particular amp style. Screaming Blonde tones range from the '50s Fullerton to blackface and silverface. The English Muffy spans from classic UK rock to prog rock. Fuzzy Brit goes from classic hard rock to all current rock genres. The Mop Top Liverpool embodies the British invasion through "Bohemian" rock.
These 2-channel multi-function pedals are each like having a stompbox within a stompbox. You can use the SansAmp amplifier emulation on its own or just the effect on its own. The all-analog SansAmps Character Plus Series pedals can be used as stand-alone pre-amps to drive a power amp, a studio mixer, or a PA system, or to complement your existing amp. Other features include built-in speaker simulation individually tuned to match each of the speaker/cabinet configurations associated with each amplifier type; 3-band active EQ, XLR Output, included 9V DC Power Supply. Rugged all-metal housing measures 7.75"l x 2.5"w x 1.25"h and weighs just 12 oz.
EARTHBOARD Music
Never before has an effects pedalboard been so effortless to build and painless to change or rearrange on the fly - So you can Focus on the Music, Not the Set-Up!

Our game-changing design incorporates Rare Earth Magnets ("cupped" so there is no risk to your pedals!) and a long-lasting Battery to give you the neatest, cleanest sounding and looking rig! All of the hassles of using a traditional board are gone. No more messy cobweb of cords and cables. No need to look for outlets and extension cords. No need to deal with dirty noise at gigs. Increase voltage and isolate those "picky" pedals without adding more mess and expense of separate power bricks and adapters. NO MORE SOUND OF RIPPING VELCRO!!!

Here's what's possible with EARTHBOARD:
- Your choice to use our Battery or AC Adapter
- Jacks are on both sides to accommodate YOUR style and the unknowns of the gig space
- All of our power supplies have built in circuit protection to safeguard your pedals
- Built-in cross board audio patch cable saves you money and the hassle of finding the right length cable to connect your top and bottom rows of pedals
- Ability to power large pedals off the board to maximize board real estate - make room for one more pedal!
- The built-in, under mounted, Blue LED lights enhance visibility and the "cool factor"
- Daisy-chain multiple boards and power them all with a single battery
- Rearrange or add pedals on the fly, between sets, in a matter of seconds
Large tour grade pedal board and flight case for 10-14 pedals with removable 24″x11″ pedal board surface and inline wheels

Features:
Pro-grade shock absorbing EVA foam interior
Removable pedal board surface 24" x 11"
Two (2) rubber-gripped handles for easy lifting in and out of the case
3M Dual Lock» hook and loop fastener for pedal installation
Cable and accessory storage under the removable pedal board
Retractable tow-handle and inline wheels
Plywood construction with aluminum edging to create a secure closure between lid and base
Protective ball corners at vulnerable points
Commercial grade Gator red signature hardware
Lockable latches
Spring-loaded rubber gripped handles
George L's Effects Cable Kits
Enhance the tone and clarity of your pedalboard with award winning sound.
The George L's effects kit.
The kit comes with 10' of cable, 10 right angle plugs and 10 stress relief jackets.
Available in black, vintage red and purple.
As easy as 1, 2, 3 no soldering!
Cut, poke and screw your way to 47 years of sound excellence.
George L's
No machines, solder baths, or PCBs, honoring the traditional way pedals were labor-intensively constructed in the '60s.
Hylight Electronics' designers turn their hands to productions of HyFuzz MK I, HyFuzz MK II, and GENX MK I.
We at Hylight UK are proud to announce the production of 3 x fuzz pedals based on a combination of classic fuzzes infused with modern touches. All the pedals are point-to-point hand-wired, with the very best quality components. No machines, solder baths, or PCBs, honoring the traditional way pedals were labor-intensively constructed in the '60s. This ensures reliability, attention to detail, and military precision in building a truly road-worthy pedal.
GenX MK I
A modern take on a classic tone
Variable bias filter allows for greater soundscapes of tones: from a lagging breakup to ultra-smooth fat sustained fuzz.
The Generation X fuzz is housed in a large, robust casing, reminiscent of today's Moogerfooger pedals, just without wooden sides. Three controls are on the top, labeled Fuzz Sustain, Output Level, and Filter. Generation X pedals will produce distorted fuzz tones based on the sound of the grunge bands of the 90s. Its edgy and smooth sustain will cut through any song. GENX MK I features 3 x handpicked NOS OC81 transistors. The added Filter control varies the voltage fed into the transistors thus changing the tone from smooth to a more aggressive character. Made in zinc-plated Wine Red powder finished case with
HyFuzz MK I
Mk I fuzz uses original germanium OC81D transistors specifically selected by Hylight to offer the correct output frequency and consequently the ideal fuzz tone. Everything is here from a slight 'push' in guitar output to all out sustained fuzz. Use the guitar or the pedal's Output to dial back the signal and bring out the real nuances of your playing and tone. The sound will likely be authentic and akin to the old Original 1965 Fuzz mixed with Studio 2 stompbox as used by The Beatles at Abbey Road. This fuzz will work amazingly with the dialed drive of a Hylight amp to produce in-your-face distortion with a classic sustain found on well-known records. Made in a zinc-plated Gold Green powder finished case with diagonal gold Hylight Logo and function descriptions. MK I features 3 x handpicked NOS OC81 transistors. Powered by a 9V battery or by 9V Power Adapter.
HyFuzz MK II
The re-designed model of the HyFuzz MK II pedal provides constant sharp-dressed suppa fuzz with endless smooth sustain which would work great with guitar harmonics. MK II features 3 x handpicked NOS OC75 transistors. Again, using original germanium transistors, the MK II uses OC75 model Q's to give a highly saturated output level of fuzz that is both thick and defined. As with all the Hylight Fuzz series, these pedals are designed for the player in mind, be it in the studio, at home, or live. The MK II offers the player a kaleidoscope of potential sounds. Made in a zinc-plated Dark Grey powder-finished case with silver Logo and function descriptions. Powered by 9V battery or by 9V Power Adapter.
For more information, please visit hylight.co.uk.
This signature Stratocaster guitar is not only an homage to a player whose guitar-playing style is as technically proficient as it is emotionally evocative, but a celebration of Lacy's indelible impact on culture at large.
Fender Musical Instruments Corporation(FMIC) today announces the launch of the Steve Lacy "People Pleaser" Stratocaster, a collaboration with California-born-and-raised Grammy-winning artist, guitarist, songwriter, and producer Steve Lacy. This Signature Stratocaster guitar is not only an homage to a player whose guitar-playing style is as technically proficient as it is emotionally evocative, but a celebration of Lacy's indelible impact on culture at large. Named for his trailblazing reputation, crowd-pleasing sounds, and stage looks, the "People Pleaser" Stratocaster showcases Lacy's evolution from a hungry musician into a chart-topping artist and guitarist.
Rising to fame in 2015 as part of the alternative R&B and soul band THE INTERNET, the singer/songwriter, guitarist, and producer has established himself as one of the music industry's foremost innovators–blurring genre lines while keeping a keen focus on expressive musicianship. Since his earliest days, Lacy has collaborated with notable artists such as Kendrick Lamar, J. Cole, Solange, and Vampire Weekend, and has made a name for himself in the couture world when he walked the runway for high-end fashion houses including Louis Vuitton and Gucci. Lacy's first chart-topping solo hit, "Bad Habit," was released in 2022 as the lead single from his Grammy-winning second studio album Gemini Rights. Now, marking the next milestone of his career, Lacy's signature Fender Stratocaster combines his stylish swagger and undeniable musicality, celebrating a career built on subverting expectations and inspiring a new generation to challenge conformity and establish a sonic palette entirely their own.
"This guitar means so much to me. It's a full-circle moment. My first guitar was a Squier Strat. It was the box set that came with an amp, case, quarter inch-the whole 9. Now I have my very own FenderStratocaster guitar," said Steve Lacy. "The People Pleaser Strat, in a nutshell, is my dream guitar as a kid when I first started playing and my dream guitar as the guitarist I am today. An ode to the old classic design that Fender is known for with all the new specs that make a guitar feel like home. I hope everyone gets to experience the feeling of this guitar. I'm excited to see what people make with it."
The "People Pleaser" Stratocaster is designed with a keen focus on innovation and disruption. Lacy's playing is rooted in robust melody and razor-sharp technicality, but his chord changes and lead playing never conform to any tropes or norms. Thanks to the People Pleaser's broad tonal range and clear, crisp sound, guitarists everywhere can tap into that same boundless creative space that has made Lacy the eminent artist he is today. The soul of the instrument is its magical combination of Player Plus Noiseless pickups and onboard custom-voiced Fuzz circuit, which can create classic dirty tones ranging from overdrive to all-out fuzz. Raw and gritty with heavy distortion and rich harmonics, the custom-voiced Steve Lacy Chaos Fuzz circuit is both aggressive and expressive with sparking crystal-clear high ends, throaty mids, and taut deep lows. Whether you are seeking to emulate Lacy's warm, oaky timbres and smooth chords or conjure your own personal chaos with the expressive Fuzz circuit, The Steve Lacy "People Pleaser" Stratocaster keeps your guitar at the forefront of the music-making process.
Finished in a brand-new "Chaos Burst" finish that Steve dreamed up, the unique colorway is an embodiment of the guitarist's extraordinary tones. Modeled after Steve's favorite vintage Fender®guitars, the "People Pleaser" Stratocaster®features hallmark Fender design elements from its alder body and synchronized-tremolo to capture the ineffable magic of a well-worn instrument, though it's also loaded with modernized features players seek to create their own singular sound. Giving the instrument a distinctly personal feel, the custom neck plate is stamped with Steve's original artwork and the backplate has a unique blue and green checkered pattern, which ties the vibrant model together. Finally, a custom dice inlay provides a subtle, visual motif to denote Steve's signature touch. Ahead of its official debut, eagle-eyed fans even caught a glimpse of the signature guitar during his recent SNL and Grammys performances, as well as on stage at his latest tour.
In true tradition, Fender's Artist Signature Series honors iconic musicians through product progression and storytelling, creating instruments inspired by the unique specifications of the world's greatest guitarists and bassists. "We aimed to design a guitar that not only represents Fender's unwavering dedication to quality but also mirrors Steve's distinctive character and individuality," said Justin Norvell, EVP of Product at FMIC. "Steve is a longtime collaborator and fan of the brand, and Fender is proud to introduce one of our most innovative designs to date, which includes a brand-new chaos burst finish, that matches his eclectic personality, and a powerful integrated custom-voiced fuzz circuit, that delivers aggressive distorted tones for howling chords and solos."
To celebrate the launch of the Steve Lacy "People Pleaser" Stratocaster®, Fender created a multi-faceted campaign including out-of-home elements that exemplify Steve's impact on culture, a first for the brand. Residents and music fans in Los Angeles, New York, and London can expect to catch wild postings advertising the signature model at some of the busiest intersections in their cities for the next three weeks. Those attending concerts put on by Live Nation in Los Angeles and New York will have the opportunity to catch ads showcasing the "People Pleaser" across 33 shows. New Yorkers can see ads on 85 LinkNYC boards around music venues and stores throughout Manhattan and Brooklyn, while in Los Angeles, Steve will grace one of the city's largest digital billboards, located blocks from the Crypto.com arena.
Additionally, the campaign will kick off with a stylized visual, starring Steve and his signature model guitar. Filmed by videographer Tino Shaedler, and photographed by previous Steve Lacy collaborator, Mason Rose, 'THE PEOPLE PLEASER' film commemorates Steve's knack for being a crowd pleaser with his bona fide stylistic choices in sound and dress. The film also underlines Fender's withstanding ability to delight the next generation of guitar players in unexpected ways and create models that champion style, without sacrificing the brand's quintessential quality or sound.
"Steve's unique sound and style have distinguished him as one of the leading artists of the new generation, who keep the guitar's role in music and culture exciting and relevant," stated Evan Jones, the Chief Marketing Officer at FMIC. "Inspired by Steve, the 'People Pleaser' Stratocaster is designed to captivate audiences and appeal to guitarists seeking a unique instrument that stands out in their collection."

MSRP: $1,399.99 USD
For more information, please visit fender.com.
Exploring the Steve Lacy "People Pleaser" Stratocaster | Artist Signature Series | Fender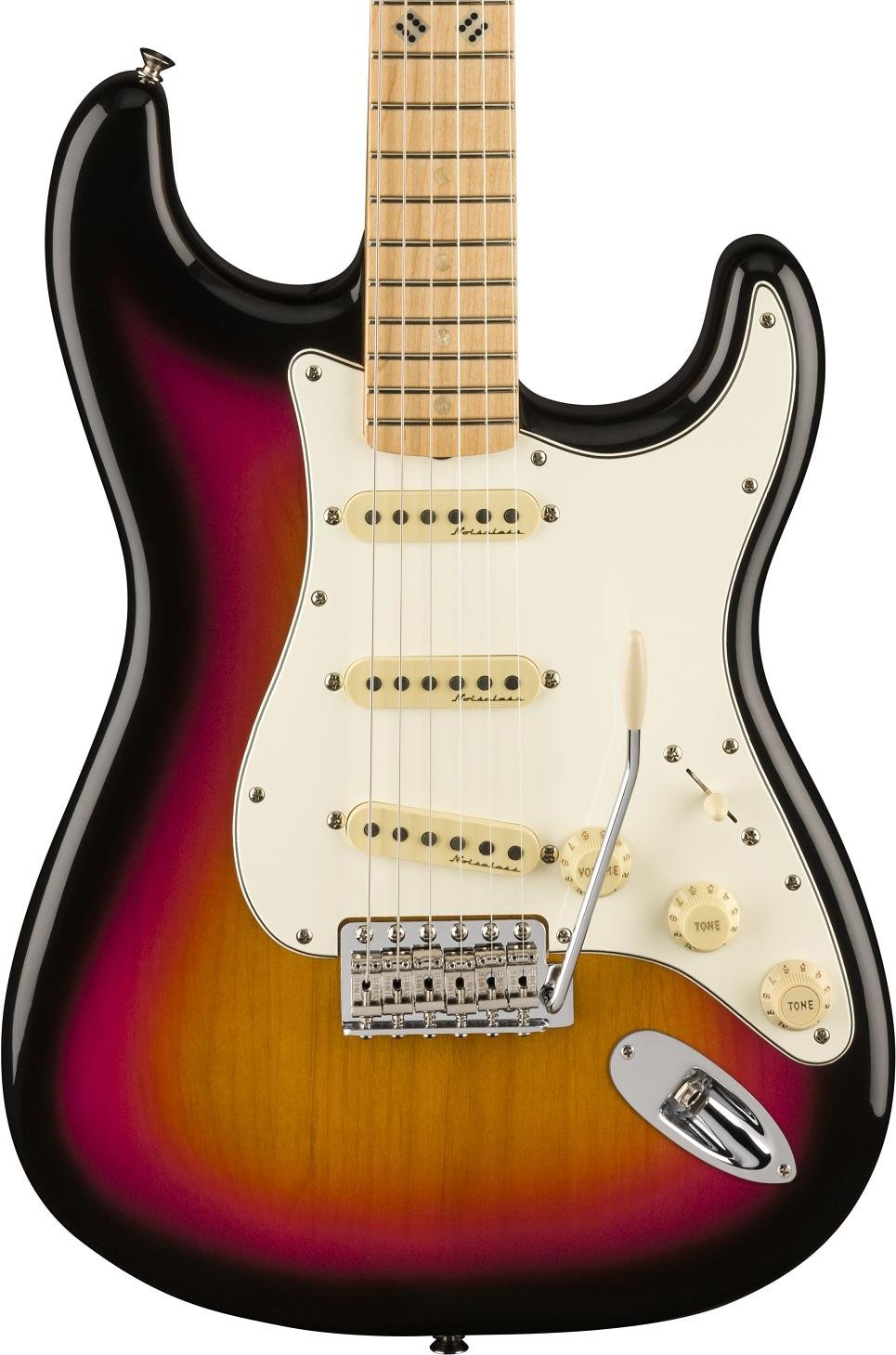 S. Lacy People Pleaser Strat, MF, Chs Brst
Fender
Illustration by Kate Koenig
Relief for the tube shortage is ahead, but it's happened before and could happen again. Here's the practical—and geopolitical—long view.
"Think about the American and British rock bands trying to get into the Cold War Soviet Union to play rock music that Soviets had never heard—through their British tube amps, with tubes manufactured in Russia."
That quote, from Sweetwater Senior Category Manager for Amps and Effects Darren Monroe, sums up how much culture and politics can impact every note you play. And that's especially true regarding tubes. Let's start with some deep background.
A Brief Post-War History of Tubes
Until the mid-1950s, the vacuum tube ruled the world of electronics. If something needed amplifying, there were countless high-quality variations to choose from. They were in TVs, radios, record players, etc. The world's armies even got into the game, demanding military-spec options that continue to be among the most sought-after tubes today. So, the little glowing bottles were in high demand, and the industry thrived. But things were about to change.
Seemingly overnight, the solid-state transistor became the go-to platform for countless electronic products we still use today, literally changing the world. They were cheaper to make, smaller, more efficient, and more reliable. They also offered pure, uncolored sound—precisely what you want in a great stereo system.
Mike Matthews, the founder of Electro-Harmonix, had the foresight to acquire tube manufacturers, starting in the early 1990s, and today the brand names Tung-Sol, Electro-Harmonix, EH Gold, Genalex Gold Lion, Mullard, Svetlana, and Sovtek are all under the company's umbrella.
Photo by Mike Chiodo
The First Tube Shortage
The demand for vacuum tubes dried up quickly. Factories that used to produce thousands of tubes daily had to close their doors as they watched orders disappear. Tube manufacturers all but vanished entirely from the U.S. Of course, guitarists still wanted their tubes, but, as Dave Friedman, owner/designer of Friedman Amplification, explains, there weren't nearly enough 6-stringers to keep the giant industry afloat.
"The guitar tube market is really small in the scope of the tube industry," he says. "Tubes used to be used in a variety of things, so these huge factories [suddenly] had no demand. They basically became obsolete. That's when Mike stepped in."
Friedman is referring to Electro-Harmonix Founder and President Mike Matthews. A legend in the musical instrument industry, Matthews helped write the template for many electric guitar effects pedals. His iconic designs—including the Big Muff, the Memory Man, the Electric Mistress, and the POG—are still going strong today. But many guitarists don't know that Matthews is a massive presence in the world of vacuum tubes for guitar amplification, and helped save the industry.
It all started with the crumbling Soviet Union. "I took a rock 'n' roll band to Russia in '79 for the first exhibit they opened to companies around the world for consumer products," Matthews recalls. "Only two companies from the U.S.A. went: us and Levi's. And when I was there, I started thinking about how I could buy products from Russia [to import in the U.S.]."
"The EL34 everyone was using was the German Siemens tube. And in '90 or '91, those tubes went away. There were no other EL34s being made." —Dave Friedman, Friedman Amplification
With his background in effects pedals, Matthews was familiar with integrated circuits (ICs), and dove head-first into importing Russian versions at 15 cents each. He says he made "a killing on them!" But it was only a short time before another trip east, and a respected friend's approval, inspired the switch to importing tubes.
"In '88, I saw vacuum tubes on the wall at the Ministry of Electronics [the Soviet Union's state-run organization responsible for research, development, and production of electronic and electrical devices, from 1965 to 1985]. I took samples to Jess Oliver [famed amplifier designer and former vice president of Ampeg], and he said, 'They're good!' So, I got early customers like Peavey, and the tubes took off!"
But the U.S.S.R. was failing, and panicked Soviet authorities demanded he commit big or leave it all behind. "Because the Soviet Union was starting to fall apart, the companies that made the tubes defaulted on their loans," he explains. "So, the Russians told me that either I had to buy the factory for $500K or they'd sell to Groove Tubes. So, I sorta had to buy it." And then he was in the vacuum tube manufacturing business for good.
"It has been a big deal," says Sweetwater's Darren Monroe. "In some cases, we even had to take products off the web."
Building Back the Biz
The early '90s were another dark time for the vacuum tube industry. Though Matthews was hard at work building his tube operation, he was far from full-strength, and other tube manufacturers continued to disappear. It got so bad that many of the day's most famous amplifier designers adapted their amps for whatever tubes were available.
Friedman remembers, "When I started in the industry in '88, Sylvania tubes were around but coming to an end. The EL34 everyone was using was the German Siemens tube. And in '90 or '91, those tubes went away. There were no other EL34s being made. Mike Matthews was just starting, so for a short time, everyone switched to the Sovtek 5881, which was a Russian military tube. Even Marshall had 5881s in their amps. EL34s didn't exist!"
Thankfully, there was hope. As Matthews' tubes were coming online, Svetlana (who would later be purchased in 2001 by Matthews under the name New Sensor Corporation) emerged as a player in the tube game.
Then came tubes from China. "Slowly, Svetlana came out, Mike came up, and then some Chinese EL34s showed up," recalls Friedman. Availability stabilized with the entry of Chinese mega-manufacturers Shuguang and Psvane in the international marketplace. In Russia, Matthews grew to absorb the brands Tung-Sol, Mullard, and Sovtek, too. Also, newcomer JJ Electronic showed up in the early '90s. They earned a name for quality and reliable tubes made in Czechoslovakia, and, after the division of that country, Slovakia.
The world now had sufficient vacuum tube manufacturers to furnish guitarists, amp builders, and retailers everywhere. For nearly 30 years, you could get almost any tube from countless retailers and distributors. That changed in 2020.
"At the end of 2019, the Chinese government told Shuguang, 'we're closing you down.' To make things worse, I don't know if they will be able to open again. They lost all of their skilled workers."—Mike Matthews, Electro-Harmonix
The Current Shortfall
If you've shopped for new tubes in the last couple of years, you might have noticed strikingly few options available, and even more striking price tags on some of the ones that were. Yes, the current tube shortage is real. Guitar amp builders and retailers haven't been able to rebuild their stock of tubes.
Why? The current shortage began in late 2019/early 2020, when China's Shuguang factory—then the world's largest tube manufacturer—shut its doors seemingly overnight. The loss of Shuguang put the tube industry on its heels in a big way, plus the pandemic was looming right around the corner.
"That was big," acknowledges Matthews. "At the end of 2019, the Chinese government told Shuguang, 'We're closing you down.' To make things worse, I don't know if they will be able to open again. They lost all of their skilled workers."
Very few in the industry know the real reason Shuguang was shuttered. Still, with the Chinese government's penchant for secrecy, theories abound. According to Matthews, the Peking government wanted the factory's land. Friedman, though skeptical, heard a different story. "They had a fire a while back, but who knows if they were lying," he says. "Anyway, their whole process still isn't back. Right now, there is only New Sensor Corporation, JJ, and Psvane. Those are the only manufacturers [although their tubes are sold under many brand names]. So, all your tubes are only coming from three sources."
"The guitar tube market is really small in the scope of the tube industry," says Dave Friedman. "Tubes used to be used in a variety of things, so these huge factories [suddenly] had no demand. They basically became obsolete. That's when Mike stepped in."
Fast forward to today, and the world continues to deal with Covid, labor shortages, international tensions, and all-out war. Varying government ideologies snarl and confuse the production of countless products, and importing and exporting of many products has ground to a halt.
While the Russia/Ukraine war and its political ramifications haven't officially stopped Matthews and Russian tube production, they have introduced nearly insurmountable challenges to his ability to export goods. Matthews believes this explains the massive price increases, noting, "Western countries have high tariffs on things from Russia, so the costs are up."
"A tube that used to wholesale for $9 now wholesales for $18," adds Friedman. "Some 12AX7s are selling at retail for $30 or something! The wholesale side is not much less than that. Russian tubes are kinda off the table at this point."
The two vacuum tube manufacturers that remained open for business with no limitations were JJ Electronic and Psvane. But both have struggled to keep up with demand. It got so bad that, according to Friedman, "JJ were so back ordered that they hadn't taken any new orders for a couple of years."
"A tube that used to wholesale for $9 now wholesales for $18. Some 12AX7s are selling at retail for $30 or something! The wholesale side is not much less than that."—Dave Friedman, Friedman Amplification
Tube Supply Today
The tube shortage has weighed heavily on the entire guitar industry for a couple of years now. Labor shortages and trade tariffs are a major headache for tube manufacturers, amp builders can't finish their products, and guitarists can't keep their amps in working shape. Much of this comes to a head at music retail.
"It has been a big deal," Sweetwater's Monroe says, sighing. "In some cases, we even had to take products off the web. There was no way we could deliver. We even explored buying a container full of tubes and getting our own tube-matching equipment. But that was such a huge task that we decided not to do it."
For large retailers, the problem is twofold. They must have after-market tubes for their customers. Plus, they understand the need to allocate tubes to amp manufacturers, ensuring the tube shortage doesn't also become an amp shortage. If tube amp builders don't have tubes, they're out of business.
"It's a difficult needle to thread," Monroe says. "There are a lot of tube amp users out there that need to service their existing amp. We can't provide that because all the tubes are going to new amps. Yeah, we want to sell more amps but, at the same time, we want to take care of those customers."
According to Mike Matthews, making tubes in the U.S. ""would cost something like 500 to 600 percent more. The environmental and labor considerations…. It's a handmade business, and the costs are just way too high."
Photo by Mike Chiodo
The Cost Factor
Other than JJ Electronic, nearly every vacuum tube today originates from Russia or China. In the '70s and '80s, both were promising markets on the global stage. But today, both countries have volatile political climates and have economically distanced relationships with the U.S. that makes trade, including the tube trade, much more difficult and expensive. So, many guitarists in our hemisphere are asking, "Why not just make tubes here in North America?"
Matthews wades in: "You can't make them in the U.S.A. It would cost something like 500 to 600 percent more. It's just much too expensive. The environmental and labor considerations…. It's a handmade business, and the costs are just way too high."
With the U.S. being a no-go, what about other industrialized countries that manufacture high-quality products while still keeping costs down? Could we produce tubes in Mexico, Indonesia, or Taiwan?
Again, Matthews says no. It's just too skilled-labor intensive. "It's a handmade thing. A machine can't just make the whole tube," he explains. "There are a lot of different parts that go into one tube. Each of those parts is made separately; then, the whole tube is put together. Tubes require people who have those skills."
"But it's a lost art," Friedman adds. "Almost no one knows anything about tubes anymore or how to build them. All the people that did are dead now. It's like how houses used to be hand-troweled plaster. Try and find a plasterer today who can do that work. They almost don't exist. Stuff gets lost over time."
"I mean, there are still a lot of tube amps that are sold. If there's a demand, they'll fill the void."—Dave Friedman, Friedman Amplification
Emerging Optimism
Just when things are looking very dark, there is a faint light at the end of the tunnel. JJ Electronic is still at it and should accept new tube orders soon. Matthews' New Sensor Corporation fully expects to make it through Russia's current political climate. There are even rumors of Chinese powerhouse Shuguang returning.
"I think things are improving," Monroe says, optimistically. "We're hearing, 'We're getting more tubes in,' and, 'We're going to be able to supply you with tubes.' So, hopefully, for anyone that couldn't get tubes through us, we'll have their tubes in stock soon."
Also, tubes never entirely went away. Look at any large retailer and you'll find a selection of EL34s, 6L6s, 12AX7s, and more. Your choices might be limited, and the prices higher, but they're there. Why? Because the industry saw this coming, reached out to their suppliers, and prepared accordingly.
"We started talking to the Psvane company early," says Friedman. "We were set up with them and in a good position when this all happened."
"Guys like Mike Matthews did tell people early on, 'I'm getting shut down. I'm not going to be able to deliver these,'" says Monroe. "That created a bit of a panic at the time. So, we were able to order ahead and keep sales going."
Amp Makers Adapt to Survive
Amp builders have been able to adjust to availability the same way they always have—by embracing different tubes and brands. While the name on a tube might say Sovtek, Mullard, or Mesa/Boogie, there's a good chance it was made in the same factory. And amp builders, unbeknownst to most guitarists, often jump from one brand to another to ensure their customers get the best-sounding and most reliable tubes currently produced.
Friedman explains: "Look, tubes have to sound great, but they also have to be reliable. That's why I've changed tube makers several times over the years—because of reliability issues. So, whatever amp brand is on a tube [in our amps], it's just whatever tube deemed the most reliable for right now. And that's changed a million times over the years."
While Friedman thinks each tube has its own magic, he also believes that right now there are better ways to spend your tone-chasing money. "There's a big variety of tubes," he says. "They have their own gain levels and tone. They all have a sonic signature, and you need to find out what you like. But I'm of the mind, 'Don't swap your tubes if they're working.' And, if you have an amp you like, figure out what's in it and replace them with the same tube. Just look for a well-tested tube from a reputable source. There are a lot of great tube matching/screeners out there. So, know what you're going for and get a screened tube that has a warranty."
"I mean, there are still a lot of tube amps that are sold. If there's a demand, they'll fill the void."—Dave Friedman, Friedman Amplification
The Future of Tube Amps
Although we seem to be emerging from the tube shortage, if history does repeat itself, this won't be the last time it happens. Also, let's not forget the rise of digital modeling and the new generation of solid-state amps that approximate tube tone that have entered the market in recent years.
This leads to the question, "Is this the end of the electric-guitar tube amplifier?" Not according to both Friedman and Monroe. "There is enough of a market that tubes will continue. There's still money on the table," Friedman says matter-of-factly. "I mean, there are still a lot of tube amps that are sold. If there's a demand, they'll fill the void. And remember, they asked the same thing in the early '90s. It happens over and over again."
"Tube amps are as hot as ever," echoes Monroe. "I've been in purchasing for a long time at Sweetwater, and there are just too many amps out there. Someone is going to find a way to keep them going."