2009''s award-winning gear - all in one place! Read our picks for awards in these categories: Small Package-Big Tone, Two-for-One, Tons O''Tones, Toe-to-Toe, The Kitchen Sink, Artisan, Fresh Approach, Redux Deluxe, Tone Enhancers and Nice Price.
As the end of another year approaches, it's time to look back over the huge collection of great gear we've checked out since our first award issue last December. It's been quite a year for us, and an interesting year all around for guitarists and gearheads of every stripe. Economic woes may have put a damper on the grand plans of buyers and sellers alike, but the gear … the gear that came our way this year was every bit as cool, innovative, beautiful, ingenious, exceptionally crafted and great sounding as it was the year before. We've seen the continued growth of numerous trends and the ever-increasing competition to provide guitar players with equipment that gives them what they need. It's safe to say that although things may have slowed down somewhat, and many changes may be in the works, we're still in the middle of a golden age of gear.

In the spirit of not fixin' what ain't broke, we've left the format largely intact from last year, so you'll recognize most of the award categories. Of course, like any self-respecting group of detail-obsessed gearheads, we couldn't resist the temptation to make a few tweaks here and there. We decided to forego a few of last year's categories and we've introduced a few new ones.

Without further ado, we present the 2009 Premier Gear Awards…



Good things come in small packages. It's one of the oldest clichés in the book, so it should come as no surprise that good tone can also be had from a seemingly diminutive unit. 2009 was a BIG year for that, and these are the best of the … shall we say, unhuge.
Komet 19


A "portable powerhouse" with loads of versatility and personality. That's how reviewer Steve Ouimette described the Komet 19 amp head back in our September 2009 issue. Komet has made a very nice name for itself with its high-quality components and construction, and its custom-designed output and power transformers. It took all of that know-how and neatly stuffed into the Komet 19, and the result blew Ouimette away. "It reacted like the power and punch of a Marshall Superlead mixed with the chime and sparkle of an AC30," our reviewer gushed. "And it was loud and incredibly dynamic, with the loudest strums nicely breaking up into great a crunch tone. It belies its size with a gigantic range of tones that let your instruments' true personalities sing."
MSRP $2295
kometamps.com
Read the full review...

---



Blankenship Amplification Mini-LEEDS21 Carry-On

Imagine getting punched out by the smallest kid on the block. The Carry- On, part of Blankenship's LEEDS21 series of amps, does just that—and more. It was designed to be a small, lightweight amp that guitarists can lug around without breaking their backs, or losing any tone or wallop. The Carry-On succeeds in both areas, delivering a powerful voice quite uncommon for an amp its size. As reviewer Brian Barr puts it, the Carry- On is "the lunch-box version of a Marshall Plexi … voiced for the classic British tone of the '60s, but with modern updates that may make some enthusiasts think twice about leaving the house again with their prized vintage amp."
Street $1499
Blankenshipamps.com
Read the full review...

---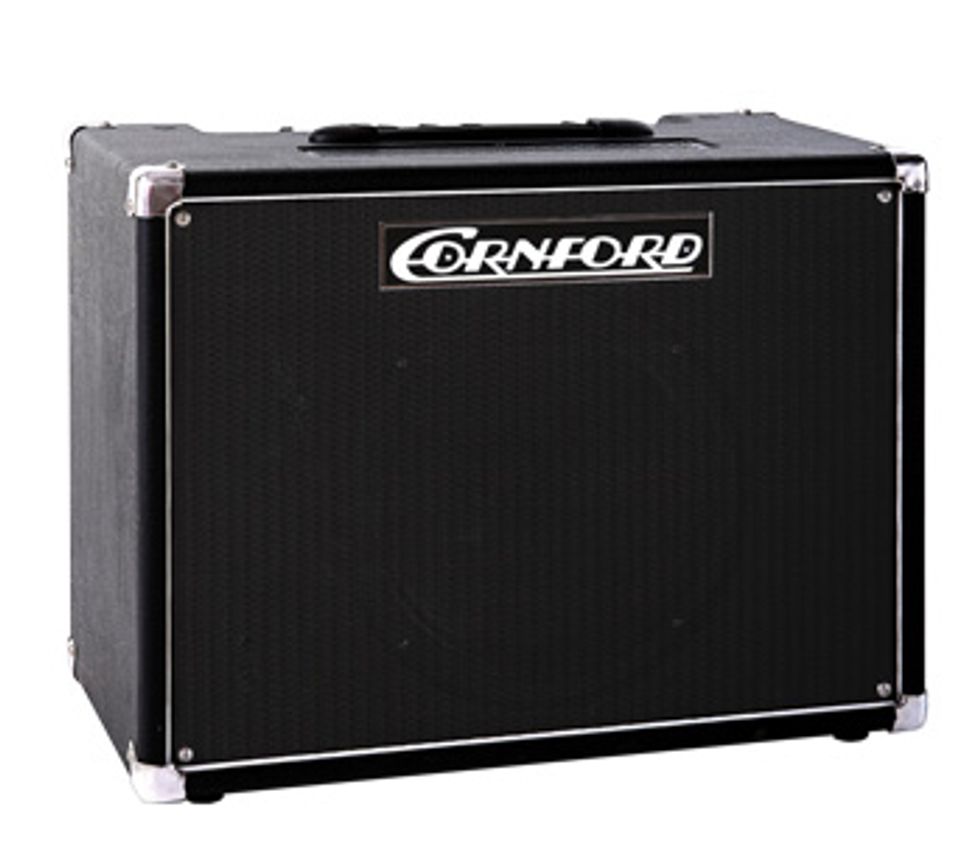 Cornford Roadhouse 30 Combo



Cornford has been making amps for quite some time now, though never have they tried to compete within the ever-growing horde of endlessly shrinking amps—that is, until 2009. And little did anyone know they'd raise the bar as high as they did with their Roadhouse 30 Combo. Although slightly bigger than most of the competition is this class, the Roadhouse Combo (June 2009) wins out handsomely by pushing 30 watts of sonic dynamite through a 12" Celestion Vintage 30. Reviewer Kenny Rardin said, "I found the Cornford Roadhouse 30 combo to be a great amp for those looking for a professional-quality tone without the weight. It's a small package with a big tone, and it would serve the needs of almost any type of guitarist. Whether it's blues or screaming, harmonic-laden riffs, this amp seems to do it all very well."
Street $1499 (Combo); $1399 (Head)
cornfordamps.com
Read the full review...

---



VOX Night Train NT15H Head

Big sound got really small in 2009, and one of the most anticipated "small" releases was the VOX Night Train NT15H. Suffice to say, it didn't disappoint. VOX's storied past met head on (no pun intended) with today's trend to pack as much technology and punch into ever-shrinking enclosures, and the result was sweet music to our ears. Reviewer Jordan Wagner (August 2009) summed it up this way: "It's not often that you find a small-wattage head with cleans that can compete tonally with some of its larger wattage brethren, and also be as capable and convenient for gigging. It's certainly the best sounding small-wattage clean tone that I've heard so far. Coupled with a fantastic overdrive that seems like an entirely different amp itself, the Night Train is really hard to beat if you're in the market for a low-wattage amplifier." 'Nuff said.
MSRP $700
voxamps.com
Read the review...
Watch the video review...

---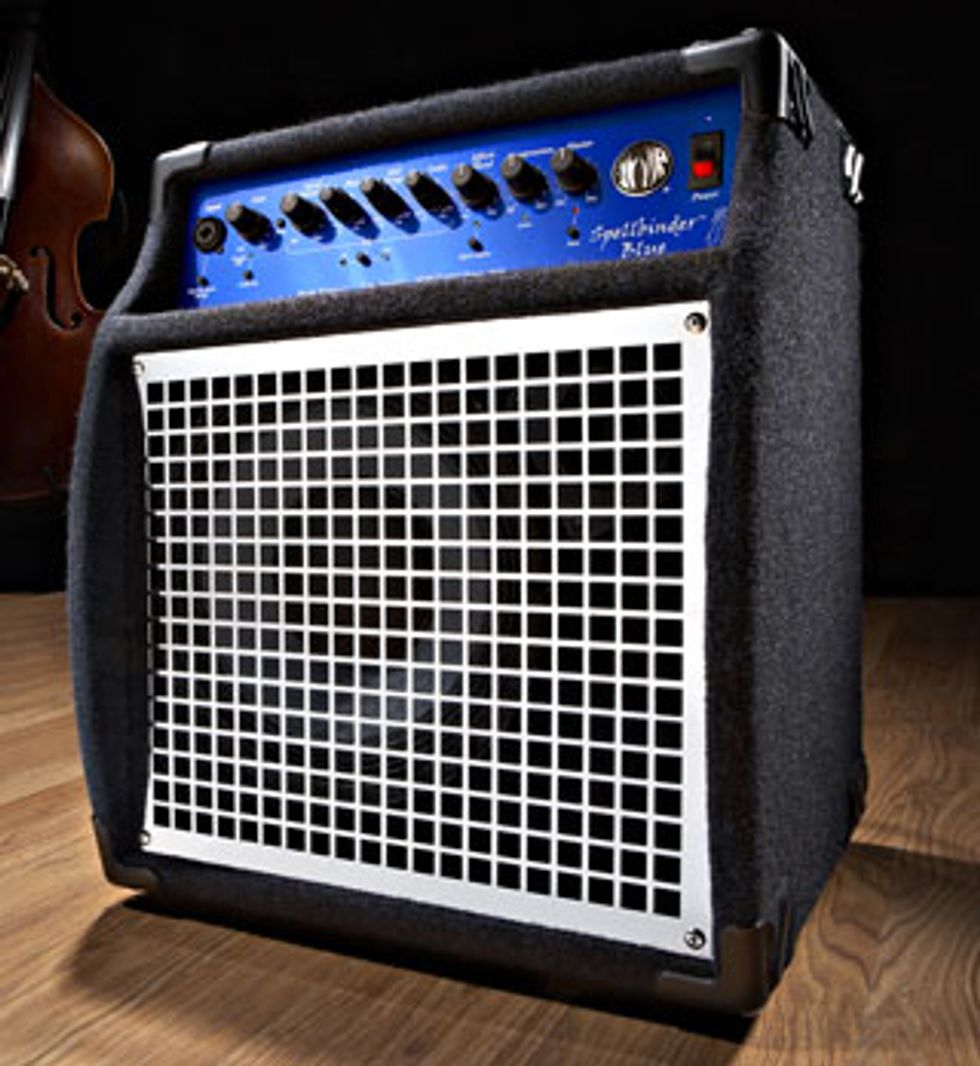 SWR Spellbinder Blue



If you thought big tone in a small package was limited only to guitar amps, think again. SWR blew away bass aficionados with its amazing Spellbinder Blue—a powerhouse of a bass amp run by a 160-watt Class D power amplifier thumping sound through a single 10" SWR-Designed Eminence Neodymium Driver and a Customer Eminence Supertweeter. It doesn't get much better than that, and reviewer (and noted Nashville bassman) Sean O'Bryan Smith (February 2009, web exclusive) agreed: "Take my word that this is a LOUD 160 watts. Even at pushed volumes the sound is articulate and full. The user-friendly features coupled with extreme portability are sure to entice players of all styles. Studio musicians and jazz players especially will love how easy it is to dial up a big sound in a small package."
MSRP $1499
swrsound.com
Read the review...

---


Mountainking Electronics Megalith

Big tone in a small package doesn't have to just be limited to the world of amplifiers. Mountainking Electronics delivered the goods in a stompbox-sized package with a "massive sounding Fuzz/Distortion Pedal that will leave you shaking in the wake of its destructive path," wrote reviewer Brian Barr (November 2009). He wasn't kidding. The Megalith lets you dial up a slew of killer fuzz/distortion combinations that may just cause you to neglect your other fuzz pedals. It was definitely a worthy recipient of our recognition.
Street $265
myspace.com/mountainkingelectronics
Read the full review...



We're suckers for those deals where you buy one and get more than one, whether it's burritos, haircuts or belts. When it's two award-caliber pieces of gear in one package, we're over the moon. The new Two-For-One award is presented with gratitude to two pedals that gave us the best justification for a new gear purchase.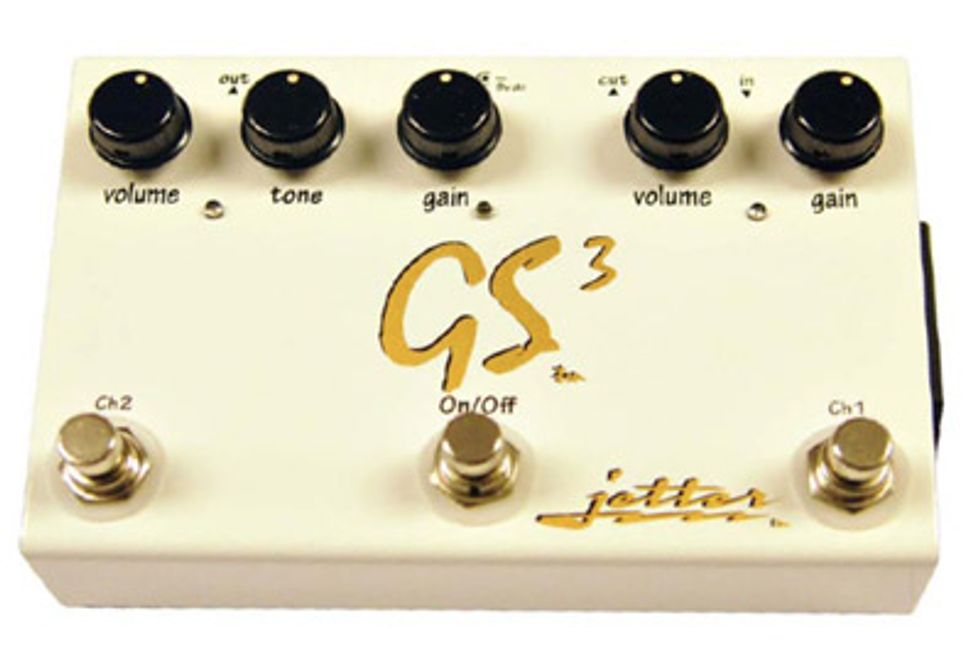 Jetter GS3 Dual Overdrive

We've all done it … running one overdrive into another to have three tonal options available. The Jetter GS3 (October 2009) simplifies things significantly—giving you two distinct overdrives in the same housing. Michael Ross described Channel 1 as ranging from "a clean boost that was virtually indistinguishable from the original British sound of the Orange head" to an "excellent dynamic breakup that responded to every variation of guitar volume knob or pick pressure like a $3000 boutique amp," and Channel 2 as "more aggressive than Channel 1… though not into serious metal territory." Using both yielded "an almost infinite variety of distortion sounds from Dumble to Plexi."
Street $289
jettergear.com
Read the review...
---


PedalworX Cool Machine

The wah and auto-wah modes in the Cool Machine (November 2009) provides two wildly different mods. Using the pedal as a regular wah gives you "sweet, vintage wah tones and super quiet function," wrote Steve Ouimette. There's also a "Q" setting to deepen the tone … a lot. Using the auto-wah feature, Steve "was able to pull out slow Uni-Vibe and faster Leslie-like tones with ease—and even some early Jimmy Page-style 'Dazed and Confused' sounds without a trip to the foot doctor!" The speed of the auto-wah is controlled by a knob on the side of the pedal, and displayed by a flashing red LED, so you can lock in the tempo.
Street $259
pedalworx.com
Read the review...



A computer is versatile office tool. A bear is a versatile hunter. Likewise, the gear listed below is as versatile as it is impressive. Its builders either knew no boundaries, or reverted back to tried-and-true methods to achieve a new standard. Whatever the case, you won't be disappointed… trust us.
---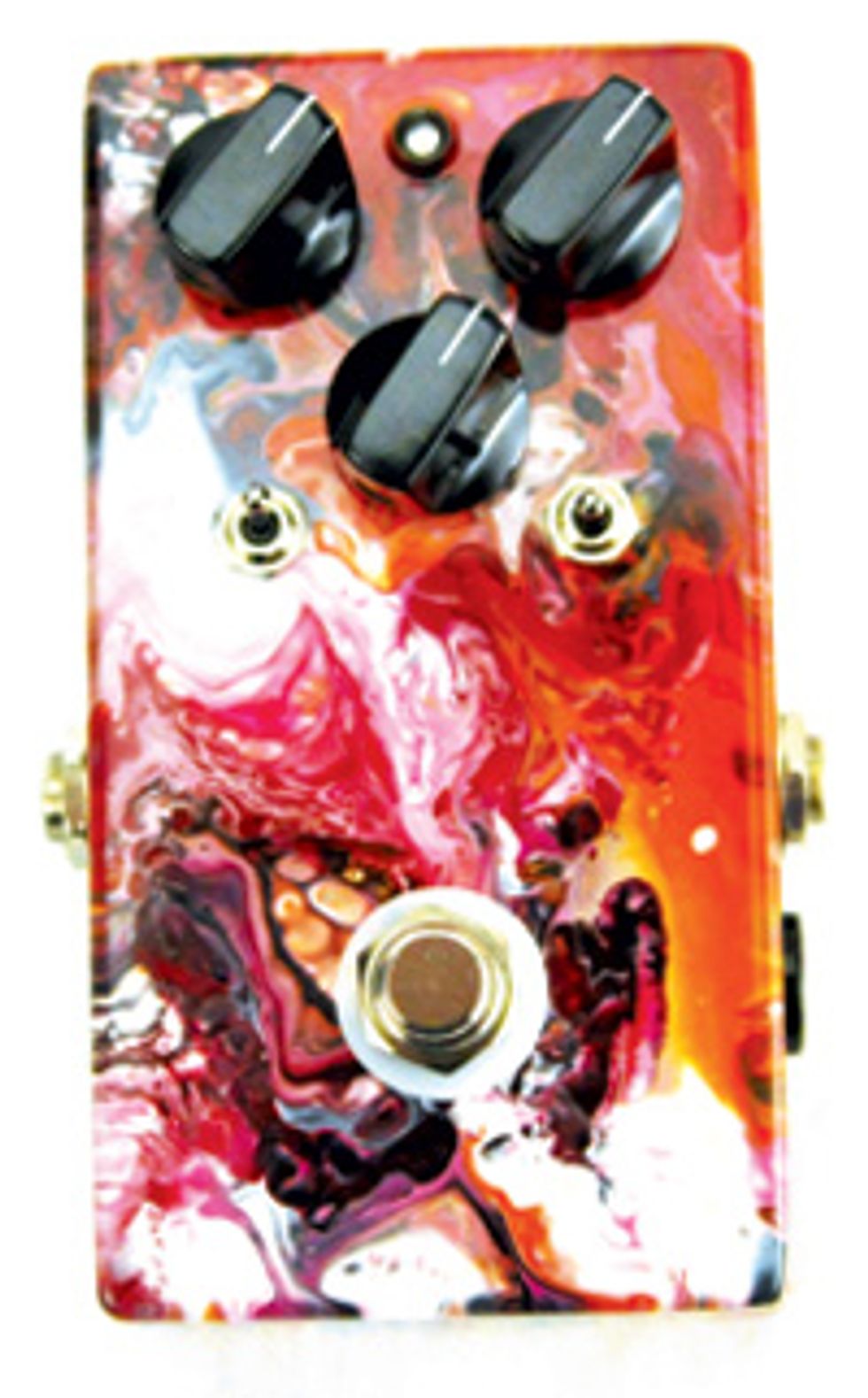 Rockbox Boiling Point

The truth is, we get a lot of overdrive pedals for review. Most are pretty decent, and some are quite good. But every once in a while we get one that totally blows us away. The Rockbox Boiling Point was one that absolutely made our toes tingle! Reviewer Chris Burgess said, "I discovered a veritable library of overdrive flavors that took me through several decades of my mental tone catalog." The Boiling Point from Rockbox (November 2009) delivered it all; it's as versatile an overdrive as you can get. Hell, you might even win some points with your significant other by selling off your other 12 overdrives and just keeping this one … maybe.
Street $389
rockboxelectronics.com
Read the review...
---

Anderberg Custom Guitars Wille

New guitars and guitar makers continue to expand the instrument's possibilities every single day. But in the race to outdo versatility, perhaps some lose track of the guitar's traditional qualities. Luthier Michael Anderberg is not one of those guitar makers. Anderberg has stuck to a traditional approach to guitar building, and his Wille model is a testament to the success of his perspective. Reviewer Brian Barr (September 2009) wrote, "There is something truly wonderful about the Wille, and I can safely say I haven't been this excited about a guitar since I picked up my first PRS over a decade ago." From its asymmetrical neck to its carefully chambered body to its pair of Seymour Duncan pickups, the Wille delivered on all fronts. We cried a little when it left the building to go back. Really.
MSRP $3200
anderberguitars.com
Read the review...
---


Acoustic Image Ten2 Combo

Over the years, enterprising guitarists have discovered that some bass amps also make pretty decent guitar amps. Stevie Ray Vaughan and his '59 Fender Bassman is just one example that quickly comes to mind. The folks at Acoustic Image, however, have taken this concept to another dimension. If you're a multi-instrumentalist, the company's Ten2 Combo (November 2009) is your dream come true. This round-ish sonic powerhouse works for "bass, acoustic guitar, hollowbody jazz guitar, keyboards, vocals, and a whole gamut of other string instruments." It features two 10" speakers and a tweeter, weighs just 28 lbs., and packs a punch that'll make your nose bleed. This is simply "versatility and tonal nirvana" at its best.
Street $1539
acousticimg.com
Read the review...

---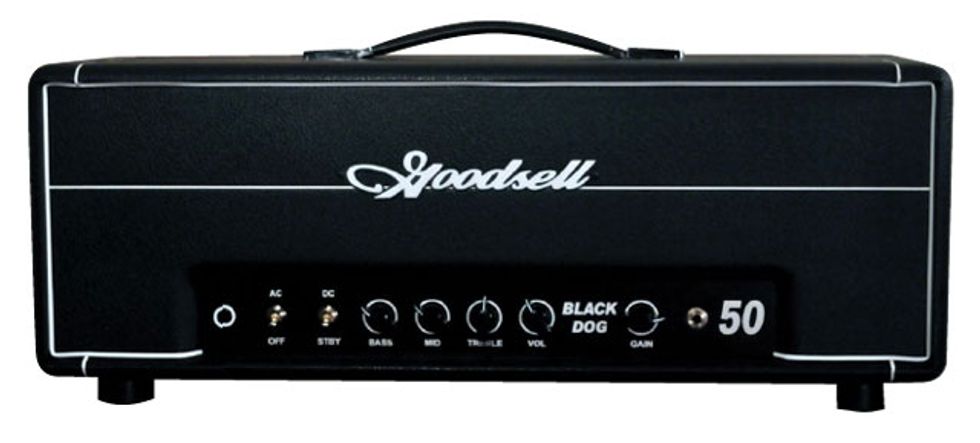 Goodsell Black Dog 50

Although there was plenty of anticipation about Richard Goodsell's departure from the kinds of designs he'd become known to venture into new territory, we weren't expecting the kind of versatility he delivered in the Black Dog 50 (February 2009). Looks-wise the amp seemed to fit easily into the Marshall-style high-gain category, and we learned from Goodsell that the design had been born from no more than a JCM800 transformer and an itch to "go big." While the amp didn't leave any guessing about whether or not it would provide enough gain and power for those hungry for the crunch, reviewer Chris Burgess was caught off guard by the range of its tonal capacity, calling it "an amp with superb dynamics and sensitivity that travels fluently across the spectrum of vintage tones."
MSRP $1899
superseventeen.com
Read the review...
They say imitation is the sincerest form of flattery. In the gear world, however, emulation rather than imitation is often a more challenging form of appreciation. It takes a lot to produce something that emulates a classic piece of gear and that stands up not as a copy, but as an equal. Below are the best classic gear emulators of 2009.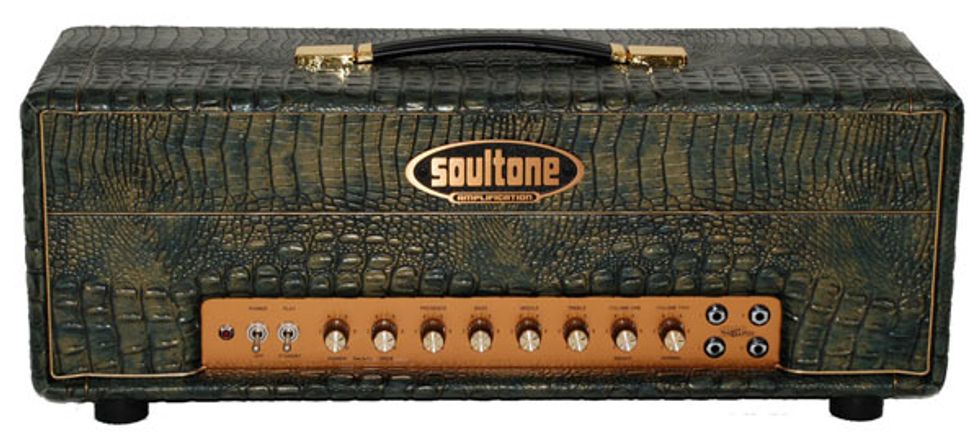 Soultone Amplification 1986ps SuperPlexi

At some point, just about every amp maker tries to achieve the qualities of the famous Marshall guitar amps from the '60s and '70s. Yet not that many have attempted the Marshall Bass head, which by some accounts is one of the most underrated amps around. Soultone Amps began to change that with the introduction of its 1986ps SuperPlexi (May 2009). "Soultone has taken the iconic nature and characteristics of this sound and created their own interpretation, rife with new features and impeccable craftsmanship," wrote reviewer Jordan Wagner, who spent way too much time standing in front this "raging, healthy British tube monster."
Price $2199
soultoneamps.com

Read the review...
Watch the video review...
---


Way Huge Swollen Pickle Jumbo Fuzz MKII

Jeorge Tripps was a legend before his time. The original creator of Way Huge pedals back in 1992, Tripps sailed off into the sunset at the arrival of the boutique effects boom of the late '90s, only to be recently reawakened through the help of gear pioneer Jim Dunlop. The Swollen Pickle Jumbo Fuzz MKII pedal is … well, a reincarnation of itself, but only better! It was the cream of the Way Huge crop in the early 1990s, and the new version (marked MKII) is very much worthy of all comparisons to its legendary predecessor—with a few improvements. Reviewer Jordan Wagner (January 2009) raved, "The Swollen Pickle MKII has all of the punch of the original, and a massive tonal range. There is a very hi-fi quality to this pedal, but in a surprisingly musical way."
Street $150
wayhuge.com
Read the review...

---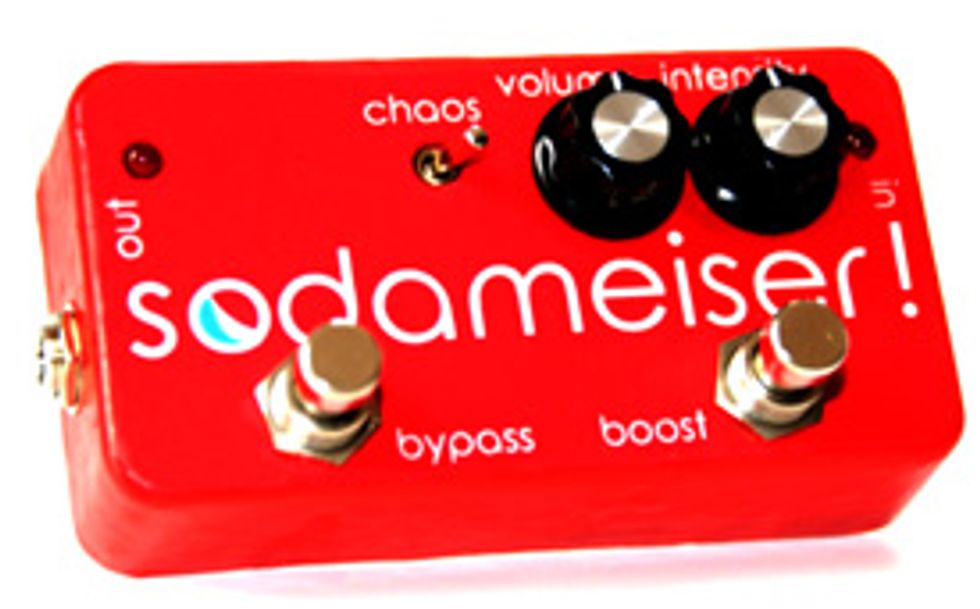 OohLaLa Soda-Meiser

OohLaLa Manufacturing's Soda-Meiser fuzz pedal (July 2009) is more than just your usual environmentally safe electronic creation. "Fans of big, fuzzed-out stoner rock sound will love the Soda-Meiser," said our reviewer, Brian Barr. It lets you dial in your favorite Big Muff-type fuzz, but it also provides a boost and a "chaos" mode that turns the Soda-Meiser into a tiny purveyor of "sonic cruelty." To top it off, it's eco-friendly, being hand-built using lead-free solder, and hand-painted using water-soluble inks. I mean, what more could you want?
MSRP $225
oohlalamanufacturing.com
Read the review...
---


Elrick Expat Series New Jazz Standard

Built in the Czech Republic from US components, with close attention to detail and well appointed with elegant touches and thoughtful improvements on a classic archetype, Elrick's New Jazz Standard (September 2009) rose above a crowded field of variations on the famous predecessor to win praise from reviewer Dan Berkowitz for quality, playability and tone. As he put it, "takes a longstanding design in the bass world—a contoured body and sleek neck with a pair of singlecoil pickups—and brings it into the new millennium."
Street $2199
elrick.com
Read the review...

If you've ever sat with a guitar, delay pedal, bass amp or wah and wished it had a particular feature, chances are, these pieces of gear have it. The winners of our new Kitchen Sink award are so packed with features that you might actually read the manual. For giving us all the options we ever wanted—and sounding stellar with each one—we salute you.



Ernie Ball Music Man John Petrucci BFR 6



As striking as the bookmatched maple top of the John Petrucci BFR 6 (May 2009, Web Exclusive) is, the real beauty of this guitar is in its tonal palette—there's as much variety here as in any guitar we reviewed this year. With two humbuckers—a Dimarzio Drop Sonic and HH-1 Custom in the bridge and neck, respectively—and a piezo system under the bridge, and the ability to use dual outputs or blend the two together, any tone you want is at your fingertips. And don't worry, as Jordan Wagner wrote, "Ernie Ball performed a perfect job in the layout and design of this switching procedure, making the learning curve very small and enjoyable to use."
MSRP $4199
music-man.com
Read the full review...

---


Empress Super Delay

Eight modes of delay, five dials for tweaking, four three-way toggle switches, three footswitches … and a partridge in a pear tree: that's what the aptly-named Super Delay (November 2009) gives you. With up to 13.6 seconds of looper time in addition to tap tempo, reverse, and tape simulation modes, there's not much in the world of delays that this baby can't do. "The Super Delay gives the Eventide Timefactor and Line 6 DL-4 a run for their money," wrote Brian Barr. "And analog purists need not be afraid, because this pedal is transparent and will not color your tone."
Street $449
Empresseffects.com
Read the review...

---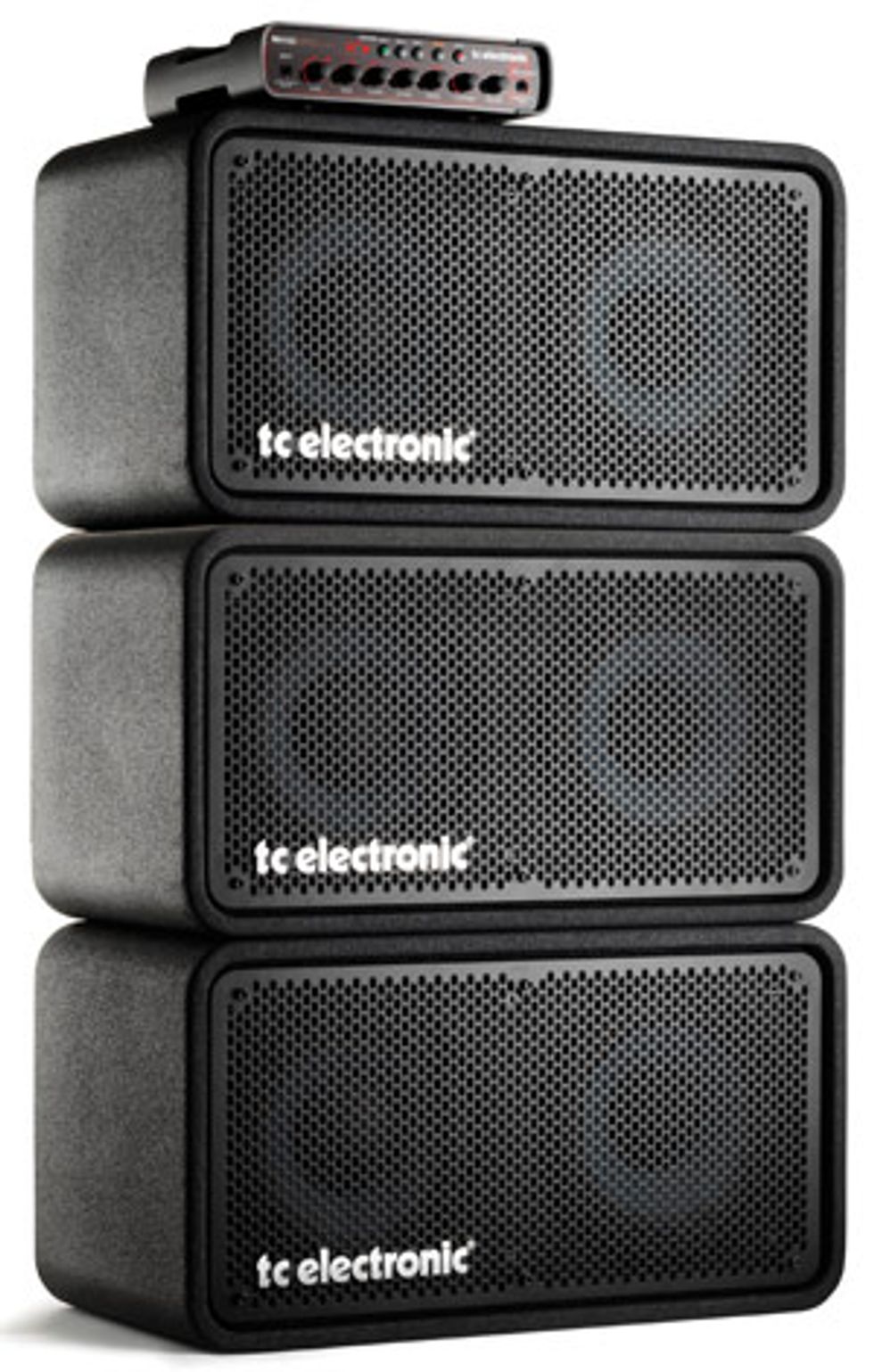 TC Electronic RH450

Good things do come in small packages: the RH450 (April 2009) weighs in at under ten pounds and packs 450 watts, but it's the ton of features that put it in this category. Included are four EQ bands, a compressor, a tube amp emulator, a tuner, a headphone amp (and RCA jacks for using an iPod), a direct out, and the ability to set three presets … plus a Shift button that gives each knob another control … plus a ring of dots around each control so you can see where your settings are in the dark. "TC Electronic bills this rig as 'bass amp 2.0'," wrote Dan Berkowitz, "suggesting a new take on what a bass amp is all about. In a lot of ways, I'd have to agree."
MSRP $999
tcelectronic.com
Read the full review...
---


Voodoo Lab Wahzoo

Vintage Mode, Auto Wah, and Step Wah—the Wahzoo (February 2009) gives you three different wahs in one package. Vintage Mode is a Clyde McCoy-inspired wah, the most traditional of the modes. Auto Wah lets you wander freely about the stage, using your pick velocity to control the sweep of the pedal. Step Wah is where things really take off: it jumps through different wah sounds, with the tempo based on the treadle position. If your wah use is limited by how fast you can move your foot, meet your new best friend. Gary Guzman wrote, "It's as if they took my wish list of everything I've ever wanted in a wah pedal and more, and put it into one unit."
MSRP $279
voodoolab.com
Read the full review...



The Artisan Award is bestowed upon the pieces of gear that embody elegance, beauty and craftsmanship. We'd hang them on our wall if they didn't sound so damn good.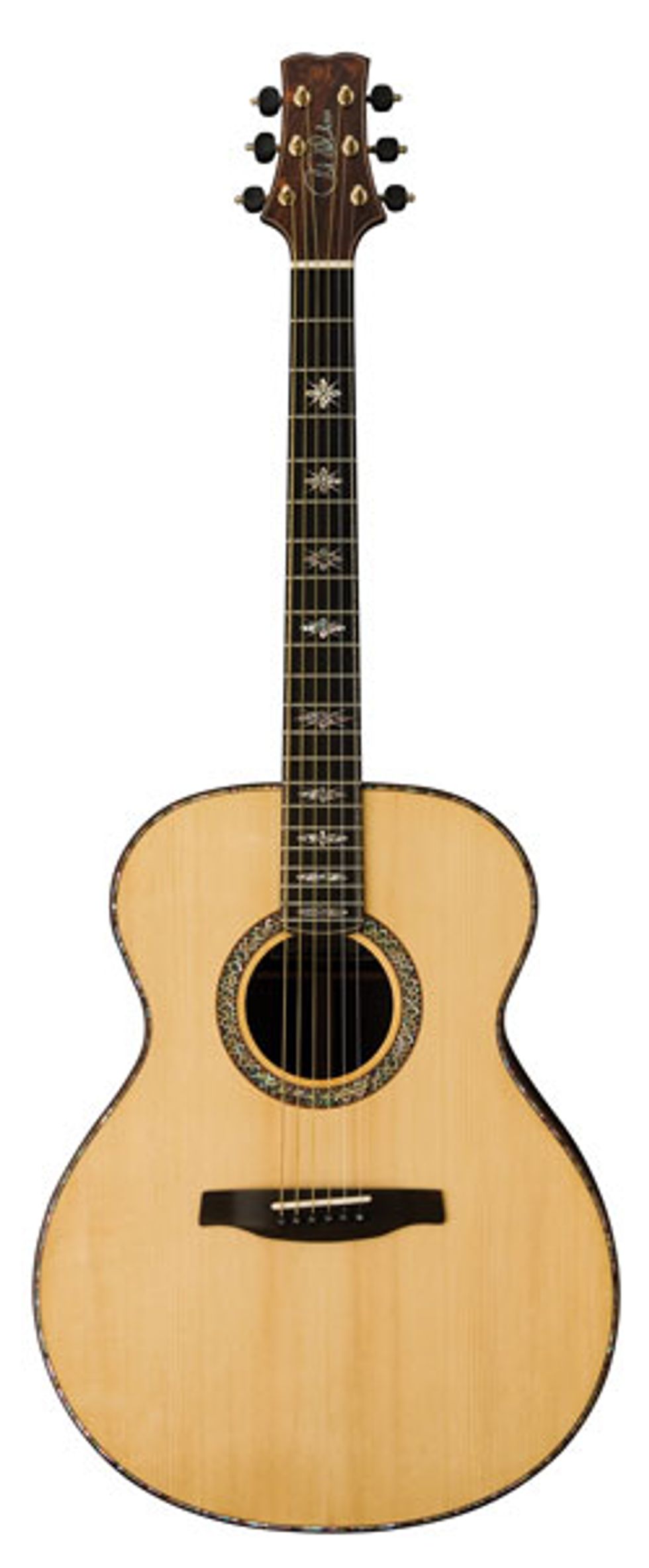 PRS Tonare Grand

One of the pair of Paul Reed Smith's first foray into the acoustic world basically knocked the socks off of reviewer Gayla Drake Paul. "This guitar has a huge sound," she wrote, "voluptuous and chimey, yet fantastically warm and phenomenally detailed. It's a dark and glassy tone that is hypnotically appealing." In addition to being charmed by its choice European spruce and cocobolo, elegant detailing and comfortable neck, she was amazed by its ability to effortlessly handle different kinds of playing and every open tuning she could throw at it.
Street $5330 (base)
prsguitars.com
Read the full review...
---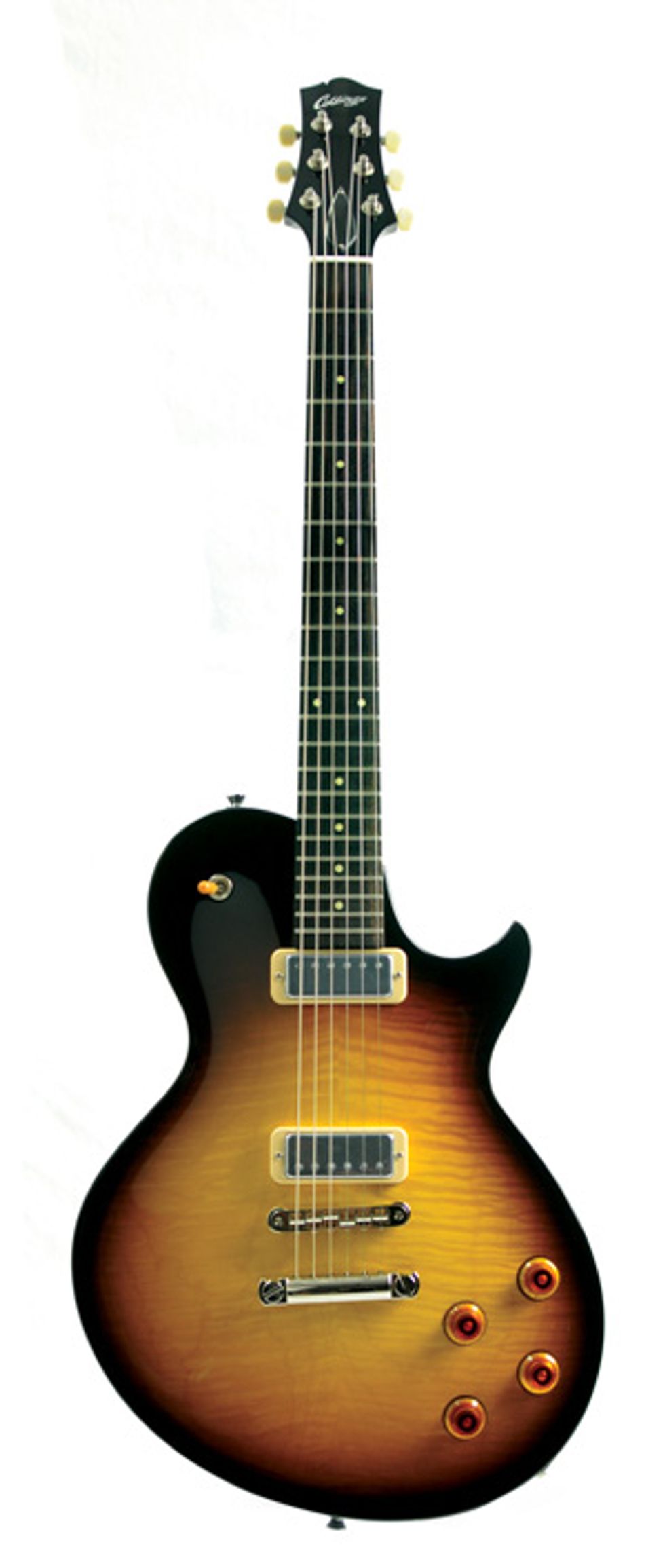 Collings 360

The Collings 360 (July 2009) is one of the first entries into the electric guitar market by a long-time acoustic builder. While it looks like a stretched-out Les Paul, the 360 is lighter and thinner. "I love guitars that are resonant, and the 360 is alive," wrote Pat Smith. "The feel of high quality is obvious as soon as you pick it up." Two Lollar mini-humbuckers give plenty of sizzle; the bridge pickup especially yields an almost Tele-like twang. Collings has also wired the 360 in what he refers to as '50s style, which prevents the volume control from making the tone bassier.

MSRP $2900 (base model); $3500 (flame top)
collingsguitars.com
Read the review...
Watch the video review...
---


Kragenbrink OM Fingerstylist

The Kragenbrink OM Fingerstylist (November 2009) is aptly named: with a huge fretboard and a spruce top, this guitar was simply one of the best acoustics we received in-house all year. No matter who played it, the guitar gave us great tone in a beautiful package. However, putting it into alternate tunings really showed off the versatility and tonal quality: "Big, booming bassy chords sustained beautifully under melodic lines, and harmonics rang nearly forever," wrote reviewer Gayla Drake Paul, "it takes a truly remarkable instrument to do all of that without overwhelming the ears with unfriendly overtones."
MSRP $5650
kragenbrinkguitars.com
Read the full review...

---

Schroeder Guitars Radio Lane

A gorgeous singlecut semi-hollowbody, the Radio Lane (November 2009) is clearly inspired by the Les Paul, but has some appointments based ofn the D'Aquisto Solo. In addition to the "S" hole on the top, the Leaf Maple quilt top, the headstock inlay and the truss rod cover are all finished in hazel, which helps give this axe a unique flare. Plugged in, the Radio Lane continues to give off the Les Paul vibe, excelling at blues while remaining great at rock and jazz. "In one sitting," wrote Ben Friedman, "we played a series of classic rock tunes and did find the need to adjust the settings accordingly on the amp. I adjusted the guitar settings and my pick attack and let the Radio Lane do the driving!"
MSRP $4200 (base); $4950 (as tested)
schroederguitars.com
Read the full review...
---


Michael Tobias Design MTD 535-24

The red-to-orange finish on maple burl top of this ash-bodied bass is striking; the instrument almost appears to be made out of a flame. The MTD 535-24 (May 2009) and its tonewoods easily yield an aggressive sound, perfect for slap-and-pop style playing. While it's clearly a modern funk-oriented bass, it sounds great in nearly any style, thanks to the incredibly transparent Bartolini pickups. With Volume, Pickup Blend, Treble/Midrange/Bass knobs, and a toggle to choose the midrange center, finding the right sound is merely a matter of fiddling with the controls. "It isn't a question of good or bad—if this bass matches your preferences and your budget, it would be a fantastic choice for a new axe," said Dan Berkowitz.
List $4400 (basic instrument); $6190 (with case and options)
mtdbass.com
Read the full review...

Many of the world's best guitars were created 50+ years ago, and following in those footsteps is undoubtedly a noble pursuit. However, significantly modernizing the instrument through materials, technology and ingenuity deserves recognition as well. For breaking new ground—and doing it well— we award these pioneers.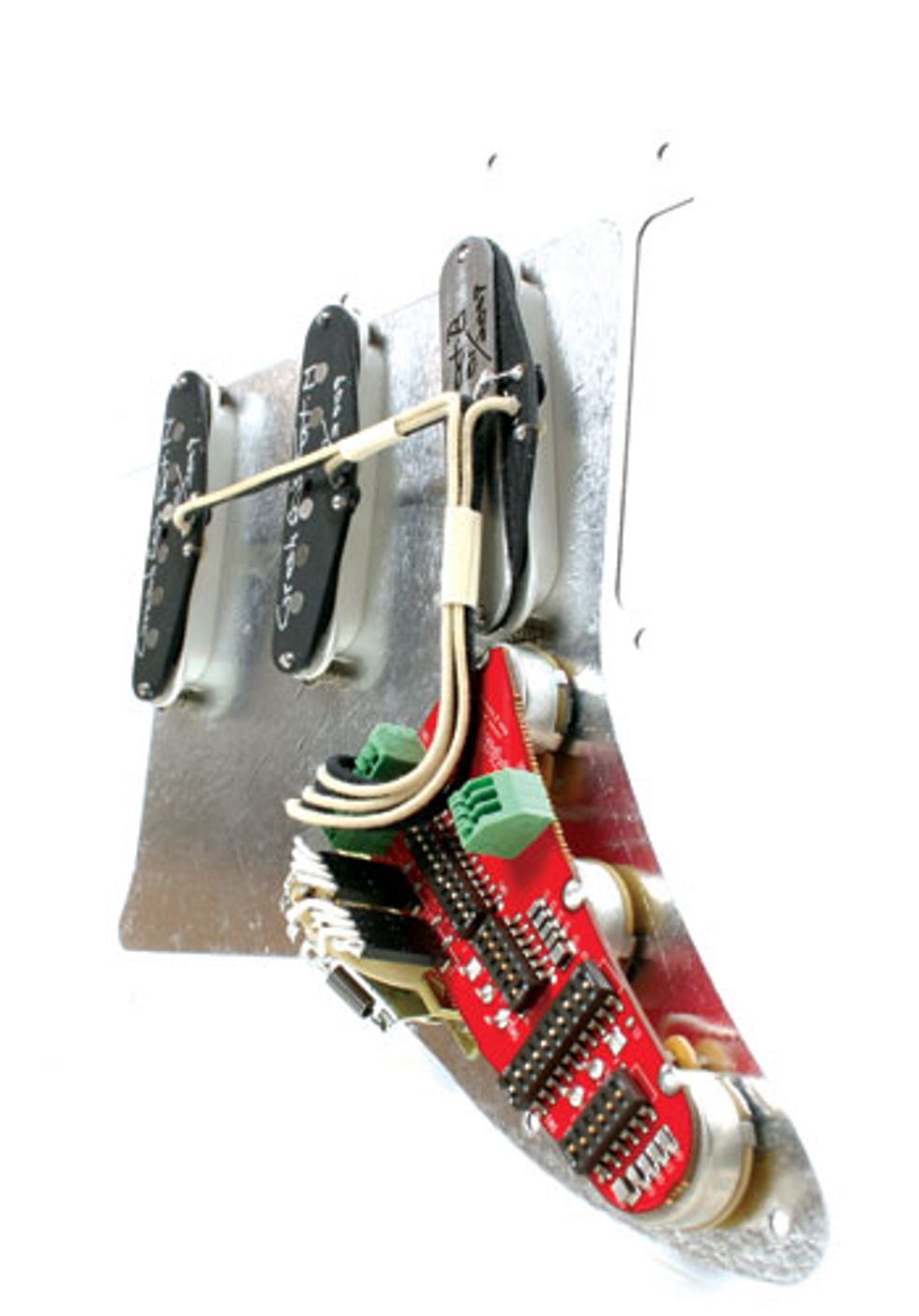 Acme ToneShaper



The ToneShaper from Acme Guitar Works is an electronics package that puts an abundance of Strat wiring mods into your guitar simultaneously. While these mods are nothing new, the approach certainly is. Reviewer Kenny Rardin remarks, "It looks like this may take me out of the Strat modding business altogether. It's simply amazing."
Street $129.95
acmeguitarworks.com

Read the full review...
---

Fender Road Worn '50s Telecaster

While others were bringing forth the future, Fender was also bringing forth the past. New old-looking guitars have been around for a while, but it's generally been an expensive affair. The Road Worn Series guitars (May 2009) took the concept to the masses by putting quality instruments with convincing aging in the hands of players at prices many more could afford. Say what you will about the aesthetics of a deliberately worn-out guitar, the neck feel of a real vintage Fender and classic Tele voice made this one a winner in our book. Reviewer Jordan Wagner summed it up this way: "Once in a while, you come across a particular guitar that exemplifies a model you've played what seems like a million times—one that rises above the others of its kind and truly enchants you. This Telecaster was one of those instruments."
Street $949
fender.com
Read the full review...
---

Flaxwood Liekki

Flaxwood Guitars is a Finnish company who uses injection molding and a mix of wood particles and a binding agent to produce guitars with extraordinary resonance that are free of moisture-related problems. The Liekki (June 2009) is their hollow-bodied P-90 model. It earned a Premier Gear award for its exceptional neck and playability, and broad tonal palette. Said reviewer Pat Smith, "I have played guitars many times the cost of these that can't touch them for playability, fit or finish. The sound is good and versatile, and the neck is probably the best feeling neck I've ever had my hands on."
MSRP $3093 (fixed bridge); $3296 (tremolo)
flaxwood.com
Read the full review...
Watch the video review...
---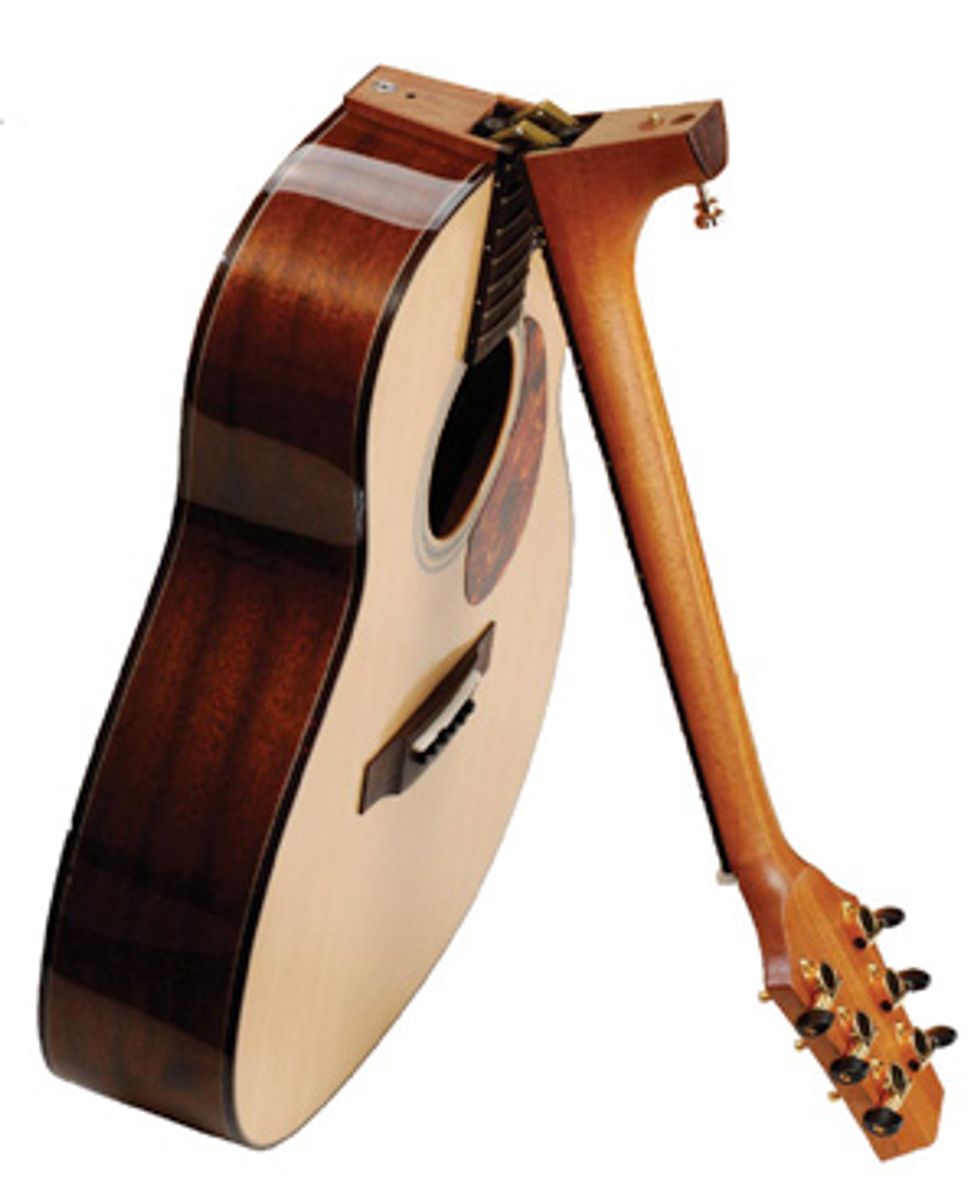 Voyage-Air VAOM-1C

Travel guitars have been done in a number of different ways. Master luthier Harvey Leach's approach is to make a high-end acoustics that just happen to fold. The Voyage-Air (January 2009) is the result. The guitar is a solid-wood, OM-style that folds at the neck joint to fit in a backpack-style case. Reviewer Gayla Drake Paul summed up the expertly executed concept: "The more compact and self-contained we artists can be, the easier our lives get and the fewer expenses we have. It's a beautiful equation, and the bonus points are that this is a fantastically good guitar that sounds, plays and feels like one of the best factory made guitars out there."
MSRP $1695
voyageairguitar.com
Read the full review...
Watch the video review...
Is there anything better than your favorite gear getting better? The Redux Deluxe award goes to this year's gear that answered a most difficult question—is it worth buying again?—with a resounding, "YES."

PRS Modern Eagle II

One of the highest-end guitars we reviewed this year (January 2009), PRS' followup to their Modern Eagle knocked it out of the park. From build quality ("the highest I've ever encountered in a guitar," said reviewer Steve Ouimette) to the 1957/2008 pickups' tone ("these pickups sounded better than the real '58 PAF that was in my Les Paul," Steve admitted), the Modern Eagle II goes a long way to wipe away any memory of the original. Though the price tag is steep, Steve justified it, saying, "I think this may be the first time I've felt that a guitar was worthy of a price tag in that range."
MSRP $7080
prsguitars.com
Read the review...
---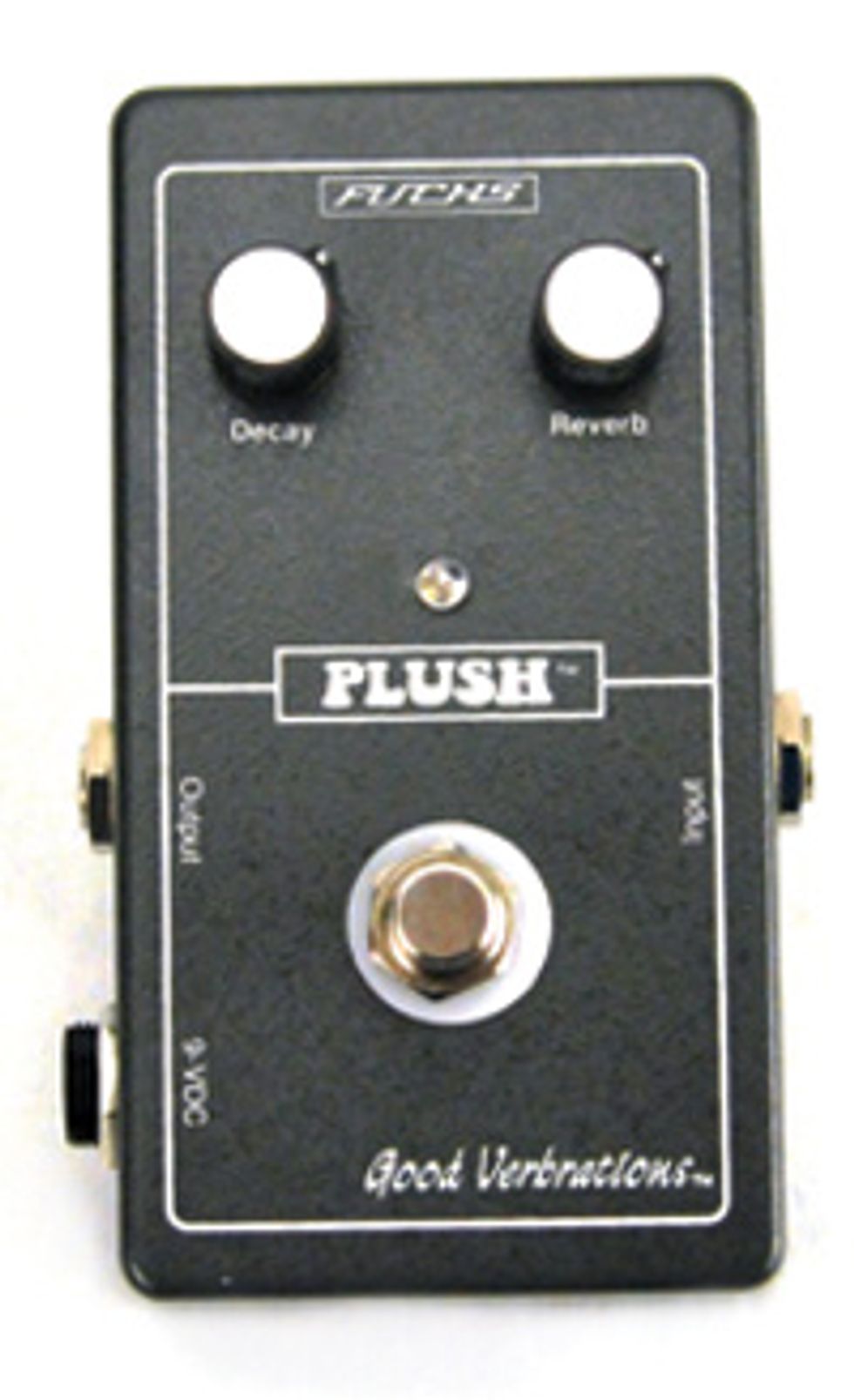 Fuchs Plush Good Verbrations

Fuch's Plush line of pedals has been garnering acclaim for a few years, and one of the popular pedals in the line is the Verbrator, an effects loop with built-in reverb. This year, the company released just the Reverb section of the Verbrator in a tiny, simple box they call Good Verbrations (November 2009). You can adjust the level and decay of the reverb, allowing for a greater range of expression, from long and lush to short and tight. Says reviewer Gary Guzman, "Good Verbrations has a nice sounding reverb with simple, yet very useful controls." While it doesn't upgrade anything from the original, the Good Verbrations presents a slice of the best material, with a sizeable price break—something we're happy to award.
MSRP $249
fuchsaudiotechnology.com
Read the review...
---


Furman P-1800 PF R Power Conditioner/Surge Suppressor

Although we had to provide the requisite warning about the danger of becoming "that guy," there are some very good reasons to go with a real power conditioner over the ubiquitous office-supply-store power strip. Furman's P-1800 PF R (April 2009), and update to their Power Factor Pro R brought all of their well known surge suppression and voltage spike protection and added in their new Clear Tone and Power Factor technologies in a unit designed specifically for high-current gear like guitar amps and powered monitors. They also threw in a whole batch of other useful features, like a digital voltmeter/ammeter, spaced outlets with securing straps, BNC connector and front panel USB outlet—enough to qualify it for a Kitchen Sink award as well.
MSRP $599
furmansound.com
Read the full review...
---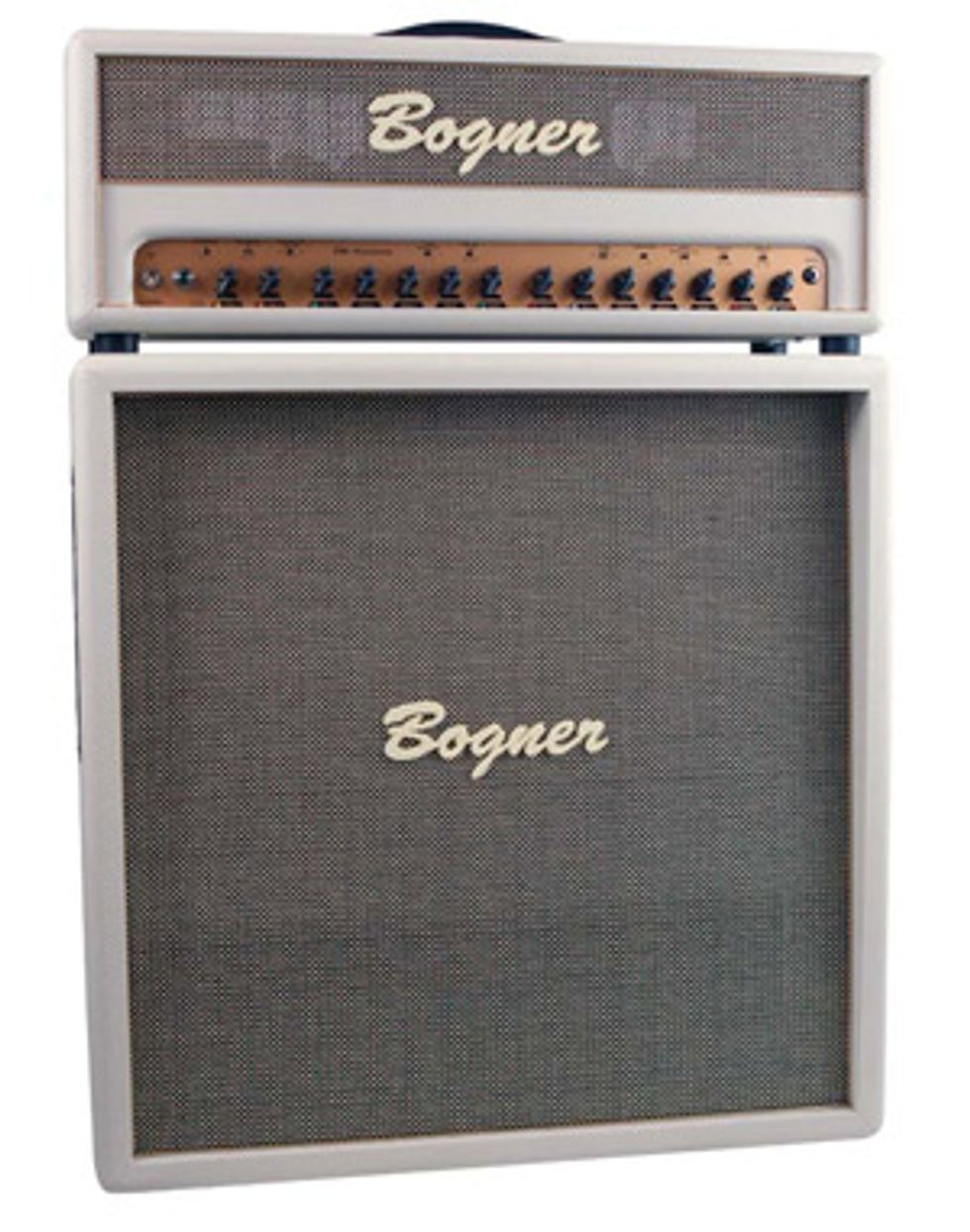 Bogner Custom Amplification 20th Anniversary Ecstasy

The Bogner Ecstasy had a lot to live up to—Bogner's flagship had built a reputation as one of the most versatile modern amps ever built—but Reinhold Bogner's dedication to improvement was evident in the 20th Anniversary Ecstasy (October 2009). Living up to its predecessor in versatility (three separate channels, loads of features), the Anniversary Ecstasy incorporates a redesigned preamp circuit. This expands the tonal options even further, excelling in British-flavored high and low-gain rock. Says reviewer Jordan Wagner, "For those players who desire more options at their fingertips, the Ecstasy, with its three separate channels and myriad of usable customization choices, is an incredible choice with very few alternatives in its league."
MSRP $4425 (head)
bogneramplification.com
Read the review...
---
Maxon AD999 Pro Analog Delay

For the past few years, Maxon (the company behind Ibanez's '70s classics) has been releasing updated versions of their classic effects in the Vintage Series. The new AD999 (November 2009) channels the renowned AD-9 and AD999 pedals, with some modern improvements. The new AD999 adds true bypass, noise reduction and an entire Multi-Head mode to simulate tape delays. The ability to simulate tape delays such as the Roland RE-201 Space Echo, along with authentic vintage delay (utilizing some NOS components), makes the Maxon AD999 a lot of fun. "For devotees of vintage analog sounds, the AD999 Pro is a perfect choice," reviewer Jordan Wagner declared.
Street $399
maxonfx.com
Read the full review...



---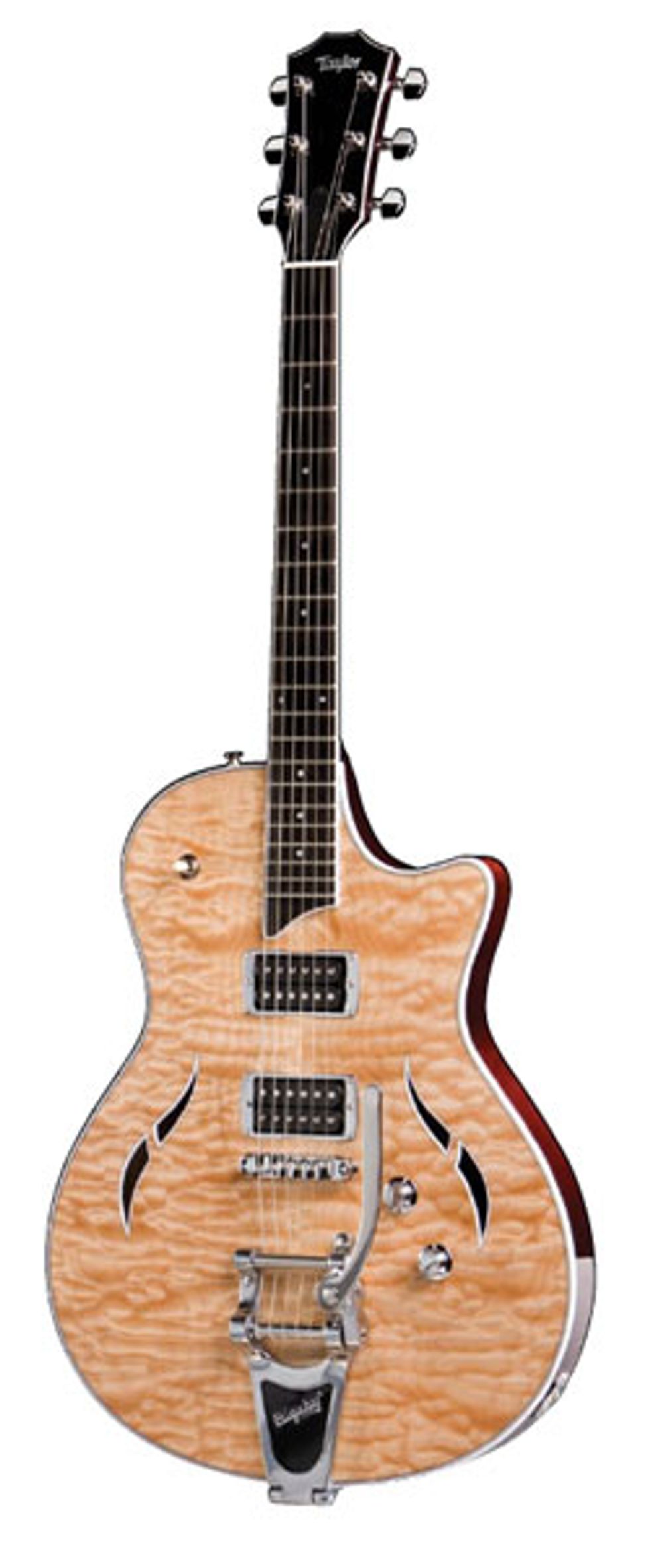 Taylor T3/B

Taylor's T3/B (April 2009) doesn't have a direct predecessor to measure against, but it is descended from two highly-acclaimed parents: Taylor's T5 hollowbody and their SolidBody. The semi-hollow T3 expands the tonal options of its precursors while maintaining the slick visual standard they've set. The guitar could've easily earned the "Tons O'Tones" award as well, achieving all styles and then some through the guitar's Style 2 HD pickups, which can be accessed in all configurations and split. Reviewer Steve Ouimette sums it up, "Taylor seems to have pulled out all the stops on the T3/B, since it effortlessly excels in musical styles ranging from rock to blues to jazz … I can't think of a single thing I would change."
MSRP $3198
taylorguitars.com
Read the full review...
In the relentless pursuit of tone, we often review the kinds of gear that many wouldn't consider a major element in the construction of a killer sound, but as gearheads it's part of our credo that great tone means taking nothing for granted—whether it's a part of the signal chain whose job is to improve performance without being heard, a device to make everything easier, or just an upgrade to squeeze the very last bit of tone goodness from the rig, these enhancers have earned our admiration.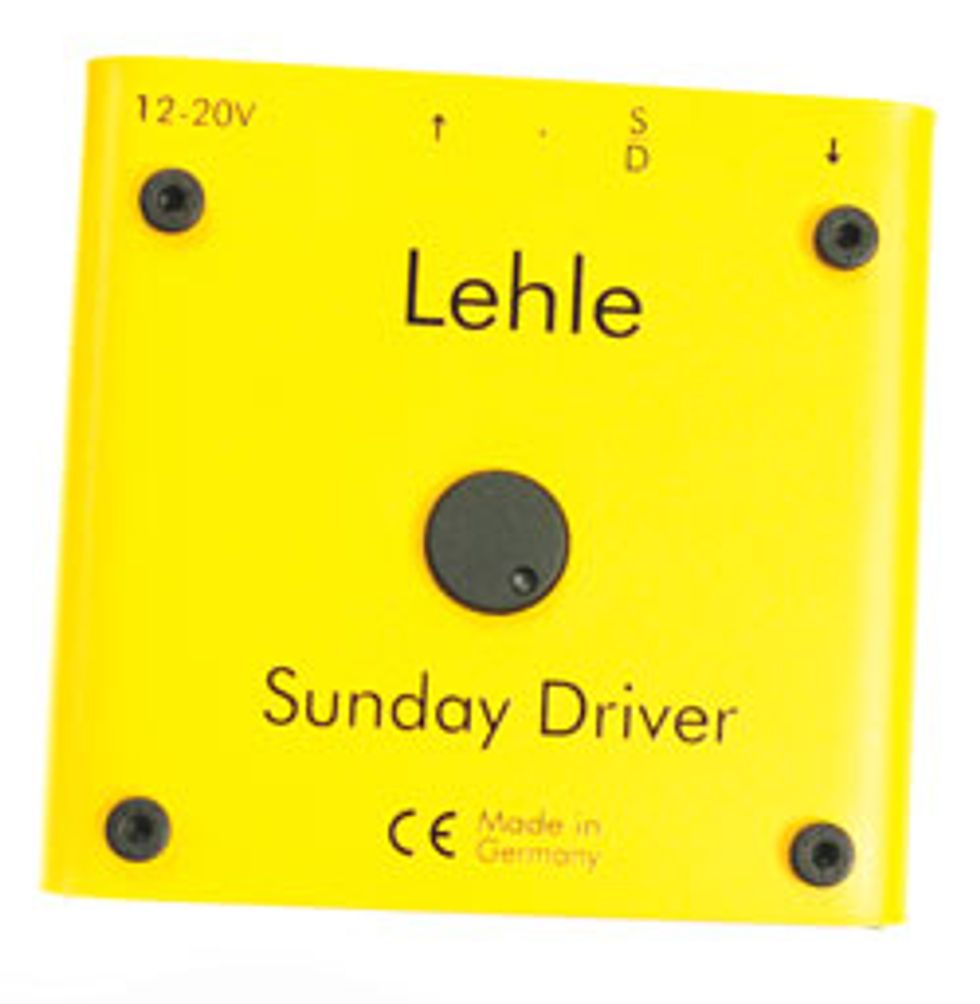 Lehle Sunday Driver

One of the newest devices from Germany's wizard of switchery, the Sunday Driver (Augus 2009) is a compact preamp that operates as either a buffer or a booster. Struck by the difference it made in the clarity and definition of his signal, reviewer Brian Barr had this to say: "At first, I couldn't believe my ears, so I plugged my guitar directly into the amp. To my surprise, the notes just sounded dead by comparison with the unmodified signal boost provided by the Sunday Driver." Although he lamented the lack of a footswitch to toggle between the two modes, he had no problem with the lack of a bypass. After hearing what it can do, he concluded, "there would be no reason to turn it off."
Street $190
lehle.com
Read the review...
---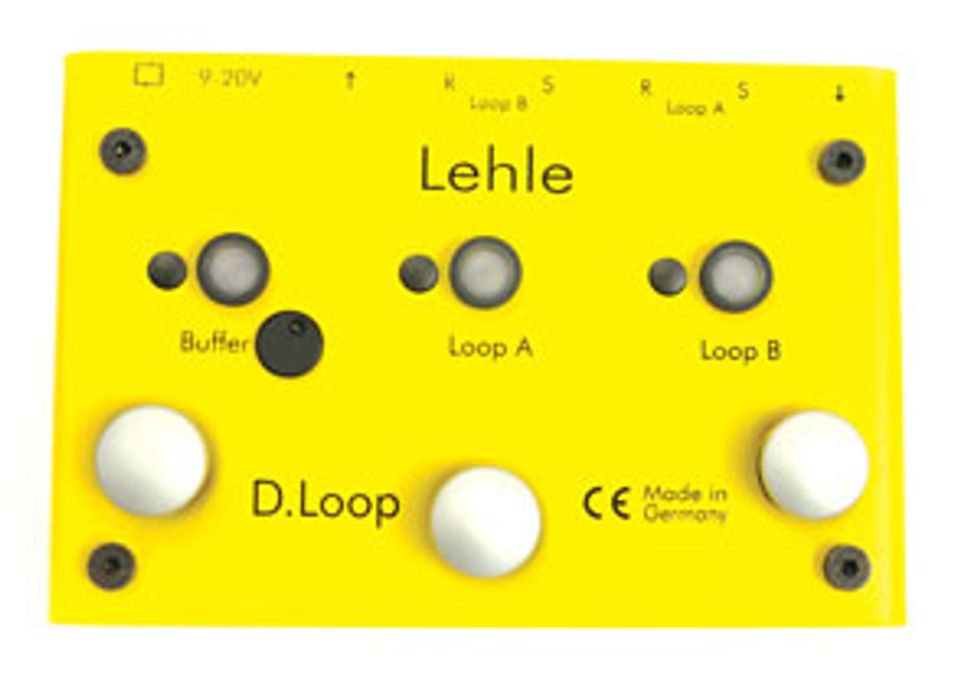 Lehle D.Loop SGoS

A member of Burkhard Georg Lehle's second generation of switchers (SGoS), the D.Loop (August 2009) impressed us with its silent performance and supremel ease of use. Fully MIDI compatible and syncable with other Lehle switchers, the D.Loop also provides In/Out and two separate Send/Returns, three separate, fully programmable switches and a buffer with +12dB of boost. Reviewer Brian Barr found it so versatile and easy to program as to be "an indispensible switcher for any guitarist's pedalboard setup."
Street $370
lehle.com
Read the review...
---
Floyd Upgrade "Big Block" Floyd Rose Tremolo


Noting the resurgence of the hot-rod guitar, and with it the Floyd Rose tremolo system's return to popularity, we took a look at Adam Reiver's Floyd-enhancing "Big Block" (February 2009), a 42mm tremolo sustain block made of high-grade bell brass. Calling it the "best upgrade you can add to a Floyd-equipped guitar," reviewer Gerry Ganaden found it installed without great difficulty and required only a few minor adjustments—and the results were impressive: greater volume and more pronounced sustain and resonance, as well as a more articulate, less trebly tone. Those results made it an easy-to-recommend enhancement for anyone looking to get more out of a Floyd-equipped hot rod.
Street $32.95 (and up)
floydupgrades.com

Read the review...
With terms like, recession, economy, and downturn becoming more worn out than Willie Nelson's Trigger, the current importance of affordability goes without saying. With that in mind—and because of your suggestions—we reviewed a lot of mid-range affordable gear this year. The winners of our Nice Price award provided quality, versatility and features on par with any of our other winners; their pricing was the cherry on top.
Carvin C6SM

Chances are you've crossed "high-end American-made custom solidbody" off the list of things you can afford this year. Carvin, long known for their affordability through selling direct to consumers, introduced the CS6M this year, bringing that dream guitar back into an affordable range. The CS6M single-cut solidbody (June 2009) features a figured top and a Tune-o-Matic bridge, plus a range of options that allow for 50,000 different combinations—all of which are executed to the highest standard. Reviewer Gary Guzman explains, "I have owned a Carvin DC127 guitar for many years, and the CS6M is leaps and bounds ahead of it, in terms of construction, quality and playability. I honestly couldn't think of anything I didn't like about this guitar."
Base MSRP $1349
carvinguitars.com
Read the full review...



---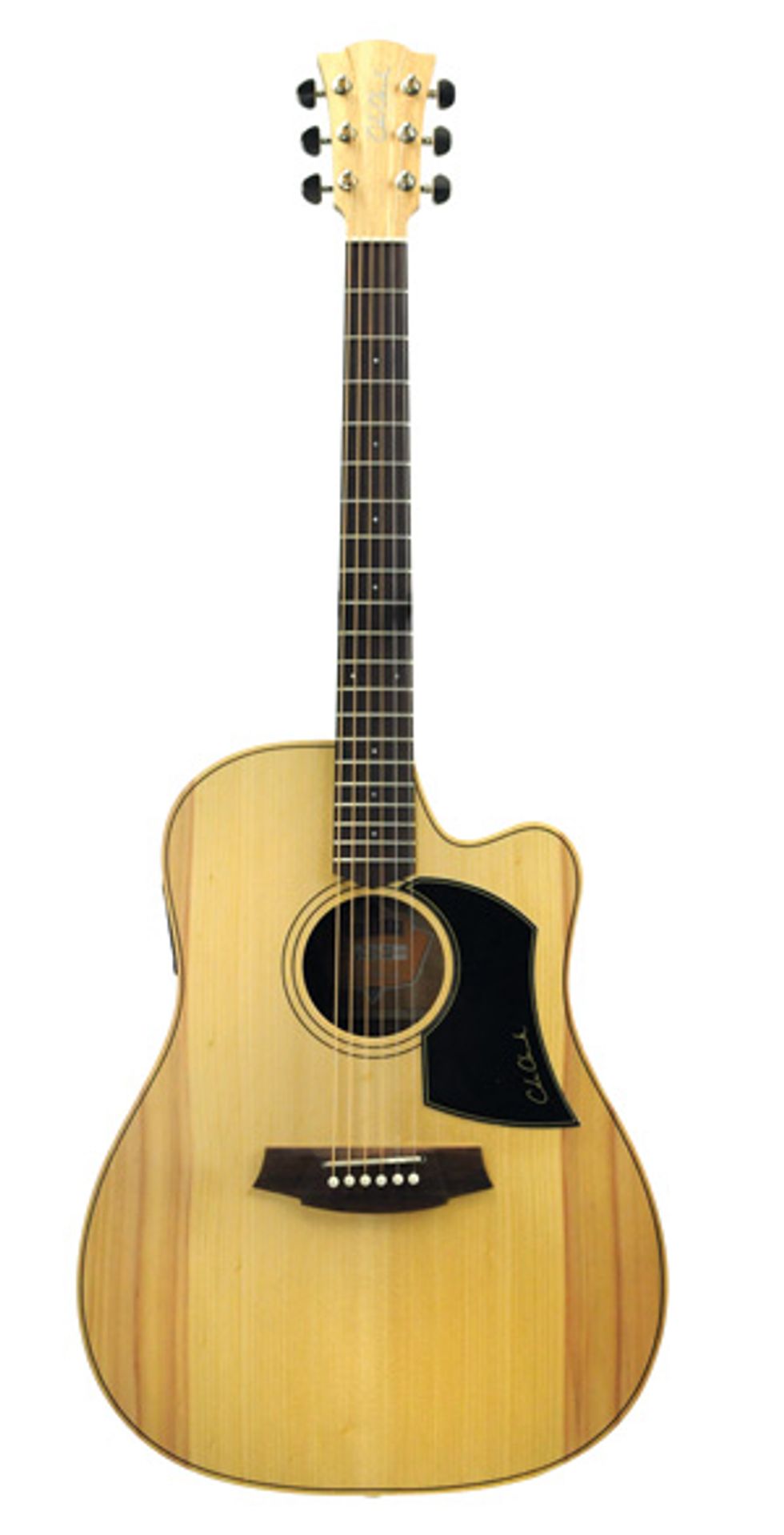 Cole Clark Fat Lady 1 AC

Cole Clark is a young Australian company that's been combining modern technology with sustainable, local wood sources to create beautiful acoustic guitars. The 1 AC (July 2009) is a cutaway dreadnaught with simple styling and a beautiful Bunya top. It features top-of-the-line construction elements that are rare at its price point, and a lightweight, comfortable frame. The guitar's tone is well proportioned, and, as its name implies, it really sings. Cole Clark's custom-built electronics are natural sounding and intuitive. "The Fat Lady is one of the finest acoustics you'll encounter in the sub-$2000 market," concluded reviewer Adam Moore.
MSRP $1540
coleclarkguitars.com
Read the full review...
---

Jarrett Zaffiro XJ


Jarrett is a small shop that hand-builds guitars in Connecticut. Like Carvin, Jarrett sells direct, which keeps the prices down. The model we reviewed, the Zaffiro XJ (November 2009), features a figured top and the customizability you'd expect from a hand-built guitar. The Zaffiro XJ's tone excels at jazz guitar, with low action and excellent playability, but would fit into almost any musical situation. Says reviewer Pat Smith, "Considering the price, the custom features, quality and just that it is a kick ass guitar, I would recommend it for sure."
MSRP $1495
jarrettguitars.com
Read the full review...