2011 NY Amp Show: The Situation Rooms
"Premier Guitar" treks to Piscataway, New Jersey, to scope out the annual boutique-amp extravaganza.
Fair or not, New Jersey is the butt of 90 percent of the jokes made about the eastern US—from jabs at the oft-unintelligible accent we associate with its residents to cracks about the stomach-turning inanity of MTV's Jersey Shore and its frighteningly clueless subjects, and references to the Mob and the number of corpses floating in the Hudson River. Which is probably why the organizers of the NY Amp Show fudge the facts a bit and name it after the nearby city whose image has a lot more going for it.

Monikers aside, the Piscataway, New Jersey, gathering has something pretty cool to offer guitar-gear junkies. Held June 4th and 5th in a bunch of rooms on the first and second floors of the Embassy Suites hotel on Centennial Avenue, the NY Amp Show brings together some of the most notable boutique-amp builders in the business, in addition to several up-and-coming amp designers and even a few representatives from big-name companies. You'll even find a few effects outfits and guitar and bass luthiers renting out rooms for the show in a smart attempt to offer attendees a respite from all the blaring combos and half-stacks.

This year, traffic at the amp fest was more subdued than in past years, but that didn't make the wares any less compelling. Smaller, low-wattage heads and combos that are easy to transport continued to be a popular platform, but there were also plenty of more powerful heads and cabs of varying configurations, in addition to the occasional 3x10 combo.

Here we highlight some of the most eye- and ear-grabbing products from the only "situation" in Jersey that a gear aficionado should consider wasting his or her time on. Oh, and be sure to check out our stash of video demos from the show.


Fractal Audio's new Axe-Fx II has twice the processing power of the previous version. Its dual processors enabled the Fractal team to start from square one with new amp models that feature an unprecedented level of granularity. It also features all-new USB recording capabilities and new low-noise 1/4" inputs and outputs.
fractalaudio.com
---
As one of the planet's premier speaker suppliers, Celestion (
celestion.com
) is one of the regular amp show exhibitors that has to sit back patiently and hope you remember that its products, though hidden inside cabinets, are integral to the stellar tones you're hearing from their enviable collection of demo amps. One of the most newsworthy of these amps was the new Komet Songwriter 30. Based on the very last Trainwreck amp design from the legendary Ken Fischer, it features four cathode-biased EL84s and a solid-state rectifier, and was designed by Fischer to sound amazing with current-production parts rather than new-old-stock.
kometamps.com
---
Long a favorite supplier of cabs for the budget-conscious tone connoisseur, Avatar wasn't
officially
displaying its new 18-watt, handwired EL84 head at the show, but their pals at Celestion brought one along as a favor. We dug its old-school British tones through a 2x12 loaded with George Lynch's new signature Lynchback speakers.
avatarspeakers.com
The new 3 Monkeys Virgil head is based on the BW119 head built for Aerosmith's Brad Whitford, only instead of 6L6s it pumps out 30 watts via four 6V6s. Unique features include a front-panel UK/USA voicing control and a footswitchable variable boost.
3monkeysamps.com
---
UK blues wunderkind Davy Knowles has a new signature octave-fuzz pedal from Freekish Blues. The Chubb Up! features dual footswitches for engaging fuzz and octave effects together, or just the fuzz. Other controls include Fuz, Tone, and Vol knobs, and a Thin/Fat toggle.
freekishblues.com
---
Booya! Amplifiers founder and designer Jamie Simpson says he'll build your dream amp from the ground up based on the tone of your favorite player
or
a famous amp model. He also says his approach is unique because he'll use new-old-stock (NOS) or current production components—or a mix of both. This particular head was built for a customer who wanted to replicate early-'80s thrash-metal sounds. Sour Patch Kids and Jolly Ranchers not included.
booyaamps@gmail.com
The new Markbass Alain Caron signature combo features a bi-amped design that sends 100 watts to its compression tweeter and 500 watts to a 12" driver. The tones are thumping and articulate, and the removable top hatch makes it a cinch to access rear-panel jacks.
markbass.it
---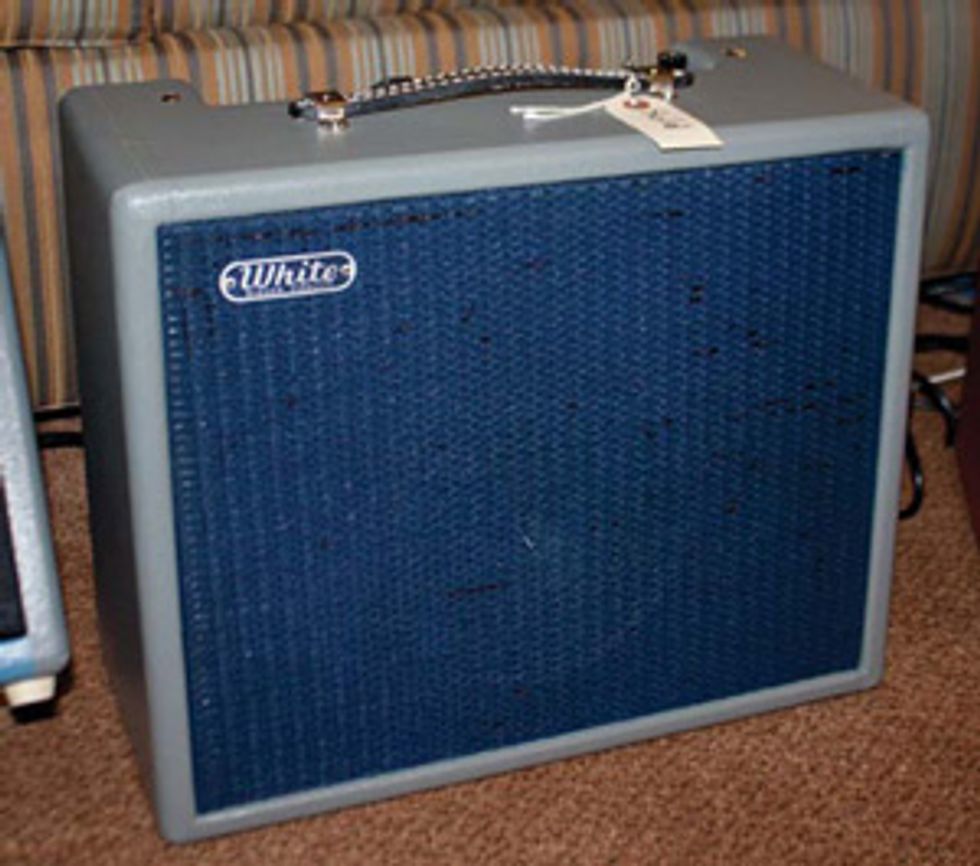 Satellite Amps revived the White Higher Fidelity brand with the new Model 80. Based on the early combo made for Forrest White by Leo Fender, the Model 80 features a 6V6 tube for 4 watts of power, a 12AX7 preamp tube, and either a 5Y3 or a 5AR4 rectifier, as well as an 8" alnico-magnet Jensen Special Design or a Voice of Rock speaker.
satelliteamps.com
---
Sandberg Guitars—a German brand with a proud 25-year heritage—announced its entry into the American market at the show. The Umbo bass (left) includes Häussel pickups, a 3-position Tone switch, and Volume, Balance, and Tone knobs, while the 5-string Custom Thinline has a mahogany-and-walnut hollowbody with a flamed-maple top, as well as a Delano Xtender pickup and a Sandberg 3-band EQ.
sandberg-guitars.de
Red Iron Amps' point-to-point-wired Bronx heads come in a mesquite cabinet and each features a trio of 6SL7GT preamp tubes, a simple control scheme (Volume, Bass, and Treble), and a footswitchable EQ-bypass function. Their 40 watts of 6550-derived power resounded with surprisingly muscular, harmonically rich corpulence through the burly 1x12 cab shown here.
redironamps.com
---
The EAST Amplification Theater 30 head is driven by four EL84s and features a Master Volume, a 3-band EQ section, a Timbre knob, and a footswitchable variable Gain knob. The cab (right) has two custom EAST Amps 10" and two custom 12" speakers in an X configuration, with one of each being in the open-backed top section.
eastamplification.com
---
Famous for its intriguingly twisted and complex designs, Pigtronix reversed that trend with a new pedal that's as simple as it gets: The Class A Boost gooses any signal up to 20 dB with a 96 dB signal-to-noise ratio.
pigtronix.com
---
Navarro Guitars of San Juan, Puerto Rico, showed its new Studio Pro guitar, which features a Gibson humbucker, Fender Custom Shop '69 single-coils, on/off toggles for each pickup, a 5-position rotary control for various bridge-pickup tones (including split coils and phase changing), Volume and Tone knobs, and a Wilkinson tremolo.
facebook.com/navarro.guitars