Fender Paramount PS-220E Review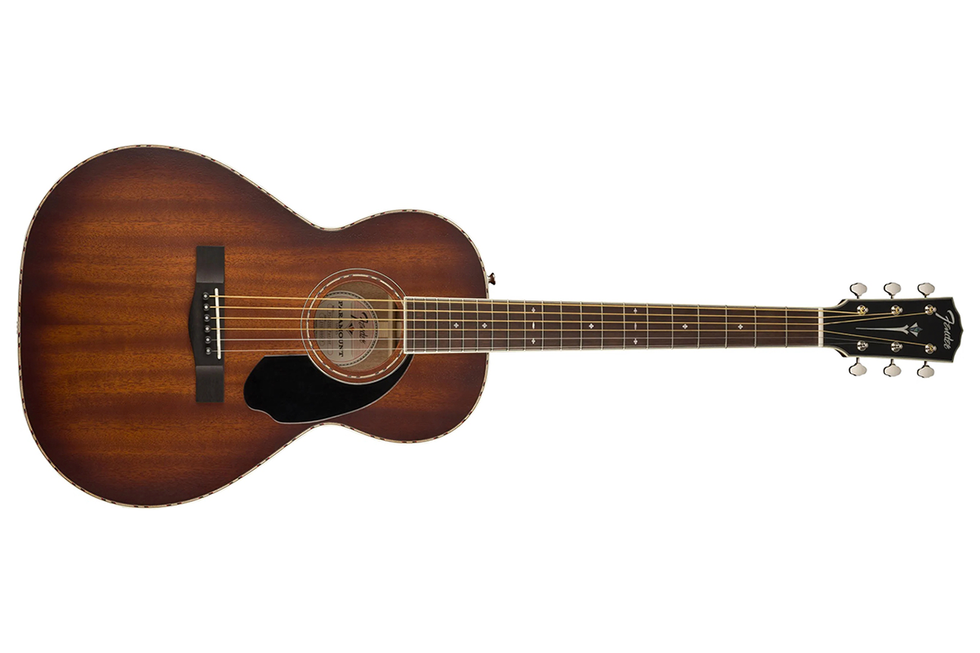 Parlor dimensions and upscale appointments add up to a flattop that's a pleasure to cradle.
Ultra playable, super comfortable, and great action. Beautiful design details. Sweet fingerstyle voice.
4
4.5
5
3.5
Fender's new Paramount PS-220E Parlor is a million kinds of fun. For starters, imagine picking up a little old Stella tucked away in a dusty corner of a garage sale—only to find the action is perfect and the tuners actually work. Then consider the basic joys of any good little acoustic: how easy it is to hold, how light it is, how little room it takes up when you leave it sitting around the living room waiting for whatever spark of inspiration hits at random. The PS-220E dishes oodles of those small pleasures. And while the price isn't exactly small for an imported instrument of this stature, the playability and versatility are equal to much more expensive instruments.
---
All Dressed Up
There are a lot of reasons the Paramount sells for a somewhat premium price. It's charmingly handsome—in no small part because of the detail work that reveals itself up close. The purfling, rosette, and backstrip are fashioned around a pretty feather-and-checker pattern of blue, green, and red that alternate with spaces of antique white. The entire neck and headstock are bound, and quite immaculately at that. The ovangkol fretboard inlay and headstock overlay are classy and understated but feel that extra bit luxurious. The visual charm is reinforced by a subtle chocolatey burst finish on the solid mahogany top. And while the solid mahogany back and sides are made from what some might call rough grain, the rustic effect works in harmony with the fancier details to create a sort of restored antique look.
While the price isn't exactly small for an imported instrument of this stature, the playability and versatility are equal to much more expensive instruments.
You certainly can't complain about the detail work on the guitar's exterior. Adding so many visual treats means more spots where workmanship can go wrong. But everything from the frets to the binding, purfling, and inlays are pretty much perfect. Inside, things are less so. There is evidence of sloppy gluing and less-than-precise kerfing cuts—none of which have any bearing on the sound. But the price of the guitar does leave you longing for a tidier touch on that count.
Sit and Strum Awhile
If you imagined the perfect guitar for sitting down with after a long workday, or the ideal songwriting partner that you drag from the garden to the beach to the living room and down to the studio, it might feel a lot like the Paramount PS-220E. The action is delectably low, and you can vigorously strum barre chords from the 1st fret to the 12th without hearing any buzzing or clanking strings. The C-profile neck is just substantial enough to make you feel like you're not squeezing to fret effectively, but slim enough that you can move around quickly. The easy playability means the PS-220E very handily transcends simple strummer roles. Fingerstyle moves and complex chords are made significantly easier for the low action and nice set-up, which can give you a lot of confidence for stretching your playing. It's great for leads for the same reasons. Occasionally there is a slight sense of disappointment because the small parlor body can only generate so much muscle for these applications. And there is inevitably some limits to the dynamic range you can generate. That said, the PS-220E has impressive headroom for a guitar of this size. And pushing it to its limits rarely creates any harsh overtones.
The Fishman Sonitone Plus undersaddle pickup and preamp are, in general, an effective addition to the PS-220E. The tones most suited to the guitar tend to live in the lower third of the tone control's range, and I generally played with the volume as low as possible to soften any undersaddle transients. Hard strumming, needless to say, brought out the least flattering of these sounds. But the Sonitone could sound quite sweet in fingerstyle situations, which makes it a nice fit for the very fingerstyle-friendly PS-220E.
The Verdict
It's hard to find a reason to complain about any aspect of the PS-220E's performance or playability. It feels fantastic—at times like a natural extension of your body. And if you struggle at all with hand or body fatigue from wrestling with a bigger instrument, it's hard to imagine a more enjoyable alternative. But the PS-220E is appealing for many reasons beyond comfort. The playability makes it a much more direct line between your musical intuition and imagination, which is a pretty invaluable thing whether you're a songwriter or tackling a challenging tune or arrangement. It's a good thing the PS-220E is as stylish and easy to play as it is, because $829 is pretty steep for an import instrument. But regardless of price or place of manufacture, you can't argue that the PS-220E is a pure joy to hold and play.