A cool, useful acoustic microphone.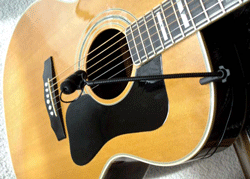 A DPA 4099G mounted on a Guild F-50.
This month, we'll take a look a cool little microphone I think PG readers should know about: the 4099G from DPA—a company that's well known in the recording and live community for its high-end mics. Part of the 4099 line of musical instrument mini-super-cardoid condenser mics, which includes the 4099S (sax, brass and clarinet), 4099T (brass) and 4099V (violin and mandolin), the 4099G is designed for guitar, dobro, and the like. I've used it on many sessions recently, and it's become a staple of my acoustic recording rig. Let's get the price out of the way up front. With most other DPAs going for thousands, this one can be found for a $599 street price.
The 4099 series' mic sensitivities and mounting clips vary, depending on which model you use. Interestingly, this is designed as a live application mic, but I've found it's very useful in the studio. Most live acoustic users would use this in conjunction with a pickup system. The 4099G system is mounted on a clip attached to a flexible gooseneck that snaps to the body of the guitar. The connector is a proprietary MicroDot, which then connects to an XLR adapter/belt clip.
We all know that even the best internal pickups have sonic shortcomings, and I've found that blending with a 4099G (preferably placed around where the fretboard meets the soundhole) offers a more natural sound. Of course, there are issues with open mics and monitors or PA systems, but DPA designed this mic for a large amount of gain before feedback. The flexible gooseneck lets you push the mic in close, where you get more direct guitar volume.
Testing… One, Two

Wisely, DPA also offers an optional DAO4099G double cable, which includes a 4099 connection with a 1/4" pickup jack connector in one dual-cable run within a nylon sock. You can also use their DMM0007 universal surface mount to run the cable along your guitar. Of course, these will cost you more money, but they are worth it if you want to keep your lines clean. When running into a wireless system, DPA recommends using a low-cut filter at 80Hz in the transmitter to avoid handling noise. The mic itself has an 80Hz low-cut filter and, frequency-wise, it runs up to 15kHz. The max SPL before clipping is 142dB, so it can take some serious volume. My only gripe is that it's got a little bit of self-noise, especially when your preamp is cranked up. But I'll take the trade-off for what it delivers sonically.
I use it in combination with other mics in the studio. I've gotten some killer acoustic sounds using the 4099G with a pair of Earthworks QTC-1s a few feet out and a few feet apart. It also sounds great using a Royer R121 ribbon on the body. The DPA offers a strong, clean center image, and the slight 2dB boost at 10-12kHz adds great sparkle on pick and finger presence. All instruments sounded better with the DPA in the mix than without it, which is a strong selling point to me. Like any other mic, the amount you blend it in will determine how strong the character is. But I find that the 10-12kHz boost helps acoustic parts find their place in a dense mix.
The small footprint means it doesn't get in the way of my other mics, and it also moves if the player moves. When recording myself, I tend to sit in an odd position. I sit my acoustics up high on my knee and pointing up in the air a bit, so the DPA stays right with me on the center image at all times. It's a minor but important touch that I appreciate.
I found the best results were achieved as DPA recommends, sitting it just where the fretboard meets the soundhole. But also I like the fact that I can sit with headphones on and move it around, play a bit and listen, and keep moving it until it hits the spot. In the studio, I can add a bit of extra gain with the preamp (which will bring up that self noise), but pushing it closer to the guitar also gets more direct response.
It's curious to me that I've found so many uses in the studio for a mic designed for live use. I've spoken with a few other respected engineers who use it in the studio as well, so I'm certainly not alone there. Overall, the 4099G is simply another sonic tool, albeit a small-profile, high-quality one. Personally, I've always been frustrated with most live acoustic guitar sounds. I'm looking forward to taking it out live soon, but until then, it's got a permanent home in my studio.
---
Rich Tozzoli
Rich is a Grammy-nominated engineer and mixer who has worked with artists ranging from Al DiMeola to David Bowie. A life-long guitarist, he's also the author of Pro Tools Surround Sound Mixing and composes for the likes of Fox NFL, Discovery Channel, Nickelodeon and HBO.