Media Preview January '10
BOOKS: Led Zeppelin: Good Times Bad Times: A Visual Biography of the Ultimate Band & The Les Paul Guitar Book DVDs: Secret Policeman's Balls: The Secret Policeman Rocks!, Guitar Setup and Maintenance & More Guitar Setup and Basic Modifications
Books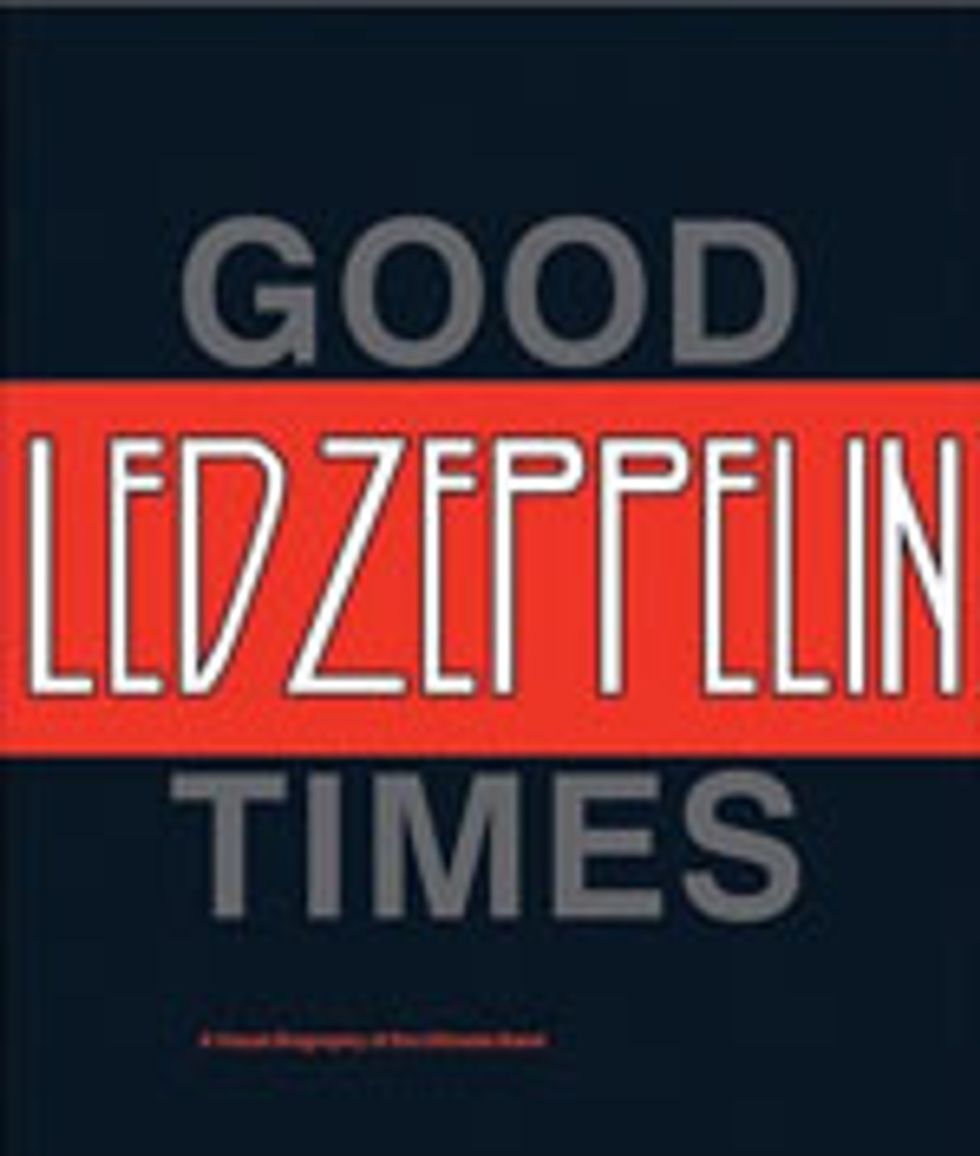 Led Zeppelin: Good Times Bad Times: A Visual Biography of the Ultimate Band
No communication breakdown here, this is a must have for any Zeppelin fan. Led Zeppelin: Good Times Bad Times: A Visual Biography of the Ultimate Band is a collection of more than 250 photographs taken by over 10 of rock's greatest photographers during Zeppelin's time.
The photographers–Robert Knight, Herb Green, James Fortune, David LeVine, etc.– capture frame after memorable frame beginning in 1968 when the New Yardbirds first took the stage on their Scandinavian tour to the final live song played by the mighty Zeppelin ("Whole Lotta Love") on July 7, 1980, in Berlin. Within those 12 years, they document plenty of Zeppelin firsts and lasts, including Page's first use of a
Les Paul
'burst in concert; the first televised performance (British TV's Supershow) of Page using a violin bow on "Dazed and Confused;" the last time Page would use his Bigsby-equipped Les Paul Black Beauty (the guitar was lost en route to Canada after a Miami, Fla., show in 1970); or Zeppelin last performance in the States (July 24, 1977, in Oakland, CA).
Along the way, the book also catches the world's biggest hard rock band dealing with the ups and downs of their success, offering up charmingly optimistic shots of Zeppelin embracing its ascent with all the eagerness and excitement of a seemingly unknown future. On the flip side, the book is also laced with photos depicting a fatigued and downtrodden band contemplating and withdrawing from the monster it had created—further proof that the band's determination and mentality to conquer rock and roll was all but lost by the mid to late '70s.
However, to lay the overwhelming success and shelf-life of this book merely on the stunningly captivating photos would be a disservice to co-authors Jerry Prochnicky and Ralph Hulett. What makes this photo-driven compilation such a hit are the well-investigated and thorough captions that accompanies every shot. Whether you're looking for the band's gear info, significance of particular shows and festivals or personal commentary and reaction from the photographers, Jerry and Ralph include it with every charismatic photo.
If you're an old Zep fanatic or someone just entering their world of mysticism and hard rock, there's no reason to pass on this book for your Zeppelin paraphernalia. —CK
List $35
abramsbooks.com
The Les Paul Guitar Book

When a young entrepreneur from Waukesha, Wis., took a fence post and mounted a magnetic coil to it, then inserted the contraption into an Epiphone hollowbody, the prototype "Log" was born. Unbeknownst to the world at the time, Les Paul had created something completely original and long-lasting—something that has and will continue to inspire legions of guitarists every day.
Tony Bacon, the author of 50 Years of Fender, Electric Guitars—The Illustrated Encyclopedia and The Ultimate Guitar Book, doesn't stray too far from his proven formula in this new book. Like many of his previous titles, The Les Paul Guitar Book features plenty of colorful, historic pictures and insightful "techy-spechy" text and captions, both factors that have made Tony Bacon's books an instant hit with gearheads.
The book works chronologically through the Les Paul's bright and loud history. Starting with the early prototype stages and working through the guitar's early workings, the book gets heavy when it dives into the specific types and runs of the LP, especially those most mentioned in rock history lore. It covers the 'Bursts, the Goldtops, the mystical '59, along with some of the less famous LPs like the Professional, Personal and Recording models. Bacon even goes the extra mile by including specific modifications and alterations made or requested by famous players on their specific models. The additional information is contained within each section or chapter dedicated to a particular model or decade.
In addition to an updated compilation of pictures, stats and artist info regarding LPs, the third edition of The Les Paul Guitar Book features a brand-new full reference section with detailed information on variations and signature editions, available finishes, detailed chronology from the early '50s through the present, with dating and serial number info. Most of us won't ever rock out on a '59 Standard, but with the help of Tony Bacon, we can regurgitate oodles of facts about the legend himself, and his legendary line of guitars. —CK
List $24.99
backbeatbooks.com
Videos

Secret Policeman's Balls: The Secret Policeman Rocks!
Long before Live Aid and Comic Relief there were the Secret Policeman's Balls, the benefit shows that featured England's biggest comedic and musical stars performing for the British Section of Amnesty International in London. Secret Policeman's Balls: The Secret Policeman Rocks! exposes the Balls' best and rarest first-ever jams and song renditions from a list of who's who in British rock.
The set kicks off with Sting performing "Roxanne" with just his black
Stratocaster
. At first it's a little jarring seeing and hearing him without Stewart Copeland and Adam Summers, or his own backing band, but Sting's vocals and soft guitar carry the song beautifully sans his missing bandmates. In addition to Sting's stripped down performance, there's also Pete Townshend ("Pinball Wizard" and "Won't Get Fooled Again") and Phil Collins ("In The Air Tonight") presenting some of their classic songs with a minimalistic approach and excellent results.
Where things get real interesting and noteworthy is when some of the best guitar duos imaginable take to the stage. First there's legendary Yardbirds' guitarists Eric Clapton and Jeff Beck, who jam on "Further On Up The Road" and "'Cause We've Ended As Lovers." Secret Policeman's co-creator/producer Martin Lewis mentions in the DVD's archival footage and interviews section that these two tracks are possibly the first ever with Clapton and Beck onstage together. During both songs, the guitar legends take turns trying to out-solo each other, which might lead you to ask, "Who wins?" The viewers, of course! There's also the unlikely combination of Mark Knopfler and Chet Atkins, who perform an acoustic rendition of John Lennon's classic "Imagine." Throughout the jam, both Knopfler and Atkins nod and push each other to outdo each player's previous lick—like only guitar masters can.
The DVD appropriately wraps up with a performance of "I Shall Be Released," featuring several of the aforementioned performers and a whole host of others all onstage. The song is capped by Clapton proving once again why he's earned the moniker, "Slow Hand." If the celebration of Amnesty International and human rights isn't enough, the slew of performances by rock legends in unfamiliar settings should push you over the edge to check this collection out. —CK
List $14.99
shoutfactory.com
Guitar Setup and Maintenance– Featuring Denny Rauen
More Guitar Setup and Basic Modifications– Featuring Denny Rauen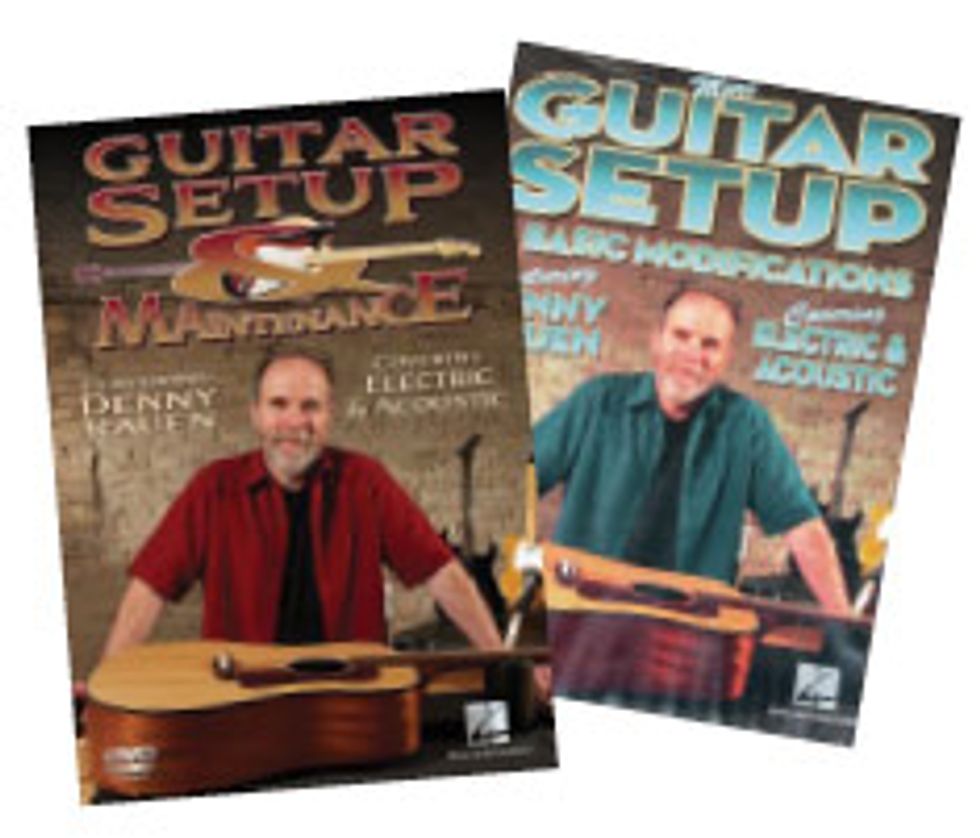 It's that time of year again… New Year's resolution time. Whether it's practicing on a regular basis or going Bob Vila on your gear, guitarists can't escape the wave of optimism that every January brings. Thankfully, master luthier Denny Rauen can help you get 2010 off to a great start by assisting you with the latter self-promise.
Rauen has worked as a luthier for nearly 40 years, including time as production manager and designer for S.D. Curlee and Dean Guitars before opening his own restoration and repair shop in Milwaukee. He's setup and modified guitars for a slew of top musicians, including Keith Richards, Buddy Guy, Leo Kottke, Roger Glover, among many more. Needless to say, you your axe is in good hands with Rauen's guidance.
Guitar Setup and Maintenance covers the absolute basic processes any guitarist should know to set up their guitar. Rauen walks through the setup for a typical acoustic, electric, archtop, slide and even the tricky Floyd Rose-equipped guitar. Each chapter (broken down by aforementioned guitar styles) includes installing strings, adjusting the bridge and truss rod, changing the action and lowering the nut height. For the electric models he demonstrates adjusting the pickup height. In addition, Rauen offers plenty of his own, personal tips; like how to quickly set the intonation of the string by using a pair of needle-nose pliers to pry an intonation screw up against the corresponding fine tuner, then using an Allen wrench to loosen the saddle block to pull the string and adjust the saddle block as warranted without messing with the locking nut. The overall feel and demeanor of this DVD is quite simplistic for most gearheads, but nonetheless packed with essential how-to information in an easy-to-digest presentation that any guitarist could use as a primer.
The corresponding DVD, More Guitar Setup and Basic Modifications takes things from the fundamental level to the land of tweakin' and moddin'. On this disc, Rauen walks through things like installing a pickup and adding a miniswitch (for series, parallel and coil-tap), shielding a single coil hum, wiring a 4-way switch (series) and treble bypass for volume control on a Tele-style guitar. He also examines various ways to set the intonation on acoustics, archtops, electrics and Floyd Rose-loaded guitars. Where this DVD is worth its weight in gold, however, is in the "Tech Secrets" chapter. Here, Rauen gives us plenty of classified info on ways to get through a gig, or survive, until you can fork out the cash for a better solution to various guitarrelated dilemmas. For example, if you notice one of your strings is too low coming through the nut slot, Rauen guides you in using baking soda and super glue to fill in that string slot so that your string sits a bit higher. If your strings are getting snug or stuck on the nut slots, Rauen shows you how to take some Teflon tape and put it across all six nut slots to fix the problem without altering string intonation. Whatever your guitar quandary, you should find some pretty nifty solutions on this DVD.
So whether you're looking to start 2010 fresh by learning how to set up and modify your guitars, or if you just need a refresher course in guitar repair basics with some on-the-fly solutions, these two DVDs won't be the reason you renege on your DIY-resolution. —CK
List $29.99 each
halleonard.com