Want to play different pedal sequences in a flash? These handy boxes provide more tone solutions than you might realize.
There is no right or wrong way to wire a pedalboard. It's really a matter of personal taste and what our ears find pleasing. Every musician has their own thing, and our pedalboards are certainly an extension of that. For some, reconfiguring the pedalboard is a lifelong process, and adding a new device often means something has got to go, because real estate is crucial!
Whether you are a fan of effects loops or not, they can be useful tools. One of the go-to pedals in my collection isn't an effect. It's a standalone effects loop order switcher, which is basically a pair of dedicated effects loops (A and B) in an aluminum pedal enclosure. There are quite a few companies that make a version of this type of device. Some of these units have many other options included and some are very basic, with no knobs at all. I like to have a somewhat simple one hanging around, with an input, an output, and two sets of send/return jacks. Each channel needs a volume knob, a foot switch, and a bypass indicator light.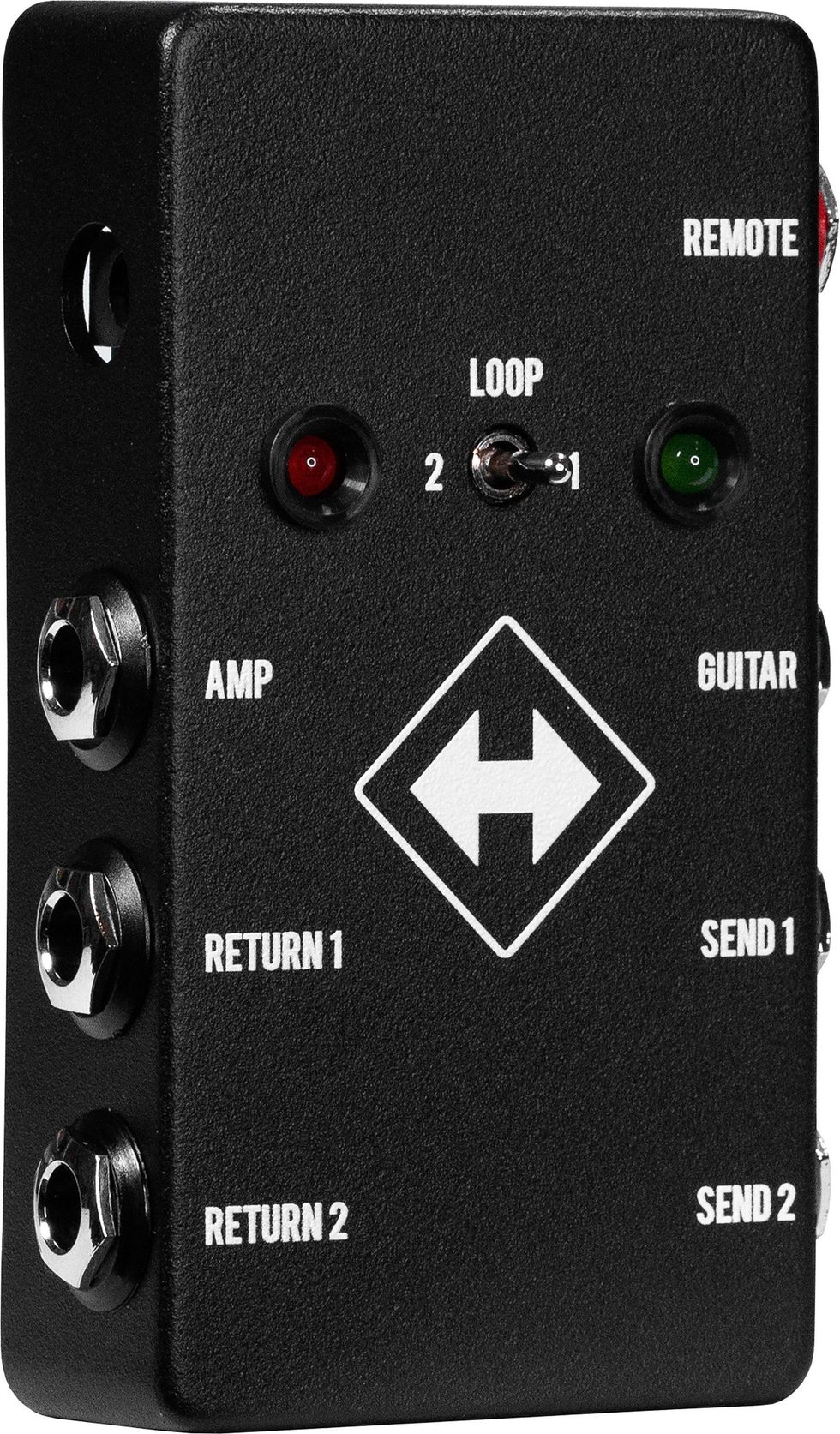 A loop switcher can be an especially useful tool when putting together a pedalboard, or even just adding a new stompbox to the mix. Signal paths can be auditioned to see how pedals will interact together before committing them to Velcro. I find it is also super fun and handy to use a switcher when doing sound explorations and, ultimately, in my writing and recording processes. There are so many more options sound-wise, depending on how effects are ordered. The rather simple unit I made allows for quick changes, which helps me economize my time. In fact, it's so useful that I have one living full-time on my pedalboard, in a really accessible spot, so I can plug and unplug on the fly if something isn't working out sound-wise.
Fancier loop-switching devices can have true bypass switching, buffers, lots of sends and returns, knobs, signal paths routed any which way.... The options are nearly endless. Plenty of pedal builders out there can build custom units for a reasonable price, tailored to anyone's specific taste. You might even go the rackmounted, pro-audio hardware route if you want to get extra fancy!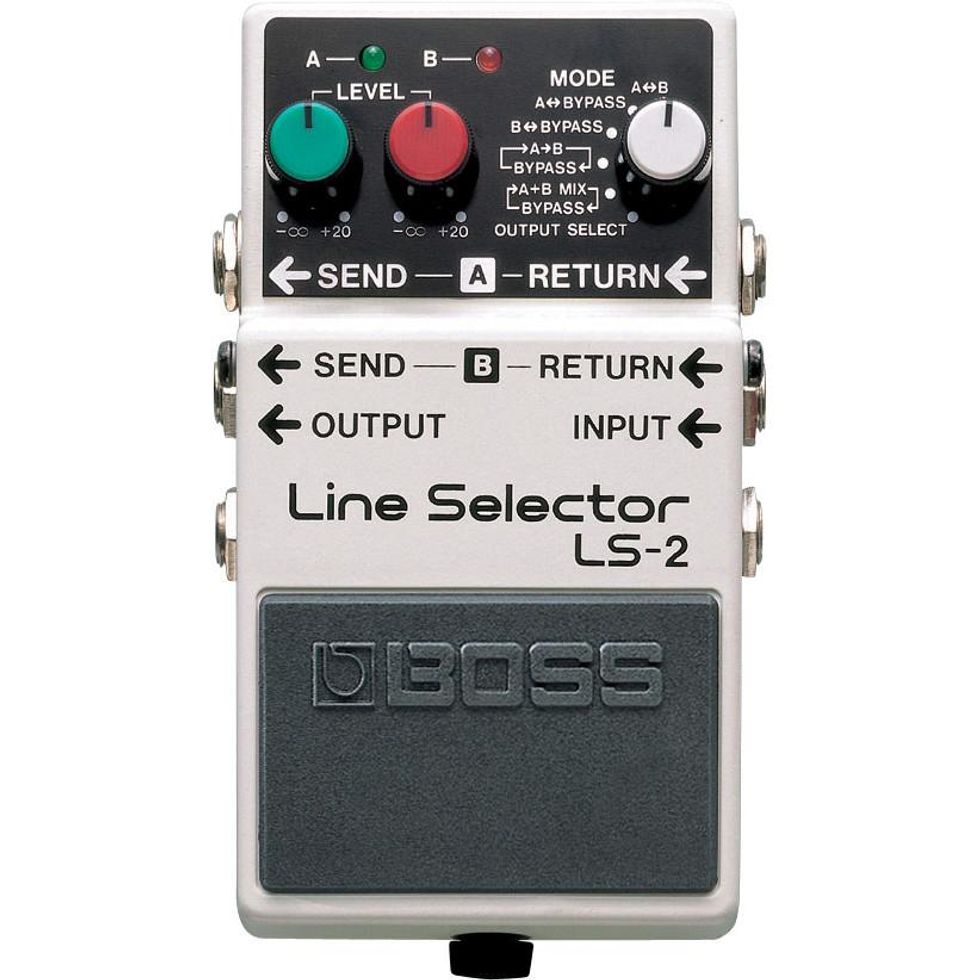 There are several different commercial A/B loop switcher units available that are on the simpler end of the spectrum, like the JHS Switchback A/B Effects Loop Switcher ($102 street) and the MXR M196 A/B Box Pedal ($59 street). The EarthQuaker Devices Swiss Things Pedalboard Reconciler ($249 street) is an awesome utility pedal with a few more helpful options. My absolute favorite simple go-to is the Boss LS-2 Line Selector Pedal ($113 street). It's got a small footprint and does all the basics. Plus, it's Boss, so it's built like a tank. Mine has survived 20 years of abuse so far.
Whether you are a fan of effects loops or not, they can be useful tools.
Some pedals sound totally different when inserted into an effects loop instead of being inserted directly in line. It's really informative to be able to hear those differences. I feel like a whole new world opened up to me when I started using the LS-2. Some of my favorite sounds that I have been able to create came from putting pedals in the loop that normally get chained up in line directly. Give it a try! And for those who DIY, check out Beavis Audio Research's awesome site. There are several different iterations to build.
See a sampling of picks used by famous guitarists over the years.
My years-long search for the "right" Bigsby-outfitted box finally paid off. Now how do I make this sumbitch work in my band?
Considering the amount of time I've spent (here and elsewhere) talking about and lusting after Gretsch hollowbody guitars, it's taken me a remarkably long time to end up with a big Bigsby-outfitted box I truly love. High-end Gretsches are pricey enough that, for a long time, I just couldn't swing it. Years ago I had an Electromatic for a while, and it looked and played lovely, but didn't have the open, blooming acoustic resonance I hoped for. A while later, I reviewed the stellar Players Edition Broadkaster semi-hollow, and it was so great in so many ways that I set my sights on it, eventually got one, and adore it to this day. Yet the full-hollowbody lust remained.
I've long been more of a single-coil player than a humbucker guy, so the more I thought about it, the more intrigued I was by the idea of a hollow with pickups that weren't of the Filter'Tron variety. I also liked the idea of a lower-key aesthetic. So in early April, after a bunch of research and listening, I pulled the trigger on a beauty from the other stellar "G" hollowbody brand. With its transparent blonde finish and P-90-esque Franz single-coil pickups, the Guild X-175B Manhattan I picked up ticks both boxes nicely. And for a very reasonable used price, too.
After outfitting it with a set of Thomastik-Infeld flatwound strings, I ended up loving the Manhattan's woody resonance so much I had to try it with my band. Problem is, I play in a drums-and-guitar duo where my Vibrolux Reverb runs in tandem with a bass amp to fill out the sonic space (two of my main band axes are baritones, and a keyboard goes through the same pedalboard and amp array). As you might've guessed, the Manhattan did not initially love the bass amp. When I plugged in with my usual settings, the howling was so rabid I figured the Guild would never work out at band volumes—or at least not in that band.
You can't ride the wild horsey without widening your entire playing mindset to be much more cognizant of when something … threatens to cause a fit of mad buzzing.
But the more I played the 175B through other amps and at quieter volumes, the more I realized I had to give it another go. The guitar's acoustic depth and the Franz's clear-but-mellow, almost Jazzmaster-esque response are so old-school charming but big and bold and vibrant that I decided it might be worth revamping settings for the entire bass-and-guitar-amp rig.
Figuring it all out has been a wild mustang ride. Tremolo and vibrato intensity needed to be increased a tad to yield the same vibes they do with other guitars. But my usual gnarly fuzz tastes are too out-of-control and indistinct with the Manhattan, so fuzz might be off the board indefinitely. The good news is that you can work that howling susceptibility to your advantage and create huge, pulsating sounds that are as bombastic in their own way as a fuzzed-out solidbody.
To bridle the beast, I tried shoving a sock or four through the f-holes. It worked a bit, but it also deadened the sound and killed that "alive" feeling that makes the resonating body so cool to work with in the first place. So out the socks went. Interestingly, bringing down the volume of the Vibrolux—not the bass amp—helped significantly, though I refuse to take it below 3 because it just won't sound right. Being mindful of how playing positions and proximity to the amps exacerbate the problem are also key. Even so, you can't ride the wild horsey without widening your entire playing mindset to be much more cognizant of when something—most often it's simply sustaining a 6th-string note—threatens to cause a fit of mad buzzing. It's an entirely new world of dynamics, dampening, and muting, with both your fretting and your picking hands.
We're still experimenting with how all this might shake out in the band, but so far the sounds and overall vibes are so cool we're considering adjusting song arrangements, instrumentation, and tunings to better coalesce around the Guild's wonderful sounds. (The simplicity of one guitar, one keyboard, and not too many pedals has its attendant benefits, too, including a streamlined sonic aesthetic and reduced time and technical issues between songs.) Anyway, wish us luck!