Alvarez Masterworks MDR70ESB Review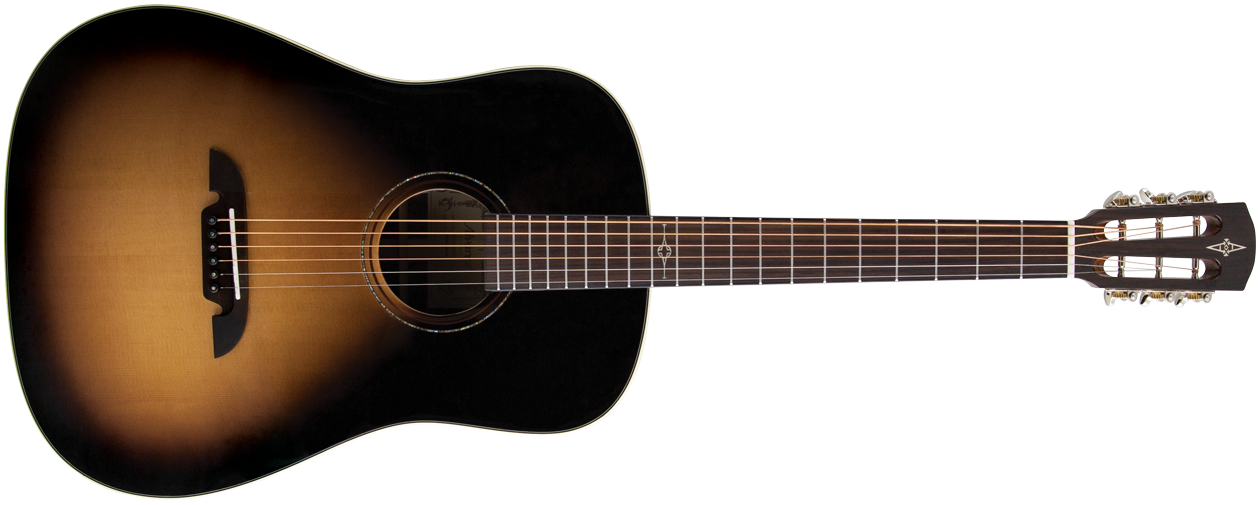 A mid-priced take on a slotted-headstock, 12-fret dreadnought with big bass and a lot of class.
Solid build. Big bass response. Great finish. Easy-to-play neck.
Fourteen-fret dread fans may miss some sustain and high-end resonance.
4
4.5
4
4
Mid-priced acoustic guitars are a tricky proposition. The maker has the unenviable task of building a guitar that's affordable but upmarket enough in sound and playability to justify spending what's still a considerable chunk of change. That design directive generally means compromise at every turn. So, when I received the Alvarez Masterworks MDR70ESB, I thought a lot about what concessions Alvarez might have made. But sitting there in the case, everything about this guitar's looks belie its $999 street price. From its 12-fret neck, cool vintage sunburst, all-solid spruce and rosewood construction, slotted headstock, and hip 12th-fret inlay, the Alvarez sets up big expectations.
---
Big Guitar, Big Looks
The MDR70ESB is a formidable guitar with a big dreadnought body—15 7/8" across its lower bout and 5 7/8" deep—that feels sturdy but comfortable. The MDR70ESB features a solid AAA North American Sitka spruce top and solid rosewood back and sides. Alvarez's signature bridge looks like a wide, upside down "W," which I dig—it's distinctive without being too clever. A two-ring abalone and ABS rosette dress up the top, and, along with the high-gloss poly top, they give the guitar just enough visual pop. Just inside the soundhole are controls for an LR Baggs Element active system.
The MDR70ESB's mahogany neck features an Indian Laurel fretboard devoid of ornamentation except the 12th fret inlay, where the neck meets the body, which is a sharp touch. I can't help but get excited by the look of a slotted headstock. And paired with Alvarez's inlaid logo and open gear tuners, this one is exceptionally attractive and classy.
All About That Bass
Plucking the Alvarez, the guitar's resounding bass is immediately noticeable but not overbearing. It has a dry, balanced sound that offers plenty of note separation. Fingerpicking and arpeggiated picking are a pleasure, and any kind of percussive playing feels alive with so much plucky attack on tap. At times, that dryness is less of an asset, and some midrange and high frequencies can sound muted relative to the robust bass—a not-uncommon byproduct of 12-fret design. At times, this means the MDR70ESB sounds a little more akin to a small-bodied guitar with a lot of bass response. Fingerpicking players may love this tone profile (as well as the fingerstyle-friendly 1 3/4" nut width). Fans of big, D-28-style stumming tones may find it less attractive. Either way, the Alvarez's tone makeup is a very cool alternative to classic 14-fret dreadnought tones.
I can't help but get excited by the look of a slotted headstock. And paired with Alvarez's inlaid logo and open gear tuners, this one is exceptionally attractive and classy."
Moving around the neck, notes ring evenly and the action is smooth and pliable. Open position playing is comfortable and that even response makes for easy transitions up the neck, where a slinky feel makes for easy bending. There's plenty of room to navigate the entire fretboard with precision. While doing so, I found the satin-finished neck to feel a little anonymous, but that's a matter of preference and it certainly felt comfortable if not distinctive.
The Verdict
The MDR70ESB is a classy but understated instrument that represents a genuine alternative to classic, 14-fret dreadnought tone profiles. It shines in unexpected ways. And rather than providing lush pianistic arpeggios and rich, sustaining chords associated with 14-fret dreads, it's a dry, percussive guitar that delivers a lot of bass response and provides even, precise, and strong fundamental tones. It's also an easy-to-play instrument that is comfortable to hold. And thanks to discreetly situated onboard electronics, it's ready to gig—making the $999 street price feel a lot more like a value than a mid-price compromise.