A multi-effects powerhouse that serves session aces and free spirits.
Seemingly endless sounds on tap. Relatively streamlined functionality. Fun in spite of its complexity. Many authentic analog-style tones. Dual algorithm capacity.
Maximizing pedal potential takes homework. Some digital artifacts in some voices. Spendy.
4.5
5
3.5
4.5
Eventide's Harmonizer family of products are a curiously named bunch. Most do, in fact, harmonize and produce related pitch effects. But Eventide's new H90 Harmonizer, like its predecessor the H9, also does about a million other things very, very well. It's a powerful multi-effect that, in its new incarnation, offers thousands of vintage and future sounds and generates rich textures and tone colors that can transform the germ of an idea into a foundation for composition, or something grander, quickly and with relative ease.
---
Brother to Legends
The H90's architecture is rooted, to some extent, in that of the H9000 Harmonizer, an $8K, rack-mounted, ultra-deep studio instrument utilized to wildly varied effect by producers, film score composers, and deep-pocketed sound experimentalists. The notion of a compact derivative of the H9000, even with a fraction of the functionality, at a little more than a tenth of the price, is appealing for obvious reasons. But the H90 is impressive outside of comparisons to the H9000. It's very practical— particularly if you work sessions, multiple bands or gigs, or create and produce music on the move. Its footprint isn't much larger than its predecessor, the H9. And, if you consider its size relative to its capabilities, there is little that even space-obsessed pedal heads can complain about.
If you're the impatient sort, or just like to chance upon sounds, you can dive headlong and blind into the H90's world of sound and get cool results. The excellent factory presets make intuitive voyaging a lot of fun. And the streamlined control set makes transformative tweaks easy. That said, you can get in the weeds pretty quickly if you choose to forego a read of the manual or quick start guide. The H90 does a lot. And if you intend to unlock even a fraction of its capabilities you should plan on some homework.
The H90 features 10 new algorithms. Some are familiar effects, like the SP2016 plate reverb emulation, a TS-style overdrive called the "weedwacker," and an emulation of the old Eventide PS101 phaser. Other vintage flavored algorithms include a multi-head delay and Uni-Vibe emulations. More "modern" sounds come via a polyphony algorithm that enables harmonization in specific intervals, and a "wormhole" algorithm that creates the kind of spacious, pitch-modulated reverb washes you associate with CGI animations about the vastness of the cosmos.
Perhaps the most significant enhancement in the H90 is the capacity to use two algorithms in series or in parallel and shape them independently. This capability, along with the streamlined, well-considered parameter controls for each algorithm, exponentially stretch the depth and potential of factory presets and the ones you'll make on your own. Routing and connectivity options are impressive, too. Dual routing means you can set up two independent stereo paths utilizing two different algorithms. There are also MIDI in and out jacks, two inputs for expression pedals or auxiliary switches, and a USB-C port for use with the Eventide H90 Control app.
Harmony of the Spheres—And Many Other Shapes
Listing the sounds the H90 makes would take a review many times the length of this one. And that would only scratch the surface. But it's easy to see why so many musicians that have to cover a lot of bases found the H90's predecessor, the H9, so appealing and valuable. Because once you get your presets dialed in, you can switch readily between familiar vintage sounds and completely alien ones.
As anyone that has used an H9, Space, or TimeFactor can tell you, modern Eventide effects tend to be deep, expansive, and capable of very rich sounds. But the twin algorithm capabilities often create a perceptible extra layer of intricacy that, when dialed in carefully, generates intriguing lattices of sound that can be subtle or strange.
"For a lot of players, the H90's price tag, which is roughly the same as a high-quality affordable guitar or amp, will be worth every penny."
Sometimes the dual algorithms can produce familiar tones. The "hey floyd" program, heard in the accompanying audio clip 1 combines the weedwacker and "spacetime" programs' "outer limits" preset to create a pretty convincing take on David Gilmour's Big Muff and Electric Mistress tones circa The Wall. In the "fuzzy old bits" program (clip 2), a vintage rack delay model and spring reverb emulation combine to create a combination of '80s dotted-eighth delay and '60s surf 'n' psych ambience.
The complexity in dual program settings doesn't necessarily mean they are a washy mess. Combining harmonic modulation with a modulated echo and reverb lends weird animation and movement from odd harmonizing overtones in the "gentle arps" setting (clip 3). "Floating in Space" (clip 4) demonstrates the intricate but clear wash you can create by using two blackhole algorithms at different settings. "Dream Sequence" (clip 5) probes the more ethereal capabilities of the H90, combining emulations of the old Eventide H910 and the spacetime algorithm.
The Verdict
At about 900 bucks, the H90 is a high-ticket piece of kit. If you're strictly a guitarist, your tastes include unconventional styles, and you have a very open mind, the H90 can transform what you play, guide you along unexpected creative vectors, and extract you from a rut in a flash. It also gives you access to a vast library of familiar sounds And for a lot of players, the H90's price tag, which is roughly the same as a high-quality affordable guitar or amp, will be worth every penny. Multi-instrumentalists are likely to get even more out of the investment.
Whether you want to invest the time in digging deep into the H90's considerable powers so that you can justify the price tag is another matter. The H90 is intuitive enough that it takes just minutes with the unit to yield buried treasure. But this is also the kind of pedal that can chew up hours of studio time if you're not careful. A little focus and discipline—and a concerted investigation of the manual—can go a long way toward making freer, more intuitive exploration possible down the line. And unless you're really averse to digital interfaces, there's little cause to be intimidated by the H90's deep capabilities. With practice, programming your own very individual presets becomes a satisfying, creative endeavor, and you're likely to make a lot of amazing sound discoveries along the way.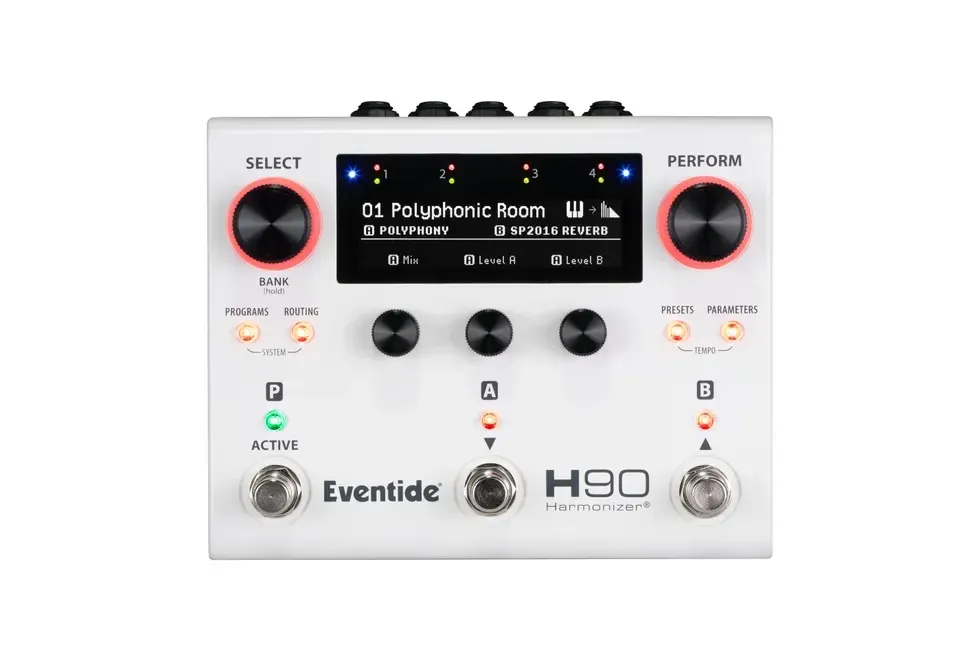 Eventide