Fender Hammertone Space Delay Review
Excellent value. Plenty of analog authenticity.
No tap tempo. Could benefit from a tone control.
4
4.5
4
4.5
An extremely affordable digital take on analog echoes.
---
Fender's Space Delay, from the company's recent Hammertone series, is a digital delay with a tape-echo's soul. Back in June we reviewed the more conventional Hammertone Delay, which we noted was " a lot more fun than most inexpensive digital delays." That holds true for the company's more analog-style—and equally affordable—Space Delay.
Echo Family Resemblance
Tape echo-inspired delays typically utilize rhythmic patterns and modulation to approximate the multi-head capabilities and tape warble in real tape delays. But there's a secondary benefit to this kind of functionality: It's fun! And I often found myself situating the Space Delay within arm's reach rather than at my feet so that I could use each function to the fullest.
The Space Delay is configured a lot like the Hammertone Delay, except the Space Delay swaps the type switch for a pattern control which moves between quarter-note delay, pattern 1, and pattern 2, which are pre-programed rhythmic patterns. To some extent, the two patterns offer the ping-pong echo interplay that you hear in vintage multi-head echo units like the Roland Space Echo and the Binson Echorec. And playing to the gallop-style feel of each pattern is inspiring. Each pattern is made up of quarter and eighth notes, Pattern 1 situates the quarter-note first in the pattern, while pattern 2 situates the faster repeat first in the sequence. The pronounced attack on each initial delay is crisp and accurate, which helps drive the rhythmic push for each pattern and the phrases you create with them.
The other switch turns on the modulation and there are two small controls on the inside of the pedal to adjust modulation speed and depth. The factory setting is a nice, flowing setting that stops well short of seasick vibes. Still, it was a bit heavy on the depth, so I turned that down a bit to allow the modulation to sit more comfortably in the background. Extreme modulation depth settings are fun too if you're in the mood to get noisy. Some of the chorus-like tones at these settings might be a bit metallic sounding in the high end for some, but they still mesh nicely with cleaner low-repeat, high-feedback settings.
Dirty Deeds
For many, the primary appeal of tape- and analog-style delay is how repeats degrade and lose fidelity as they repeat. The Space Delay nails that haze. There's enough natural grit on the repeats to pass as an all-analog creation in many cases, and you can hear a lot of analog-style warmth in the audio clips that accompany the digital version of this article. As nice as those dark repeats can sound, I still wish there was a tone control to brighten those repeats up at times. Amid the swirling sound of a loud gig, darker repeats can go missing, and I tend to prefer digital delays in those settings for that reason. So, it's worth trying the Space Delay before you buy to see how the darker repeats fit with the other elements of your signal chain.
There's enough natural grit on the repeats to pass as an all-analog creation in many cases
The feedback is satisfying in very analog-like ways too. It's especially cool to be able to use heavy feedback settings—right at the edge of oscillation—and then walk the line between a long wash of repeats and self-oscillation, simply by adjusting your picking dynamics. It's not easy to coax that sensitivity out of more pristine digital units.
The Verdict
The Space Delay is a great gateway to the world of tape-echo ambience at a exceptional price. I do wish there was a bit more flexibility in the repeat patterns, a way to brighten repeats up, or maybe even tap tempo. But for $99 the Space Delay is a killer way to work a little warble, tape-style fog, and rhythmic drive into your delay textures.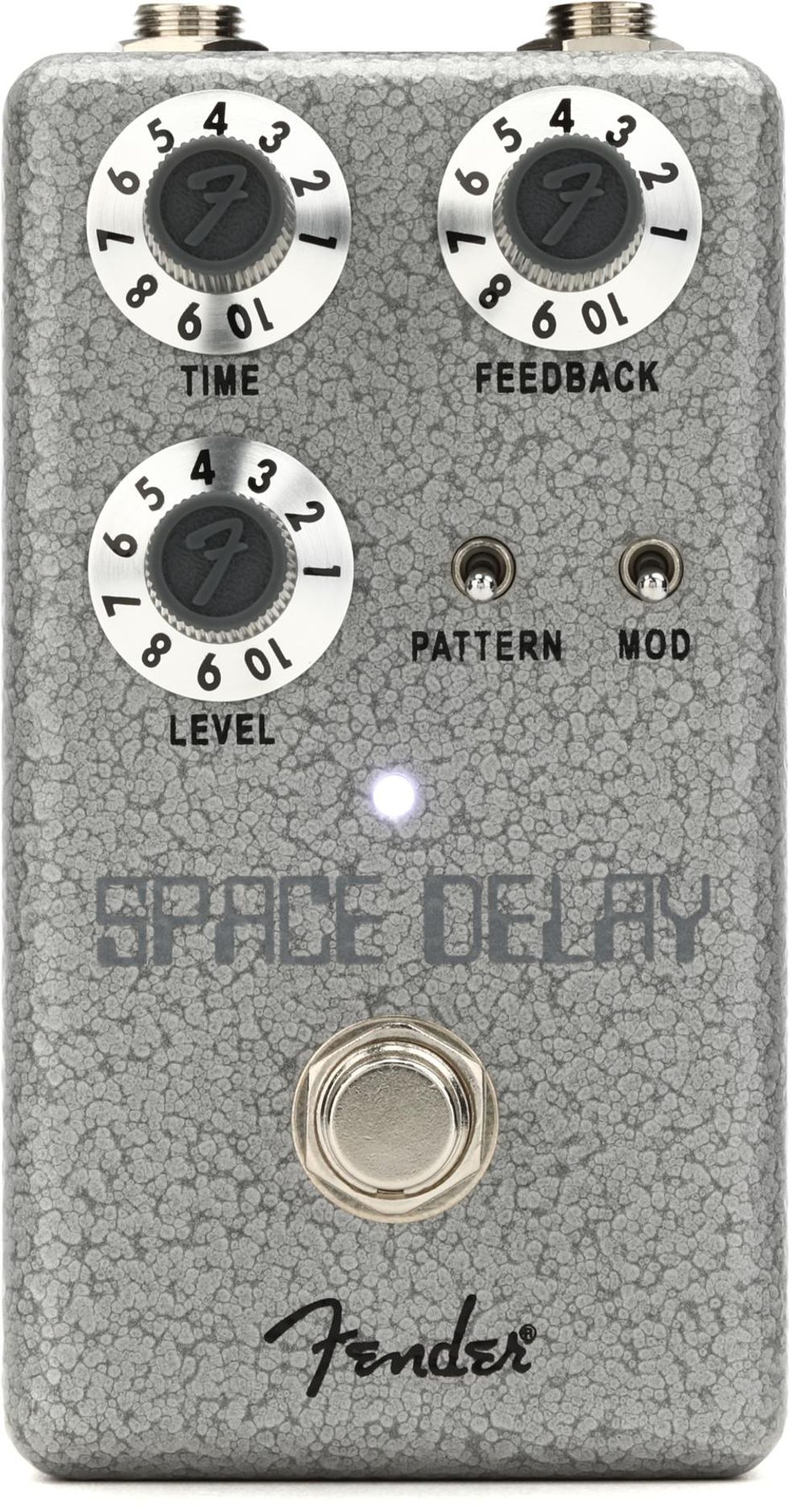 Classic analog tape delay warble in a budget-friendly package!
Pattern and Modulation switching provide stellar creative foundations
Time, Feedback, and Level controls allow for maximum delay customization
Analog Dry-Through technology expertly preserves your guitar tone while in use
True-bypass switching for easy integration into your pedal chain
Fender