Proceeds from the auctions will benefit the Little Kids Rock and USO charities.
Los Angeles, CA (June 5, 2014) -- Guitar Center, the world's largest retailer of guitars, amplifiers, drums, keyboards, recording, live sound, DJ and lighting equipment, announces its first-ever online charity auctions, of two custom Jimmy Page "Number Two" Gibson Les Paul guitars. Proceeds from the auctions will benefit the Little Kids Rock and USO charities. The auctions will take place on eBay (www.ebay.com/jimmypagelespaul) starting Thursday, June 19, 2014, 4PM PDT, through Sunday, June 29, 2014, 4PM PDT. The minimum bid is $20,000 for each guitar, and each comes with a certificate of authenticity.
"Number Two" is a 1959 Les Paul, one of Jimmy Page's prized guitars, obtained in the early 1970s and used consistently by Page ever since. He had the electronics altered to get the widest possible range of sounds from two humbucker pickups, and had the neck shaved to match his "Number One" Les Paul. Four years ago, Gibson Custom painstakingly recreated "Number Two" in an extremely limited run. These guitars were built to Page's exact specifications, faithfully replicating the iconic aged flame maple top, faded "Page Burst 2" finish, and even the dings, dents and wear marks. Only 25 of these Aged and Signed guitars were released worldwide, and all 25 of them were individually played, signed and numbered by Jimmy Page. Jimmy kept #1 for himself and the remaining 24 guitars instantly became highly valued collector's items. After half a decade, Guitar Center is opening the vault and offering #2 and #5 in this special charity auction.
The Custom Shop Jimmy Page "Number Two" Les Paul was recreated with intense, millimeter-by-millimeter examination of Page's original guitar, inside and out. The process of getting it right involved the production of a number of hand-built prototypes, each of which was checked and critiqued in detail by Page himself. Approval of the final iteration was only offered after the legendary artist had intricately examined and extensively played this last prototype in his London home—after which it was given the thumbs-up, worthy of being the template for the Custom Shop Jimmy Page "Number Two" Les Paul. Only 325 examples were produced in total: 100 aged by vintage-reproduction master Tom Murphy; 25 more aged by Tom Murphy and signed by Jimmy Page; and 200 finished to Gibson's VOS specs.
Body Crafted from a uniquely figured two-piece Eastern maple top attached to a one-piece, solid, lightweight, genuine mahogany back, the Custom Shop Jimmy Page "Number Two" Les Paul follows the body lines and dimensions of the original '59 Les Paul Standard.
Neck and Headstock The neck of the Custom Shop Jimmy Page "Number Two" Les Paul is constructed from one piece, quarter-sawn, lightweight mahogany for improved strength and resonance. The luthiers in Gibson's Custom Shop carefully match the grains and weights of these guitars' bodies and necks to optimize tone and sustain.
Hardware The Jimmy Page "Number Two" Les Paul is equipped with top of the line hardware. From the Grover tuners to the stopbar tailpiece to the period-correct "antique bell" truss rod cover, it retains and replicates every bit of its predecessor's strength.
Electronics On this Les Paul, each of the controls' potentiometers has been replaced with a push-pull pot for individual pickup switching functions, while two miniature push-pull DPDT switches have been mounted under the pickguard to provide additional universal switching functions. Note: due to trademark issues and per Jimmy's directive, the bobbins on the Jimmy Page "Number Two" Les Paul reissue are black instead of crème.
For more information:
Guitar Center
Looking for more great gear for the guitar player in your life (yourself included!)? Check out this year's Holiday Gear Finds!
Outlaw Effects introduces their next generation of NOMAD rechargeable battery-powered pedal boards.
Available in two sizes, NOMAD ISO is a compact, versatile tool that offers the convenience of a fully powered board plus the additional freedom of not having to plug into an outlet. NOMAD ISO is ideal for stages with limited outlet availability, quick changeovers, busking outdoors, temporary rehearsal locations, and more!
NOMAD ISO builds upon the legacy of the ultra-convenient and reliable NOMAD rechargeable pedalboard line originally launched in 2018. The brand new NOMAD ISO editions feature eight isolated outputs (1 x 9V DC, and 1 switchable 9V/12V DC) for even more versatility and clean, quiet power. With an integrated lithium-ion battery pack boasting 12800mAh capacity, NOMAD ISO can fuel a wide array of pedals, and will last over 10 hours* on a single charge.
Each NOMAD ISO pedal board includes adhesive hook & loop pedal-mounting tape, eight (8) standard DC connector cables, and one (1) reverse polarity DC cable, giving you everything you need to build your ultimate "off-the-grid" rig. A rugged, road-ready padded gig bag with shoulder strap is also included, to safely protect your gear while you're on the move.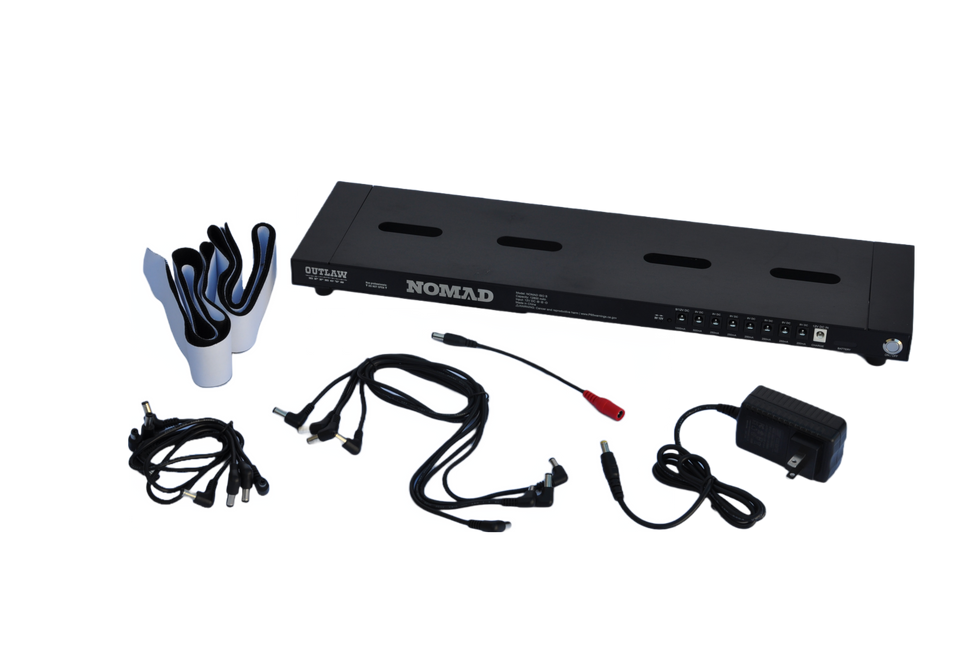 Dunable announce new Minotaur model featuring Grover Rotomatic Keystone tuners.
The Minotaur's DNA is rooted in their classic Moonflower model, which Dunable discontinued in 2017. However, they have long since wanted to create a fresh take on a carved top guitar design, and various attempts to rework the Moonflower led them to a brand new concept with the Minotuar.
Dunable's goal is to give the player a guitar that plays fast and smooth, sounds amazing, and gives maximum physical ergonomic comfort. The Minotaur's soft and meticulous contours, simple and effective control layout, and 25.5" scale length are designed to easily meet this criteria.

Dunable Minotaur!
Features
25.5" scale length
Dual Humbucker
one volume, one tone, push pull for coil splitting
Grover Rotomatic Keystone tuners
Grover Tune O Matic bridge with brass Kluson top-mount tailpiece
jumbo nickel frets
12" fretboard radius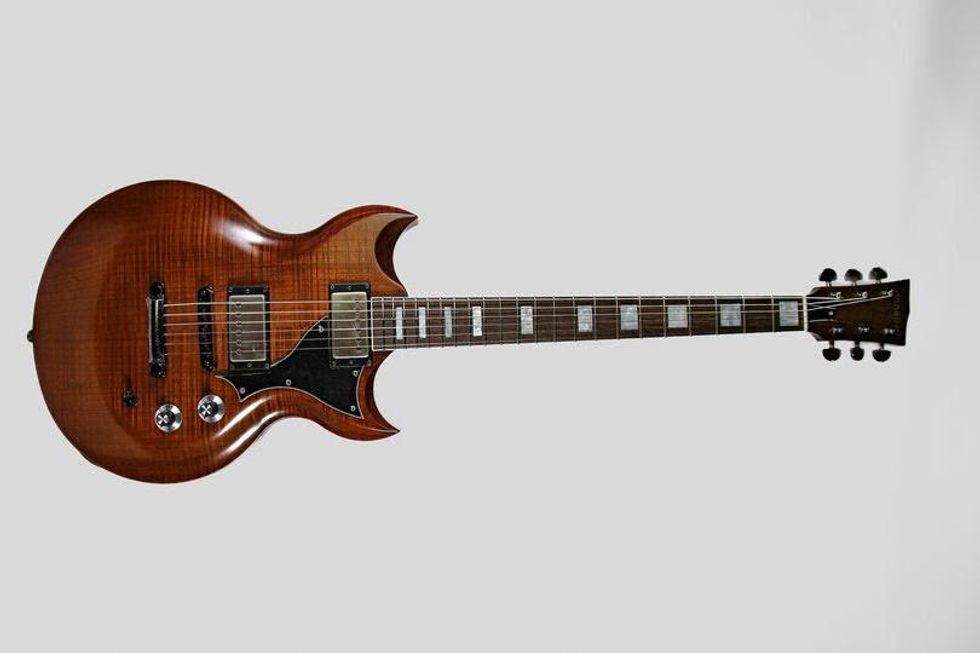 Dunable
This full-amp-stack-in-a-box pedal brings a new flavor to the Guitar Legend Tone Series of pedals, Missing Link Audio's flagship product line.
Adding to the company's line of premium-quality effects pedals, Missing Link Audio has unleashed the new AC/Overdrive pedal. This full-amp-stack-in-a-box pedal – the only Angus & Malcom all-in-one stompbox on the market – brings a new flavor to the Guitar Legend Tone Series of pedals, Missing Link Audio's flagship product line.
The AC/OD layout has three knobs to control Volume, Gain and Tone. That user-friendly format is perfect for quickly getting your ideal tone, and it also offers a ton of versatility. MLA's new AC/OD absolutely nails the Angus tone from the days of "High Voltage" to "Back in Black". You can also easily dial inMalcom with the turn of a knob. The pedal covers a broad range of sonic terrain, from boost to hot overdrive to complete tube-like saturation. The pedal is designed to leave on all the time and is very touch responsive. You can get everything from fat rhythm tones to a perfect lead tone just by using your guitar's volume knob and your right-hand attack.
Features 
Three knobs to control Volume, Gain and Tone
Die-cast aluminum cases for gig-worthy durability
Limited lifetime warranty
True bypass on/off switch
9-volt DC input
Made in the USA
MLA Pedals AC/OD - Music & Demo by A. Barrero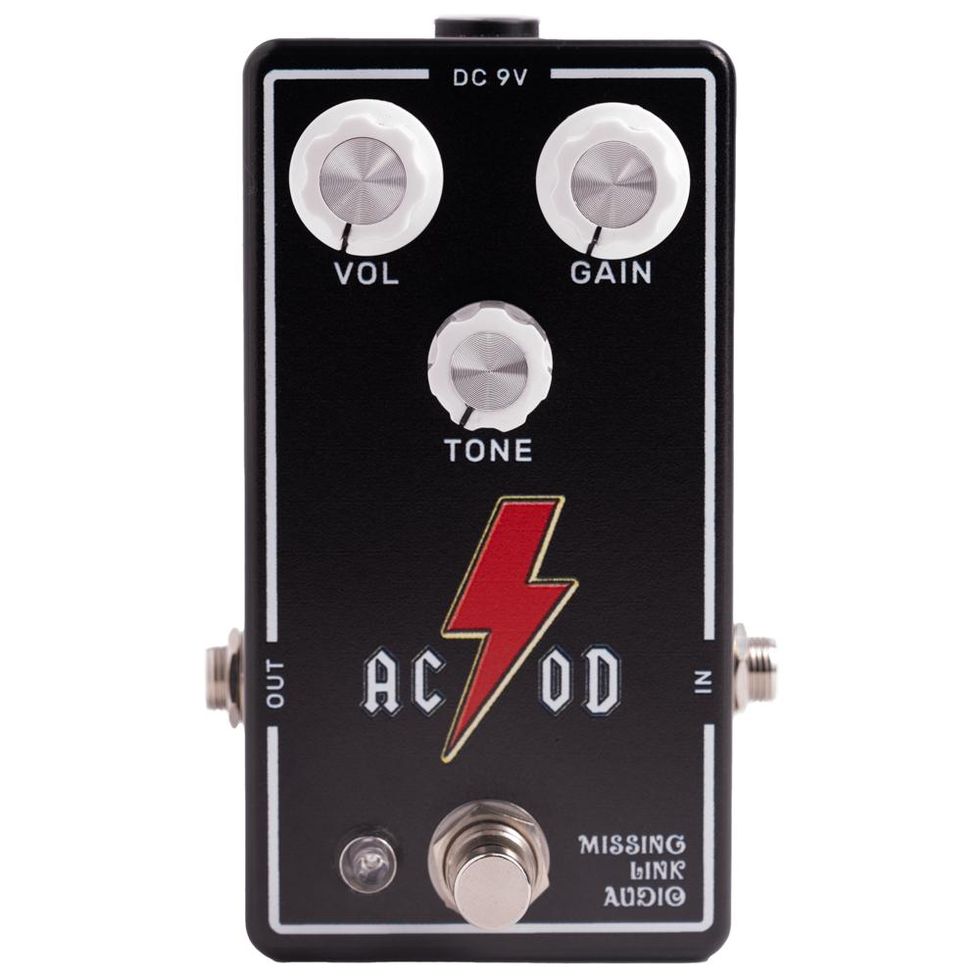 www.mlapedals.com.