A svelte and powerful high-end flattop that's equally sweet and dynamic.
Not a construction flaw to be found. Sweet-to-powerful dynamic range. Comfy neck. Near-rosewood-level responsiveness from a mahogany back. Beautiful woods.
A full $1K more than a Standard 000-18.
4.5
5
5
3.5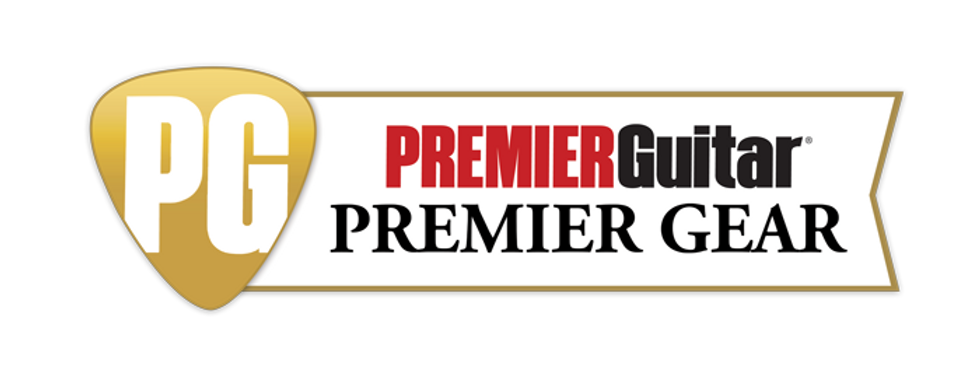 It would be easy for a company of Martin's stature to coast every now and again. Maintaining brand mystique is exhausting in an age when hype rules the day. Keeping quality and substance intact—and maintaining commitment from the folks on the shop floor that deliver it—is even harder. But year in and year out, Martin continues to make instruments that simultaneously dwell in the realms of the practical, the musical, and the exquisite.
---
At nearly $3,600—a full $1K more than a standard 000-18—it's a good thing the Martin 000-18 Modern Deluxe looks and feels as luxurious as it does. But while details like a pearl-inlay, 1930s-style script logo, EVO gold frets, and flawless lutherie and woodwork at every turn will make even the most cynical function-before-form grump pause, it's the functional facets of the 000-18 Modern Deluxe that impress the most.
Building on Perfection
The 000 body (which shares dimensions, more or less, with the OM) is a cornerstone of the Martin line. Mating it to the "18" tonewood formula, which combines mahogany back and sides, adds up to a guitar that, to many ears, is the essence of balance and sweetness. So how does one refine something that's so near perfect to begin with? Well, even in the case of an architectural masterpiece there's always room for a little tasteful landscaping, and Martin has done a fair bit of that here. The 1930s-style logo is inlaid in pearl, while the body binding is East Indian rosewood—a very subtle but rich contrast to the mahogany and beautiful wheat-colored torrefied Sitka spruce top. The bookmatched, 2-piece top has a beautiful grain pattern with medullary rays that add a sense of almost watery depth and a classy, not-overbearing hint of flame out at the edges. I'd imagine our review guitar will be a joy to watch age. The gold, open-gear Waverly butterbean-style tuners may be the most overtly "deluxe" appointment on the guitar. But they are a stylistically cohesive element and feel super smooth and precise.
The additions to the 000-18 that put the "modern" in this very deluxe model include enhancements that appeal to tone scientists that work at the microscopic level: Liquidmetal bridge pins and a carbon composite bridgeplate—components said to improve sustain and volume. Such benefits can be very hard to qualify without a raft of test equipment at your side. But I did sense a more immediate, sometimes explosive, response, which also seemed to expand the guitar's already considerably dynamic range. If you've ever checked out a 000-18 and been at all disappointed with its capacity for fast response, this version could alter your perception. Other non-traditional elements have more tangible effects, like the asymmetric neck, which puts a little extra mass on the bass side and shifts the apex of the neck in that direction as well. The effect is subtle, especially given that the neck is a bit slim. But with its ability to offer more support for the thumb when barre chording or fretting bass notes, I felt less fatigue—and I was testing this instrument at a time when my hands were feeling like a mess. However subtle the effect, I was grateful.
Song from a Siren
There's another reason that the 000-18 Modern Deluxe feels easy on the hands: The guitar is incredibly even in touch responsiveness and output along the whole length of the fretboard. You're never squeezing a bit extra here or there to get a note to ring true or free of buzz. Making the connection between thought, instinct, and execution of a note or chord feels like a more fluid and effortless sequence of actions. This quality can have a real upside as you formulate or play melodic sequences, as can the OM-style 1 3/4" nut width (most 000 guitars have a slimmer 1 5/8" spacing).
The dynamic response is also superb. Softly plucked notes have substance, body, and complexity. And even a gentle touch with flesh on string gives individual notes blooming, ringing resonance. Approach the 000-18 Modern Deluxe with a more forceful touch and it surprises with big-time headroom and fast reactivity—the kind you more readily associate with rosewood-backed 000s and OMs and bigger bodied D-series dreadnoughts.
The Verdict
Though I tried, I didn't hear many, if any, weaknesses in the 000-18 Modern Deluxe's tone makeup—which is what you should expect for (gulp) $3,599. I suppose you could make a case for a sort of new-guitar antiseptic edge in some harder-plucked notes—the kind a torrefied top should help avoid. But I heard nothing that sounded like it wouldn't mellow over time. And the dynamism of the instrument makes it easy to work around any trace elements of harsh overtones, which are very, very few. Playing a flattop that you feel at one with—ergonomically, tonally, and responsively—is a treat. The 000-18 Modern Deluxe makes it extraordinarily easy to tap into that well of sweetness.
Looking for more great gear for the guitar player in your life (yourself included!)? Check out this year's Holiday Gear Finds!
Outlaw Effects introduces their next generation of NOMAD rechargeable battery-powered pedal boards.
Available in two sizes, NOMAD ISO is a compact, versatile tool that offers the convenience of a fully powered board plus the additional freedom of not having to plug into an outlet. NOMAD ISO is ideal for stages with limited outlet availability, quick changeovers, busking outdoors, temporary rehearsal locations, and more!
NOMAD ISO builds upon the legacy of the ultra-convenient and reliable NOMAD rechargeable pedalboard line originally launched in 2018. The brand new NOMAD ISO editions feature eight isolated outputs (1 x 9V DC, and 1 switchable 9V/12V DC) for even more versatility and clean, quiet power. With an integrated lithium-ion battery pack boasting 12800mAh capacity, NOMAD ISO can fuel a wide array of pedals, and will last over 10 hours* on a single charge.
Each NOMAD ISO pedal board includes adhesive hook & loop pedal-mounting tape, eight (8) standard DC connector cables, and one (1) reverse polarity DC cable, giving you everything you need to build your ultimate "off-the-grid" rig. A rugged, road-ready padded gig bag with shoulder strap is also included, to safely protect your gear while you're on the move.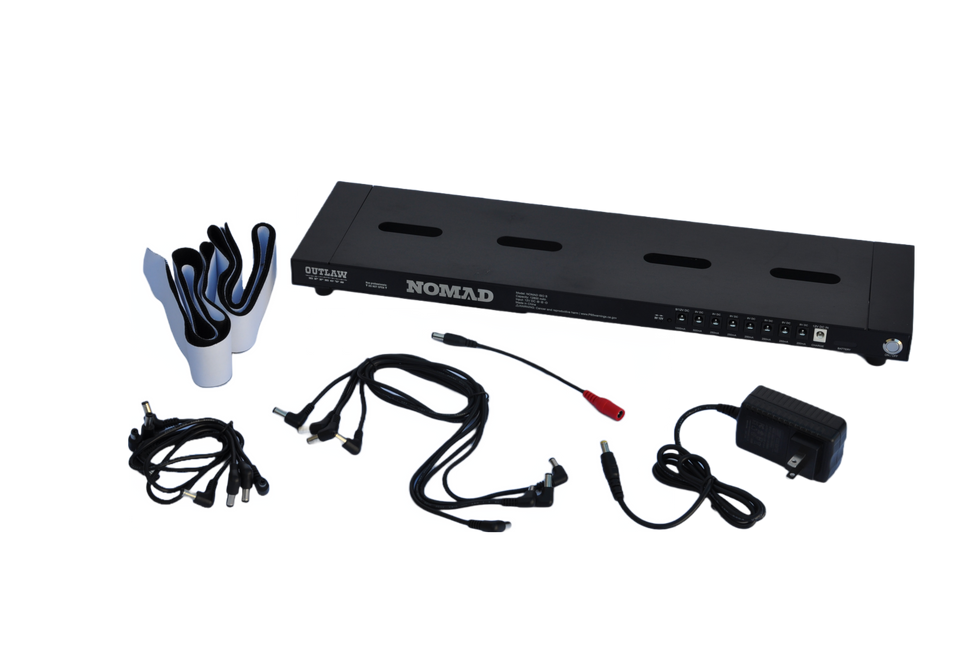 Dunable announce new Minotaur model featuring Grover Rotomatic Keystone tuners.
The Minotaur's DNA is rooted in their classic Moonflower model, which Dunable discontinued in 2017. However, they have long since wanted to create a fresh take on a carved top guitar design, and various attempts to rework the Moonflower led them to a brand new concept with the Minotuar.
Dunable's goal is to give the player a guitar that plays fast and smooth, sounds amazing, and gives maximum physical ergonomic comfort. The Minotaur's soft and meticulous contours, simple and effective control layout, and 25.5" scale length are designed to easily meet this criteria.

Dunable Minotaur!
Features
25.5" scale length
Dual Humbucker
one volume, one tone, push pull for coil splitting
Grover Rotomatic Keystone tuners
Grover Tune O Matic bridge with brass Kluson top-mount tailpiece
jumbo nickel frets
12" fretboard radius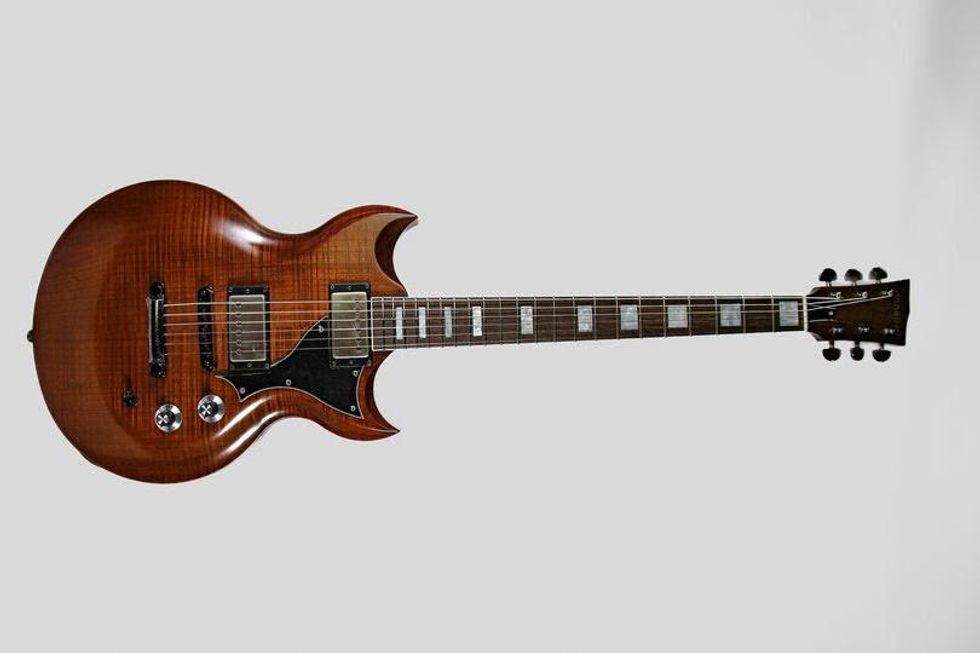 Dunable
This full-amp-stack-in-a-box pedal brings a new flavor to the Guitar Legend Tone Series of pedals, Missing Link Audio's flagship product line.
Adding to the company's line of premium-quality effects pedals, Missing Link Audio has unleashed the new AC/Overdrive pedal. This full-amp-stack-in-a-box pedal – the only Angus & Malcom all-in-one stompbox on the market – brings a new flavor to the Guitar Legend Tone Series of pedals, Missing Link Audio's flagship product line.
The AC/OD layout has three knobs to control Volume, Gain and Tone. That user-friendly format is perfect for quickly getting your ideal tone, and it also offers a ton of versatility. MLA's new AC/OD absolutely nails the Angus tone from the days of "High Voltage" to "Back in Black". You can also easily dial inMalcom with the turn of a knob. The pedal covers a broad range of sonic terrain, from boost to hot overdrive to complete tube-like saturation. The pedal is designed to leave on all the time and is very touch responsive. You can get everything from fat rhythm tones to a perfect lead tone just by using your guitar's volume knob and your right-hand attack.
Features 
Three knobs to control Volume, Gain and Tone
Die-cast aluminum cases for gig-worthy durability
Limited lifetime warranty
True bypass on/off switch
9-volt DC input
Made in the USA
MLA Pedals AC/OD - Music & Demo by A. Barrero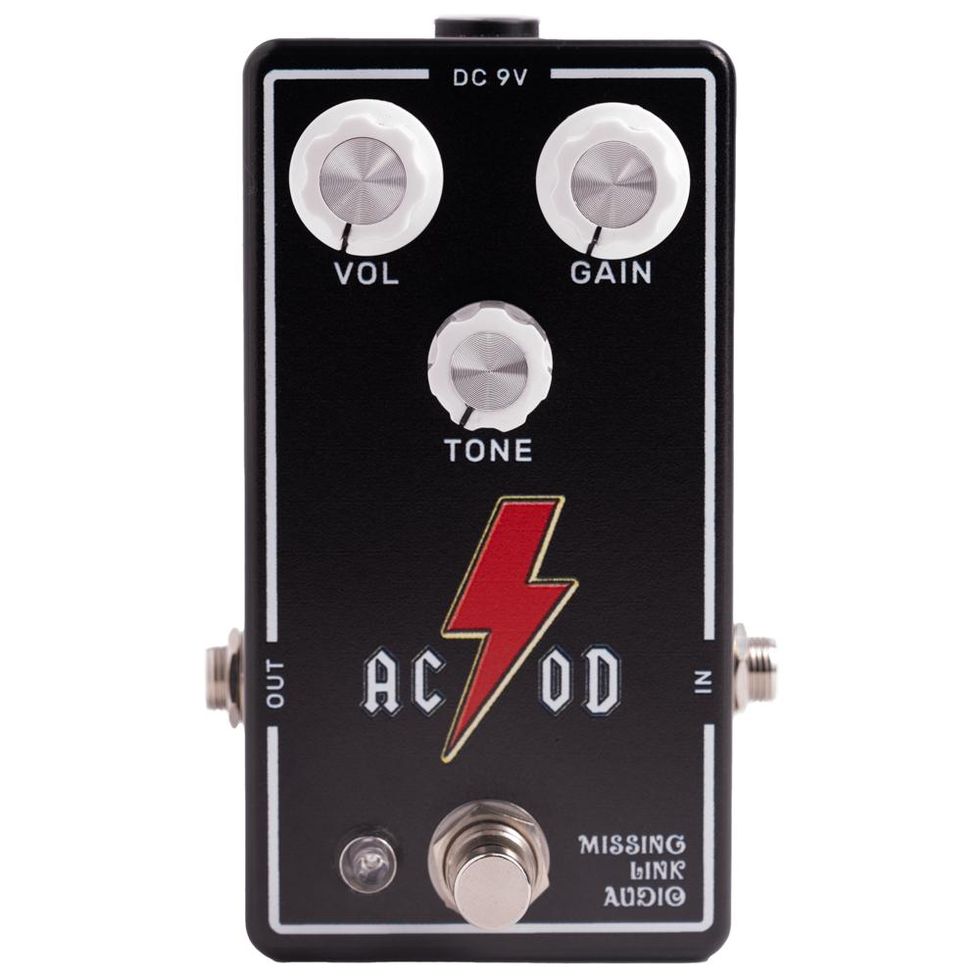 www.mlapedals.com.