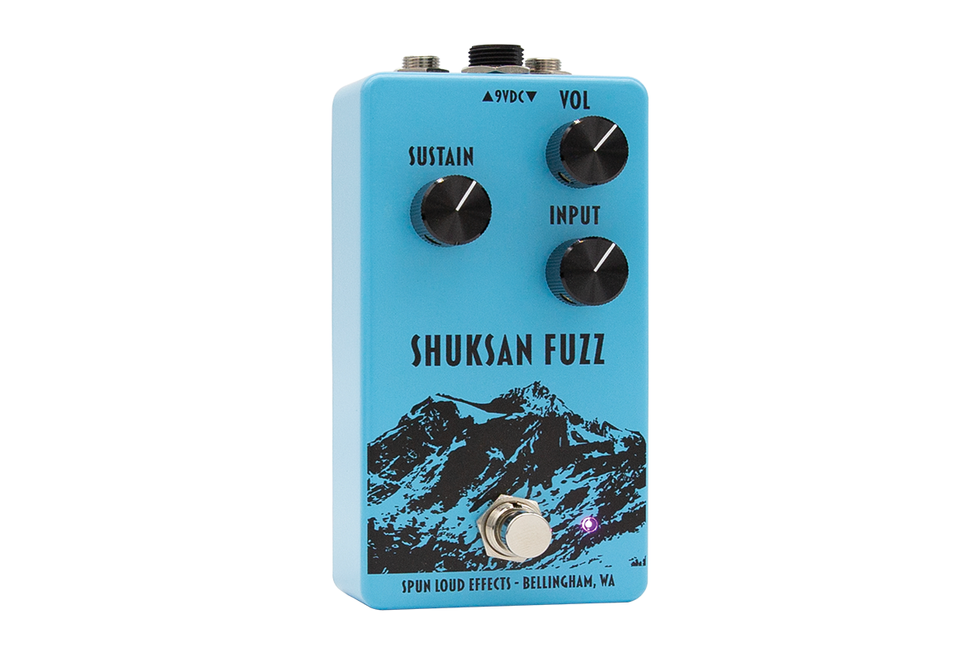 No tone control? No problem. Shuksan is big, bold, and versatile.
Power and surprising versatility. High-quality build.
Some players will miss having a tone control to mellow the mood.
4.5
4.5
4.5
4
The staying power of fuzz speaks a lot to the way it can transcend musical styles. And that adaptability and lasting appeal means pedal builders are still developing fresh designs like this Shuksan Fuzz from Spun Loud Effects. Relatively straightforward in one sense, it's different from most fuzzes in a fundamental way: the knobs enable control over its two main gain stages (out of three total)—an unusual approach that delivers big fuzz tones, but also a lot of unusual ones.
---
Knob and Tube
For the most part, the Shuksan's interface is simple. Input controls the guitar signal's level at the front of the circuit. Sustain controls the middle gain stage. Volume controls the overall output signal but doesn't control the third gain stage. With unity gain at around 11 o'clock, there's plenty of room to blast beyond that. There's no tone or EQ control of any sort. Input and output jacks are top mounted, with a 9VDC center-negative socket between them, and the footswitch is wired for true bypass.
The Shuksan's cosmetics allude to its heaviness. The enclosure is adorned with a graphic of Mount Shuksan, a peak in the North Cascades National Park, not far from Spun Loud's home in Bellingham, Washington. Granite metaphors could also describe the construction. The sturdy circuit board is loaded with WIMA, TDK, and Wurth capacitors and the LED pair that gives one gain stage its oomph. The pedal's bottom plate even offers a fun quiz in the form of a unique "guess the lyrics" puzzler for each proud owner. (Our review unit dared us to identify a snippet from Green Day's "When I Come Around.")
Interestingly, for a high-gain fuzz, Shuksan's personality strikes me as rather vintage-leaning overall.
Spin the Bottle
The absence of EQ might suggest the Shuksan is more loud than colorful. But whether it was paired with Fender single-coils, P-90s, Marshall-style amps, or Fender combos, the Shuksan demonstrated great versatility on top of power, and the capacity for a surprising range of moods. Having control over two gain stages within the circuit—plus the output, of course—opens up a lot of possibilities and allows for settings that just can't be had from standard gain-plus-output fuzz boxes.
It's easy to dial in spitty and gated sounds with input set low and sustain relatively high, a snarly ripping-Velcro sound with a few quick twists of the knobs, or mellower sounds with input high and sustain low. Crank both input and sustain, though, and you've got roaring freak-fuzz leads aplenty. Once you get a feel for the Shuksan's range of sounds, chasing just-right balances of drive, sizzle and output takes careful experimentation. While they may be sensitive, the interactivity between them yields cool surprises, too. Interestingly, for a high-gain fuzz, Shuksan's personality strikes me as rather vintage-leaning overall. There's contemporary attitude, too, in the razory, bright-edged cutting sounds you hear when you advance the gain. It also bears mentioning that Shuksan's noise floor is admirably low.
But while I loved the Shuksan's novel approach to tone and gain shaping, I did miss a tone control. It's a bright fuzz, and attenuating guitar tone doesn't entirely tame the treble until you get right down to muffled, Clapton-in-Cream levels with guitar tone dialed completely off—which is still slightly brighter through the Shuksan than through many fuzz pedals.
The Verdict
The Shuksan is a powerful, great-sounding fuzz that uses three independent, cascaded gain stages to achieve a lot of unique and gigantic sounds. It rolls easily from mellow-but-bright to ripping, with plenty of interesting stops in between. The build quality is excellent and the low noise floor is impressive. If you're looking for a high-quality alternative to the same old fuzz sounds, Shuksan definitely has the potential to deliver.
Rhett and Zach unpack the big news for secondhand guitar sellers and buyers: Sweetwater has launched their new Gear Exchange. How does it compare to Reverb, Craigslist, and Marketplace? To find out, Zach takes the site for a spin and buys a pedal. He calls the process both "very easy" and "normal." They discuss the pros and cons of the various used-gear outlets and share tips for not getting got when buying gear. Plus, Zach grew a mustache, Mythos Pedals is moving, and he talks about his forthcoming line of Strat pickups inspired by Hendrix's reverse-stagger setup.
Sweetwater vs. Reverb

The Royale was designed to deliver loud and vivid clean tone with a responsive, tactile low end.
Designed to offer massive headroom, the 50-watt Royale Head lets you indulge in smooth clean tones at even higher volumes on stage without any breakup. Select between class A and class AB modes, with its variable mode switch, so you can choose between gushing Supro tone or a punchier, tight midrange response.⁠

Introducing the Royale Head & Extension Cabinet | Supro
The Royale 1x12 Extension Cabinet features the custom Supro BD12 high-power driver, offering the same mid-range punch and clean articulation as the Royale combo but with additional stage volume. ⁠More info: suprousa.com.
Royale Head | $1,499⁠.99⁠
Royale Cab | $669.99
To celebrate its 20th anniversary, Xotic Effects unveils an updated version of their classic boost pedal.
Xotic's RC Booster pedal is back to celebrate its 20th anniversary. The RC Booster's original design was a customer favorite due to its versatile clean boost, active treble, bass, gain and volume controls. This classic reissue will join their regular pedal lineup permanently.
Features
• Transparent boost pedal for electric guitar
• Up to 20dB of boost for adding volume or sending your amp into overdrive
• Treble and bass EQ controls with +/-15dB range for fine-tuning your sound
• True bypass switching removes the effect from your signal path when disengaged
• Powered via 9-volt battery or optional AC adapter (sold separately)
• 9-18 volts
The first 1000 pedals will contain a special limited edition packaging with special items and actual guitar picks from Andy Timmons, Paul Jackson Jr, Dean Brown, Kirk Fletcher, Allen Hinds, Chris Duarte, Scott Henderson, Oz Noy, Michael Thompson, Yuya Komoguchi, Toshi Yanagi.
RC Booster with limited edition packaging street price is $172.00. More info: xotic.us.
Expanding on the innovations of Cort's original 8-string multiscale, the KX508 Multi-Scale II features an updated okoume body and a specially designed Fishman Fluence Modern Humbucker.
The KX508 Multi-Scale II is the second iteration of the eight-string KX508, Cort's first multi-scale 8-string guitar introduced in 2020. Like its predecessor, the KX508 Multi-Scale II has a visually stunning poplar burl top in a Mariana Blue Burst finish. Beyond its visual appeal, the poplar burl is an ideal tonal complement to Cort's newly introduced okoume body. Okoume is known for its light weight and ability to improve tonal clarity. It has a tight low-end and highly articulate high-end, which matches the overall sonic characteristics of the KX508 Multi-Scale II. The multi-scale, measuring 26.5 to 28 inches, offers a punchy low end while maintaining a familiar feel and tension on the treble strings, which allows for speedy runs and string-bending. Players have unhindered access to the high frets thanks to the low-scooped heel.

The 5-piece maple and purple heart neck not only provides strength and stability, aided by a spoke nut hotrod truss rod, but a strong and focused sound. The Macassar ebony fingerboard (15.75-inch radius) offers smooth playability along the 24 frets with teardrop inlays. Macassar is an ideal tonewood for high-gain applications because of its ability to cut through a dense mix. At the top of the neck, the 2 7/32-inch nut width (56.5 mm) is surprisingly comfortable for an 8-string guitar and is even suitable for players with smaller hands. The individual hardtail bridge with string-thru-body design results in greatly improved sustain, superb string separation for enhanced articulation, and precise intonation. Deluxe locking machine heads offer reliable tuning as well as easier and quicker string changes.

The Cort Sessions | KX508 Multi Scale II Electric Guitar
MSRP $1699.99 USD

MAP $1199.99 USD
For more information, please visit cortguitars.com.