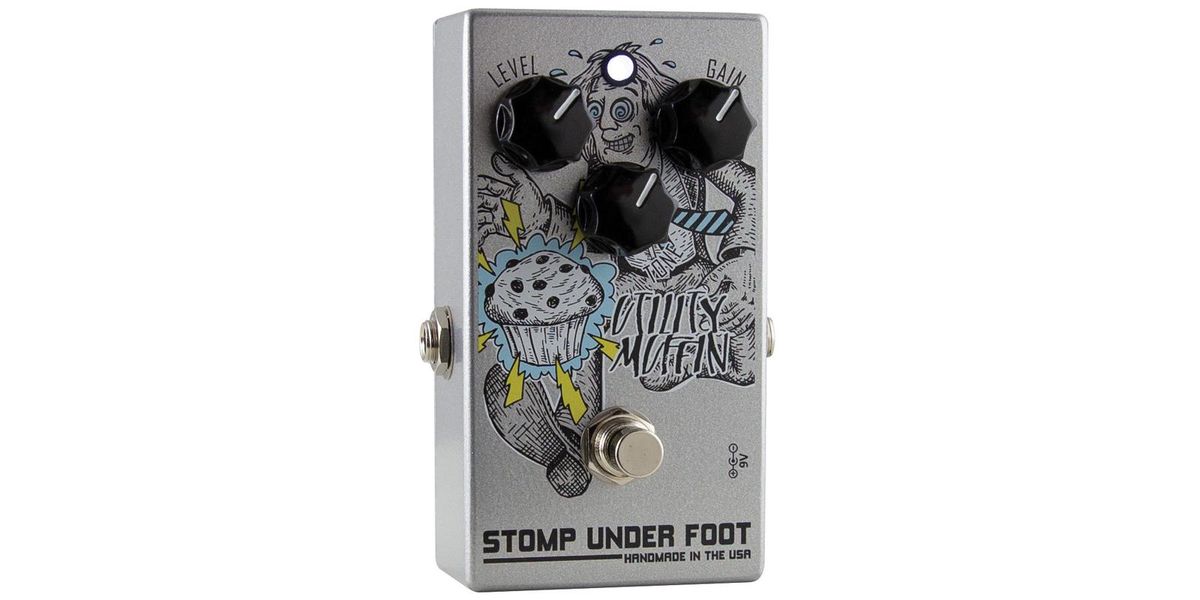 Lower gain adds up to a smoother, more nuanced Muff flavor—and a ticket to the main Mother's fuzz sound. The PG Stomp Under Foot Utility Muffin review.
An interesting and original take on the classic fuzz formula, offering warm, throaty, and expressive tonalities.
Lacks some of the hottest sounds you expect from a classic fuzz.
4
4.5
4.5
4
There are enough awesome, hyper-accurate re-creations of classic fuzz pedals that it's tempting to say we've seen and heard it all. But while legendary fuzzes like the Electro-Harmonix Big Muff (and most of their many permutations) have been copied to an exacting degree many times over, variations of those circuits—both accidental and deliberate—still reveal sonic surprises that bear re-examination. One such surprise led to the creation of the pedal reviewed here: the Stomp Under Foot Utility Muffin.
---
The Utility Muffin is not a replica of a Muff that came direct from the EHX factory, and its uniqueness is not down to some production line quirk. Rather, it pays homage to Frank Zappa's much-modified 1970 Big Muff. After being sent detailed photos of Frank's heavily tweaked V3 Big Muff, Stomp Under Foot's Matt Pasquerella came to the conclusion that critical modifications had been made to reduce the pedal's gain—yielding smoother, richer bass response, and transforming the stompbox into something closer to a medium-gain overdrive and low-gain fuzz. Stomp Under Foot built a limited run of Utility Muffins in 2016, naming the device after Zappa's Utility Muffin Research Kitchen recording studio. (The fact Zappa used a Big Muff and the word "muffin" to name his studio and one of his most famous song characters, "Muffin Man," is, as far as we know, pure coincidence.) Now, Stomp Under Foot has revived the pedal for a wider audience that may be as interested in its musical potential as much as its Zappa associations.

The pedal's controls will be little surprise to the initiated Big Muff devotee: gain, tone, and volume do much of what they would on any Big Muff. What matters most, of course, is what's inside, where Pasquerella hand-wires everything himself, including several NOS components in this cleverly reconfigured four-transistor fuzz circuit.
Do You Know the Muffin Man?
The Utility Muffin cooks up a fun, alternative breed of fuzz that's expressive and somewhat habit forming. It definitely leans toward the warm, creamy, and thick side of the tone spectrum—even by Big Muff standards. But while it might not have a Tone Bender's vicious top end, buzzy vintage-fuzz sounds are still easy to generate in isolation. And while the Muffin can be dark and murky with the tone knob set counterclockwise from noon, there's more than enough treble and sparkle in advanced tone and gain settings to slice your way through a dense or bass-heavy mix.
On the front end of Marshall and tweed Deluxe-style amps, and with P-90s driving the pedal, the Muffin sounded rich and full of texture—with just enough spitty attitude on top to keep it from sounding too smooth. There's also a slight bump in the midrange that gives the Utility Muffin a hint of cocked-wah voicing that adds honk and presence to the output. Needless to say, it really excels at throaty Clapton/Cream lead tones—particularly with guitar tone controls at minimum levels—while retaining a reedy quality that keeps the output from turning to mud.
The Verdict
The Utility Muffin pulls off the cool trick of retaining the wooly, warm side of the Big Muff voice—particularly the Sovtek breed—without sacrificing the feel and temperament of hotter, more piercing classic fuzzes. It's full of character and complex, overtone-rich colors. And it's instructive as a reminder of how a lower-gain version of classic Muff flavor is still powerful enough to knock you flat. It might not be the pedal to reach for if you prefer just one fuzz on your board and are inclined toward Fuzz Face, Tone Bender, or even old Triangle Big Muff tones. But if those burning-hot-and-toppy fuzz tones are a color you like in moderation, the Utility Muffin is a great alternative, with a buoyant and bubbly personality and a load of hot and smooth, sonorous sounds to mine.