The Swedish prog-metal sorcerers dish on their longstanding PRS ties and uncover why they traded traditional tube amps for swappable high-gain Synergy modules.
Holding down lead guitar duties in Opeth since 2007, Fredrik Åkesson knows his way around the fretboard. And before the band's first Ryman performance, the self-admitted "gear dork" shows off the cavalcade of PRS 6-strings he and singer/guitarist Mikael Åkerfeldt use onstage, explains the band's move from tube heads to miniature modules designed by Dave Friedman and Steve Vai, and demos the core colors of his live tone.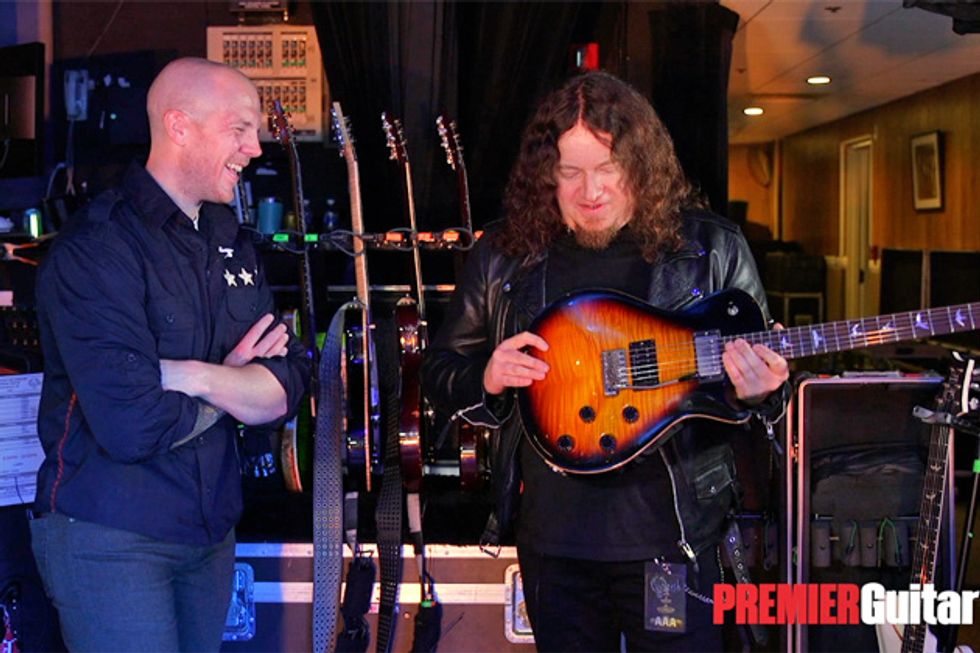 Fredrik Åkesson has long been associated with single-cut guitars. His time with Arch Enemy and Krux saw him rock ESP Eclipse models and when he teamed up with Åkerfeldt he joined the PRS squad. (He was even honored with a signature SE single-cut in 2011.) And one of his favorite studio tools (as noted in our 2014 interview on Pale Communion), is a 1955 Les Paul Junior with P-90s. His current No. 1 is this PRS single-cut—a P245 that is favored because it allows him to blend in piezo tones for the band's acoustic or quieter sections while still blowing smoke through the humbuckers during their heaviest parts. All of his guitars are strung up with DR Veritas strings, gauged .010–.052.
Here's another PRS P245 for Fredrik Åkesson who goes with this one on the band's brutish songs because it has their \m/ (Metal) pickup in the bridge position.
For the low-tuned (D–A–D–F–A–E) ripper "Reverie / Harlequin Forest" off Ghost Reveries, Fredrik Åkesson rides this longer-scaled (25") PRS P22.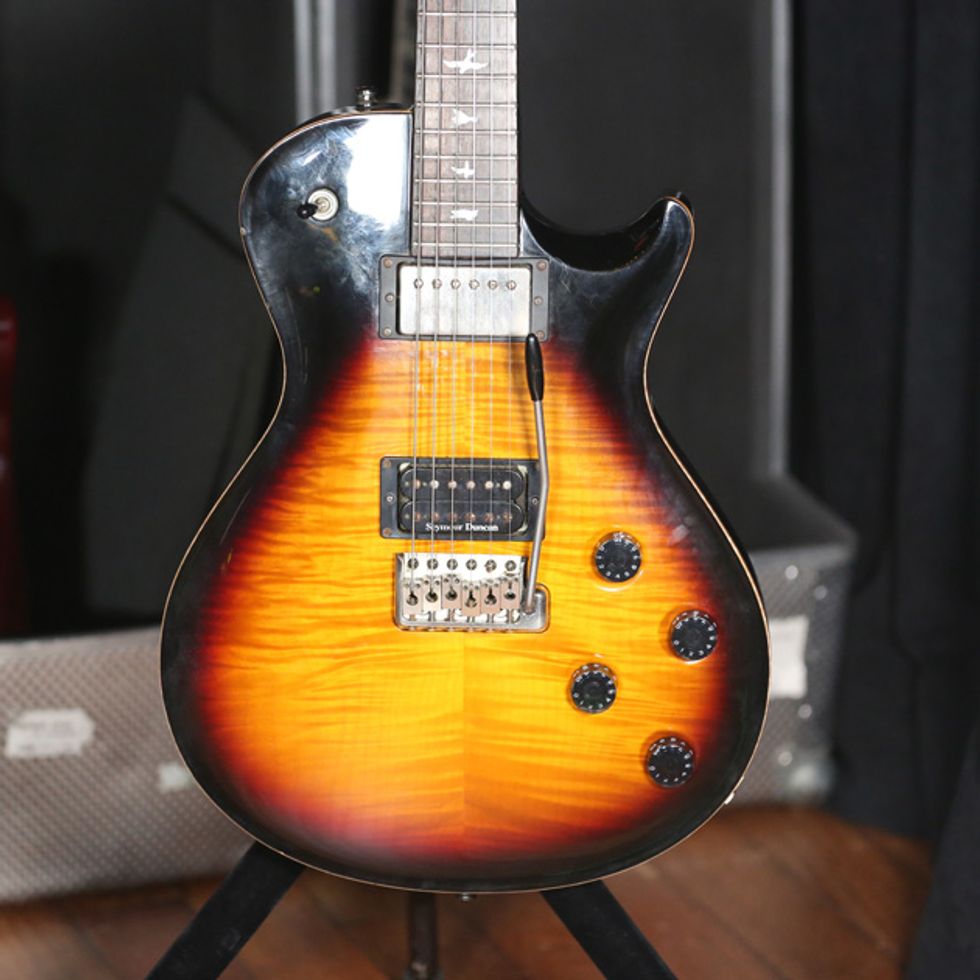 "Nepenthe" from Heritage contains jazz-fusion elements, so Fredrik Åkesson plays this PRS Mark Tremonti signature with a recessed trem so he can unleash his inner Allan Holdsworth. He used to swap out the stock pickups for Seymour Duncans (JB in the bridge here), but this is the only guitar that doesn't have the originals in it.
Fredrik Åkesson's above PRS P24 is now a touring backup but still receives plenty of studio action as he loves how it sounds as a lead instrument.
Founding singer/guitarist Mikael Åkerfeldt spends most of the night on this custom white PRS P24 with a vintage (fatter) profile neck. He uses Thomastik-Infeld Power-Brights (.010–.045) and Dunlop Nylon 1 mm picks.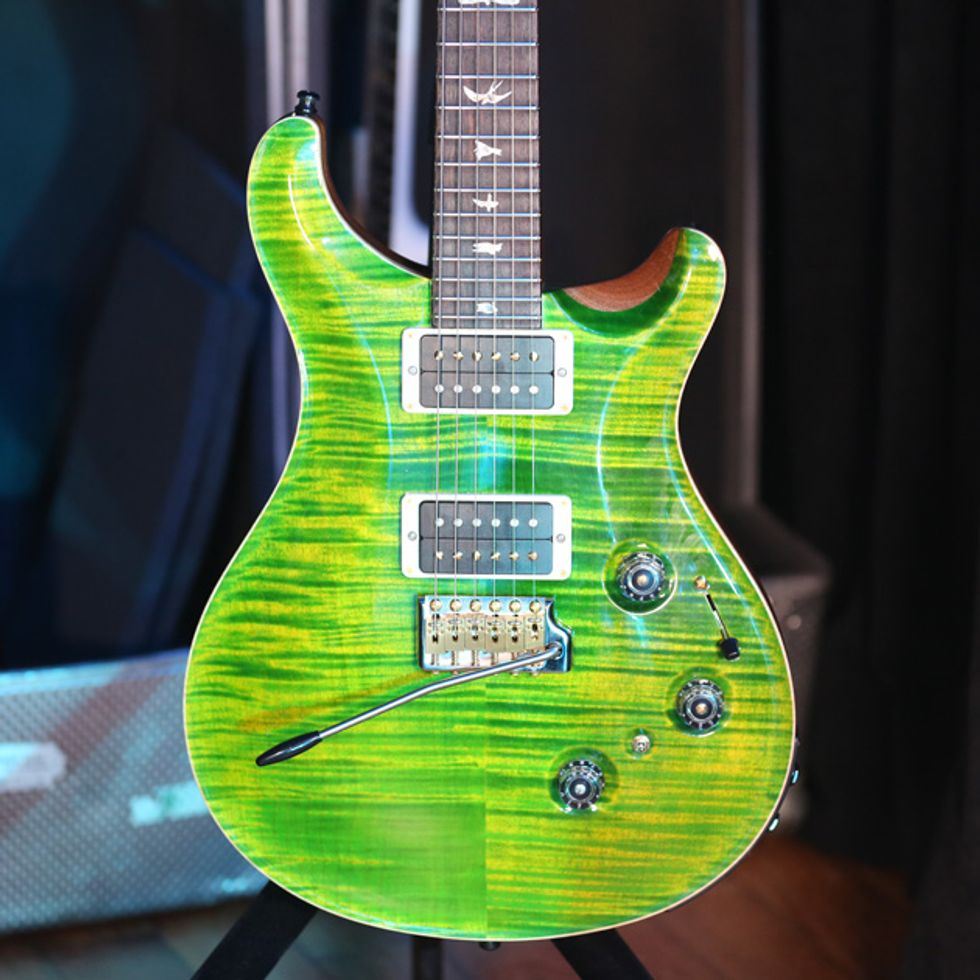 Mikael Åkerfeldt's newest PRS P24 is this bodacious green one.
And for "Sorceress" (tuned A–A–D–G–B–E), Mikael Åkerfeldt employs this PRS McCarty model.
If you've seen Fredrik Åkesson with Opeth, you've seen him shadowed by stacks of traditional, 100-watt tube heads like a Blackstar Series One 100 or a Marshall JVM410H. For recent fly gigs, the guitar tandem needed a smaller, lighter solution and the Synergy tube modules lent themselves as the perfect guinea pigs. Those shows went well so they've since adopted them into their touring rigs where they're constantly fine-tuning the module pairings. Currently, Fredrik is going with the Steve Vai module and the Soldano SLO module.
Mikael Åkerfeldt's current module setup includes a Friedman Dirty Shirley matched with a Soldano SLO.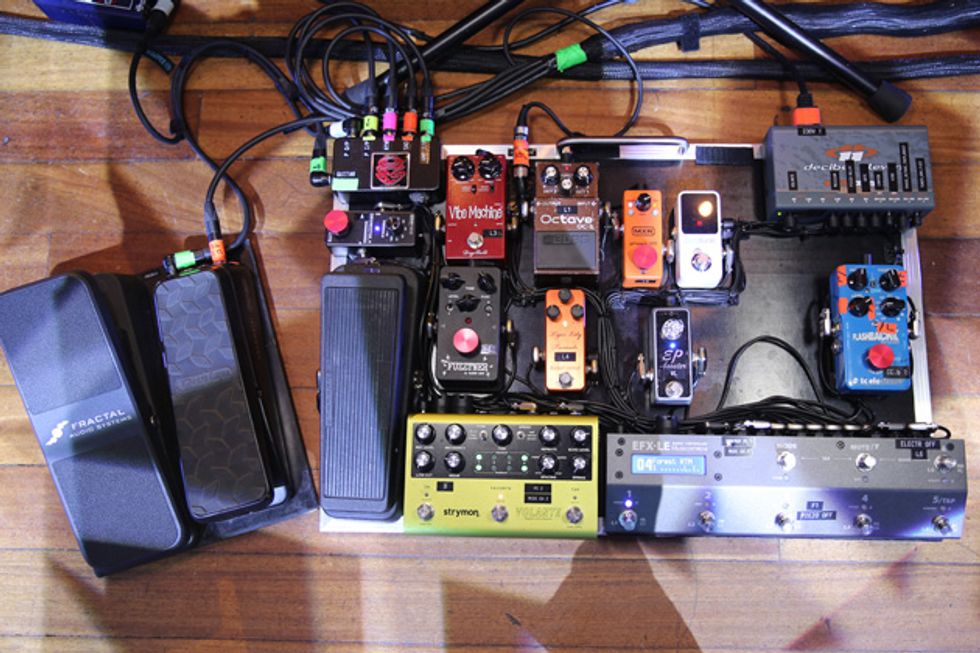 The brain of Fredrik Åkesson's stomp station is a MusicomLab EFX-LE loop switcher. For pedals, he has the Strymon Volante, TC Electronic Flashback 2, Xotic EP Booster, One Control Tiger Lily Tremolo, Olsson Amps Fuzztner, MXR Phase 95, Boss OC-2 Octave, DryBell Vibe Machine, and a Dunlop 95Q Cry Baby Wah. As for the non-noisemakers, he has a Dunlop DVP3 Volume pedal to harnesses dynamics, a TC PolyTune 2 Mini keeps everything in check, an ISP Technologies Decimator X squelches extra noise, and a Decibel Eleven Hot Stone powers all the fun.
Mikael Åkerfeldt takes a simpler approach for his colors with a Fractal Audio AX8 doing most of the heavy lifting aside from a Electro-Harmonix Small Stone phaser and a TC Electronic BodyRez pickup enhancer.
---
Click below to listen wherever you get your podcasts:
---
D'Addario XT Strings:https://www.daddario.com/XTRR
---