The consummate thumbpicker demos his two-sided flattop and keeps his father Merle Travis' memory alive with a collection of instruments made in tribute.
Thom Bresh and Premier Guitar's John Bohlinger spent the afternoon at the Nashville Musician's Union rehearsal hall talking guitars, early Hollywood, film, wine, and more. Bresh is not only one of the greatest thumbpickers of all time, he may be the most interesting man in the world.
Bresh's Langejans Super Dualette is the accumulation of many ideas. The guitar features two sides with almost identical tech specs including Sitka spruce tops and Go Acoustic Audio pickups. Along with the traditional 1/4" output, the "B" side features an 11-pin MIDI output. There are mercury switches inside the guitar that cancel the output of the guitar that isn't being played. Both necks have 14 frets to the body and there is an interchangeable nut on the "B" side. For the steel-string side, Bresh uses D'Addario Bluegrass Bronze light gauge strings. For the nylon strings, Bresh prefers Martin nylon strings with ball ends.
Here's the nylon side of the doubleneck.
The H.G. Leach Bresh Spirit is based on his father, Merle Travis' famous Martin D-28 with a Bigsby neck. The Bresh Spirit features Brazilian rosewood back and sides, and a top carved from a one- thousand-year-old California redwood. The neck is 1 11/16" at the nut and has a zero fret.
Eric Galletta built this Galletta/Bigsby model that is a replica of the guitar Paul A. Bigsby made for Merle Travis. Like the original, the guitar is made of bird's-eye maple with a neck-thru body, walnut accoutrements, and a rosewood fingerboard. Pickups are handmade by California Custom Pickups.
This D'Angelico Thom Bresh Special is D'Angelico's version of the Gibson Super 400 Special that was made for Merle Travis. The body is an 18" D'Angelico New Yorker that features an elaborate inlay work by Harvey Leach and Seymour Duncan P-90s.
For some thump when he's playing, Bresh stomps on a Porchboard Micro Bass to emulate a kick drum.
Bresh likes Golden Gate thumbpicks.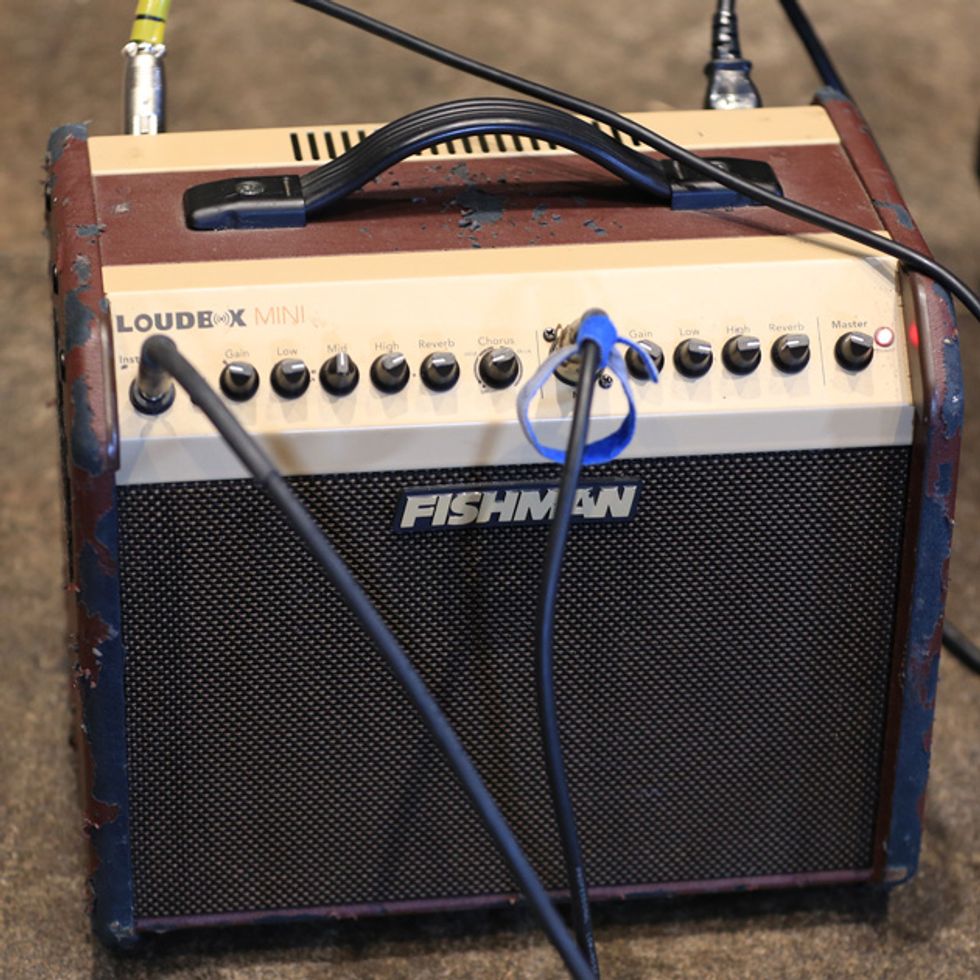 When Bresh needs to bring an amp, he carries this Fishman Loudbox Mini and feeds an XLR to the front of house.
---
Click below to listen wherever you get your podcasts:
---
D'Addario Trigger Capos:https://www.daddario.com/TriggerCaposRR