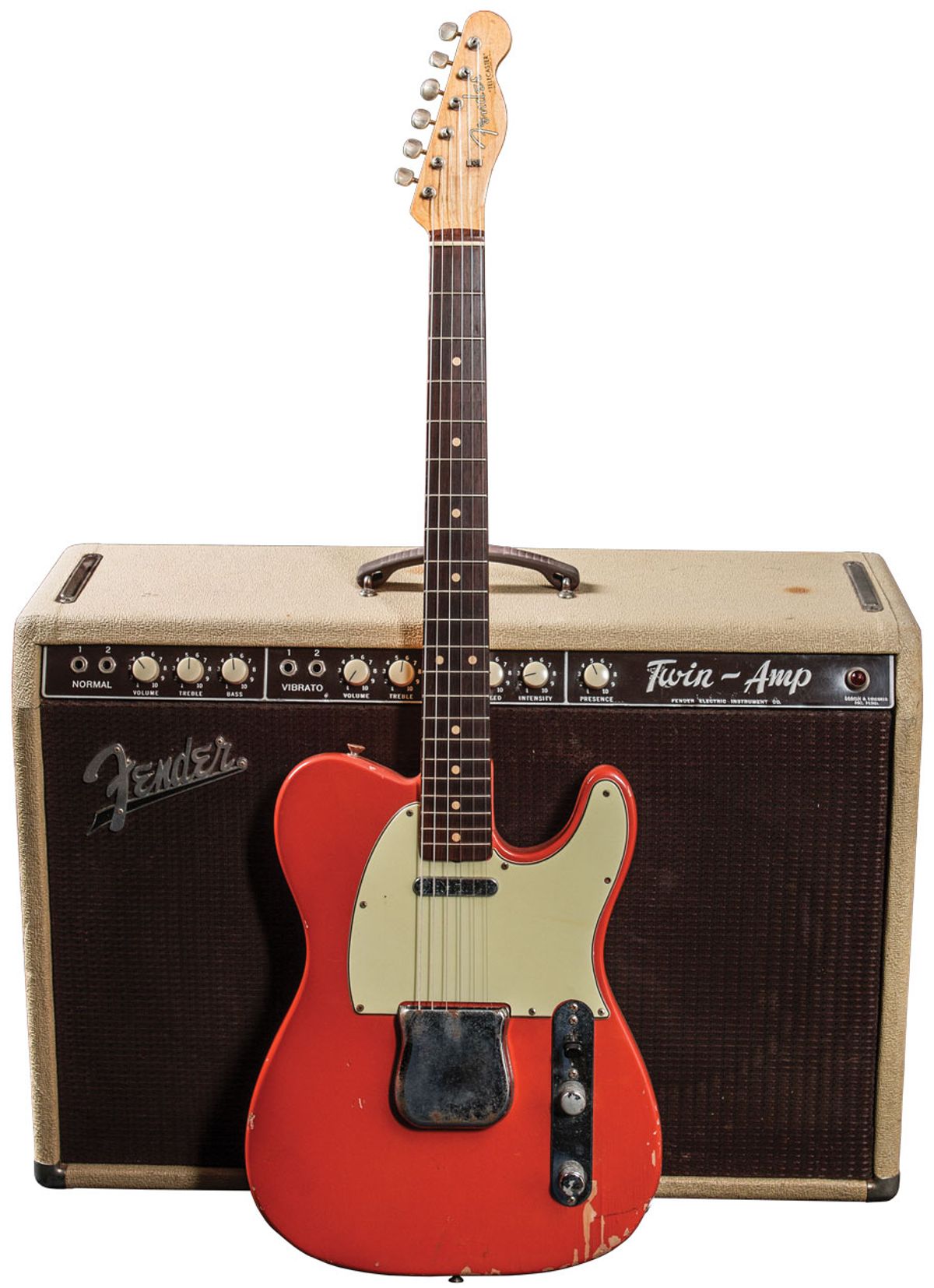 A candy-colored and road-worn Tele with a few rare turns, including an ash body.
Leo Fender progressed from repairing amps to making them, along with steel guitars, through the 1940s. His wooden-slab, electric-steel guitars led to his breakthrough solidbody electric guitar, the Esquire model, in 1950. The 1-pickup Esquire and 2-pickup Broadcaster (renamed Telecaster in 1951) transformed guitar playing forever. Esquires and Teles continued to evolve through the '50s, with black pickguards changing to white in late 1954, and with 1-piece maple necks adding rosewood fretboards in mid 1959.
Due to its opaque Fiesta Red custom color, this Telecaster has an alder body rather than the usual ash.
By 1962, several more Fender models, including the famed Stratocaster and Jazzmaster, had joined the Esquire and Telecaster, but they remained very popular. The 1962 company catalog explained: "The originals of solidbody guitars and the favoritesofcountless guitarists. The 2-pickup Telecaster and the Esquire, with a single-pickup, afford wide tone response—from ringing 'take-off' to very soft rhythm tones."

Wear marks and scratches across the body reveal a guitar that's been well employed since it rolled off Fender's production line 56 years ago.
The well-played 1962 Fender Telecaster we're writing about this month is a sterling example, with the features common to that year. These include a slab-rosewood fretboard on the maple neck, a silver "spaghetti" Fender decal on the headstock, and volume and tone knobs, with a 3-way switch controlling two single-coil pickups. Due to its opaque Fiesta Red custom color, this Telecaster has an alder body rather than the usual ash. It also has the 3-ply greenish celluloid pickguard reserved only for Telecaster Customs and custom-color Teles. Standard Teles continued to use a single-ply white pickguard until the end of 1963. The 1962 list price was $209.50, plus 5 percent for the custom finish. The current value for one in excellent all-original condition is $20,000.

In addition to its "spaghetti" style logo, this Tele has an alder body and a 3-ply celluloid pickguard, making it a bit of a rarity.
The amp behind the guitar is a 1962 Model 6G8-A Fender Twin. The normal channel has three white knobs for volume, treble, and bass. The vibrato channel has volume, treble, bass, speed, and intensity. The presence control on the right side works for both channels. Four 5881 power tubes push 80 watts through two 12" speakers. The 1962 list price was $429.50. The current value for the amp is $7,500.
Sources for this article include Fender: The Sound Heard 'Round the World by Richard R. Smith, The Fender Telecaster: The Detailed Story of America's Senior Solid Body Electric Guitar by A.R. Duchossoir, Fender Amps: The First Fifty Years by John Teagle and John Sprung, and The Soul of Tone: Celebrating 60 Years of Fender Amps by Tom Wheeler.
---