Is this the ultimate metal head for 21st-century tube-amp addicts on a budget?
Great range of heavy tones. Useful effects, IRs, and noise gate. Killer value.
Limited clean-channel headroom. Only three included IRs. Somewhat lackluster reverb.
4
5
4.5
5
Once upon a time, lunchbox amps intrigued us because of their simplicity, smaller footprint, lighter weight, and the fact that they were more affordable than the big-ass heads that dominated rock for decades. But over the 15 years since Orange's Tiny Terror sent amp makers down this path, mini amps have become progressively more nuanced, diverse, and powerful. Some of the biggest changes have come in just the last year, with intriguing new designs packing both stunning tones and flexible routing and recording capabilities into über-transportable housings. Engl's new Ironball E606SE illustrates this trend wonderfully. Where some lunchbox amps have minimal controls, the high-gain Ironball has 29 knobs, switches, and buttons in a package that's only slightly bigger than Orange's Tiny Terror. At $1,499 street, this EL84-driven 20-watter isn't cheap, but even amidst an increasingly crowded field, it stands out for its sheer number of features and bang-for-buck ratio.
A New Kind of Switch
One of the first things you notice when scanning Ironball's front panel is the bank of eight switches and LEDs next to the power and standby toggles. These low-profile, spring-loaded switches help you dive deep in the amp's functionality or keep it simple—all while accessing a full-sized rig worth of tones.
The 2-channel E606SE doesn't just avail traditional speaker-output and onboard IR cab capabilities (via an 8-position selector). Around back you'll find controls for onboard digital reverb, digital delay (with mix, time, and feedback controls), and a very effective 1-knob noise gate. Even cooler, Ironball lets you set everything once and toggle between clean and dirty sounds with a single-function footswitch (not included). But you can also use an 2-button footswitch to switch channels and engage the lead-gain boost function, or program a MIDI controller to govern everything from amp-mute functions to IR bypass, reverb mix and tails, and delay tempo, mix, tails, and feedback. Other back-panel features: headphone out and level, XLR out, MIDI phantom power, a pre-/post-power-amp IR button, a 4-position power attenuator, a series effects loop, and dual speaker outputs.
All Ball, No Chain
When I powered up the Ironball, delay, reverb, a lead-channel gain boost, and a master-volume boost were all engaged, so the first order of business was stripping away that stuff to get a sense for the amp's core sound. As you'd expect, the lead channel has a lot of gain on tap, so the next step was tailoring the amount of dirt and balancing the generous EQ section to match my playing and my test guitars—a Fishman Fluence-loaded ESP LTD SN-1000FR, a Kramer SM-1 with Seymour Duncan JB and Cool Rail pickups, and an Eastwood Sidejack Baritone with Curtis Novak JM-WR humbuckers. My test cab was a closed-back Bogner 2x12 with Celestion Vintage 30s, and I evaluated IR functionality via both Beyerdynamic DT 880 PRO headphones and an Audient iD44 interface driving KRK Rokit7 Gen4 monitors.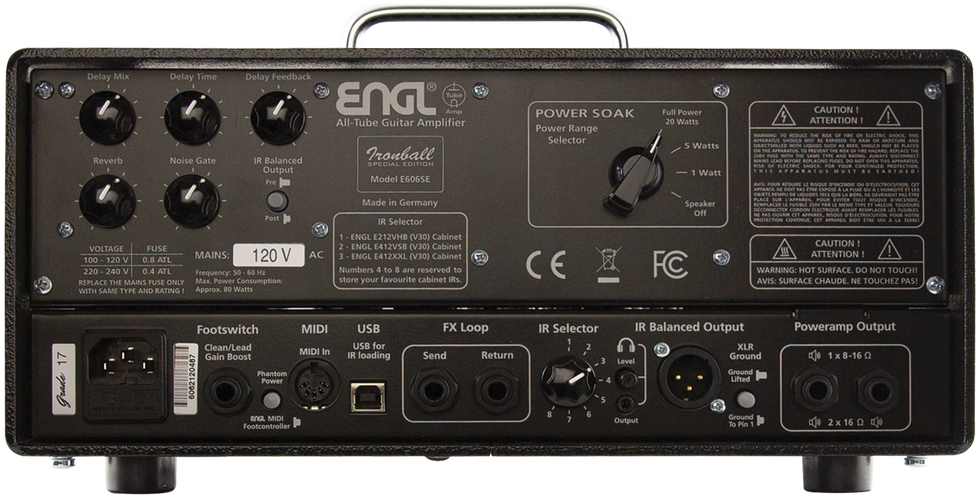 Having to share EQ controls between a clean and a dirty channel can easily lead to unfortunate compromises. For instance, what if you want a semi-bright, articulate distorted sound but prefer your cleans a bit mellower? While the Ironball doesn't entirely avoid this problem, each global EQ control (bass, middle, and treble) has a lot of range, and the lead channel also smartly employs a lead volume (essentially a lead-channel master volume) and its own presence control so you can fine-tune dirty sounds. In other words, the lead-channel-only controls allow you to voice dirty tones for more heft or bite while you keep clean tones relatively sparkling. Through a real speaker cab, I found that master volume at max, clean gain at 10 o'clock, bass at 3 o'clock, middle at 9 o'clock, and treble at 2:30 worked perfectly alongside lead-gain at noon and both lead presence and lead volume at 10:30. These settings yield mean grind that is articulate and responsive to playing dynamics and volume-knob maneuvers. That means you can move from extreme metal applications to clean tones that can be fat, rich, or bluesy (with the Eastwood and ESP) or funky and spanky (with the SM-1's pickups in split-coil mode).
​The Verdict
Even as a guy who prefers relatively simple pedals and amps, I'm extremely impressed with the Engl Ironball E606SE. As with most 20-watt amps, particularly high-gain ones, there's not a ton of clean headroom. You could probably still be heard over your drummer's double-kick ruckus with the dirty channel raging as high as it can go, but if you want Ironball's loveliest clean tones, you may need to mike up or use the handy rear-panel outputs for volume reinforcement. Speaking of which, Ironball's default IRs of Vintage 30-stocked 2x12 and "XXL" 4x12 cabs sound great, but it's a bummer Engl doesn't offer any other downloads for Ironball owners—especially since the company sells a separate Cabloader pedal with 12 preloaded IRs for a quarter of the price.
Nevertheless, there are many other sources for cool IRs, and the SEs strengths put it in a niche few companies currently match—particularly at this size and price. Considering many metal players don't use much more than a boost/overdrive and maybe a delay, it's easy to see Ironball being a killer-sounding all-in-one option for a good number of them—just grab your axe and a cab (or not!) and you're set for blisteringly fun action.
Smooth tube power, DSP-driven cab simulation, and tone shaping options galore from Blackstar's overdrive scientists.
See how gear consolidation—including a sneaky stereo signature StingRay, a home-built guitar, and Line 6 modelers—actually encourages more tonal tinkering.
Recently Thrice's Dustin Kensrue (vocals/guitar) and Teppei Teranishi (guitar) participated in PG's Hooked. (The video series features musicians talking about a moment, riff, or song that turned their world upside down and sideswiped them into playing.) Kensrue raved about the Pixies' dissonant melodies, while Teranishi highlighted Metallica's heavy impact. And at the conclusion of the video, they both admit the band has a lot of "Pixies" parts and "Metallica" moments throughout its catalog.
Over the course of 11 studio albums—with the help of brothers Eddie (bass) and Riley (drums) Breckenridge—Thrice has explored odd-timing metal (Identity Crisis and The Illusion of Safety), thrashy screamo (The Artist in the Ambulance), maturing post-hardcore (Vheissu and Palms), all-encompassing prog-rock with ethereal escapes and mammoth, surly riffs (The Alchemy Index: Vols. I-IV), and an amalgamation of it all (To Be Everywhere Is to Be Nowhere and Horizons/East). And even after all those years, all those albums, and all their discovered sounds, the Pixies and Metallica continue to be musical planets they orbit while exploring the outer realms of the sonic solar system.
Prior to headlining Nashville's Mercy Lounge in support of the just-released Horizons/East, Kensrue and Teranishi spoke with PG's Perry Bean about the changes (and reductions) in their symbiotic setups. Kensrue explains why he's shifted his live tone (and Horizons/East recordings) to be fully dependent on the Line 6 Helix, and how that impacted the design of his signature Ernie Ball Music Man StingRay. Teranishi chronicles how the pandemic-created time void sent him down the lutherie rabbit hole and resulted in a familiar-looking-but-original build.
[Brought to you by D'Addario XPND Pedalboard: https://ddar.io/xpnd.rr]
Stealthy Stereo StingRay
Since our last Thrice Rig Rundown in 2016, Dustin Kensrue has retired his two previous offsets (Nash and Cave and Canary models) and designed his own offset signature with Ernie Ball Music Man. On its surface, the Ernie Ball Music Man Dustin Kensrue StingRay (reviewed here) has minor tweaks from its predecessors: a single-coil in the neck, a lower-bout pickup selector, and a concentric volume/tone control. Its secret weapon is a small black button near the pickup selector. When that button is pushed down, the model is a normal passive guitar. When pushed out, it taps each pickup individually and sends the signals to a stereo output for playing through two amps or a digital modeler. (Kensrue has shifted towards an all-Line 6 Helix setup for this purpose, but more on that in a minute.) The tonewood recipe includes an African mahogany body, a maple neck, and a rosewood fretboard. And its scale length is 25 1/2". He generally opts for a custom set of Ernie Ball Slinkys (.011 –.058), and the 6-string rides in either D-standard or drop-C tuning.
A Standard StingRay … Baritone??
Last Rundown, Kensrue had the Cave and Canary baritone for any drop-A or B-standard tunings, but now he's carrying a second signature StingRay that still has the normal 25 1/2" scale length. It handles the lower-tuned songs quite well and gets strapped with a custom set of Ernie Balls (.011–.068).
Better Than a Pair of Boots
Here's a shot of both iterations of the Ernie Ball Music Man Dustin Kensrue StingRay.
Five years ago, Kensrue was dipping his toe into the digital dream pool with a trio of Strymons and a Line 6 M5 Stompbox Modeler that ran alongside a few more stomps, then into a two-amp stereo setup. As you see, he's condensed everything into this digital do-all—a Line 6 Helix Floor. (He mentions in the Rundown that he recorded all his parts for Thrice's 2021 release, Horizons/East, with the Helix.) For stage monitoring purposes and feedback frenzies, he runs the Helix into a matching Line 6 Powercab 212 Plus that is stocked with a pair of Eminence Coaxial Neodymium speakers and a 1" Celestion CDX Compression driver.
The only thing Dustin doesn't trust the Helix with is tuning. (His version of the Helix shuts everything off when tuning, but now Line 6 has updated software so the tuner doesn't affect sound output.) He enlists a TC Electronic PolyTune 2 Noir Mini for keeping his StingRays in check.
I Bet You Can't … Build a Guitar
Guitarist Teppei Teranishi has played some high-quality instruments, including vintage Les Pauls and custom, handmade Teles. Those guitars were being a bit neglected, and he thought about revitalizing them with pickup replacements. However, his mind didn't stop there. He wondered if he could wind his new pickups himself. And this is where a slippery slope dovetailed into a new passion.
"I thought if I could learn to wind my own pickups, I could find exactly what I want," admits Teranishi. "That snowballed into thinking about building a kit guitar, but then I thought it'd be more personalized if I got a Warmoth neck and made my own body. It was a slow progression into me constructing a complete guitar."
The home-build is based on a Les Paul Doublecut—although it has a 4-bolt neck to simplify the process—that is essentially cut in half, mirrored, and then slightly offset. He landed on a middle-ground PRS-based 25" scale length. Another halfway measurement on the guitar is a 10" neck radius that sits between Fender and Gibson. And he wired up the electronics so both humbuckers—Teppei's handwound PAF-style 'bucker (bridge) and a Lollar Imperial (neck)—can be split, and Teranishi added in a bass-cut control that peels off some of the neck pickup's wooliness. This one takes a custom set of Ernie Ball Slinkys (.011–.054).
Elegant Toppings
A close-up of Teranishi's handiwork that opted for a clean headstock thanks to truss-rod adjustments being handled at the base of the neck.
Roar (and Rumble) Like a Jaguar
For Thrice's lower-tuned, dropped-down songs, Teppei still goes with the Fender Baritone Custom Jaguar (which was renamed the Jaguar Bass VI Custom in 2006).
Just Like Old Times
In 2016, Teranishi was running a one-two amp punch. He's still plugging into the same Supro Dual Tone, but he's swapped a Vox AC30 for a fawn-colored, handwired Vox AC30HW2.
Mix and Match
Circa the previous Rundown, Teppei would mix analog pedals with digital modelers. Last time he used a Line 6 M5 Stompbox Modeler with a half-dozen pedals from JHS and Walrus Audio. Since then, he's upgraded the Line 6 to a HX Effects pedalboard unit, which takes on more duties than the M5—thus reducing his pedal count. Two new additions are a Walrus Audio Warhorn and a Fuzzrocious Afterlife reverb. And the lone carryover is a Walrus Audio Julia. Everything is juiced up with a Walrus Audio Phoenix and the guitars are kept in line by a TC Electronic PolyTune 3 Mini.
Enter here for your chance to WIN a Revv G3! Giveaway Ends October 28, 2021.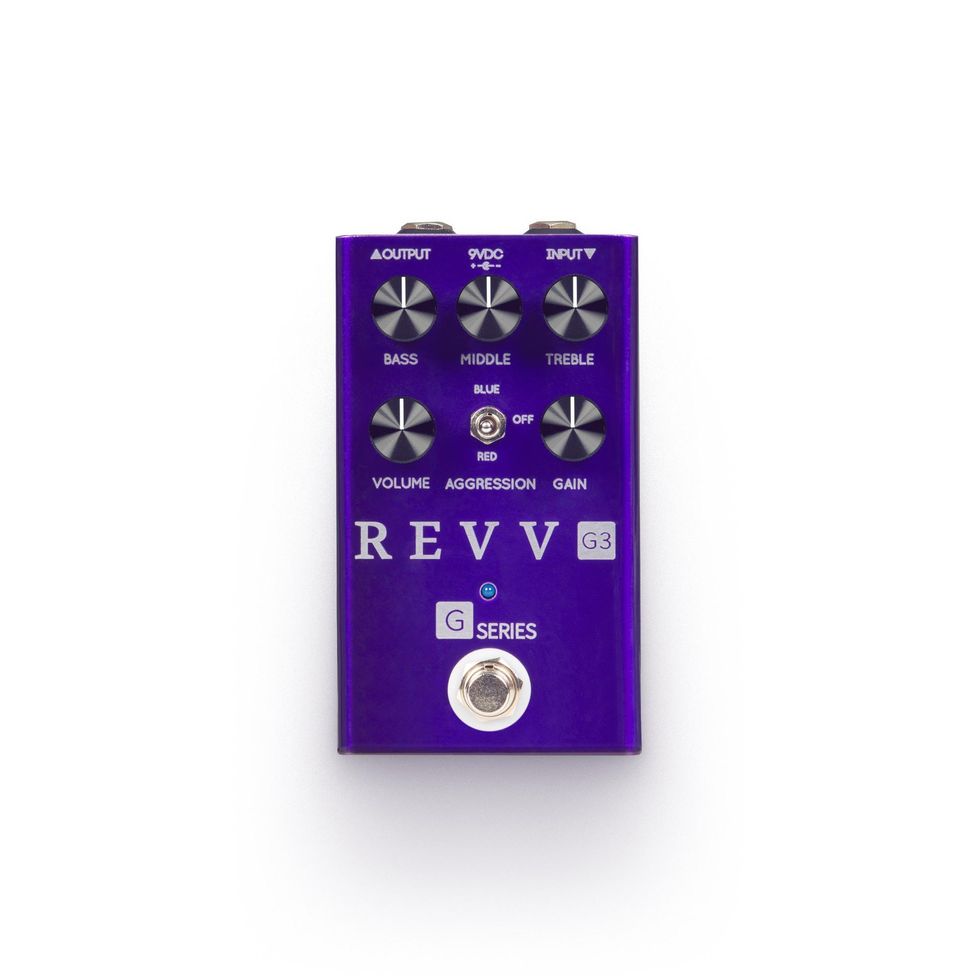 Revv Amplification's Purple Channel 3 is one of the most unique tones in modern amps. Extremely tight & clear with the right amount of saturation for any situation. Now that tone is available to everyone in an amp in a box format that's versatile & feels great under the fingers.

Plays nice with:
Combos, Heads, Pedalboard Rigs, in Effects Loops, w/ Cab Modeling.

Form Factor:
Small Single-Space Enclosure, Standard 9v Power (center negative 9v external power supply only), Durable Construction, Top-Mounted Jacks, Blue LED, Laser Etching.

Mix-Ready --- Smart filtering keeps lows tight & highs present with no mud or ice.

Feels Great --- Constant revisions ensured Revv pedals have inspiring attack & bloom, like your favorite amp.

Versatile --- Fat and warm or tight & bright. Heavy amp-like saturation or light overdrive.

Integrates Into Any Rig --- "Amp in a box" in front of a clean amp, another flavor of gain with a multi-channel amp, easy traveling, great studio tool, works great with analog & digital.
Revv Amplification
Drums, guitars, history, business and education have come together in a spectacular new interactive museum and exhibit in downtown Savannah that will pique the interest of any music lover.
That Great Gretsch Sound! museum is a new destination where Georgia Southern University helps tell the story of a family-owned company that is still regarded as one of the music industry's most influential and innovative instrument manufacturers. The permanent display of music memorabilia, highlighting over 135 years of Gretsch instruments, is featured in District Live's new lobby and performance space on the banks of the Savannah River. The museum is the latest addition to a new active and engaging entertainment area called the Plant Riverside District.
The exhibit space highlights some of the most popular and unique pieces of Gretsch's historic catalog. The museum lobby features some of the most iconic instruments the company has produced, including the White Falcon™, the Chet Atkins® Country Gentleman®, a Brian Setzer Signature G6120, and a vintage 1963 Jet™ Firebird popularized by AC/DC's Malcolm Young. In the District Live performance hall, visitors will be treated to a visual timeline that will allow them to explore the evolution of Gretsch instruments dating back to the 1920s. Approximately 100 guitars are on display in the exhibit, 48 of which were recently on display in Nashville's Country Music Hall of Fame.
The museum was developed through a special partnership between the Fred and Dinah Gretsch School of Music at Georgia Southern University and The Kessler Collection.
In addition to the instruments that line the performance hall and upper section of the lobby, the museum features three sound dome displays with original videos that highlight Gretsch history, instrument production, the worldwide community of past and present Gretsch artists from Chet Atkins and George Harrison to Phil Collins, and the family's storied commitment to music education. Several other display cases take guests on a visual journey from Gretsch's beginnings as a local manufacturer of calf-skin drums, banjos, and accordions to one of the most popular and sought-after producers of guitars and drums during the height of the Rock & Roll era.
"This is a great example of Georgia Southern's regional public impact mission and aligns with the community goal of Savannah being recognized as a sought-after destination location for music and entertainment," said Georgia Southern University President Kyle Marrero. "This partnership is just one example of the opportunities afforded to us through having the Gretsch name associated with Georgia Southern."
The Gretsch family have long been involved in music education programs and lending their name and their history to Georgia Southern and the new museum was an appropriate way to honor the company's legacy.
"We are so honored to be a part of the amazing exhibit within our community to showcase the powerful influence and legacy of music. Fred and I represent the fourth generation of the Gretsch family in the musical instrument business and look forward to the future generations of family leadership," said Dinah Gretsch, Executive Vice President and Chief Financial Officer of the Gretsch Company. "We are sure this legacy will coincide and align with the present and future vision of Georgia Southern University."
The University established the Fred and Dinah Gretsch School of Music in early 2021 after the Gretsch's pledged a generous monetary gift plus their Gretsch Collection of historic drums, guitars and company archives to Georgia Southern. While the school of music will now bear the Gretsch name, the company's influence will be felt across the University's three campuses and in several academic departments, the museums and the library. Georgia Southern will be able to catalog and display Gretsch's storied instruments that tell a compelling story of musical history from American jazz to English-born rock, to popular modern worship bands in Australia.
Downtown Savannah is now helping tell that Gretsch story. The Gretsch museum includes Gretsch instruments and storyboards with QR code links to detailed narratives.
"We hope this new museum will preserve the long history and legacy of the Gretsch Family and the Gretsch Brand," Dinah Gretsch said. "It is wonderful to share our history with the city of Savannah, the loyal Gretsch fans and all the tourists that will visit the museum."
The museum's artifacts were curated and installed by Aaron Phillips, Georgia Southern's project curator for the Fred and Dinah Gretsch Artifacts Collection. Through his research to prepare the museum, he is confident that the Gretsch Museum will provide a unique musical experience. "My goal was to create a space that is expressive, inspirational, and true to the roots of the Gretsch family and community," Phillips said. "I am in awe of how this turned out!"
Georgia Southern Provost Carl Reiber said the new museum is another benefit to having the Gretsch name associated with the University. "We have a long-term plan to tell the compelling story of music history in creative ways and also train students within a wide variety of academic programs to engage with a historic collection as it pertains to their field of study," Reiber said. "The Gretsch name is known all over the world, and the Gretsches have been huge advocates for universal music education for decades. This museum is among the great opportunities that come with having the Gretsch name attached with our school of music."
A ribbon-cutting event to ceremonially open the museum is planned for Thursday, Nov. 18 from noon until 2 p.m.
The producer/songwriter on keeping it simple, staying hungry, and creating inspiration.
Linda Perry on Recording Guitars | Wong Notes Podcast