Martin Guitar Donates $20K Custom Guitar for Green Auction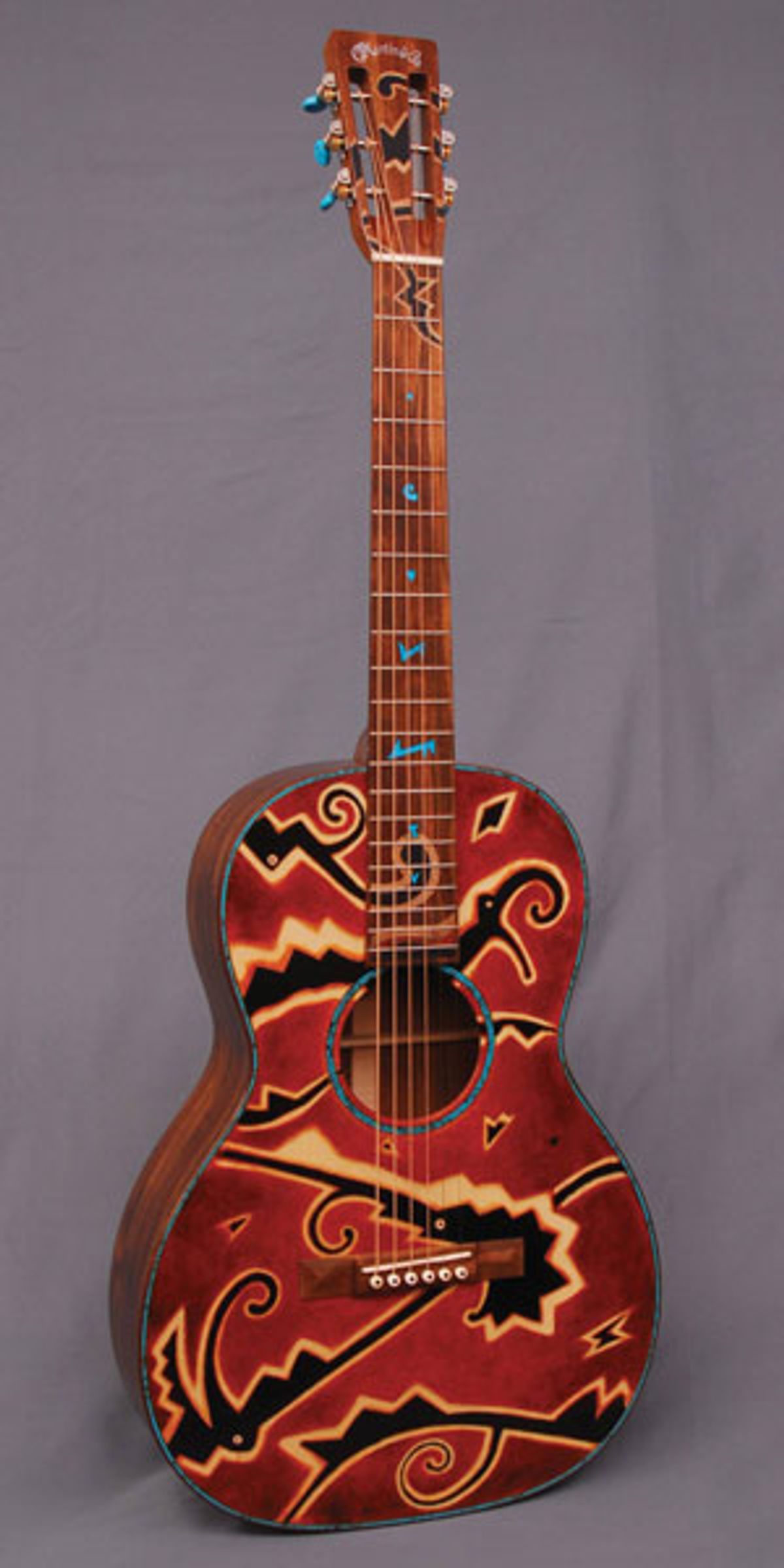 The one-of-a-kind $20,000 value Martin 000 12-fret Certified Wood guitar features original Southwestern artwork by Peter Cree.
Nazareth, PA
(February 25, 2010) – In tune with Martin Guitar's environmental philosophy, C.F. Martin & Co. has donated a rare 000 12-fret Peter Cree Certified Wood Guitar (photo attached) to Christie's International, the world's leading art business, for their upcoming "A Bid to Save the Earth" Green Auction. This first-of-its-kind charity auction will take place on April 22, 2010 to coincide with the 40th anniversary of Earth Day. Proceeds from the sale will be divided among four leading not-for-profit environmental organizations: Conservation International, Oceana, Natural Resources Defense Council and the Central Park Conservancy. All four beneficiary organizations are 4-Star rated by CharityNavigator.org, its highest rating for not-for-profit organizations.
Estimated in value at $20,000, the one-of-a-kind Martin Custom Shop 000 12-fret Peter Cree Certified Wood Guitar features original Southwestern artwork executed in hand-applied colored lacquers by renowned painter/sculptor Peter Cree. Known for developing and incorporating a decorative finishing technique intended for high-quality acoustic instruments, Cree's work has been highly sought-after across the country for his creation of new pieces, as well as his expert restorations of fine art and instruments.
Constructed with 100% Certified tonewoods from ecologically well-managed forests, the 000 12-fret Peter Cree Certified Wood Guitar features Chechen headplate, back and sides; a four-piece Adirondack top; Katalox fingerboard and bridge; cherry neck, front and rear block; basswood ribbon linings and braces; and artistic inlays of Micarta, cherry and turquoise.
"For nearly two decades, we at Martin Guitar have been devoted to pioneering a movement of ecological responsibility within the guitar industry," said Chris Martin IV. "C.F. Martin & Co. is proud to have contributed such an artistically creative and ecologically symbolic instrument in support of charitable environmental initiatives through this special Christie's auction."
For more information:
Christies