Michael Kelly streamlines the 12-string concept, delivering dazzlingly complex sounds at an attractive price.
For years, players and techs have yanked the fifth- and sixth-course octave strings from 12-strings guitars. For fingerpickers it can mean easier, cleaner-sounding thumbpicked notes and more concise low-end response. But a purpose-made 10-string like Michael Kelly's Triad 10E offers ergonomic benefits as well, such as less string tension and headstock weight. This innovative instrument delivers on the sonic and playability fronts, providing a cool doubled-string alternative in a price range where 12-strings can be same-ish in sound and construction.
Boutique Influence
The Triad 10E is built around a standard non-cutaway, square-shouldered dreadnought body. Apart from the single sixth and fifth strings, the string pairs are like those on a 12-string: The D and G pairs are tuned in octaves and the B and E pairs are unisons. There are five tuners on each side of the headstock, with the G course's lower-string tuner on the bass side. (Both G tuners are usually on the same side, so this arrangement may take some getting used to.)
The doubled courses impart extra potency in clustered and altered chords when set against punchy single-note bass lines.

Some Triad design attributes are more commonly seen on boutique guitars. For example, two bass-side sound ports augment the conventional soundhole, projecting more sound directly at the player. The guitar boasts a solid spruce soundboard, complemented by a symphony of interesting tone woods. The 3-piece back incorporates a center section of ovangkol, flanked by flamed okoume sections. The sides and headstock cap are also okoume. A rosewood fretboard caps the mahogany neck.
Though its square-shoulder dread profile is familiar, the Triad 10E's looks are far from ordinary. The unusual rosette with its sectioned outer ring seems almost Cubist, as does the idiosyncratically shaped bridge. (It's pin-less for easier string changes.) Flamed maple neck and body binding and a maple heel cap lend elegance, as do the back and end strips and small pearloid tuner buttons.
Observable flaws are few. There's a hint of finish bleed on the heel cap, but the interior—clearly visible through the sound ports—is extremely tidy. The frets could've used a little more polishing, but the inlay and binding are meticulous. The gloss-finished back and sides are uniformly smooth and shiny. (A satin top finish might have better matched the fancy appointments, though it would have made the guitar more expensive.)
Ratings
Pros:
Innovative 10-string design. Eliminates some typical 12-string problems. Super affordable.
Cons:
Strap button preinstalled at neck heel. Case not included.
Tones:


Playability:


Build/Design:


Value:



Street:
$399
Michael Kelly Triad 10E
michaelkellyguitars.com
Easy on the Fingers, Present in the Ears
Thanks to a shallow, C-shaped neck profile and low action, the Triad 10E can make you forget you're playing a 10-string. You barely notice any extra fretting and picking difficulty despite the extra strings.
I tried a handful of classic 12-string-driven classic rock tunes, including Pink Floyd's "Wish You Were Here" and Led Zeppelin's "Over the Hills and Far Away." The guitar sounded every bit as brilliant and shimmering as a regular 12-string, and I can't say I missed the doubling of the bottom two strings. In fact, I heard extra low-end clarity. The one bummer about that revelation? The realization that a big-bodied guitar like this should deliver a little more low-end power.
It was great fun experimenting with different stylistic approaches. For example, playing a walking bass line on strings 5 and 6 while comping on the doubled upper strings creates the illusion of two independent parts more effectively than on a standard 6-string. The doubled courses impart extra potency in clustered and altered chords when set against punchy single-note bass lines.
The Triad 10E comes with an active Fishman Sonitone electronics system. The control knobs are tucked unobtrusively inside the soundhole, while the 9V battery compartment and output jack are on the lower bass bout. Plugged into a Fender Acoustasonic amp on a flat setting, the guitar sounds terrific. Its essential acoustic character remains intact, and there's no unwanted humming. The guitar and electronics pair nicely with a little reverb, which emphasizes the shimmering quality.
The Verdict
Sometimes unique and affordable guitar designs fall short of the desired outcome, but that's hardly the case here. If anything, the Triad 10E is an overachieving instrument that improves on the playability of the 12-string without sacrificing its characteristic chime. This unique guitar plays, sounds, and looks terrific—and at $399, it's a bargain.
Looking for more great gear for the guitar player in your life (yourself included!)? Check out this year's Holiday Gear Finds!
Flare is a dual-function pedal with a tube-like booster and a 1970s-style ring modulator effect that can be played separately or together.
Flare's ring modulator is based on the iconic tone of the original Dan Armstrong Green Ringer. This vintage classic was made famous by Frank Zappa who loved the unusual modulations created by generating a harmonic octave over notes. Messiah's version offers two control knobs: a "Sparkle" tone attenuator and output Level control. Its taupe-gold body, purple and green knobs and stick-figure rock 'n' roller holding up a flame convey an appropriately rockin'70s vibe.

​In a unique twist, Messiah's Flare pairs the ringer with a warm tube-style boost instead of a fuzz. Flare feeds the booster into the ringer for an extra punch, while preserving the Green Ringerspirit. The ringer side also turns any fuzz into an octafuzz, and it has the ability to quiet signal background noise fed through it.
The booster side features a single Boost knob to control the MOSFET circuit, making it very tube-amp-friendly with a warm, organic boost and gain of up to 32dB.
​The pedal is a distinct improvement over the 1970s pedal that inspired it. "Most ringer pedals don't track well," Tom Hejda, owner of Messiah Guitars. "The player can't rely on repeating the same effect even with the most consistently played notes. We carefully matched the components, so our ringer follows your every move, producing that slightly dirty octave you expect on demand."
Messiah developed this vintage octave pedal with flexible features so that people who love that messy, dirty Zappa-esque sound can get there with ease but there's also something for those who have not fallen in love with fuzz or the Green Ringer alone. Flare offers an array of sonic options while retaining simplicity in the controls.
Each Flair Pedal Includes:
3 control knobs: Boost, Sparkle, and Level
Two effects – Ring Modulator and Boost – can be used together or separately
Space-saving top side jacks
Durable, cast aluminum alloy 125B enclosure with fun artwork
Easy to see, illuminated True-bypass foot switch
Standard 9V pedal power input​
Flare Pedal Demo
Messiah Guitars pedals are designed with an explorative player in mind. Like their custom guitars and amplifiers, Messiah's pedals are hand-crafted in Los Angeles for a long life with guaranteed quality.
Flare retails for $199.00 and can be purchased directly at Messiah Guitars or you can hear it in person at Impulse Music Co. in Canyon Country, CA.
For more information, please visit messiahguitars.com.
This feathery little guy is a joy to play because of its incredibly quick response to your right hand - much faster and more expressive than your typical auto-wah pedal.
​If it looks like a duck, acts like a duck, and QUACKS like a duck, then it must be a duck. That's how we came up with the name for our new envelope filter. This feathery little guy is a joy to play because of its incredibly quick response to your right hand - much faster and more expressive than your typical auto-wah pedal. Trevor explains how this is possible in the launch video, as well as gives a demo on Le Canard's operation.
​The attack control determines how quickly the filter responds to the envelope, and the decay sets how quickly the filter releases afterward. The range controls which frequency spectrum the filter does its magic on. Add to this relay-based full-bypass switching with failsafe, and you've got one crazy little quacky beast. It is so expressive that you'll want to give up on your rocker-wah forever.
The MayFly Le Canard envelope filter features:
Super fast responding envelope follower. Touch it and it jumps!
Range control to dial in the character of the filter
Attack control to control how fast the filter moves on that first touch
Release control to control how slowly the filter slides back to baseline
Full bypass using relays with Fail SafeTM (automatically switches to bypass if the pedal loses power)
Cast aluminum enclosure with groovy artwork
MSRP $149 USD ($199 CAD)​
Introducing the MayFly Le Canard Envelope Filter
All MayFly pedals are hand-made in Canada.
For more information, please visit mayflyaudio.com.
Outlaw Effects introduces their next generation of NOMAD rechargeable battery-powered pedal boards.
Available in two sizes, NOMAD ISO is a compact, versatile tool that offers the convenience of a fully powered board plus the additional freedom of not having to plug into an outlet. NOMAD ISO is ideal for stages with limited outlet availability, quick changeovers, busking outdoors, temporary rehearsal locations, and more.
NOMAD ISO builds upon the legacy of the ultra-convenient and reliable NOMAD rechargeable pedalboard line originally launched in 2018. The brand new NOMAD ISO editions feature eight isolated outputs (1 x 9V DC, and 1 switchable 9V/12V DC) for even more versatility and clean, quiet power. With an integrated lithium-ion battery pack boasting 12800mAh capacity, NOMAD ISO can fuel a wide array of pedals, and will last over 10 hours* on a single charge.
Each NOMAD ISO pedal board includes adhesive hook & loop pedal-mounting tape, eight (8) standard DC connector cables, and one (1) reverse polarity DC cable, giving you everything you need to build your ultimate "off-the-grid" rig. A rugged, road-ready padded gig bag with shoulder strap is also included, to safely protect your gear while you're on the move.
NOMAD ISO S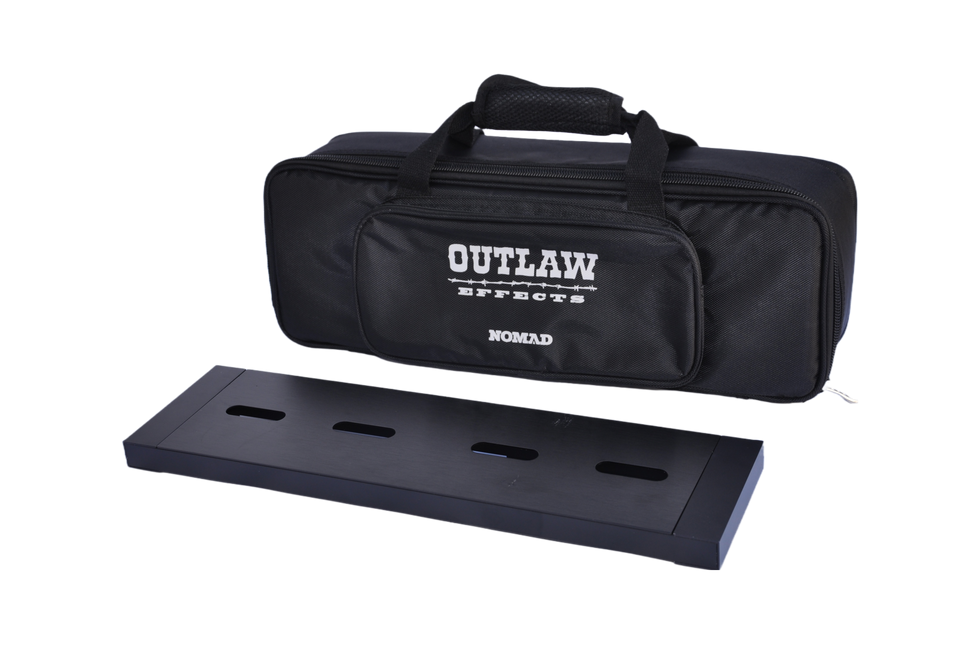 NOMAD ISO S: MSRP $309 / MAP: $249
Dimensions: 19 ¼" x 5 ¼"
NOMAD ISO M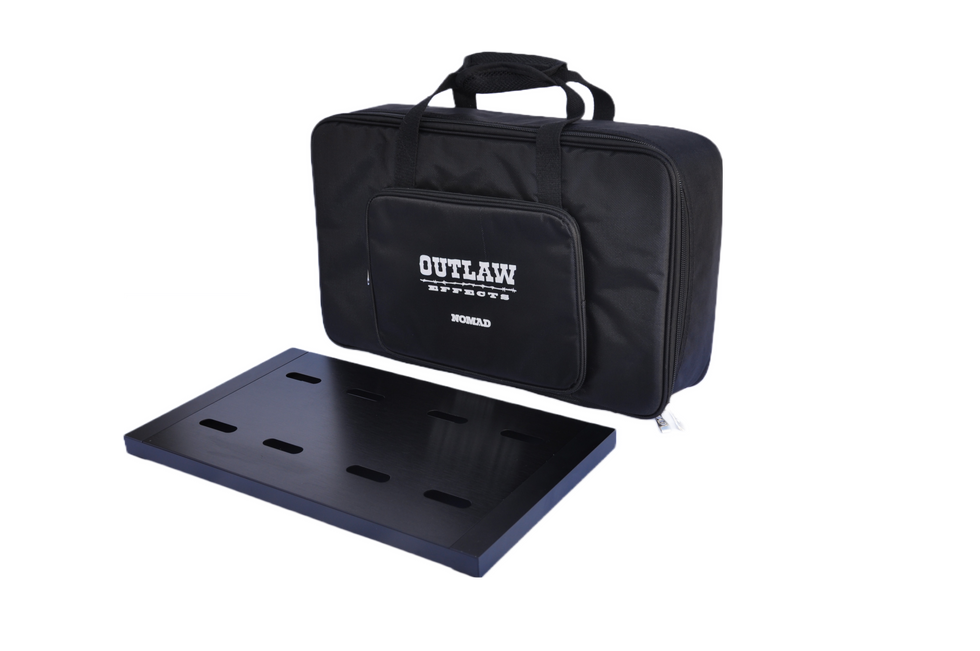 NOMAD ISO M: MSRP $349 / MAP $279
Dimensions: 19 ¼" x 11"
More info: https://www.outlawguitareffects.com.