NAMM 2014 Editors' Picks: Day 1
Our top picks from day 1 of NAMM.
PG Editors pick their top gear from the first day of NAMM. See everything from day one in our photo gallery.
Tone King Majesty 45
Tone King mastermind Mark Bartel spent last year in a British state of mind and emerged with a few new amps including this beautiful EL34-driven Majesty 45. It's tricked out with a specially voiced attenuator and a 2 x 12 cab with custom Eminence Speaker 60-watt speakers.
Fender Squier Bass VI
Winter NAMM 2014 means a peek at the new SquierVintage Modified Bass VI--music to the ears of those of us that haven't been able to afford a more expensive version. Nice block inlay too!
Gibson J-15
Gibson brought a couple very cool variations on the classic slope shoulder J-45 shape. This one, the J-15, has walnut back and sides, Sitka Spruce top and a MAP right around $1,500.
Guild M-85 Bass
Guild introduced a number of new models to their Newark St. Collection at NAMM 2014. One of them is the M-85 bass—a semi-hollowbody that sports a mid-'60s look and delivers a big tone via its bridge-position Bi-Sonic-style pickup.
DV Mark Little Jazz
DV Mark unveiled a new compact combo amp called the DV Little Jazz. It has a single 8" speaker and a simple EQ, yet still delivers some big and clean sounds.
Framus Idolmaker
Framus unveiled their new set-neck Idolmaker model at the 2014 show. Its body is a AAA flame maple/mahogany combo, and the mahogany neck is capped with tiger stripe ebony. For electronics, the Idolmaker is loaded up with an SH-PG/SH-11 set from Seymour Duncan.
AXL Belair
AXL Guitars' rad new Belair has a slab mahogany body, a Bigsby B5, and a splittable TV Jones Power'Tron pickup for $749 street!
Supro 1624T Dual-Tone
Supro's new 1624T Dual-Tone features a pair of 6973 power tubes, two channels with volume and tone knobs, a tremolo circuit, and a custom 12" speaker voiced to capture a 1960s Jensen vibe. Input one sends the signal through both preamps, while input 2 operates as a single preamp. Street price is $1,099.
Nik Huber Prototype
Nik Huber Guitars brought a number of guitars to NAMM this year, including this yet-to-be officially named "Prototype." It's a semi-hollowbody featuring mahogany for the body and neck, a flame maple top, and an East Indian rosewood fretboard. For electronics, this bad boy is loaded with a set of Tronbuckers from Haussel.
EarthQuaker Devices Pitch Bay and Terminal
EarthQuaker Devices' new Pitch Bay and Terminal stomps sound freakishly rad, as expected. The former goes for $225 and the latter for $165. Look for the demo vid soon.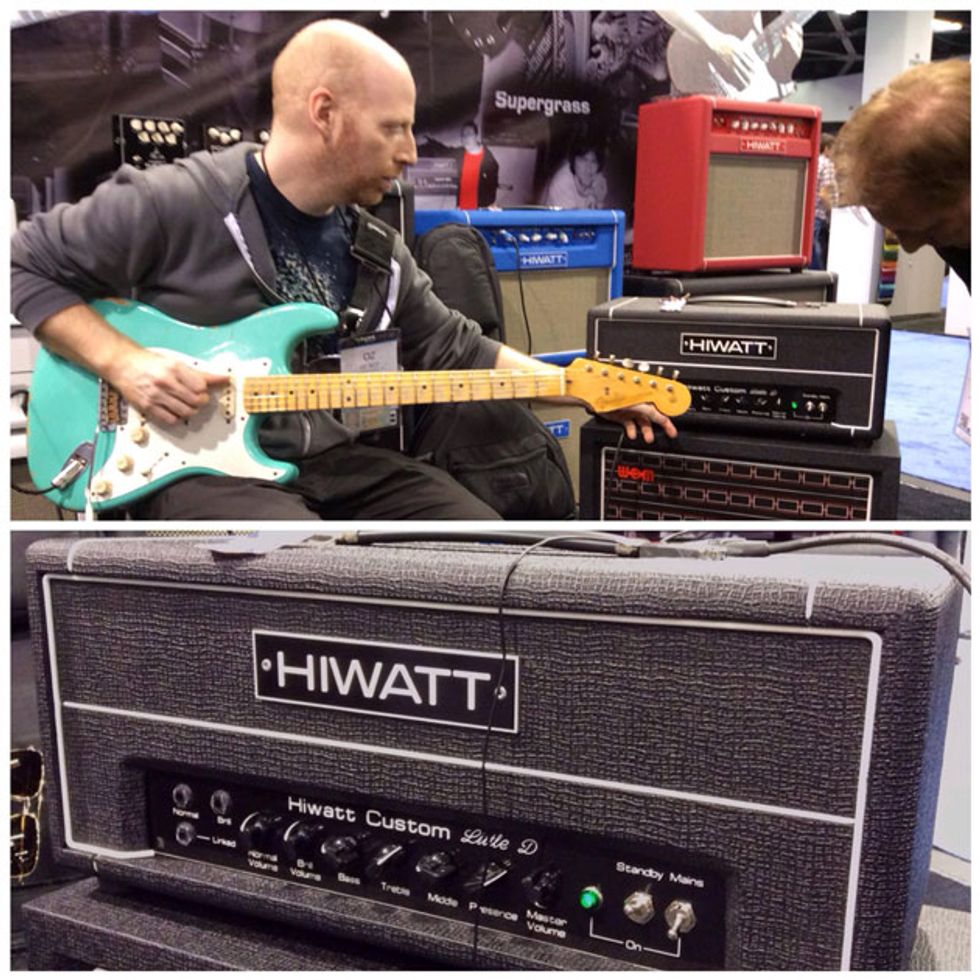 Hiwatt Custom Little D
Oz Noy prepares to demo the new handwired, U.K.-made Hiwatt Custom Little D. The dual-EL84-powered head is switchable from 20 to 1/2 watts and features normal and brilliant inputs or one that links both.
FatRat
The new FatRat features distortion, filter, and volume knobs, as well as thick/stock and MOSFET/stock toggles, the latter of which adds a new gain character to the classic Rat nastiness. $299 street
Tausch 665 "Raw"
Tausch brought a new 665 "Raw" model to 2014 NAMM. It features a 25 1/4" scale, a pear wood body, a flamed maple neck, and a pair of Haussel pickups with a 59 in the neck and a TE Broad in the bridge.
Magnatone
Magnatone had a prototype of their brand new Panoramic amp in tow at the 2014 NAMM show. It's a class A, 5-watt little beast that boasts a tube complement of two 12AX7s, a 12AU7, and a pair of 6V6s.