NAMM 2016: Editors' Picks – Day 1
Take a look at the PG editors' top picks from Day 1 of NAMM.
PG editors pick their top gear from the first day of NAMM. See everything from day 1 in our photo gallery.
Danelectro '64
The new Danelectro '64 does Mosrite down to the letter. While Dano has used this body profile before, this is the first time it will feature Mos'-authentic features like the German carved top and offset neck pickup and zero fret. The Bigsby is standard, while the double lipstick humbucker pays homage to Dano's own '90s output. All this for just $799.
Empress Reverb
There probably aren't many reverb sounds Empress Effects' new stereo midi-compatible won't make when it hits in early summer. The crazily tweakable unit starts with very nice hall, plate, spring, and room emulations--then the real fun begins. Modulation, octave effects, programmable expression pedal parameters--you could get lost for a long time in this thing. Expect a street price of around $449.
Recording King EZ Tone
Recording King Guitars continues to deliver mad value. At this year's‪ NAMM‬ they unleashed the EZ Tone (solid spruce top, laminate mahogany back and sides) and all-solid spruce and mahogany EZ Tone Plus lines. The EZ Tone O is on the left and the EZ Tone Plus O is on the right. Each of the guitars in the EZ Tone line are $229 (save for the killer little Mini Dreadnought, which is $249 with soft case.) The Plus guitars are all $299.
Gallien-Krueger PLEX
Gallien-Krueger came to town with a brand-new preamp in tow. The PLEX features a 4-band "variable Q" equalizer and contour circuit, selectable voicing filters, and footswitchable compression, boost, and chromatic tuning.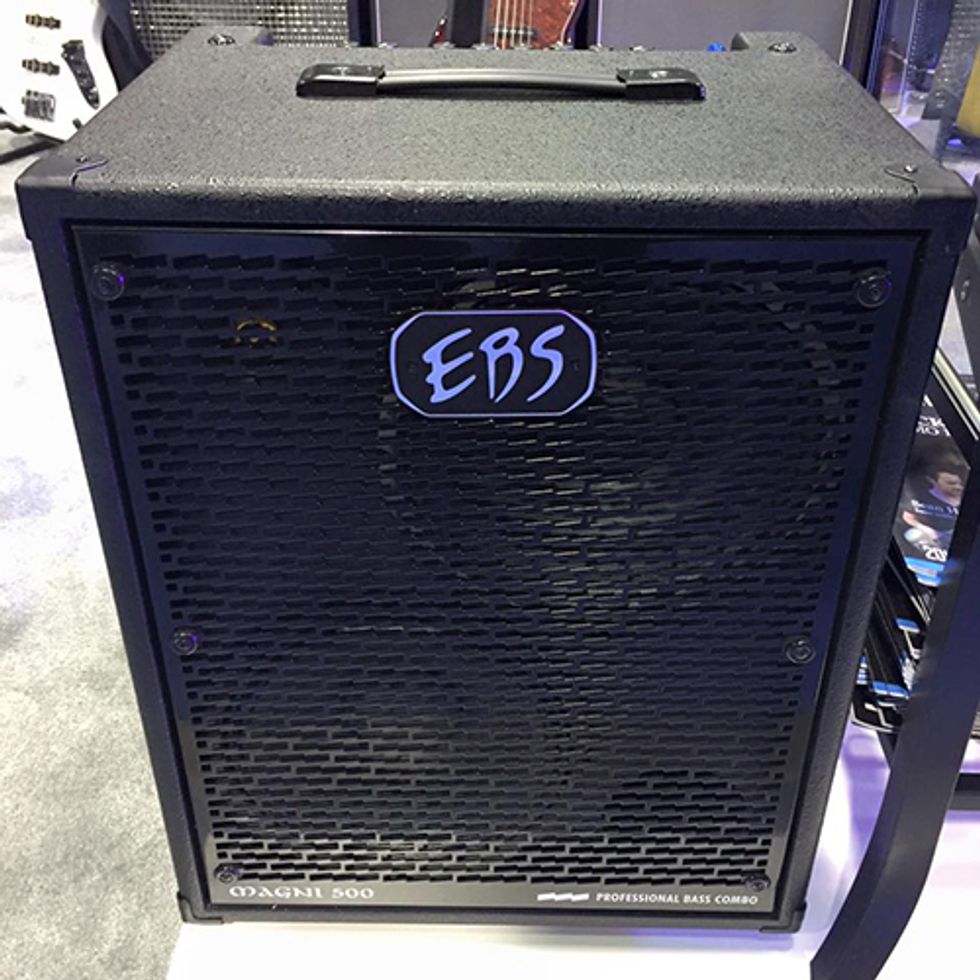 EBS Magni 500
EBS Professional Bass Equipment brought their new Magni 500 bass combo to ‪NAMM‬ 2016. Available in two configurations (2x10 or 1x15), both use an amp section based on the company's Reidmar design consisting of an all-analog preamp with a lightweight power-amp section. Features include the balanced XLR out with ground lift, a 4-band EQ with a sweepable mid frequency, a built-in compressor/limiter, and the character switch for adjusting the amp's overall tonal characteristics.
Randall Kirk Hammett KH103
Metal heads rejoice! Randall Amplifiers debuted the highly anticipated Kirk Hammett Signature KH103 at ‪#NAMM‬. The 3-channel KH103's tones are sculpted by nine 12AX7s and the amp is powered by four 6L6s pushing 120 watts of tube power. Features include 3-stage gain voicing, tube-driven boost, dual MIDI-switchable master volumes, and dual MIDI-switchable series/parallel loops. And yep, the KH103 Includes a 3-button MIDI footswitch.
Schecter E-1 Special Edition and Solo II Special
Schecter Guitars came to Anaheim with several cool new axes, including the E-1 Special Edition (left, $899 street), which features a maple-topped mahogany body, locking tuners, vintage-voiced, U.S.-made humbuckers, and an ebony fretboard. The classic-looking Solo II Special (middle and right, $699 street) features all-mahogany construction and U.S.-made V-90 pickups.
Fender Elite Series
As usual, Fender brought tons of coolness to ‪NAMM‬, including a completely overhauled Elite Series with features like 4th-generation Noiseless pickups, S-1 switching, neck profiles that go from C-shaped at lower frets to D-shaped at the upper frets, a truss-rod thumbwheel adjuster at the end of the fretboard, and more.
Taylor 12-Strings
Taylor Guitars brought two lovely new 12-strings to ‪NAMM‬. The 858e Grand Orchestra (top right) has solid spruce and rosewood construction for around $3,999, while the all-mahogany 562e Grand Concert features a 24 7/8" scale and a 12th-fret neck joint and a street price in the low $3k range.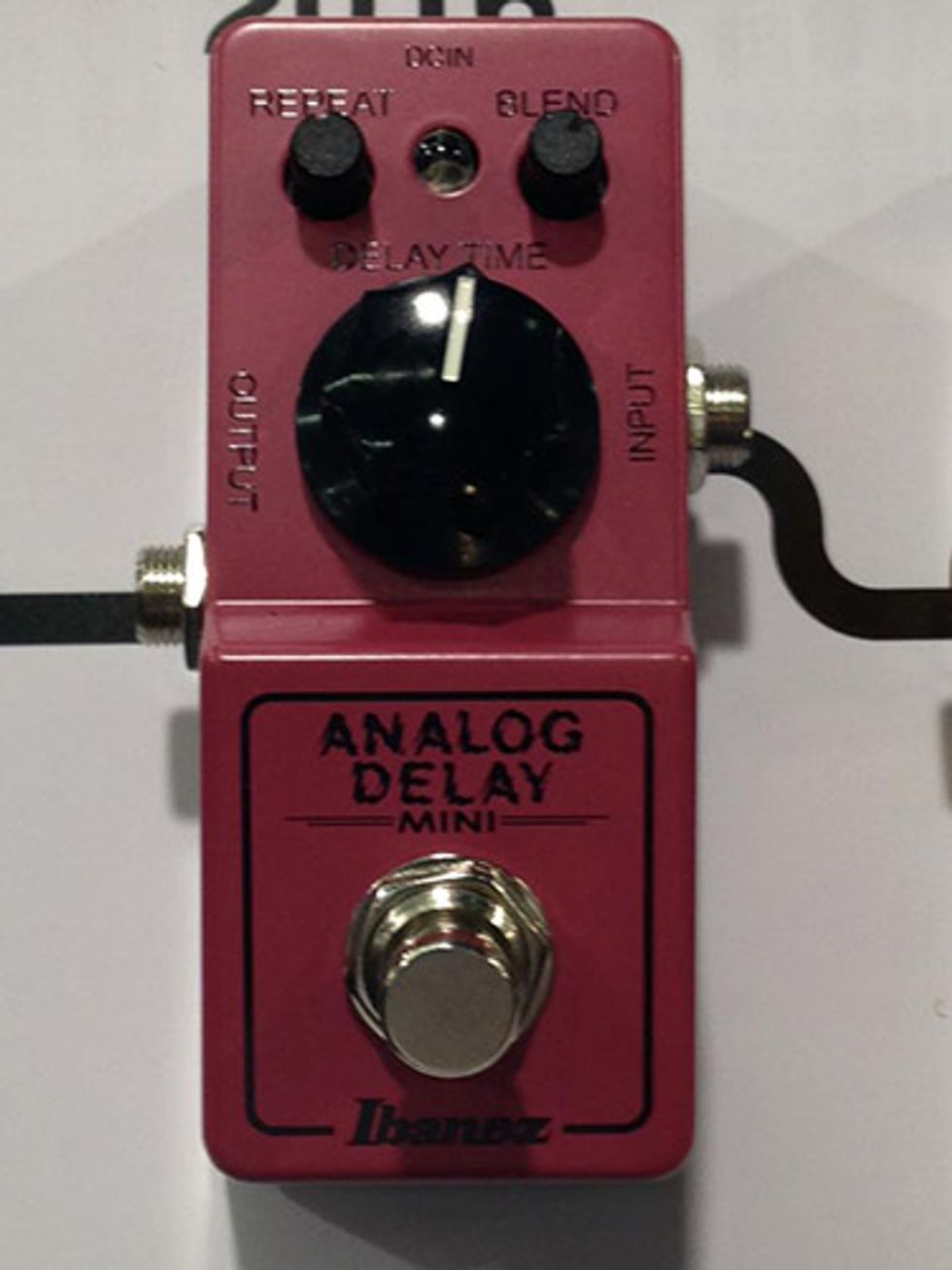 Ibanez AD-9
If the new Ibanez Guitars' Analog Delay is as good at replicating vintage AD-9 tones as the Tube Screamer Mini is at nailing old TS tones, it might be the best 99 bucks you spend in 2016! The delay also has new mini cousins in the shape of the Chorus Mini and Super Metal mini.
Morgan Amplification Pedals
Amp guru Joe Morgan (Morgan Amplification) just debuted four new pedals. From L-R: A re-released version of his classic fuzz, a MkII, OD, and a NKT275. The Fuzz and OD will be $179, the MKII will be $219, and the NKT275 is $199. The pedals will start shipping in about two weeks.