Oklahoma's Centennial Guitar and Bass
77 Guitars for 77 Counties
Tulsa, OK (August 21, 2007) - San Dimas Guitars is celebrating the state of Oklahoma's Centennial Anniversary with its Limited Edition San Dimas Centennial Guitar and Centennial Four-string Bass.
San Dimas Guitars is based in San Dimas, California, (yes, the San Dimas of Bill and Ted fame) and does some of its manufacturing in Tulsa, Oklahoma. With a growing presence in Oklahoma and a company history aligned with SoCal's hotrod guitar-making tradition, San Dimas is an appropriate maker for such a project.
San Dimas will a make a combined 77 Centennial guitars and basses in honor of Oklahoma's 77 counties. The guitars will sell for $1,907 -- a nod to the year Oklahoma officially became a state -- and the basses will go for $2,207.

The guitars are completely customizable but come standard with Lindy Fralin pickups, Swtichcraft swtiches, Sperzel locking tuners, GHS strings and a Graph Tech nut. The 25 1/2" scale guitar has 6100 size frets, an Alder body and a maple neck.

There are big plans for the first Oklahoma Centennial Guitar, which bears the serial number 001; notable artists playing in the state between July and November are being asked to play and sign it. Afterwards it will be presented to the Oklahoma Centennial Commission to be used as a part of the State''s Centennial Celebration.
Brad Henderson of Trick Pony was the first player to play and sign the guitar. He played it when the band did a show in Skiatook. (See clip and photo below)
The official Oklahoma Centennial logo is etched into the natural wood finish of the Limited Edition instruments. Each one is hand-crafted with American made parts.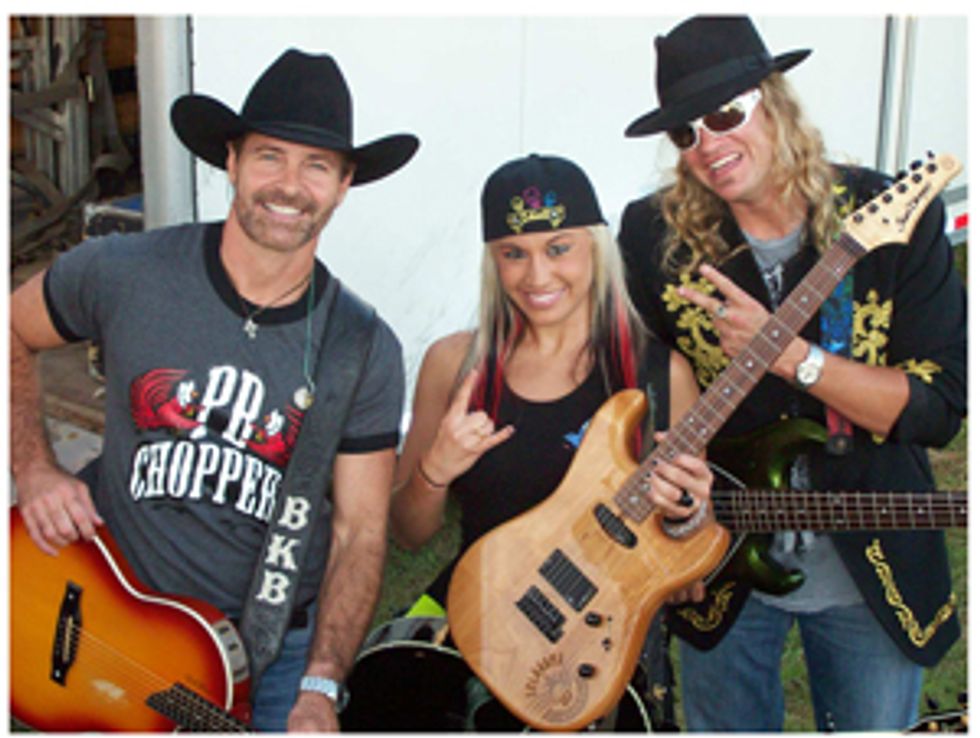 For more information:
San Dimas Guitars