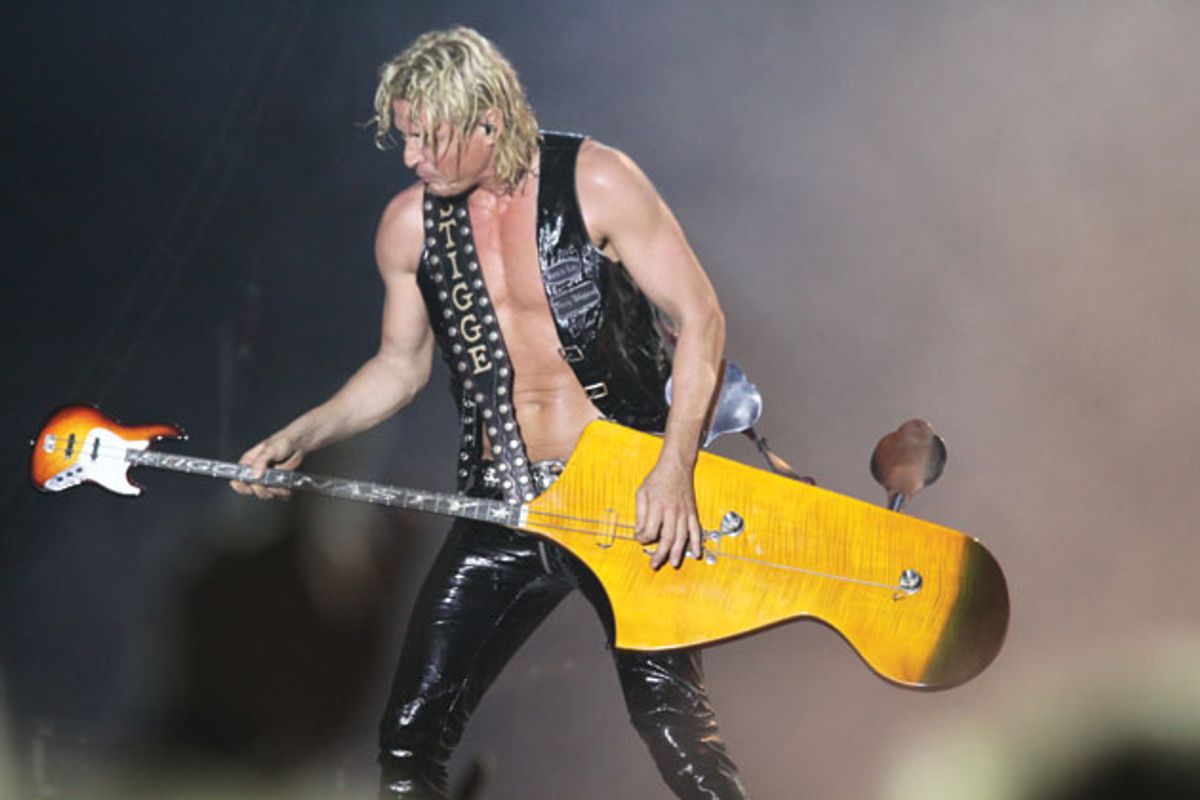 Step out of your tuning comfort zone and you may be pleased with the musical results.
Guitarists have all kinds of fun with alternate tunings. Most of my guitar-playing buddies have one guitar tuned in standard, one guitar tuned a half-step down, sometimes a guitar tuned a whole-step down, one tuned to open G, and often a guitar tuned with one of their own "secret" tunings. As bassists, we usually have a bit more conservative approach to alternate tunings.
Playing a 4-string bass exclusively from age 12 to 28 certainly left its mark on my brain. Throughout all my musical education, a 4-string bass tuned E through G was really the only way I would play—with two exceptions. My first adventure outside standard tuning occurred in my teens while playing in a heavy metal band where we all tuned every string a half-step down. We just referred to the Eb as an open E, so no additional thinking was involved.
I was enthralled with Billy Sheehan instructional videos around the same time, so I subsequently had a Hipshot Xtender detuner installed on my treasured '58 reissue Precision. It opened up an entire new world where the octave suddenly appeared on the same fret, but two strings apart. Even though dropping the low-E string down to D while keeping the rest of the bass in standard tuning felt exciting, I also remember a feeling of comfort coming over me every time I flipped the Hipshot lever back to E.
The lesson here is that we bassists sometimes think in patterns more than actual music.

When the gold-themed set design was announced for the tour I'm on this summer, I contacted the company that makes all my basses and asked if they had a gold instrument available. I've played 5-string basses almost exclusively the last 15 years, but the only one they had for me was a 4-string. I use the low-B string quite a bit in every song, so I figured I would just string the bass B through D and move all the higher melodic passages up five frets and down one string. Problem solved, right? Since I'm quite fast with transposing keys on the spot, I assumed I'd have no glitch by just playing the lowest four strings of the 5-string I'm used to. I was wrong …
I hit a few clams the first few nights. I still have to think about it when I play and I'm about 20 shows into playing with the "Low Four" bass. It turns out that when I play the highest two strings, my brain somehow gets the pitch reference by looking at the bass from the ground up, instead of from the head down (the way I get my pitch reference on the lowest two strings). I had no clue my brain worked this way until I found myself thinking that the 3rd fret of my 4th string was a Bb instead of an F, which it is on the Low Four bass.
The lesson here is that we bassists sometimes think in patterns more than actual music. Flea from Red Hot Chili Peppers says he likes to hum a bass line before picking up his bass to write one, because he doesn't want to get stuck in his patterns. This is a fantastic technique that will help make sure you play music,not patterns.

By routing the nut a little deeper, a 4-string bass with a solid neck strung B through D can be a great alternative
to a 5-string bass.
This experience has inspired my want for a 3-string bass. (Tony Levin did this years ago.) My experience has also inspired me to want to play a 2-string bass, which was made popular by my fellow Scandinavian, Stig "Stigge" Pedersen from the Danish hard-rock band D.A.D. For many of the shows I do, I'm fairly certain I could get by with just the low B and E strings. However, playing an instrument like that and the Low Four I'm currently using requires astounding intonation. That's because a lot of higher-register playing becomes extremely high-register playing on thicker-gauge strings, which is harder to do really in tune in the first place.
Let's do some exercises to confuse those of you who don't want to try fewer strings, or for those who want a challenge. First, tune your bass to D–G–D–G. Once your brain gets the layout of the top two strings, it can reapply the same patterns and principles on the 3rd and 4th strings. This is also a warm up for the next exercise: tuning your bass in fifths instead of fourths. Mandolins and violins are tuned in fifths, and tuning your bass this way completely challenges everything you know and practiced so far in standard tuning. (As an added benefit, you'll be able to play some mandolin if you can fit your big bass fingers on the fretboard.)
To further mess with your mind, try tuning every other string a half-step down while leaving the other two strings untouched. Then flip that concept on its head and tune the two strings that were a half-step under to a half-step above their standard tuning.
These exercises aren't designed to learn your fretboard better. They are designed to break the patterns you worked so hard to learn and make you play actual music. They're also a great way to feel like a beginner in two seconds. And speaking from personal experience, it's a healthy feeling. Try it!
Looking for more great gear for the guitar player in your life (yourself included!)? Check out this year's Holiday Gear Finds!
Outlaw Effects introduces their next generation of NOMAD rechargeable battery-powered pedal boards.
Available in two sizes, NOMAD ISO is a compact, versatile tool that offers the convenience of a fully powered board plus the additional freedom of not having to plug into an outlet. NOMAD ISO is ideal for stages with limited outlet availability, quick changeovers, busking outdoors, temporary rehearsal locations, and more!
NOMAD ISO builds upon the legacy of the ultra-convenient and reliable NOMAD rechargeable pedalboard line originally launched in 2018. The brand new NOMAD ISO editions feature eight isolated outputs (1 x 9V DC, and 1 switchable 9V/12V DC) for even more versatility and clean, quiet power. With an integrated lithium-ion battery pack boasting 12800mAh capacity, NOMAD ISO can fuel a wide array of pedals, and will last over 10 hours* on a single charge.
Each NOMAD ISO pedal board includes adhesive hook & loop pedal-mounting tape, eight (8) standard DC connector cables, and one (1) reverse polarity DC cable, giving you everything you need to build your ultimate "off-the-grid" rig. A rugged, road-ready padded gig bag with shoulder strap is also included, to safely protect your gear while you're on the move.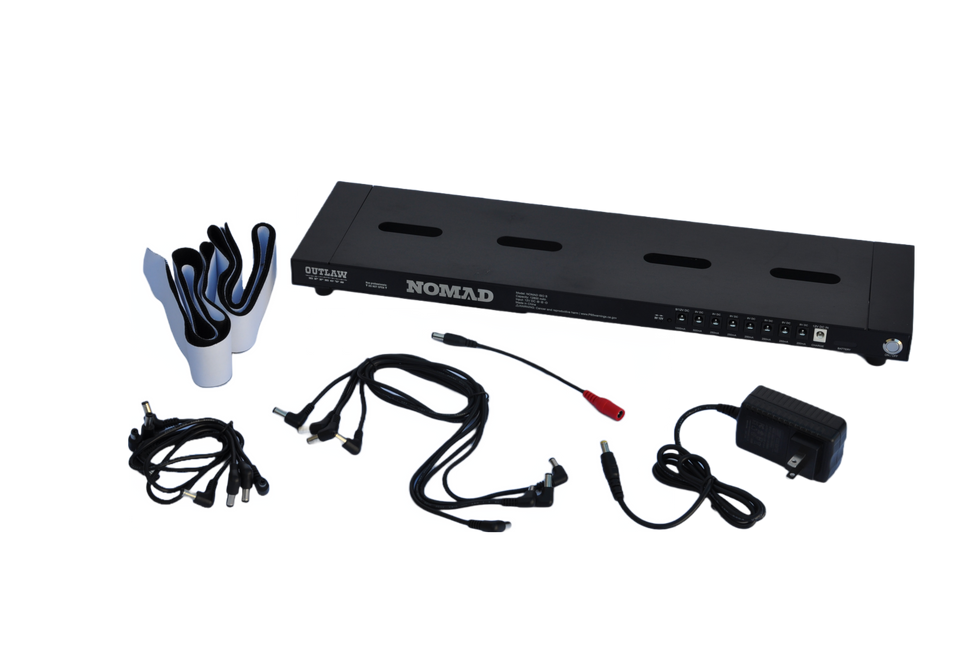 Dunable announce new Minotaur model featuring Grover Rotomatic Keystone tuners.
The Minotaur's DNA is rooted in their classic Moonflower model, which Dunable discontinued in 2017. However, they have long since wanted to create a fresh take on a carved top guitar design, and various attempts to rework the Moonflower led them to a brand new concept with the Minotuar.
Dunable's goal is to give the player a guitar that plays fast and smooth, sounds amazing, and gives maximum physical ergonomic comfort. The Minotaur's soft and meticulous contours, simple and effective control layout, and 25.5" scale length are designed to easily meet this criteria.

Dunable Minotaur!
Features
25.5" scale length
Dual Humbucker
one volume, one tone, push pull for coil splitting
Grover Rotomatic Keystone tuners
Grover Tune O Matic bridge with brass Kluson top-mount tailpiece
jumbo nickel frets
12" fretboard radius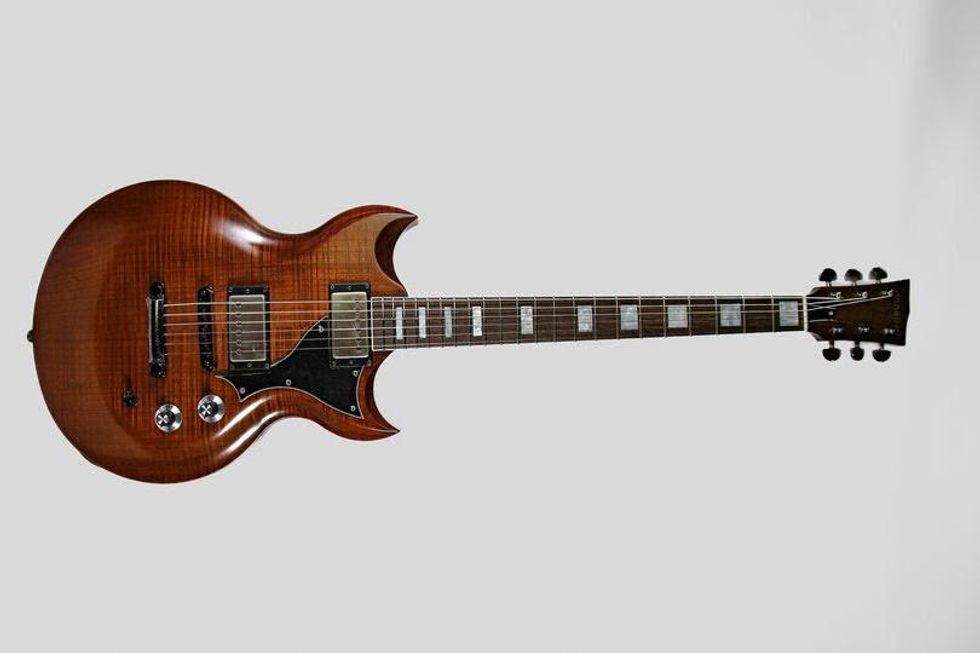 Dunable
This full-amp-stack-in-a-box pedal brings a new flavor to the Guitar Legend Tone Series of pedals, Missing Link Audio's flagship product line.
Adding to the company's line of premium-quality effects pedals, Missing Link Audio has unleashed the new AC/Overdrive pedal. This full-amp-stack-in-a-box pedal – the only Angus & Malcom all-in-one stompbox on the market – brings a new flavor to the Guitar Legend Tone Series of pedals, Missing Link Audio's flagship product line.
The AC/OD layout has three knobs to control Volume, Gain and Tone. That user-friendly format is perfect for quickly getting your ideal tone, and it also offers a ton of versatility. MLA's new AC/OD absolutely nails the Angus tone from the days of "High Voltage" to "Back in Black". You can also easily dial inMalcom with the turn of a knob. The pedal covers a broad range of sonic terrain, from boost to hot overdrive to complete tube-like saturation. The pedal is designed to leave on all the time and is very touch responsive. You can get everything from fat rhythm tones to a perfect lead tone just by using your guitar's volume knob and your right-hand attack.
Features 
Three knobs to control Volume, Gain and Tone
Die-cast aluminum cases for gig-worthy durability
Limited lifetime warranty
True bypass on/off switch
9-volt DC input
Made in the USA
MLA Pedals AC/OD - Music & Demo by A. Barrero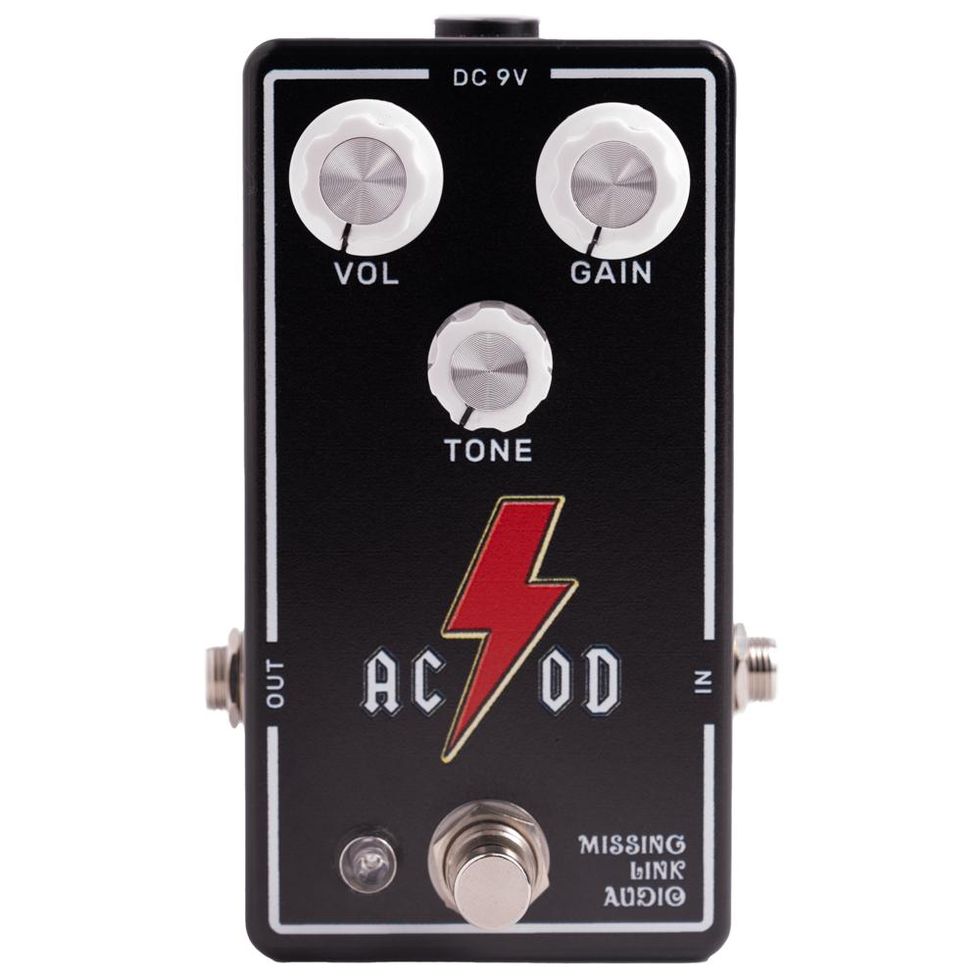 www.mlapedals.com.