Photo by Jamie Wdziekonski
The effects-crazy, THC-fueled Japanese psychedelic rockers, led by guitarists Tomo Katsurada and Daoud Popal, have called it quits, but not before one last album and tour.
The core of Kikagaku Moyo, a psychedelic quintet from Tokyo, Japan, is group improvisation. Collaborative synergy and interplay are embedded deep within the band's collective subconscious, and their live shows—as well as their studio recordings—are often spontaneous acts of creation.
"It's a lot of eye contact and a lot of concentration," Tomo Katsurada, one of the band's two guitarists, explains while discussing the group's approach to "instant composition," a term borrowed from one of their primary influences, Krautrock pioneers Can. Although, in his telling, the emphasis is on the concentration. "I smoke so much weed before the show—we all smoke so much weed and we go so high. But it's crazy. We'll have a long improvisation—maybe that'll even be 25 minutes on one song—and I'll use up all my THC from my brain and I'll be completely sober. It's crazy to realize how much concentration goes into instant composing on the stage. There's a lot of control that we have by way of concentration while improvising."
But that intense hyperfocus—the byproduct of relentless touring and rehearsing—took a forced hiatus once the pandemic brought the world to a halt. That pause was particularly difficult for Kikagaku Moyo. By the time Covid hit, two members of the band had relocated from the Tokyo area to Amsterdam; a third would soon follow. So, the recording of Kumoyo Island, the group's latest and final release (more about that in a minute), was particularly hampered because of the lockdown. They couldn't travel to jam, let alone get together in a studio, which meant that a lot of the album was done piecemeal—either via swapping files online or by one member taking the lead producing a particular track.
Kikagaku Moyo - Kumoyo Island (Full Album-2022)
That approach comes out in the record's overall sound. For example, "Cardboard Pile," which is still very much a trippy, psych-type groove, is cut up and self-sampled in a style that's more reminiscent of DJ Shadow than anything normally associated with the psychedelic canon. "Gomugomu" takes a complete left turn and oozes a warbly, off-kilter country music vibe. There's also the more atmospheric, ambient feel of songs like "Daydream Soda" and "Maison Silk Road." Not that the album is lacking for Kikagaku Moyo signature bangers. "Field of Tiger Lilies" and the almost—should we call it "funk?"—"Dancing Blue" leave a lot of room to blossom when played in front of an audience, which may be the craziest thing about Kumoyo Island.
When the band finally reconvened to tour in support of the new album, the soundcheck—which took place three hours before their first performance—was the first time they played any of these new songs together.
Not that it mattered.
"It worked," Katsurada says, unfazed. "We've been playing music together for so long that it's really fast for us to create the groove or find the vibe of the song. And the rest of the parts we can improvise."
"I love to stomp a red-color pedal when I engage the fuzz and overdrive. Visually it makes me feel like I am ready to fuzz out."—Tomo Katsurada
"We always value that first energy, that primitive energy," Daoud Popal, Kikagaku Moyo's other guitarist, says about those early 2022 soundchecks. "Those first few times, we had no idea how the songs go. Of course, now we can play them better, but those early primitive versions of those songs were also great."
In a sense, for the members of Kikagaku Moyo, recording a song in the studio isn't so much about creating a completed, final product as much as it is about bringing it into the world. From that point forward, how it evolves is anyone's guess.
"Songs get older and grow up," Katsurada says. "They grow up together with how we grow up. After we record a song, we bring it on tour, and it grows as we tour. We still have so many ideas from inside the song, and that makes it not boring when playing shows every day. It's always challenging, and it's always growing."
"A song [when it was recorded] may have been a version that was very true to ourselves a few years ago," Popal adds. "But now, a few years later, it maybe sounds unnatural to us, like we don't have that kind of feeling anymore. But when we add some jamming parts, that always updates the songs to our current feelings."
Kikagaku Moyo's twin guitar lineup is augmented with an electric sitar that's played by Ryu Kurosawa (his brother, Go, is the band's drummer). His background is in Indian classical music, and he's had to adjust his thinking and approach to better define his role and place in the band. That was particularly important, because while the group wanted the colors and broad palette the instrument offered, they didn't want it to become a gimmick.
Tomo Katsurada's Gear
Tomo Katsurada, like Daoud Popal, plays just one guitar: a Gibson Les Paul Junior Special with two P-90 pickups.
Photo by Sara Amroussi Gilissen
Guitars
Gibson Les Paul Junior Special
Amp
Effects
Boss PV-1 Rocker Volume
Xotic XW-1 Wah
Xotic Super Clean
Electro-Harmonix Big Muff Pi V4 (Op Amp)
Carlin Compressor
Carlin Phaser
Catalinbread Pareidolia
ZVEX Octane 3
Lovetone Big Cheese Clone by Thomas Graham
Dawner Prince Boonar Multi-Head Drum Echo
Danelectro Back Talk Reverse Delay (V1)
Fairfield Circuitry Shallow Water
Electro-Harmonix Holy Grail Nano
TC Electronic PolyTune 3
Strings
Unknown brand of strings that have been on his guitar since early 2022
Picks
"Sitar is a very distinctive instrument," Popal says. "We didn't want to have that sitar sound for every song, as if Kikagaku Moyo equals the 'sitar band.' Ryu needed to come up with different ideas, and he eventually developed a way to make sounds that are not like the traditional sitar sounds."

"Once he customized his acoustic sitar to electric sitar, he had more opportunity to explore the electric sounds with the pedals," Katsurada adds. "Me and Daoud are always experimenting with pedals, but sometimes guitar pedals don't work with sitar. Some fuzz pedals don't sound as good. It was trial and error until he found a good fuzz pedal for the sitar."
When it comes to sculpting tones—and, judging from the array of awesome sounds they've concocted over the years, both guitarists are bonafide tone fiends—pedals are where the action is. They don't vary their guitars. Katsurada plays a Gibson Les Paul Junior, and Popal plays a Vox Mirage II, and that's basically it. Their arsenal of amps is similarly one-dimensional: They have six Fender Twin Reverbs in Amsterdam that everyone uses (except bass), and another three in the U.S.
The band's final album was also the first they recorded via file sharing and distanced production, due to Covid.
Katsurada relies on an assortment of vintage tape echoes, like a 1970s-era Japanese-made Kastam and an aged Binson Echorec, although these days he won't take either of those on the road. "I am too scared to carry that," he says. Nowadays, he uses a digital copy of the Binson. "It's not the same, but that's more for myself. It's a micro-difference for the audience, but it is different. The right echo unit makes me feel so much better when I play." He also uses a variety of fuzz boxes, like a Big Muff and a Carlin Compressor overdrive, and he's particular about the color, too, which helps with the live show, both in terms of practicality as well as the vibe. "I love to stomp a red color pedal when I engage the fuzz and overdrive," he says. "Visually it makes me feel like I am ready to fuzz out."
Popal isn't as picky. "I use a Fuzz War by Death by Audio, but to be honest, I am not a gear geek. Many times, I use pedals and have no idea what they are. Tomo gives me something and says, 'You should use this.' I say, 'Okay,' and I use it. For example, the Foxx Tone Machine is a pedal I got it from Tomo."
"We'll have a long improvisation—maybe that'll even be 25 minutes on one song—and I'll use up all my THC from my brain and I'll be completely sober."—Tomo Katsurada
He does, however, have a penchant for expression pedals. "I love to play with my feet, like wah—I like that a lot. Usually, the guitar is played with two hands only, and the wah is a very unique addition. With a foot pedal, it's like playing guitar with three hands. I use other expression pedals connected to two of my pedals. One is delay—a Roland Space Echo—and I change the delay time with my expression pedal. That same pedal—it has two outputs—is also connected to the tremolo, so, again, I can change the tremolo's BPM with my foot."
But great tones and incredible chemistry aside, after a decade together—and five full-length albums in the can, plus many other releases—Kikagaku Moyo has called it quits. They spent most of 2022 on the road, and their final show was in Tokyo on December 3.
Daoud Popal's Gear
Daoud Popal is transported by his band's "instant composition" at the 2022 Desert Daze festival, held in Riverside County, California, in late September.
Photo by Debi Del Grande
Guitar
Amps
Effects
TC Electronic PolyTune 3
Xotic EP Booster
Electro-Harmonix Holy Grail Nano
Catalinbread Belle Epoch
JAM Pedals Big Chill
Boss AC-2 Acoustic Simulator
Boss RE-20 Space Echo
Electro-Harmonix Stereo Clone Theory Analog Chorus/Vibrato
J. Rockett Archer Ikon Boost/Overdrive
ZVEX Instant Lo-Fi Junky
Dunlop MC404 CAE Wah
Death by Audio Fuzz War
Foxx Tone Machine
Two Boss Expression Pedals
Strings
Picks
"We decided at the end of 2021, after we came back from a West Coast tour, that this tour is going to be the last one," Katsurada says. "It is better for us to finish up this project and to archive our project together. That's the healthiest way for us to keep a good relationship, and friendship. I am going to keep playing music. I have a radio program that I am doing with my partner, and I have many music projects that I am interested in doing. Maybe I'll make my solo music and just keep making music, but not as a band. Now, I am interested in working with people I've never worked with, and I want to explore my creativity in music. It is really good to collaborate with other people I have never worked with. I feel I can find myself more."
"The last two years, since Covid, two of us—and now three—were already separated and living in Amsterdam," Popal adds. "Naturally, under Covid we couldn't do much touring, and so I started my own projects in Japan. I believe I will continue with those."
To drive the point home, and as a special gesture for the final tour, Katsurada was attempting to play every show throughout 2022 on the same set of strings. "I still haven't broken any yet," he says, somewhat amazed. "We've never missed a show in 10 years, never canceled; so we don't want to cancel any shows and I don't want to break any strings. That's the goal."
幾何学模様 (Kikagaku Moyo) - Green Suger @ SHIBUYA全感覚祭
Reverb and distortion collide and shapeshift via joystick control in Walrus's latest weirding machine.
The Melee was designed to unapologetically use a joystick to meld reverb and distortion into one massive blaze of sound. With the flip of the order switch, run the distortion into the reverb or reverb into distortion; signal chain is your call now. For the explorer, the Melee can run one of three different reverb programs Ambient, Octave, and Reverse.
In a "less is more" approach, Walrus has intentionally decided on controls that are fun to use and will inspire a wealth of creative output. Use the joystick to control the amount of distortion by moving it up and down. Moving the joystick left and right will adjust your reverb mix. The tone and decay toggles have low, medium, and high settings. Modulation can be added to the wet signal by holding down the bypass switch and moving the decay toggle. The left position is no modulation, the middle is a slight modulation, and the right is a high modulation. Learn more here.
The silky smooth slide man may raise a few eyebrows with his gear—a hollow, steel-bodied baritone and .017s on a Jazzmaster—but every note and tone he plays sounds just right.
KingTone's The Duellist is currently Ariel Posen's most-used pedal. One side of the dual drive (the Bluesbreaker voicing) is always on. But there's another duality at play when Posen plugs in—the balance between songwriter and guitarist.
"These days, I like listening to songs and the story and the total package," Posen told PG back in 2019, when talking about his solo debut, How Long, after departing from his sideman slot for the Bros. Landreth. "Obviously, I'm known as a guitar player, but my music and the music I write is not guitar music. It's songs, and it goes back to the Beatles. I love songs, and I love story and melody and singing, and there was a lot of detail and attention put into the guitar sound and the playing and the parts—almost more than I've ever done."
And in 2021, he found himself equally expressing his yin-and-yang artistry by releasing two albums that represented both sides of his musicality. First, Headway continued the sultry sizzle of songwriting featured on How Long. Then he surprised everyone, especially guitarists, by dropping Mile End, which is a 6-string buffet of solo dishes with nothing but Ariel and his instrument of choice.
But what should fans expect when they see him perform live? "I just trust my gut. I can reach more people by playing songs, and I get moved more by a story and lyrics and harmony, so that's where I naturally go. The live show is a lot more guitar centric. If you want to hear me stretch out on some solos, come see a show. I want the record and the live show to be two separate things."
The afternoon ahead of Posen's headlining performance at Nashville's Basement East, the guitar-playing musical force invited PG's Chris Kies on stage for a robust chat about gear. The 30-minute conversation covers Posen's potent pair of moody blue bombshells—a hollow, metal-bodied Mule Resophonic and a Fender Custom Shop Jazzmaster—and why any Two-Rock is his go-to amp. He also shares his reasoning behind avoiding effects loops and volume pedals.
Brought to you by D'Addario XPND Pedalboard.
Blue the Mule III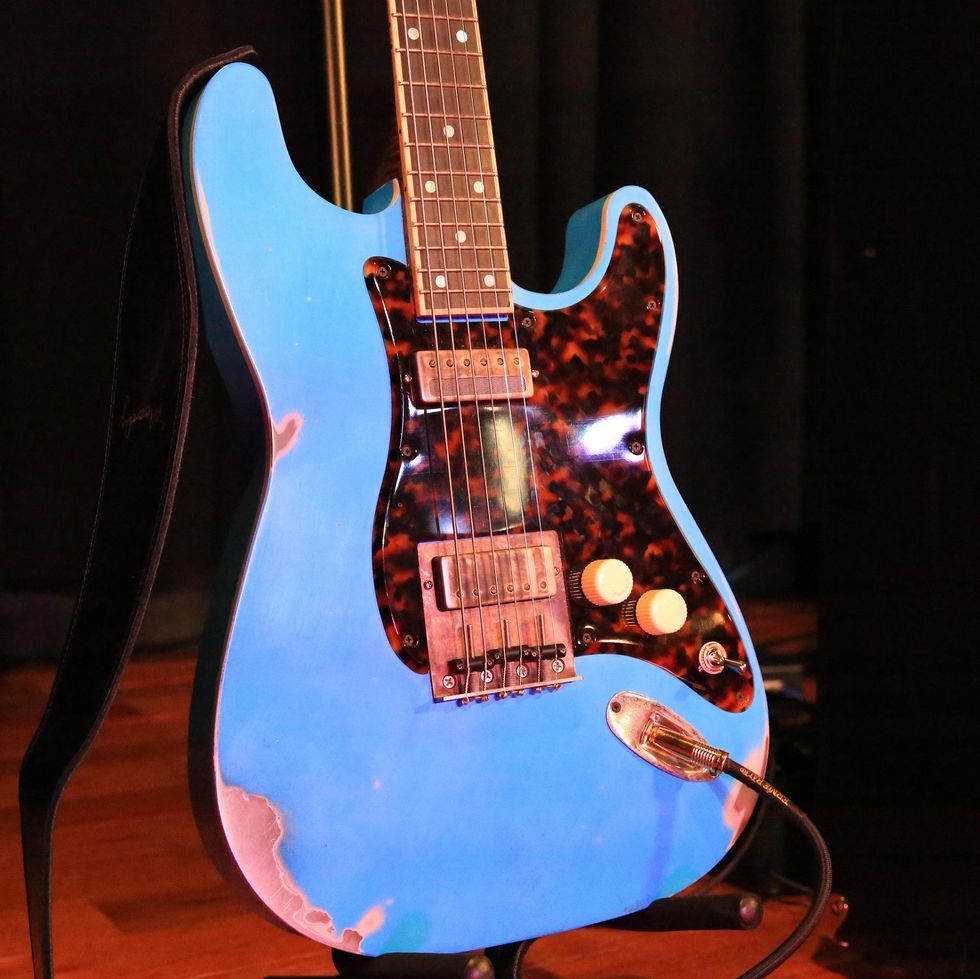 If you've spent any time with Ariel Posen's first solo record, How Long, you know that the ripping, raunchy slide solo packed within "Get You Back" is an aural high mark. As explained in a 2019 PG interview, Posen's pairing for that song were two cheapos: a $50 Teisco Del Rey into a Kay combo. However, when he took the pawnshop prize onstage, the magic was gone. "It wouldn't stay in tune and wouldn't stop feeding back—it was unbearable [laughs]."
Posen was familiar with Matt Eich of Mule Resophonic—who specializes in building metal-body resonators—so he approached the luthier to construct him a steel-bodied, Strat-style baritone. Eich was reluctant at first (he typically builds roundneck resos and T-style baritones), but after seeing a clip of Posen playing live, the partnership was started.
The above steel-bodied Strat-style guitar is Posen's third custom 25"-scale baritone. (On Mule Resophonic's website, it's affectionately named the "Posencaster.") The gold-foil-looking pickups are handwound by Eich, and are actually mini humbuckers. He employs a custom Stringjoy set (.017–.064 with a wound G) and typically tunes to B standard. The massive strings allow the shorter-scale baritone to maintain a regular-tension feel. And when he gigs, he tours light (usually with two guitars), so he'll use a capo to morph into D or E standard.
Moody Blue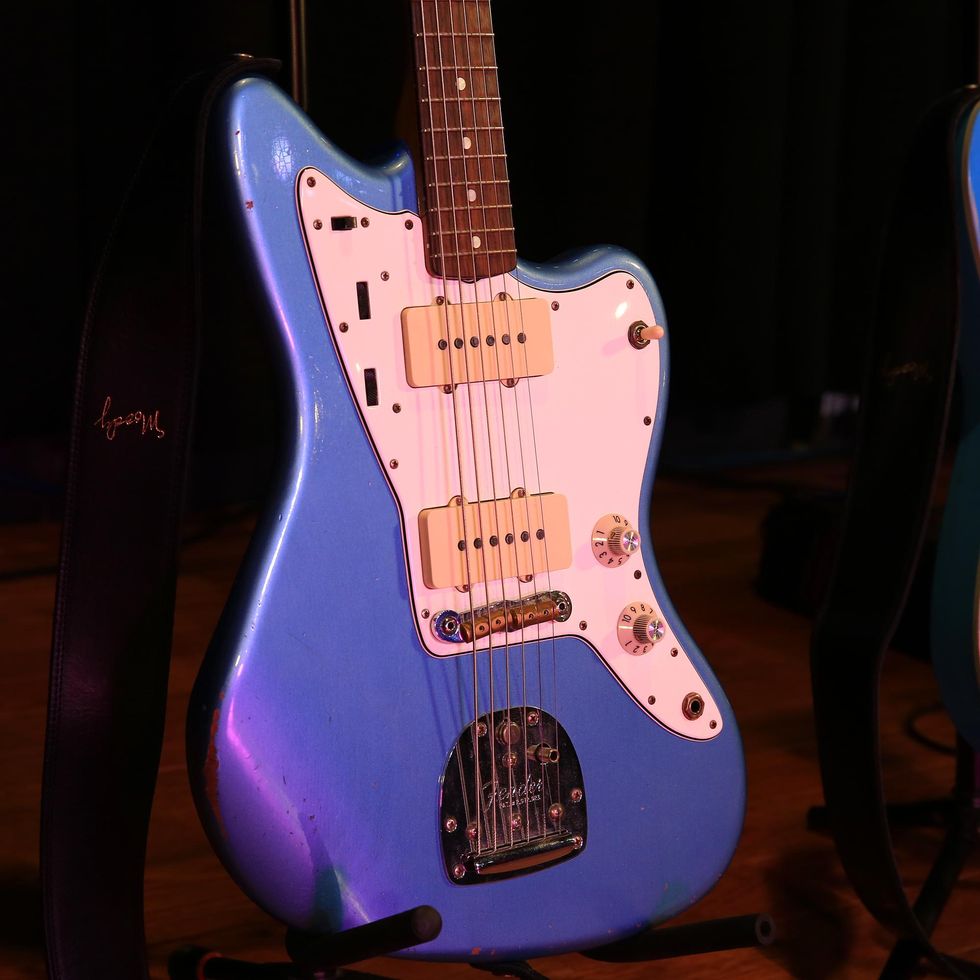 Another one that saw recording time for Headway and Mile End was the above Fender Custom Shop Masterbuilt '60s Jazzmaster, made by Carlos Lopez. To make it work better for him, he had the treble-bleed circuit removed, so that when the guitar's volume is lowered it actually gets warmer.
"Clean and Loud"
Last time we spoke with Posen, he plugged into a Two-Rock Classic Reverb Signature. It's typically his live amp. However, since this winter's U.S. run was a batch of fly dates, he packed light and rented backlines. Being in Music City, he didn't need to go too deep into his phone's contacts to find a guitar-playing friend that owned a Two-Rock. This Bloomfield Drive was loaned to Ariel by occasional PG contributor Corey Congilio. On the brand's consistent tone monsters, Posen said, "To be honest, put a blindfold on me and make one of Two-Rock's amps clean and loud—I don't care what one it is."
Stacked Speakers
The loaner vertical 2x12 cab was stocked with a pair of Two-Rock 12-65B speakers made by Warehouse Guitar Speakers.
Ariel Posen's Pedalboard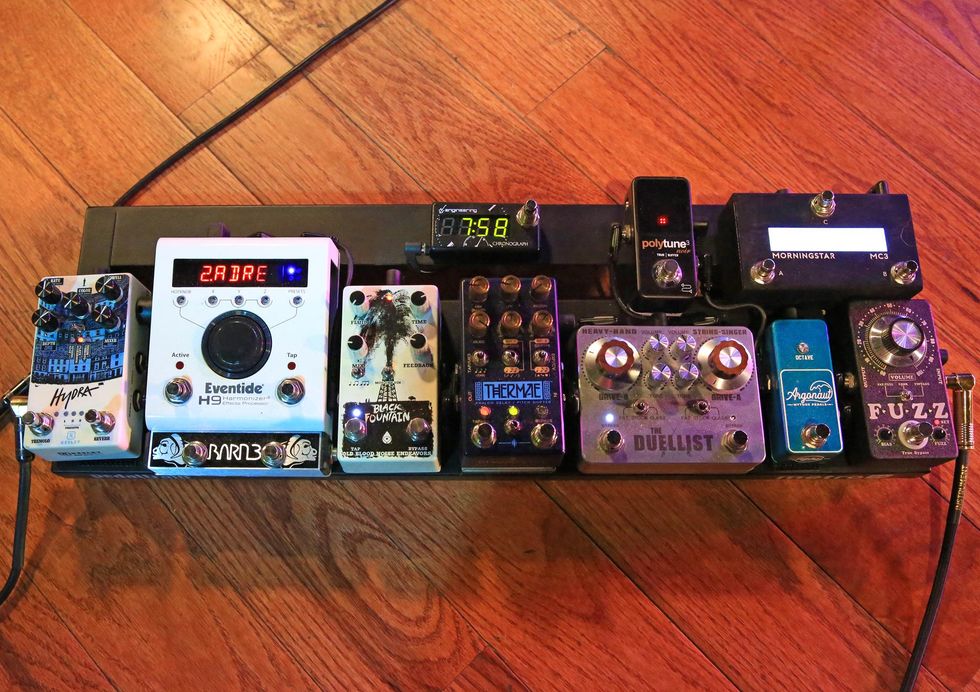 There are a handful of carryovers from Ariel's previous pedalboard that was featured in our 2021 tone talk: a TC Electronic PolyTune 3 Noir, a Morningstar MC3 MIDI Controller, an Eventide H9, a Mythos Pedals Argonaut Mini Octave Up, and a KingTone miniFUZZ Ge. His additions include a custom edition Keeley Hydra Stereo Reverb & Tremolo (featuring Headway artwork), an Old Blood Noise Endeavors Black Fountain oil can delay, Chase Bliss Audio Thermae Analog Delay and Pitch Shifter, and a KingTone The Duellist overdrive.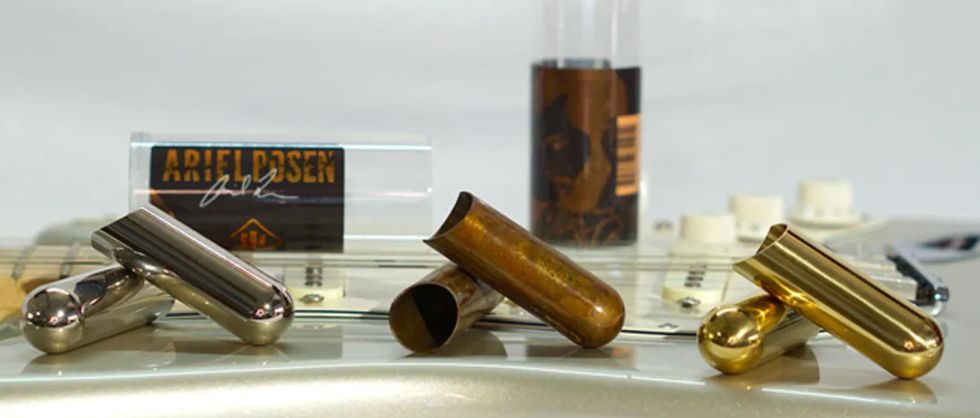 Another big piece of the tonal pie for Posen is his signature brass Rock Slide. He worked alongside Rock Slide's Danny Songhurst to develop his namesake slide that features a round-tip end that helps Posen avoid dead spots or unwanted scratching. While he prefers polished brass, you can see above that it's also available in a nickel-plated finish and an aged brass.