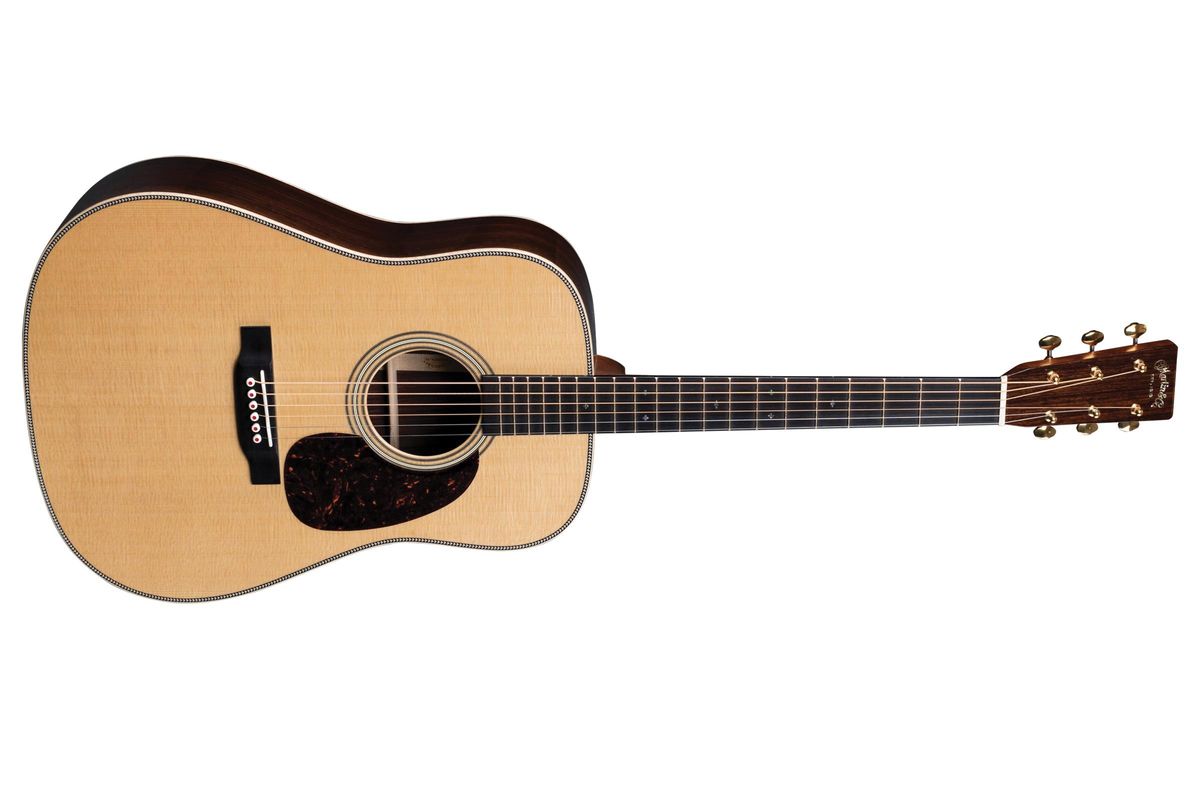 Inflation is rough on the guitar market, but to those who are old enough to have been guitar shopping in the 1970s, the current price hikes won't seem so surprising.
After two-and-a-half years of Covid-created mayhem, who doesn't want to celebrate? And what better way to celebrate survival and better times to come than with a new rig? The bucket list of guitars you've wanted for months or even years is long, but this is no time to start at the bottom. Whether it's a guitar, that otherworldly octave mandolin, or an amp or boutique pedal, it's time for a reward that only you can deliver. The top item on your list is finally available, you're ready to buy, but suddenly you notice the price: What the …? Are they kidding? You check other sources but it's not a misprint, and certainly not a joke. The price of your reward to yourself for sticking it out and staying safe has gone up, and not by just a few bucks. You've been eyeing this gear for quite a while and the price hadn't changed much­—until now. What's going on?
---
Welcome to inflation, the killjoy that punishes you for not having purchased something months earlier, perhaps before you could afford it. In retrospect, a few months of additional interest on your credit card would have been a bargain compared to the price increase you're looking at now. Unless you've been living in a cave in the wilderness, you've heard about inflation, of course, and noticed it at the grocery store, and you've certainly felt it if you're putting gas in your car. But when inflation hits your music budget, it feels personal, more insulting, and unfair.
The shock a price hike delivers depends more upon your age than you might think. For geezers like this writer, the recent price increases of guitars don't seem that horrible. But those who started buying guitar gear less than 30 years ago usually began their shopping in a very different pricing landscape, so some time-machine data crunching might help ease the pain. Rather than wade into the Wall Street weeds of charts and graphs tracking inflation over the last several decades, we'll use the cost of Martin's venerable D-28 acoustic, partly because it's so well-known but also because the model was essentially unchanged for so many years.
When inflation hits your music budget, it feels personal, more insulting, and unfair.
C. F. Martin had been forced to raise prices every year in the late '60s, as labor costs in the U.S. were rising steadily. But inflation hit especially hard in the early '70s. The cost of building an acoustic guitar like the D-28 was almost all labor—the prices Martin paid for Sitka spruce, East Indian rosewood, mahogany, plus a set of Grover Rotomatics and a case were a small percentage of what you were paying for when you bought a polished and playable dreadnought. Martin's list price of a D-28 first crossed the $500 line in July 1972, when it went from $495 to $570. The next price increase came only nine months later and was even more painful, going up to $660. Then came two more price increases, and by September 1974 the price had jumped to $770. Those numbers represent a price increase of more than 50 percent between early 1972 and the fall of 1974. No wonder a popular parody of Janis Joplin's humorous "Mercedes Benz" began:
Oh Lord, won't you buy me a D-Twenty-Eight
My friends all have Martins, how long must I wait?
The prices keep rising, I fear I'm too late,
So Lord, won't you buy me a D-Twenty-Eight
Yet 20 years later, inflation in North America had long since cooled. Price increases throughout the '70s and '80s had taken their toll, and Martin's D-28 crossed the $2,000 line in 1993 (to $2,060), but then leveled out. Ten years later, the MSRP of a D-28 was still less than $2,500 ($2,469 in 2004). That's an increase of 20 percent over more than a decade. Needless to say, the young guitar-picker who'd been saving for a D-28 in the late '90s, when the price was unchanged for five years and then went up only $69, didn't feel punished for saving. But during the high-flying inflation of the early 1970s, even folk-rockers and the bluegrass faithful, at least when shopping for a new D-28, were singing the blues.
The takeaway from all this? Financial forecasts suggest that inflation isn't going to back off in the near future. Buying that dream rig now rather than later is probably a good idea, especially if you put it to good use!
Rhett and Zach unpack the big news for secondhand guitar sellers and buyers: Sweetwater has launched their new Gear Exchange. How does it compare to Reverb, Craigslist, and Marketplace? To find out, Zach takes the site for a spin and buys a pedal. He calls the process both "very easy" and "normal." They discuss the pros and cons of the various used-gear outlets and share tips for not getting got when buying gear. Plus, Zach grew a mustache, Mythos Pedals is moving, and he talks about his forthcoming line of Strat pickups inspired by Hendrix's reverse-stagger setup.
Sweetwater vs. Reverb

The Royale was designed to deliver loud and vivid clean tone with a responsive, tactile low end.
Designed to offer massive headroom, the 50-watt Royale Head lets you indulge in smooth clean tones at even higher volumes on stage without any breakup. Select between class A and class AB modes, with its variable mode switch, so you can choose between gushing Supro tone or a punchier, tight midrange response.⁠

Introducing the Royale Head & Extension Cabinet | Supro
The Royale 1x12 Extension Cabinet features the custom Supro BD12 high-power driver, offering the same mid-range punch and clean articulation as the Royale combo but with additional stage volume. ⁠More info: suprousa.com.
Royale Head | $1,499⁠.99⁠
Royale Cab | $669.99
D'Addario Foundation's education project sets out to help schools throughout the country and kicks off with an online auction.
​The D'Addario Foundation will host a virtual auction from November 9 to November 30, 2022, with the overarching goal of raising $30,000 for the D'Addario Foundation's Immersive Music Challenge.
​Inspired by a new study published in the Journal of Youth Development, the D'Addario Foundation recently launched the Immersive Music Challenge. This ambitious project will help school districts and charter systems throughout the country boost academic achievement by implementing effective, multi-day-per-week music-based mentoring programs that include training, administration, and evaluation. The D'Addario Foundation has invested in an incredible team of consultants that include school superintendents, public health experts, and data analysts to ensure sound results. In addition, D'Addario is actively seeking corporate partners to support the establishment of these programs and champion their success.
Thanks to the generosity of D'Addario artists and industry partners including Gibson, PRS Guitars, D'Angelico, Taylor Guitars, and more, one-of-a-kind items & experiences are up for bidding. Some of the items include:
Evans Drumhead signed by Anderson Paak
ESP Mirage Deluxe '87 Signed by Bruce Kulick of KISS and Grand Funk Railroad
Gibson Les Paul Custom electric guitar
D'Addario bass string set signed by Bryan Beller of the Aristocrats
PRS S2 McCarty 594 Singlecut
Virtual Lesson with Marty Schwartz
To celebrate its 20th anniversary, Xotic Effects unveils an updated version of their classic boost pedal.
Xotic's RC Booster pedal is back to celebrate its 20th anniversary. The RC Booster's original design was a customer favorite due to its versatile clean boost, active treble, bass, gain and volume controls. This classic reissue will join their regular pedal lineup permanently.
Features
• Transparent boost pedal for electric guitar
• Up to 20dB of boost for adding volume or sending your amp into overdrive
• Treble and bass EQ controls with +/-15dB range for fine-tuning your sound
• True bypass switching removes the effect from your signal path when disengaged
• Powered via 9-volt battery or optional AC adapter (sold separately)
• 9-18 volts
The first 1000 pedals will contain a special limited edition packaging with special items and actual guitar picks from Andy Timmons, Paul Jackson Jr, Dean Brown, Kirk Fletcher, Allen Hinds, Chris Duarte, Scott Henderson, Oz Noy, Michael Thompson, Yuya Komoguchi, Toshi Yanagi.
RC Booster with limited edition packaging street price is $172.00. More info: xotic.us.