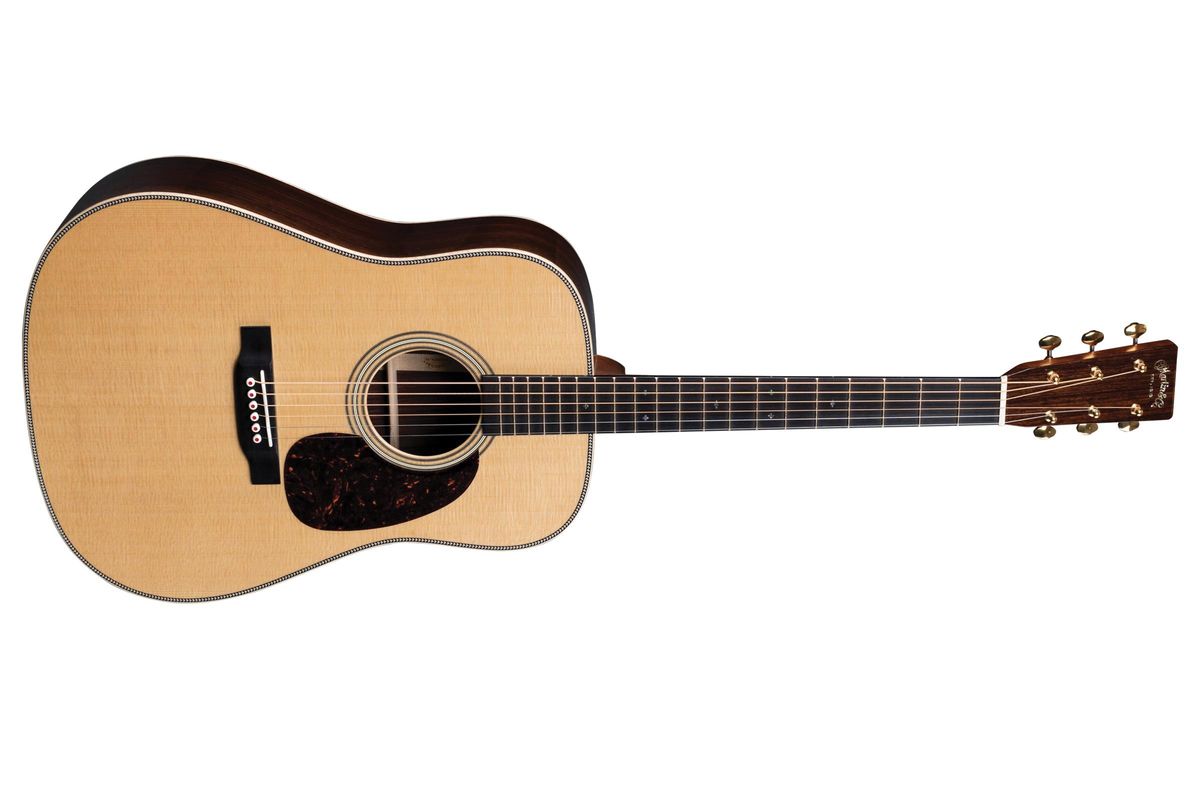 Inflation is rough on the guitar market, but to those who are old enough to have been guitar shopping in the 1970s, the current price hikes won't seem so surprising.
After two-and-a-half years of Covid-created mayhem, who doesn't want to celebrate? And what better way to celebrate survival and better times to come than with a new rig? The bucket list of guitars you've wanted for months or even years is long, but this is no time to start at the bottom. Whether it's a guitar, that otherworldly octave mandolin, or an amp or boutique pedal, it's time for a reward that only you can deliver. The top item on your list is finally available, you're ready to buy, but suddenly you notice the price: What the …? Are they kidding? You check other sources but it's not a misprint, and certainly not a joke. The price of your reward to yourself for sticking it out and staying safe has gone up, and not by just a few bucks. You've been eyeing this gear for quite a while and the price hadn't changed much­—until now. What's going on?
---
Welcome to inflation, the killjoy that punishes you for not having purchased something months earlier, perhaps before you could afford it. In retrospect, a few months of additional interest on your credit card would have been a bargain compared to the price increase you're looking at now. Unless you've been living in a cave in the wilderness, you've heard about inflation, of course, and noticed it at the grocery store, and you've certainly felt it if you're putting gas in your car. But when inflation hits your music budget, it feels personal, more insulting, and unfair.
The shock a price hike delivers depends more upon your age than you might think. For geezers like this writer, the recent price increases of guitars don't seem that horrible. But those who started buying guitar gear less than 30 years ago usually began their shopping in a very different pricing landscape, so some time-machine data crunching might help ease the pain. Rather than wade into the Wall Street weeds of charts and graphs tracking inflation over the last several decades, we'll use the cost of Martin's venerable D-28 acoustic, partly because it's so well-known but also because the model was essentially unchanged for so many years.
When inflation hits your music budget, it feels personal, more insulting, and unfair.
C. F. Martin had been forced to raise prices every year in the late '60s, as labor costs in the U.S. were rising steadily. But inflation hit especially hard in the early '70s. The cost of building an acoustic guitar like the D-28 was almost all labor—the prices Martin paid for Sitka spruce, East Indian rosewood, mahogany, plus a set of Grover Rotomatics and a case were a small percentage of what you were paying for when you bought a polished and playable dreadnought. Martin's list price of a D-28 first crossed the $500 line in July 1972, when it went from $495 to $570. The next price increase came only nine months later and was even more painful, going up to $660. Then came two more price increases, and by September 1974 the price had jumped to $770. Those numbers represent a price increase of more than 50 percent between early 1972 and the fall of 1974. No wonder a popular parody of Janis Joplin's humorous "Mercedes Benz" began:
Oh Lord, won't you buy me a D-Twenty-Eight
My friends all have Martins, how long must I wait?
The prices keep rising, I fear I'm too late,
So Lord, won't you buy me a D-Twenty-Eight
Yet 20 years later, inflation in North America had long since cooled. Price increases throughout the '70s and '80s had taken their toll, and Martin's D-28 crossed the $2,000 line in 1993 (to $2,060), but then leveled out. Ten years later, the MSRP of a D-28 was still less than $2,500 ($2,469 in 2004). That's an increase of 20 percent over more than a decade. Needless to say, the young guitar-picker who'd been saving for a D-28 in the late '90s, when the price was unchanged for five years and then went up only $69, didn't feel punished for saving. But during the high-flying inflation of the early 1970s, even folk-rockers and the bluegrass faithful, at least when shopping for a new D-28, were singing the blues.
The takeaway from all this? Financial forecasts suggest that inflation isn't going to back off in the near future. Buying that dream rig now rather than later is probably a good idea, especially if you put it to good use!
Rhett and Zach unpack the big news for secondhand guitar sellers and buyers: Sweetwater has launched their new Gear Exchange. How does it compare to Reverb, Craigslist, and Marketplace? To find out, Zach takes the site for a spin and buys a pedal. He calls the process both "very easy" and "normal." They discuss the pros and cons of the various used-gear outlets and share tips for not getting got when buying gear. Plus, Zach grew a mustache, Mythos Pedals is moving, and he talks about his forthcoming line of Strat pickups inspired by Hendrix's reverse-stagger setup.
Sweetwater vs. Reverb

Expanding on the innovations of Cort's original 8-string multiscale, the KX508 Multi-Scale II features an updated okoume body and a specially designed Fishman Fluence Modern Humbucker.
The KX508 Multi-Scale II is the second iteration of the eight-string KX508, Cort's first multi-scale 8-string guitar introduced in 2020. Like its predecessor, the KX508 Multi-Scale II has a visually stunning poplar burl top in a Mariana Blue Burst finish. Beyond its visual appeal, the poplar burl is an ideal tonal complement to Cort's newly introduced okoume body. Okoume is known for its light weight and ability to improve tonal clarity. It has a tight low-end and highly articulate high-end, which matches the overall sonic characteristics of the KX508 Multi-Scale II. The multi-scale, measuring 26.5 to 28 inches, offers a punchy low end while maintaining a familiar feel and tension on the treble strings, which allows for speedy runs and string-bending. Players have unhindered access to the high frets thanks to the low-scooped heel.

The 5-piece maple and purple heart neck not only provides strength and stability, aided by a spoke nut hotrod truss rod, but a strong and focused sound. The Macassar ebony fingerboard (15.75-inch radius) offers smooth playability along the 24 frets with teardrop inlays. Macassar is an ideal tonewood for high-gain applications because of its ability to cut through a dense mix. At the top of the neck, the 2 7/32-inch nut width (56.5 mm) is surprisingly comfortable for an 8-string guitar and is even suitable for players with smaller hands. The individual hardtail bridge with string-thru-body design results in greatly improved sustain, superb string separation for enhanced articulation, and precise intonation. Deluxe locking machine heads offer reliable tuning as well as easier and quicker string changes.

The Cort Sessions | KX508 Multi Scale II Electric Guitar
MSRP $1699.99 USD

MAP $1199.99 USD
For more information, please visit cortguitars.com.
The Tour Collection is defined by a minimalistic, vintage-inspired aesthetic, top-of-the-line components, and a simplified electronics configuration featuring new, custom pickups by Supro.
Available in the collection is the 16-inch-wide double-cutaway DC, the 15-inch-wide single-cutaway SS, and a 14-inch-wide Mini DC. Each model comes in three finishes: Slate Blue, Solid Wine, and Solid Black.

Every detail of the Tour Collection was chosen to achieve retro minimalism. Small diamond fingerboard inlays match 1930s-style diamond f-holes, and an undersized Throwback Scroll-style headstock achieves excellent head-to-body balance. The collection also features satin nickel hardware and custom Vintage Deluxe Grover tuners with a 15:1 gear ratio. Each model also features a simplified two-knob electronics configuration with 50s-style wiring to retain top-end clarity upon rolling off the volume knob. The neck shape in the Tour Collection is similar to the slim C-shape found throughout the D'Angelico line, but with more thickness in the shoulder to allow for snug hand fit as well as extra sustain. Medium Jumbo fret wire and a 12-inch fingerboard radius allow for quick navigation of the fingerboard while also prioritizing comfort for both rhythm and lead playing.
In 2020, Supro and D'Angelico became part of the same family of brands under Bond Audio. At that time, EVP of Product Ryan Kershaw and CTO Dave Koltai began designing custom pickups under the Supro name for the Tour Collection project.
"Supro Bolt Bucker pickups were designed to offer the tone of the most sought-after vintage "PAF" pickups from the late 1950's. Scatter wound, just like the originals, Supro Bolt Buckers utilize 42-gauge enamel wire along with a mixture of Alnico II (neck) and Alnico V (bridge) magnets to provide the perfect balance of warmth and clarity with unrivaled articulation and note bloom." - Dave Koltai, Chief Technology Officer at Bond Audio.
Introducing the Excel Series Tour Collection | D'Angelico Guitars
All models are available for pre-order and will be in stock this holiday season. US MAP $1499. For more information, please visit dangelicoguitars.com.
The Cream Amp is a handmade low-gain overdrive pedal based on the Electra Distortion circuit.
The Cream Amp was designed to deliver full dynamics amp-like dirt to your clean and crunch amp or to another pedal in the chain without altering your tone too much. To add some grit at low volume or to make your amp sound more full, use the Drive control to set the gain and the Level control to match with your amp.
​Two knobs to control Volume and Drive
Shielded inputs/outputs to avoid RF
Filtered and protected 9VDC input
Daisy-chain friendly
Current draw: 7.5mA
The Cream Amp pedal is hand-made in Barcelona with carefully selected components and has a price of 100.00€. The pedals are available and can be purchased directly from the Ananasheadonline store.
For more information, please visit ananashead.com.