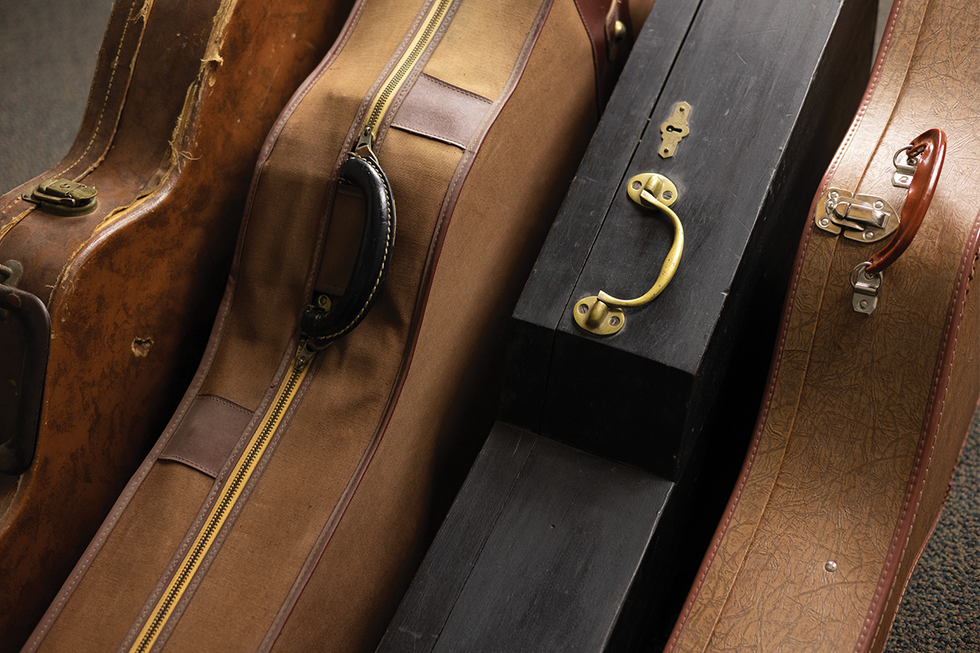 When a guitar collector dies, a collection gets passed on and begins a new life. Here's one collection's story.
I've been in the guitar business in the same city for many decades. One of the advantages of that is I get to see a lot of great instruments we sold years ago come back again. One of the disadvantages is that many times those instruments are returning because an old customer has died or become too frail to play them. All of us who deal in used and vintage guitars love to see great gear, especially when it's been well cared for. But when I not only recognize the guitars but also remember the owner, the opportunity to sell their instruments a second time is bittersweet.
---
When dealing with a collection of instruments from an estate, it's often obvious that the family members who have inherited our old customer's gear didn't really understand the "guitar-life" of their deceased relative. If they don't play and if the collection includes more than a few instruments, the benefactors of the inherited gear often consider the collection kind of a bother. An 80-year-old Gibson or Martin, for instance, often doesn't look like much, especially if it's seen a fair amount of wear. The comments are telling and often include some variation of "I just never understood why they needed so many guitars!" However, when relatives find out what the collection they've been stuck with is worth, that attitude often changes.
Back in the 1980s and '90s, we had a regular customer named Jimmie who was one of our favorite Saturday guys. It was clear he visited other Bay Area guitar shops as well. He wasn't attracted to instruments in mint condition, partly because he didn't want to pay the higher prices, but mostly because, as he put it, "I like to see some wear; then I don't worry if I add a little more of it." Jimmie wasn't a great musician and never gigged, but he knew his way around a guitar neck and never resorted to "Blackbird" or "Stairway to Heaven" when trying out guitars. We hadn't seen Jimmie in at least 20 years—retirement and failing health had taken their toll—but I recognized some of his instruments when a middle-aged guy and his teenage daughter brought in several guitars for appraisal. Our old customer was their Uncle Jimmie. The nephew, who looked like a former GQ model, made it obvious the family considered their uncle little more than a loveable loser with no family and no nice cars or furnishings. All he'd left them was just guitars in tattered cases and box after box of records and CDs.

"My uncle loved to chase after guitars," GQ nephew said wryly.
"And he played the ones he caught," I added, pointing out the recent refret on Jimmie's beloved 1930s Gibson L-00.
Jimmie purchased most of his instruments well before the 21st century run-up in prices and before well-worn guitars became so popular that guitar makers began offering distressed finishes. He bought his '50s Telecaster, for instance, when only country pickers played Teles, and he'd picked up a pre-war Martin 000 back when everybody wanted dreadnoughts. Jimmie had scribbled the purchase date and price of almost all his guitars on a now-faded, well-folded sheet of paper, which his nephew shoved in my direction.
"I thought this might help," he commented.
After looking at the guitars briefly, I made a copy of Jimmie's inventory and wrote a rough estimate of each instrument's current value in the righthand column.
"Your uncle made some wise purchases," I pointed out. Indeed, several of Jimmie's guitars were now worth 10 times what he'd paid for them. Others, such as his Martin archtop and a few later acquisitions, had appreciated more modestly.
GQ nephew's eyes bulged when he looked at my estimates. He added up the numbers on the right side of the page very quickly and processed the fact that poor old Uncle Jimmie had left his family an accumulation of instruments worth well into six figures. His daughter looked over her dad's shoulder but was less impressed, instead asking if she could have the Gibson L-00. "Uncle Jimmie called that little Gibson his couch guitar," she said wistfully. "He loved the sunburst and always had it handy. Hearing him play it was what got me hooked on playing guitar. That's what he played when he gave me my first lessons."
When her father suggested she might want one of Jimmie's better guitars—meaning one that was worth more—she seemed unimpressed with the offer. Like her uncle, she didn't measure guitars in dollars.
I'd like to think her Uncle Jimmie was smiling, although from where I have no idea. And it wasn't because his status in the extended family had taken a quantum leap with the surprise value of his musical gear, his smart investments coming up in the future whenever his name was mentioned. Instead, what probably tickled Jimmie was that his grand-niece was obviously going to have a guitar-life of her own, and his favorite guitar was going to be played.
Looking for more great gear for the guitar player in your life (yourself included!)? Check out this year's Holiday Gear Finds!
Outlaw Effects introduces their next generation of NOMAD rechargeable battery-powered pedal boards.
Available in two sizes, NOMAD ISO is a compact, versatile tool that offers the convenience of a fully powered board plus the additional freedom of not having to plug into an outlet. NOMAD ISO is ideal for stages with limited outlet availability, quick changeovers, busking outdoors, temporary rehearsal locations, and more!
NOMAD ISO builds upon the legacy of the ultra-convenient and reliable NOMAD rechargeable pedalboard line originally launched in 2018. The brand new NOMAD ISO editions feature eight isolated outputs (1 x 9V DC, and 1 switchable 9V/12V DC) for even more versatility and clean, quiet power. With an integrated lithium-ion battery pack boasting 12800mAh capacity, NOMAD ISO can fuel a wide array of pedals, and will last over 10 hours* on a single charge.
Each NOMAD ISO pedal board includes adhesive hook & loop pedal-mounting tape, eight (8) standard DC connector cables, and one (1) reverse polarity DC cable, giving you everything you need to build your ultimate "off-the-grid" rig. A rugged, road-ready padded gig bag with shoulder strap is also included, to safely protect your gear while you're on the move.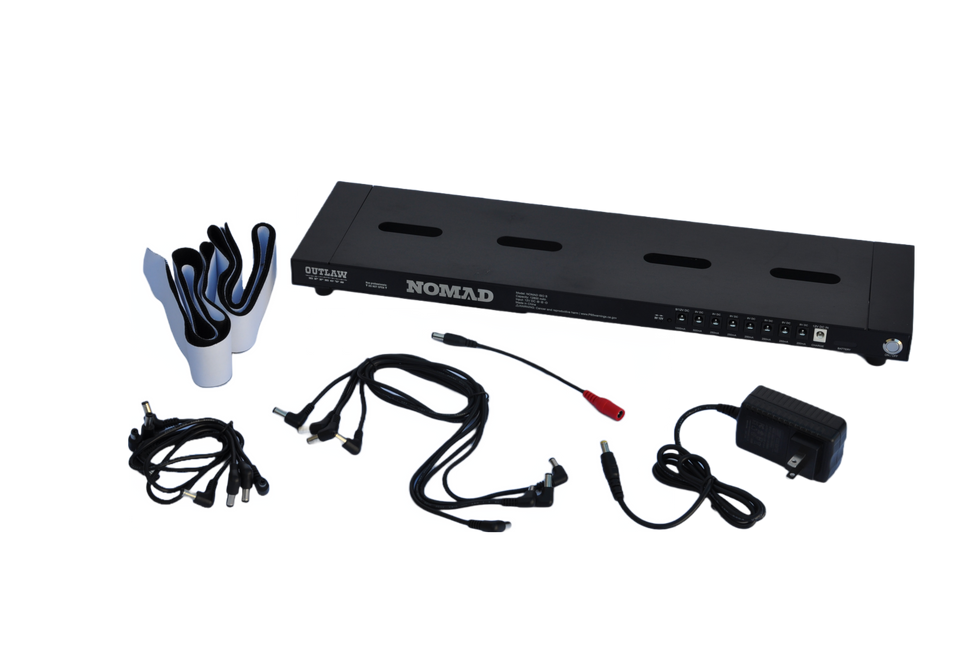 Dunable announce new Minotaur model featuring Grover Rotomatic Keystone tuners.
The Minotaur's DNA is rooted in their classic Moonflower model, which Dunable discontinued in 2017. However, they have long since wanted to create a fresh take on a carved top guitar design, and various attempts to rework the Moonflower led them to a brand new concept with the Minotuar.
Dunable's goal is to give the player a guitar that plays fast and smooth, sounds amazing, and gives maximum physical ergonomic comfort. The Minotaur's soft and meticulous contours, simple and effective control layout, and 25.5" scale length are designed to easily meet this criteria.

Dunable Minotaur!
Features
25.5" scale length
Dual Humbucker
one volume, one tone, push pull for coil splitting
Grover Rotomatic Keystone tuners
Grover Tune O Matic bridge with brass Kluson top-mount tailpiece
jumbo nickel frets
12" fretboard radius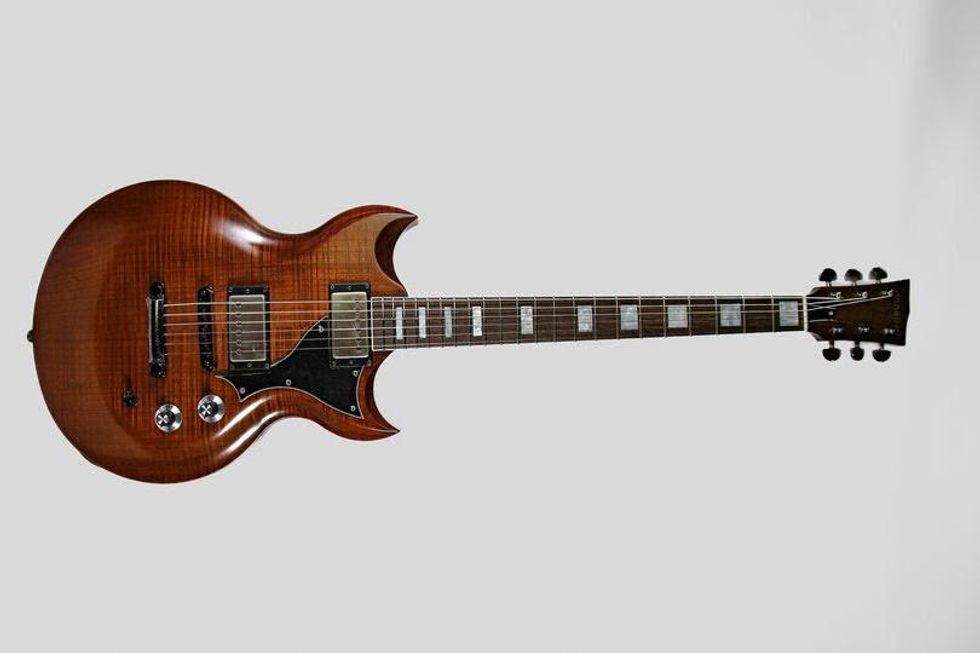 Dunable
This full-amp-stack-in-a-box pedal brings a new flavor to the Guitar Legend Tone Series of pedals, Missing Link Audio's flagship product line.
Adding to the company's line of premium-quality effects pedals, Missing Link Audio has unleashed the new AC/Overdrive pedal. This full-amp-stack-in-a-box pedal – the only Angus & Malcom all-in-one stompbox on the market – brings a new flavor to the Guitar Legend Tone Series of pedals, Missing Link Audio's flagship product line.
The AC/OD layout has three knobs to control Volume, Gain and Tone. That user-friendly format is perfect for quickly getting your ideal tone, and it also offers a ton of versatility. MLA's new AC/OD absolutely nails the Angus tone from the days of "High Voltage" to "Back in Black". You can also easily dial inMalcom with the turn of a knob. The pedal covers a broad range of sonic terrain, from boost to hot overdrive to complete tube-like saturation. The pedal is designed to leave on all the time and is very touch responsive. You can get everything from fat rhythm tones to a perfect lead tone just by using your guitar's volume knob and your right-hand attack.
Features 
Three knobs to control Volume, Gain and Tone
Die-cast aluminum cases for gig-worthy durability
Limited lifetime warranty
True bypass on/off switch
9-volt DC input
Made in the USA
MLA Pedals AC/OD - Music & Demo by A. Barrero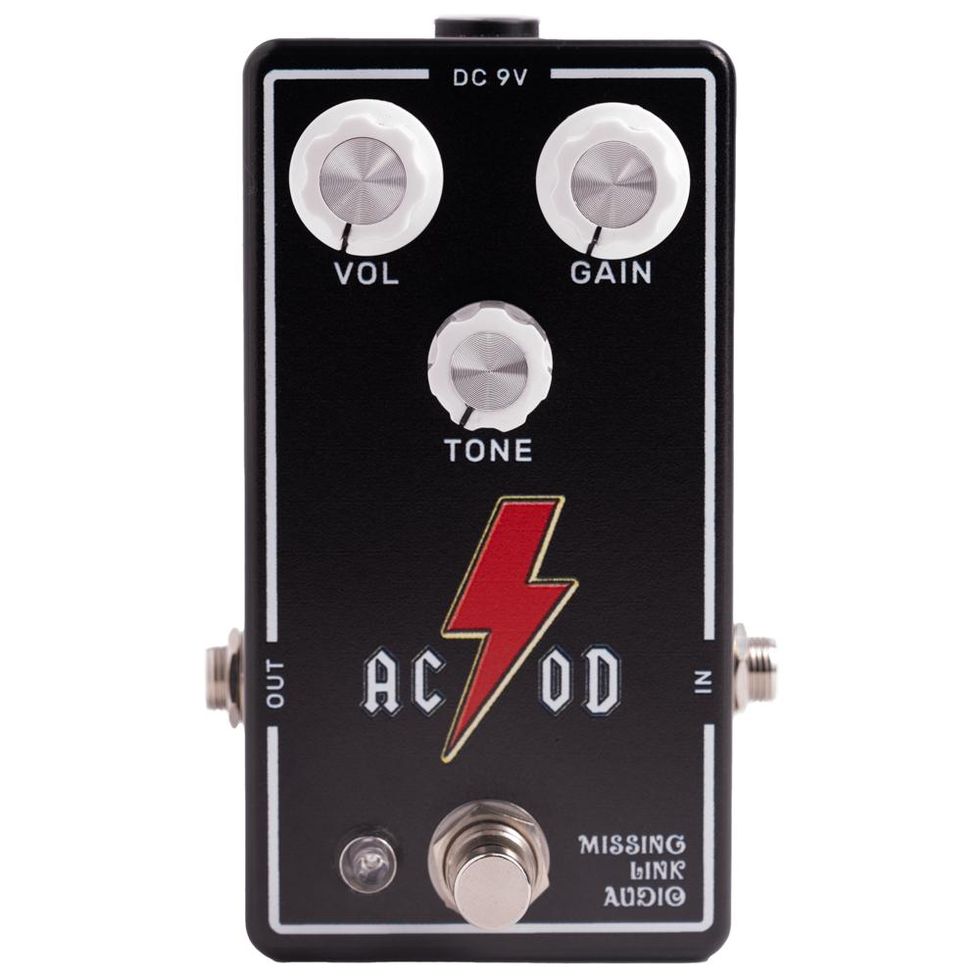 www.mlapedals.com.