Fender 1957 Stratocaster #20869
Dave''s fave from Dave''s Guitar Shop''s great collection.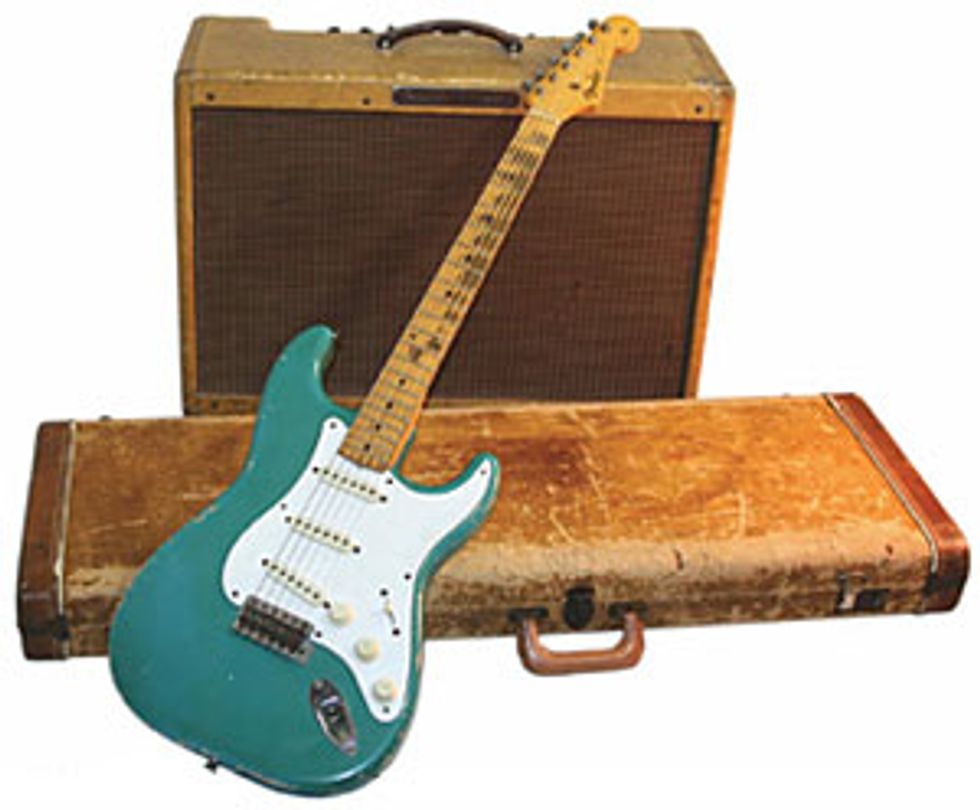 One of the questions
most frequently asked by people visiting our vintage showroom – which features over 300 original vintage guitars – is "What is Dave's favorite guitar?" The answer is this rare 1957 Fender custom color Taos Turquoise Strat. This was the first guitar in the collection and was purchased in 1982 for $1,350 from a sound reinforcement store in Iowa.
The guitar was originally listed for sale in our first inventory-mailing flyer for $2,995. When a check arrived for the purchase of the guitar, the decision was made to start a collection.
This 1957 Fender Stratocaster, serial number 20869, is in a very rare custom color option called Taos Turquoise. By 1956, nonstock finishes were specified in Fender literature and in 1957 Fender began to offer a larger array of official custom colors. The Stratocaster in sunburst finish was $249.50 without tremolo and $274.50 with tremolo. Fender also added an extra 5% for a DuPont custom color or a blonde finish and $49.50 for a hard case. The guitar weighs a lightweight 7.7 lbs and the alder body has a Desert Sand finish as an undercoat, which was a stock color used on the Duo- Sonic model.
The maple medium V-shaped neck with the original 7.25" fingerboard radius has the spaghetti Fender logo with "butterfly" or string tree guides for the B and treble E strings. This 1957 Strat has a 3-way pickup selector, and the single ply pickguard is held in place by eight Phillips head screws. As we are celebrate our 25th anniversary, we wanted to pay tribute to this special guitar; the Fender Custom Shop has created 25 Dave's Guitar Shop 25th Anniversary Reissue 1957 Stratocasters in Taos Turquoise.
Dave''s Guitar Shop
Daves Roger's Collection Is tended to by Laun Braithwaite & Tim Mullally
All photos credit Tim Mullally
Dave's Collection is on dispay at:
Dave''s Guitar Shop
1227 Third Street South
La Crosse, WI 54601
608-785-7704
davesguitar.com