Jol Dantzig's Esoterica Electrica: Where the "Wild Dog" Roams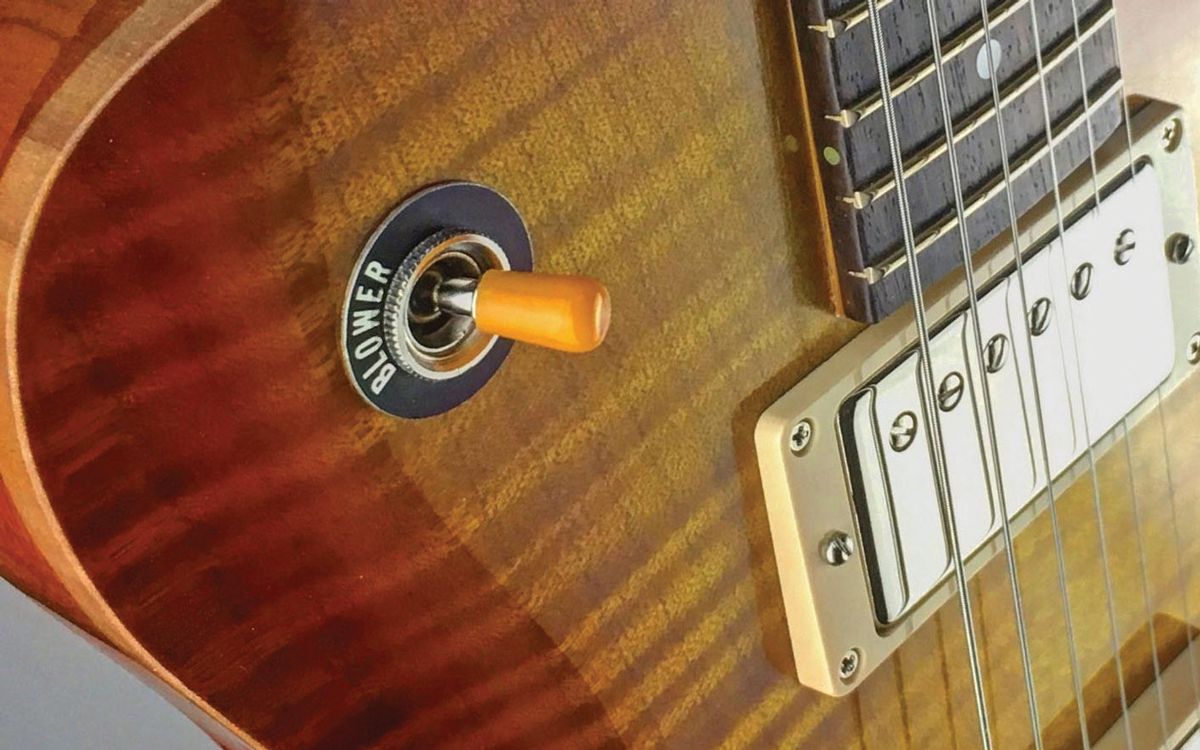 If a guitarist plays rhythm while toggled to the treble setting on a Les Paul, does it make a sound?
If you're a fan of 1970s movies like Serpico and Super Fly, or if you watched the more recent TV series The Deuce, you may have noticed what is known in automotive circles as the Landau roof. The name refers to vinyl-clad tops with S-shaped metal ornaments that were applied to some American cars of the era, fashioned after the articulated (convertible) top hinges on horse-drawn carriages of the 18th century. Named after the German city of Landau, where they were originally made, this type of luxury carriage featured the precursor to the full-convertible car top. The mock-hinge apparatus tacked onto 20th-century Detroit vehicles, however, was purely decorative and existed solely to impart some air of nobility to your ride. (The fact that they are still prominent on hearses adds another bizarre twist.) Despite the modern Landau's total lack of utility or current cultural reference, we're stuck with these Jurassic appendages for reasons only known to marketing majors. The world is full of lingering traces of bygone times like this. And the guitarsphere, which basically trades in nostalgia, is far from immune.
One of the most obvious useless guitar items is a label for a pickup-selector switch, affectionately referred to as a "poker chip." It's that round plastic disc on a Les Paul that reminds you which way to engage the switch for either rhythm or treble operation. That's handy, right? This is a throwback to an ancient time when those terms actually meant something. As a kid, I remember thinking that perhaps it was a sin to use the treble setting for playing rhythm. Today, a retooling of the nomenclature to more relevant instructions such as "neck" and "bridge," or "twangy" and "bass-y" might be in order. (Yes, I've seen those Heaven/Hell versions.) In the entire Gibson range, the toggle-ring label only appeared on the Les Paul, so its explanation as a production-friendly lacquer shield to avoid finish damage during assembly carries little weight. Might we assume that Les Paul buyers were deemed more in need of assistance than Gibson's other clientele?
Other variations on this theme include jargon engraved on pickguards. In the 1960s, Burns of London introduced a striking 3-pickup, Stratocaster-influenced guitar called the Bison, whose rotary selector switch featured four positions marked split sound, jazz, treble and "wild dog." There is no logical way to understand what was happening electrically here, so clearly this labeling was required. No one today would pay any attention to these attempts to classify the sounds, so they might as well be marked 1, 2, 3, and 4. Still, I do often wonder about wild dog.
The world is full of lingering traces of bygone times, and the guitarsphere, which basically trades in nostalgia, is far from immune.
One of my favorite guitar anachronisms is Gretsch's "comfort pad." This circular vinyl cushion is fitted to the back of the instrument via snap fasteners, ostensibly to protect the finish from buckle rash. The joke is on us, however, because underneath is a huge plastic plate screwed over a large hole, through which the guitar's guts can be assembled. Sneaky. This feature appeared on some Vox guitars in the 1960s, too. Not to be outdone, Fender offered molded, clear-plastic back protectors for a while. These form-fit contraptions didn't aid in assembly, but were aimed at the bottom line nonetheless. In a wicked twist of irony, guitarists today pay extra for the factory to apply buckle rash to perfectly new guitars.
Another Gretsch curiosity is the so-called "standby switch," which allows you to pause the sound of your guitar in the studio without disturbing your volume and tone settings. When the red light goes back on, you merely release the pause and carry on without incurring the wrath of the producer. Pure genius. Despite the fact that this is a totally fabricated scenario, Gretsch still puts this control on a number of current guitars, including the elusive Buckethead signature model. Not to be outdone by lesser models, the Gretsch Chet Atkins Country Gentleman continues to flaunt faux f-holes and sport a mechanical muting system that physically shoves a foam pad against the strings. This allows you to emulate the banjo sounds required when performing "Mrs. Brown, You've Got a Lovely Daughter."
We could go on picking at the bones of castoff guitar appointments such as the discarded Tele and Strat "ashtray" bridge covers, the P-bass pickup cover, and perhaps even the black hole full of missing PRS pickguards. Even the "violin shape" of most instruments is a holdover. But honestly, I love all that pomp and circumstance—the vestigial history of our instrument on prominent display. Those little poker chips make me happy, and I still thrill when I see the words "wild dog." I just can't get with the Landau roof.