Strat Bridge Pickup Tone Control
A simple mod to give your Strat a bridge pickup tone control
Welcome back to the world of Stratocasters. Originally, I wanted to start by talking about the anatomy of our new friend, the standard Stratocaster 5-way pickup selector switch, because I think it's important to understand how this switch works in developing your own mods, and of course to really understand what we're doing here each month. But I received tons of emails asking for some more easy-to-do mods, so I will show you two more very easy mods for your Stratocaster before we start talking about the anatomy of the pickup selector switch. This month we will talk about the easiest—but very effective—mod I can think of: giving your bridge pickup a tone control. Next month we will talk about how to rewire your Stratocaster for a master tone plus master volume configuration.

This mod is really easy to do. It's invisible, reversible in ten seconds, and all you need is a short piece of wire and a soldering iron—so this mod is also one of cheapest ever. But as you will see, it's still a very effective, useful and flexible modification.

The History
As you know, the standard Stratocaster has a master volume and two tone controls, one for the middle and one for the neck pickup, but none for the bridge pickup! To understand why Fender did this, you have to take a look at the past. The Fender Stratocaster showed up around April 1954 as a follow- up to Leo Fender's first genius strike: the Esquire/Telecaster guitar. At this time, Western Swing was very popular, and not just in California, where Leo Fender lived and worked. He was a confessed Western Swing fan, so this was the sound he had in mind when he developed the Stratocaster concept. Leo Fender liked the pedal steel-like lead tone; he described it as "bell-like with shimmering highs" (today you'll often hear "penetrating highs"). This was the lead tone for Western Swing, and back in the good old days of the fifties there was simply no need for a tone control for the bridge pickup.

In the last fifty-four years, tastes changed a lot, and now few Stratocaster players use the bridge pickup alone because the sound is too trebly and shrill to them. This is also the reason why a lot of people are buying replacement pickups for the Strat's bridge position: they're looking for a warmer tone with decent high-end. So adding a tone control for the bridge pickup is a good idea because it has a double effect:
You can dial in a lot of different tones with the tone control, especially when using a tonecap with a much smaller value than the stock 0.022uF.
Even with the tone control fully opened, a little load is added to your bridge pickup, especially with the standard 250k pots, to smooth things out.
Try this mod before you replace your bridge pickup. Chances are good that this will do it for you, and save you some bucks!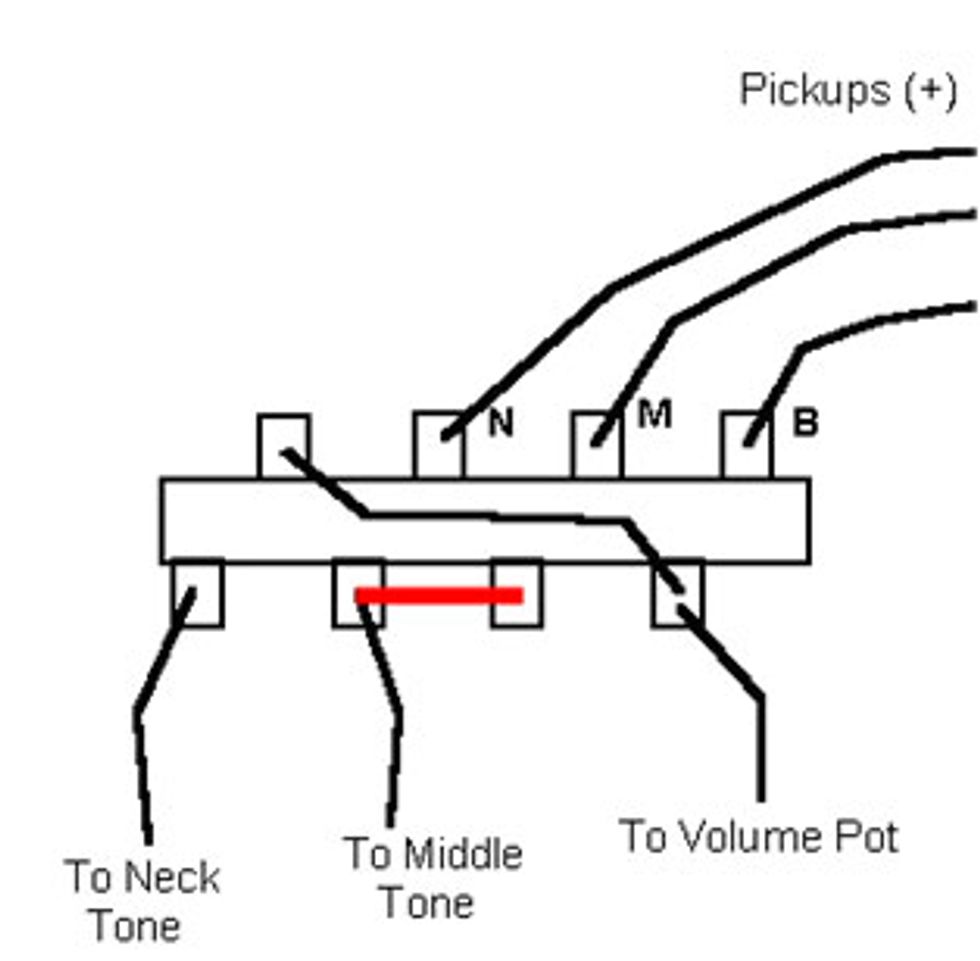 The Mod

Simply solder a piece of wire between the two terminals shown, as shown in red, and your rear tone control will affect the bridge pickup as well as the middle pickup—easy, no?
If you want to add even more flexibility, you can route this connection to a simple On/Off SPST switch, or a push/pull or push/push pot with an SPST or more common DPDT switch—the same as we did with the seven sound mod. This way you'll receive an additional tonal possibility, because you can switch between the stock tone (without tone control) and the new option (with tone control). If you want to control your bridge pickup using the front tone control, along with the neck pickup, simply connect the piece of wire one terminal further to the one labeled "to neck tone," and you're done. The effect is the same. Naturally, you can also use an additional switching device with this method.
I hope you're encouraged now to try this simple mod. I'm sure many of you will find what you've chased for so long. Next month we will talk about the master volume and master tone wiring in a Stratocaster. Until then, keep on soldering and always remember: play LOUD!
---
Dirk Wacker

Dirk Wacker has been addicted to all kinds of guitars since the age of five and is fascinated by anything that has something to do with old Fender guitars and amps. He hates short scales and Telecaster neck pickups, but loves twang. In his spare time he plays country, rockabilly, surf and Nashville styles in several bands, works as a studio musician and writes for several guitar mags. He is also a hardcore DIY guy for guitars, amps and stompboxes and also runs an extensive webpage singlecoil.com about these things.