Tuning Up: Roy Buchanan and the Ghost of Jimi Hendrix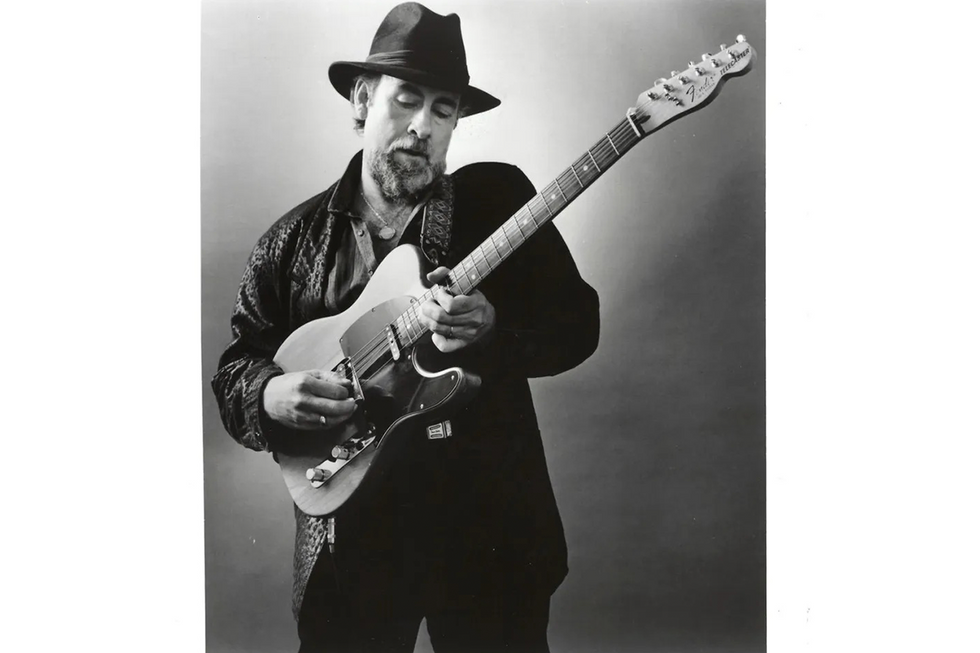 Life—and playing guitar—is really about the art of storytelling.
I became infatuated with Roy Buchanan's incendiary playing when I was a relative youngster, after finding a copy of Guitar Player with Roy on the cover. He looked more like one of dad's disheveled friends than a star, which intrigued me enough to pick up Roy Buchanan and Second Album—the first time I heard the war between angels and demons channeled through wood and steel.
A few years later, my friend Stuart Stack and I hopped in my dad's battered '67 Comet to see Roy play the Pinecrest in Shelton, Connecticut. The opening band was unmemorable, but then came the wait. One hour. Two hours. And no Roy.
Suddenly, the sold-out crowd began parting behind us, and I turned to see Roy coming through the human sea, with a Fender case dangling from his left hand. As he passed, saying hi and excuse me, the aroma of distillery accompanied him. Stu and I looked at each other. This was not going to be good.
We were right. It was amazing! Roy took the stage and quickly summoned every demon and angel at his call, sending overtone squeals to the sky, supercharging his chords on standards like "Green Onions" with one of the crunchiest "clean" Tele tones I've ever heard, and dancing up and down the fretboard like the Nicholas Brothers. (Look them up on YouTube. It'll be worthwhile.) He even delivered "The Messiah Will Come Again," with its heartbreaking melody, stoic monologue, and explosive finale. We became fans for life.
A few years after that, when Roy had signed with Alligator Records and cut a firestorm called When a Guitar Plays the Blues, I interviewed him after another casually brilliant—and sober—performance at a club called Jonathan Swift's in Cambridge, Massachusetts. After the gig, Roy and I adjourned to the motor lodge where he was staying in Harvard Square. Roy wanted to do the interview in the lobby, where, luckily, the coffee table, two chairs, and hot pot of java that were its only appointments were available.
He was a delightful person: soft-spoken, articulate, his eyes bright with humor and life. And about half-way through, for obvious reasons, I asked him if he believed the guitar had the power to channel the spiritual world.
"Well," he replied, "the ghost of Jim Hendrix appeared to me and saved my life." I was instantly all in. Roy went on to explain that after a gig he'd played in D.C. one night, when he was so wasted by booze and other vices that he felt near death, some college students—seeing he was in a bad way—invited him back to their place. Once there, they offered a cure: LSD.
It was the first time he dropped acid, he said, and in addition to the colors and weird audio transformations, he started to see a kind of mist, and Jimi appeared. He warned Roy, reflecting on his own death, that if Roy kept on this path he would die, and that the time to quit and get sober was now—or he'd no longer be able to serve a higher calling with his guitar. Roy promised Jimi, who he'd never met before, that he'd find a street called straight.
I asked Roy if he believed Jimi really appeared, or if it was just the acid. Roy said he wasn't entirely sure, but he thought it was real … or at least real enough.
I've told you that story because, well, that's what I've done my entire life—told stories. One of the great joys of interviewing musicians and gear makers is finding interesting stories and passing them along, but only after you've relished them yourself for a while. And if you love chasing musical adventures like I do, then you also create a few stories of your own along the way.
Every page of PG—even regular features like Gear Radar and Tools for the Task—is a story. What's new, what's good, what's useful? We want to tell you what we've found. And some of our best storytelling is in our reviews, which are really accounts of musical explorations, where our writers share the memories, references, and sonic triggers they experience and, when the gear is good, the very tangible joy they feel in playing.
We can all relate to that, because there might be nothing better than picking up a guitar and letting the stories—or the angels and demons—inside it talk. In that sense, we're all deep storytellers … and if the ghost of Jimi Hendrix happens to appear, well, that's a bonus!