Reader Guitar of the Month: Dream Double-Neck
It took this reader and part-time builder 13 years to complete his masterpiece.
Name: Lane Messerer
Hometown:
Mountain Grove, Missouri
Guitar:
Dream Double-Neck
I've been a luthier, hobbyist, and repair tech for several years as a part-time business and even done a stint as repair tech for a big-box music store chain for a while. I've designed, built, and sold several instruments (mostly solidbody guitars, basses, and lap steels) over the years, but I'd never designed and created my "masterpiece" until this one. It took about 13 years from start to finish because I took my time in designing, collecting woods, hardware, and embellishments and working on it only in my spare time.
From the viewpoint of a builder, it was a fun project to do with all the inlays, bindings, purflings, and the way the gold hardware looks against the natural colors of the walnut top. Every player has their own turn-ons when it comes to the look of an instrument, and deep glossy finishes over inlay and gorgeous figured woods is mine!
It's a double set-neck guitar with laminated maple/walnut body and necks, and a book-matched flamed walnut top with ebony fretboards, stainless frets, laminated binding/paua abalone purflings, pearl/paua abalone split block inlays, and Grover locking tuners. It has Seymour '59s on the 12-string neck and the "Hotrod" JB/Jazz combo on the 6-string neck. I wired each neck with its own volume/volume/tone set, bumblebee capacitors, and, of course, the Seymours all have coil-tapping, which sounds beautiful especially on the 12-string neck.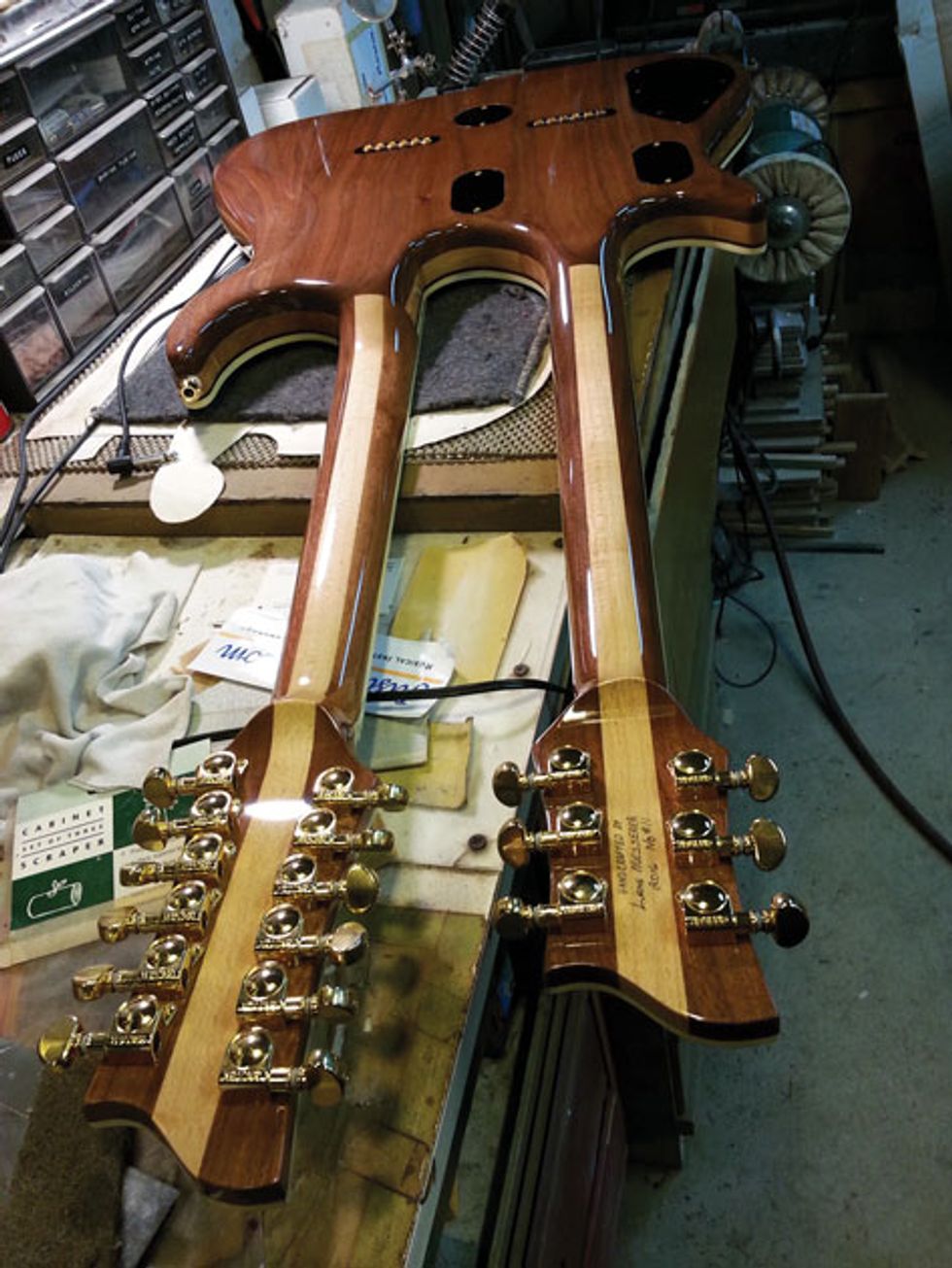 I build guitars from the ground up—I start with wood and parts and do all the processes myself. I even re-sawed the flamed top for this instrument. It came from a piece of wood that I won in an eBay bidding war. It cost me a frickin' fortune, but it was the one I'd been dreaming about. I encourage every player to get involved in building an instrument at any level, parts-caster or all-out project. You'll be glad you did!
 
Send your guitar story to submissions@premierguitar.com.