Rig Rundown: Cage the Elephant
The pop-fused, garage-pysch rockers show us a bevy of their beat-up guitars, road-tested amps, and boutique-loaded boards.
Premier Guitar's Chris Kies catches up with Cage the Elephant guitarist Brad Shultz who talks about his love for Fender Mustangs and guitar tech Jordan Powell runs us through all the gear behind the band's 2014 tour in support of The Black Keys.
Brad Shultz's Gear
Guitars
The CTE rhythm guitarist's setup is strictly Fender, more specifically, Mustangs. His current #1 is a fairly new—although you can't tell by all the body damage and tape—blue Mustang that is completely stock aside from a mod where the bridge pickup is connected directly to the output. He opts for this live setup because the guitar's switches often get in the way while he thrashes onstage and in the crowd. (When he's in the studio, Shultz has his tech Jordan Powell rewire the guitar so he has all tonal options at his disposal.) You can always tell what guitar is his #1 because it will have his favorite Souldier Olive Owl strap on it. He uses Ernie Ball Power Slinky .011–.048 strings and Dunlop .50 mm Tortex picks.
The back of Shultz's battered blue Mustang.
His second Mustang is another single-coil machine that only has the bridge pickup active and is actually newer than the blue one above, but had some recent damage—neck joint cracks, body chipping, and stripped strap locks—during a hometown show in Nashville.
The back of Shultz's bruised and beaten red Mustang.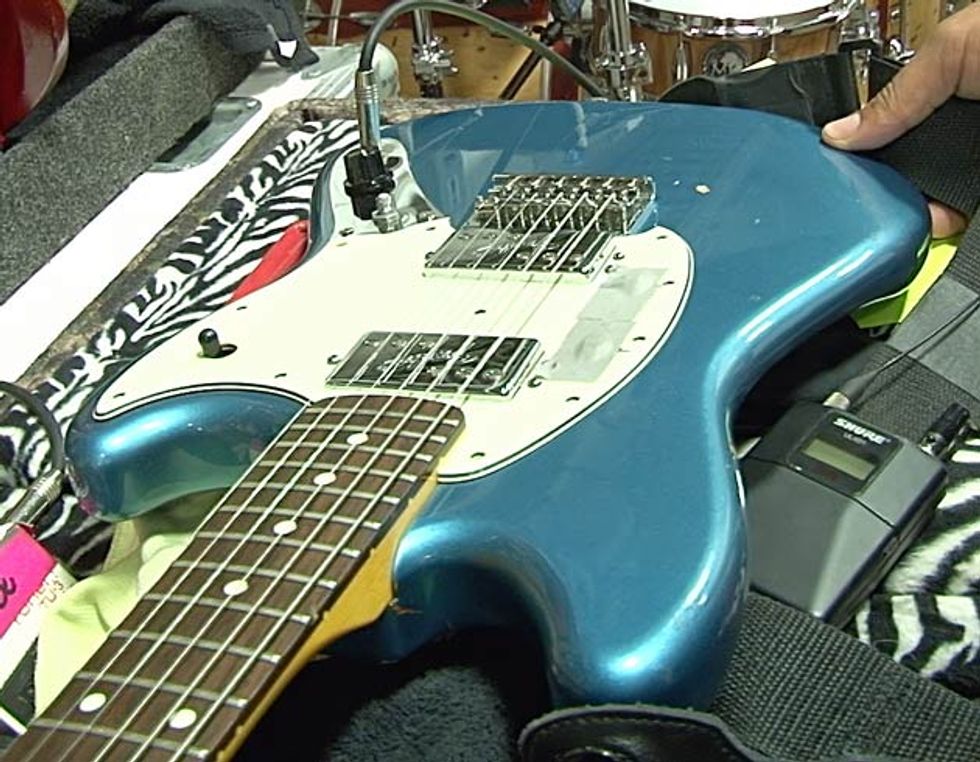 His third and final electric axe is a Mustang Special. This beast is his only humbucker-equipped ride and it's loaded with the stock Wide Range 'buckers. Shultz prefers to use this on songs with single-note riffs—like their
Melophobia
hit "Spiderhead"—because the guitar has a bigger, edgier vibe than its single-coil counterparts. Plus, he really feels it's the best sounding of any of his guitars when paired with his favorite pedal—a ZVEX Mastotron.
The only non-Mustang in his 2014 live collection is an all-mahogany Fender CD-140SCE. He used to play with a Gibson J-45, but has gone with the mahogany-built Fender because it's thinner, tinnier, and sounds closer to the recordings for songs like "Ain't No Rest For The Wicked" and "Cigarette Daydreams."
Amps
Dubbed the "Shultz-i-nator," his lone amp is a Fender Super-Sonic 60 head that cranks through a matching Super-Sonic 2x12 cabinet loaded with Celestion Vintage 30 speakers. He runs the amp extremely hot and uses the Bassman channel and vintage voicing. The FOH engineer runs a Palmer PDI09 Passive DI Box to do his mix.
Effects
While Brad's board is fully loaded with pedal treats, his tech Jordan confided that on a night-to-night basis the guitarist only uses a handful of the effects. The rest of the stomps are there for destruction noises and chaos. His go-to boxes are the ZVEX Mastotron, Pigtronix Tremvelope, SubDecay Reverbation, and a Boss DD-6 Digital Delay. Other effects in his signal chain are an Electro-Harmonix POG2, IdiotBox Effects Mad Doctor Stutter, Pigtronix Mothership, MXR Phase 100, and an EarthQuaker Devices Rainbow Machine. Two other devices on his board are a Boss TU-2 Tuner and a Radial Engineering J48 Active Direct Box.
Nick Bockrath's Gear
Guitars
The only non-original member of the band, Bockrath has a few more flavors in his guitar boat than his 6-string counterpart. His current favorite is a new-ish—don't let the pick wear fool you—2014 120th Anniversary Gibson SG Special that he uses for grittier tunes like "In One Ear" and "Aberdeen." Like Shultz, Bockrath goes with Ernie Ball Power Slinky .011–.048 strings, but jams with a heavier pick—a Dunlop .88 mm Tortex.
His other main guitar is a Gretsch G5422TDCG Electromatic Hollowbody. Bockrath uses it for softer vibes like on "Take It Or Leave It" and because of the honky-hollowbody slide parts in "Ain't No Rest For The Wicked."
Nick's backup for the Gretsch is a bright red Schecter Ultra-III.
Amps
Keeping in tradition with former lead guitarist Lincoln Parish, Bockrath has stuck with using a Budda Superdrive 30 Series II head that blasts through a Budda 4x12 cabinet outfitted with four Budda Phat 12 speakers. He has an identical second stack to kick on when he needs more volume or tonal beef depending on the venue.
Effects
Bockrath's board is stocked to the gills with pedals including three delays—two Boss DD-6 Digital Delays that are set to 200 ms and 300 ms each and an Electro-Harmonix Deluxe Memory Man that also has a short delay time but incorporates the stomp's chorus flavor. The other duplicate effect in his rig is dirtboxes—he uses the Fulltone Full-Drive 2 as a clean boost and the Fulltone OCD is dialed to add some gain to his clean-ish amp sound. The rest of his stomps include a Boss OC-2 Octaver used to thicken up parts, a Fulltone Supa-Trem, a Blakemore Effects Custom Shop Fuzz that he uses for burly parts and screaming leads, a DigiTech Whammy, and a Boss TU-3 Chromatic Tuner.
Daniel Tichenor's Gear
Basses
CTE's bassist fell in love with an old loaner seafoam green Fender Jazz bass during the recording of
Thank You, Happy Birthday
. The bass was heavily altered and featured P-bass pickups. Unfortunately for Tichenor, he couldn't convince the owner to sell. Enter tech Jordan Powell who was enlisted to mod one of his J basses with P-bass electronics and hardware. Tichenor truly relishes playing this bass and all its wonkiness because he requested Powell not to fill in the holes where the old pickups and controls once resided. This bass is used primarily on the band's heavier songs and he is looking to eventually drop Fender American Vintage '63 Special pickups into it.
Tichenor's only other bass on the road with him is a standard Fender American Standard P Bass that is completely stock. He strings both Ps up with Fender Tapewound .045–.110 strings and uses Dunlop 1.0 mm Tortex picks.
Amps
Like Shultz, Tichenor keeps everything Fender including his amps where he's been using a Fender Super Bassman head through two Fender 8x10 cabs loaded with Eminence U.S.A. neodymium-magnet speakers.
Effects
Going with the minimalistic approach, Tichenor only has two pedals on his board—both guitar effects—which are a Fulltone GT-500 Hi-Gain Distortion and Overdrive Booster used for dirt and an Electro-Harmonix Big Muff to push things into the mayhem zone.