Rig Rundown - Nickelback's Chad Kroeger & Ryan Peake
PG's Jason Shadrick is On Location in Moline, IL. at the iWireless Center where he catches up Nickelback Guitar tech Kris Dawson who shows us Chad Kroeger & Ryan Peake's gear and talks about their tour set up.
We brave the controversy of one of the most polarizing (yet best-selling) bands alive today to bring you a look at the gear that powers Nickelback's packed-house arena tours. Watch Nickelback guitar tech Kris Dawson show us through both Chad Kroeger and Ryan Peake's rigs in our latest Rig Rundown:
Guitars

Ryan Peake's guitar boat is stocked with several Gibson Explorers and Flying Vs. Along with his tech, Kris Dawson, Peake gives each one a custom finish that typically involves blowtorches, chisels, and other tools of destruction. All his guitars sport EMG pickups (EMG 81 in the bridge and EMG 85 in the neck) and are strung with various gauges of Ernie Ball strings. For this tour he also brought along a Fender Jaguar (with EMG single-coils), a custom Fender Telecaster, and backup Les Paul that is branded with his family's cattle brand. Every guitar is wired up with a Shure U4D wireless unit.

For the acoustic songs, Peake plays an old Harmony that used to belong to his dad on "Photograph," a Gibson J-200 on "Rockstar," and "When We Stand Together," and a Gibson Dove serves as a backup for the J-200. The two Gibson Les Pauls on the right have dual electric/piezo outputs and are used on "Far Away."

Chad Kroeger's touring guitars include a 7-string Gibson Explorer tuned to A# standard and strung with Ernie Ball .080-.014 strings, a Gibson Les Paul Custom that has been modded to only have one volume knob, a Silverburst Les Paul Custom tuned to drop-C, a crystal covered Les Paul used on "Something In Your Mouth," a few of his signature Blackwater Gibson Les Pauls, and a PRS Hollowbody for "Far Away."
Amplification and Rack Gear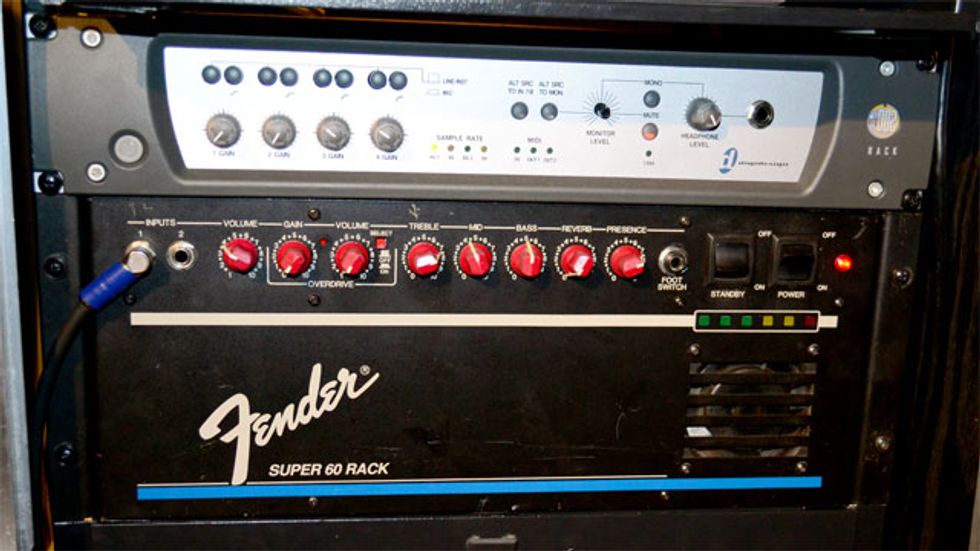 For both guitarists' clean sounds they rely on a Fender Super 60 rack from the mid '80s. Described as very Twin-like, the Super 60 sports 6L6 and 12AX7 tubes. The Digidesign rack above the Fender is used for monitoring purposes for the guitar techs to dial in tones before the show.

Both Chad's (L) and Ryan's (R) rack setups are almost identical. For Chad, his signal goes through the Shure wireless receivers into a Radial JX44 and then splits out to the Fender Super 60 for his clean tone and a pair of Mesa/Boogie Dual Rectifers for his overdrive sound. Ryan keeps the same basic signal flow but inserts a Fractal Audio Axe-Fx II and a Line 6 Echo Pro. He also uses a Radial PZ-Pre and an ISP Decimator in the effects loop of the JX44.
Pedals
Ryan Peake's pedal drawer includes an MXR Dyna Comp, MXR Micro Chorus, VFE Dark Horse, VFE Fiery Red Horse, MXR 12-band EQ, and MXR Auto Q.

Chad Kroeger uses a Boss BF-2 Flanger, Boss GE-7 Equalizer, Dunlop Crybaby Wah, Boss CH-1 Super Chorus, and a Boss TR-2 Tremolo.