Rig Rundown - Steely Dan's Jon Herington
See Jon Herington's live rig used on Steely Dan's summer 2011 tour.
PG's Jason Shadrick caught up with Steely Dan's techs to check out the gear Jon Herington used for the band's summer 2011 tour. Watch the video below (and click here to see our Walter Becker Rig Rundown):
Guitars
Jon Herington's main guitar is a Gibson Custom Shop ES-336 loaded with J.M Rolph pickups. Since Herington likes to ride the volume knob during gigs, he modded the electronics so that the pickup selector switch and bridge volume knob changed places and he made that knob a master volume. The knob in between those is a dummy knob while the remaining two are tone controls. He strings all of his guitars with Ernie Ball .10–.46 strings and he keeps the truss rod cover off so he can make adjustments quickly.
For tunes in the set such as "Hey Nineteen," Herington needs a more twangy sound. He uses a vintage "parts" Tele with Van Zant pickups in the neck and middle positions with the original Fender pickup in the bridge. It also features a 3-way selector switch but the bridge pickup can be activated at any time by the push/pull tone knob. Luthier Roger Sadowsky added an Ernie Ball-style truss rod adjustment at the neck joint.
To cop some of the Larry Carlton-era sounds, Herington recently picked up a '70s Gibson Les Paul Custom and upgraded it with larger frets and Lindy Fralin pickups. The electronics are modified in the same way as his ES-336.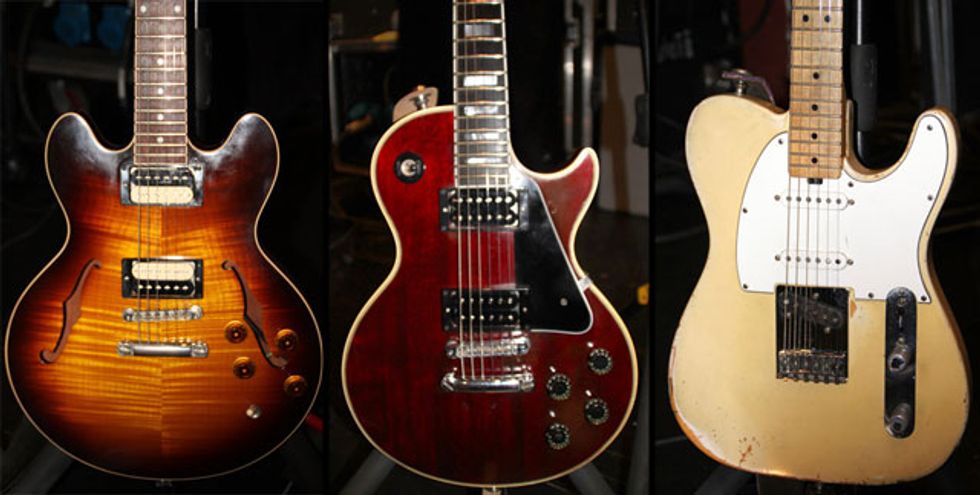 Amps
All of Herington's gain comes from his 100-watt Bludotone Bludo-Drive with 6L6 tubes. Herington also uses a 100-watt Guytron GT-100. The amp sports four EL34s, two EL84s and seven 12AX7 tubes.
Effects
Jon Herington's pedalboard is split into two sections. The first is plugged directly into the front of the Bludotone amp and the second is run through the effects loop. From his guitar he goes into a Boss TU-2 and then to a Xotic RC-Booster which is only used when he is playing his Tele. From there it goes into a Vox Joe Satriani Big Bad Wah and an Ernie Ball mono volume pedal. Next is another Xotic RC-Booster, which he uses as a bass cut for solos on his neck pickup and then to the front of the amp. Out of the effects loop he goes into a Tech 21 Roto Choir, Voodoo Lab Tremolo, Tech 21 Boost D.L.A–which is set to a short delay and left on all the time–an '80s Ibanez Chorus/Flanger and finally a Boss Digital Reverb RV-5. The black footswitch runs the Bludotone and the Mesa/Boogie footswitch changes channels on the Guytron.